Former Oregon State running back Ryan Nall's nickname of "Wrecking Nall" comes from a physical style of play that often has defenders flying away like debris upon contact. Nall, an under-the-radar prospect, is an early declaration for the draft from Oregon State. After his redshirt junior 2017 season, Nall faced the options of staying at Oregon State to play with his fourth head coach, being a graduate transfer to a different school or declaring for the NFL draft.
Nall chose the NFL draft, although there were rumors he was strongly considering graduate transferring to another Pac-12 North school for one final year.
He is a big and versatile athlete – 6-foot-2, 232-pounds – who was often viewed as a linebacker or an H-back coming out of high school and halfback wasn't exactly the first position that college teams thought about playing him. However, injury issues in the Oregon State running back room pushed him into that role early in his career and he never looked back, although his NFL usage is far less clear.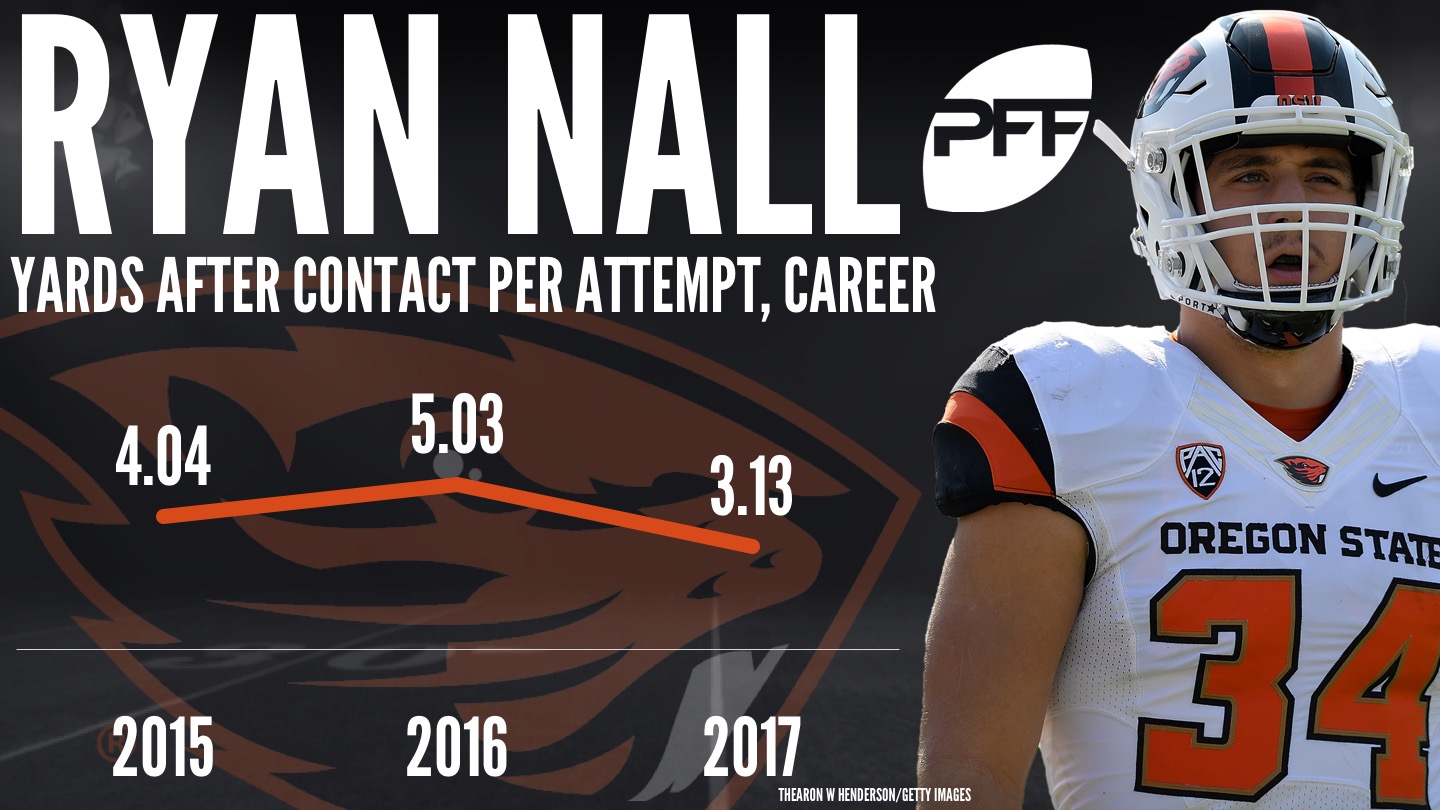 Nall is coming off of three-straight seasons grading positively both as a rusher and as a pass-catcher. He consistently produced at a high-level during his college career and his 2016 season was incredibly productive. In 2016, Nall finished the season with an elusive rating of 160.9 which led all FBS running backs with at least 90 attempts. Nall forced 47 missed tackles on only 147 rushes and another seven on 22 receptions. He wasn't as explosive or productive in 2017 as he was in 2016 but Nall missed practice and game time in 2017 with a lingering ankle issue that saw him in a walking boot for a portion of the year.
Yet, he still forced 22 missed tackles on his 166 carries and another six missed tackles on his 26 catches, although his elusive rating dipped down to 45.7.
Nall has the patience and vision to wait for his blockers and breakaway speed once he is in the open. Nall has runs of 89 yards, 80 yards and 75 yards over the last two seasons. In 2016, 42.2 percent of Nall's rushing yardage came on breakaway runs of 15 or more yards. That number fell to 33.6 in 2017 but he still managed 10 runs of 15 or more yards last season.
Ryan Nall has the ability to break long runs with his balance and speed. pic.twitter.com/K42U9z7Bvc

— Jordan Plocher (@PFF_Jordan) March 19, 2018
He was heavily used on plays where the Beavers would have a player running a jet sweep motion to one side and then give the ball to Nall on a counter run in the opposite direction. This misdirection often resulted in Nall reaching the second-level before he met his first defender and trying to tackle 'Wrecking Nall' with a head of steam is a difficult endeavor for a back-seven defender. He has the power to run through contact, especially if defensive backs are the ones attempting the tackle. He also has more wiggle than expected for a 230-plus pound running back and can make people miss in the open field.
Ryan Nall's size and strength are often too much for second and third-level defenders to handle. pic.twitter.com/MRu2MRCLgB

— Jordan Plocher (@PFF_Jordan) March 19, 2018
At the NFL Combine, Nall put on an impressive athletic display. He ran a 4.58 40-yard dash, showing the long speed he displays on film and also showed he can change direction well and his 6.95 3-cone was the fastest time at the combine among all running backs weighing at least 230 pounds. NFL teams aren't likely to move Nall to linebacker but he could be used in more of an H-back role where he will likely carry the ball less and be used more as a weapon in the passing game.
Opposing teams must game plan for him
Nall played in the running-back heavy Pac-12 and was often overshadowed by bigger name prospects at more successful programs. However, rival Pac-12 coaches often expressed a ton of respect for playing against Nall and had to game plan to stop him.
Washington State Head Coach Mike Leach said, "we got a lot of great running backs in this conference, I actually think the fellow at Oregon State [Nall] is the best one in the conference. First of all, he's big. Second of all, he's faster than you think. Third of all, he's very elusive. The other thing is, the guy catches the ball really well."
Former Oregon head coach Mark Helfrich said about Nall, "he's a load. He's very difficult to tackle…They do such a good job with the misdirection and the fly sweep and get him in a situation where it's him and either a defensive back or a linebacker, somebody in an arm tackle situation, him versus an arm is usually a bad match-up for the arm. We got to get multiple bodies to him and account for him obviously in the run game, first and foremost."
Yards after contact and short yardage
Nall can make people miss but also run people over and maintain his balance after taking a hit. In 2016, Nall had an extraordinary 5.03 yards after contact per attempt. That number fell to 3.10 in 2017 but Nall still had a career average of 4.03 yards after contact per attempt.
Oregon State RB Ryan Nall averaged 4.0 yards after contact over his career. pic.twitter.com/UsEAUzx3pR

— Jordan Plocher (@PFF_Jordan) March 19, 2018
Nall is an effective short-yardage and goal line back who can run through contact to find the end zone.
Ryan Nall has the power and leg drive to be an effective short yardage and goal line back. pic.twitter.com/qmuh07xeU2

— Jordan Plocher (@PFF_Jordan) March 19, 2018
Passing game weapon
Nall's greatest contribution to his future NFL offense could come in the way of being a mismatch player in the passing game. Nall has outstanding body control for his size and can routinely adjust to off-target passes. He can also make defenders miss in space once he has the ball in his hands.
Ryan Nall can be effectively used in the pass game. He can adjust to off target passes and make people miss in the open field. pic.twitter.com/KkedVBa6zQ

— Jordan Plocher (@PFF_Jordan) March 19, 2018
In 2016, Nall averaged 1.88 yards per route run, which ranked 16th among all FBS running backs. In 2017, he still averaged 1.75 yards per route run, which ranked eighth among all draft-eligible FBS running backs.
Ryan Nall isn't easy to tackle when he catches the ball out of the backfield. pic.twitter.com/uaBNuOmi6F

— Jordan Plocher (@PFF_Jordan) March 19, 2018
Nall can also pass-block effectively if he is kept in the backfield to protect the quarterback. He only allowed one sack, one hit and three hurries on his 139 pass-blocking snaps in pass protection over the last two seasons.
In summary
Ryan Nall's skillset will appeal to different styles of football minds. Old-school football guys like New York Giants general manager David Gettleman likely see a power runner who can grind out tough yards and potentially be one-half of a running back tandem when paired with a smaller, shiftier back. Young offensive-minded head coaches like the San Francisco 49ers' Kyle Shanahan and the Los Angeles Rams' Sean McVay likely see a fullback/H-back they can use to exploit mismatches in the passing game. Nall will likely be a Day 3 pick in the draft, as teams will be willing to use a seventh-round pick to secure his services before he can make it to free agency due to his size, athleticism and versatility. Nall's height/weight/speed combo should see him make a special teams contribution as a rookie with a growing offensive role in the near future.
2018 NFL Draft
---
Mock Drafts: 1 (Oct. 31, 2017) | 2 (Jan. 18, 2018) | 3 (March 8, 2018) | 4 (April 3, 2018)
Top 100 Draft Board | Top 10 WRs on the route tree | WR prospect fits | DI prospect fits | Underrated west coast prospects | 5 boom-or-bust prospects
Position ranks: QB | RB | WR | TE | OT | OG/C | EDGE | DI | LB | CB | S
Draft Quarterback Study: Lamar Jackson
Draft Corner Route Trees: Josh Jackson | Minkah Fitzpatrick | Denzel Ward | Donte Jackson | Isaiah Oliver | Carlton Davis 
Predictive Analytics: PFF College grades translation to NFL for pass-rushers | PFF College grades translation to NFL for QBs