The draft is the lifeblood of any NFL team. For as much as it's said the draft is often a crapshoot, it's amazing how quickly one lights-out class can turn around the fortunes of a franchise. You won't find a single team that made this list that didn't see a period of prosperity in the following years. Stockpiling talented players on rookie deals is a sure-fire way to build a Super Bowl contender.
The competition to make this list was so stiff that a class with three first-team All-Pros — the 2016 Tennessee Titans with Jack Conklin, Derrick Henry and Kevin Byard — didn't make the cut (a different Titans draft did, however). Positional value was slightly taken into account for this, but not to the degree to which PFF WAR suggests as to not simply make this a list of the best quarterbacks drafted over the past 15 years.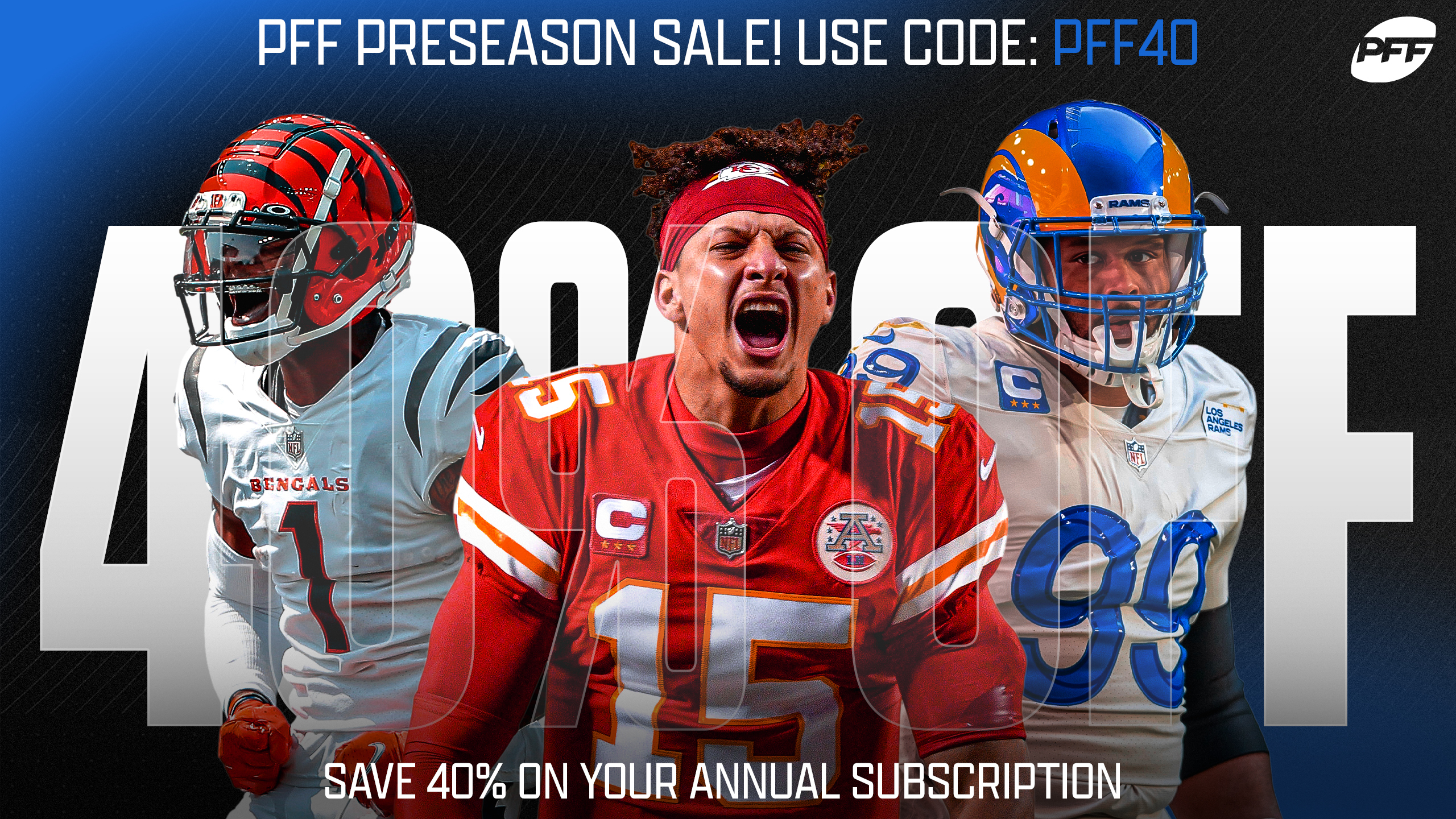 ---
1(11): CB Marshon Lattimore
1(32): OT Ryan Ramczyk
2(42): S Marcus Williams
3(67): RB Alvin Kamara
3(76): LB Alex Anzalone
3(103): EDGE Trey Hendrickson
6(196): EDGE Al-Quadin Muhammad
This is the gold standard for modern drafting. There's no better way to visualize just how absurd this class is than to look at figures of the contracts that the five headliners are currently on:
Marshon Lattimore: 5 years, $97M ($19.4M APY)

Ryan Ramczyk: 5 years, $96M ($19.2M APY)

Marcus Williams: 5 years, $70M ($14M APY)

Alvin Kamara: 5 years, $75M ($15M APY)

Trey Hendrickson: 4 years, $60M ($15M APY)
That's five players in one class currently making $14 million-plus a year. The Saints' current "kick the can" strategy when it comes to cap management would never have been possible without this draft class right here.
1(6): OT Russell Okung
1(14): S Earl Thomas
2(60): WR Golden Tate
4(111): CB Walter Thurmond
4(127): EDGE E.J. Wilson
5(133): S Kam Chancellor
6(185): TE Anthony McCoy
7(236): LB Dexter Davis
7(245): TE Jameson Konz
Everything general manager John Schneider touched from 2010-12 turned to gold in the draft. Both Earl Thomas and Kam Chancellor are potential Hall of Famers from this class. And Russell Okung and Golden Tate had decade-long careers as quality starters. It's easy to forget that Walter Thurmond — who couldn't crack the starting lineup in Seattle — had a terrific year with the Eagles in 2015 in which he allowed only 321 yards on 712 coverage snaps and earned a 72.6 overall grade before abruptly retiring despite being a sought-after free agent. What a spectacular class.
1 (25): TE Hayden Hurst
1(32): QB Lamar Jackson
3(83): OT Orlando Brown Jr.
3(86): TE Mark Andrews
4(118): CB Anthony Averett
4(122): LB Kenny Young
4(132): WR Jaleel Scott
5(162): WR Jordan Lasley
6(190): S DeShon Elliott
6(212): OT Greg Senat
6(215): OC Bradley Bozeman
7(238): DT Zach Sieler
We can just forget that the Hayden Hurst pick ever happened (although the Ravens somehow still fleeced a second-rounder out of the Falcons for him a couple of years later). After that, you have a former MVP, a tackle vying to be the highest-paid player at his position, the reigning first-team All-Pro tight end and five other players who have been starters at one point or another during their NFL careers (with two currently slated to start in Zach Sieler and Bradley Bozeman). That is a haul no matter how you slice it. 
1(15): EDGE Bruce Irvin
2(47): LB Bobby Wagner
3(75): QB Russell Wilson
4(106): RB Robert Turbin
4(114): DT Jaye Howard
5(154): LB Korey Toomer
6(172): CB Jeremy Lane
6(181): DB Winston Guy
7(225): OG J.R. Sweezy
7(232): EDGE Greg Scruggs
This is the draft that really pushed the Seahawks franchise into the stratosphere — and don't worry, it's not the last Seattle draft on this list. Unfortunately, it also capped the greatest draft run in modern NFL history, because the team wouldn't stop trading away first-round picks after that (its next first-round pick was in 2016). Over the next nine seasons after the draft, the Seahawks won a total of 98 games and miss the playoffs only once.  
1(5): EDGE Khalil Mack
2(36): QB Derek Carr
3(81): OG Gabe Jackson
4(107): DT Justin Ellis
4(116): DB Keith McGill
7(219): CB T.J. Carrie
7(235): DT Shelby Harris
7(247): DB Jonathan Dowling
A top-three edge rusher, a franchise quarterback outside the first round and a high-quality guard. That in and of itself is enough to make this list. This class leapfrogs others on this list, though, because it also featured three more competent starters in Justin Ellis, T.J. Carrie and Shelby Harris. It's a shame that an injury to Derek Carr and the subsequent Khalil Mack trade disbanded this young core before it came to fruition.
1 (19): DI Jeffrey Simmons
2 (51): WR A.J. Brown
3 (82): OG Nate Davis
4 (116): S Amani Hooker
5 (168): EDGE D'Andre Walker
6 (188): LB David Long 
This was general manager Jon Robinson's version of when Josh Hamilton hit four home runs and a double in one game. There's only one player in the Titans 2019 class you'd even want a slight do-over on, and that's obviously D'Andre Walker. Jeffrey Simmons, A.J. Brown and Amani Hooker all graded out as top-10 starters at their respective positions in 2021, while Nate Davis and David Long graded out above-average. Sadly, Tennessee is a man down from the class heading into 2022 after the A.J. Brown trade, but it doesn't change how ridiculous this haul was.
1(18): OC Maurkice Pouncey
2(52): EDGE Jason Worilds
3(82): WR Emmanuel Sanders
4(116): EDGE Thaddeus Gibson
5(151): OG Chris Scott
5(164): DB Crezdon Butler
5(166): LB Stevenson Sylvester
6(188): RB Jonathan Dwyer
6(195): WR Antonio Brown
7(242): DT Doug Worthington
Antonio Brown, Emmanuel Sanders and Maurkice Pouncey are all household names. Their inclusion needs no justification. Where this draft jumps the superb 2018 Colts haul, though, is the addition of Jason Worilds. If you weren't following the Steelers or football closely in the early 2010s, you may have forgotten how good a player the Virginia Tech product was. Worilds developed into a quality starting edge with top-20 grades in his final two seasons as a Steeler. After playing 2014 on the transition tag, Worilds was set to hit free agency in 2015. Instead of signing a big money deal, though, he shockingly retired to pursue other interests. Still only 34 years old, there's no telling where Worilds could have ended up.
1(6): OG Quenton Nelson
2(36): LB Darius Leonard
2(37): OG Braden Smith
2(52): ED Kemoko Turay
2(64): ED Tyquan Lewis
4(104): RB Nyheim Hines
5(159): WR Daurice Fountain
5(169): RB Jordan Wilkins
6(185): WR Deon Cain
7(221): LB Matthew Adams
7(235): LB Zaire Franklin
You won't find too many better first three swings of the bat in NFL draft history. Quenton Nelson, Darius Leonard and Braden Smith are all top-five players at their respective positions heading into 2022. That being said, the numerous whiffs after that do dull the shine of the class just a tad. This was still Chris Ballard's magnum opus — and the cornerstone of the Colts franchise for years to come.
1(11): QB Jay Cutler
2(61): TE Tony Scheffler
4(119): WR Brandon Marshall
4(126): ED Elvis Dumervil
4(130): WR Domenik Hixon
5(161): G Chris Kuper
6(198): C Greg Eslinger
Of all the drafts on this list, this one struggled to move the needle the most. You can thank organizational turmoil for that, though, as much as the talent accrued. The three headliners — Jay Cutler, Brandon Marshall and Elvis Dumervil — all left in unusual fashion. Cutler was traded for two firsts and a third, Marshall was traded for a second and Dumervil hit free agency after his agent faxed his contract paperwork late, nullifying a $12 million contract for the 2013 season. Still, all three earned top-10 grades at their respective positions in Broncos uniforms at their peaks. And unlike some other classes on this list, it didn't take a plethora of draft capital to acquire them.
1(2): RB Reggie Bush
2(43): S Roman Harper
4(108): OT Jahri Evans
5(135): ED Rob Ninkovich
6(171): WR Mike Hass
7(210): OT Zach Strief
7(252): WR Marques Colston
The 2010 Patriots draft that featured Devin McCourty and Rob Gronkowski, among others, along with the 2007 49ers draft that included Patrick Willis and Joe Staley, were both left out in the cold. Those were both very top-heavy drafts, however, with nowhere near the depth the Saints accrued. 
What the 2006 Saints draft missed out on in elite talent, it made up for in sheer hit rate. Of their seven draft picks, six became quality starters at some point in their NFL careers (Reggie Bush, Roman Harper, Jahri Evans, Rob Ninkovich, Zach Strief and Marques Colston). That's made even more incredible by the fact that five of their seven picks were outside the top 100. You won't find another draft in the PFF era with that many players and that kind of success rate. It's not hyperbole to say the Saints wouldn't have won Super Bowl XLIV without this class.
---