It's too early to make any sweeping conclusions about the 2020 NFL Draft. Rookies coming in and contributing at a high level is more a rarity than the norm. It will be another year or two before many players in last year's draft class truly find their footing in the NFL.
However, it isn't too early to attempt to learn from what transpired over the past year. These are a few of my bigger takeaways from the 2020 NFL Draft as we head into the first round of the 2021 NFL Draft on Thursday.
View PFF's 2021 NFL Draft position rankings:
QB | RB | WR | TE | T | iOL | DI | EDGE | LB | CB | S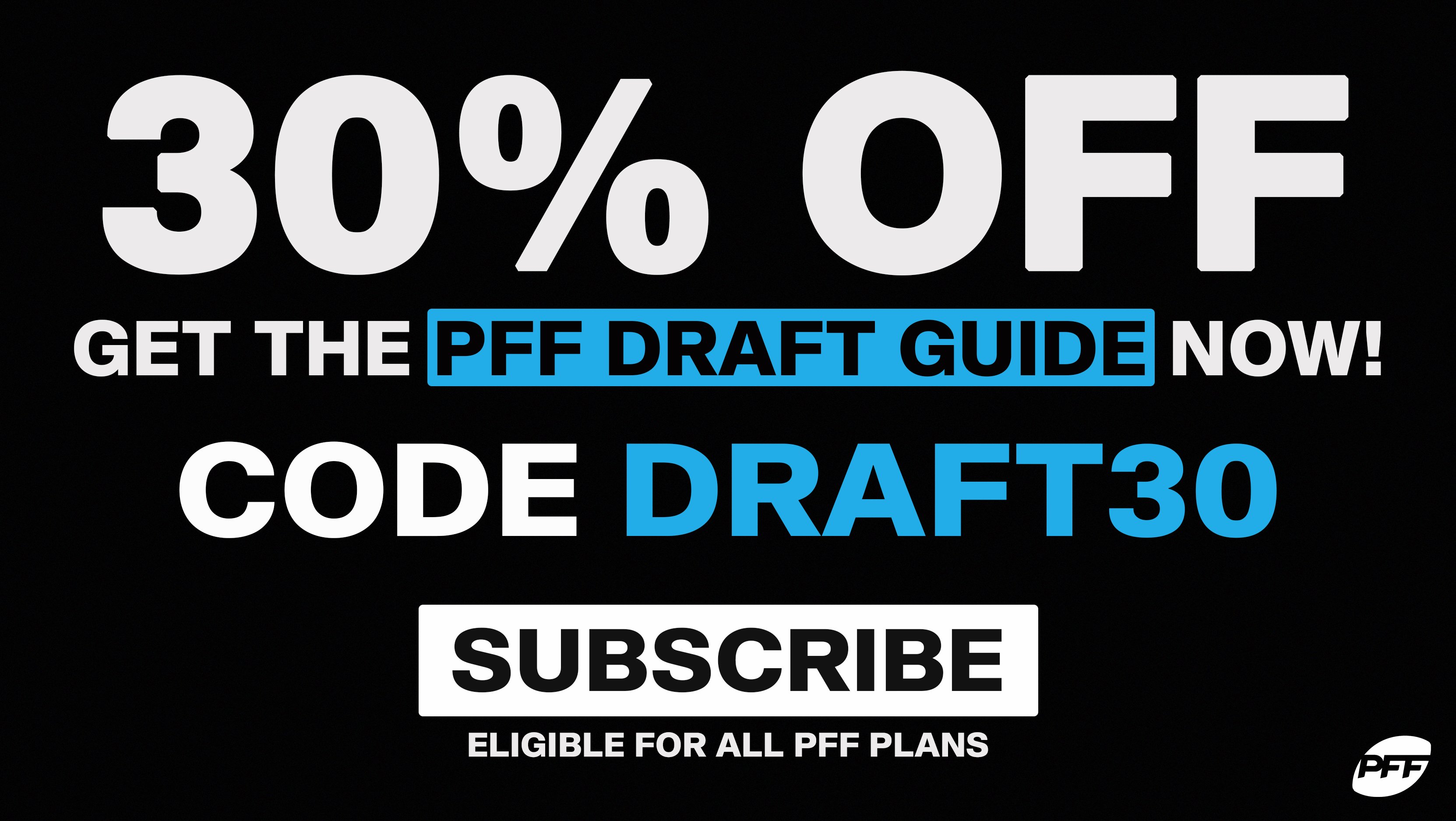 Teams won't transform their offensive lines overnight with one draft class
There were two offensive lines on which three different rookies played at least 100 offensive snaps in 2020. Those units belonged to the Miami Dolphins and the New York Giants, owners of the 28th- and 31st-ranked offensive lines, respectively, in PFF's end-of-season rankings.
The three players for Miami to meet that threshold were Austin Jackson (first-round pick), Robert Hunt (second-round pick) and Solomon Kindley (fourth-round pick). For the Giants, it was Andrew Thomas (first-round pick), Matt Peart (third-round pick) and Shane Lemieux (fifth-round pick).
Each of those six players battled through struggles at some point during their rookie seasons, which was to be expected.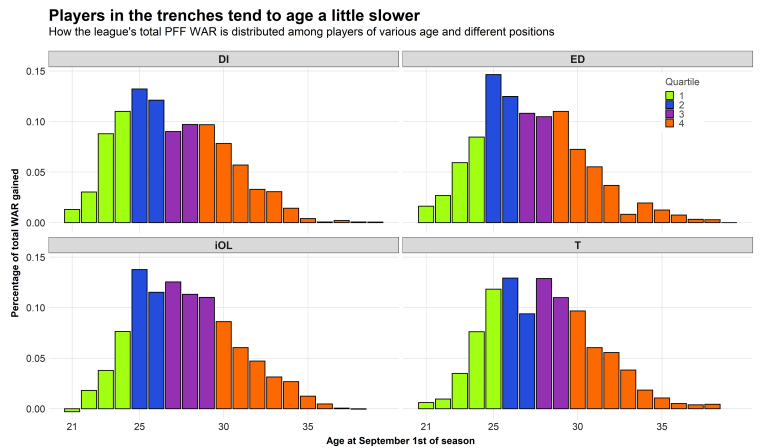 The graphic above from a piece written by PFF's Timo Riske on positional aging curves highlights that players in the trenches may take a little bit longer to hit their peak but age more gracefully than players at other positions. In other words, you're asking a lot for a rookie to step in and immediately contribute at a high level along the offensive line, especially if there are multiple rookies on that line. The success enjoyed by rookie tackles Tristan Wirfs and Mekhi Becton last year isn't a blueprint to follow. Those are exceptions.
That's likely one reason that the Kansas City Chiefs opted to trade for Orlando Brown Jr. rather than draft a starting left tackle at the back end of the first round. It's a risk for an offense to rely on significant contributions from rookies along the offensive line, as New York and Miami found out last season.
Situation matters more than we want to admit for wide receivers
It's going to be difficult for a wide receiver to be productive, regardless of talent, if they don't have a reliable quarterback. Situation matters, and last year's wide receiver class was a good example of that.
On one hand, you have Justin Jefferson — a clear-cut primary option in the passing game in a top-10 passing offense in the NFL by EPA per play. Jefferson was the fifth wide receiver drafted in 2020, but he ended up as the top rookie wideout by a comfortable margin. His 90.4 PFF grade ranked second among all wide receivers last season — not just rookies.
Jefferson should be commended for his performance, but it should be noted that he was put in a position to succeed. Just over 80% of his targets were catchable, which ranked first among rookie wide receivers who saw at least 50 targets last season.
Jerry Jeudy and Jalen Reagor are the two first-round wide receivers who found themselves on the other end of that spectrum. Jeudy's catchable pass rate (61.8%) and Reagor's catchable pass rate (60.4%) were the bottom two marks among 12 qualifiers at the position. A combination of Carson Wentz, Jalen Hurts, Drew Lock, Jeff Driskel and Brett Rypien provided Reagor and Jeudy with their fair share of inaccurate targets.
Some of their struggles, such as Jeudy's drops, can't be blamed on the quarterback situation. But there's enough evidence of poor signal-caller play to not be disappointed in their rookie seasons relative to other wide receivers in the class.
Don't be overconfident in your own evaluations
Every year, The Athletic's Arif Hasan puts out a consensus big board that aggregates player rankings from over 50 big boards across the industry. The result is a good look inside how the draft community views that year's class and a fairly accurate predictor of how the league will ultimately view the class. Of course, it's not 100% accurate at projecting how the league will see things.
It's hard to fault teams for having conviction in their own pre-draft evaluations of prospects, but that can quickly lead to overconfidence.    
Prospects listed at 50 or lower on Consensus Big Board to be selected in first round since 2018
The above list should give pause to teams considering a prospect in the first round who is considered a late second-round or even third-round prospect based on the consensus board.  It is probably too early to label any of these players as busts, save Wilson, but it's not a group that has delivered early in their NFL careers.
Hurst might be the most productive player on the list, but he didn't even clear 50 receptions with the Baltimore Ravens before being flipped to the Atlanta Falcons in a trade that netted Baltimore the equivalent of a late second- or early third-round pick. After Chris Carson's extension, Penny won't be the lead back in Seattle for the duration of his rookie contract. Edmunds had an improved 2020 season in Pittsburgh, but he has largely disappointed early in his NFL career.
Howard (62.1 PFF grade in 2020), Collier (60.2) and McGary (64.3) can all be considered works in progress at best. As for the 2020 class, Wilson may not get another opportunity in the NFL after quickly handing away his second chance in Miami. And Brooks' 50.0 overall grade as a rookie was the highest of the remaining three 2020 prospects on that list.
I'm not saying teams should blindly follow the consensus rankings, but they should be aware of the situation before reaching a full round to draft "their guy."
Just because a player didn't produce in a certain area in college doesn't mean that they won't in the NFL
Let's move back to Jefferson here. He was a little bit lower on PFF's Big Board (32nd) than the consensus board (18th) because a lot of his production at LSU came when he found holes in zone coverage from the slot. Jefferson saw very little press-man coverage in his role in LSU's offense, and as a result, PFF was lower on him than several other wide receivers who showed they could beat those looks at the college level.
The key takeaway from his wildly successful rookie season in Minnesota is that his lack of college tape in those situations didn't mean he couldn't beat man coverage as an outside wide receiver in the NFL. He just didn't have the opportunity to show it. He's an example of why it's important to key in on traits, like athleticism and some of the nuance in his routes, rather than purely taking a "show me first" approach.
Similar things can be said in regard to Becton and his lack of true pass sets at Louisville, something I dove into prior to last year's draft. Some of the concerns surrounding Justin Herbert coming out of an Oregon offense that didn't do him any favors is another good example of separating what a player can do from what they did in college. 
It's one of the bigger lessons I've tried to keep in mind heading into this year's draft.
---
More of PFF's 2021 NFL Draft tools here: 
2021 NFL Draft Big Board | 2021 NFL Draft Guide | 2021 NFL Draft Stats Export | NFL Mock Drafts | NFL Mock Draft Simulator