Draft season is officially in full swing now that the 2020 NFL Scouting Combine is underway in Indianapolis.
Draft prospects are poked and prodded as scouts try to determine if they measure up to what is generally accepted as a prototypical NFL player. It is an odd week from anyone's perspective when things like hand size can cause million-dollar swings in a prospect's rookie contract, but the enticing part, outside of learning some intricate details about these players, is that it also provides an opportunity to wager on specific markets that only come along once a year.
These markets are generally soft with low limits, so added juice is expected. Below we have added our three favorite bets for the upcoming on-field drills.
[Editor's note: Available to all of PFF's EDGE and ELITE subscribers, PFF's 2020 NFL Draft Guide consists of over 750 pages loaded with background information, analysis, advanced statistics, grades, round projections, player comparisons and more on over 250 NFL draft prospects in the 2020 class. Subscribe today for access!]
Ceedee Lamb Best 40 Time Faster than 4.54 Seconds (-125)
The consensus 1B wide receiver prospect in the 2020 NFL Draft, Ceedee Lamb could cement his place in the top 10 with strong workouts this week. That's why his market line of 4.54 seconds in the 40-yard dash seems so far off.
The only wide receiver since 2013 to run slower than 4.54 seconds and still be drafted in the first round is Kelvin Benjamin. In fact, the list of all the first-round wide receivers who ran a 4.50 or slower 40 time at the combine shows a very specific type of player that Lamb clearly doesn't resemble. That list contains N'Keal Harry, Laquon Treadwell, Josh Doctson and, as the one positive, Mike Evans, players who aren't really known for their ability to create separation downfield in the NFL.
In every Oklahoma game over the past two seasons, there were times where CeeDee Lamb was seemingly running wide open downfield. He obviously benefited from schemes designed to get him open, but his quick burst speed is unrivaled among wide receiver prospects this season.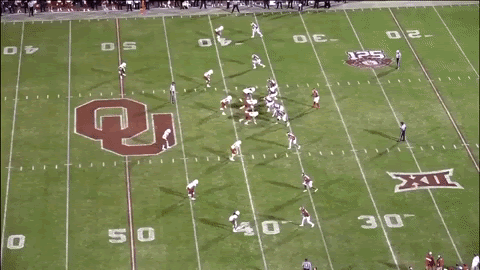 PFF's Timo Riske recently wrote a piece that found NFL comparisons for wide receiver prospects, and in that piece, Ceedee Lamb was comped to 10 NFL players. Only one of these 10 players ran a 40-yard dash slower than 4.50, and none ran close to the 4.54 number that we currently have as his line.
At this point, players (and agents) are in tune with what they are expected to run at the combine. If there were any chance Lamb came close to running a 4.54 40-yard dash time, we would more than likely see a DNP next to his name rather than a time that could send his draft stock spiraling downward. In one of the softest markets, you will find expect Lamb to deliver a time somewhere in the 4.4-second range.
Tee Higgins Best 40 Time Faster than 4.57 Seconds (-145)
This is similar to the above bet on Ceedee Lamb. A few of these props are simply mispriced when compared to the expectation. Tee Higgins is definitely more known for his contested catches than his ability to separate or create space downfield — he was faced with a contested target on 29.1% of his targets past the line of scrimmage against FBS defenses, the 58th-highest mark among 232 qualifying wide receivers. For comparison, Jerry Jeudy, Brandon Aiyuk, Justin Jefferson and K.J. Hamler sit in the bottom 20 of this group.
Still, Higgins is a first-round wide receiver prospect stacking up against some of the best we have seen at the position in quite some time. A 4.57 40 would put him squarely in Kelvin Benjamin territory. Say what you will about the wide receivers selected highly with slow 40 times, but today's NFL is quickly moving towards an emphasis on receiver separation. If a slow mark is expected in any of the speed or agility drills, wide receiver prospects would pull a Tyler Johnson and simply opt-out at this point. Tee Higgins isn't a burner, but he also isn't a Kelvin Benjamin. Expect a 40 time in the low 4.5-second range with the possibility of an even faster time locking Higgins into the first round.
Longest broad jump over 138½ inches (-125)
This number has been eclipsed four times in the past five combines. We also have the deepest class of wide receivers in that timeframe, and the members of this touted pass-catching class are all explosive, with a few being multi-sport athletes in high school.
The one we have our eye on with this bet is Jalen Reagor, who is expected to challenge for the fastest 40 time. He also won a Texas state championship in high school in the long jump.
With all the explosiveness we have at the wide receiver position, cornerbacks and safeties have become an afterthought. That might be a mistake, especially in regard to this bet. Noah Igbinoghene was highlighted in Mike Renner's prediction on top performers at the NFL combine and could get us the backdoor on this bet if the wide receivers don't come through on Day 1 of the workouts.