We've been working our way through the different positional groups of the 2021 NFL Draft over the past week, and now we have finally got to the defensive backs.
It's a talented class of both cornerbacks and safeties, with several talented players bridging the gap between the two. Here is what the best of the DB draft class has to offer.
View PFF's 2021 NFL Draft position rankings:
QB | RB | WR | TE | T | iOL | DI | EDGE | LB | CB | S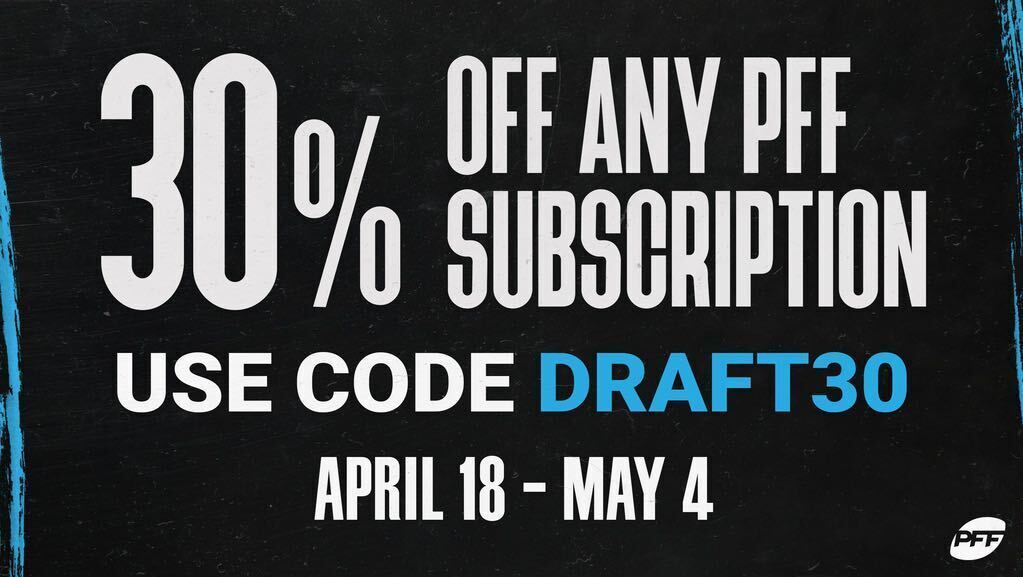 This is easily the biggest positive in Farley's game, as he made up ground on every wide receiver who got a step on him in 2019. It's why he only allowed 18 catches for 257 yards from 50 targets; it's also why he recorded four picks and nine pass breakups to earn a 90.5 coverage grade that season.
While we didn't get an official 40 from him this spring because of a back injury, he recently said on the 2 for 1 Drafts Podcast that he's capable of running in the 4.2s at 6-foot-2, 207 pounds.
Caleb Farley's 2019 tape is simply outstanding pic.twitter.com/B6irJZwUBM

— Pro Football Network (@PFN365) April 14, 2021
Cisco's range is the main reason why he is one of PFF's favorite single-high prospects in the class. Over the course of his Syracuse career, he racked up 13 picks and 13 pass breakups in only 23 games. That is some pretty special ball production, even if there is a lot of ugly on his tape. Hopefully Cisco doesn't lose a step after tearing his ACL this past season.
Syracuse safety Andre Cisco is a bit boom or bust. Can be a little too aggressive at times but his range and fluidness in coverage are high-level stuff. Love how he triggers down to hunt crossers as well. Free safety/single-high prospect on day two. #Patriots pic.twitter.com/GHBgmgjqye

— Evan Lazar (@ezlazar) April 6, 2021
If you are drafting Horn early in Round 1 and don't have a scheme that calls for a heavy dose of press, you may want to rethink that, as the South Carolina product thrives on the line of scrimmage.
In the SEC last season, he played press on 116 coverage snaps and allowed only four catches and 60 yards from 13 targets, coming away with a pick and five forced incompletions. At 6-foot-1 and over 200 pounds, Horn has the size and physicality to keep that going in the NFL.
Here we get a better look at Jaycees Horns coverage on the previous play. Dudes a menace! #NFLDraft #NFL #KroenickFilm pic.twitter.com/KbQqv4togK

— The Podfather (@TheBurgundyZone) March 16, 2021
Grant is one of the safer projections to the NFL because of this versatility. We've seen him line up pretty much everywhere for the Golden Knights defense and still play at a high level. This past season, he played 236 snaps in the box, 226 snaps deep and 144 snaps in the slot. And he was still one of the highest-graded safeties in college football.
To cap it off, he played press-man coverage in the one-on-ones at the Senior Bowl and earned the highest grade of any safety in attendance. While there are some other versatile guys in the class like TCU's Trevon Moehrig and Oregon's Jevon Holland, Grant takes the cake.
Must remind everyone @UCF_Football DB Richie Grant is a safety by trade, not a corner. Numerous reps like this one where @rgrant1525 blankets WR during Senior Bowl week. Probably the best finisher in this year's game. There's a reason why he's a hot guy in the league right now.???? pic.twitter.com/j2iGGRxOcJ

— Jim Nagy (@JimNagy_SB) February 12, 2021
This is why Lenoir is one of our favorite candidates to transition from corner to safety. Lenoir notched 159 tackles and only nine total misses in his Oregon career. After three years as a starter, he's never missed more than three tackles in any single season in his career. He's not particularly fleet of foot, so it will be hard for him to hack it on the outside, but he's a very physical and assignment-sure player who could thrive at safety.
This is why watching Newsome's tape is truly a thing of beauty — he makes transitions to footballs that others in this class cannot. It's why he allowed only 12 catches for 93 yards on 34 targets in six games this past season. If we had seen that dominance for a full season, Newsome's name would no doubt be up there with the other corners at the top of this class.
Greg Newsome II is a 1st round talent. His versatility in press man, off man, and zone concepts is well documented on film.

The clip below is any DB coaches dream. He transitions downhill quickly while under control, able to flip his hips and play the catch point. #TeachTape pic.twitter.com/soGlk0O8kM

— Recruiting Analytics (@RAanalytics) April 13, 2021
While we haven't seen him since he opted out, Adebo's career ball production in only two seasons still stacks up well against others in this class. In those two years as a starter, he collected 24 pass breakups and eight picks. He attacks the catch point like a volleyball player and has an incredible knack for locating the ball. With good size and length, you can bank on that continuing in the NFL.
Huge play by #11 Paulson Adebo to break up a perfectly thrown ball by Herbert in overtime. pic.twitter.com/xiOBYmywsx

— Fed Scivittaro (@MeshPointScout) September 23, 2018
---
More of PFF's 2021 NFL Draft tools here: 
2021 NFL Draft Big Board | 2021 NFL Draft Guide | 2021 NFL Draft Stats Export | NFL Mock Drafts | NFL Mock Draft Simulator