Yesterday, we looked at the biggest fallers over the course of draft season, but now that draft day is here, let's skew more positive. These are the guys who have seen their names climb up draft boards over the past four months. You'll see a similar thread with all five of these players. Pretty much all have some sort of combination of limited playing time or started playing at an elite level in 2020 and hail from off-the-beaten-path programs.
Note: all data is courtesy of Benjamin Robinson's GrindingTheMocks, which tracks mock drafts year-round. The biggest fallers were determined by the largest pick-value differences.
View PFF's 2021 NFL Draft position rankings:
QB | RB | WR | TE | T | iOL | DI | EDGE | LB | CB | S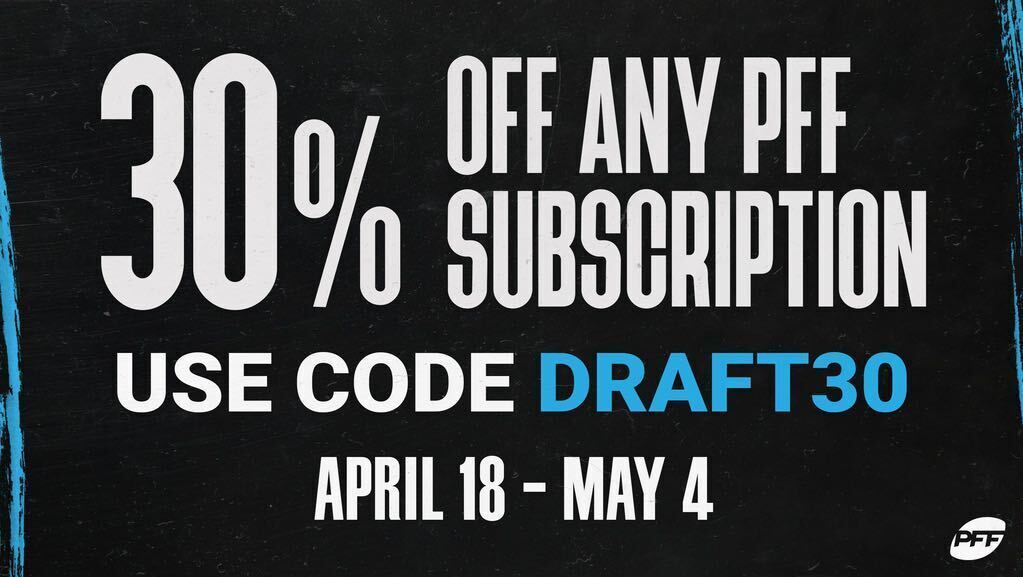 End of Season ADP: 8.6
Current ADP: 2.0
A player who was considered just another name in the mix of a deep quarterback class at season's end has ascended to the unanimous mock draft pick for the Jets at No. 2 overall. I think the biggest realization that most people had when going back through Wilson's 2020 season, myself included, was there was no "off" game. His lowest–graded game still earned a 76.1 mark.
From @NFLMatchup —

Our breakdown piece on #BYU QB Zach Wilson.

• Easy arm talent
• Movement ability
• Off-platform throws @gregcosell pic.twitter.com/uU5aAMPAzI

— Matt Bowen (@MattBowen41) April 28, 2021
This past season, Wilson showed everything you could feasibly want from a franchise quarterback at the next level. Now, the only question is how he's going to look under more consistent pressure with smaller NFL pockets.
End of Season ADP: 76.6
Current ADP: 21.3
Newsome's six games this past season were as good as it got in college football. The problem was, it was such a far cry from what we saw in 2019 and it came against a very limited selection of top receiver talent. Still, in his final four games, Newsome allowed one catch on 11 targets for seven yards with a pick and four pass breakups. That's lights-out cornerback play, and he backed it up with a 4.39-second 40-yard dash and a 40-inch vertical at his Pro Day.
Graham Mertz underthrows this ball and leaves it too far inside, but Greg Newsome II also makes one hell of a play to pick it off. Northwestern defense has played phenomenal all night long. Mertz's 3rd INT of the game, #Badgers fifth turnover. pic.twitter.com/F9zP0KAwks

— George Balekji (@GeorgeBalekji) November 21, 2020
End of Season ADP: 257
Current ADP: 89.9
Johnson was almost a complete unknown in the draft media space when he declared early as a true junior. It's hard to blame most, as he became a starter only this year with all of 796 career snaps to his name. The tape shows a legit playmaker, however. On 44 career targets, he picked off seven passes and broke up six others — an insane rate for a safety. His ball skills and instincts suggest that can continue in the league. Still, he'll have to clean up his tackling; he missed 18 of 80 career attempts in college.
#Indiana safety Jamar Johnson (6-foot-1, 197) —

Has the traits to play multiple roles in a pro secondary.

Split-field range (below) — with ball production. Ability to cover down/match in space.

Can see the urgent play-style on tape. @NFLMatchup pic.twitter.com/3aN8HZtBNK

— Matt Bowen (@MattBowen41) April 8, 2021
End of Season ADP: 107.5
Current ADP: 31.7
Davis is a very similar story to Jamar Johnson. He didn't even earn a starting job until this past season as a redshirt junior. When he did, though, he certainly made the most of it. Davis flashed some of the best sideline-to-sideline plays of anyone in this draft en route to an 87.5 run-defense grade. That showed up at his Pro Day, where he ran a 4.48-second 40-yard dash with an 11-foot broad jump and a 42-inch vertical. He's the type of explosive athlete that doesn't last long in the draft.
Want to see why NFL teams love Jamin Davis and why he's likely a first-round pick? He's No.44 pic.twitter.com/IxkmSjO4YW

— Pete Prisco (@PriscoCBS) April 5, 2021
End of Season ADP: 66.5
Current ADP: 19.7
I'm truthfully not sure why Jenkins was so low on draft boards immediately after the season. He was known as one of the best tackles in the country after his junior year in 2019, when he earned an 85.7 overall grade. We saw him take his game to the next level in 2020, albeit in only seven games. This year, he earned a ridiculous 93.6 run-blocking grade, with pancakes littered throughout tape. His superb Pro Day performance only solidified what the tape already showed: Jenkins is a dude.
Teven Jenkins (RT) getting to the second level on outside zone and obliterating a LB pic.twitter.com/abuqvNNhsi

— Ted Nguyen (@FB_FilmAnalysis) April 25, 2021
---
More of PFF's 2021 NFL Draft tools here: 
2021 NFL Draft Big Board | 2021 NFL Draft Guide | 2021 NFL Draft Stats Export | NFL Mock Drafts | NFL Mock Draft Simulator