The terms "riser" and "faller" are thrown around willy-nilly in NFL draft conversations every spring. With no more football left to play, those terms are often synonymous with the public catching up with the beliefs of those within the NFL.
But sometimes pro-day performances and arising off-field issues can materially affect a player's draft stock. With that in mind, let's take a look at the five biggest fallers from the end of the 2021 college football season until now to see why each player's stock has taken a hit.
Note: all data is courtesy of Benjamin Robinson's GrindingTheMocks.com, which tracks mock drafts year-round. The biggest fallers were determined by the largest pick-value differences.
View PFF's 2021 NFL Draft position rankings:
QB | RB | WR | TE | T | iOL | DI | EDGE | LB | CB | S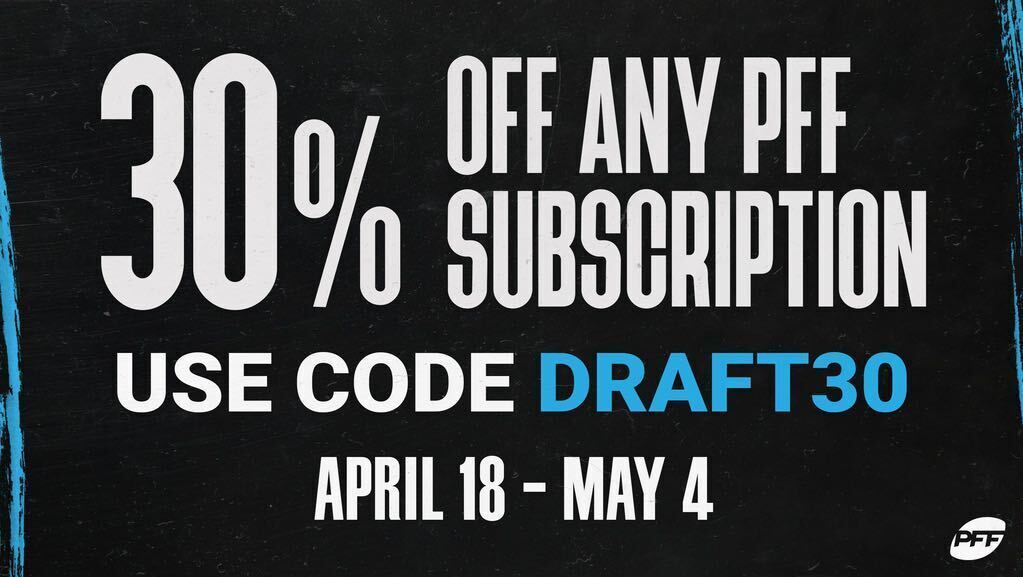 End of Season ADP: 55.9
Current ADP: 199.9
This one isn't too difficult to figure out, as Ford put together one of the worst pro days in recent memory. The numbers are as follows:
| | | |
| --- | --- | --- |
| Measurable | | Percentile |
| Height | 6-0 | 53rd |
| Weight | 197 | 24th |
| 40-yard dash | 4.85 | 0th |
| Vertical Jump | 29″ | 1st |
| Broad Jump | 9-2 | 2nd |
| Shuttle | 4.53 | 2nd |
| Cone | 7.65 | 1st |
Even if that's not 100% indicative of his movement skills on the football field, it at least speaks to his preparation after opting out midway through the 2020 season. Ford may have put up good enough tape, earning a 73.9 coverage grade in 2019 and a 68.1 coverage grade in 2020, but he may still go undrafted because of those testing numbers.
End of Season ADP: 40.0
Current ADP: 104.2
Moses coasted into draft season off his reputation as a former five-star recruit, a freshman All-American and a multi-year starter for the Tide. But when most got around to his 2021 tape, they discovered that the results weren't as good.
Moses returned from an ACL tear in 2019 to earn a 51.9 run-defense grade and 62.6 coverage grade. And that's not going to cut it, even with plus athletic tools.
Even the early-career hype around Moses was based on what he could be and not necessarily what he was. Moses earned a 49.0 coverage grade back in 2018 and has shown little in the way of playmaking instincts in that regard. He finished just ninth among SEC linebackers in stops in 2020 after ranking 14th in stops in 2018. That's not going to cut it for a top linebacker prospect.
End of Season ADP: 12.3
Current ADP: 29.7
Rousseau was billed as a physical freak in terms of both frame and athleticism. Those physical traits are what led to his 16-sack redshirt freshman campaign in 2019, a season that was backed by an 80.7 PFF pass-rush grade.
But after a full season off as an opt-out, Rousseau checked in at his pro day with a freakish frame and fairly middling athleticism. The Miami defensive end was up nearly 20 pounds from his playing weight to 266 pounds, and his change-of-direction drills suffered. His 7.5-second three-cone and 4.45-second shuttle fall in the 16th and 36th percentile, respectively.
To top it off, he wasn't even particularly explosive, recording a 15th-percentile vertical (30 inches) and 42nd-percentile broad jump (9-foot-7). In a class full of physical freaks on the edge, Rousseau got passed up.
End of Season ADP: 39.2
Current ADP: 93.0
Wade fell in almost the same way Dylan Moses did. The Ohio State corner was also another former five-star prospect at a school that breeds talent at his respective position.
While he had been solid at slot cornerback his first two years, playing outside corner is an entirely different animal. Wade returned to school specifically to prove he could do so, aiming to follow in the footsteps of former first-rounders Jeffrey Okudah and Damon Arnette.
Sadly, that didn't come close to happening. He allowed more than 100 yards in three of his eight games in 2021, giving up a passer rating of 118.4 on the year. His coverage grade went from 74.9 in 2019 to 63.8, and that's not the kind of tape that's going to fly on the outside.
End of Season ADP: 52.6
Current ADP: 123.9
This one is easily the biggest head-scratcher on the list. Little has played all of 72 snaps since his sophomore year in 2018, but it's not as if he put anything bad on tape before his opt-out in 2020, nor did he do anything other than impress at his pro day. The 40-yard dash (5.3 seconds) was the only on-field drill that earned the "below average" tag, while his shuttle (4.59), three-cone (7.44) and broad jump (9-foot-3) — arguably the three most important drills for an offensive lineman — all ranked in the 80th percentile or higher.
This felt more like people realizing, "Oh shoot, he hasn't played in two years," rather than Little being a legit faller for any particular reason.
---
More of PFF's 2021 NFL Draft tools here: 
2021 NFL Draft Big Board | 2021 NFL Draft Guide | 2021 NFL Draft Stats Export | NFL Mock Drafts | NFL Mock Draft Simulator