Trades during the NFL draft aren't always about a team landing their desired prospect before another club swoops in. Oftentimes, there are veterans available in pick swap deals all the way through the end of Day 3. Last year's draft included a blockbuster trade of tackle Trent Williams to the San Francisco 49ers in exchange for a 2020 fifth-rounder and a 2021 third-rounder.
Here are some of the more notable veteran trades over the past few drafts:
With that in mind, coupled with the fact that by many reports the league views the 2021 NFL Draft class as one of the weakest in recent memory, there could be a handful of veterans on the move. It has already been made public that tight end Zach Ertz, quarterback Teddy Bridgewater and wide receiver Anthony Miller, among others, are on the trading block heading into Thursday's action.
View PFF's 2021 NFL Draft position rankings:
QB | RB | WR | TE | T | iOL | DI | EDGE | LB | CB | S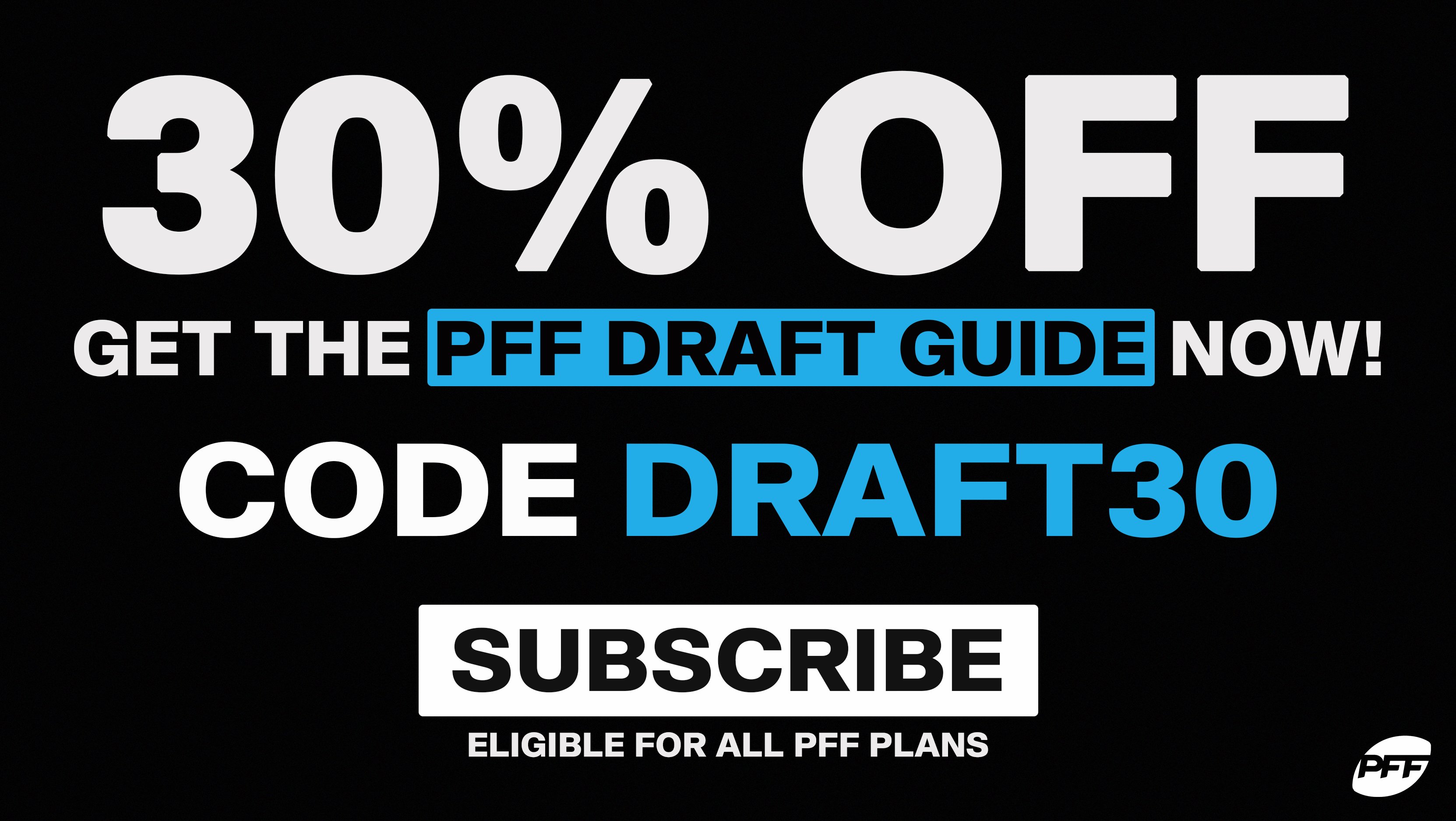 Quarterbacks
49ers Cap Implications: $2.8 million dead money, $23.6 million cap savings
Patriots Cap Implications: Two years, $51,982,353 million ($25.991M APY), $0 total guaranteed
While 49ers head coach Kyle Shanahan can't guarantee that Jimmy Garoppolo will still be alive come Sunday, the signal-caller may be wearing a different uniform by then. Frankly, there's a greater than 0% chance that Garoppolo is released outright, but many pundits seem to suggest a trade market does exist for the 29-year-old.
Garoppolo is a candidate for an outright release because the 49ers have zero leverage at this point. They're obviously about to add a quarterback with the No. 3 overall pick, a trade doesn't save them any more cap space than a cut does and there aren't really any remaining desperate teams for a veteran quarterback.
Sure, Chicago, Denver and Washington may have some interest in addition to New England, but there's no real reason for any of them to part ways with significant draft capital to take on a big contract when many cheaper options exist — and that's if they're interested at all.
Nevertheless, New England has three picks in the fourth round via trading tackle Marcus Cannon to Houston and with a fourth-round compensatory pick earned for the loss of linebacker Kyle Van Noy … who is once again a member of the Patriots. The aforementioned contractual situation coupled with the fact that San Francisco would like to add any draft capital it can get after moving up to No. 3 makes this a reasonable trade for both parties.
Panthers Cap Implications: $10 million dead money, $12.912 million cap savings
Broncos Cap Implications: Two years, $38,911,765 million ($19.456M APY), $10 million total guaranteed
New Broncos general manager George Paton was the Minnesota Vikings' assistant general manager when they traded up to pick No. 32 to select Louisville quarterback Teddy Bridgewater in 2014, so Paton is very familiar with the quarterback looking for his fifth team in as many years. After Carolina traded for former Jets quarterback Sam Darnold earlier this offseason, new Panthers general manager Scott Fitterer said he'll do everything he can to get Bridgewater to a good situation.
There's no better situation for Bridgewater than a reunion with Paton in Denver. While Drew Lock will likely be given every opportunity to keep his job in 2021, his continued struggles could open the door for Bridgewater to get a shot to start on a loaded Broncos roster with a strong offensive line and a bevy of young weapons, including wideouts Courtland Sutton and Jerry Jeudy and tight end Noah Fant.
Jaguars Cap Implications: $95,808 dead money, $802,096 cap savings
Falcons Cap Implications: Two years, $1,815,000 million ($907,500 APY), $0 total guaranteed
In this hypothetical scenario, the Falcons wouldn't take a quarterback prospect with the No. 4 overall pick. They draft Florida tight end Kyle Pitts, which gives them flexibility for a potential Julio Jones trade and perhaps makes Hayden Hurst expendable (more on that later).
Atlanta currently doesn't have a single quarterback on the roster beyond Matt Ryan, making them the only team in the NFL without a backup under contract. Minshew is a perfect candidate as a high-floor backup on an extremely cheap contract over the next two seasons, lining up nicely with Ryan's contract, which will be very difficult to get out of until 2023.
The Falcons could make one last push with a high-flying offense under new head coach Arthur Smith, provided new defensive coordinator Dean Pees can get just enough out of their defense to keep them in games. Minshew is the reliable backup needed to potentially play a few games in a pinch if Ryan suffers a mid-season injury.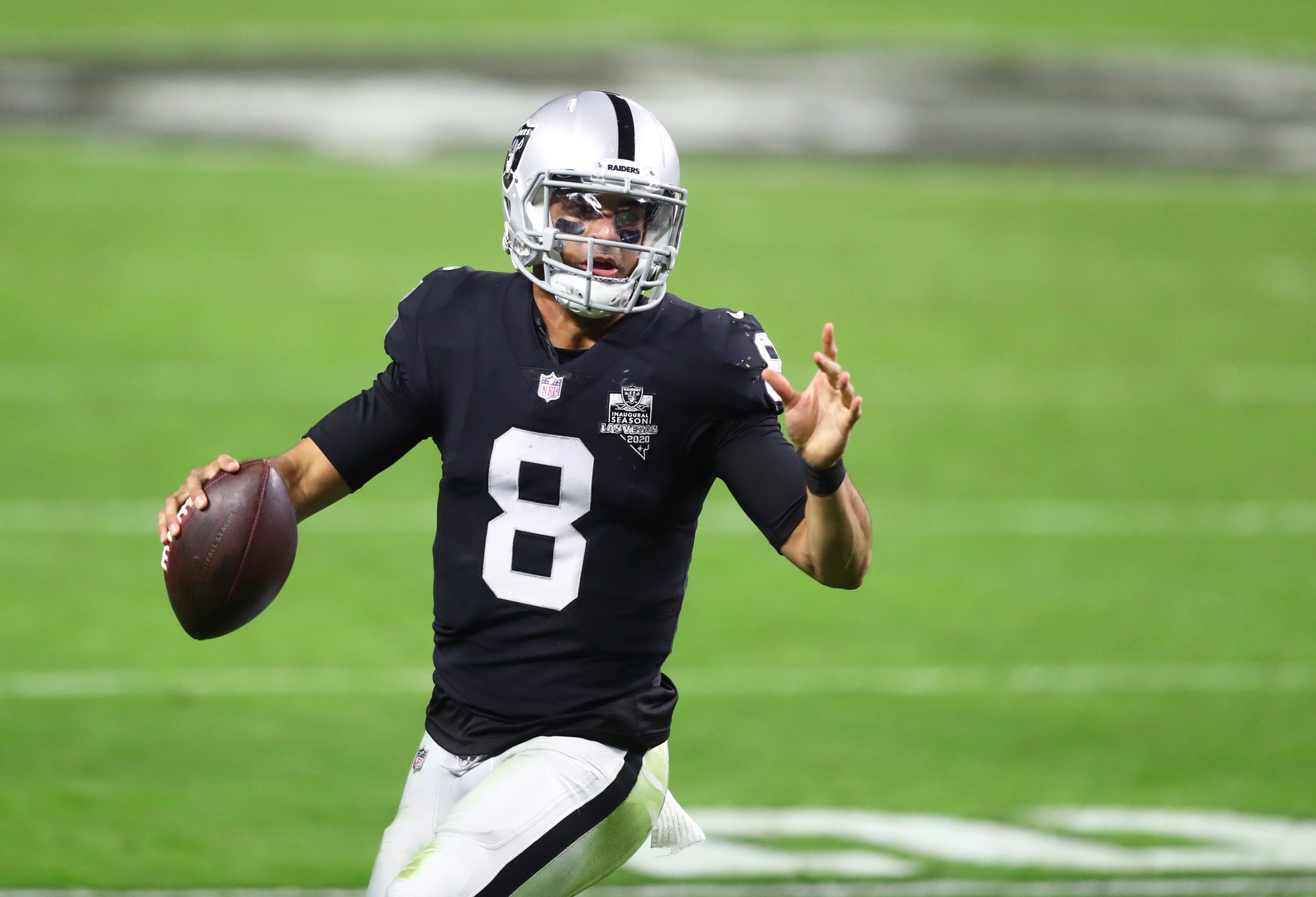 Raiders Cap Implications: $1.75 million dead money, $1.75 million cap savings
Cowboys Cap Implications: One year, $1.75 million fully guaranteed (up to $6.25 million)
Dallas made it a priority to sign a solid veteran backup last offseason with uncertainty surrounding Dak Prescott playing on the franchise tag, and Andy Dalton's tenure probably looks worse in hindsight than it could have been considering he played zero games with either starting tackle on the field (LT Tyron Smith was lost for the season in Week 4, RT La'el Collins missed the 2020 season). The Cowboys were smart to add Dalton late in the offseason after Cincinnati released him, and in a lowly NFC East, they had a legitimate path to the playoffs entering Week 17.
This is why it would be smart to double down on that strategy and once again ensure that a quality backup is in place behind Prescott. Mariota has a no-trade clause in his reworked contract, but this is a pretty solid landing spot for him to get his career back on track. If he does potentially see the field following a Prescott injury, he has a high-flying receiving corps to work with behind what should be a much-improved and healthier offensive line.
Bears Cap Implications: $5.33 million dead money, $1.33 million cap savings
Jets Cap Implications: Two years, $12 million ($6M APY), $5 million total guaranteed
Jets general manager Joe Douglas is very familiar with Nick Foles considering the two won a Super Bowl together with the Philadelphia Eagles back in 2017. Douglas is keenly aware of the value of a solid backup quarterback, but perhaps more importantly, he understands the value in a veteran mentor for a No. 2 overall pick quarterback. Furthermore, Douglas worked for the Chicago Bears under general manager Ryan Pace in 2015, so there's a connection there, too.
The current Jets depth chart at quarterback behind the presumed No. 2 overall pick, quarterback Zach Wilson, is 2020 fourth-round quarterback James Morgan and 2018 fifth-round quarterback Mike White — neither of whom has taken an NFL snap. Wilson will benefit tremendously from a seasoned veteran mentor in Foles, and after the Sam Darnold saga, New York must do everything in its power to create a strong infrastructure for Wilson's growth.
Receiving weapons
Eagles Cap Implications: $7.77 million dead money, $4.702 million cap savings
Colts Cap Implications: One year, $8.25 million, $0 total guaranteed
The Eagles have reportedly been shopping tight end Zach Ertz since as early as the 2020 trade deadline, but injuries during the season complicated any negotiations. While they're reportedly asking for a third-round pick, they won't come anywhere close to that return. Working in Philadelphia's favor, however, is the fact that the 2021 NFL Draft is viewed as having a very weak collection of tight end talent.
After phenom Kyle Pitts, The Athletic's Consensus Big Board has one other tight end cracking the top 50, and that's Penn State's Pat Freiermuth at No.  50 (PFF's Big Board lists Freiermuth at No. 55. Teams looking for an upgrade at the position, of which there are likely several, including the Colts, Jaguars, Bengals and Jets, among others, may not be able to address it in the draft.
A reunion with quarterback Carson Wentz and head coach Frank Reich in Indianapolis makes a lot of sense, as the Colts have the cap space to absorb Ertz's money, pending any reworking of his contract.
Since Wentz was drafted in 2016, Ertz ranks second among tight ends in third-down receptions (83).
Browns Cap Implications: $0 dead money, $6.013 million cap savings
Panthers Cap Implications: One year, $6.013 million fully guaranteed
The subject of trade rumors for the better part of the last few years, Njoku finds himself on a pretty strong depth chart at tight end in Cleveland after the Browns signed Austin Hooper to a sizable contract during 2020 free agency and then selected FAU's Harrison Bryant in the fourth round of last year's draft.
Bryant already out-targeted Njoku as a rookie, and while Cleveland was willing to carry Njoku's now fully guaranteed $6.013 million fifth-year option salary through free agency, it stands to reason that they could look to move him during the draft once teams potentially miss out on their desired prospects. It also probably makes sense for Njoku to play out his contract year in a situation where he could be the TE1.
Carolina has a gaping hole at the tight end spot dating back to last season, and the departure of wide receiver Curtis Samuel to Washington freed up a lot of targets over the middle of the field, as Samuel operated primarily out of the slot. Njoku is an extremely athletic pass-catching tight end who could thrive in a Joe Brady offense generally looking to deploy as many wide receivers as possible.
From 2018 to 2020, Njoku ranked in the top 20 in yards after the catch per reception (5.2) and yards after contact per reception (2.6) among all tight ends with at least 50 targets.
Falcons Cap Implications: $0 dead money, $1.985 million cap savings
Titans Cap Implications: One year, $1,984,914, $1,349,742 total guaranteed
In this hypothetical scenario, the Falcons take Florida tight end Kyle Pitts with the No. 4 overall pick. While Hurst and Pitts aren't redundant by any means, Atlanta is in a tricky spot with its extremely precarious salary cap situation.
Hurst was drafted in the first round in 2018 by the Baltimore Ravens, one pick ahead of wideout Calvin Ridley, and the Falcons now must make a decision on the fifth-year options for both players by May 3 — right after the draft. Exercising Ridley's option is one of the bigger no-brainer decisions among the 2018 draft class, but even at a price of just $5.428 million for Hurst, it will be very tough for Atlanta to fit everyone under the 2021 salary cap.
New Falcons head coach Arthur Smith helps out his old team here by sending a Jonnu Smith replacement to the Titans, and Hurst gets a chance to become the immediate TE1 in Tennessee and the No. 2 option in the receiving game behind WR A.J. Brown. it's a true win-win.
Smith, Corey Davis, and Adam Humphries accounted for 38.7% of the Titans targets in 2020.
Additionally, this helps Atlanta recoup the fifth-round pick they sent to Jacksonville for quarterback Gardner Minshew in our earlier hypothetical trade.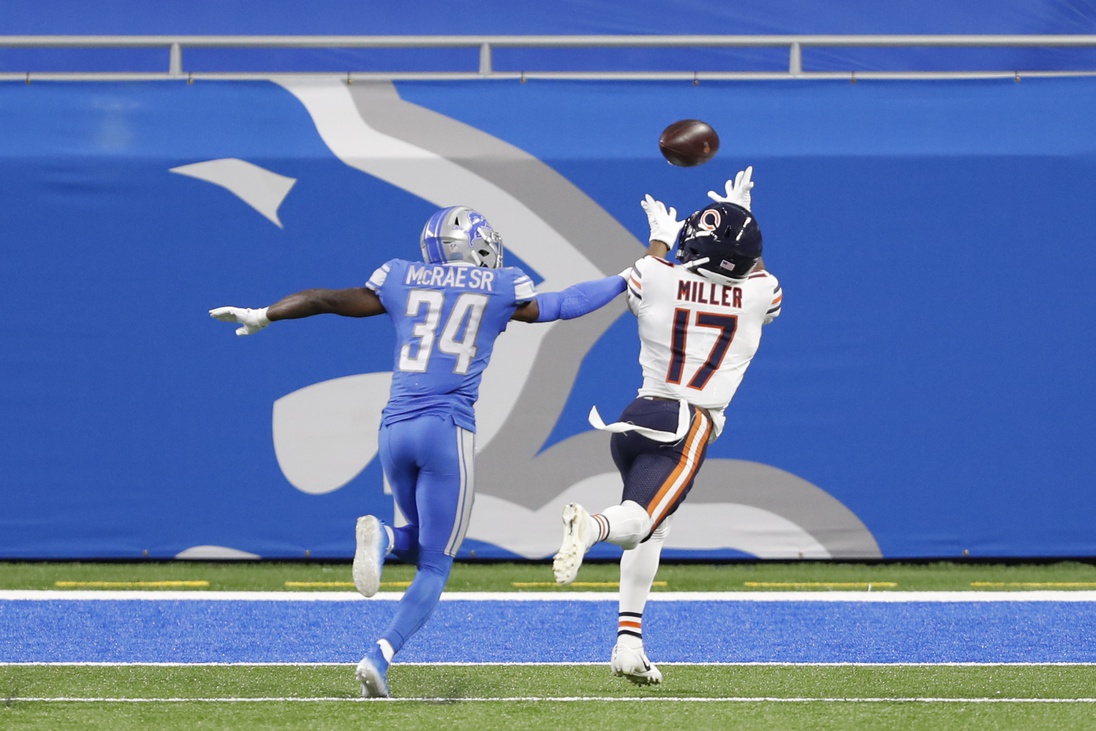 Bears Cap Implications: $493,400 dead money, $1.210 million cap savings
Eagles Cap Implications: One year, $1,210,050, $0 total guaranteed
The Bears have made it quite clear they're shopping Anthony Miller, with ESPN's Adam Schefter reporting that Miller was "likely to be dealt" all the way back on March 16. 
The Eagles are no stranger to taking on a slot receiver in the final year of their contract and playing the compensatory pick game. They did exactly that with Golden Tate back in 2018. Philadelphia traded their 2019 third-round pick to Detroit and then recouped a fourth-round compensatory pick in 2020, effectively netting out relatively even when all was said and done.
This isn't to say that in this hypothetical scenario Philadelphia has zero interest in extending Anthony Miller were he to put up a strong 2021 campaign, but it demonstrates the team's willingness to take a flier on a guy with the worst-case scenario being that they net out even in the long run. In fact, the Eagles also did just that in a trade with the Chicago Bears when they sent a 2020 sixth-round pick for running back Jordan Howard, as they now have a compensatory 2021 sixth-round pick following his signing in Miami last offseason.
Needless to say, the blueprint is there for this trade. From a football perspective, Philadelphia still has very little to work with at wide receiver for quarterback Jalen Hurts, and a shifty slot receiver who does well to get open over the middle of the field while 2020 first-rounder Jalen Reagor works the outside would benefit Hurts a great deal.
In 2020, the Eagles produced the worst slot receiving grade (58.5) and the fewest receiving yards from the slot (628).
Patriots Cap Implications: $2.682 million dead money, $71,969 cap savings
Raiders Cap Implications: Two years, $3,285,080 ($1,642,540 APY), $2,086,969 total guaranteed
N'Keal Harry has been the subject of trade rumors for a while at this point, but thus far, New England has been unable to find a destination for their 2019 first-round pick. The Patriots signed Nelson Agholor and Kendrick Bourne in free agency in addition to tight ends Jonnu Smith and Hunter Henry, and they have restricted free agent Jakobi Meyers back in the fold, as well. It appears New England plans to lead the league in snaps from 12 and 13 personnel in 2021, and Harry is likely the odd man out.
Las Vegas has been rumored to be interested in adding a big-bodied outside wide receiver, with 2020 first-rounder Henry Ruggs III a smaller burner type, newly signed wideout John Brown a similar player, another free agent addition in Willie Snead IV manning the slot alongside Hunter Renfrow and 2020 third-rounder Bryan Edwards not living up to his billing just yet. Harry provides a big target and some depth on the outside.
Jets Cap Implications: $1 million dead money, $10.353 million cap savings
Chargers Cap Implications: One year, $10.353 million, $0 total guaranteed
The Jets trading away a wide receiver may seem crazy given their situation over the past several years, but Crowder has missed time and may not be worth the $10.353 million to New York after they added former Jaguars wideout Keelan Cole in free agency. Cole lined up in the slot on 69% of snaps in 2020 and will almost assuredly man the inside while Denzel Mims and Corey Davis operate out wide.
The Chargers are scarce at the wide receiver position behind star wideout Keenan Allen and 2017 first-rounder Mike Williams. Williams is also set to play in 2021 on the fifth-year option, and it remains to be seen what his future holds, so adding another receiving weapon makes a lot of sense in the short- and potentially long-term.
While Allen is known as a slot receiver, he lined up there on just 52% of snaps in 2020, so it's not as if he exclusively plays from that alignment. Crowder, on the other hand, lined up in the slot on 74% of snaps in 2020, making him more of a true slot receiver.
Regardless, the Chargers can mix and match their receiver alignments and be versatile. Lastly, while Los Angeles did replace tight end Hunter Henry with former Saints tight end Jared Cook, Cook is 34 years old and may not bring the same production to the table. Crowder can be another safety blanket over the middle on third downs.
Offensive Line
Texans Cap Implications: $3.456 million dead money, loss of $121,413 in cap space
Bears Cap Implications: Two years, $3,768,535 fully guaranteed
Yes, this may be far-fetched for such a recent first-round pick. But the sunk cost fallacy doesn't really apply to a new general manager. Nick Caserio is trying to completely overhaul his roster in Houston and had nothing to do with the Texans' draft in 2019.
Caserio traded fourth- and sixth-round picks in exchange for an old acquaintance in former Patriots right tackle Marcus Cannon (along with fifth- and sixth-round picks). Cannon will presumably slot in as the starting right tackle in Houston, leaving Howard to either kick inside to right guard or to serve as the swing tackle. In either scenario, Howard probably wants the opportunity to start at tackle over the final two years of his rookie contract, and that may not be a possibility in Houston.
The Bears add flexibility here, as they can move Germain Ifedi back inside to right guard while starting Howard at right tackle. This move allows them to address a weak spot on the roster without giving up any 2021 draft capital or spending significant cap dollars in free agency that they frankly do not have. More importantly, Ifedi is on a one-year deal, so Chicago lands its right tackle for the next two years on a modest contract.
Defense
Patriots Cap Implications: $8.530 million dead money, $7.735 million cap savings
Cardinals Cap Implications: One year, $7,735,294, $0 total guaranteed
Before the 2020 season, the Patriots gave Gilmore a $5 million raise, potentially signaling that he is not pleased with his current contract and would like an extension before playing out the final season of his five-year deal signed in 2017. Gilmore is 31 years old at a position known for sharp declines in play, so the Patriots still may not be interested in doling out a new deal despite being flush with cap space.
The trade compensation here resembles a similar package that the 49ers sent Washington for tackle Trent Williams during last year's draft, and that isn't by accident. Williams was also entering the final year of his deal looking for a big-time new contract, which he has since signed. The Patriots' free agency obviously screamed an all-in approach, so perhaps this goes completely against that strategy and doesn't make much sense. But this would typically be a classic Patriots move: offloading an aging veteran while he still has trade value.
Gilmore can reunite with cornerback Malcolm Butler in Arizona and be the latest veteran addition to a defense loaded with experienced players. The cornerback group is still extremely scarce, though, with Byron Murphy the only cornerback besides Butler who played at least 50 snaps in 2020.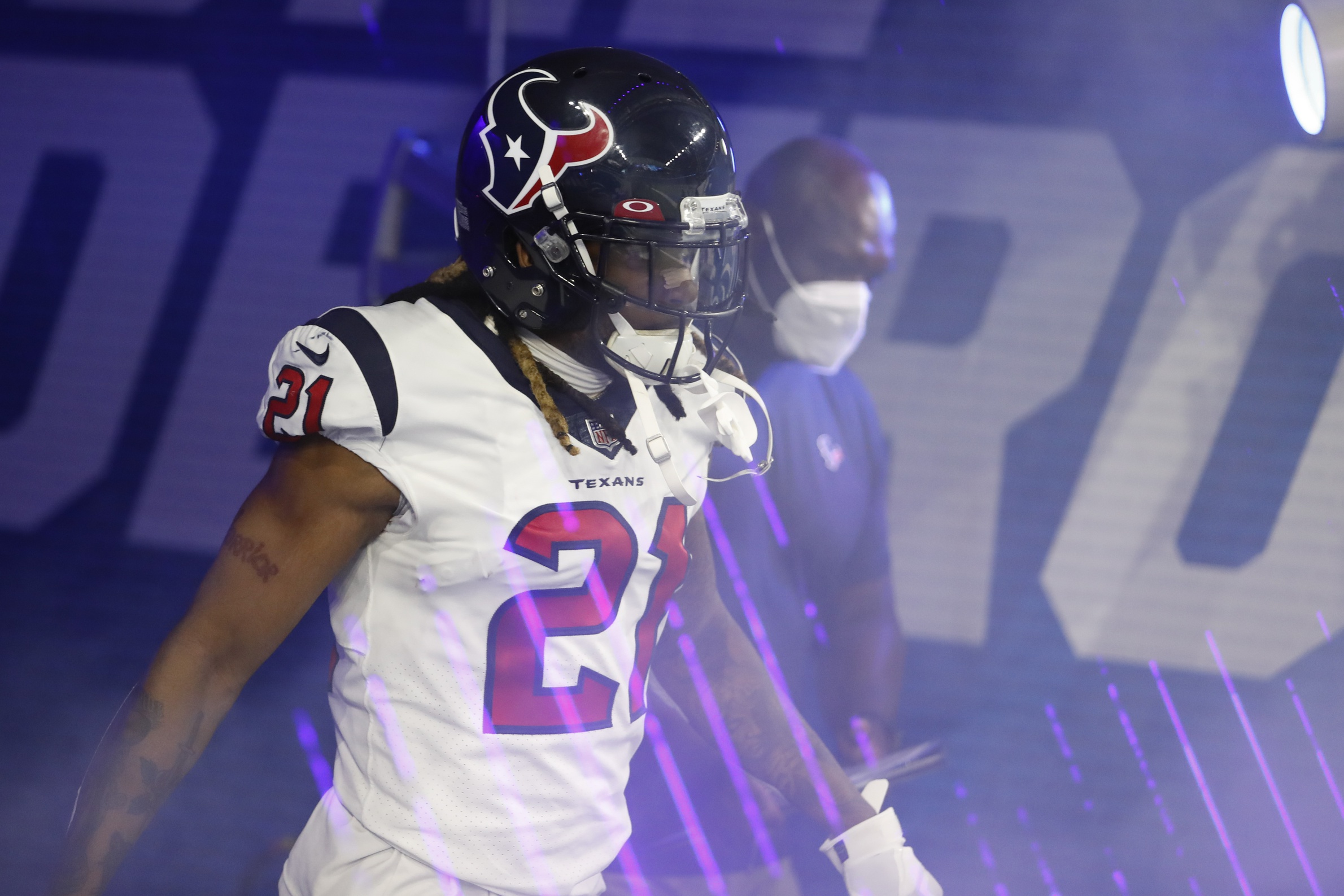 Texans Cap Implications: $1.882 million dead money, $8.266 million cap savings
Browns Cap Implications: Two years, $19,266,340 ($9.63M APY), $0 total guarantees
Texans general manager Nick Caserio continues his roster purge with this hypothetical trade, although Roby will be tougher to replace than Tytus Howard considering the Texans' secondary situation is extremely bleak. Nevertheless, there's little reason to pay Roby significant money in 2021 with so many other holes all over the roster.
Roby did not travel with the Texans to Jacksonville in Week 9 of 2020, with Houston citing "disciplinary reasons" following a reported disagreement between him and the coaching staff. His season then came to a halt with a six-game suspension for PEDs, which extends to Week 1 of 2021. Caserio's modus operandi this offseason seems to be overhauling the roster and loading up on "his guys," and Roby may want out anyway.
Cleveland lands perhaps the final chess piece to fix its porous 2020 defense and bolsters a young position group at outside corner. Both 2018 first-round cornerback Denzel Ward and 2019 second-round cornerback Greedy Williams have missed time early in their careers, and this move — in addition to former Rams cornerback Troy Hill and safety John Johnson III coming aboard in free agency — gives Cleveland one of the best rosters in the NFL on paper.
Jaguars Cap Implications: $1,366,355 dead money, $1,864,767 cap savings
Bills Cap Implications: One year, $1,864,767, $704,885 total guaranteed
The Bills' defensive line is undoubtedly the weak spot of the team's roster, and while Bryan has been a disappointment thus far in his career, he could at least provide solid depth with a fresh start elsewhere. The Jaguars experimented with playing Bryan as a strong-side defensive end early in his career, and it became apparent that he was uncomfortable with the move and preferred playing at his more natural 3-technique spot on the interior. 
Bills 2019 first-round pick Ed Oliver is the starting 3-tech, and Vernon Butler got more reps there in 2020 following the departure of Jordan Phillips to Arizona, but Butler took a pay cut this offseason following a rather pedestrian campaign. Bryan could slot back in where he prefers to play and add depth at a spot where the Bills sorely need it.
---
More of PFF's 2021 NFL Draft tools here: 
2021 NFL Draft Big Board | 2021 NFL Draft Guide | 2021 NFL Draft Stats Export | NFL Mock Drafts | NFL Mock Draft Simulator