This is the class of offensive tackles that NFL teams have been champing at the bit for. Seemingly every team in the league could use an upgrade at one or more of their starting tackle spots. Expect the top-five names to come off boards very early come April as and for teams to continue to reach for that second tier throughout Day 2.
[Editor's Note: PFF's 2020 NFL Draft Guide is LIVE and available to all EDGE and ELITE subscribers. Download your copy today!]
 1. Andrew Thomas, Georgia
Thomas has one of the most impressive career grading profiles we've ever seen from a college offensive tackle. He went from a 76.7 pass-blocking starting on the right side as a true freshman, to 79.5 in 2018, to 89.0 last season. His 92.4 overall grade is the highest of any draft-eligible Power-5 offensive tackle. When you do that against SEC competition, we feel pretty good about it translating to the NFL. He's not without flaw as his feet are all over the place at times in pass protection still, but he has the physical tools and production to be a Pro Bowl-type starter in the league.
2. Tristan Wirfs, Iowa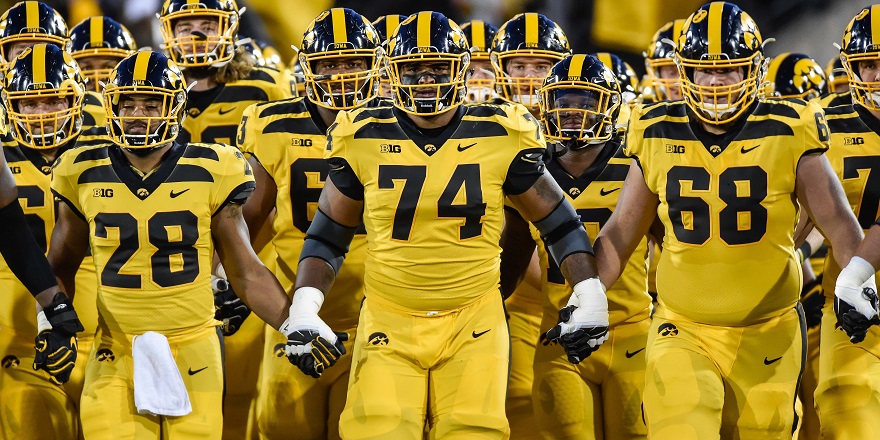 With all the weightlifting records Wirfs broke at Iowa, his play style is almost the opposite of what you'd expect. He's just so dang smooth and under control. This isn't some brute of a tackle looking for a kill shot. Wirfs patiently handles his business in pass protection knowing his physical dominance affords him some leeway. Both his run- and pass-blocking grades have improved every single season of his career. In his final seven games of his college career, Wirfs allowed one lone pressure.
3. Jedrick Wills Jr., Alabama
Offensive tackles aren't supposed to move the way Wills does. He's the single most athletic offensive tackle prospect I've seen in my six years of grading college prospects. With some tackles, you think if they lost about 50 pounds, they could feasibly play tight end. I think Wills could legitimately do it at his weight right now — that's the caliber of athlete we're talking about. He's still very much learning the position, but his 90.1 run-blocking grade this past season is encouraging considering.
4. Josh Jones, Houston
There was no more impressive offensive tackle at the Senior Bowl. His 54% win rate in the one-on-ones was the highest of any tackle in attendance. That's no surprise after he earned the highest grade of any draft-eligible tackle during the regular season at 93.2 overall. While his pass sets need to be retooled to some degree, Jones' hands are some of the best in the entire draft class. We also love that his pass protection grade has improved every single year of his career.
5. Mekhi Becton, Louisville
The reason we're still relatively low on Becton despite his absurd physical traits at 6-7, 369 pounds is that we haven't seen them translate consistently to the football field yet. Louisville's offense this past season was extremely run and play action heavy. Among PFF's top five tackles, Becton's 73 true pass sets were 40 fewer than anyone else. On the flip side, his 8 pressures allowed though on those true pass sets were the most. Having had to flip sides based on the strength of the formation as a freshman and sophomore didn't help Becton's development, but that's still more projection than we'd like at the top of the draft.
6. Ben Bartch, St. John's
We had to get our hands on some DIII St. John's tape to confirm that Bartch's dominant Senior Bowl week wasn't a fluke. It turns out, dude is just that good. You can't glean too much from it, but he showed consistent technique and utter dominance against the lesser competition. In Mobile, Bartch showed the feistiness you want to see from an offensive tackle prospect and ended a number of reps throughout the week with the defender on the turf. He finished with the highest win rate in the one-on-ones of any tackle in attendance. Unlike the last DIII offensive lineman at the Senior Bowl in Ali Marpet, we think Bartch has all the tools to stick at tackle in the NFL.
7. Ezra Cleveland, Boise State
Cleveland was one of the biggest draft risers with his performance at the Combine, and for good reason. The track record for guys with his sort of movement skills is very good. He posted the best three-cone (7.26) and best short-shuttle (4.46) of any offensive lineman in attendance to go along with a 4.93-second 40. Only two tackles drafted in the first round over the past 15 years have bested both Cleveland's cone and shuttle: Joe Staley and Anthony Castonzo.
The athleticism would be one thing if it didn't translate to a football field, but Cleveland has earned pass-protection grades in the 80s for three straight seasons. The fact that he was losing at all against some of the competition he faced is concerning, though, and he doesn't play nearly as strong as his 30 bench reps would suggest.
8. Jack Driscoll, Auburn
While Prince Tega Wanogho is the bigger name along the Auburn offensive line, Driscoll has been the far more consistent pass protector. Dating back to his time at UMass, Driscoll has had three straight seasons now with 80.0-plus pass-blocking grades. While his play strength is marginal, Driscoll is one of the most agile tackles in the class and had no problem mirroring the more athletic pass-rushers in the SEC. He shut down Florida edge rusher Jonathan Greenard in their matchup this season.
8. Isaiah Wilson, Georgia
The first thing you notice about Wilson when watching tape is his size. He's not just big, he's the biggest. Listed at 6-foot-7, 340 pounds, Wilson really isn't carrying too much bad weight on him. Then you notice the way he moves. This man was tracking down linebackers last season for Georgia with ease. The good lord only made so many men that large that could move, and they tend to make good tackles in the NFL. The worries with Wilson is that at his height and weight, playing consistently low can be a struggle. As such, he loses far more leverage battles than you'd expect and can get walked back into the backfield. Kicking him into guard would only exacerbate those issues.
9. Austin Jackson, USC
Jackson has the athleticism you want in a project tackle, but his tape suggests that he is still worthy of that "project" label. He's only earned pass-blocking grades of 79.0 and 78.8 in the past two seasons, respectively. Those are solid for a player who has yet to even turn 21 years old, but not near the top tackles in the class. It showed up especially against NFL competition. Against Bradlee Anae (Utah), Julian Okwara (Notre Dame) and A.J. Epenesa (Iowa) this past season, Jackson earned pass-blocking grades of 45.3, 53.7, and 61.8, respectively. With plus athleticism and length, he has the tools to develop in the NFL.
10. Matt Peart, UConn
Peart started his first two years at left tackle before the Huskies before finishing his last two on the right side. His strength was an issue early on in his career, but he made a massive leap his final season at UConn with his run blocking grade going from 70.7 in 2018 to 90.1 this past season. While he still ceded more ground than you'd like against bull-rushes at the Senior Bowl, Peart has all the movement skills to hold up at tackle in the NFL.