This is an incredibly weak defensive interior class compared to a relatively deep edge class, so you're not going to find too many defensive tackles featured on this list. The evaluations of this edge class around the league are undoubtedly going to be all over the map — there are so few polished products but a ton of physical tools. It's going to come down to the body type and role teams prefer in their defenses. Let's get right into the cream of the crop.
View PFF's 2021 NFL Draft position rankings:
QB | RB | WR | TE | T | iOL | DI | EDGE | LB | CB | S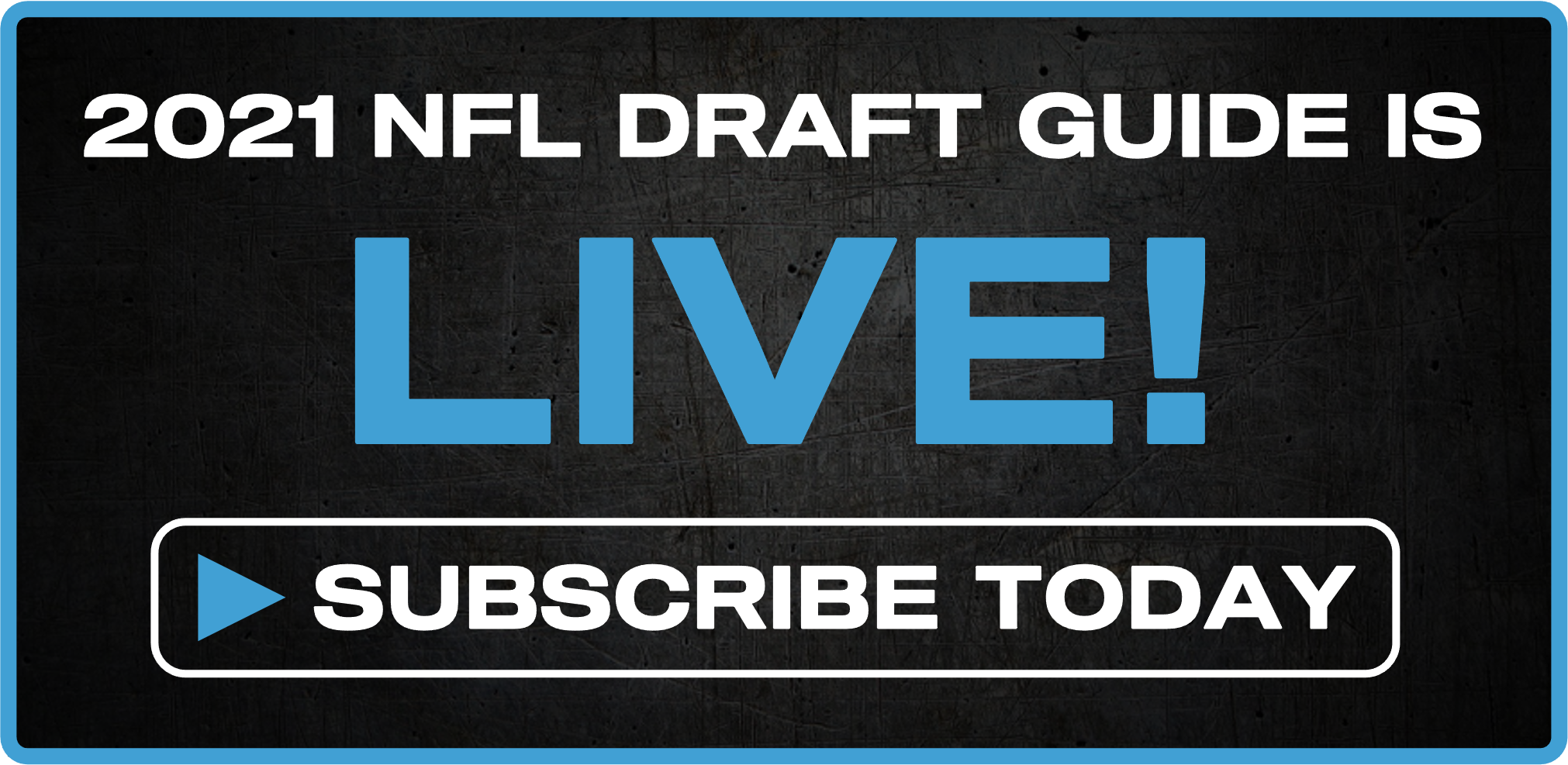 You won't find a more rocked up defensive end in this draft class. Because of his prodigious strength, Paye was in control of pretty much every interaction in the run game that involved him over the past couple of seasons. Paye put up 36 bench reps at his pro day at only 261 pounds. His 33-inch arms are more than long enough to continue that sort of impact at the next level.
????Welcomed Michigan EDGE rusher Kwity Paye on today's episode of the @ReidOptionPod:

• Escaping the Liberian Civil War
• Growing up as an immigrant
• Bruce Feldman's Freaks List
• Big 10 season cancellation
• Future outlook

????Listen: https://t.co/zZXF7Ymupk pic.twitter.com/WakuLcj1eq

— Jordan Reid (@Jordan_Reid) September 9, 2020
Williams is our lone defensive tackle representative here. That's because at 284 pounds, he's a walking ball of explosiveness. His 1.65 10-yard split at his pro day is a legit time for a defensive end, let alone a defensive tackle. We saw him in an attacking role much more down the stretch this past season, and his grade reflected it. He earned a 90.8 overall grade last season after only a 72.6 in 2019.
One guy no one is talking about right now that we need to start discussing ASAP?#LaTech DT Milton Williams

Ex-DE with plus athleticism for the interior.

Discussed w/ @BenFennell_NFL and @dpbrugler on today's Journey To The Draft Podcast

LISTEN: https://t.co/eDpgJLJRyX pic.twitter.com/hF1b76isWj

— Fran Duffy (@EaglesXOs) February 16, 2021
There are a number of edge rushers who use their hands exceedingly well in this class, including Miami's Quincy Roche and Ohio State's Jonathon Cooper. Neither have quite the violence to them that Ojulari brings. Even though he's on the smaller side at 6-foot-2, 249 pounds, Ojulari still has 34.5-inch arms. Those are tree trunks, and he uses them to consistently keep his shoulder pads clean. His 91.7 pass-rushing grade last season was the highest of any edge in the class. Declaring as only a redshirt sophomore, Ojulari's refinement is even that much more impressive.
Azeez Ojulari's chop is a beaut' pic.twitter.com/KWw3ReKvpx

— Austin Gayle (@PFF_AustinGayle) February 3, 2021
Some defenses love players with inside/outside versatility, and no one has shown as well in that regard than Odeyingbo. At 6-foot-5, 276 pounds with absurdly long 35.25-inch arms, that versatility should translate to the next level as well. Over the past two seasons, Odeyingbo earned a 71.6 pass-rushing grade on 266 snaps on the edge and an 84.9 pass-rushing grade on 297 snaps inside the tackles. That kind of even split is very likely to be his role in the NFL.
#Vanderbilt EDGE Dayo Odeyingbo has lots of juice from lots of alignments. At 6-6, 275, he has the versatility, strength and explosiveness to play in an odd or even front. His game doesn't have an off switch.

(????: @BenFennell_NFL)pic.twitter.com/pJfgsgPcV5

— Jordan Reid (@Jordan_Reid) December 8, 2020
This shouldn't be surprising considering his father is a longtime defensive line coach who now works for the Bears. If Rumph had ideal size for the position, we'd be talking about him as possibly the top edge in the class. He played this past season at only 235 pounds, however, and still looked noticeably less explosive than in 2019 when he played at 225 pounds. Even at that size, Rumph still sauced college linemen with a complete pass-rushing toolbox. Rumph had the highest pass-rushing win rate in the country back in 2019. He flashes everything on tape — even bull-rush pressures at his size. Here's hoping he can continue to put on good weight, because he can be an impact sub-package rusher.
Chris Rumph II is one of loosest, twitchiest, most flexible rushers in the class

But he's very undersized & an early down liability against vs run. Fun piece to move around in pressure packages – has rushed from depth & also isolated vs OGs

Helps your dad is NFL OLB coach too! pic.twitter.com/VAG8LaXAi3

— Ben Fennell (@BenFennell_NFL) March 13, 2021
While there are a ton of "freaks" in the draft class, there really is no other choice for this superlative. Oweh's pro day numbers were the single most impressive any edge prospect has ever produced. With an ideal frame at 6-foot-5, 257 pounds and 34.5-inch arms, only one of Oweh's testing drills fell below the 88th percentile for the edge position (21 bench reps, 39th percentile). His 4.39 40-yard dash and 11-foot-2 broad jump were both the best figures ever recorded for a defensive end. Rare, generational, special — whatever you want to call Oweh, he most certainly qualifies.
How many times have you ever seen an edge chase down a jet sweep from behind?

Jayson Oweh is a freak pic.twitter.com/K9WHunawZx

— Mike Renner (@PFF_Mike) February 22, 2021
It is #PennState Pro Day and there will be many eyes on EDGE Jayson Oweh. Such a rare combination of speed and athleticism, still growing and developing at the position.

He's going to blow the testing away today. You add the flashes on tape, there's a good chance he goes top 40. pic.twitter.com/twsiPv0zxp

— Devin Jackson (@RealD_Jackson) March 25, 2021