The intrigue surrounding the 2021 NFL Draft is ramping up by the day, with the nation's countless mock drafts, big boards and draft guides offering a vast range of outcomes and landing spots for the draft's top prospects.
Only adding to this intrigue is the possibility that four quarterbacks will come off the board with the first four picks for the very first time in the modern draft era. After that, the sheer amount of rare talent available at the top of the draft thanks to prospects such as tight end Kyle Pitts, wide receiver Ja'Marr Chase and tackle Penei Sewell will make this one of the most top-heavy first rounds in recent memory.
It is now only a week until the Jacksonville Jaguars kick off the first round, and the rumor mill has been heating up. Today, I'm going to dive into some of these rumors and place a "buy" or "sell" on each one. The buy or sell tags won't be based on the truthfulness or validity of the rumor in question. Instead, I'll judge what it would mean for each franchise should the rumor come to fruition. 
View PFF's 2021 NFL Draft position rankings:
QB | RB | WR | TE | T | iOL | DI | EDGE | LB | CB | S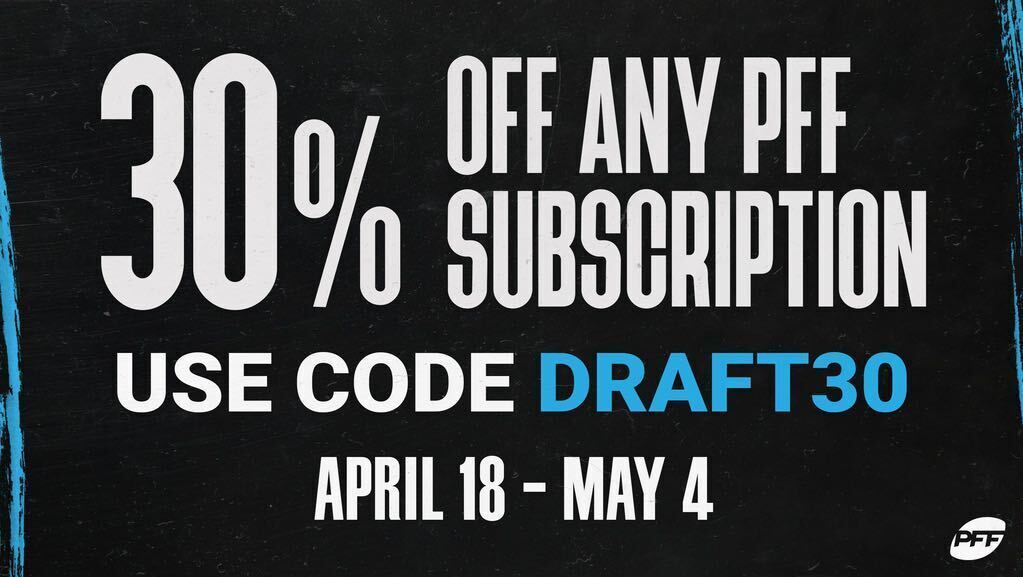 Sentiment: Sell
San Francisco's plan at No. 3 overall remains a mystery. In just one week, we've seen the betting odds shift from Mac Jones being the choice at -305 to Jones and Justin Fields being near even odds. While the pick is reportedly still under discussion, there is a growing sentiment around the league that Jones is still the favorite.
I'm certainly a fan of the former Crimson Tide signal-caller, given that he just orchestrated what was arguably the best passing attack in college football history. But selecting him over Fields isn't something I wouldn't condone … in any scenario.
If we were to stack up every single prospect from the last seven drafts, Fields would rank inside the top five alongside Trevor Lawrence, Joe Burrow, Zach Wilson and Baker Mayfield. Jones and Trey Lance are not even sniffing the group.
Fields is far superior to Jones from a physical tools perspective and is just as accurate. Just over 56% of Fields' passes over 10 yards downfield since 2019 have been deemed accurate, right behind Burrow and Jones for the best in the Power 5. Jones may have the edge when it comes to quick decision-making, but that point shouldn't justify taking him over Fields. 
Sentiment: Buy, but it is very much dependent on external factors
The sentiment behind this one is dependent on what the Niners decide to do at Pick 3 and what kind of trade market there is for Pick 4. If John Lynch bypasses Fields and follows through on his pursuit of Mac Jones, then this isn't even a thought. Atlanta should dial the Ohio State QB in as the pick as quickly as they can, even in the knowledge that Matt Ryan's contract will keep him with the team until at least 2023.
If Fields gets his name called as the third overall pick, and no one is willing to give up a king's ransom for the fourth pick, which personally seems like the most plausible outcome, it should rightfully be Pitts.
The Florida tight end is as rare as they come at the position. In our seven years of grading college football, we have never quite seen a tight end beat press-man coverage on the outside so effectively. He ran 55 routes from an outside wide receiver alignment in 2020, 41 of which were against press, and he generated 3.22 yards per route run on those plays to pair with a 91.0 receiving grade.
On the year, Pitts broke the PFF College record for the highest single-season receiving grade by a tight end with a 96.1 mark. He's the dynamic, athletic weapon the NFL is starting to covet at the position and would make for a fierce passing attack with Julio Jones and Calvin Ridley.
Sentiment: Sell
Sports Illustrated's Albert Breer reported in his weekly MMQB column that Detroit was a candidate to trade down from the seventh overall pick, but the team has otherwise been linked to Penn State off-ball linebacker Micah Parsons at that spot. The Lions' current top two wide receivers are Breshad Perriman and Tyrell Williams, so passing up on a wide receiver in Round 1 would be a major detriment. They would be guaranteed one of the four "elite" pass-catching prospects at the No. 7 pick. Due to the massive difference in positional value between wide receiver and linebacker, not taking a weapon to help out Jared Goff would be one of the more questionable decisions of the 2021 NFL Draft.  
Wide receivers have been over two times more valuable on average than off-ball linebackers in the NFL over the past five years, according to PFF WAR. To justify this pick, Parsons would have to become the next Luke Kuechly or Bobby Wagner, who combine to own seven of the 10 most valuable seasons at the position since 2016, from a production standpoint. While he is arguably the best prospect the position has seen since Kuechly in 2012, it's a pretty risky proposition to draft him. 
Detroit's WR1 and WR2, Perriman and Williams, both entered the league in 2015 and each has earned just one single-season PFF grade north of 70.0. It's not a hot take to stay the Lions' receiving unit ranks last in the NFL. Barring any chaotic events on draft day, all signs point to either DeVonta Smith and Jaylen Waddle being available for Detroit at the seventh pick. This should be an easy decision.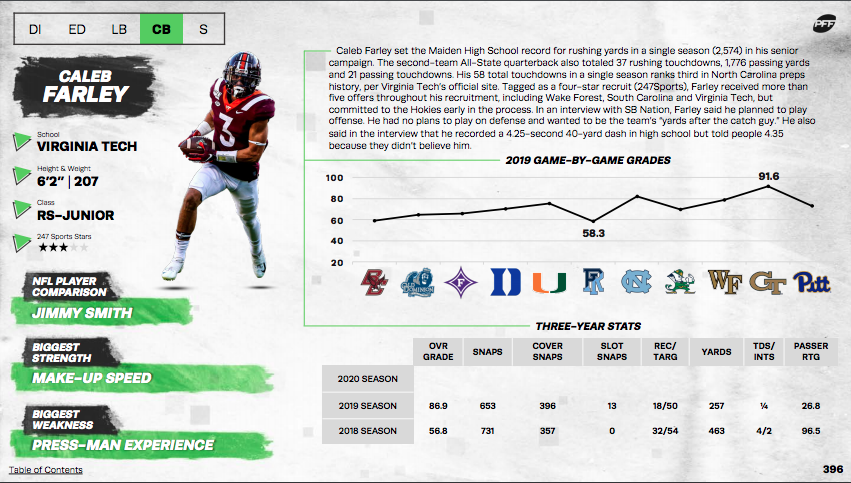 Philadelphia Eagles are a candidate to trade back into the top 10
Sentiment: Sell … if it's for a corner.
In addition to hitting on the Lions' rumors, Breer also mentioned in his MMQB column that Philadelphia was a team to look at as a possible trade-up candidate despite them trading out of the sixth pick with Miami. He indicated that cornerback is a possibility if the team enters back into the top 10. With the Eagles being guaranteed one of either Patrick Surtain II, Caleb Farley or Jaycee Horn at the 12th slot, I don't really see this as a necessary move for them.
At this point, Dallas is likely to roll with Surtain at No. 10. He was put on an island more than anyone in college football in 2020 and still ranked No. 1 in the FBS in PFF grade and seventh in yards per coverage snap allowed (0.52) — all while not recording a single penalty. For Philadelphia, Virginia Tech product Caleb Farley would be a solid consolation prize. He was once viewed as a top-10 prospect but has since fallen down many boards — including the final PFF top-300 big board — because of bad medical history and opting out in 2020.
If Farley were healthy, he would go in the top 10 easily; he passes the size (6-foot-2, 207 pounds), speed (clocked a sub-4.3 40) and production tests with flying colors. Back in 2019, Farley broke out with a 90.5 coverage grade. He allowed one or fewer catches in seven of his 11 starts that year while combining for 13 interceptions and pass breakups overall. 
Philadelphia doesn't need to trade up to snag a cornerback. The team can get a great one right where it's at.
We could see the first edge rusher off the board to the New York Giants at No. 11
Sentiment: Sell
According to SNY's Ralph Vacchiano, the Giants are strongly considering rolling with an edge defender at the No. 11 pick, even if a blue-chip receiver is still on the board. 
Personally, due to the uncertainty at edge defender in this class, the position wouldn't even be in the conversation if I were Giants general manager Dave Gettleman. If Smith and Waddle weren't on the board, I'd side with PFF's OT2, Rashawn Slater.
Michigan's Kwity Paye would most likely be the Giants' pick if they opt for an edge rusher. Paye has the physical tools the NFL is looking for at the position. The sub-6.5-second three-cone that landed him at No. 1 on Bruce Feldman's "Freaks List" and his Pro Day performance that featured a 4.52-second 40-yard dash and 36 reps of 225 pounds on the bench back that up. From a technical standpoint, though, Paye still has a big hill to climb. His pass-rush plans were often reckless, and his arsenal of moves was barren.
Paye is hands-down the best run defender in this class, but the lack of pass-rush polish makes him too risky of a play over one of the elite receivers or Slater at No. 11.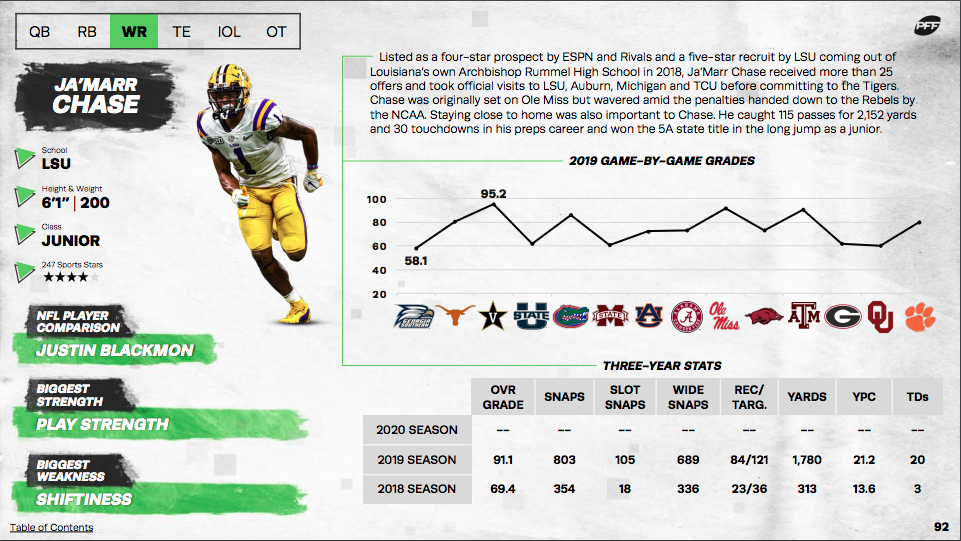 Sentiment: Buy
This is something I have been banging the drum for. Penei Sewell is a great prospect, but his ceiling is nowhere near Chase's. A top-10 wide receiver is more than two times more valuable than a top-10 offensive tackle, according to PFF WAR. And let's not forget about the sparks Chase ignited with Joe Burrow in their historic national title run in 2019 when the wide receiver was just 19 years old. He hauled in more 20-plus yard receptions (24) and touchdowns (14) than any other FBS wide receiver in the PFF College era. There are few cons on his scouting report. With the help of his supreme play strength, Chase is going to be a dog to face from Day 1.
Sentiment: Sell
According to Gerry Dulac of the Pittsburgh Post-Gazette, the Steelers are most likely to use their 24th overall selection on a running back. 
PFF disagrees with a team taking a running back in Round 1 of the draft? Shocking, I know. 
One would have to assume the RB would be Najee Harris of Alabama, who is currently the favorite to be the first player at the position off the board according to DraftKings Sportsbook (-150). If teams are investing in a running back, that player needs to be capable of producing in the passing game — Harris clearly checks that box. At 6-foot-2 and 230 pounds, he has a massive catch radius for a running back, with arms over 33 inches and proven production from his time with the Crimson Tide. Harris dropped just two of his 75 catchable targets over the last two years and has generated the highest passer rating when targeted (131.9) among FBS running backs. Since 2018, he has five more broken tackles after the catch than any other FBS back (33). Even with that proven ability, the end of Round 1 is about two rounds too early for Harris or any other player at the position.
Washington Football Team and Chicago Bears are both considering a move up in Round 1 for one of the top-five quarterbacks
Sentiment: Cautious buy
This is extremely dependent on what assets they have to give up and who they can can get, hence the "cautious" buy. If Fields is available, either team should give up whatever they need to and make a move. I highlighted this exact scenario for the Bears last week. But if it's for Jones or Lance, both teams should be hesitant to trade the farm for either of those two prospects. Each quarterback is a clear notch below the other three and has bigger red flags to be wary of. For Jones, it's the average-at-best physical profile and situation he was in at Alabama. For Lance, it's hands down the fact that he might be the most inaccurate first-round quarterback drafted in the last four years.
---
More of PFF's 2021 NFL Draft tools here: 
2021 NFL Draft Big Board | 2021 NFL Draft Guide | 2021 NFL Draft Stats Export | NFL Mock Drafts | NFL Mock Draft Simulator