In preparation for an action-packed NFL draft week, we here at PFF have been working non-stop to bring you everything you could possibly need before the Jacksonville Jaguars are officially put on the clock.
Want access to 300 individual player profiles? You can find those here. Need a 1,283-page 2021 NFL draft guide that includes player grades, advanced stats, player comparisons, Senior Bowl data and more? We got you. How about position rankings, mock drafts and a seven-round mock draft simulator? Look no further.
The best part is that you can SUBSCRIBE NOW using promo code DRAFT30 to save 30% off your new PFF subscription, where you will get all of this and much, much more.
Below are my superlatives for every single position in the 2021 NFL draft class. To highlight the draft prospects who shine in one specific area, I put together a best at everything list for 58 distinct categories, ranging from the best arm for the quarterbacks to the best in gap schemes for the offensive linemen to the best tackler for the defensive backs. Enjoy!
View PFF's 2021 NFL Draft position rankings:
QB | RB | WR | TE | T | iOL | DI | EDGE | LB | CB | S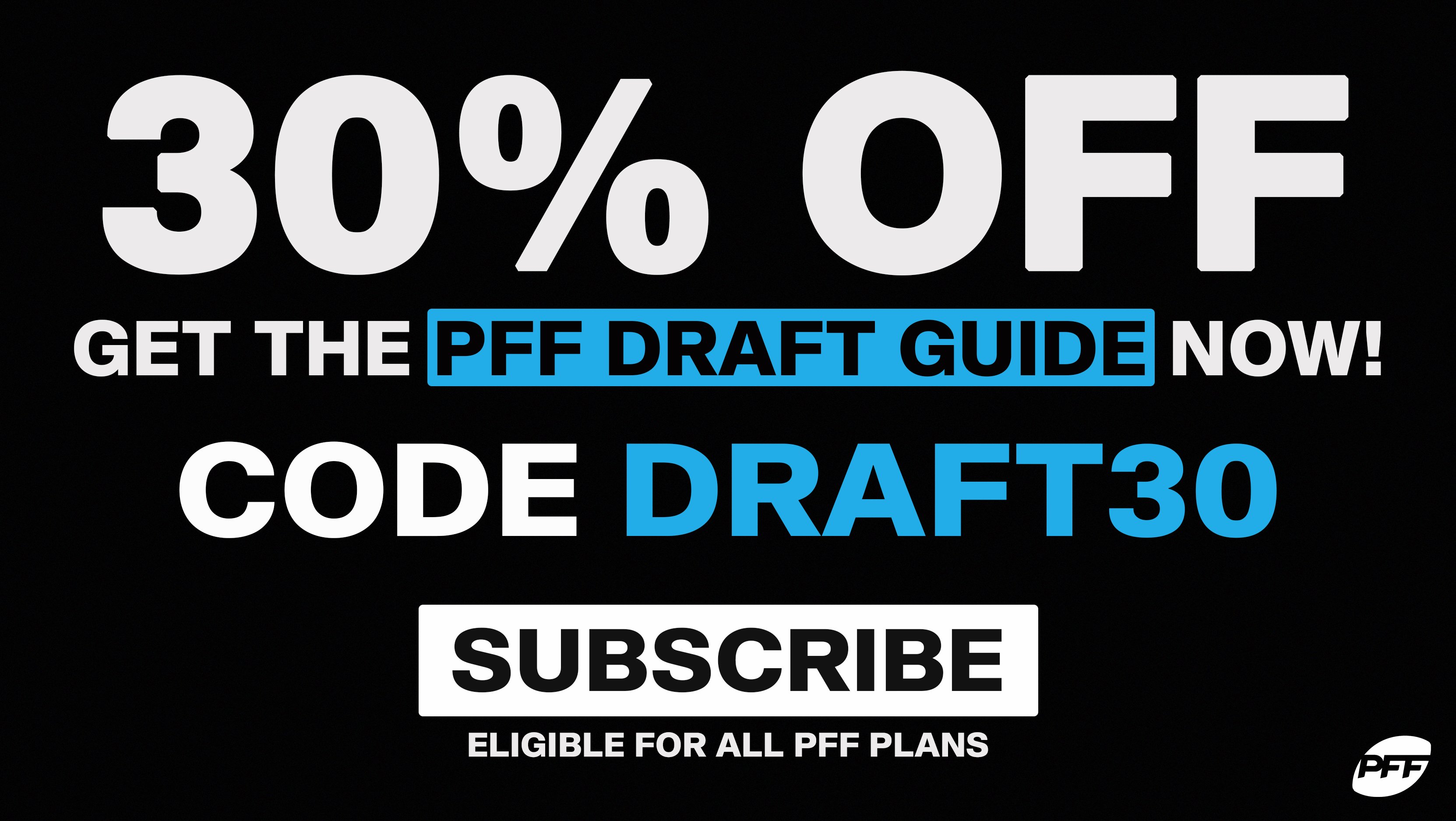 QUARTERBACK
Not only does Lance have easy juice on the ball already, but there's also reason to think he could get even stronger because he is the youngest quarterback in the draft. Even in only one season of play, Lance still has throws all over his tape that make you say "wow" with the velocity he puts on them.
The farthest career throw from Trey Lance

~62 yards

(2019 vs. Montana State, Q1 3:03) pic.twitter.com/HFel8hWRhq

— Mike Renner (@PFF_Mike) February 8, 2021
That's arm talent.
We'll let PFF's ball-placement charting do the deciding here. Justin Fields is tops in the class on all passes thrown five-plus yards downfield over the past two seasons with a 61.6% on-target rate, narrowly edging out Alabama's Mac Jones. That's not quite at the 66.1% we saw from Joe Burrow last year, but it far outpaces most of the other top quarterbacks in the class. No one besides Jones (61.5%) in the class is within five percentage points.
Justin Fields can thread the needle ???? @OhioStateFB pic.twitter.com/78AjC8Pi5b

— ESPN College Football (@ESPNCFB) April 5, 2021
Lawrence still racked up deep shots despite never having a true sub-4.5-40-yard-dash type of wide receiver on the outside. His 77 career deep completions are 12 more than the next closest quarterback ranked in the top-10 of the 2021 draft class (BYU's Zach Wilson).
An absolute dime from Trevor Lawrence at his Pro Day ???? @Trevorlawrencee @ClemsonFB

(h/t @nflnetwork) pic.twitter.com/8Crvg1cmmB

— The Checkdown (@thecheckdown) February 12, 2021
This is Jones' calling card, as he thrives within the tempo of the offense. No one came close to Jones statistically on "in-rhythm throws." His 97.6 passing grade, 13.4 yards per attempt and 152.5 passer rating on these plays led college football. Jones got the ball where it needed to go consistently for the Crimson Tide.
Can somebody find me a better timing/anticipation throw than this one by Mac Jones from any of the other QB prospects in this draft? pic.twitter.com/uSqdypcDOj

— Jamal (@FinessedBuckets) March 24, 2021
While there is no shortage of athletes at the position in this class, Lance not only has the physical tools, but he also has the on-field proof. He racked up 823 yards on 101 designed runs in 2019 and 327 yards on 33 scrambles, as well. Over his career, he averaged over 9.0 yards per attempt, and 18 of his 154 rushes ended up with a score.
Great run from Trey Lance to start the second half. He reads in between the tackles like a RB and is tough to bring down with his size and speed.

His throws have been suspect, but he's looked the part as a runner today. pic.twitter.com/0CCwWWuUCh

— Jacob Infante (@jacobinfante24) October 3, 2020
Best Outside the Pocket: Zach Wilson
This is Wilson's special trait that has him penciled in behind Trevor Lawrence on the PFF draft board. The man doesn't have to have his feet set in the pocket to drop dimes. His 86.4 passing grade outside the pocket in 2020 was the highest of any quarterback in the class. He averaged 9.3 yards per attempt, completed 65.5% of his passes and recorded a passer rating of 127.2 on throws outside the pocket. That's doing work.
I'm ready to start talking about BYU QB Zach Wilson as a first-rounder pic.twitter.com/9JLHgLYd4o

— Mike Renner (@PFF_Mike) October 5, 2020
This one was hotly contested, as truly none of the top quarterback prospects have had near the turnover issues we've seen from first-rounders such as Jordan Love, Sam Darnold or even Deshaun Watson in recent seasons. However, it's hard to go against Lance as he only threw one pick and had six turnover-worthy plays in his entire college career. To start as a redshirt freshman and protect the ball that well — even if it is against FCS competition — makes him easily deserving of this superlative.
While Lawrence has had several highly touted receivers over his time at Clemson, the same can't be said for his offensive line. Guard John Simpson (fourth round, 2020), right tackle Tremayne Anchrum (seventh round, 2020) and left tackle Jack Carman (likey Day 2, 2021) are the only Clemson offensive linemen who have been drafted, or will be drafted, in Lawrence's tenure. Still, he's averaged fewer than 16 sacks a season and has been excellent at avoiding those plays altogether. It's arguably the biggest reason why most feel so confident about him as a prospect.
Trevor Lawrence's pocket presence is literally elite. pic.twitter.com/93CPOFInhF

— Jaguars United (@Jaguars_United) March 28, 2021
Not that there was really any other way to slow down Alabama's offense in 2020, but blitzing certainly didn't work. Jones led college football in every single statistical category when blitzed last season: yards (1,365), touchdowns (18), yards per attempt (11.4) and completion percentage (77.5%). Maybe most impressively, Jones was only sacked three times on 124 blitzed dropbacks.
Mac Jones beating the blitz. ????#TheDraftStartsInMobile pic.twitter.com/mLZ1sgPY3p

— Jim Nagy (@JimNagy_SB) February 21, 2021
Worst Supporting Cast: Kellen Mond
While he had a solid offensive line by his senior season, Mond worked with who's who of big, slow receivers who couldn't separate worth a lick in his Texas A&M career. None of the wide receivers he's thrown to over the past three years have been drafted. If Jhamon Ausbon changes that this year, it will be late on Day 3 (true sophomore Ainias Smith will change that whenever he declares in the future).
Working with that against SEC corners is no easy task and must be factored into Mond's evaluation.
Wait. Kellen Mond did what?! ???? pic.twitter.com/Kom2fw1mOE

— Pro Football Network (@PFN365) March 30, 2021
Quickest Decision Maker: Davis Mills
Mills gets the ball out of his hands at the kind of pace NFL evaluators are sure to love. In fact, his 2.39-second average time to throw in 2020 on plays that weren't screens, RPOs or play action was the fastest in the draft class. That's a tenth of a second faster than the next closest quarterback (Trevor Lawrence, 2.49 seconds) and over two-tenths quicker than Mac Jones.
#Stanford QB Davis Mills (6-foot-4, 217) —

Can attack all levels of the field from the pocket. Footwork + the ability to throw with anticipation. Former five star recruit — with developmental upside. @NFLMatchup pic.twitter.com/nlSc3VEvWL

— Matt Bowen (@MattBowen41) March 30, 2021
RUNNING BACK
Etienne was bottled up more in 2020 than ever before, but he still averaged more than one 15-plus-yard run per game. For his career, Etienne had 85 such runs — the most of any running back in the draft class. With 4.41-second speed at his Pro Day and a 10-foot-8 broad jump, you can bet on that translating to the next level.
Clemson RB Travis Etienne operates at a different speed. pic.twitter.com/GbIewx9MEV

— Jordan Reid (@Jordan_Reid) May 9, 2019
This one was very evident in PFF's charting. The 20-year-old back was the most difficult back to bring down in college football last year and also had the single best tackle-breaking season in PFF College history. Williams shredded 76 tackles, ranking first in college football last year, on only 157 carries. And he's only getting better.
7. ???? Javonte Williams is a MONSTER.

He and Michael Carter set the FBS record for most rush yards by teammates in UNC's win over Miami.

– Williams: 23 car, 236 yds, 3 TD
-Carter: 24 car, 308 yds, 2 TDpic.twitter.com/dLAibYyv8W

— Kendall Baker (@TheKendallBaker) December 14, 2020
PFF's grading on this is surprisingly not close. Herbert's 93.9 rushing grade on zone concepts the past two seasons is tops in the class, and so is his 8.2 yards per attempt on 157 such carries. Watch how easily he navigates outside zone here out of shotgun — a notoriously more difficult alignment with the running back's angle than from under center.
#VaTech RB Khalil Herbert came into today averaging 12.4 yards per carry and an FBS leading 7.5 yards after contact. Another explosive play on this 52-yard TD.

His third straight 100-yard game, which matches his career total while at Kansas (35 games).pic.twitter.com/SmvEuPi21T

— Jordan Reid (@Jordan_Reid) October 10, 2020
It also helps that he's been a monster to bring down in space, racking up 57 broken tackles on those 157 carries. With Herbert standing at only 5-foot-9, his low center of gravity makes it easy for him to cut and get upfield on dimes. Get this man in a zone scheme, and let him rip it up.
93.8 grade. 65 broken tackles on 131 gap runs the past two years. 8.0 yards per attempt (only Rhamondre Stevenson has been better — 8.3 yards per attempt, although on only 69 carries). To put into context how insane those figures are, Williams broke 21 more tackles on 60 fewer attempts than Alabama's Najee Harris had on gap runs over that span.
Javonte Williams made Miami defenders look like bowling pins pic.twitter.com/66FxhPAzOc

— Connor Rogers (@ConnorJRogers) December 17, 2020
If there was a "most difficult to touch" superlative in this running back draft class, Williams would likely be your winner. He is a lightning rod with the ball in his hands and needs only an inch to make a play.
#Kansas RB Pooka Williams has an insane highlight reel. pic.twitter.com/i6VrYiYwmG

— Marcus Mosher (@Marcus_Mosher) February 14, 2021
At his Pro Day, Williams ran a 4.38-second 40-yard dash but checked in at only 175 pounds and did four bench press reps. He's not going to do all your normal running back things, but he can still be a weapon.
This superlative was hotly contested. Travis Etienne led the way with 37 career goal-to-go scores, with Harris coming in second (35). Harris, however, converted at a higher rate. Some 48.6% of Harris' goal-to-go carries resulted in scores, while the same was true only 44.0% of the time for Etienne. Harris quite obviously has the bruising running style and size to be that guy at the NFL level, as well.
Najee Harris is almost always a guarantee to score near the goal line! Alabama strikes first! #RollTide #BAMAvsTENN pic.twitter.com/eLlZEmBYVP

— CFB Pylon (@TheCFBPylon) October 24, 2020
After not being featured early in his Alabama career, Harris became a weapon in the Crimson Tide passing attack over the past two seasons. He tallied 80 career catches — 43 this past season — and dropped only three targets. Those sure hands will surely be utilized in the NFL.
Najee Harris: UNREAL????

Alabama (-775 Live) is up a score after another Najee TD!

Live Total: 86.5pic.twitter.com/I3YkZClM4a

— PointsBet Sportsbook (@PointsBetUSA) January 12, 2021
This completes the trifecta for Harris, who has more highlight-reel grabs on his tape than almost any running back in recent memory. At 6-foot-2 with 33 3/8-inch arms, Harris has one of the widest catch radii you'll ever see at the position.
Najee Harris is such a freak. This is a RUNNING BACK on this TD catch. pic.twitter.com/uWjNcc1bVb

— Chris Hummer (@chris_hummer) November 9, 2019
Watching the 5-foot-7 Patterson navigate in tight quarters is a thing of beauty. He personifies the symbiotic relationship between runner and offensive line in the way he sets up his blocks.
Sheesh, vicious cut in a phone booth!! Jaret Patterson possesses some of the best footwork in the class!!

— Damian Parson ???? (@DP_NFL) November 20, 2020
It's something you see consistently on his tape, and it helps out tremendously with offensive linemen establishing leverage. The way he presses holes and patiently waits to explode will translate nicely to the next level, even at his size.
Jaret Patterson's (@__JP26) film is special. From the second you turn it on, he is making play after play. Really good vision and contact balance. He has starter potential at the next level and should be one of the best players once the MAC returns. #NFLDraft #DraftTwitter pic.twitter.com/a5QRdfcxkV

— Jack Borowsky (@Jack_Borowsky) October 4, 2020
Not many NFL running backs can split out wide and get open as easily as Felton showed he could at the Senior Bowl. Felton had the fifth-highest grade of any receiver in attendance in the one-on-ones, and he hasn't even played that position since 2018. If you want a receiving threat in your offense, this is the guy.
WFT rookie star @AntonioGibson14 repped exclusively at RB in Senior Bowl after playing mostly WR at Memphis & his draft stock ???? multiple rounds. This year @UCLAFootball RB Demetric Felton worked at WR and was electric. @demetricfelton7 will be an immediate contributor in NFL.???? pic.twitter.com/VsYIdRDUM1

— Jim Nagy (@JimNagy_SB) February 11, 2021
Best Athletic Testing: Elijah Mitchell, Louisiana
At 5-foot-10 and 201 pounds, Mitchell put up a 4.38-second 40-yard dash, did 17 bench reps, had a 38-inch vertical, a 10-foot-8 broad jump, a 4.19-second shuttle and a 6.94-second three-cone. Mitchell's bench press was his only Pro Day drill that was below the 70th percentile historically at the running back position. That's quite the athletic display for a player who has the tape to match. He earned rushing grades over 80.0 in all three seasons as a starter and averaged 4.14 yards after contact per attempt for his career. When a small-school player tests that well athletically, it makes you feel better about their production translating to the next level.
WIDE RECEIVER
Ja'Marr Chase was the most productive deep receiver in 2019, and DeVonta Smith laid claim to that title this past year, but no one brings the "threat" quite like Waddle. In the four games prior to his injury in 2020, Waddle hauled in six deep receptions on seven deep targets for 329 yards. Extrapolate that out to a 13-game season, and that's 19.5 deep catches and 1,069 deep receiving yards — figures that would have far and away led college football. That's what some lucky NFL team is getting early in the first round.
No chance of catching Jaylen Waddle once he gets behind the defense.

Lays a well-executed double-move, using his timing, burst, and excellent deep speed to record an 87-yard touchdown. It's these traits that also makes him such a good route-runner. #TogetherBlue #NFLDraft pic.twitter.com/RfmzVg1slp

— WBG84 (@WBG84) January 23, 2021
This is how a 170-pounder can light college football on fire in a way we've never seen before. Smith simply doesn't let cornerbacks get their hands on him. The nuance and polish in his route-running is unlike anything we have seen from any receiver prospect we've graded. You won't find Smith "going through the motions" any time soon on tape.
DeVonta Smith, WR, #Alabama:

• A+ body control (+)
• RAC ability
• Creative releases at the LOS (++)
• Mature/Well rounded route tree
• Play patience and awareness pic.twitter.com/HcAqfu4HTp

— Jordan Reid (@Jordan_Reid) April 26, 2020
This one could have been Smith too, but Bateman has the added physical element to get off the line of scrimmage. It's why we feel so strongly about him as WR4 on the PFF draft board. His release package is NFL-ready, and it's why he led the country in yards per route from the outside as a true sophomore in 2019.
Rondale Moore, Tutu Atwell, Jaylen Waddle, Ja'Marr Chase and Jaelon Darden all have a case here, but none of them quite move the way Toney does. He broke 43 tackles on 120 career catches and added 23 more on 67 career rushes. Those are the kind of numbers you'd put up in NCAA Football with the difficulty on Freshman, not real life.
Behold All Of #Florida WR Kadarius Toney's Touchdowns From The 2020 Season

HT: 5'11"
WT: 195
PFF Stat: 39% Forced Missed Tackle Rate (1st Among WR)
2020 Stats (11 Games): 70 Rec, 984 Yards, 10 TD, 161 RuYards, 1 TD, 1 PR TD pic.twitter.com/0YS1PfGJjz

— Steve Frederick (@_SteveFrederick) December 29, 2020
Chase is PFF's WR1 because he's not just a contested-catch guy. But when he is asked to play through contact, nobody in the draft class is better. And to think he was bodying defenders to the tune of 16 contested catches in 2019 as a true sophomore. The way he attacks the ball in the air is nothing short of special for a prospect and is a must to be a top dog at the NFL level.
One thing that's very subtle and underrated about Ja'Marr Chase is the way he uses his body to shield defenders in contested catch situations. Look at this, I think most receivers just stick their hands out to catch it and get it knocked away. Chase shifts to block the defender. pic.twitter.com/go0OC3kuwS

— Max Toscano (@maxtoscano1) May 24, 2020
Sadly, we'll never get to see how a healthy Waddle would have tested at the combine or his pro day after breaking his ankle last season. On tape, though, he's truly the closest thing to Tyreek Hill from a size and twitch perspective that we've seen in recent years. Just look at the way he accelerates with the ball in his hands.
Who is your NFL comp for Jaylen Waddle?

— PFF Draft (@PFF_College) April 7, 2021
It's decidedly different, even from the other elite-tier receivers in the draft class. He has the highest career yards per route run average in the draft class, and the highlight reel he put up on only 588 career passing snaps is a sight to behold.
Jaylen Waddle is _____________. pic.twitter.com/s0xhSJbpsj

— Pro Football Network (@PFN365) April 6, 2021
While he can be much more than a "slot only," there's no better option in the draft class if that's what you want in your offense. Over the past two seasons, Moore has racked up 1,738 yards from the slot, the most of any receiver in college football. He's also done so without the advent of a ton of "phony" production, as only 86 of those yards came on screens. He can be a vertical threat from the slot with 4.35 speed or easily shake defenders underneath.
Elijah Moore = Separation
????????????????????????????????????#Titans #NFLDraft pic.twitter.com/mnVP7Tj0KT

— Wes On Broadway (@TitansDraftTape) April 4, 2021
While Kadarius Toney may have the slight edge after the catch, Moore gets the nod here for what his 4.29 speed can do as a gadget player. I feel bad lumping the Purdue receiver into such a role because he is so much more than that. If that's all you wanted him to do, though, Moore could still bring a ton of value to the table. He's not your everyday 5-foot-7, 180-pounder. Moore has legit play strength as well and can run through as well as around you.
Let us never forget the time that Rondale Moore ran over Ohio State.pic.twitter.com/u3GsJ4ttdc

— Connor O'Gara (@cjogara) August 6, 2020
Watkins isn't going to win any athleticism contests, and he may be a late-rounder, but I'm not sure there's an argument to be made for anyone else here. Watkins caught 99 balls with only one drop in his UAB career and went a ridiculous 19-of-31 in contested situations for his career. The man has ball skills for days. His separation ability doesn't quite match up, but if it's in his vicinity, he's coming down with it.
.@UAB_FB WR Austin Watkins Jr. making a name for himself in front of national ESPN audience and checking all the boxes for the @seniorbowl tonight. We see you @Golden_Ticket6! ????

*NFL body ✅
*Deep ball production ✅
*Red-zone skills ✅ pic.twitter.com/EpNpsmc1X5

— Jim Nagy (@JimNagy_SB) September 25, 2020
OFFENSIVE LINE
This is where Slater wins. Watching him close down space between him and defenders is a thing of beauty. It's why he handled 2020 No. 2 overall pick Chase Young better than any other offensive lineman in the country back in 2019. He truly is a special athlete for the position.
Enjoyed watching former Northwestern OT Rashawn Slater. I think he's a tackle. The 2019 game vs. Ohio State sold me on that. He handled Chase Young well. There will be some teams that grade him as an IOL though. pic.twitter.com/ZiNIND40uX

— Jordan Reid (@Jordan_Reid) November 5, 2020
Dickerson plays with an uncoachable mean streak. He not only wants to put guys in the turf; he wants to dive on top of them while they're down. He tied for the Power 5 lead in big-time blocks in the run game this past season and routinely buried defenders in pass protection. His 92.8 run-blocking grade in 2020 was the highest we've seen in a single season at the center position since former Arkansas center and now Detroit Lion Frank Ragnow.
Landon. Dickerson.
Every. Single. Week. pic.twitter.com/lv8m91NQU9

— Cole Cubelic (@colecubelic) November 29, 2020
This one is not only backed up by how visually appealing his technique is in pass protection, but it's also backed up by the PFF grades. His 91.7 pass-blocking grade on 297 true pass sets over the past two years is far and away tops in the draft class. For Vera-Tucker's entire college career, he only allowed 16 pressures on 975 pass-blocking snaps. That's quite the track record.
Another clean performance from #USC OT Alijah Vera-Tucker (LT #75) yesterday vs. Arizona. Hard to believe that it's only his second career game playing tackle.

In a zone based blocking scheme, he could be an ideal fit at either guard or tackle. pic.twitter.com/RIFqgagCB8

— Jordan Reid (@Jordan_Reid) November 15, 2020
Slater started his career at right tackle before switching to the left in 2019. While he's only played on the edge, he has the ideal body type — 6-foot-4, 304 pounds, 33-inch arms — and athleticism to play anywhere on the offensive line. That arm length may make teams think about putting him on the interior, but it would be absurd not to start him anywhere other than tackle at the next level.
With 2,941 career snaps, Anderson has the most snaps played of any lineman in the top 250 on PFF's 2021 NFL Draft Big Board. Others who have cracked 2,700-plus career snaps are Northwestern's Rashawn Slater (2,700), Iowa's Alaric Jackson (2,758), South Carolina's Sadarius Hutcherson (2,759), Nebraska's Brenden Jaimes (2,785), Cal's Jake Curhan (2,827), Texas A&M's Carson Green (2,927) and Kentucky's Drake Jackson (2,940).
The #Bills met w/ Texas Tech OG/C Jack Anderson (@JackAnderson56) at The Senior Bowl. The Bills love his positional flexibility. He has plenty of Pass Pro experience on his resume. His wide frame & physicality help him create displacement on Down Blocks or Inside Zone concepts. pic.twitter.com/3JQHjN05qf

— Erik Turner (@ErikJTurner) February 24, 2021
This one was hotly contested this draft season. Illinois' Kendrick Green (36-inch vertical and 9-foot-11 broad jump) as well as Texas' Sam Cosmi (4.87-second 40, 36 bench reps, and 7.35-second three-cone) both had all-time pro-day figures in their own right.
But it was Brown who put up arguably the single freakiest offensive line testing figure we've ever seen. He ran a 6.96 three-cone at 311 pounds. That's the fastest ever recorded for an offensive lineman. To put that into perspective, Antonio Brown only ran a 6.98 three-cone coming out of Central Michigan.
Spencer Brown is a pure project at this point, but you won't find better project tools.
Spencer Brown just tossin people.
#Titans pic.twitter.com/xYwas1OFDq

— Wes On Broadway (@TitansDraftTape) April 5, 2021
Jenkins earned the highest run-blocking grade in the class on gap runs over the past two seasons. This should come as no surprise to anyone who has watched his tape.
Get the feeling that Oklahoma State OT Teven Jenkins might go sneaky high. Tough, physical and nasty mofo (his words). pic.twitter.com/7oVBxGxB1e

— Purple FTW! Podcast (@PurpleForTheWin) April 5, 2021
Gap run-blocking prioritizes movement over everything, and Jenkins routinely moves defenders against their will. It's why he earned a 93.6 run-blocking grade in 2020. He's an extremely powerful tackle who did 36 bench press reps and produced a 32.5-inch vertical at his pro day.
Sewell's blend of athleticism, size and play strength are why he earned a 95.7 run-blocking grade on 342 zone runs as a sophomore back in 2019. He can thrive in any scheme, but you really see his ability to shine on the move — 330-plus-pounders simply don't move the way he does.
Another one from @oregonfootball LT Penei Sewell…drops a shoulder n a LB for a pancake. ???? pic.twitter.com/DxQeacxVuC

— Cole Cubelic (@colecubelic) September 23, 2019
BYU's Brady Christensen also deserves a shoutout here, as he graded out just behind Sewell with a 95.4 zone grade over the past two seasons.
DEFENSIVE LINE
You won't find a more rocked up defensive end in this draft class. Because of his prodigious strength, Paye was in control of pretty much every interaction in the run game that involved him over the past couple of seasons. Paye put up 36 bench reps at his pro day at only 261 pounds. His 33-inch arms are more than long enough to continue that sort of impact at the next level.
????Welcomed Michigan EDGE rusher Kwity Paye on today's episode of the @ReidOptionPod:

• Escaping the Liberian Civil War
• Growing up as an immigrant
• Bruce Feldman's Freaks List
• Big 10 season cancellation
• Future outlook

????Listen: https://t.co/zZXF7Ymupk pic.twitter.com/WakuLcj1eq

— Jordan Reid (@Jordan_Reid) September 9, 2020
Williams is our lone defensive tackle representative here. That's because at 284 pounds, he's a walking ball of explosiveness. His 1.65 10-yard split at his pro day is a legit time for a defensive end, let alone a defensive tackle. We saw him in an attacking role much more down the stretch this past season, and his grade reflected it. He earned a 90.8 overall grade last season after only a 72.6 in 2019.
One guy no one is talking about right now that we need to start discussing ASAP?#LaTech DT Milton Williams

Ex-DE with plus athleticism for the interior.

Discussed w/ @BenFennell_NFL and @dpbrugler on today's Journey To The Draft Podcast

LISTEN: https://t.co/eDpgJLJRyX pic.twitter.com/hF1b76isWj

— Fran Duffy (@EaglesXOs) February 16, 2021
There are a number of edge rushers who use their hands exceedingly well in this class, including Miami's Quincy Roche and Ohio State's Jonathon Cooper. Neither have quite the violence to them that Ojulari brings. Even though he's on the smaller side at 6-foot-2, 249 pounds, Ojulari still has 34.5-inch arms. Those are tree trunks, and he uses them to consistently keep his shoulder pads clean. His 91.7 pass-rushing grade last season was the highest of any edge in the class. Declaring as only a redshirt sophomore, Ojulari's refinement is even that much more impressive.
Azeez Ojulari's chop is a beaut' pic.twitter.com/KWw3ReKvpx

— Austin Gayle (@PFF_AustinGayle) February 3, 2021
Some defenses love players with inside/outside versatility, and no one has shown as well in that regard than Odeyingbo. At 6-foot-5, 276 pounds with absurdly long 35.25-inch arms, that versatility should translate to the next level as well. Over the past two seasons, Odeyingbo earned a 71.6 pass-rushing grade on 266 snaps on the edge and an 84.9 pass-rushing grade on 297 snaps inside the tackles. That kind of even split is very likely to be his role in the NFL.
#Vanderbilt EDGE Dayo Odeyingbo has lots of juice from lots of alignments. At 6-6, 275, he has the versatility, strength and explosiveness to play in an odd or even front. His game doesn't have an off switch.

(????: @BenFennell_NFL)pic.twitter.com/pJfgsgPcV5

— Jordan Reid (@Jordan_Reid) December 8, 2020
This shouldn't be surprising considering his father is a longtime defensive line coach who now works for the Bears. If Rumph had ideal size for the position, we'd be talking about him as possibly the top edge in the class. He played this past season at only 235 pounds, however, and still looked noticeably less explosive than in 2019 when he played at 225 pounds. Even at that size, Rumph still sauced college linemen with a complete pass-rushing toolbox. Rumph had the highest pass-rushing win rate in the country back in 2019. He flashes everything on tape — even bull-rush pressures at his size. Here's hoping he can continue to put on good weight, because he can be an impact sub-package rusher.
Chris Rumph II is one of loosest, twitchiest, most flexible rushers in the class

But he's very undersized & an early down liability against vs run. Fun piece to move around in pressure packages – has rushed from depth & also isolated vs OGs

Helps your dad is NFL OLB coach too! pic.twitter.com/VAG8LaXAi3

— Ben Fennell (@BenFennell_NFL) March 13, 2021
While there are a ton of "freaks" in the draft class, there really is no other choice for this superlative. Oweh's pro day numbers were the single most impressive any edge prospect has ever produced. With an ideal frame at 6-foot-5, 257 pounds and 34.5-inch arms, only one of Oweh's testing drills fell below the 88th percentile for the edge position (21 bench reps, 39th percentile). His 4.39 40-yard dash and 11-foot-2 broad jump were both the best figures ever recorded for a defensive end. Rare, generational, special — whatever you want to call Oweh, he most certainly qualifies.
How many times have you ever seen an edge chase down a jet sweep from behind?

Jayson Oweh is a freak pic.twitter.com/K9WHunawZx

— Mike Renner (@PFF_Mike) February 22, 2021
It is #PennState Pro Day and there will be many eyes on EDGE Jayson Oweh. Such a rare combination of speed and athleticism, still growing and developing at the position.

He's going to blow the testing away today. You add the flashes on tape, there's a good chance he goes top 40. pic.twitter.com/twsiPv0zxp

— Devin Jackson (@RealD_Jackson) March 25, 2021
LINEBACKER
Last year we debated what Isaiah Simmons would look like between the tackles, but there's no such worry with Parsons. He sheds blocks so well on tape that oftentimes he treats them like afterthoughts. He can stack and shed, dip and rip and make offensive linemen miss altogether. It's why he earned the second-highest run-defense grade we've ever given to a linebacker (94.8) as a sophomore back in 2019.
@McShay13 on Micah Parsons: pic.twitter.com/IJBx58uSQI

— Raiders Beat (@RaidersBeat) April 10, 2021
These first two superlatives go hand in hand, so this shouldn't be too surprising. If the 246-pound linebacker were classified solely as an edge defender, he'd likely be EDGE1 in the draft class. He's racked up a ridiculous 36 pressures on 135 pass-rushing snaps in his career for a 91.4 pass-rushing grade. Unsurprisingly, that's the highest career pass-rush grade in the draft class, with only three other linebackers even above 80.0.
This is why JOK is likely to be a top-20 selection come April 29. At only 221 pounds, he's not the prototype for the position by any means. But when you watch him routinely make special plays in coverage, you throw any possible block-shedding issues to the wayside. JOK spent 328 snaps in the slot and 215 snaps in the box last season for the Irish. Even at his size, he still earned the second-highest coverage grade in the slot of any player in college football.
My god Jeremiah Owusu-Koramoah might be the most fun draft prospect to watch this year.

He (#6) lines up as a Nickel/SAM most of the time and runs this route for the slot WR. I'd let Lovie Smith shave his beard for a chance at drafting him, and Lovie probably would too. pic.twitter.com/QiSUGxe1p2

— Jordan (@Texans_Thoughts) April 11, 2021
His tape is littered with lightning-quick reads from pretty much any alignment. His ability to line up anywhere over the middle of the field and still be an impact player in coverage will be coveted highly.
Big time play by JOK…

He's in man coverage, but rules change on the jet motion…. CB then takes first to flat, JOK must redirect and sink with corner route from YTE

Gets eyes back, while getting depth… Makes play on ball. Beautiful.

This a safety to you @EaglesXOs ? pic.twitter.com/Yzhe2nK7pt

— Ben Fennell (@BenFennell_NFL) February 18, 2021
Cox is a former quarterback turned linebacker, and it's very clear he sees the field like the former. Between North Dakota State and LSU, Cox earned coverage grades of 87.4 in 2018, 85.2 in 2019 and 83.5 in 2020. That's multiple different schemes and roles with the same result.
He racked up three picks and four pass breakups from multiple different coverage types this past season for the Tigers. He may not be the super-elite athlete that others on this list are, but he continually gets the job done.
I'll take LSU LB Jabril Cox on day 2 all day over Notre Dame LB JOK in round 1.
✅Nose for the ball:9 Ints & 23 Pass Breakups
✅Best Coverage LB in CFB(+90th percentile coverage grade)
✅ Versatile:900+snaps at slot corner
✅Lives in the backfield:15 Career Sacks/39 TFLs pic.twitter.com/TZxGBClm2S

— Nathan Coleman (@JHawkChalk_) March 7, 2021
This is where Bolton thrives. He's the second-highest-graded linebacker behind Micah Parsons since 2019, and he's led the SEC in stops in both of the past two regular seasons. There are so many plays on Bolton's tape where he knows where the ball is going before it even gets there. He may not be the most agile, but he can certainly hunt down ball carriers sideline to sideline.
Nick Bolton's my guy. pic.twitter.com/DD9ZOnRpaS

— Jeff Cavanaugh (@JC1053) December 14, 2020
Yet another appearance — and it is very well deserved.
The fact that he made 177 tackles between his freshman and sophomore seasons yet missed only 11 is nothing short of absurd. That's a 5.9% missed tackle rate for a player in his first two seasons of college football. Parsons has massive 11-inch hands (the largest ever recorded for an off-ball linebacker) that won't let go once they latch on. He also packs a punch at over 240 pounds with the ability to run a 4.39 40-yard dash.
LB1 Micah Parsons running downhill is a scary sight

(h/t @Hugorso) pic.twitter.com/CL4bnpHi4K

— PFF Draft (@PFF_College) April 13, 2021
This is why Davis may very well be a first-rounder despite having only one season of starting experience in his four years at Kentucky. He put up an eye-popping 4.48-second 40 with a 1.53-second 10-split at his pro day, pairing those numbers with a 42-inch vertical, 11-foot broad jump and 21 bench reps with 33-inch arms. That vertical tied former Georgia linebacker Boss Bailey for the highest ever recorded from a linebacker. That's the type of juice every NFL team is looking for at the position.
If the #Patriots are looking for a coverage LB on day two, Kentucky's Jamin Davis is a dude. Great athlete and feel for man/zone coverage.

Nice recovery to drop underneath Pitts's over route (1st clip), running the seam with the RB (2nd clip), low zone (3rd clip). pic.twitter.com/WyMiloiZxR

— Evan Lazar (@ezlazar) April 7, 2021
DEFENSIVE BACK
This is easily the biggest positive in Farley's game, as he made up ground on every wide receiver who got a step on him in 2019. It's why he only allowed 18 catches for 257 yards from 50 targets; it's also why he recorded four picks and nine pass breakups to earn a 90.5 coverage grade that season.
While we didn't get an official 40 from him this spring because of a back injury, he recently said on the 2 for 1 Drafts Podcast that he's capable of running in the 4.2s at 6-foot-2, 207 pounds.
Caleb Farley's 2019 tape is simply outstanding pic.twitter.com/B6irJZwUBM

— Pro Football Network (@PFN365) April 14, 2021
Cisco's range is the main reason why he is one of PFF's favorite single-high prospects in the class. Over the course of his Syracuse career, he racked up 13 picks and 13 pass breakups in only 23 games. That is some pretty special ball production, even if there is a lot of ugly on his tape. Hopefully Cisco doesn't lose a step after tearing his ACL this past season.
Syracuse safety Andre Cisco is a bit boom or bust. Can be a little too aggressive at times but his range and fluidness in coverage are high-level stuff. Love how he triggers down to hunt crossers as well. Free safety/single-high prospect on day two. #Patriots pic.twitter.com/GHBgmgjqye

— Evan Lazar (@ezlazar) April 6, 2021
If you are drafting Horn early in Round 1 and don't have a scheme that calls for a heavy dose of press, you may want to rethink that, as the South Carolina product thrives on the line of scrimmage.
In the SEC last season, he played press on 116 coverage snaps and allowed only four catches and 60 yards from 13 targets, coming away with a pick and five forced incompletions. At 6-foot-1 and over 200 pounds, Horn has the size and physicality to keep that going in the NFL.
Here we get a better look at Jaycees Horns coverage on the previous play. Dudes a menace! #NFLDraft #NFL #KroenickFilm pic.twitter.com/KbQqv4togK

— The Podfather (@TheBurgundyZone) March 16, 2021
Grant is one of the safer projections to the NFL because of this versatility. We've seen him line up pretty much everywhere for the Golden Knights defense and still play at a high level. This past season, he played 236 snaps in the box, 226 snaps deep and 144 snaps in the slot. And he was still one of the highest-graded safeties in college football.
To cap it off, he played press-man coverage in the one-on-ones at the Senior Bowl and earned the highest grade of any safety in attendance. While there are some other versatile guys in the class like TCU's Trevon Moehrig and Oregon's Jevon Holland, Grant takes the cake.
Must remind everyone @UCF_Football DB Richie Grant is a safety by trade, not a corner. Numerous reps like this one where @rgrant1525 blankets WR during Senior Bowl week. Probably the best finisher in this year's game. There's a reason why he's a hot guy in the league right now.???? pic.twitter.com/j2iGGRxOcJ

— Jim Nagy (@JimNagy_SB) February 12, 2021
This is why Lenoir is one of our favorite candidates to transition from corner to safety. Lenoir notched 159 tackles and only nine total misses in his Oregon career. After three years as a starter, he's never missed more than three tackles in any single season in his career. He's not particularly fleet of foot, so it will be hard for him to hack it on the outside, but he's a very physical and assignment-sure player who could thrive at safety.
This is why watching Newsome's tape is truly a thing of beauty — he makes transitions to footballs that others in this class cannot. It's why he allowed only 12 catches for 93 yards on 34 targets in six games this past season. If we had seen that dominance for a full season, Newsome's name would no doubt be up there with the other corners at the top of this class.
Greg Newsome II is a 1st round talent. His versatility in press man, off man, and zone concepts is well documented on film.

The clip below is any DB coaches dream. He transitions downhill quickly while under control, able to flip his hips and play the catch point. #TeachTape pic.twitter.com/soGlk0O8kM

— Recruiting Analytics (@RAanalytics) April 13, 2021
While we haven't seen him since he opted out, Adebo's career ball production in only two seasons still stacks up well against others in this class. In those two years as a starter, he collected 24 pass breakups and eight picks. He attacks the catch point like a volleyball player and has an incredible knack for locating the ball. With good size and length, you can bank on that continuing in the NFL.
Huge play by #11 Paulson Adebo to break up a perfectly thrown ball by Herbert in overtime. pic.twitter.com/xiOBYmywsx

— Fed Scivittaro (@MeshPointScout) September 23, 2018
---
More of PFF's 2021 NFL Draft tools here: 
2021 NFL Draft Big Board | 2021 NFL Draft Guide | 2021 NFL Draft Stats Export | NFL Mock Drafts | NFL Mock Draft Simulator