Positional value is a very complex topic, especially when it comes to the NFL draft.
Naturally, we at PFF believe that quarterback is the most important position in football, and as the top three selections of the 2021 NFL Draft illustrate, the league has long caught up to this. Our next most coveted positions are wide receiver and cornerback, which directly influence the most important facet in football — the passing game — more than any other non-quarterback position.
However, it's notable that more goes into the discussion of positional value in the draft. Apart from "How much is this player worth to me if he turns out to be good?" one also has to ask questions such as, "How likely will this player turn out to be good?" or "At what cost can we acquire a player at this position through other venues, say later in the draft or in free agency?"
More of PFF's 2021 NFL Draft tools here: 
2021 NFL Draft Big Board | 2021 NFL Draft Guide | 2021 NFL Draft Stats Export | NFL Mock Drafts | NFL Mock Draft Simulator
After considering these questions, one can make a strong argument that edge rusher and offensive tackle should be on the same level as wide receiver and cornerback, as they are more expensive to acquire via free agency.
We can look at draft capital allocation in the NFL draft to see how teams think about the same question. First of all, we will compare draft capital allocation to historical draft capital allocation and the theoretical expected draft capital allocation based on the big boards before the draft.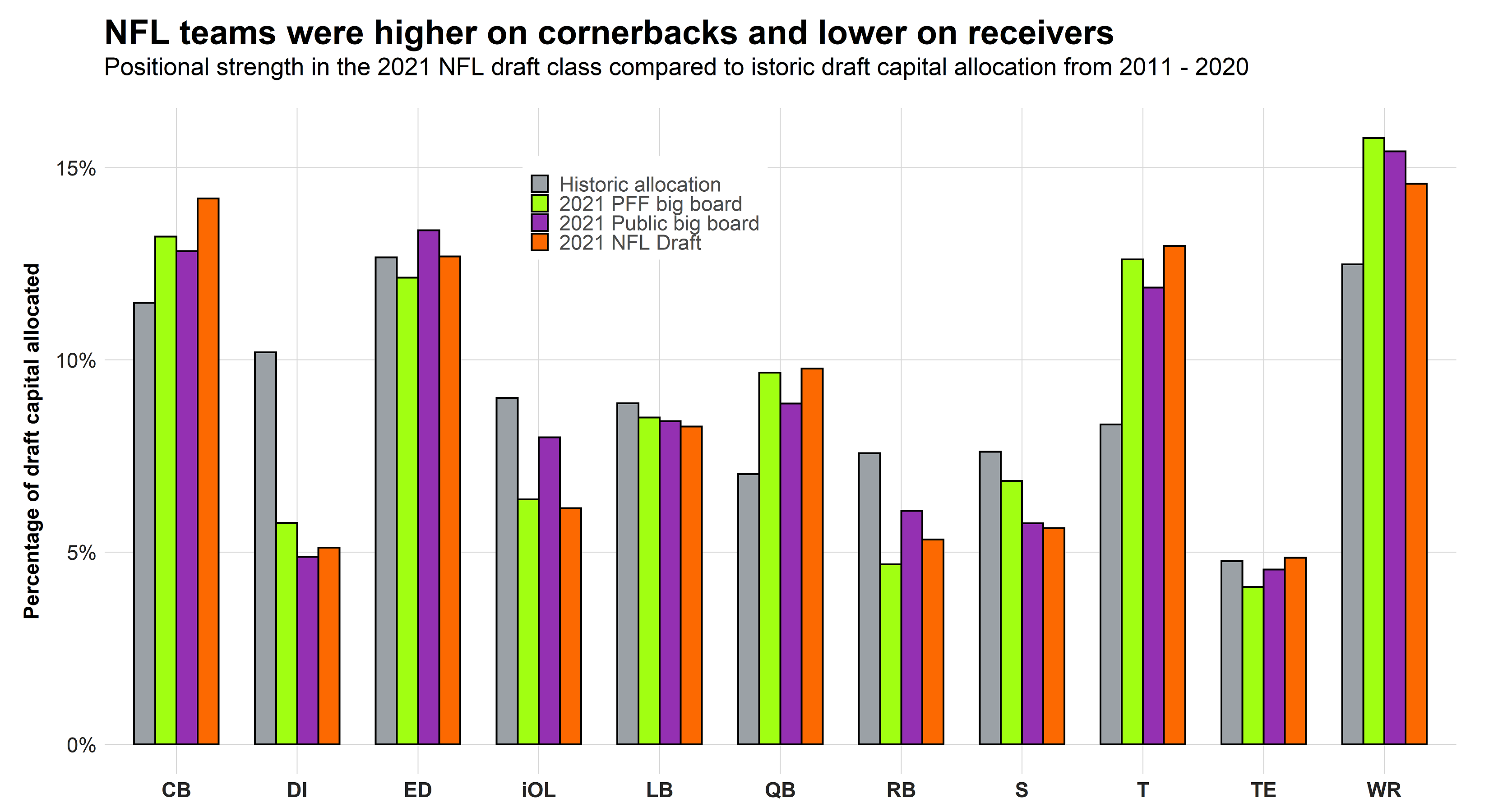 Just as we expected, the big boards were incredibly good at predicting draft capital allocation, especially compared to the historical allocation.
It's interesting that cornerbacks came off the board even earlier and more frequently than projected, as the league is quickly adapting to what has become our slogan over recent years: teams can never have enough defensive backs.
The New York Jets, for example, used five of their seven Day 3 picks on defensive backs, and while they are unlikely to have found a superstar, they can surely hope that some of these picks can provide valuable depth.
Deviations from the historical allocation in an individual year mainly stem from the difference in talent available and not from a paradigm shift in the league. However, as we observed last year after the draft, a paradigm shift is not entirely out of the question, and we want to investigate whether this still holds.
To do that, we consider the draft capital allocated to each position and adjust it for the number of players at each position who are on the field on a per-snap basis.
In 2020 this distribution looked like this: