This article is a continuation of yesterday's study about historical draft success at different positions, with this piece focusing on the defensive side of the ball.
Our methodology is relatively simple, as we are just investigating the relationship between draft position and career performance as measured by the posterior mean of PFF grades. For a detailed explanation of how to interpret the charts and tables, go back to yesterday's article — which can be found here — and read the section about quarterbacks. There you'll find a detailed exposition of how to interpret the information given on each position.
Cornerbacks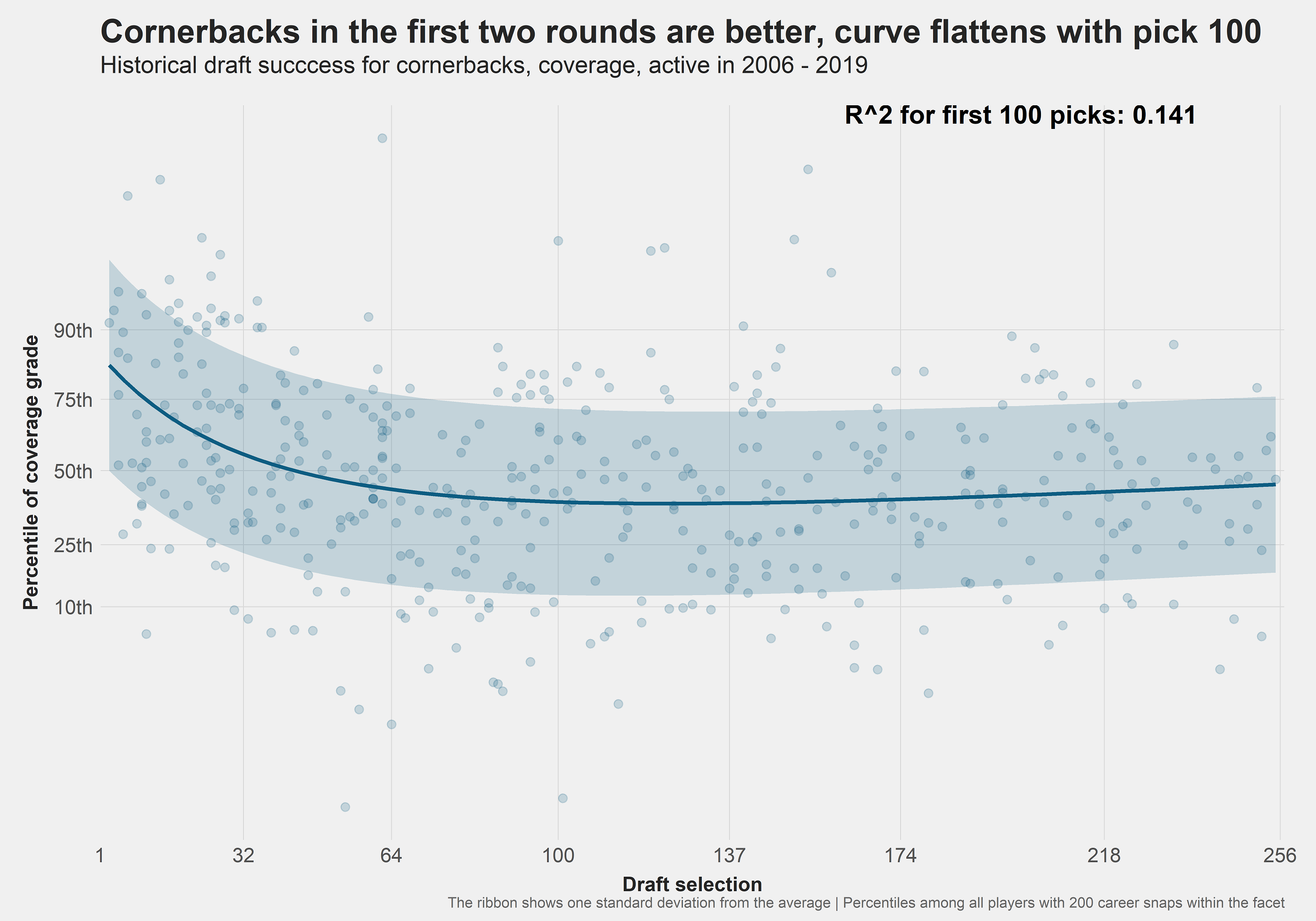 Cornerback is a position that has been drafted incredibly well in the first round, as there are very few busts, and there is a high drop-off to the second round. In fact, it's the largest drop-off among all positions. Consequently, teams should always look if there is a cornerback worth pulling the trigger on when on the clock on Day 1.
If you haven't drafted a cornerback after Round 2 or 3, you might as well fill other needs first and wait until later rounds for one, as the best cornerbacks are most likely already off the board and teams haven't generally been good at identifying mid-round gems.
Draft success for cornerbacks
| | | | | |
| --- | --- | --- | --- | --- |
| Pick | Top 3 | 2nd Round | 3rd Round | 4th Round |
| Percentile | 86 | 57 | 43 | 38 |
| Chance at stud (90th percentile) | 39.2% | 10.1% | 4.7% | 3.2% |
| Chance at starter (65th percentile) | 75.3% | 40.1% | 27.0% | 22.4% |