We at PFF have a pretty strong take on positional value and, of course, believe that the quarterback position is in charge of a team's fortune more than any other. Our next most coveted positions are wide receiver and cornerback, which directly influence the most important facet in football — the passing game —more than any other non-quarterback position.
However, teams might have a different view on this subject. And while they will surely not let the public know about their internal thought processes, their actions often speak louder than words. Let's look at how teams tend to spend their most important capital — their draft picks.
[Editor's note: Click this link to see PFF's 2020 NFL Draft grades for all 32 teams. And if you haven't already, be sure to pick up a copy of PFF's 2020 NFL Draft Guide by subscribing to PFF EDGE or ELITE.]
As we've done regularly during this draft season, we will assign a wins above replacement (PFF WAR) value to each draft pick to measure draft capital.
Naturally, teams tend to spend more draft capital on wide receivers than on running backs, since there are more wide receivers (roughly 2.5 during the last seven seasons) than running backs (1.14) on the field on average. To account for this, we simply divide the draft capital spent by the average number of players on the field on each play from scrimmage.
We get the following results for this year's draft.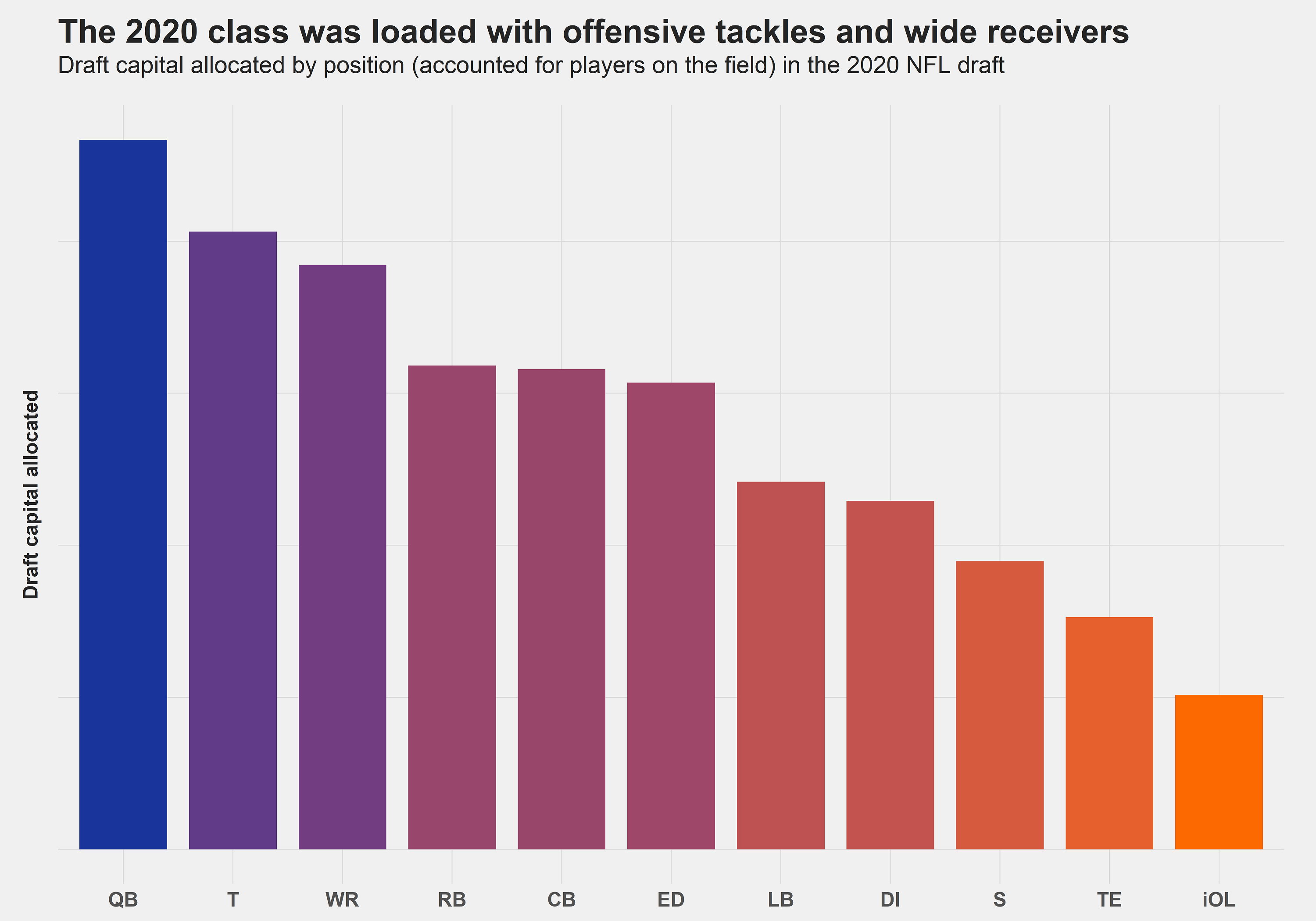 Of course, draft capital allocation in one single year might tell us more about the perceived strength of the draft class at that particular position than about how teams value the position in general. For instance, offensive tackles and wide receivers are near the top because we saw that four tackles were taken inside the first 13 picks, six tackles were taken in the first round and a record (since 2000) 13 wide receivers were selected in the first two rounds.
We get closer to what teams think by looking at a stretch of multiple drafts — from 2013-19, for example.