For a good portion of the league, the most meaningful thing fans have to look forward to comes next April. With that in mind, we thought we'd analyze each NFL roster for their most glaring need, taking into account PFF grades and impending free agents.

The Patriots' tight ends have combined for 23 catches on 32 targets for only 297 yards so far this season. That's the fourth-lowest yardage total of any tight end unit in the NFL. The thing is, Tom Brady loves to use the tight end position, and targeting them this year has yielded the 11th best EPA per play of any tight end group. A playmaker at the position could yield big dividends.
Tre'Davious White has been locking down his side of the field, but the same can't be said for the rest of the Bills cornerback group. You can see the difference when targeting White vs. the rest of the Bills corners in the chart below.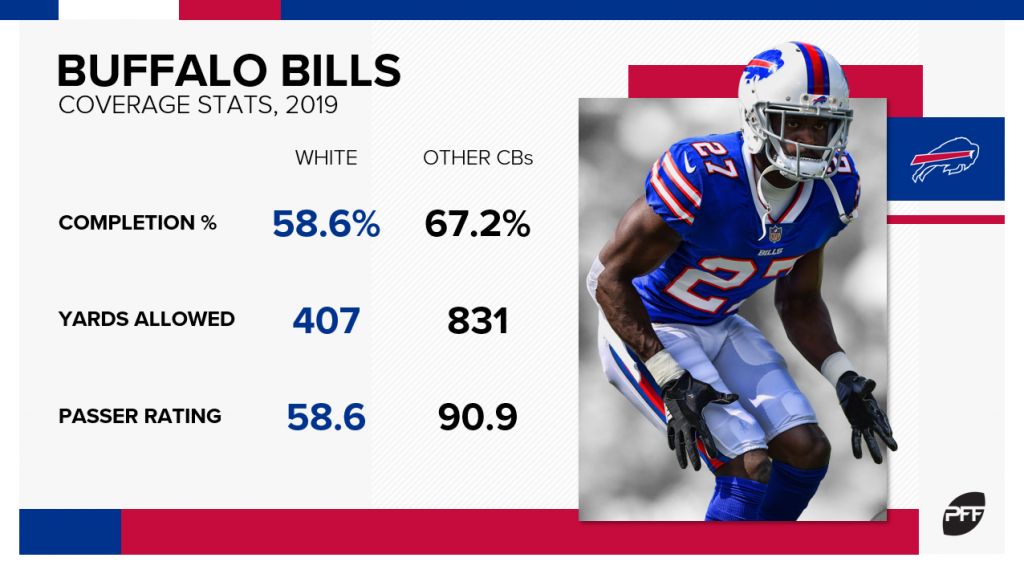 Adding another corner could keep the Bills defense elite for a long time.
Talent at valuable positions should be the goal. Quarterback, offensive tackle, edge and cornerback could and should all be addressed. 
It seems like I write this same need up every single year for the Jets. Jordan Jenkins currently leads the Jets edge defenders with a 71.3 pass-rushing grade on the season. Over the past five seasons, the highest pass-rushing grade earned by a Jets edge rusher with at least 200 pass-rushing snaps is 66.3.
The Chiefs don't currently have a cornerback with a coverage grade above 70.0 at the moment. Add onto that the fact that Kendall Fuller and Bashaud Breeland are both set to be free agents, so you can see why this is a glaring need.
They dealt away former first-rounder Gareon Conley for pennies, and with the way that Lamarcus Joyner has manned the slot (41.0 coverage grade), you'd hope he can switch back to safety. Second-rounder Trayvon Mullen will likely be handed one starting position, but the Raiders' highest-graded cornerback, Daryl Worley, is set to be a free agent.
No surprise here. The Chargers own the second-lowest pass-blocking grade of any offensive line in the NFL. Anyone outside of left tackle Russell Okung and center Mike Pouncey is likely to be replaced.
I know they drafted Drew Lock just last year, but, A.) He was a second-round draft pick and B.) He can't even see the field over Brandon Allen. Lock's recent selection is not stopping me from addressing the most valuable position on the football field. 
The Ravens don't have a single edge defender with a pass-rushing grade over 70.0 at the moment. They're a fairly complete roster at present and could address cornerback as well, with Marcus Peters and Jimmy Smith hitting free agency next year.
They could also address the offensive line given that the unit starting to show its age, but Bud Dupree's impending free agency leaves a hole across from T.J. Watt. Re-signing Dupree could be the answer, as he's in the midst of a career year (80.7 overall grade).
The Browns' starting tackles have combined for the fourth-worst pass-blocking grade of any duo in the NFL. It's so bad that the tackle they cut before the season and wasn't picked up by anyone else (Greg Robinson) is their highest-graded tackle.
The Andy Dalton era in Cincinnati is finished, and the early returns haven't been kind to fourth-rounder Ryan Finley. Staring the number one pick in the face, Cincinnati will have their pick of the litter.
They've already struggled to get impact play from their interior this season, and now their highest-graded defensive tackle, D.J. Reader (90.2 overall grade), is set to be a free agent at the end of the year. Cornerback could count as well with how poorly the unit has played this year, but they have hope in former first-rounder Gareon Conley and former second-rounder Lonnie Johnson Jr.
The Colts' interior defenders have combined for only 43 pressures so far on the season, sixth-fewest of any group in the NFL. They haven't exactly made up for it with their run defense either, with the sixth-lowest run-defense grade of any unit in the NFL.
Ryan Tannehill has been a shot of life to what was a putrid offense. He's earned a 76.3 passing grade on 160 dropbacks. However, he's only on a one-year deal, and even if they decide to stick with him—despite seven years of evidence to the contrary—they'll have competition to retain his services.
A.J. Bouye has been great, but Tre Herndon has looked like the undrafted free agent that he was. He's earned a 45.9 coverage grade so far on the season. They could address the safety position in the secondary, as well.
With as much speed as the Cowboys have at linebacker, adding in any sort of playmaker at safety would be huge for their defense. Jeff Heath has been the opposite of that for Dallas this season, allowing over 80% of his targets to be completed.
This one becomes even more glaringly obvious when you factor in that their best corner, Ronald Darby, only signed a one-year deal and will hit free agency next spring. Even with Darby, Eagles corners have allowed the seventh most first downs of any unit (71).
The Giants have needs up and down their defense, but getting after the quarterback has been arguably their biggest struggle. Their edge defenders have combined for all of 64 pressures on the season, the third-fewest in the NFL. 
With no more Trent Williams and Brandon Scherff hitting free agency, the Redskins offensive line went from strength to liability in the blink of an eye. Left tackle, left guard and right guard all need addressing. 
The defense has seen a resurgence, but it hasn't necessarily been because of their safety play. Tarvarius Moore has struggled mightily once again, earning a 58.4 overall grade, and their highest-graded safety, Jimmie Ward, is an impending free agent.
Jadeveon Clowney is no sure thing to sign long term, and if they can't get his signature, this looks even worse. Clowney has 32 pressures himself this season, but the rest of the Seahawks edge group has only 27 combined.
This one has been obvious this season. Andrew Whitworth is a shell of himself at 37 years old, and the interior line has crumbled disastrously. They own the third-worst pass-blocking grade in the NFL.
They've certainly made strides from 2018, but they still have a long way to go. Both tackles are impending free agents, and they could still do better than the 50 pressures their tackle group has combined to allow so far this season.
While Davante Adams is averaging a cool 2.67 yards per route this season, the team's other wideouts haven't been nearly as effective. Marquez Valdes-Scantling is averaging 1.51 yards per route, while Geronimo Allison is at 0.82.
Minnesota currently owns the eighth-lowest graded group of interior defenders in the NFL. Once the cornerstone of their defense, 31-year-old Linval Joseph has slowed down considerably from his peak and is in the midst of his lowest-graded season since 2014. Their interior has combined for 30 pressures, the fewest in the NFL.
Any way you slice it, Mitchell Trubisky is a bottom-five starting quarterback in the NFL. The worrisome thing is that the arrow isn't trending upwards in any way, shape or form, either. Where the Bears will be drafting though, QB looks like a pipe dream.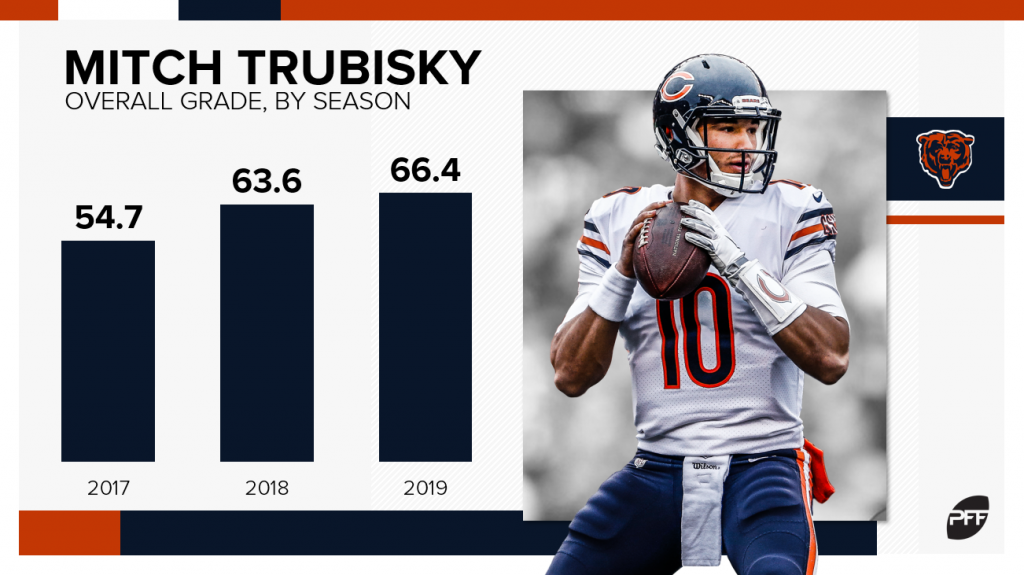 They still have a number of different needs defensively, but getting someone to pair with Trey Flowers should be priority number one. Romeo Okwara and Devon Kennard have pass-rushing grades of 62.0 and 60.4, respectively, this season. 
With Eli Apple hitting free agency, there is a glaring hole across from Marshon Lattimore. They can't go back to the dark days where Drew Brees and company had to win shootouts week in and week out.
Tre Boston is only on a one-year deal this year, and Eric Reid has not entirely been living up to his big new deal. The veteran safety has allowed a passer rating over 130.0 in his coverage so far this season.
I don't care that they've addressed it a ton in recent drafts, none of their picks have shown to be completely reliable yet. As a group, the Bucs' corners have allowed more first downs (86) than any other unit in the NFL.
With Adrian Clayborn and Vic Beasley Jr. hitting free agency this year, Atlanta will need an influx of pass-rushing talent. Even if both are re-signed, they could still use some help as they're a middling unit at best.