You don't have to think too far back to recall a time when Cincinnati Bengals quarterback Andy Dalton was among the front runners to take home the NFL's annual MVP Award. But the brief flashes of top-tier play, which notably first appeared in 2015  and then reappeared at the start of 2018, have ultimately come few and far between since he entered the league as a second-round pick. For the most part, Dalton's downs, and perhaps more aptly, the frustratingly perpetual mediums, have come far more frequently than the ups, and it's becoming more and more obvious that the team simply cannot afford to wait any longer for Dalton to finally string it all together.
After years of hope, years of wondering if this can be his year, it's now time for the 0-7 Bengals to turn over a new leaf and look toward the college quarterbacks who can come in and take the reins away from the Red Rifle.
[Editor's Note: All of PFF's advanced stats and grades for every NFL player are made available in PFF's ELITE subscription. Subscribe today to gain access!]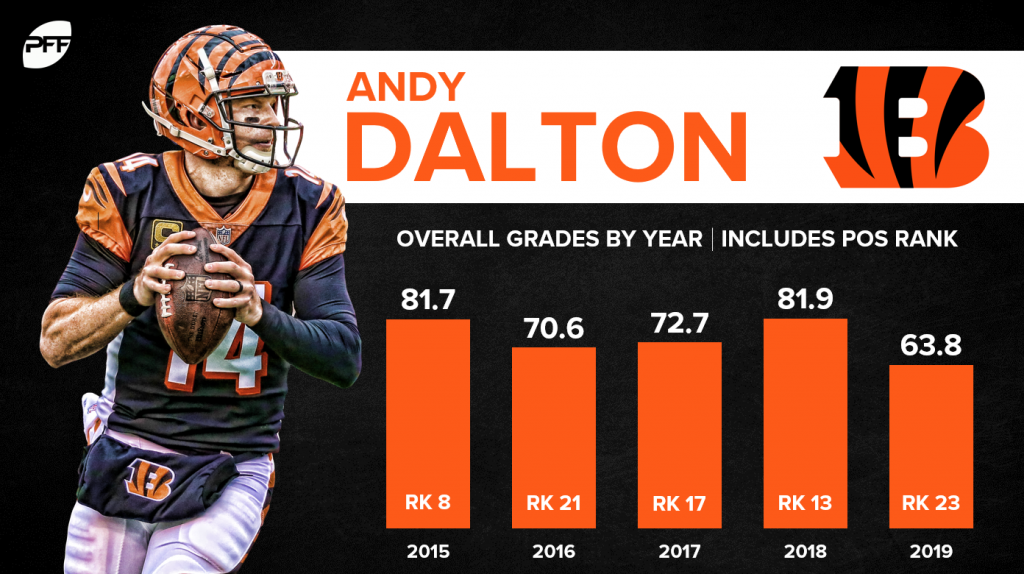 Drafted with the 35th overall pick of the 2011 NFL Draft, Andy Dalton is now eight full years deep into his Bengals tenure, yet he has really struggled to distinguish himself as anything other than average. He's earned overall grades between 62.2 (2011) and 81.9 (2018) every single full season of his career so far. The lowest he's ever ranked among quarterbacks is 26th, back in 2012, while the highest he's ever ranked is eighth, back in 2015, which is actually the only time he's finished a season among the top-10 quarterbacks in the league. In fact, he's only ranked inside the league's top-20 quarterbacks in four of his eight seasons in the NFL—2013 (18th), 2015 (8th), 2017 (18th) and 2018 (12th)—which is precisely the kind of performance a franchise could deal with, but not want, from a starting quarterback.
And that statement perhaps perfectly captures the essence of Dalton's career in black and orange. He's been a player who has been good in spots, but he's not been good frequently enough to lift his offense above the level of quotidian mediocrity the Bengals have since become known for. Since entering the NFL, Dalton has played 127 career games at the helm of the Bengals' offense, yet he's earned single-game grades below 70.0 in 81 of those games, four more sub-standard games than the next quarterback — and that next-closest quarterback is none other than Joe Flacco.
Subscribe to PFF Edge to continue reading
Already have a subscription? Sign In