The NFL regular season is rapidly approaching. Soon, talks of the top players and best teams will flood social media as each team's fanbase will champion for their guys. One of those key components to be considered a top player is how well they stack up against their divisional rivals.
In our last look back at the 2017 season, we take a glimpse at the players who have the highest grades against their division rivals from a season ago. We'll take a look at the top-10 grades on offense and defense only on contests against their respective divisions. How well did your favorite players play against the division last year? Don't see them below? Grab a PFF Elite subscription for access to Premium Stats 2.0 to find out for yourself.

[This is a part of a series that will highlight the league's highest-graded players when they take on their divisional rivals.]
Offense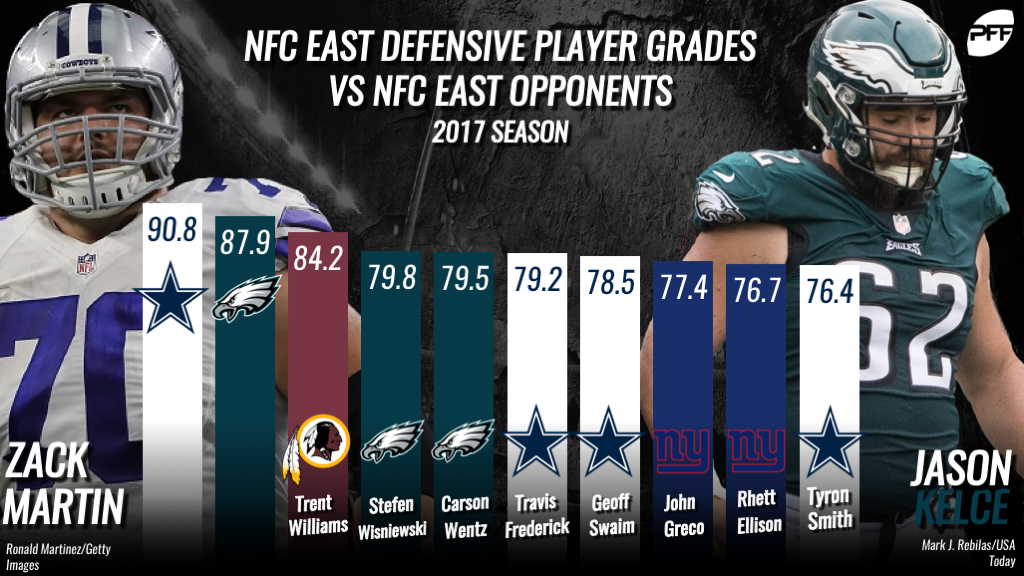 Overall Grade against NFC East teams: 90.8
Unsurprisingly, the top of this list begins with an offensive lineman — a position the NFC East knows well. Zack Martin surrendered only three pressures in NFC East play last year, and surprise: all three were hurries. There's something to be said for an offensive lineman who didn't allow his assignment to hit or sack his quarterback in any of the eight division games.
Overall Grade against NFC East teams: 87.9
The NFC East offensive lineman pipeline continues with another stud, this time at center. Jason Kelce fared well primarily in the run game, forging space for his running backs en route to a division-best 91.9 run-block grade. Jay Ajayi should easily find success behind Kelce in both division and non-division games this year.
Overall Grade against NFC East teams: 84.2
A guard, a center and now, a tackle to round out the top three NFC East divisional standouts. Like Kelce, Trent Williams didn't excel in pass-blocking in division play. Instead, it was run-blocking where he made his presence felt, finishing second in the category (91.7) only behind Kelce himself.  That's not to say Williams was poor in pass-blocking — he finished the year without allowing a sack in division games.
Overall Grade against NFC East teams: 79.8
Among offensive linemen with 100 or more snaps in division play, Stefen Wisniewski was third in pass-blocking (78.9) and ninth in run-blocking (75.0). Having a lineman that can shine in multiple facets is invaluable in a league where just average linemen are hard to come by. However, the NFC East is one division that boasts linemen talent throughout all four teams — and Wisniewski is no exception.
Overall Grade against NFC East teams: 79.5
Carson Wentz sits among a plethora of elite offensive linemen in the NFC East. He too was stellar, finishing first in adjusted completion percentage (75.4 percent), passer rating (104.5) and percentage of yards in the air (64.0 percent) among the division's top-four quarterbacks. The Super-Bowl-winning signal-caller was also confident in division play, evidenced by his average depth of target of 10.5 yards. None of the other three primary quarterbacks averaged above nine yards.
Honorable Mentions:
6. Travis Frederick, C, Dallas Cowboys — 79.2 Overall Grade
While he is sidelined for now, Frederick went 197 pass-block snaps without allowing a sack or quarterback hit in divisional play last year. 
7. Geoff Swaim, TE, Dallas Cowboys — 78.5 Overall Grade
In limited action, Swaim was most effective in run-blocking with a grade of 78.1 — first among tight ends.
8. John Greco, G, New York Giants — 77.4 Overall Grade
An 82.2 run-block grade and just one pressure allowed on 34 pass-block snaps show Greco's versatility in division games last year.
9. Rhett Ellison, TE, New York Giants — 76.7 Overall Grade
Ellison was in good company last year with a passer rating of 129.5 when targeted, only behind Jordan Reed and Zach Ertz.
10. Tyron Smith, T, Dallas Cowboys — 76.4 Overall Grade
Smith had 136 run-block snaps and 136 pass-block snaps, and he graded out at 74.3 and 77.1 respectively, in those categories.
Defense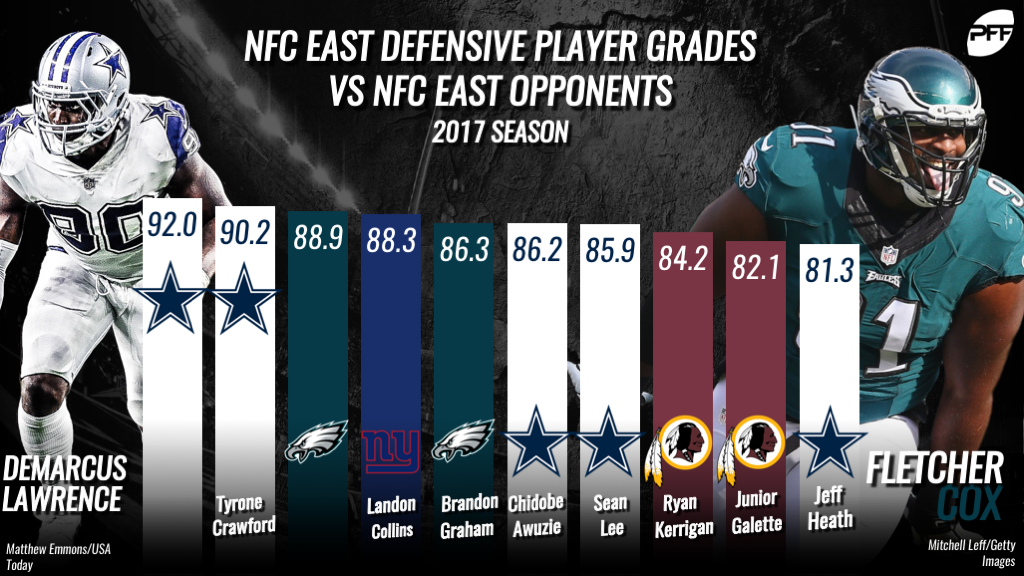 Overall Grade against NFC East teams: 92.0
Demarcus Lawrence has evolved into not only a powerhouse feared in NFC East, but a powerhouse feared among the league. Strictly looking at division play, his pass-rushing productivity of 23.7 led all NFC East defenders with 50 or more snaps. He had 11 more pressures than the next closest guy — a feat that shouldn't be taken lightly in a division full of elite offensive linemen. His division run defense grade was equally as impressive, topping all NFC East defenders at 90.2.
Overall Grade against NFC East teams: 90.2
The Dallas Cowboys are in good hands with Lawrence bulldozing from the left, and Tyrone Crawford doing the same on the right. Crawford's 88.5 division pass-rush grade was only behind Lawrence (which isn't a bad place to be). He was more consistent than Lawrence in wrapping up ball carriers and didn't miss a single tackle in division play.
Overall Grade against NFC East teams: 88.9
Leading all NFC East interior defensive lineman in division pass-rush snaps, Fletcher Cox made the most of his time on the field. His 86.5 pass-rush grade topped the division's interior defensive lineman, and his 10.1 pass-rushing productivity was second among the group.
Overall Grade against NFC East teams: 88.3
If there's a safety who embodies a "ball-hawk" playstyle in the NFC East, Landon Collins is it. He put up admirable numbers in coverage and run defense not to mention a pressure in pass-rushing. Allowing just 80 yards in coverage, Collins was particularly potent in limiting receivers after they'd caught the ball, with a division- and position-leading seven stops in the passing game.
Overall Grade against NFC East teams: 86.3
Brandon Graham was asked to rush on 178 of his 239 division snaps, and it was undoubtedly because his coaches were aware of what he excels at. Seventeen quarterback pressures and a 12.7 pass-rushing productivity score put him in the top echelons of pass-rushers not only in the division but in the entire league.
Honorable Mentions
6. Chidobe Awuzie, CB, Dallas Cowboys — 86.2 Overall Grade
Awuzie's breakout rookie season was due in large part to his stellar division play, allowing a 35.4 passer rating when targeted — best among NFC East defensive backs.
7. Sean Lee, LB, Dallas Cowboys — 85.2 Overall Grade
The stalwart in the middle of the Cowboys' defense was exactly that against division foes, accumulating 18 stops and a run-defense grade of 87.2.
8. Ryan Kerrigan, EDGE, Washington Redskins — 84.2 Overall Grade
Kerrigan was a sack machine in division play, registering 10 of them which accounted for half of his total pressures in those games.
9. Junior Galette, EDGE, Washington Redskins — 82.1 Overall Grade
Galette's 17.2 pass-rushing productivity score was third among NFC East defenders in division play, only behind Kerrigan and Lawrence.
10. Jeff Heath, S, Dallas Cowboys — 81.3 Overall Grade
An unsung hero of sorts, Heath played 202 coverage snaps and allowed an 81.3 passer rating when targeted — fifth among qualifying division safeties.
PFF Divisional Standout Series
---
AFC East | AFC North | AFC South | AFC West
NFC East | NFC North | NFC South | NFC West