The NFL regular season is rapidly approaching. Soon, talks of the top players and best teams will flood social media as each team's fanbase will champion for their guys. One of those key components to be considered a top player is how well they stack up against their divisional rivals.
In our last look back at the 2017 season, we take a glimpse at the players who have the highest grades against their division rivals from a season ago. We'll take a look at the top-10 grades on offense and defense only on contests against their respective divisions. How well did your favorite players play against the division last year? Don't see them below? Grab a PFF Elite subscription for access to Premium Stats 2.0 to find out for yourself.

[This is a part of a series that will highlight the league's highest-graded players when they take on their divisional rivals.]
Offense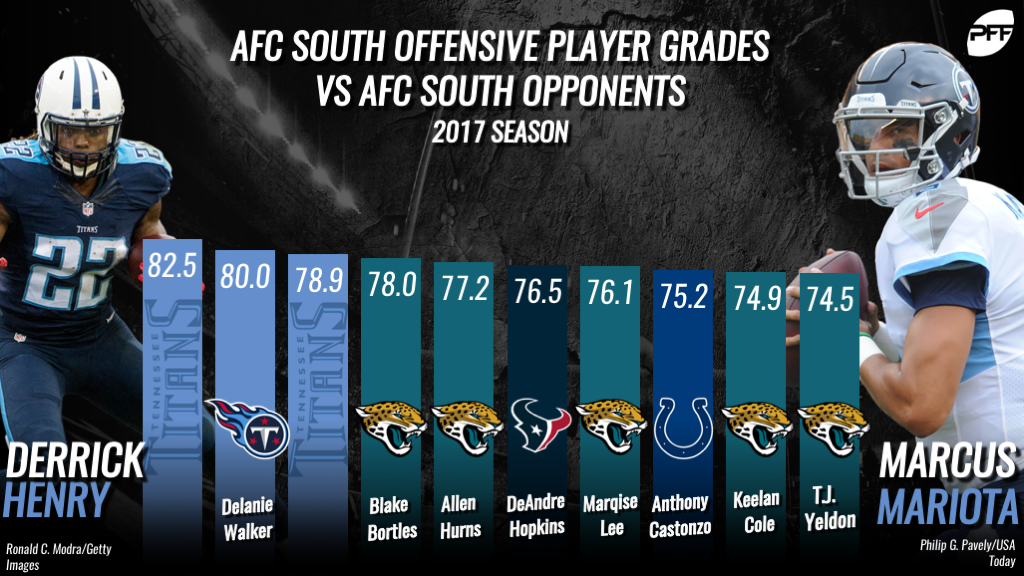 Overall Grade against AFC South Teams: 82.5
Our top-rated offensive player in AFC South play last season may come as a surprise to some – probably not to Titans fans – as Derrick Henry was dominant in divisional games last season. From a rushing standpoint, Henry led the AFC South in a multitude of metrics that we track here at PFF, including rushing attempts (91), rushing yards (469), yards after contact (369), touchdowns (3), first downs (21), forced missed tackles (19) and  yards after contact per attempt (4.05). While Henry was part of a timeshare with Demarco Murray for most of the season, not only did he drastically outperform his counterpart, he outperformed every offensive player in the AFC South.
Overall Grade against AFC South Teams: 80.0
Walker has quietly been one of the best tight ends in the NFL since signing with Tennessee in 2013. Since then, he leads all tight ends with 356 receptions and his 4,156 receiving yards ranks third among tight ends in that span. From a receiving standpoint, Walker was as consistent as they come when playing divisional opponents last year. His 78.2 receiving grade ranked second in division play, and he ended the season with eight explosive plays (plays of 15-plus yards), which was third behind only DeAndre Hopkins and Allen Hurns. 
Overall Grade against AFC South Teams: 78.9
If you were to glance at the box score stats, Mariota's 2017 season could be seen as a regression from his 2016 season. He threw for roughly the same number of yards as he did in 2016 (3,232), but his touchdowns were cut in half from 26 to 13, while his interceptions jumped from nine to 15. However, despite the regression in overall statistics, Mariota ended 2017 with an overall grade of 76.2 – the best mark of his career. In divisional play last year, Mariota finished first in adjusted completion percentage (74.8), and he also finished sixth in divisional play with a rushing grade of 69.7, while also tying for fifth in first down conversions (10) as a rusher.  
Overall Grade against AFC South Teams: 78.8
Despite being edged out by Mariota for the third spot on our list, Bortles played extremely well in the division last year. He finished first among quarterbacks in divisional play with 12 'big-time throws' in the passing game, while he also finished first in passing yards (1,471) and passing touchdowns (8). 
Overall Grade against AFC South Teams: 77.2
The now-Cowboys receiver was a very productive member in the Jags' receiving corps last season. Hurns finished sixth in AFC South play with a receiving grade of 76.8, second in explosive plays (8), ninth in targets (24), seventh in receptions (17) and sixth in receiving yards (263). He also finished first among receivers in AFC South play with an average of 2.33 yards per route run.
Honorable Mentions:
6. DeAndre Hopkins, WR, Houston Texans – 76.5 Overall Grade
Among receivers in AFC South play last season, Hopkins ranked fifth with an average of 1.88 yards per route run. 
7. Marqise Lee, WR, Jacksonville Jaguars – 76.1 Overall Grade
Lee was quietly one of the best players in the division in 2017 and finished fourth among receivers in AFC South play with an average of 1.92 yards per route run.  
8. Anthony Castonzo, T, Indianapolis Colts – 75.2 Overall Grade
Castonzo's pass-blocking grade of 79.5 ranked third last year, and he was beaten by a defender just twice on 238 pass-blocks.
9. Keelan Cole, WR, Jacksonville Jaguars – 74.9 Overall Grade
Cole generated a WR Rating of 134.4 on his 27 targets against divisional foes last year, which ranked first among players at the position.
10. T.J. Yeldon, RB, Jacksonville Jaguars – 74.5 Overall Grade
Yeldon played well as both a rusher and a receiver in AFC South play last year. He finished fourth in rushing grade (72.7) and eighth in receiving grade (77.8).
Defense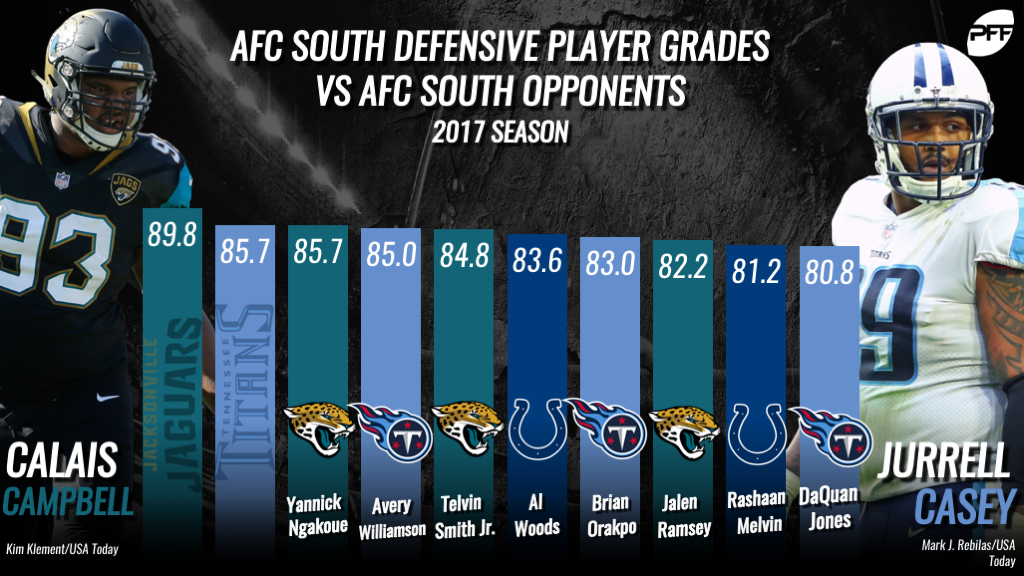 Overall Grade against AFC South Teams: 89.8
Campbell was dominant during his first season in Jacksonville. Against divisional rivals last season, Campbell's production continued as he ranked sixth in pass-rush grade (82.9), and second in total quarterback pressures (34). Campbell wasn't quite as productive against the run, but he certainly wasn't a slouch either. His run defense grade of 72.7 ranked third among divisional edge-rushers, and his run-stop percentage of 10.0 percent ranked 12th in division play.
Overall Grade against AFC South Teams: 85.7
Jurrell Casey put together the best season of his career in 2017, producing seven sacks, 15 hits, and 32 hurries, making that five straight seasons where he has delivered at least 50 total pressures. In divisional matchups, Casey played a key role in helping Tennessee to a 5-1 record a season ago; his pass-rush grade of 80.4 ranked first among interior defensive linemen in divisional play as did his 27 total quarterback pressures. 
Overall Grade against AFC South Teams: 85.7
Of all the talent Jacksonville has on its defensive line, Yannick Ngakoue might have the brightest future. Last season, he finished with 30 tackles, 12 sacks, and a league-high six forced fumbles. Moreover, Ngakoue registered 56 quarterback pressures from the right side in 2017, which was the most of any 4-3 edge defender in the league. In AFC South play alone, Ngakoue dominated as evidenced by his 87.9 pass-rushing grade and his 31 total pressures – both first in the division. 
Overall Grade against AFC South Teams: 85.0
As the Titans' off-ball linebacker last season, Williamson finished inside the top-15 among qualifying linebackers in overall grade (80.2).  In divisional play, Williamson was a sheer force against the run, as he produced 14 defensive stops and four tackles for loss or no gain, both of which paced AFC South linebackers. 
Overall Grade against AFC South Teams: 84.8
Telvin Smith is the prototype for modern-NFL linebackers. His speed and versatility allow him to play sideline-to-sideline and due to this, more times than not, Smith is the first one to the ball. In fact, since 2015, Telvin Smith is tied with C.J. Mosely having made first contact with the ball carrier more times than any other defenders in the NFL (172 times).  In AFC South play alone, Smith ranked third among linebackers with a run-defense grade of 83.4, behind Avery Williamson (88.9) and Wesley Woodyard (84.4). 
Honorable Mentions
6. Al Woods, DI, Indianapolis Colts – 83.6 Overall Grade
Woods led all interior defenders in run stops in divisional games with 15.
7. Brian Orakpo, ED, Tennessee Titans – 79.9 Overall Grade
Among edge defenders in AFC South games, Orakpo finished fourth in total pressures (28) and fourth in pass-rush grade (79.9).
8. Jalen Ramsey, CB, Jacksonville Jaguars – 82.2 Overall Grade
Ramsey ranked third in coverage grade among cornerbacks in division play at a mark of 83.9 and broke up nine of the 34 passes thrown his way.
9. Rashaan Melvin, CB, Indianapolis Colts – 81.2 Overall Grade
Just behind Jalen Ramsey, Melvin played admirably for the Colts last year, finishing second in the division with a coverage grade of 78.9.
10. DaQuan Jones, DI, Tennessee Titans – 80.8 Overall Grade
Jones racked up 10 total pressures from 92 pass-rushing snaps and added a further six defensive stops against the run. 
PFF Divisional Standout Series
---
AFC East | AFC North | AFC South | AFC West
NFC East | NFC North | NFC South | NFC West