Just a few months ago, we released our college starting quarterback rankings ahead of the 2019 season. Now, with six weeks of data from grading every player on every play of every game, we can take a look back at those rankings and give an even more accurate look at how every team's starting quarterback has fared through the first six weeks of the 2019 season.

This list is largely based upon the starting quarterback's success, or lack thereof, in 2019 but is also affected by the situation around him with other quarterbacks on the roster who have received snaps. No list is ever 100% accurate, but with our wealth of data at our fingertips, we get as close as anyone can.
*Important to note: These rankings are based heavily on the individual player's PFF grades for the season. The avoidance of negatively-graded plays, propensity of positively-graded plays, strength of competition and value towards a team victory are all heavily factored as well. A player's effect on their team's offense, their expected points added per dropback (or rushing attempt) and overall accuracy from our advanced ball-charting tracking are also considered among other factors.*
130. Kentucky: Sawyer Smith
With only three starts under his belt, Smith has actually uncorked more turnover-worthy passes than any other quarterback in football. His 18 TWPs are the most through Week 6 in any season in PFF College history and his 11 TWPs in his outing against Mississippi State are the most in one game, ever. The loss of Terry Wilson looks all that more harmful with Smith putting forth those numbers.
129. Old Dominion: Stone Smartt
Sitting at 1-4 through six weeks, Smartt is averaging just 5.7 yards per pass attempt and seeing an adjusted completion percentage of just 67.2%, good enough to rank 116th in the country in that regard. He's yet to grade over 52.3 in a game against FBS competition this season and yet to grade above 46.2 against Conference-USA foes.
128. UMass: Michael Curtis
The situation at UMass for quarterbacks has seen a revolving door this year with Randall West getting the nod against Rutgers in Week 1 and Southern Illinois in Week 2 while Andrew Brito got the start in Week 3 against Charlotte and Week 4 against Coastal Carolina. Curtis entered the lineup in Week 5 against Akron and the Minutemen got their first win of the season as he looks to be the man to guide the ship moving forward, even if he did follow up the highest game grade from a UMass QB this year against Akron with the lowest game grade from a UMass QB this season against FIU the following week.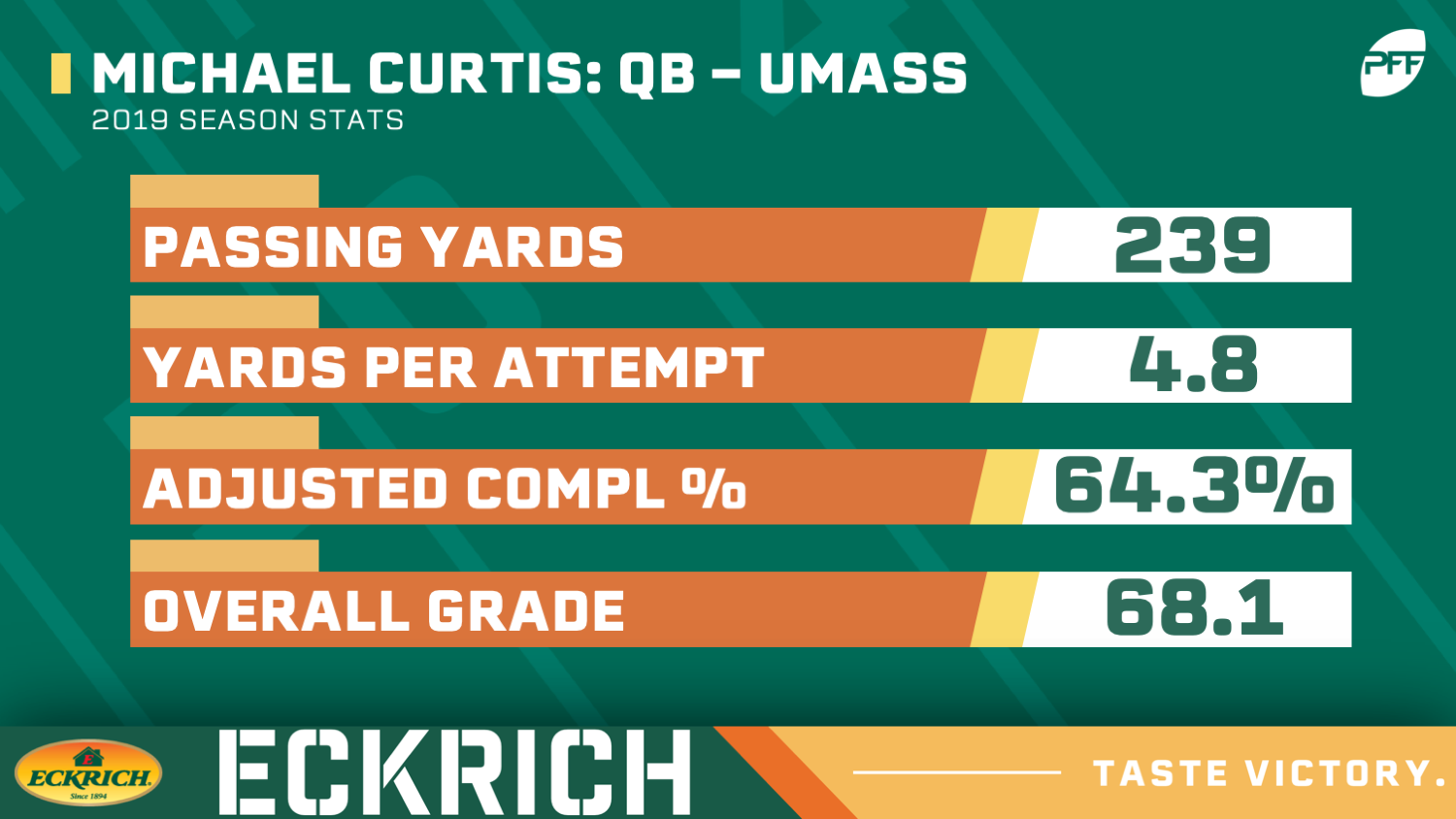 127. Rutgers: Johnny Langan
The Scarlet Knights won in Week 1 with McLane Carter at the helm before he was replaced by the now-redshirting Artur Sitkowski in Week 3 after a head injury. Sitkowski and Carter are out now, leaving Langan as the starter and true freshman Cole Snyder as the backup. In his first action of the season as the starter, Langan finished with a 55.3 overall grade and threw two interceptions. It's a long road for him and interim head coach Nunzio Campanile.
126. Georgia Tech: James Graham
Growing pains were certainly expected to come as head coach Geoff Collins integrated the spread offense away from a team who had run the triple-option offense for years. While Tobias Oliver and Lucas Johnson also play a hefty portion of snaps, Graham has gotten the nod most recently as the team can't seem to field a competent starter for what they're trying to do. Oliver is the highest-graded of them all but has the lowest passing grade as he's struggled there while Graham's passing grade of 52.9 is the highest among the trio.
125. Rice: Wiley Green
Tom Stewart got the start against Texas but this has been Green's team through thick and thin. He hasn't thrown an interception this season but it took him five games to throw his first touchdown pass against UAB as the Owls made it competitive for the first time since their Week 1 slugfest with Army. Green will have to start completing passes at a higher clip moving forward but his game against Louisiana Tech gives hope.
124. Kansas: Carter Stanley
Stanley has never graded above 54.5 in a season and he's trending in that direction after three games below 50.3 this year. He had one good game against Boston College, and despite the three touchdown passes against Oklahoma's secondary, he has yet to impress from a PFF grade standpoint this year.
123. Connecticut: Mike Beaudry
Beaudry in the lineup is a much better thing than not but even with Beaudry starting, this Huskies team struggled to even beat Wagner in Week 1. He's averaging just 7.3 yards per attempt and has thrown just one touchdown compared to his multiple turnover-worthy passes.
122. BYU: Jaren Hall
The Cougars losing Zach Wilson for the majority of the season hurts as Hall has to step in and play up to at least a competent level for this team to compete. Against Toledo, he finished with a game grade of just 41.5 but we haven't seen enough from him to get an accurate read on what we can look forward to as he has 38 career snaps in two seasons.
121. Texas State: Gresch Jensen
Before their Week 6 bye, the Bobcats have rattled off two consecutive victories as Jensen put forth his two highest-graded games of the season. That only bumps him up to a 61.7 for the year, however, as his previous three games were all below average. He hasn't graded above a 63.4 all season in passing grade and has thrown nine turnover-worthy passes compared to just the six interceptions he has.
120. Bowling Green: Darius Wade
To average a depth of target just 5.9 yards downfield and still have six turnover-worthy passes to your credit speaks to just how ugly his overall grades are this season, as Wade has all but fallen off a cliff after a huge game grade against Morgan State to open the year. He hasn't thrown a touchdown since and has three interceptions over the past three games with no game grade higher than 60.6.
119. Nevada: Carson Strong
He started the season off just like his last name would indicate, knocking off Purdue in dramatic fashion but even with a 3-2 record heading into Week 7, the Wolfpack would hope for better play from their quarterback to sustain their success. He currently has the country's seventh-lowest passer rating from a clean pocket at 78.4.
Previewing the top Week 7 matchups in college football!
118. UNLV: Armani Rogers
The Rebels have run off four straight losses and seen below-average passing grades in each contest of the season. Rogers was injured against Wyoming in Week 5 and didn't play against Boise State in Week 6. He's the team's starter going forward but hasn't had a game grade above 52.6 since Week 1 against Southern Utah. His overall grade has taken a dip in each year since his freshman season and unfortunately, it looks as if 2019 will see a similar decline.
117. Central Michigan: David Moore
Moore is fresh off his finest game to date for the Chippewas, leading them to victory over Eastern Michigan but has since been suspended for a banned substance and is appealing the suspension. He cannot participate during the suspension and appeal and CMU may have to turn to a third option at quarterback after Moore was already starting in place of injured Quinten Dormady, if Dormady cannot go in Week 7.
116. Northern Illinois: Ross Bowers
The Huskies have lost four straight and in those contests, Bowers has tossed three interceptions against just two touchdowns while fumbling four more times. He'll have to return to the kind of level we saw briefly in 2017 with Cal but as of right now it's looking like he's a 58.5 overall graded type of quarterback.
115. Tennessee: Brian Maurer
Maurer wowed with his first long touchdown of the night against Georgia in Week 6 but it was all pretty much downhill from there. His game against Florida in which he actually attempted 11 passes seems to be more indicative in what we can expect from him but with some of those 'wow' moments that we saw against Georgia, and he can climb these rankings and even surpass where the Volunteers would be if they kept Jarrett Guarantano in the lineup.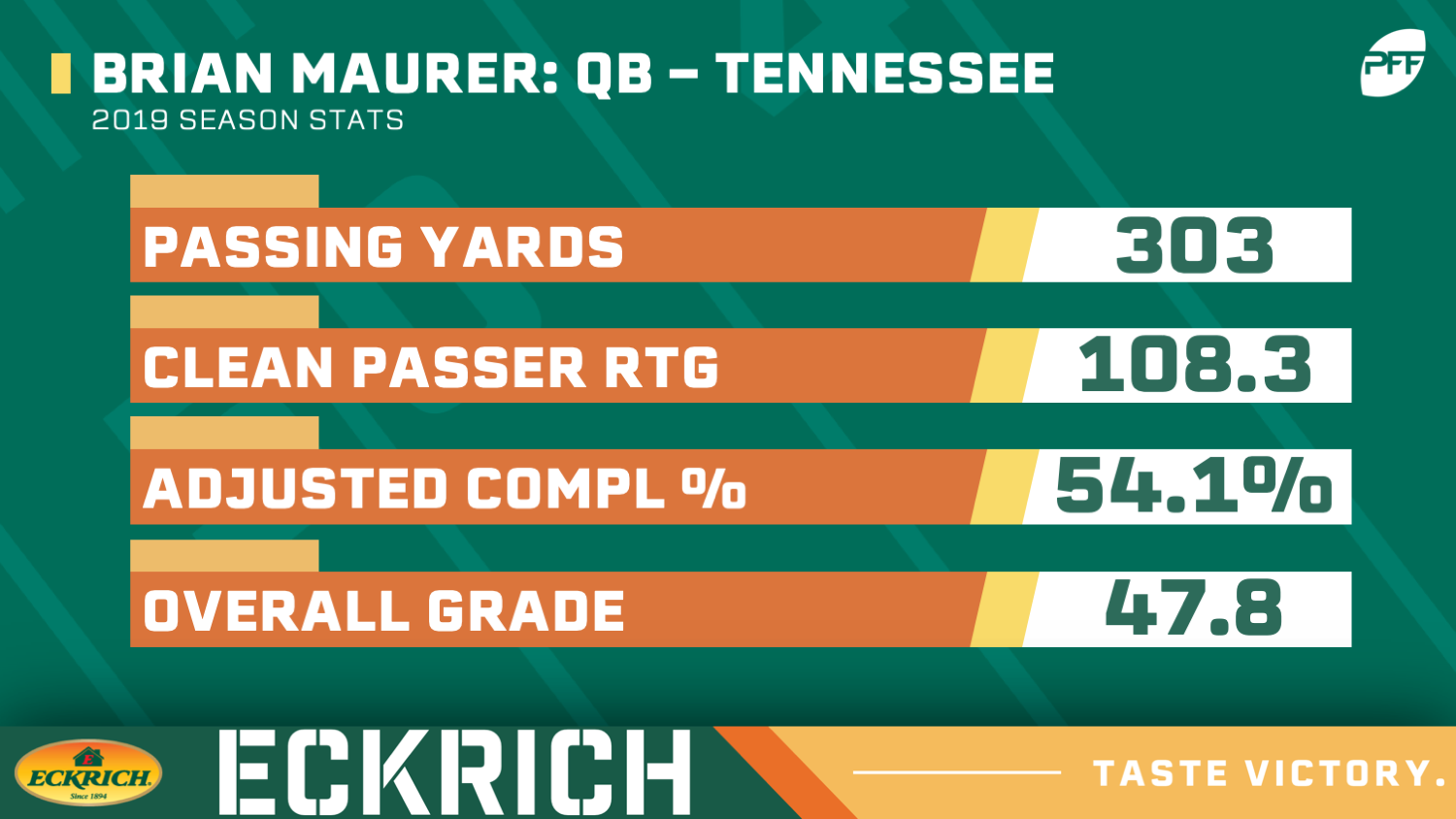 114. Purdue: Jack Plummer
This is a big dip from Elijah Sindelar, even if Sindelar wasn't grading all that well through the first few weeks of the season. Plummer hasn't graded above 64.9 this year in any game and has thrown multiple interceptions of less than a 50.0% completion percentage in each outing. At just 5.6 yards per attempt, he's not anywhere near the level the Boilermakers were expecting out of Sindelar to start the year.
113. South Alabama: Cephus Johnson
Prone to some big highlight-reel plays, Johnson has hit some deep shots that make you think he may win some games. However, there are many tough decisions made and he actually has the country's lowest passer rating from a clean pocket at 77.3 this season. He has some boom in his game, averaging 43.4 yards per deep pass completion but needs to get more accurate on such attempts in the future.
112. Maryland: Josh Jackson
Jackson has gone away against stout defenses this season and even in their victories (Howard, Syracuse, Rutgers), he hasn't finished with a game grade above 70.5 on his throws against an FBS opponent. His highs saw them score 142 points in their 2-0 start but his lows have been awful, seeing game grades of 37.8 and 26.7 in their losses. As the defenses get tougher, we're likely to see more of the woes as he's still completing just 51.1% of his attempts this year.
111. Cal: Devon Modster
The Bears lost their starting man Chase Garbers for the indefinite future and Modster has had to fill in, with limited success. The Bears scored just seven points in his lone game and he's completed less than 50.0% of his passes with a 1:3 TD:INT ratio so far. He'll have to get better.
110. UTSA: Lowell Narcisse
What Narcisse lacks as a passer, he's made up for with some runs as he's fresh off his highest-graded performance to date in a win over UTEP. He's been hot and cold but when he does pull it and run with it, he's a dynamic guy as he currently has forced eight missed tackles and has 139 yards on designed carries to go with 103 yards on scrambles.
109. Akron: Kato Nelson
Speaking of dynamics, Nelson has long since been a dynamic guy with the ball in his hands and has gained at least 328 yards on the ground in each of his first two seasons at Akron. Where he's struggled this year is as a passer as he's actually had some interception luck through six weeks. He's launched nine turnover-worthy passes but has just had three of them intercepted as he's currently in the middle of the lowest-graded season of his career.
108. Arkansas State: Layne Hatcher
Hatcher has finished the past two games with four touchdown passes but like the aforementioned Nelson, he has thrown more turnover-worthy passes than he has actually had intercepted. That just means a regression may be likely but at this rate, he's only graded positively in one of his outings this season so we'd like to see more consistency before he climbs these rankings.
107. Miami (Oh.): Brett Gabbert
Throwing for just a 57.1% completion percentage from a clean pocket, Gabbert's 77.8 passer rating when kept clean is the fourth-lowest among qualified quarterbacks this year. His highest-graded performance came against Tennessee Tech but he has rebounded with plus-grades in his last outing despite the result. Utilizing his legs may be the RedHawks' best strategy as he develops as a passer.
106. Coastal Carolina: Fred Payton
Payton has finished with just two game grades above 61.3 this season, each coming in the past two weeks before their bye week. If he can continue that stretch of play that we saw against UMass, as unlikely as that may be, he should be on the rise. Still, his 62.5 overall grade is more indicative of the level of play we've seen rather than the 3-2 record to date.
105. Syracuse: Tommy Devito
After many years of Eric Dungey at quarterback, Devito hasn't lived up to those lofty expectations through six weeks of action this year. In fact, his 50.6 overall grade through five games is the lowest Syracuse has had at this stage in the season since we started grading college in 2014. His highest-graded performance came against Western Michigan where he had 70.0% of his passing yards come after the catch and he targeted fewer than 40% of his passes short of the sticks. It's a new era with him at the helm and if this offense wants to contend in the conference, he'll have to improve.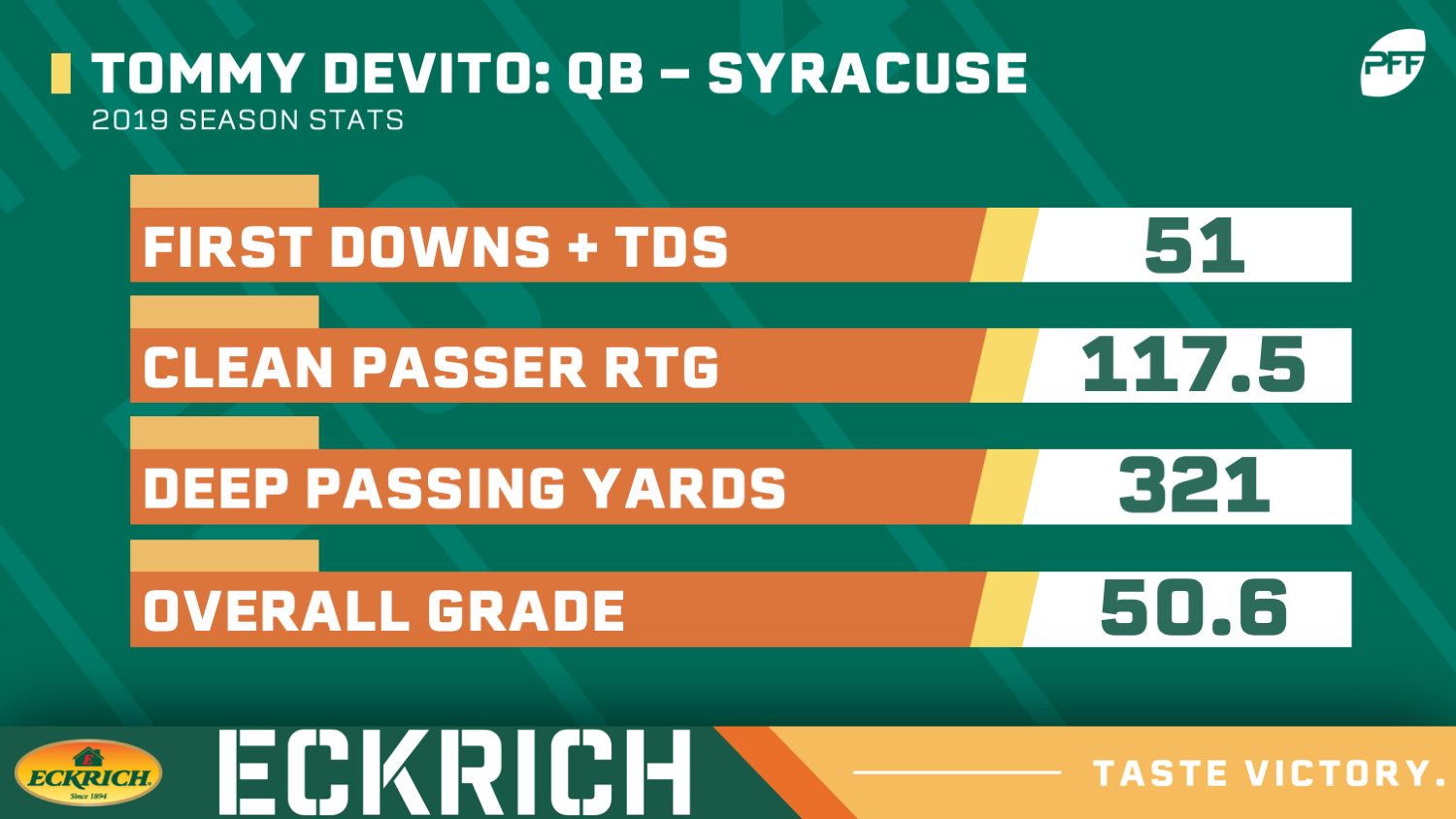 104. Georgia Southern: Shai Werts
Werts has not lived up to the lofty expectations this season after a tumultuous offseason and an injury that sidelined him after just three pass attempts against LSU until Week 5. He hasn't thrown a touchdown pass but has shown what makes him a dynamic threat in the backfield as he's run for 100+ yards in each of the past two games. More yards in the designed run game will lead to better things (and a higher ranking here) from a guy capable of putting up big numbers.
103. TCU: Max Duggan
Duggan seems to be the guy going forward but Alex Delton may see an entrance back into the lineup if Duggan can't keep up with his performance at Iowa State in Week 6. His highest-graded outing in his young career, Duggan threw for 219 yards and two scores against the Cyclones but did make a few bad decisions. In fact, he's thrown four turnover-worthy passes this year yet has seen them luckily fall to the ground without being intercepted. Duggan may be the future but Delton may be the better answer in the short term.
102. Houston: Clayton Tune
This has been an odd season for the Cougars after All-Everything QB D'Eriq King decided to redshirt after Week 4. Tune is the starter for now in Houston and the jury is still out with what we know of him this season. He's currently seen action in one game against North Texas and looks a little improved from the form we saw on 149 dropbacks a year ago but 20 passing attempts is an incredibly small sample size to judge him on.
101. Buffalo: Kyle Vantrease
It's been a two-man race for starting snaps for the Bulls in 2019 but Vantrease seems to be the much-better option as Myers started all the way through Week 5 before getting the hook in Week 6 against Ohio. The Bulls were a mere missed extra point in overtime away from potentially a win against the Bobcats as Vantrease has outgraded Myers by a large margin this year. Odds are he reverts some way back to his career mean but as it stands now he's outgrading his previous career form by almost 30 grade points with just one start under his belt.
100. Wyoming: Sean Chambers
Chambers has made some highlight-reel plays for the Cowboys but also single-handedly lost their matchup against Tulsa when he fumbled in the waning stages at the goalline. He's a boom-or-bust kind of guy as he's averaging 13.8 yards downfield per target but averaging only 6.8 yards per attempt. Having rattled off two straight games above 70.0 overall, he seems to be catching his stride and could wipe the stink of the first three outings from his record quickly.
99. Charlotte: Chris Reynolds
It was Brett Kean to start the season but this is the Reynolds show moving forward. He's had two decently-graded performance but his game against Clemson is the clear way to stop him as was his game against App State, despite the four touchdowns. He's had some struggles in the pocket and even with 10 touchdowns on the season, has a lower grade to date than he had at this point a season ago but if he can put the Clemson game behind him, he's ripe to move up.
98. Fresno State: Jorge Reyna
The Bulldogs are just 11 points away from 4-0 this year having two close losses at the hands of Minnesota and USC to start the year. Reyna has had some moments this year that lead you to think Fresno State could be on to something with him but then there are moments that make you scratch your head. He's got just one game grade above 59.4 and that came against Sacramento so he'll have to showcase more against Mountain West competition to warrant his continued spot inside the top 100.
97. Northwestern: Hunter Johnson
The former 5-star recruit has not lived up to his billing with the Wildcats after transferring from Clemson. Currently, he's thrown just the country's 118th-ranked 66.7% adjusted completion percentage as he has not been accurate nor sharp on his reads in the Northwestern offense. Just once has he graded above a 60.3 and that came against UNLV while his three games against Power-5 competition have been at well below-average.
96. USC: Matt Fink/Kedon Slovis
Setting the world alight when he entered the lineup for Kedon Slovis against Utah and throwing for over 350 yards in the victory, Fink followed that up with a 32.6 overall grade against Washington in which he threw three interceptions and couldn't get in a rhythm at all. He's set to give the reigns back to Slovis after a set of five turnover-worthy passes in just two games. Slovis himself has thrown seven turnover-worthy passes compared to just three big-time throws as he's had just one game grade himself above 55.9. We'll have to see more from either of them to jump some others on this list.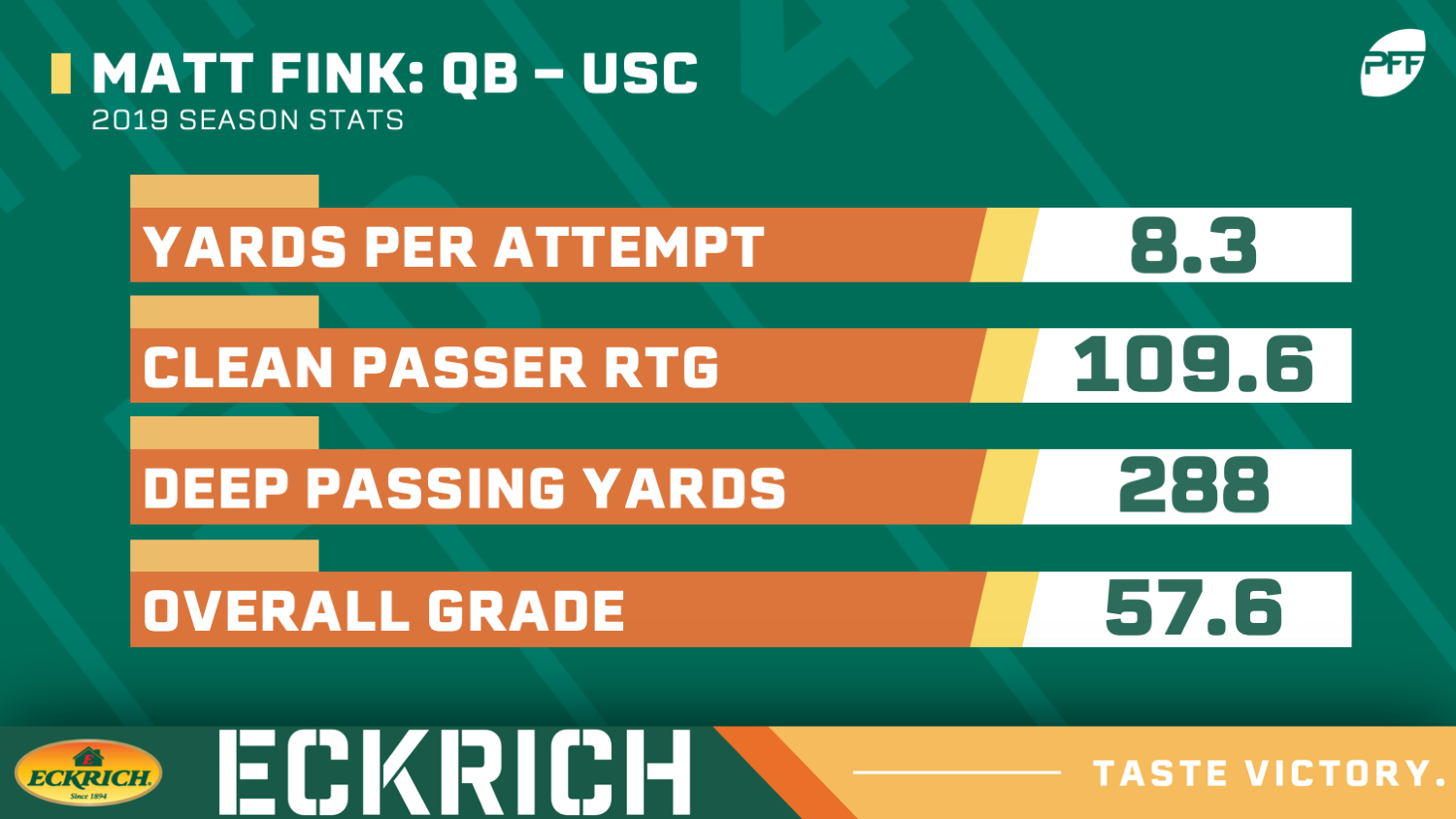 95. NC State: Bailey Hockman
If there's one area for Hockman to succeed on that you'd like to see, it's from a clean pocket where he's currently completed just 54.3% of his passes and has the country's second-lowest passer rating (77.4) without pressure in his face. Making matters even worse there is that former starter Matthew McKey only had a 78.4 passer rating from a clean pocket.
94. Kent State: Dustin Crum
They've lost all three of their games against Power-5 competition but in the MAC this year, the Golden Flashes may be a team that makes noise. Crum has currently thrown five touchdowns and kept a clean sheet in the interception tally while also limiting himself to zero turnover-worthy passes. He and Woody Barrett make a dynamic duo but Crum may be the better passer of the two through MAC play.
93. ECU: Holton Ahlers
Ahlers has not been nearly as accurate as he was a season ago, currently holding the country's 140th-ranked adjusted completion percentage at 64.1% but 12 drops on his passes haven't helped. He's on the heels of his highest-graded outing to date against Temple while he led the Pirates to their highest passing grade as a team this season. A few more strong performances are what we're accustomed to seeing from the big sophomore.
92. Vanderbilt: Riley Neal
Neal struggled in his few appearances against Power-5 competition while at Ball State and during his time so far at Vandy, has seen similar kinds of struggles. He's off to a career-low in terms of overall grade but has still shown an ability to find his playmakers despite seven turnover-worthy passes this year. Deuce Wallace has spelled Neal as of late but actually has a lower overall grade than Neal as the job seems like it's Neal's for the rest of Neal's time there.
91. Duke: Quentin Harris
Heisman's aren't won in September and top offenses aren't crowned either as the Blue Devils set the ACC almost on its head with a huge victory at Virginia Tech in Week 5. Harris was a big reason why as he had a decent night through the air with some wide-open throws but torched the Hokies on the ground. Against tough defenses, though, he's shown his pitfalls, throwing multiple interceptions against Alabama and Pittsburgh in their losses. He's currently thrown eight turnover-worthy passes, getting some luck to fall his way with just four picks.
90. USF: Jordan McCloud
It was Blake Barnett but it seems to be McCloud's team moving forward as the Bulls are sputtering on offense. His best two games of the season came in their two wins as he's completed 56.0% of his throws this year. He's the first on this list to broach a big-time throw to turnover-worthy pass ratio that at least finishes at an even mark as he's unleashed four of each this season.
89. UTEP: Brandon Jones/Kai Locksley
The Miners have lost four straight but have been competitive along the way thanks to Jones and Locksley in different spots. It'd be better to settle on one for the long term but each of them has shown highs and lows. Jones followed up a season-low 43.0 overall grade against Southern Miss with a season-high 82.4 against UTSA while Locksley following his season-high 93.4 against Southern Miss with a season-low 58.0 against UTSA. Perhaps the open competition for the job is best.
88. Auburn: Bo Nix
The country watched in Week 6 as Nix showed his age and inexperience in a tough outing against Florida. He currently has thrown the 10th-most turnover-worthy passes in the country, uncorking 11 of them on just 112 attempts. His highs may be high but his lows are near the bottom of the barrel as he's finished two games above 83.0 overall but two games with a grade lower than 44.1.
87. Miami (Fl.): Jarren Williams
This still seems like Williams' job to lose but N'Kosi Perry came in in relief of Williams against Virginia Tech and nearly secured the victory. Perry threw a bevy of turnover-worthy passes and had a below-average grade despite throwing for over 400 yards while Williams has a propensity for taking care of the ball, prior to the game against the Hokies. He hadn't thrown an interception all year and in fact, before the game against Virginia Tech, Williams had the country's eighth-best adjusted completion percentage at 82.6%. More of that and the Hurricanes can compete in the ACC for some victories.
86. South Carolina: Ryan Hilinski
As good a story in college football, Hilinski has taken over for Jake Bentley as that era for the Gamecocks seems to have finally run its course. Hilinski entered the lineup against Alabama and had some highlight-reel plays but hasn't been able to live up to the promise he showed against Charleston Southern. He'll have to keep the ball out of harm's way through the SEC conference slate, something he's done a decent job of since Alabama and has only four turnover-worthy passes this season.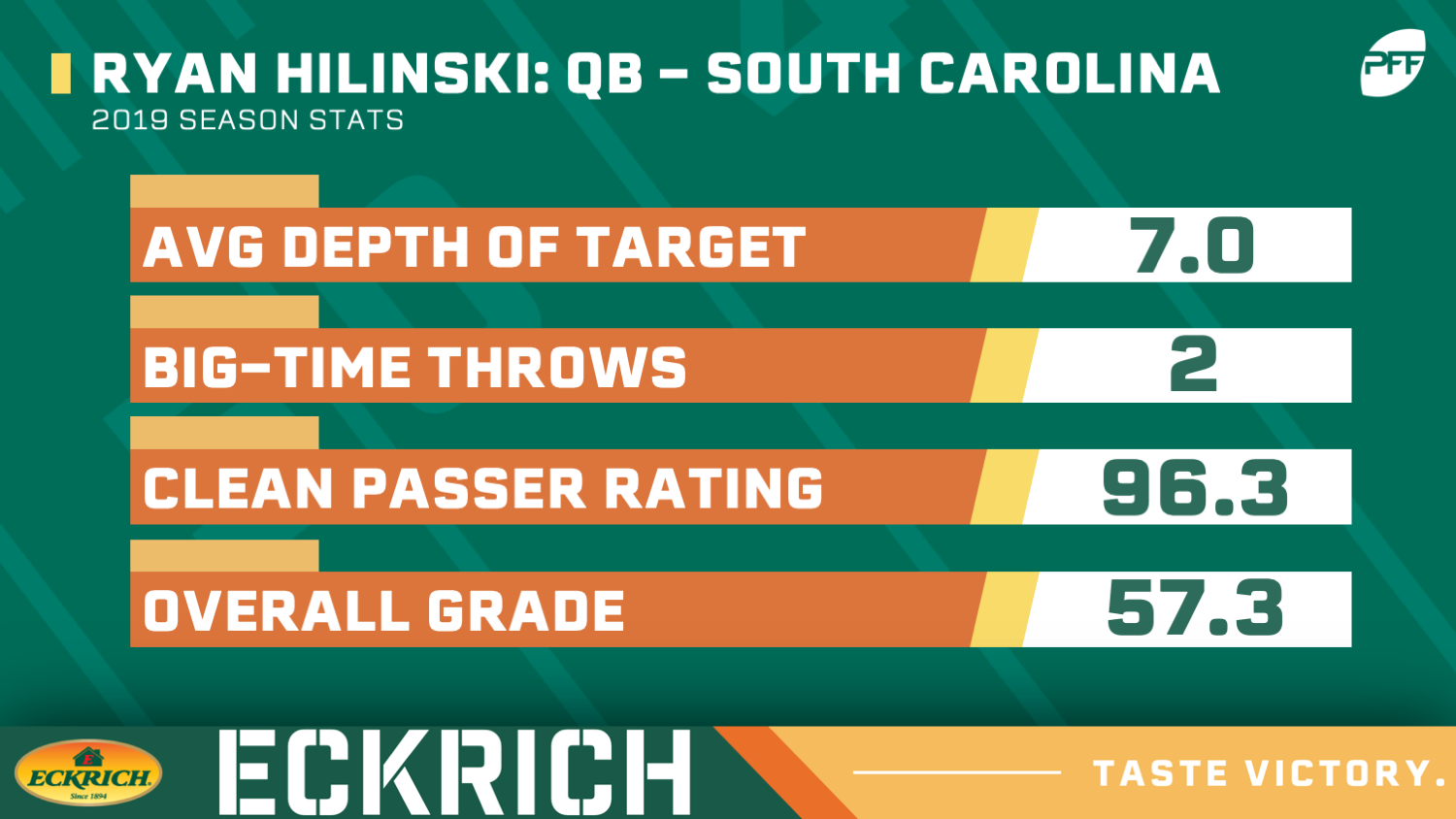 85. Boston College: Anthony Brown
What could have been for Brown this year seems to fallen off the rails as he's currently thrown the sixth-most turnover-worthy passes at 12. Though he has combated those with 11 big-time throws, Brown's failure to keep his offense on schedule has seen the Eagles lose to Kansas and tight games to Wake Forest and Louisville. He'll have to take more care of the ball because it's likely the interception luck runs dry soon.
84. Illinois: Brandon Peters
The Michigan transfer got the starting nod at the beginning of the season and rattled off two wins as he had plus game grades in each of the victories. However, he's followed that up with game grades in between 52.8 and 55.8 over the past three and the Illini are sitting on the outside of a bowl game looking in. He's completed just 57.1% of his passes and has thrown just three touchdowns over the past three contests and just 110 combined passing yards in the past two. He'll certainly need to get back to the levels that we saw from him in Weeks 1 and 2 if they want to legitimately contend for a bowl appearance.
83. UCLA: Dorian Thompson-Robinson
DTR's emergence against Washington State that saw the Bruins erase a 32-point second-half deficit was short-lived as he was injured against Arizona a week later and replaced by Austin Burton against Oregon State. With a bye week to get healthy, he should return sooner than later and hope to have the similar kind of success that he had against the Cougars in the second half if the Bruins want to win some more games this year.
82. Colorado State: Patrick O'Brien
With Collin Hill sidelined, O'Brien has filled in admirably for the Rams. The former Nebraska Cornhusker has thrown just three touchdowns against two interceptions but has seen 9.5% of his passes dropped by his receivers. As such, his 73.9% adjusted completion percentage shows just how much more accurate he has been than his 57.9% regular box-score completion percentage is.
81. Ball State: Drew Plitt
Plitt gave promise with his six-touchdown performance against Fordham but when the competition has gotten stiffer through the season, he's fallen off a grade cliff. He still has three plus-graded games as a passer and if he can take care of the ball with no fumbles, we can see him return to perhaps some bigger game grades and more wins.
80. Troy: Kaleb Barker
After a rough outing against Missouri in Week 6, Barker will eye a return to what saw him look so good in the beginning stages of the season. He's a career 72.0-overall graded guy and that's where he's at right now, averaging 7.6 yards per pass attempt and picking his deep shots when the Trojans need them. He's currently ninth in the country with 475 yards on deep passes (targeted 20+ yards downfield).
79. Tulsa: Zach Smith
Smith and the Golden Hurricane play an exciting brand of football when needed as the former Baylor quarterback has completed 13 passes of at least 20 yards downfield for the nation's seventh-most yards on those deep shots with 493. He's already out grading his final season at Baylor and if he can start completing passes at a higher rate, we can see him move up from here.
Check out our 2020 NFL Draft Scouting Notebook now!
78. Arkansas: Ben Hicks
Moving up from their preseason ranking, Hicks and the Razorbacks were a play away from upsetting Texas A&M as Hicks had one of the highest-graded games of his career. With Nick Starkel exiting with injury against the Aggies, Hicks is actually the higher-graded player of the duo so it seems the decision to start Hicks has been made for head coach Chad Morris, a decision the PFF grades agree with.
77. Virginia: Bryce Perkins
The talented dual-threat quarterback for the Cavaliers has disappointed in 2019, currently ranking second in the country with a whopping 16 turnover-worthy passes to his credit. He's only thrown five big-time throws against those 16 TWPs as he currently holds a 52.4 overall grade. He's taken too many sacks and thrown six actual interceptions yet he's 4-1 this season as he has made plays with his legs. He's as talented as they come but needs to make some better decisions if Virginia wants a shot at the ACC.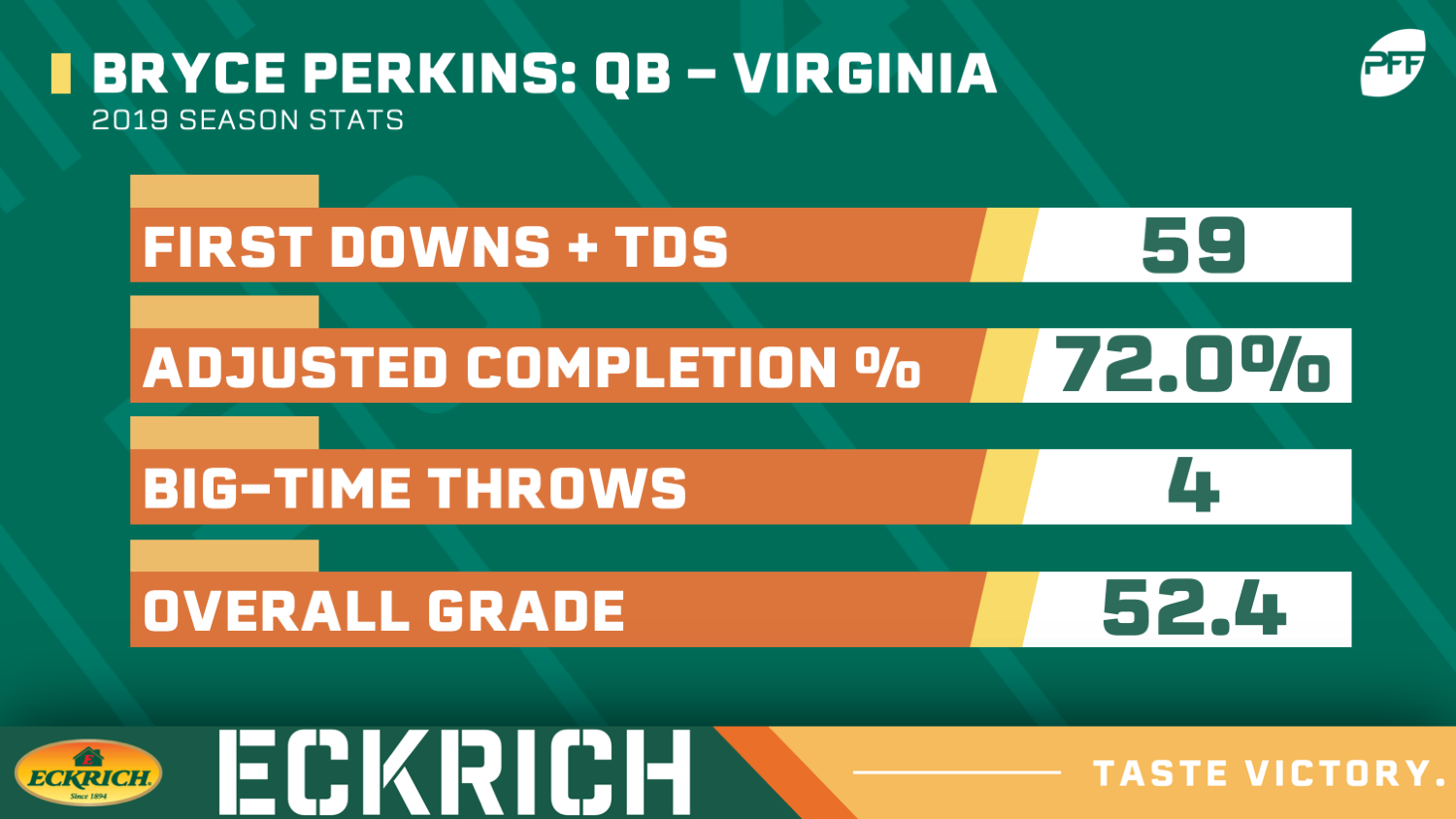 76. Mississippi State: Garrett Shrader
Shrader made national headlines with his helicopter spin'o'rama on a play he dove for the first down earlier this season against Kansas State but he has yet to grade above 74.0 overall as his real danger comes with his legs. He's gained 231 yards on designed carries and another 121 on scrambles, forcing 11 missed tackles in the process. A few more good decisions through the air and this Bulldogs team can compete with the best of them.
75. Liberty: Stephen Calvert
We know Buckshot is going to air the ball out for the Flames, averaging a depth of target of 9.9 through six weeks. He's launched six big-time throws, a number far lower than he had last year, but he's limited himself to just six turnover-worthy passes a year after throwing double-digits by this time. They've shown they can beat some decent teams with their victory over Buffalo and Calvert is certainly a big reason for those big games.
74. Virginia Tech: Hendon Hooker
Hooker took over for Ryan Willis in the Hokies win over Miami as he was dominant in the first half before the gameplan seemingly changed. He still held on to the victory, completing just 10 passes for 184 yards and three scores while he's electric with his feet. Another few performances like the one against Miami and we're talking about a potential new star in the ACC as a dual-threat quarterback.
73. Pittsburgh: Kenny Pickett
Playing arguably the best stretch of football of his career is not an understatement as the Panthers have knocked off Ohio, UCF and Duke in three of their last five outings, many thanks to Pickett. He is off to the best start of his career from a grade standpoint and is completing a career-high 60.2% of his passes after returning from an injury in the win over Duke. Staying healthy and staying accurate will be big for Pickett as he has seen his playmakers drop some would-be big plays as he's had 14 passes dropped in 2019.
72. Marshall: Isaiah Green
His emergence party to the national audience came against Ohio when he finished with an elite game grade of 91.9 as he showcased what he was best at, throwing for two touchdowns and a career-high 91.7 passing grade. He's got moves with his legs (six missed tackles forced on just 37 carries) and some zip to his passes as he's seven big-time throws so far this season.
71. Memphis: Brady White
White has thrown three touchdown passes in each of the past three outings and is averaging 10.3 yards per attempt, besting last season's totals in nearly every facet so far except overall grade. His adjusted completion percentage is also a career-high and ranks 13th in the country through six weeks.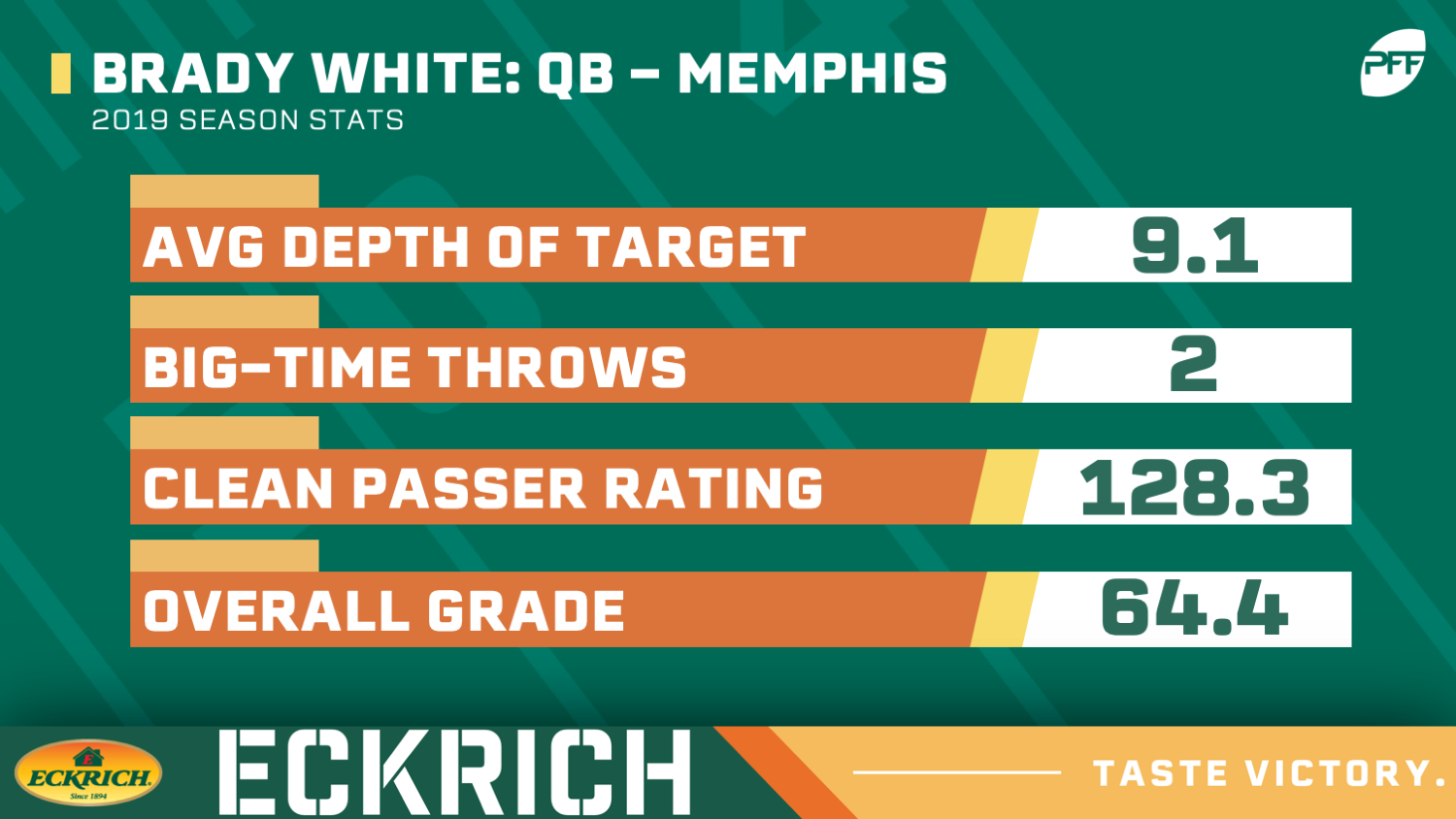 70. Toledo: Michell Guadagni
Guadagni hasn't graded lower than 62.4 this season and that game grade came in the victory over BYU in Week 5. The Rockets have won four straight and are primed to make waves in the MAC if Guadagni can keep making big-time throws at a high rate. He's currently got eight BTTs while still throwing for an adjusted completion percentage just under 70.0%.
69. Stanford: Davis Mills
Mills is seemingly the better answer at starting quarterback than K.J, Costello as the latter has been arguably one of the 2019 season's biggest disappointments. Mills just knocked off the Washington Huskies and has finished the past two games with elite game grades while his first three outings had game grades below 55.0. Consistency will be key to him keeping this job but as it stands right now, he's worlds ahead of Costello in 2019.
68. Middle Tennessee State: Asher O'Hara
The Blue Raiders have gotten plus-grades from O'Hara in all but one game, and that one game came in Week 1 against Michigan. He's allowed his receivers a lot of room to make the most of their receptions, seeing almost 60% of his yards come after the catch but when tasked to air it out, he's been sharp there as well. He's moved the chains or scored on 63 of his 176 dropbacks this season and has MTSU primed for a potential bowl game through C-USA play.
67. New Mexico State: Josh Adkins
Adkins and the Aggies had a rough go of it to start the season with games at Washington State and Alabama but Adkins has been relatively consistent for New Mexico State through six weeks. He's actually had some interception bad luck, unlike the others below him on the list, throwing fewer turnover-worthy passes than he's actually thrown interceptions meaning if he returns to the mean, a few more balls can bounce his way and the Aggies can get a win or two.
66. Utah State: Jordan Love
The Aggies have lost both their national-stage games against Power-5 opponents and Love has been very much an afterthought in those two games. In fact, only the game against Stony Brook saw Love have a game grade above 75.8 while his two games against Power-5 opponents (Wake Forest, LSU), saw him finish with game grades below 54.9. He needed some statement games to get firmly on the NFL draft radar but he's still as exciting a quarterback in the country when he is on. Odds are he increases the touchdown count from six and keeps the interception total to single-digits as he has in each of the past two seasons.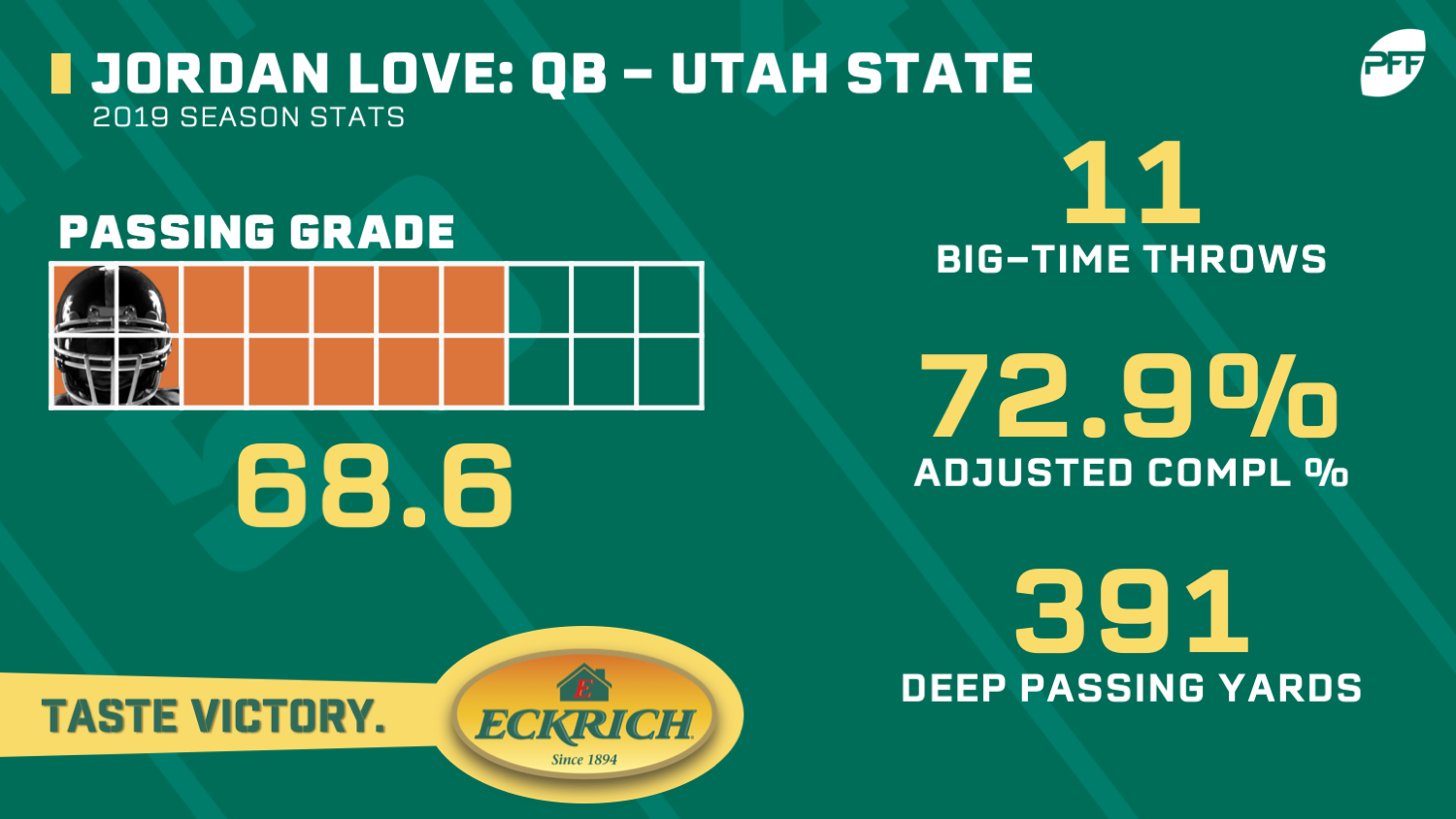 65. Western Michigan: Jon Wassink
Wassink has thrown 12 touchdowns this season, almost surpassing his previous career-high 15 in just six games. They've split their first six games and if they want to compete in the MAC, Wassink will have to improve on his 132nd-ranked adjusted completion percentage. He's been sharp when given time in the pocket, throwing for 12 touchdowns from a clean pocket, a number that ranks 10th in the country.
64. Temple: Anthony Russo
With some middling grades this season, Russo is currently well below where we thought he'd be six weeks into the season. He hasn't graded higher than 67.9 but also hasn't graded lower than 50.1 as he's currently got 11 turnover-worthy passes to his credit, compared to just nine big-time throws. He's got a big arm and he's targeted passes past the first-down sticks on 52.4% of his attempts this year as he plays an exciting brand of downfield passing for the Owls.
63. Ole Miss: John Rhys Plumlee
At first, this job belonged to Matt Corral, but after an injury threw Plumlee into the lineup, he may not give up his spot anytime soon. He's put forth plus-grades in each of his first two starts and shown a dynamic rushing ability that's seen him average 7.2 yards per carry and gain 285 yards on designed carries alone. He's forced 11 missed tackles and as he's developing as a passer, this is a fun skillset he can rely on for the Rebels.
62. West Virginia: Austin Kendall
The Mountaineers aired it out with Will Grier the past two seasons but their fans are getting used to a different brand of football as Kendall averages just a 7.0 depth of target through six weeks. He's been sharp at times, currently holding a 74.5% adjusted completion percentage and if he can cut down on the mistakes (seven turnover-worthy passes), he'll quickly crack the top 50.
Previewing the top Week 7 matchups in college football!
61. Western Kentucky, Ty Storey
The Hilltoppers are quietly 3-2 after losing their season-opener to FCS opponent Central Arkansas. Their offense isn't all that flashy but Storey — when in the lineup — has been the better of the options at quarterback. They've won both of his two starts and he's averaging 7.4 yards per attempt and completing 69.2% of his passes, all much better figures than we saw last season at Arkansas. The move down to WKU has certainly paid off for Story through six weeks.
60. FIU: James Morgan
If there's one area the Panthers can hope to get better production out of Morgan is from a clean pocket where he's currently the 92nd highest-graded quarterback in the country. If he can improve back to what we saw of him in 2018 from a clean pocket, he'll likely push his way back into the top 50. Good thing is, when he has been under pressure as well, he's completing over 50.0% of his passes and has yet to throw a pick.
59. New Mexico: Tevaka Tuioti
For a team with a quarterback controversy between Tuioti and Sheriron Jones, the Lobos offense has still had it's three highest-graded games in terms of passing the ball with Tuioti in the lineup. While both could see action throughout the year, it's likely within their best interest to stick with Tuioti, who has put forth three games grades above 74.7 compared to Jones, who has just one game above 56.4. Tuioti has been sharp with the aid of a play fake and that could go a long way in their passing attack through the 2019 season.
58. Florida: Kyle Trask
Getting the better of his counterpart when he squared off against Bo Nix and Auburn, Trask has actually been one of the better quarterbacks in the country without using play action. He's currently ninth among qualified signal-callers with a 123.7 passer rating on non-play-action passes, completing 38-of-49 attempts for 451 yards and four scores. A stable metric from week to week, that's a strong sense of future success with Trask at the helm.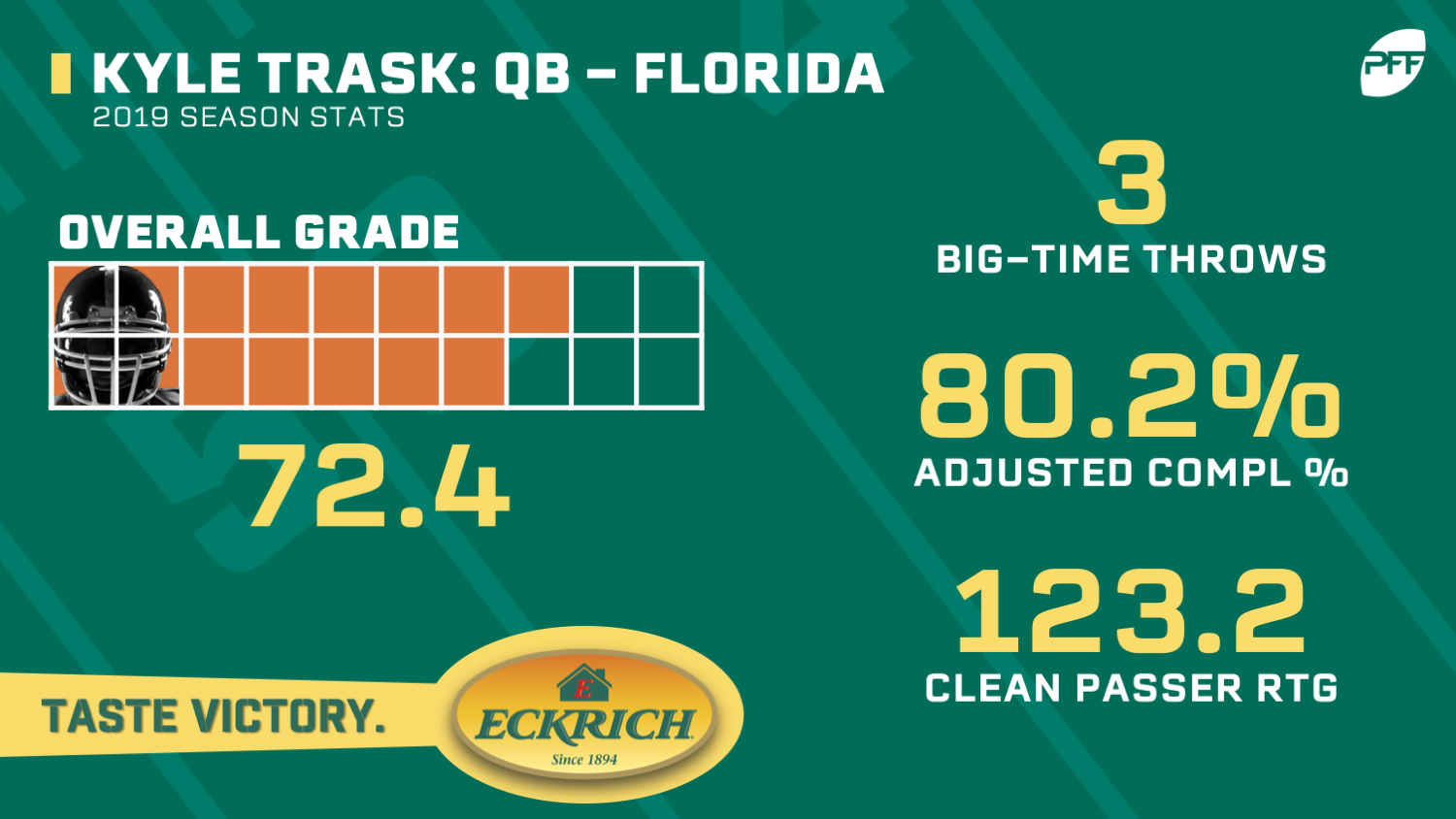 57. Oklahoma State: Spencer Sanders
Sanders was the National quarterback of the week against Oregon State to start the season and though he hasn't met those lofty grade expectations in a game since then, he still has put forth several strong moments for the Cowboys. He's done very well with the ball in his hands in the designed run game, totaling 255 yards on 52 designed carries as well as another 250 yards on scrambles, breaking a whopping 29 tackles in the process. Like other younger, mobile quarterbacks, if he can lean on his rushing ability as he develops into a downfield passer, the sky is the limit for him in this QB-friendly offense.
56. Ohio: Nathan Rourke
Rourke and the Bobcats escaped a scare against Buffalo in overtime when the Bulls missed their PAT in the first overtime period. Still, Rourke has to be able to put behind him some rough outings like the game against Pittsburgh in which he was sick and an ugly game against Louisiana, who is much better than most give credit to. He's put forth two games above 82.6 and another at 73.6 in his first MAC game of the year, something we've become accustomed to. In fact, his 2018 grade against MAC defenses was the highest-graded quarterback performance in the MAC that we've seen over the past three seasons and if he's catching his stride now, the preseason MAC favorites are still just that.
55. Louisville: Micale Cunningham
Now going by his given first name instead of his middle (Malik), Cunningham has blown the doors off the QB competition (by a PFF grading standpoint, at least) at Louisville. Among quarterbacks with at least 50 dropbacks this year, Cunningham's 79.2% adjusted completion percentage is the 18th-best mark in the country and he's been a few plays away from some big victories, most notably in Tallahassee against FSU. He's found his playmakers much better than Jawon Pass did all of last season and even in his time this year, finishing with two elite game grades (EKU, BC) compared to Pass' 45.6 overall grade to open the season.
54. Air Force: Donald Hammond III
Hammond has needed just 58 pass attempts to reach 574 yards and four big-time throws, as he and the Falcons have already secured a marquee victory with their victory over Colorado. He's run the Air Force offense very well this season and is out grading himself both on passing attempts and with his 5.4 yards per attempt on the ground and 18 combined touchdown and first-down runs in 2019. With more ball security, he can surpass some quarterbacks on this list and maybe even take the top spot among service academy quarterbacks.
53. Louisiana: Levi Lewis
The new starter in the Bayou, Lewis has performed admirably in his first year as the full-time starter. He's not been asked to pass a whole lot with their talented rushing attack but when he does, he's actually secured 48 first-down attempts and eight more touchdowns on just 82 completions. His talents through the air will certainly be called upon if they want to win the Sun Belt, but as of right now, he's shown he's more than capable of getting the job done through the air if needed.
52. Nebraska: Adrian Martinez
Martinez has yet to grade above 67.2 overall this season but has limited mistakes for the most part, save for the game against Ohio State. He'll have to increase his accuracy moving forward but with him starting to grasp the Scott Frost offense, we'll hope for more of those performances like the ones he had against NIU, Illinois and Northwestern. He's a very talented passer and a gifted runner who's increased his grade overall in each game aside from their matchup against Ohio State, and that should bode well for them through Big Ten play.
51. FSU: James Blackman/Alex Hornibrook
Hornibrook provided a spark against Louisville when he entered the lineup for an injured Blackman and then again in a win against NC State but it seems it's Blackman's job to lose moving forward. Hornibrook currently has the nation's highest adjusted completion percentage (92.4%, min 50 dropbacks) while Blackman's 74.4% is still a top-50 mark among qualified quarterbacks. Blackman is a top-50 kind of guy so far this season in most PFF metrics and has shown the penchant for solid play from a clean pocket when he gets them. Odds are pressure breaks in (he's been under pressure on 42.1% of his dropbacks), and he'll have to continue to fare as well as he has so far, completing 25-of-44 pressured attempts for 376 yards and four scores against just one interception.
50. Iowa: Nate Stanley
Fresh off an ugly game against Michigan, Stanley has never really graded all too high in the PFF spectrum as the Iowa offense does a great job of scheming open the playmakers. Still, he's had 10 passes dropped this year and another 10 throwaways as he's just outside the top 70 in terms of adjusted completion percentage. His two highest-graded performances this season have come against Group of 5 teams but until Michigan, he hadn't had a below-average game grade in some time. He'll win games with relative ease with their defense but keeping the ball away from opposing defenses will be something he needs to improve on as he's thrown an interception in seven of his last 12 conference games.
Check out our 2020 NFL Draft Scouting Notebook now!
49. Louisiana Tech: J'Mar Smith
Similarly to what we've seen from his career to date, Smith is wildly inconsistent but aside from a loss to Texas this year, he's been able to rattle off four straight wins despite subpar receiving grades around him. He's limited himself to just four turnover-worthy passes to start the season and is seeing a huge gain when utilizing play action for the Bulldogs. He has the nation's seventh-highest jump in completion percentage when using a play-action fake. He sees a 14.5% spike on play-action passes, making sharp decisions and quick reads with great success.
48. Army: Kelvin Hopkins Jr.
Throwing the ball more against Tulane than he had in any game of his career, Hopkins has yet to throw one of our big-time throws but will almost certainly keep the Black Knights in every game this year with his ability to run the option offense. He's broken a whopping 25 tackles on 64 carries this year, gaining 192 of his 263 yards after contact. He hasn't broken any of those long runs that we've seen before but that's coming with the way he weaves through defenders and bounces off smaller backs. Keep the ball off the ground and Hopkins will battle for the top spot among service academy QBs and maybe even a top-30 spot here.
47. Michigan: Shea Patterson
Speaking of keeping the ball off the turf, Patterson has seemingly started to find his stride after five fumbles marred his first three games. They didn't put up a ton of offense against Iowa (few should) but limiting mistakes has been Patterson's recipe for success before and this team will need him to uncork more of his big-time throws that we've seen before. He has seven BTTs through six weeks and is seeing an average depth of target of 11.1 on the year and it's likely we see more big-time throws from the current leader in the Big Ten in career big-time throw numbers.
46. Tulane: Justin McMillan
Having thrown five touchdowns on deep passes targeted at least 20 yards downfield, McMillan is a big-time threat with the ball in his hands and a talented cast of receivers at his disposal this year. Those five touchdowns on deep passes are the 17th-most in the country and save for the contest against Auburn, he's shown what made him a highly-rated recruit that LSU wanted. He's averaging 7.4 yards per attempt through the air and 6.4 per carry on the ground as he's accounted for 61 first downs this year.
45. San Jose State: Josh Love
The Spartans grabbed a big out-of-conference win against Arkansas in Week 4 and Love was a big reason why, throwing for 402 yards, a feat he topped in Week 6 against New Mexico. He has seven big-time throws so far this season, averages an 11.1 depth of target and outside of 12 dropped balls, is throwing a catchable ball on 72.1% of his attempts.
44. Michigan State: Brian Lewerke
Exceeding expectations this year, Lewerke is currently off to the highest-graded start to his season in his Spartan career. He's thrown 11 touchdowns, three more than he did all of last season and has nine big-time throws, just one shy of the 10 he threw in 2018. He's taking some off the ball, averaging a half-yard shorter on his average depth of target and it has paid dividends with a higher adjusted completion percentage, passer rating and yards per attempt so far this season. If his receivers can give him some more help (23 drops — most in the country), his yardage totals and numbers should even be on the rise.
43. North Texas: Mason Fine
The Mean Green offense goes as Fine goes and fortunately for them, after a slump to start the year after Abilene Christian, Fine has picked it up against Conference-USA opponents. His game has been different this season, to say the least, as he's seeing a drop off in most statistics across the board. Still, he's starting to find his playmakers in space and has increased his grade in each of the past three contests even with a loss to Houston. He has all the talent in the world and if he can start stringing together some highly-graded performances that we've seen him do before, we should see him hit the 3,000-yard passing mark with ease again.
42. Texas A&M: Kellen Mond
Mond has had some 'wow' moments this year, most notably his reverse-body pass on a perfect rope against Texas State to open the year. Save for the game against Clemson, he's had a game grade above 66.5 in each contest despite having 15 of his passes dropped this season, the fifth-most in the country. In total, he's currently holding a strong adjusted completion percentage of 75.3% and has avoided negative-graded plays well this year while also performing well from a clean pocket. He'll have to continue that strong play from a clean pocket when he gets them as the road continually gets tougher with Alabama, Mississippi State, Georgia and LSU on schedule.
41. Appalachian State: Zac Thomas
Quietly, the Mountaineers may be the best Group of 5 team this season and Thomas is a big reason why. He's completing a high percentage of passes, something we've grown accustomed to. Currently, he sports a 79.3% adjusted completion percentage, the 13th-highest mark in the country and that comes after he finished at 72.2% in 2018 while leading the country for a while a year ago. What stands out for him is his ability when pressured as a passer as he is currently holding the nation's eighth-highest under-pressure passer rating at 119.7 and holding a passer rating over 100 while kept clean as well.
40. Boise State: Hank Bachmeier
The true freshman has far exceeded expectations this year after going into Tallahassee and defeating Florida State. Making things even better for the Broncos going forward, his performance against FSU is actually his lowest-graded outing to date against FBS-level schools as he's put forth game grades of 72.3 or over in his three games against Marshall, Air Force and UNLV since. He's shown remarkable poise for a youngster and has the country's fifth-most big-time throws at 13 while averaging 8.8 yards per pass attempt.
39. Wisconsin: Jack Coan
Another guy exceeding expectations, Coan has not been tasked with throwing the ball too much this year outside of the CMU game, needing just 16 pass attempts in the blowout of Michigan, averaging 20 attempts in his two outings against Big Ten opponents. He has gotten some interception luck as he's thrown just one pick but five turnover-worthy passes but at this rate, he's far out grading his 41.4 overall grade from a season ago, and that's more than enough to win games with Jonathan Taylor toting the ball and their defense limiting teams to just 29 points combined through five games.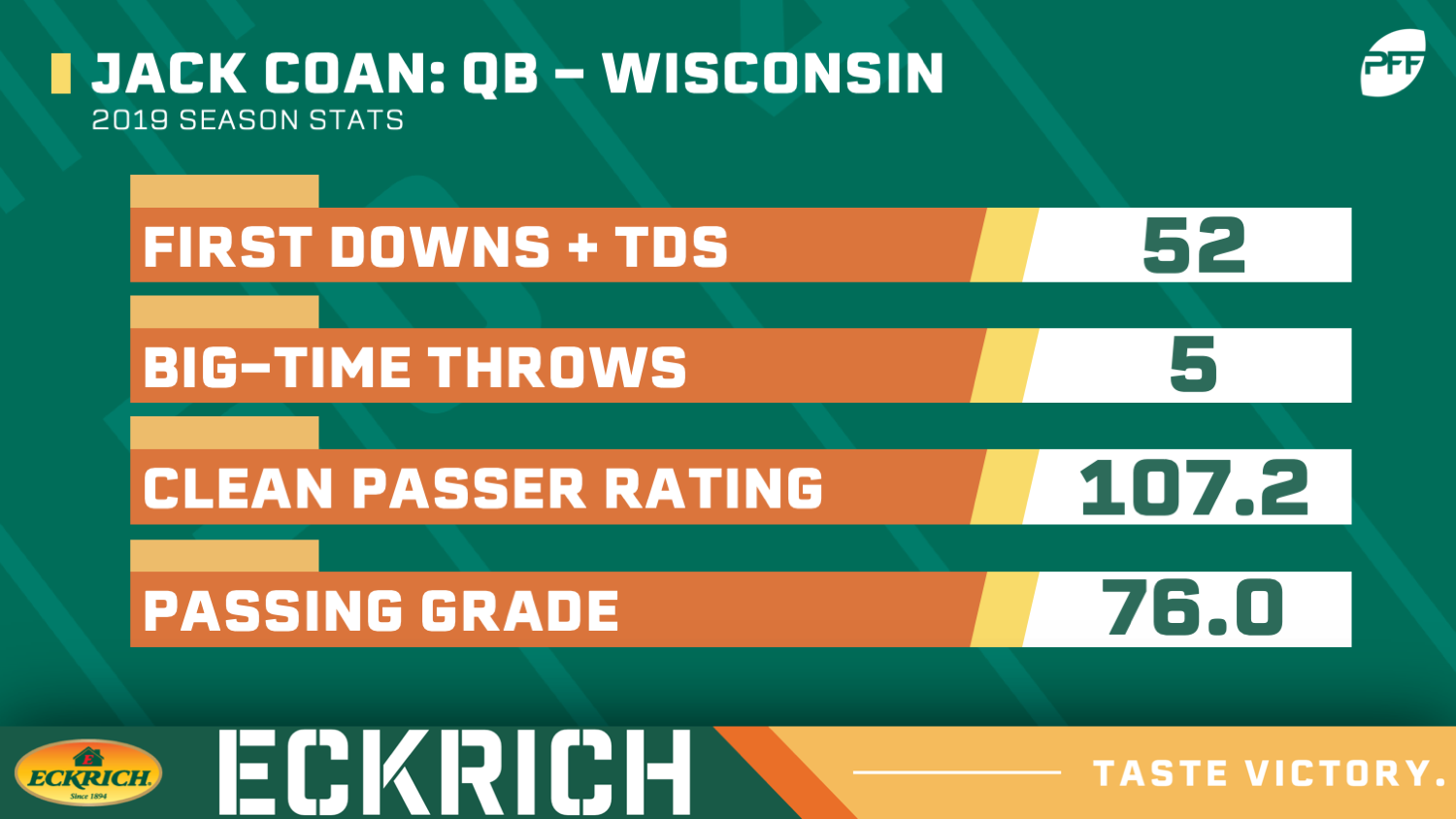 38. San Diego State: Ryan Agnew
The Aztecs are in a strong position to contend in every game the rest of the season with Agnew leading the charge. After a slow start to the season, He's put forth game grades of 70.0 or higher, including an elite 90.0 against UCLA in their big win over the lone Power-5 opponent on their schedule. He doesn't target passes too far downfield but he's safe with the ball and keeps his offense on schedule, currently ranking 25th in the country with a 75.9% adjusted completion percentage.
37. Georgia State: Dan Ellington
With two elite-game grades under his belt, Ellington is leading the Panthers to a bowl game and potential waves in the Sun Belt as contenders. He's thrown 12 touchdowns to equal his totals from a year ago and has uncorked 11 big-time throws, ranking 12th-most in the country. Perhaps the most dangerous aspect of his game is when he's schemed the ball in his hands on the ground as he's tallied 292 yards on 54 designed carries, well surpassing his 4.9 yards per attempt on designed carries that he had last year.
36. Texas Tech: Jett Duffey
The Matt Wells offense may be more fortuitous with Duffey at the helm as they put forth season-high passing grades, overall grades and got the victory against Oklahoma State in his second start for the injured Alan Bowman. Duffey is completing just 58.5% of his attempts this year but is averaging 8.5 yards per attempt and has yet to throw an interception while unleashing six big-time throws to just one turnover-worthy pass. If he can keep that going in Bowman's absence, it may be more difficult to keep him from the starting lineup even when Bowman is healthy.
35. FAU: Chris Robison
With three straight victories to their credit, Robison has the Owls firing, riding a streak of 300+ passing yards in each of the latest victories. With more games like he's had against Ball State, Wagner and Charlotte through Conference USA play, Robison can even rise from here. He's dissected defenses from a clean pocket, throwing 12 touchdowns against just one interception when free from pressure as his 118.5 passer rating from a clean pocket is easily in the top third of the country's quarterbacks.
34. UL-Monroe: Caleb Evans
Making a case to be in the discussion for top Group of 5 quarterback himself, Evans doesn't have the base box-score stats that jump off the page but the PFF grades paint a different picture. He was an extra point away from an upset victory at Florida State and even with two blowout losses at Iowa State and at home to Memphis, Evans has yet to finish a game in 2019 with a game grade lower than 70.9 overall (Iowa State) while every other game has been at or above 76.1. He's putting forth a lot of positively-graded plays while limiting himself to just five turnover-worthy passes this year on an average depth of target of 9.5 yards downfield. A few more wins and he'd receive a lot more credit but the PFF grade doesn't lie and that's where Evans has shined.
33. Arizona State: Jayden Daniels
A loss from Colorado aside, Daniels shook the opening game from his mind and is 4-1 as a starter entering the meat of Pac-12 play. He was very inaccurate against Kent State but since then, he has increased his depth of target and had five big-time throws after Week 1 compared to just four turnover-worthy passes. He's chipped in as a talented scrambler as well, gaining 202 of his 214 rushing yards on 25 scramble attempts and gained an additional 11 first downs on the ground. A new No. 5 is in town and the Sun Devil faithful have to be happy with the early results.
32. North Carolina: Sam Howell
True freshman quarterbacks are making waves and Howell finds himself second in his class in that regard after completing 62.6% of his passes for 15 touchdowns against just three interceptions through six games. His 75.6% adjusted completion percentage is in the top 30 among all quarterbacks while his 444 passing yards on deep shots (20+ yards) are the 15th-most in the country. He's taken care of the ball on those deep shots as well, something remarkable considering his age as he attempted a deep pass on 18.6% of his passes yet hasn't thrown an interception on them while his 12 big-time throws are seventh-most in the nation. Big things are coming for No. 7.
31. Cincinnati: Desmond Ridder
Ridder has started to live up to his lofty preseason billing after knocking off UCF at Nippert Stadium in Week 6. Ridder has the Bearcats looking at an AAC Championship if he can keep this play up as he's had just one game grade lower than 63.3 this year and launched nine big-time throws. He's benefitted from Michael Warren's plus-play this year, seeing a huge spike in completion percentage (+13.3%) and yards per attempt (+3.0) on play-action passes. That's a seemingly great recipe to lean on as they progress through conference play as he's the
30. Colorado: Steven Montez
Montez's career at this point has been hot and cold but he's trending more towards his career-high overall graded season of 2017 through six weeks of action in 2019. He's finished his two Pac-12 games with elite grades through the air as outside of the Air Force upset, he's been exceptionally sharp this season. He's launched eight big-time throws and kept himself free from many mistakes while still throwing for the 17th-most yards on deep passes. He's yet to throw an interception under pressure while possessing sharp reads and strong grades when kept clean as he's starting to fire on all cylinders. The key will be keeping the consistency with his extremely-high grading, something we have yet to see in four years of Montez in Boulder.
Check out our 2020 NFL Draft Scouting Notebook now!
29. Missouri: Kelly Bryant
An injury scare now behind us, Bryant's impact for the Tigers has been impressive after a season-opening loss at Wyoming. He's graded very well this season and is averaging 8.6 yards per attempt while almost surpassing his season touchdown totals from his lone season as a starter back in 2017 with Clemson. He's continued what we knew he was good at back in 2017, currently holding a 75.4% adjusted completion percentage, throwing catchable balls on over three-quarters of his pass attempts. He may get it done differently than Drew Lock did but the key phrase there to take away, he simply gets the job done.
28. Navy: Malcolm Perry
The nation's top signal-caller on an option offense goes to Perry through six weeks of action as he's the highest overall graded and possesses the highest passing grade and second-highest rushing grade of the three qualified quarterbacks. He's actually finished a game with an elite passing grade (vs. Air Force) while he's leading them all in total rushing yards, yards after contact and 10+ yard runs. He's totaled 408 yards on the ground this year including nine touchdowns with 20 more first-down carries. He runs the option offense to near perfection and looks to have a firm grasp on the top service academy quarterback ranks through the first half of the season.
27. Minnesota: Tanner Morgan
With a 5-0 record in the bank, Morgan shook the feels of two close calls (and low game grades) against Fresno State and Georgia Southern to the tune of one of the finest performances we've seen from a quarterback in 2019. He completed 21-of-22 passes against Purdue for 396 yards and four scores and though he didn't keep that kind of performance up against Illinois, he's seeing a big jump in every major statistical category from a year ago. It's interesting to think that he possibly wouldn't have even been given the start had Zach Annexstad not been injured before the season. Morgan currently ranks in the top 15 among quarterbacks in adjusted completion percentage, passer rating from a clean pocket, passer rating under pressure and yards per attempt as he and Minnesota are riding high into Big Ten play.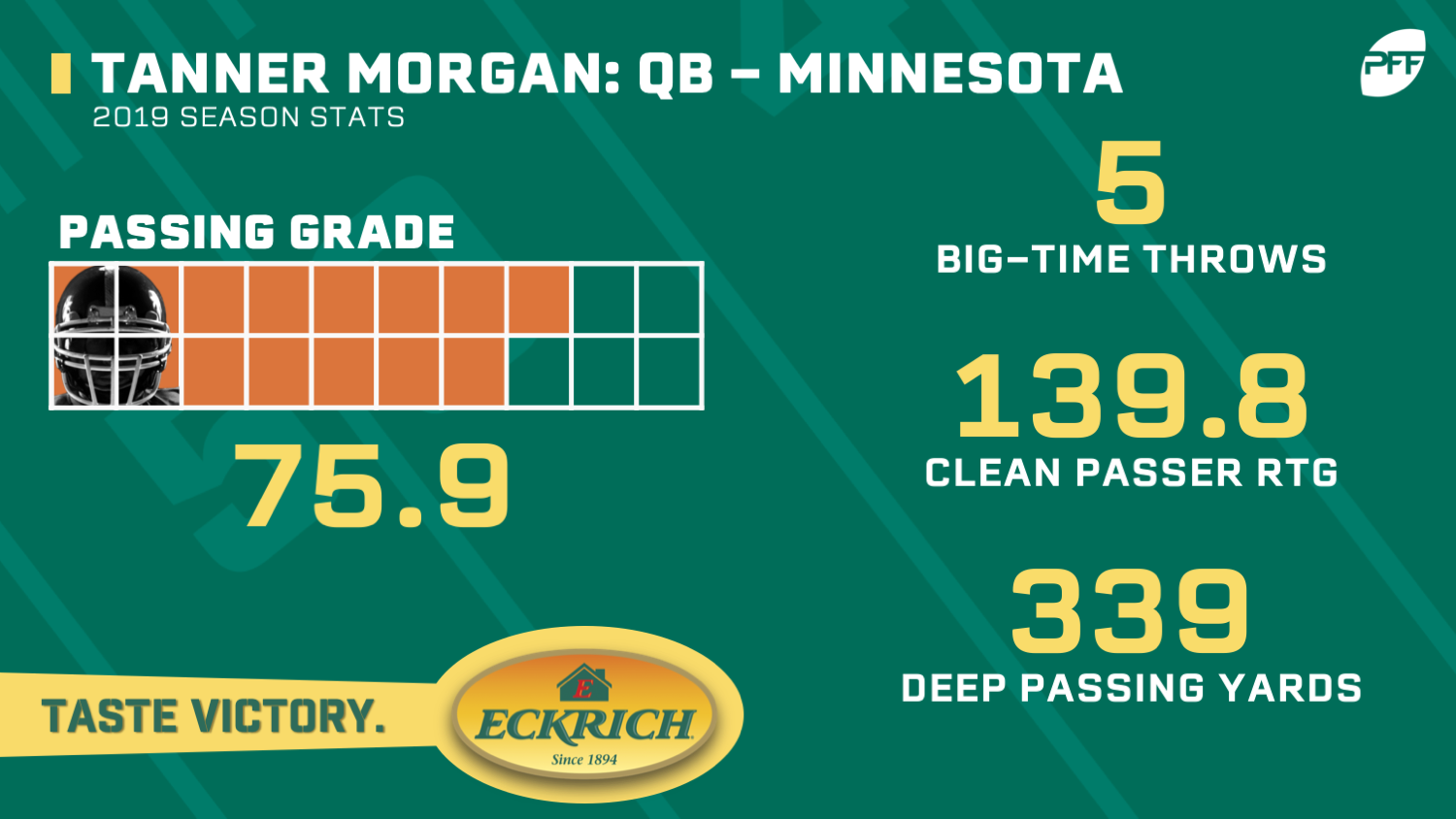 26. Eastern Michigan: Mike Glass III
With perhaps one of the strongest arms and releases in the country, Glass is currently second in the country with 12 big-time throws. He's limited himself to just six turnover-worthy passes and has proven to be a threat with the ball in his hands, gaining 136 yards on designed carries this year. His throws are accurate and if he keeps this up, he'll continue to make waves in the MAC as well as potentially make noise in the 2020 NFL Draft.
25. Notre Dame: Ian Book
They've taken care of every opponent they should have so far this season and even made the game against Georgia in Athens a competitive affair. He's finished two games with a five-touchdown, zero-interception line as the lesser competition games may pad the box score but he's still uncorked seven big-time throws this year. We've seen him complete passes at a higher rate than he is now and over the past two games, we've seen him start to increase his straight completion and adjusted completion percentage back to levels we knew he could be after 2018 season. His toughest defensive test behind him, Book has just the Michigan Wolverines left on the schedule with a PFF defensive grade above 84.6.
24. Penn State: Sean Clifford
Clifford is currently seventh in the country with his 10.6 yards per attempt through six weeks, seeing an average depth of target of 11.7 yards downfield. He's playing an extremely exciting brand of football for the Nittany Lions as he and KJ Hamler have developed into one of the nation's most electric QB-WR combinations. Even with his hefty depth of target on average, he's limited himself to just two turnover-worthy passes in a remarkable feat to date. If that keeps up, it's safe to assume his numbers will continue to be on the rise.
23. SMU: Shane Buechele
Buechele has clearly shown why he was once a member of the Texas Longhorns in his first season with the Mustangs. He's thrown the country's fourth-most big-time throws at 14 and even though he's thrown 10 turnover-worthy passes, he's been able to get away with just five interceptions as he pushes the ball down the field with relative ease. He's already finished a game with an elite grade for the first time in his career and capped an improbable come-from-behind victory against Tulsa in triple overtime with perhaps one of the better throws (and catches, we see you James Proche) into the corner of the end zone to the far side of the field where only Proche could get it. He has SMU sitting at 6-0 and in great shape to contend for the AAC Championship this year.
22. Washington State: Anthony Gordon
This spot was unknown until a week before the season and similar to the Gardner Minshew situation from a year ago, another transfer quarterback has entered head coach Mike Leach's system and seen immediate success. It's a quarterback-friendly system but Gordon has done a ton of damage himself, unleashing 13 big-time throws and seeing an 8.4 average depth of target. He's thrown a catchable pass on nearly 80.0% of his throws this year despite the heavy volume of attempts and has the country's 15th-best passer rating from a clean pocket this year. He can keep them in seemingly any game when given time and that seems to be the recipe as their defense has allowed 30.6 points per game this year.
21. Baylor: Charlie Brewer
One of the nation's highest-graded returning quarterbacks has his team sitting at an undefeated 5-0 through the first six weeks and has seen his grade rise in every game this year from a passing-grade standpoint. He's averaging a higher yard per attempt than the past two seasons while holding a very strong 76.1% adjusted completion percentage on the season. The defenses don't get much easier this season even in the Big 12 as he's starting to hit his stride in 2019. His nine big-time throws rank 20th in the country and he's yet to throw an interception this year.
20. Kansas State: Skylar Thompson
For a while, Thompson was the nation's highest-graded quarterback as he just simply avoided negatively-graded plays. Though he's fallen against his last two Big 12 foes, he still has the 15th-most big-time throws (10) while limiting himself to just three turnover-worthy passes. He's averaging an incredible average depth of target (11.8) and when he's on, it has been a sight to behold. He's got some shiftiness to him in the running game as well, breaking four tackles on just 20 carries this season as he's grown more and more confident this season. Getting back to the early-season form will be pivotal to his and the Wildcats' success this year.
Check out our 2020 NFL Draft Scouting Notebook now!
19. Oregon: Justin Herbert
Herbert started the season off on the wrong foot against Auburn, leading to just a 55.6 overall grade but has rallied with plus-grades in each of the past four outings. He's not reached his 2017 levels of play but right now he's hitting his stride for what we know he is: safe with the football, a yards per attempt figure between 7.5 and 8.2, many first-down conversions and a high touchdown to interception ratio. He currently owns the country's 10th-highest adjusted completion percentage at 79.4% and has his Ducks team looking down the barrel of a potential Pac-12 Championship with a big game looming at Washington.
18. Oregon State: Jake Luton
The better of the two quarterbacks in the state of Oregon this season, Luton doesn't have the win totals of his counterpart in Herbert, but he certainly has the rest of the PFF metrics in his advantage. He hasn't thrown an interception on 161 attempts while he's averaged a 9.8-yard depth of target through the season. Luton has the advantage on big-time throws as well, unleashing nine this year while he has top-11 figures in both passer rating on deep passes (133.6) and when kept clean from pressure (131.5) as he's fresh off a National quarterback of the week performance against UCLA.
17. Clemson: Trevor Lawrence
The nation's No. 1 quarterback entering the year has perhaps one of the ugliest interceptions to start the season but has picked up his game since a lackluster start to the year. He hasn't thrown a turnover-worthy pass since Week 3 and that has led to elite game grades in each of his past two outings. With him at the helm and hitting his stride entering ACC play, there's no doubt the Clemson Tigers will be double-digit favorites in every remaining game as he looks to regain his spot atop this list. He certainly has all the tools and ability to do so and if that happens, watch out ACC and the rest of the country.
16. Indiana: Michael Penix Jr.
The Hoosiers are a different team with Penix in the lineup. He's currently one of 16 quarterbacks with elite grades for the season albeit we've seen him in just three games this year. However, in those three games, he hasn't graded below 74.5 and has the country's fourth-highest adjusted completion percentage at 84.5%. He's an accurate thrower with a very strong arm and a strong feel in the pocket for his age. He's also fared very well when pressured, something he'll certainly see more of through Big Ten play, as he's completed 12-of-24 passes for 240 yards and hasn't thrown an interception. He can lean on his strong play from a clean pocket but if the play breaks down, he's shown he can escape and make plays with his arm on the move just as easy.
15. UCF: Dillon Gabriel
He and the Knights came back down to Earth against Cincinnati but Gabriel has been a revelation for UCF this season. A team who lost All-World McKenzie Milton has found their future in Gabriel who is currently averaging 9.8 yards per attempt while ranking third in total passing yards (644) on deep passes of at least 20 yards downfield. He's been accurate on those deep shots and has a 117.9 passer rating on such attempts as he's not been afraid to show off his arm strength. He's finding his receivers with relative ease and aside from the Knights' two losses this season, Gabriel certainly looks like he'll keep the UCF train rolling into the future.
14. Hawaii: Cole McDonald
The Run'N'Gun offense has been kind to McDonald as he's currently thrown for 10 big-time throws (15th) and an adjusted completion percentage of 77.3% (22nd). He has looked past a season-opening snoozer and has put forth multiple games of big-time moments, most notably throwing four touchdowns in four of five games this year. McDonald is an accurate, big-armed thrower who isn't afraid to test tight windows just the same as he trusts his arm on throws downfield. He can make all the throws and has the Rainbow Warriors ready for a run at the Mountain West title.
13. Southern Miss: Jack Abraham
While it may be strange seeing a Southern Miss quarterback on this list so high, sandwiched between some blueblood programs but Abraham has been extremely strong this season. Taking away his two games at SEC opponents (@ Mississippi State, @ Alabama) and Abraham has an astounding 91.4 overall grade and is averaging 12.0 yards per attempt with a 70.7% completion percentage. With those two SEC games out of their way and a 3-2 record through them, the Golden Eagles may be the team to beat in the Conference USA with Abraham leading the charge. He's only thrown one turnover-worthy pass outside of those SEC games and he will not see a defense nearly as strong as those two all season. Pencil in the November 9 meeting between Southern Miss and UAB as a must-watch television event.
12. UAB: Tyler Johnston III
Speaking of UAB, Johnston leads all FBS quarterbacks this season with 17 big-time throws to his credit. He has uncorked 15 turnover-worthy passes as he's trusting his arm a bit too much in certain situations but he's as fun a quarterback to watch as there is across the country. The highest-graded Group of 5 quarterback, Johnston throws a very accurate ball and isn't afraid to go deep. He's unleashing a deep pass targeted at least 20 yards downfield on 31.5% of his attempts and leading the country with 10 touchdowns on such attempts. Watch Tyler Johnston. You've been warned.
11. Washington: Jacob Eason
Eason has had three extremely strong games this year and, outside of the Cal performance, has finished every game with a grade of at least 73.7 overall. He's currently seventh in the country with 12 big-time throws while limiting himself to just five turnover-worthy passes. He's done everything well so far this year, but if there's one area to improve on, it's under pressure where he has just a 41.2 passer rating. Good thing for him, and Washington fans, he's been under pressure on just 22.1% of his dropbacks, the 12th-lowest percentage among qualified quarterbacks.
10. Utah: Tyler Huntley
The nation's most accurate thrower in terms of catchable passes this season, Huntley has thrown seven big-time throws to just one turnover-worthy pass. He's averaging a shallower depth of target than any season to date but holding a 9.9 average yards per attempt, which is higher than any season prior. He's currently the nation's second highest-graded quarterback on throws targeted at least 10 yards downfield, completing 25-of-35 for 694 yards and five touchdowns against zero interceptions. Four of those incompletions have been dropped by his receivers and he's leading the country by a large margin in terms of adjusted completion percentage on throws targeted 10+ yards downfield. When given time to look downfield, Huntley has been one of the nation's best and that's indicative of his top-10 ranking here.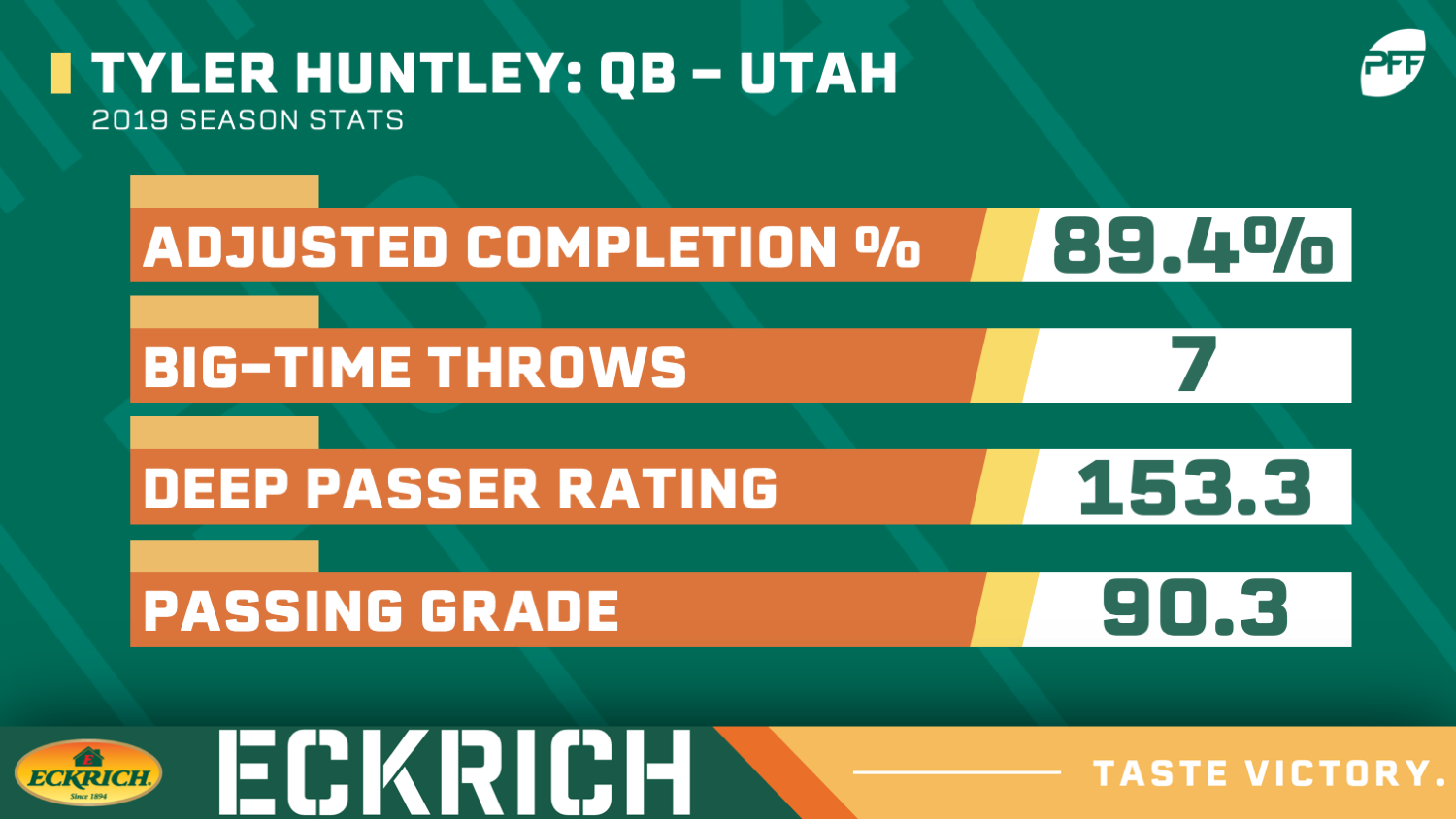 9. Iowa State: Brock Purdy
Following up an incredible season in 2018, Purdy is hitting his stride despite two losses to start the 2019 season. Much like the aforementioned Huntley, Purdy is dominant on throws targeted at least 10 yards downfield, completing 43-of-74 attempts for 945 yards and eight touchdowns. He's thrown nine big-time throws on such attempts and is an exceptional athlete with the ball in his hands. He's ripped off 246 yards on the ground so far this year, including five touchdowns and six carries of at least 10 yards. With elite game grades in his bag, the sky is limit as the Cyclones push through Big 12 play this year.
8. Arizona: Khalil Tate
Perhaps the nation's most electric dual-threat quarterback when healthy, Tate has ripped off an impressive 12 rushing conversions (first downs + touchdowns) while averaging 8.6 yards per attempt. No one on the field is as fast as Tate on the ground and he can make defenders miss at ease. That all goes without saying that he's improved his passing grades to career-high, near-elite levels this year. He's completing 67.5% of his attempts and averaging 9.1 yards per pass through the air. He has the 35th-ranked adjusted completion percentage to boot and as he continues to play at a healthy level, there may be no stopping him as he's approaching overall grade levels he saw during his Heisman candidacy season of 2017.
7. Wake Forest: Jamie Newman
The nation's most underappreciated quarterback through six weeks, Newman is the country's fifth highest-graded quarterback on throws targeted at least 10 yards downfield, completing 33-of-58 attempts for 835 yards and 10 touchdowns against just two interceptions. Overall, he's thrown the fourth-most yards on deep passes (602) and possesses top-20 marks when kept clean from pressure and without play-action. He's found his playmakers with ease and has learned to trust them in contested situations where only they can make the plays. Currently, the Demon Deacons have just one hurdle between them in the Clemson Tigers towards a potential ACC Championship game appearance with the way that their signal-caller has been playing.
6. Georgia: Jake Fromm
He hasn't been tasked with much through the first six weeks of the season but when his team has needed him, Fromm has delivered. He connected on many sharp passes during the team's victory over Notre Dame and he's just been an accurate passer who takes what the defense gives him so far. He's avoiding negatively-graded plays at an extremely high rate while putting forth positively-graded attempts at another absurd rate in its own regard. Fromm has the nation's second-highest passer rating without play action at 132.0 as that is a critical factor towards success not only at the collegiate level but at the NFL level as well. Not shockingly, he has top-20 figures in adjusted completion percentage and passer ratings both under pressure and when kept clean from pressure.
Previewing the top Week 7 matchups in college football!
5. Texas: Sam Ehlinger
The top five wouldn't be complete without Ehlinger as he's currently thrown for 10 big-time throws (15th) while limiting himself to just four turnover-worthy passes. He's averaging a deeper depth of target than year's past and still sitting with a strong 75.4% adjusted completion percentage. His offensive line is playing well ahead of expectations and giving him a clean pocket on 75.6% of his dropbacks. He's rewarded the Longhorns with the country's 14th-best passer rating when kept clean, throwing for 1,191 yards and 16 touchdowns, the latter tying for third-most in the nation.
4. Ohio State: Justin Fields
The nation's third highest-graded passer on throws targeted at least 10 yards downfield, Fields has been dominant as a downfield thrower this year in Columbus. He's completing a ridiculously-high amount of passes on such attempts and has a national-best 15 big-time throws on 10+ yard attempts. He's finding his receivers well enough downfield on such attempts (22.3 aDOT) that they haven't needed to do too much with the ball after the catch and his 15 touchdown passes on downfield attempts ranks second in the country. This all goes without mentioning his incredible skill set with the ball in his hands on the ground. He's run for 204 yards on just 26 designed carries and 360 yards total on the ground with eight touchdowns and 14 more first-down carries and 10 broken tackles in the process. He's got the Buckeyes rolling and it's been incredibly fun to watch.
3. Alabama: Tua Tagovailoa
Tua currently leads the nation with a ridiculous stat line of 23 touchdowns against no interceptions as he's completing 76.4% of his passes for 11.6 yards per attempt. He's leading the country in passer rating from a clean pocket (156.7) after he led the country a year ago in the same regard. Similarly, he led the nation in passer rating on throws without a play fake, much like he's doing again this year, proving just how stable those metrics are from year to year. He leads the country with 20 touchdowns from a clean pocket and is third in total yards but has needed at least 12 fewer passes than those ahead of him in yards. When he's on, he's perhaps the best thrower of the football in the country and the November 9 matchup between LSU and Alabama will give us a quarterback dual we haven't seen in some time.
2. Oklahoma: Jalen Hurts
Hurts has been turned into perhaps the nation's most-feared deep passer, something that seemed more than unlikely during his time at Alabama. Head coach Lincoln Riley has unleashed a skill set in Hurts previously untapped and previously unseen. Hurts has the fifth-most yards on deep passes (533) but is by far averaging the most yards per attempt on such throws at 21.3. He's currently in possession of a 78.7% adjusted completion percentage that ranks 16th in the country and he has yet to have a pass dropped in 2019. He's firing on all cylinders and a big-time matchup between the Sooners and Texas Longhorns is likely the only thing standing between Hurts and an invitation to New York for the Heisman Trophy ceremony.
1. LSU: Joe Burrow
No quarterback has a higher overall or passing grade on passes targeted at least 10 yards downfield as Burrow has dominated the first six weeks of college football. On such throws, Burrow has completed 57-of-77 attempts for 1,285 yards and 16 touchdowns, all of which lead the country. He's the nation's most exciting downfield thrower to the intermediate range of the field and outside the numbers as he's found his big receivers outside the numbers better than anyone else. Much like we saw from Tagovailoa in 2018, Burrow currently ranks in the top five in terms of passer rating from the following categories: under pressure (1st), kept clean (5th), with play-action (4th), without play-action (4th) and on deep passes (2nd). To boot, he's the national leader in adjusted completion percentage (84.9%) among the 87 quarterbacks with at least 115 attempts.