PFF's 2020 NFL Draft Guide will receive a mid-season update early next week, which will include another 50 profiles, a top-75 big board and updated 2019 advanced data and grades. In the meantime, enjoy some more scouting takeaways from Week 6 in college football.
[Editor's Note: All EDGE and ELITE subscribers have access to PFF's Preseason 2020 NFL Draft Guide. Subscribe today to download your copy!]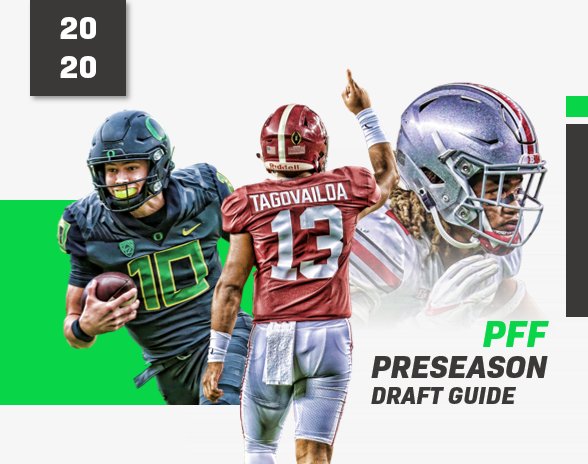 Herbert Shrinks Again
Facing another tough defensive test in Cal this past week, the Oregon quarterback came up noticeably small in a big game. He was late to a number of throws and finished the day with three turnover-worthy plays compared to one big-time throw. These were the sorts of tests we wanted to see Herbert ace after failing on so many occasions last season, but he's yet to blow us away in a big spot. The gap between him and Joe Burrow for the No. 2 quarterback spot on PFF's draft board continues to shrink.
Where's the dominance from Epenesa?
It was supposed to be a two-horse race at the edge position heading into this season, but after six weeks, there's no more debate. Ohio State's Chase Young is having an all-time start to his season while Iowa's A.J. Epenesa is mired in mediocrity adjusting to his full-time role. While Young puts up single-game pass-rushing grades of 90.0-plus week in and week out, Epenesa has yet to even crack 80.0 in any of Iowa's five games this season. While the Iowa defense doesn't allow as much freedom as Ohio State's to attack, a player with Epenesa's physical tools should be dominating regardless. He had a higher pass-rushing grade as a true freshman (78.8) than he does currently (76.8). The season is still young, but Epenesa needs to show us that dominance again soon.
The Derrick Brown We Expected
Brown was in a similar boat as Epenesa heading into this past week. The Auburn defensive tackle came into the year as the top-ranked defensive tackle for many, but he had only one game with more than two pressures through the first five weeks of the season. Against Florida this past week, though, he was damn near unblockable with a sack, a hit and three hurries. He still relies a bit too much on his power advantage and will get high in his rushes, but it's nice to see that ability to take over games is still there for Brown.
Small School Watch
WR James Proche, SMU
In a loaded wide receiver class, Proche doesn't do a ton that excites, but don't be surprised if he carves out a role for himself as a slot at the next level. He's been incredibly productive with over 3,000 yards in his career. He's a very sudden route runner on underneath and intermediate routes. Maybe his most valuable trait, though, is his reliability. Proches goes over the middle unafraid to take shots and has only dropped six out of 242 catchable passes in his career. This past week against Tulsa, he hauled in 11 catches for 153 yards and two scores to go along with two contested catches.
Stock Report – Up
S Ashtyn Davis, Cal
Davis' full coverage skillset was on display this past week against Oregon. He undercut a dig route on off-coverage from the slot to intercept Justin Herbert. Later in the game, he lowered the boom coming from the deep middle on a seam route. Davis' ability to execute both those roles at a high-level is why he's the second-ranked safety on our board.
WR Jauan Jennings, Tennessee
Against one of the best tackling defenses in the entire country, Jennings would not go down after the catch this past weekend. He broke five Georgia tackle attempts and hauled in seven balls for 114 yards and a touchdown. The 6-foot-3, 208-pound redshirt senior has looked like a different player this season for the Vols and has already broken 12 tackles on 26 catches.
Edge Patrick Jones II, Pittsburgh
At 6-foot-5, 260 pounds, Jones fits the NFL mold of an edge defender, he's looked like someone who'll be playing on Sundays in recent weeks. Over Pittsburgh's last three games, Jones has accumulated 23 pressures. Against Duke this past weekend, he earned a 93.0 pass-rushing grade for his efforts. While his play strength is still a bit lacking, Jones knows how to use his length and has active hands along with a high-motor. Those are good traits to work with.
Stock Report – Down
OT Alaric Jackson, Iowa
We'll give Jackson the caveat that it was his first game back from injury, but it wasn't pretty no matter how you slice it. Michigan's defensive line is always a great litmus test for college offensive linemen, as they stunt, slant and attack gaps as much as any in the country. Jackson's foot speed was noticeably lacking on a number of different plays, as he allowed a sack and three hurries on the day.
QB Jordan Love, Utah State
Love did have about as difficult a matchup as exists in college football with the LSU secondary, but there were still very few redeeming qualities from his performance. With nothing working in the first half, Love started pressing in the second half and made some bad decisions with the football. He was very late to a number of throws, including an intermediate crosser that was picked off. Love's decision making is a serious concern at this point; his 14 turnover-worthy plays are the fourth-most in the country.
WR Tyler Johnson, Minnesota
Heading into the 2019 season, the to-do list for Johnson from a scouting perspective consisted of one lone item: Clean up the drops. After only one through Minnesota's first four games, they reared their ugly head again this past week against Illinois. Johnson dropped three of his six catchable passes on the day – two of which were absolute gimmes. His 12.4% career drop rate is definitely on the scary side for an early-round prospect.
2021 Watch List
Edge Aidan Hutchinson, Michigan
On a Michigan defensive line loaded with seniors, it was the sophomore who made his presence felt the most. He collected two sacks and five hurries on the day and added a run stop for good measure. The 6-foot-6, 268-pound defensive end has a little more quicks than you'd expect for a man that size, and he used it to beat Iowa right tackle Tristan Wirfs on a couple of occasions. Through five games, Hutchinson has an 83.2 overall grade so far.