The college football season is nearly upon us and after months of scraping the PFF data on all the projected starting quarterbacks for this season, it's time we unveil our Starting Quarterback Rankings for 2019.
Combing through our play-by-play data ad nauseam, these rankings take into account a quarterback's PFF grade both from last season, and all other subsequent sets of data that we have on their time in college. The list projects these players as the starter but is also influenced by the situation behind the projected starting quarterback if he were to miss any amount of time going forward.

Following our PFF College 50 that counted down the top 50 overall players in college football, here are the rankings for the starting quarterbacks for all 130 FBS teams as we enter the 2019 season:
130. Rutgers: Artur Sitkowski
It's not easy starting at the bottom but that's where we begin. Sitkowski put forth the lowest grade we've ever given to a full-time starter at any level as the Rutgers passing offense was a disaster by all accounts last year. Good thing for the Scarlet Knights is that they have nowhere to go but up. If McLane Carter can displace him as the team's starter, it wouldn't come as that much of a surprise.
129. South Alabama: Cephus Johnson
On a small sample size, Johnson's grade was in the same category as Sitkowski, finishing at a lowly 28.7. He struggled to find consistency, playing in seven games but completing passes in just three of them. In all likelihood, we've seen him at his worst and he'll improve in Year 2.
128. Louisville: Jawon Pass
Pass' accuracy was an effort in futility a season ago and he finished with an adjusted completion percentage of just 63.7%. He returns as the second lowest-graded full-time quarterback from a year ago and will have to improve to keep his job this season. Pass is entrenched as the starter at this point with an injury to backup Malik Cunningham unlikely to create much competition.
127. UConn: Mike Beaudry
After Marvin Washington's decision to transfer, Beaudry enters the fold from Division II West Florida. Beaudry did lead UWF to the Division II national championship game in 2017 but was an unranked prospect out of central Florida in 2015. The 6-foot-5, 250-pounder will have a lot to prove this season.
126. Arkansas State: Logan Bonner
Averaging just 5.2 yards per attempt and sub-50.0% completion percentage isn't a way to wow fans or analysts as Bonner returns with a lowly 48.8 overall grade from last season. Perhaps hopeful, it was an improvement from the 45.1 overall grade he put forth in 2017.
125. New Mexico: Tevaka Tuioti
Buoyed in overall grade by a strong performance against Incarnate Word a season ago, Tuioti has struggled when playing FBS-level competition. If he can string together a couple of performances like the season opener in 2018, he certainly could climb these rankings but we haven't seen it yet. Throw into the mix that he's been absent from camp because of a family issue and grad-transer Brandt Hughes' emergence, and we're really not sold.
124. Rice: Tom Stewart
The Ivy League honorable mention from a season ago at Harvard takes his final year of eligibility back to Texas in 2019. He's a capable passer but FBS defenses will be markedly different than the Ivy League secondaries he was accustomed to.
123. Buffalo: Matt Myers/Kyle Vantrease
This quarterback debate will rage on through camp with no real favorite to win the job vacated by Tyree Jackon's departure as of yet. Vantrease has done little to cement his place atop the depth chart and Myers is joined by a few others who can earn the job with a strong camp. Good thing for Bulls fans, they get to open their season against Robert Morris.
122. Coastal Carolina: Fred Payton/Bryce Carpenter
Payton routinely followed up a decent performance a season ago with a dud and struggled down the stretch with the bulk of his snaps coming in the final three weeks. He has an issue with fumbling and if he can tighten up in that regard, it's likely he retains the nod at starter over Bryce Carpenter.
121. Middle Tennessee State: Randall Johnson/Asher O'Hara
If Johnson is to win and keep this job, it'll be his junior college prowess that earns him the nod just as much it will be his 6-foot-5 frame. He had some gaudy JUCO stats but it's mere projection at this point at how he'll fare after entering the Blue Raiders recruiting class as a 3-star athlete from our friends at 247Sports. O'Hara had just a 48.8 passing grade in his only worthwhile action last season.
[Editor's note: PFF's Preseason 2020 NFL Draft Guide is LIVE and features 150 Two-Page Player Profiles, giving you advanced stats, game grades and much, much more. All existing EDGE and ELITE subscribers have access to the guide and can download it here.]
120. Miami (Oh.): Jackson Williamson
Williamson hasn't attempted a pass for the Redhawks and was a 3-star pro-style quarterback according to 247Sports. He will have quite the duo to throw to this season in Luke Mayock and Riley Sorenson if he can harness some of the high school play he utilized to be named his County Player of the Year.
119. UMass: Andrew Brito
A short-statured quarterback, Brito played for high school powerhouse Paramus Catholic before going the junior college route for the past two seasons. He threw for over 3,000 yards in his first season at College of the Canyons so he has the ability to sling it, perhaps more so than the three other guys he's battling for starting reps with in camp.
118. New Mexico State: Josh Adkins
Adkins ran the ball well enough last year and moved the ball through the air with some success but his turnover-worthy plays are a worry at this point. He recorded 15 turnover-worthy passes alone, much more worrisome than his nine interceptions show in the general box score.
117. UTEP: Brandon Jones
The experienced Jones takes the place of the suspended Kai Locksley and he enters having completed under 50.0% of his passes in six appearances last year. A lowly passer rating follows him into his journey as the Miners starter but he did have two years of big-time production at the JUCO level with Bakersfield College. Division I football is a big difference, though.
116. Bowling Green: Grant Loy
Gone is Jarret Doege and Loy enters the lineup having attempted just 29 passes in his Falcons career. For a man his size, he has some mobility and actually gained 160 yards and forced four missed tackles on the ground but he'll have to develop as a passer to warrant cracking the top 100.
115. Old Dominion: Steven Williams
Williams started four games a season ago before redshirting but outside of a decent showing against FIU, struggled against Liberty and Charlotte before making way for Blake LaRussa's upset over Virginia Tech in Week 4. He'll need more consistency in his game to keep the job over the transfer quarterbacks behind him as he's unloaded 18 turnover-worthy passes in his career and has a low 52.6% completion pecentage.
114. Central Michigan: Quinten Dormady
A former highly-ranked recruit from the state of Texas, Dormady never quite amounted to the potential while at Tennessee nor while at Houston for a season. He transfers to CMU with hopes of resurrecting his career that's seen him throw for a career passer rating of just 77.8.
113. Fresno State: Jorge Reyna
Another former JUCO quarterback takes on his last season of college eligibilty with hopes of finding success that he saw against lesser competition. Reyna graded well in limited snaps as a backup last season and had years with over 3,600 passing yards and 40+ touchdowns in his final season of junior college.
112. Tulane: Justin McMillan
An LSU-transfer, McMillan is a dual-threat quarterback with accuracy issues in the pocket. His adjusted completion percentage from a clean pocket ranks 103rd out of 119 quarterbacks returning to action this year.
111. Boise State: Hank Bachmeier
Replacing Brett Rypien is no easy task and Bachmeier will have all the opportunities presented to him to do so. The opportunities have been presented with Chase Cord's rehab of an ACL tear sustained last season and Bachmeier could still play four games, and then redshirt this year. Still, a 4-star recruit, Bachmeier will have a lot of proving to do with the amount of hype that has followed him to Boise.
110. Kansas: Thomas MacVittie
Originally a 4-star recruit from Moeller High School in Cincinnati, MacVittie lands at Kansas for what now is his junior season after garnering No. 1 JUCO pro-style QB ranking from 247Sports. MacVittie has more upside than his counterpart to win the gig and more projection tham actual data backing him as he went the JUCO route to hone his abilities as a quarterback after two years basically away from the position at Pittsburgh from 2016-17.
109. Nevada: Malik Henry *now Carson Strong
The 'star' from the past two seasons of the Netflix show Last Chance U, Henry walked on at Nevada after leaving his junior college team at Independence, Kansas. One of the highest-rated quarterbacks coming out of high school in recent memory, Henry hasn't been able to stick on a program for long and his time is running out. It's now or never for Henry in 2019.
[Editor's Note: It's apparently 'never' for Henry as true freshman Carson Strong was named the starting quarterback on August 18. Strong, a 3-star prospect, won the job at camp and will start the season opener against Purdue.]
108. Texas State: Tyler Vitt
As the season wore on a year ago, Vitt's accuracy did as well and he culminated the year with three straight tough outings. There was some promise in his game, though, most notably a solid performance against Louisiana but he failed to complete over 62.0% of his passes in seven of his nine games a year ago.
107. Illinois: Isaiah Williams/Brandon Peters
At just 5-foot-9 and 170 pounds, Williams is embracing the 'too short' mantra for a quarterback as Illinois has promised to give him a shot at the position. A 4-star recruit and the second-ranked player out of the state of Missouri, he'll have a lot to prove in the Big Ten at his short stature but he has all the skills to show off his athletic ability if he scrambles. That athletic ability gives him the leg up on Michigan-transfer Peters who had just a 50.0 overall grade in his extended time with the Wolverines in 2017.
106. Wisconsin: Graham Mertz/Jack Coan
Early impressions are the Coan lands the job to start the season but the Badgers' quarterback situation would be better with Mertz in the fold after what we saw from Coan in 2018. Among quarterbacks with at least 100 dropbacks last season, Coan's grade was only higher than Sitkowski at Rutgers. Mertz for the win in the post-Hornibrook era.
105. UNLV: Armani Rogers
Rogers' passing grade is the eighth-lowest among returning quarterbacks and he's too heavily reliant on his rushing ability at this stage of his career. With 11 fumbles to his name on the ground, there is room for improvement going into Year 3 in Vegas.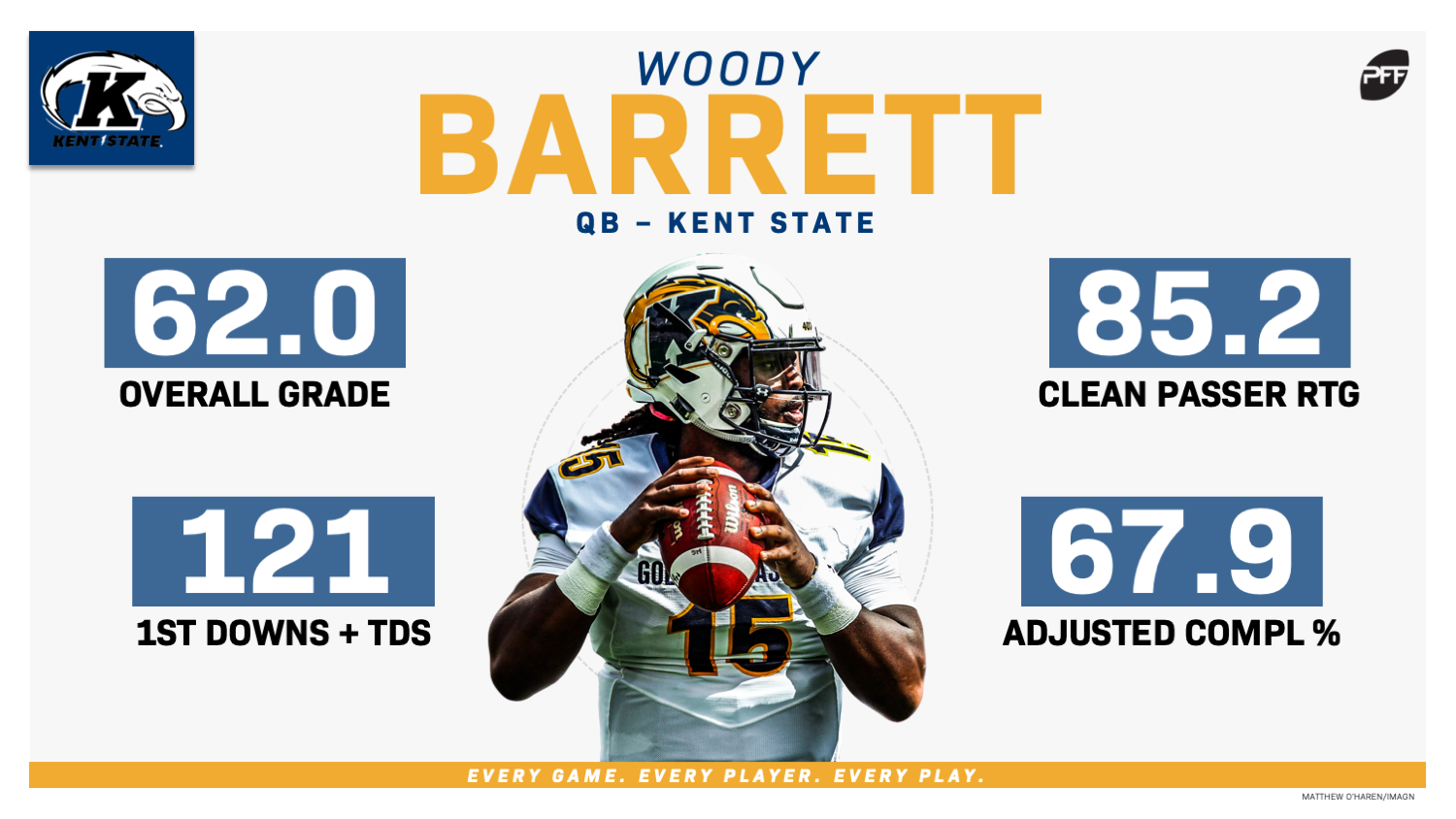 104. Kent State: Woody Barrett
After a year at Auburn, Barrett went to Copiah-Lincoln Community College before ending up at Kent State for the 2018 season. Much like the aforementioned Rogers above him, Barrett is too reliant on his rushing ability but did have a higher passing grade than the UNLV signal-caller. He'll need to improve his pocket presence as he took off to scramble on 46 occasions, the second-most among active quarterbacks.
103. Georgia Tech: Tobias Oliver/Lucas Johnson
The switch from the option attack in Atlanta will indeed come with growing pains across every offensive position but certainly at quarterback early. Oliver returns as the veteran but only put forth a 52.6 passing grade on 16 attempts a year ago. Johnson hasn't attempted a pass since high school where he threw for over 2,500 yards as it will be a crapshoot for passing duties for the Yellow Jackets in Year 1 of the Geoff Collins era. Good thing for the Georgia Tech faithful, the spread attack will give ample of opportunities for either quarterback to use their legs this season.
102. Arkansas: Ben Hicks/Nick Starkel
On one hand, Hicks has raised his grade in each of the past three seasons. On the other, his career overall grade drops from 64.6 against all competition all the way down to just a 39.0 against Power-5 competition. He's got a ways to go in terms of playing up to his opponent and he'll have to prove that in SEC play this year. Starkel had a fine season at Texas A&M in 2017 but lost that job to Kellen Mond and if he cannot beat out Hicks for the Razorbacks' job, that 2017 seems to be becoming more of an anomaly with each passing day.
101. UTSA: Frank Harris/Cordale Grundy/Lowell Narcisse
Harris has the leg up according to head coach Frank Wilson, in a race that's still too close to call. Harris has documented injury issues holding him back from taking full control over the job as both Grundy and Narcisse are chomping at the bit. After redshirting in 2017 with LSU, Narcisse left for Mississippi Gulf Coast at the JUCO level where he played limited snaps. He has the tools to be a talented dual-threat quarterback but without playing many snaps over the past two seasons, his upside is relatively unknown. Still, he was a top-250 recruit out of high school and has a strong arm.
[Editor's note: PFF's Preseason 2020 NFL Draft Guide is LIVE!]
100. Western Kentucky: Ty Storey/Steven Duncan
Storey has yet to separate himself from the duo here even after coming over from Power-5 Arkansas. Storey's 58.8 passing grade from his final season with the Razorbacks showcases likely why but he still has the slight advantage over his counterpart. Duncan's best two outings came in limited snaps a season ago, seeing season-high grades in games in which he attempted fewer than 15 passes. Still, his 57.7 overall grade ranks 104th out of the 119 quarterbacks with at least 100 dropbacks last year.
99. North Carolina: Sam Howell
The No. 3 ranked pro-style quarterback in the country a year ago, Howell heads to Chapel Hill after being selected the fourth-best QB at the Elite 11 finals. He put up ridiculous numbers in high school through the air and has a ton of upside.
98. NC State: Matt McKay
McKay has a lot of potential with Ryan Finley now in the NFL. He's looked sharp throwing the ball in limited time and should have some solid blocking in front of him for the foreseeable future.
97. Arizona State: Jayden Daniels
Daniels will have to grow into his frame at 6-foot-3, 180 pounds, but the 35th-ranked prospect according to 247Sports is likely to replace former quarterback Manny Wilkins at ASU. He was a finalist in both The Opening and Elite 11 and has all the high school accolades following him from Cajon High School in California. His background will go a long way in keeping him atop the depth chart above Dillon Sterling-Cole.
96. Auburn: Joey Gatewood
The former No. 1 athlete from the state of Florida, Gatewood has been committed to the Auburn Tigers since 2015. However, he attempted just a single pass and had just five carries a season ago as he waited out Jarrett Stidham's tenure. Perhaps an untapped jewel, Gatewood's top-50 ranked high school profile follows him with lofty expectations to rise fast on this list in 2019.
95. Washington State: Gage Gubrud
With less projection than some others on this list, we expect Gubrud to win the job as we actually have a full season's worth of data from 2016 in Eastern Washington, and it was something to behold. He lit up the field in EWU's championship run, tossing 48 touchdowns and 5,158 passing yards that including a 5-touchdown, 474-yard performance against Washington State. Still, in all likelihood, head coach Mike Leach trots out a QB1a, QB1b, etc. on opening day and no one will know who the starting quarterback is until that first play.
94. Purdue: Elijah Sindelar
Sindelar started eight games in 2017 for the Boilermakers and despite what some may see as a successful box-score season, struggled with accuracy and big-play moments. He'll have to limit the turnover-worthy plays if he's to make any moves in 2019.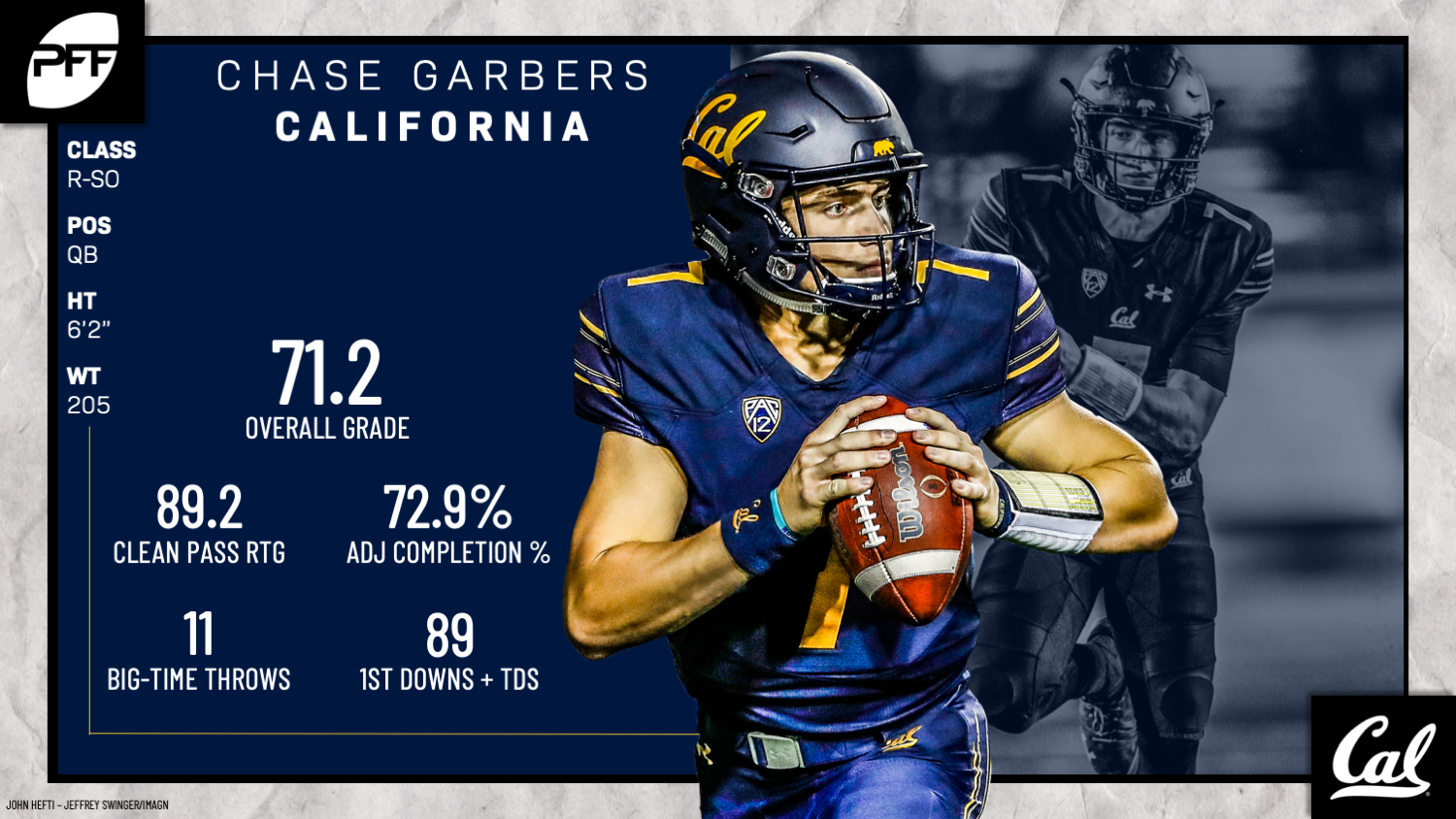 93. California: Chase Garbers
Garbers had some success at the helm of the Golden Bears but seemed to struggle down the stretch. He currently has the 16th-most interceptions from a clean pocket among active quarterbacks and his play when under pressure can only buoy a quarterback so much.
92. Liberty: Stephen Calvert
'Buckshot' Calvert has a big arm, there is no denying that. It's just a matter of how he intends to use it and how safe he can be with the ball before the Flames can fly high with him at the helm. Just a season ago, only Sitkowski had more turnover-worthy passes than Calvert did, granted Calvert had quite a few more big-time throws to his name.
91. Duke: Quentin Harris
Harris may have thrown for a ridiculous amount of touchdowns per his pass attempts (7 TD, 68 att.) but his receivers certainly helped him out more than most other quarterbacks a year ago. He averaged just 6.4 yards per attempt and completed only 50.0% of his passes. Both numbers will have to go up in 2019 as the full-time starter.
90. Charlotte: Chris Reynolds/Brett Kean
Reynolds ended the 2018 season with a solid 69.7 overall grade but will have to hold back Kean, who heads to Charlotte after taking just 176 snaps over the past three seasons at USF. On such a small sample size, Kean did offer potential glimpses but will have to improve on a 44.1% completion percentage that plagued his limited time a season ago with the Bulls.
89. Air Force: Isaiah Sanders/Donald Hammond
For the first time in years, there's a competition at quarterback for the Falcons. Sanders has forced 21 missed tackles on his carries in two seasons and had two strong performances in the passing game a year ago. He's competing with Hammond, who outside of a two-fumble performance against New Mexico last season, took care of the ball and averaged 4.1 yards per carry and 1.82 yards after contact per attempt. When the play calls for it, he can sling it as well and he had multiple games with 100+ yards and sprinkled in three big-time throws to boot. The competition will hopefully bring out the best in the duo for Falcons fans this year.
88. Troy: Kaleb Barker
Barker was on pace to set several Troy records before a knee injury in Week 6 against Georgia State. He'll have to avoid some down outings like ones he had against Boise State and Nebraska a year ago but he's got the accuracy to keep his offense on schedule in 2019.
87. TCU: Alex Delton
Delton has attempted 174 passes over the past three seasons and 2018 was his lowest-graded year. In fact, he's seen his grade dip in each of the three seasons as he's increased his snaps. Still, he has the dual-threat ability and one of the nation's top receivers as his safety blanket and could make some magic happen for the Horned Frogs this year.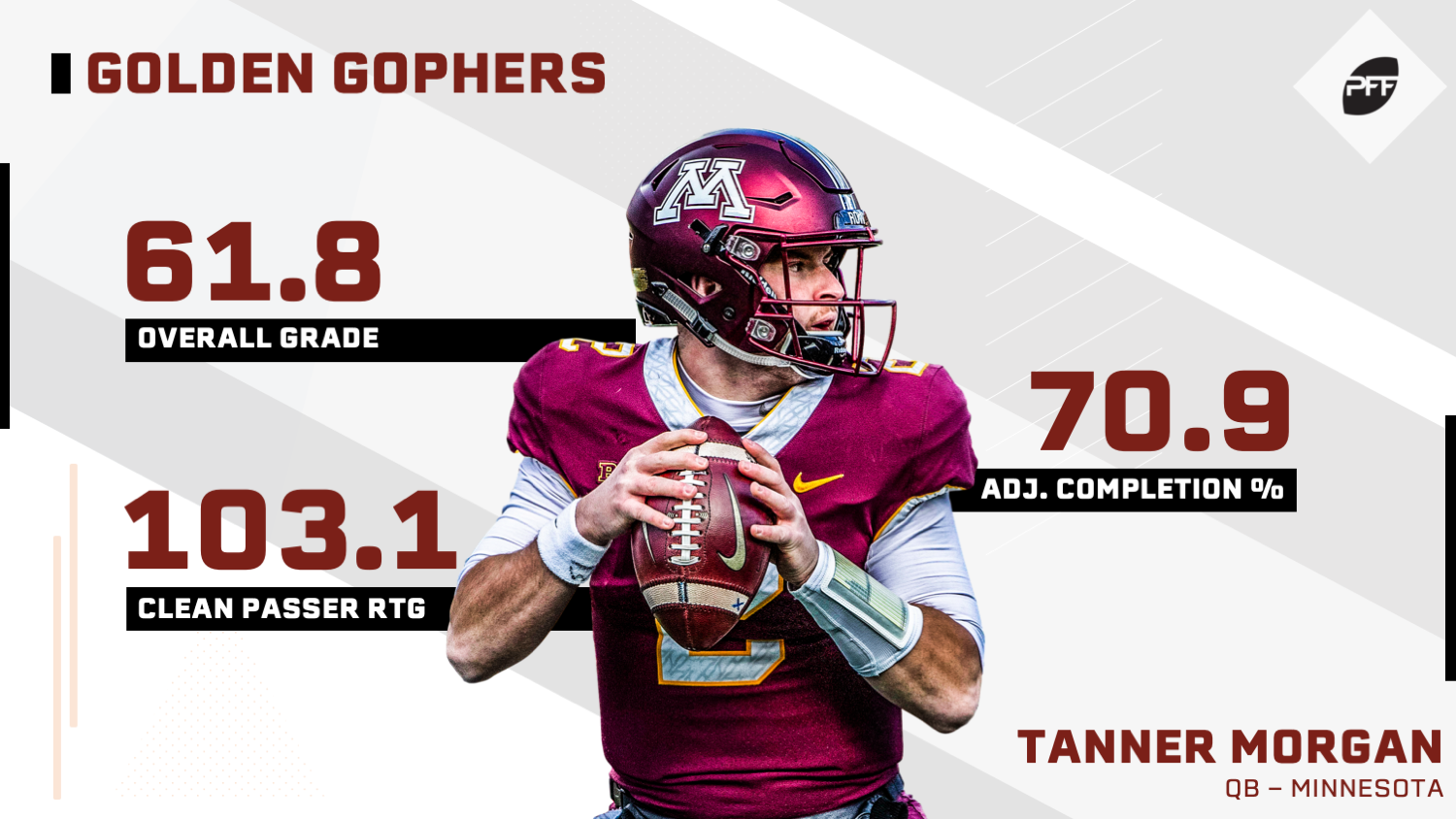 86. Minnesota: Tanner Morgan
The injury to Zack Annexstad actually jumps the Gophers in these quarterback rankings as Morgan graded out higher than Annexstad did a season ago. Morgan finished the season with two solid performances against Wisconsin and Georgia Tech, leading us to believe the best football is yet to come for him in 2019.
85. Vanderbilt: Riley Neal/Deuce Wallace
The Ball State transfer has three years of average grades and a season of above-average grades that came in an injury-shortened season of 2017. Still, Neal now has a chance to show his skillset against the SEC and will have an uber-talented tight end to throw to. His career grade against all opponents is a solid 73.1 but dips to a 60.3 when playing against Power-5 competition, something he'll have to obviously improve upon with Vandy's schedule. Wallace has attempted just 22 passes and nothing has been learned about who has the leg up entering the season as the quarterbacks have been off-limits to media this offseason.
84. Pittsburgh: Kenny Pickett
Pickett may have a solid 13:7 touchdown-to-interception ratio but he's been helped out with a bit of luck in his time over the past two seasons. In fact, he has 15 turnover-worthy passes since 2017, over double the number of actual interceptions he's thrown so there is cause for concern. He still has the tools to keep the Panthers offense in check as he showed last year but will have to limit mistakes going forward.
83. Georgia State: Dan Ellington
A dual-threat with a strong arm, Ellington matched his big-time throw total with his turnover-worthy pass mark, each sitting at 10. For he and the Panthers to take the next step, limiting those turnover-worthy attempts will be pivotal as he has a ton of skill on the ground as well.
82. Ball State: Drew Plitt
A new sheriff will be in town for the first time in four seasons for the Cardinals with Riley Neal's departure. Plitt saw the majority of snaps over the past two seasons in Neal's absence and after a relatively poor 2017 season, rebounded nicely with a solid 71.6 overall grade on 154 dropbacks in 2018. He'll have to show that those three starts to end the season were no fluke going forward if the Cardinals want a shot in the MAC.
81. FAU: Chris Robison
Robison transferred from Oklahoma and saw his first start for the Owls against the Sooners last season. In what would ultimately become his worst-graded performance of the season, Robison put the poor outing behind him and rattled off a few decent games that showcased his arm. However, he did throw five interceptions on deep pass attempts last year compared to just 16 completions.
[Editor's note: PFF's Preseason 2020 NFL Draft Guide is LIVE and features 150 Two-Page Player Profiles, giving you advanced stats, game grades and much, much more. All existing EDGE and ELITE subscribers have access to the guide and can download it here.]
80. Northern Illinois: Marcus Childers
Childers may have gotten knocked for a low completion percentage a year ago but he was victim to 30 of his 264 catchable pass attempts being dropped. His 7.6% drop percentage was a top-20 figure among returning quarterbacks and his spike to 72.7% in adjusted completion percentage helps showcase the help he needs.
79. ECU: Holton Ahlers
By all accounts, Ahlers' freshman season went as well as it could. He's got a strong release and finished with a top-10 rushing grade among returning quarterbacks. If he can lean on his rushing ability and continue to improve as a passer, we'll see him on the rise on this list in no time.
78. West Virginia: Austin Kendall/Jack Allison
Kendall has likely finally found a spot as the starter for the Mountaineers after battling to play behind the two former Heisman winners at Oklahoma. He'll have to keep former Allison and Trey Lowe off the field and will likely lean on his big arm and big-play potential for WVU this season.
77. Miami (Fla.): Jarren Williams (not N'Kosi Perry/Tate Martell)
[Editor's Note: Jarren Williams has been named the starter after this story was published.]
Williams earns the nod as the starter in Miami as the former 4-star recruit was the most impressive out of camp. He attempted all of three passes against Savannah State a season ago, completing just one of them for 17 yards. He's a dual-threat quarterback and he'll be in a polarizing position come opening night against Florida on August 24.
No. 77 was likely pretty generous for Martell or Perry as the former has just a 63.1 overall grade and the latter gets the benefit of the doubt from some above-average performances a season ago, most notably against Virginia Tech on the road. His 4-touchdown performance against FSU saw the highs and lows with Perry as he connected on just 40.6% of his attempts and finished the season with a lowly 63.7% adjusted completion percentage. Martell or Perry, the Hurricanes will be dependent on playmakers and their defense in 2019.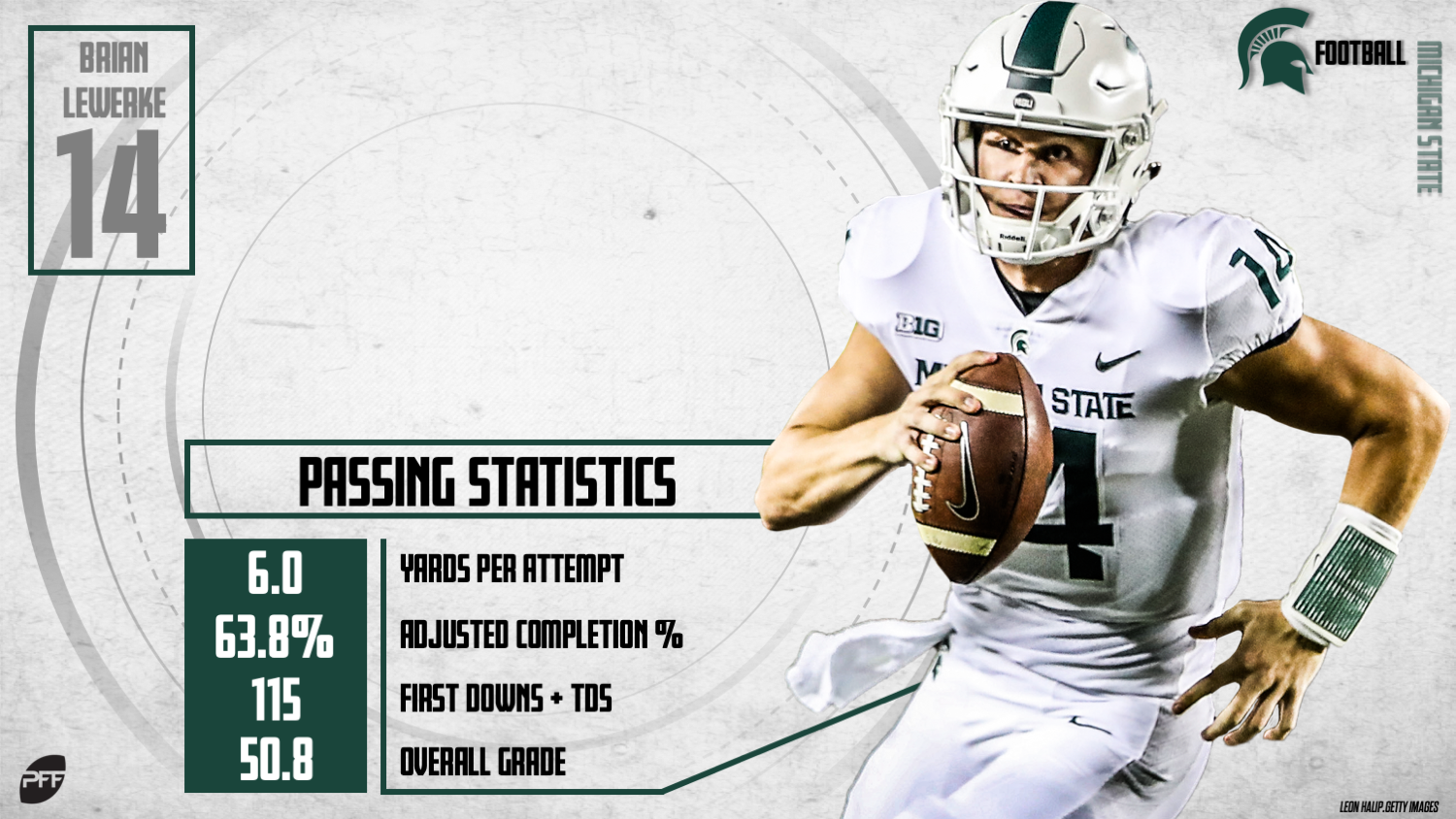 76. Michigan State: Brian Lewerke
Over the past two seasons, Lewerke has thrown the most turnover-worthy passes in the country at 34 and that only gets compounded by the fact that he's only thrown 21 big-time throws in that span. His 66.3% adjusted completion percentage over the past two years really tells a tale of the struggles he's seen when throwing downfield. The arm talent is there, he just needs a season of putting it all together.
75. UL-Monroe: Caleb Evans
Tied with Lewerke with 34 turnover-worthy passes – Evans has actually more than doubled Lewerke's big-time throws over the past two years with 43 to make up for TWPs. Evans averages 9.4 yards downfield per target and has shown the ability to take over games for the Warhawks.
74. Colorado State: Collin Hill
Hill ended the season as the starter over the final four games and despite the interception totals, played relatively well. He finished the Air Force game with a career-high grade that looked reminiscent of the highly-recruited prospect he once was. The Rams are his team heading into 2019 and that vote of confidence should only help him this season.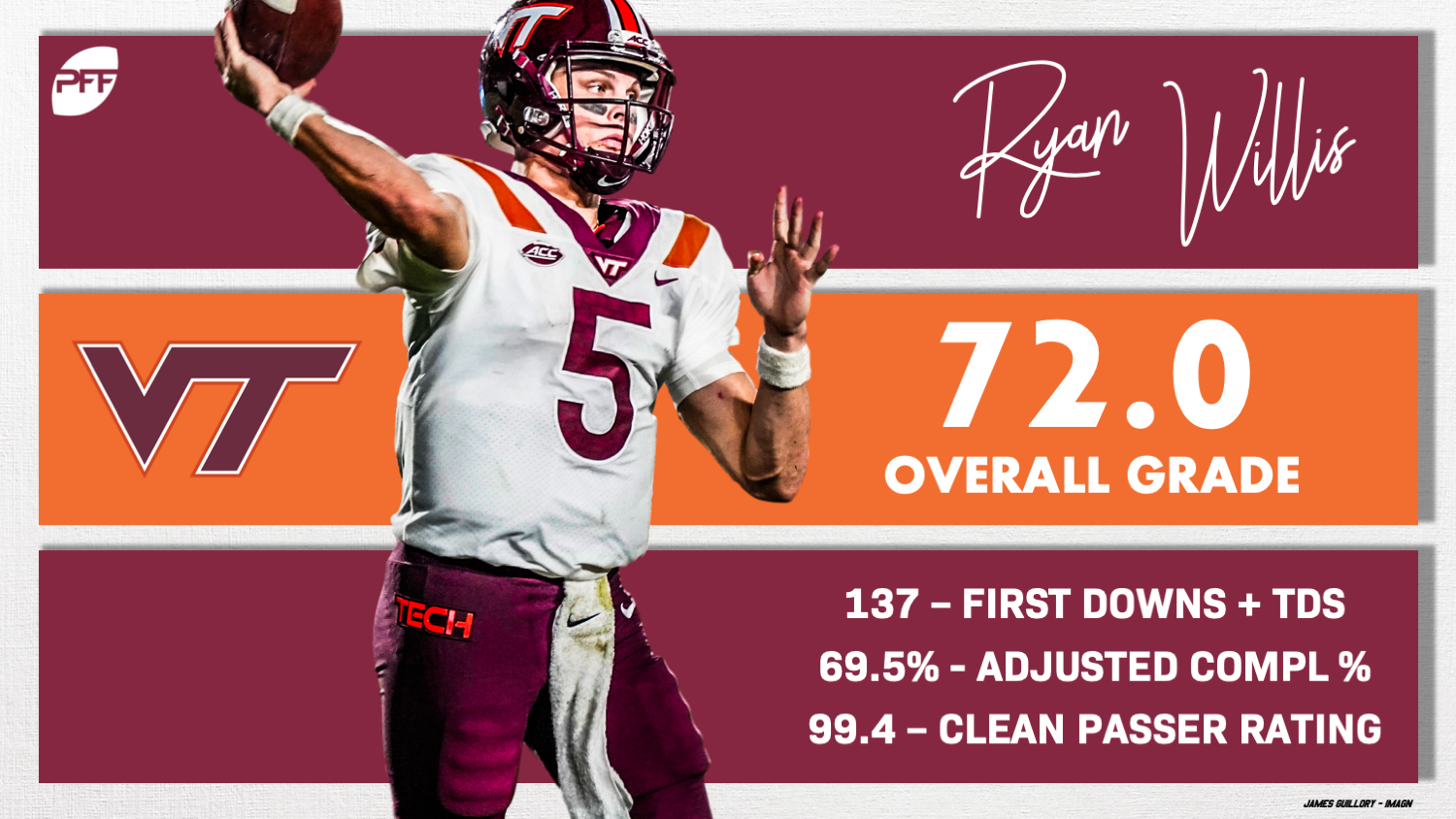 73. Virginia Tech: Ryan Willis
After two lackluster years at Kansas and a year out after transfer, Willis finished the season with a career-high 72.0 overall grade. He had two elite game grades against Georgia Tech and Marshall, showing glimpses of what could possibly be with him at the helm in 2019.
72. Marshall: Isaiah Green
Green was consistent, not Earth-shatteringly good in 2018, averaging 7.4 yards per attempt and a solid 71.2 overall grade in his first action. He was suspect to a little bad luck, having 10 passes intercepted but only nine turnover-worthy plays. He has some big-play potential and if he can increase his baseline, should carry the Thundering Herd well.
71. Navy: Malcolm Perry
Perry runs the option offense at Navy as good as anyone recently has. His 2,377 rushing yards, 1,245 yards after contact and 77 missed tackles forced all paved way to the fact that he's lost just seven fumbles on 313 carries. He'll do more of the same this year as he's been remarkably consistent over the past two seasons.
[Editor's note: PFF's Mike Renner's first 2020 Mock Draft is out now!]
70. Syracuse: Tommy DeVito
DeVito's 2018 season grade was lower than Eric Dungey's last two seasons, which is to be expected but in a sign of promise, his 72.1 overall grade was higher than Dungey's first two years at Syracuse. It's a solid baseline to go on as he'll shoulder the load for the Orange going forward.
69. Toledo: Mitchell Guadagni
He's no Logan Woodside but Guadagni has certainly shown the ability to light up the scoreboard when healthy. His final season with the Rockets should be a fun one to watch if he can revert back to the form he saw over the first three weeks of the season in which he averaged ridiculous numbers with some uber-talented receivers.
68. UCLA: Dorian Thompson-Robinson
DTR has all the talent in the world but far too often followed up a great performance with a stinker. His best performance of the season showcased what he's capable of but the lackluster performance against Colorado put it all too clear how low the Bruins could be with him behind center. Thompson-Robinson may have to lean on his rushing ability as he develops as a passer.
67. USC: JT Daniels/Jack Sears
Last year's starter in Daniels has not quite received all the first-team reps one would imagine a starter would have by now but it's still likely he enters the year as the Trojans' No. 1. Daniels was a lucky guy a year ago, uncorking 22 turnover-worthy passes compared to just 10 interceptions as he made more mistakes than big-play moments. He is the 120th-ranked returning quarterback by overall grade and Sears showed some solid play on very few snaps last year. A quarterback controversy is brewing as they install Graham Harrell's Air Raid offense and if Sears can push Daniels to get better quick, USC would be in a better place.
66. Louisiana: Levi Lewis
Lewis was solid in limited time a year ago and should have the leg up as the starter this fall. On just 73 dropbacks, his 73.1% adjusted completion percentage would rank in the top 30 among full-time signal-callers and he was strong under pressure and when kept clean. The jury is out on whether he can handle the full load as the starter but those small-sample numbers are promising.
65. Army: Kelvin Hopkins Jr.
Hopkins is the top returning quarterback from an option offense, rushing for 1,041 yards, 600 of which came after contact a season ago. He's fresh off the heels of one of the highest-graded performances from a quarterback in recent memory, toasting the Houston defense in their bowl game a year ago with a 96.9 overall grade. He's lost just three fumbles in his career as well and has actually put forth plus passing grades in almost every game he attempted five or more attempts in.
64. UCF: Brandon Wimbush
No McKenzie Milton and no Darriel Mack lead way for former Notre Dame quarterback Wimbush to be the starter in Orlando for 2019. Wimbush played a great season in 2017 with the Fighting Irish but struggled a year ago before ultimately giving way to Ian Book in South Bend. In Josh Heupel's offense, Wimbush should be able to use his strong arm and push the ball down the field well, up to those strong 2017 levels.
63. Mississippi State: Tommy Stevens
Stevens has transferred away from Penn State after Sean Clifford has taken the reigns in the post-Trace McSorley era. Stevens enters with a year of eligibility left and some positive grades early in his career, in limited samples. He's got all the talent and will finally have his shot.
62. San Jose State: Josh Love
Love keeps his Spartans offense on schedule and has done so by averaging 10.4 yards per targeted pass and still seeing a solid adjusted completion percentage. He has now raised his grade significantly in each of the past three years, including a 20.0+ jump from 2017 to 2018 and if that continues, San Jose State should win plenty of games this fall.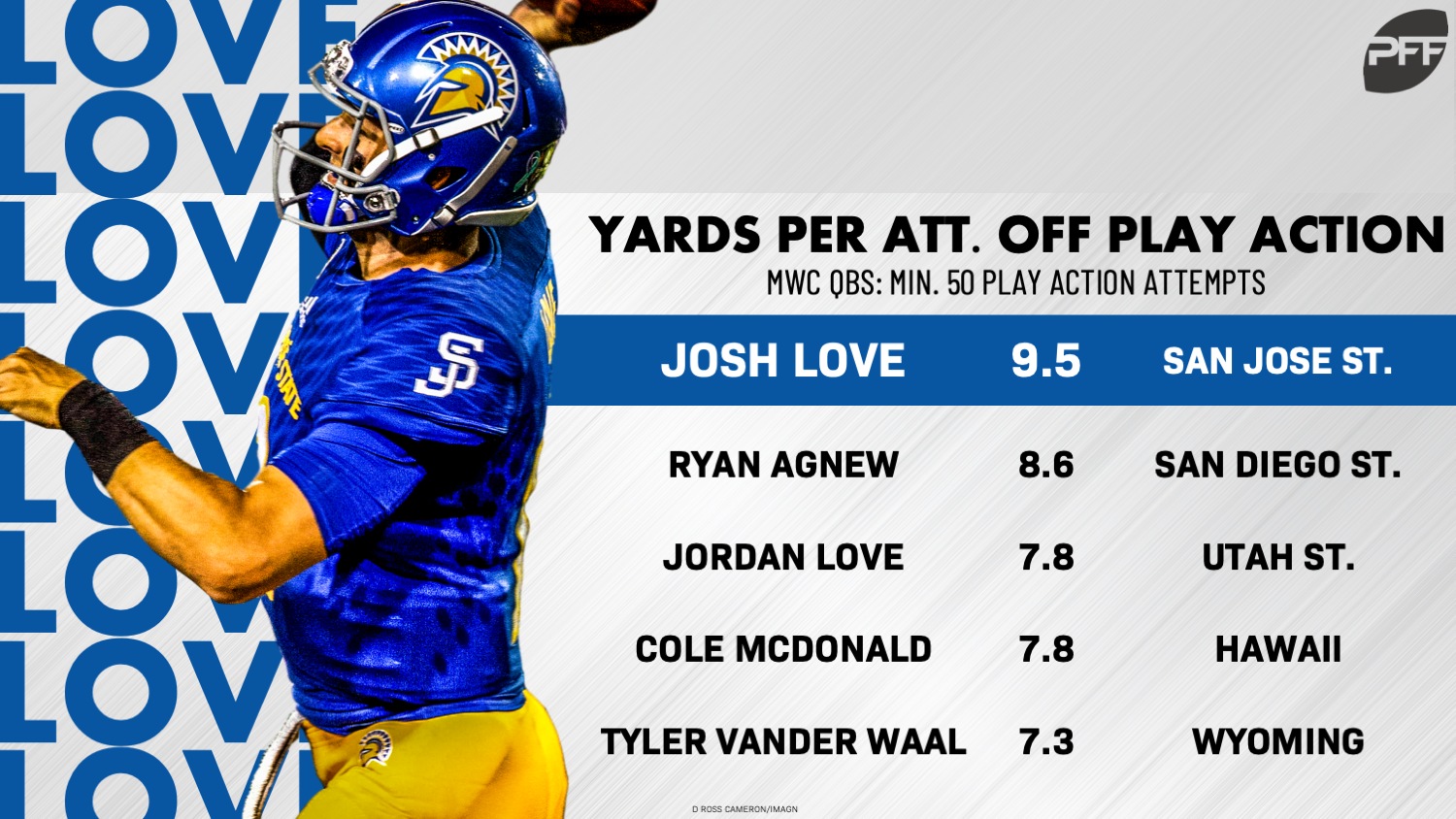 61. San Diego State: Ryan Agnew
Agnew's first year at the helm of the Aztecs was successful, just maybe not exciting as there was a split time between him and Christian Chapman. With Agnew fully entrenched into the starting role, the offense's switch to more of a spread-type attack should allow Agnew to use his legs and strong arm more in 2019.
60. Oklahoma State: Dru Brown/Spencer Sanders
Brown put forth big numbers while at Hawaii, throwing for 5,278 yards and 37 touchdowns in two years with the team. He heads over where he'll have to beat out a talented young gun in Sanders, who is a rocket-arm talent, a former 4-star prospect from 247Sports and was the eighth-ranked dual-threat quarterback entering college football in his class. Whoever gets the start, even if they play together all year, the duo should be able to continue the trend of big-time numbers from Cowboys quarterbacks of recent years. An aspect Sanders does bring over the two former quarterbacks (Taylor Cornelius, Mason Rudolph) is a rushing skill set that puts him as likely one of the fastest players in the backfield.
59. Southern Miss: Jack Abraham
If you were to remove a poor performance against Charlotte last season, Abraham's grade would skyrocket. Still, he'll have to avoid those moving forward but he's shown the ability to be extremely accurate with the football and can keep the offense in rhythm more often than not. Avoiding those 'stinkers' is key and the Golden Eagles will be on the right path. He'll have to hold off dual-threat Tate Whatley in the process as well.
58. Kansas State: Skylar Thompson
Thompson saw a big jump in overall grade a season ago, finishing with a 71.3 overall grade that saw him grade positively both with his legs and his arm. He may not have lit up the scoreboard at the helm of the Wildcats a year ago but he's more than capable of some big-time moments as he strung together two very solid performances to end the year in 2018.
57. Tulsa: Zach Smith
The Baylor-transfer Smith suits up for Tulsa after a year removed from football. He had a subpar year in 2017 with the Bears but his 2016 season was a completely different story. A former 3-star prospect with a big arm, Smith can move the ball for the Golden Hurricanes but will just have to block out that 2017 season and look to do what he did during his freshman season with Baylor for future success.
56. Eastern Michigan: Mike Glass III
Glass III saw 147 dropbacks a year ago and had success in all but one outing, finishing with a 71.3 overall grade. He was certainly more successful in the running game, forcing 14 missed tackles on his 64 carries while averaging a very healthy 7.3 yards per attempt. While he develops as a passer, if all else fails, he's shown that documented ability to move the chains with his legs at ease.
55. Akron: Kato Nelson
Speaking of moving the chains with his legs, Nelson has accumulated 40 first-down runs over his two seasons with the Zips and had a huge jump in passing grade from his first year to his second. Despite a low completion percentage a year ago, Nelson strung together some strong games against MAC opponents and poses a real threat in conference play once again.
54. Indiana: Peyton Ramsey
Ending the season on a tear for the Hoosiers despite dropping six of their last seven games, three of Ramsey's best game grades came at the tail-end of the season, showcasing what may be to come from him. At his best, he's an accurate quarterback who needs some solid protection in front of him.
53. Wyoming: Sean Chambers
Chambers has a big arm and tons of talent to explode onto the scene at Wyoming. In his four games last year during a redshirt season, he averaged a ridiculously healthy 10.6 yards per attempt and uncorked some impressive throws in limited snaps. An underrated area of his game is his rushing ability as well, forcing 14 missed tackles on 62 carries in his four games. Look for big things.
52. Western Michigan: Jon Wassink
Wassink returns after improving in 2018 on an already solid grade from the 2017 season. He improved his accuracy, even if the completion percentage numbers don't show it while also increasing his yards per attempt and passing grade in the process. If he can stay healthy this season, his trajectory only means good things for the Broncos.
51. Iowa: Nate Stanley
Lower than some would expect, Stanley just doesn't have the PFF grades that warrant the kind of hype he's received in terms of the 2020 NFL Draft. He finished last year with a career-low grade despite throwing for 26 touchdowns for the second consecutive season. In a clearer example of his play on the field, Stanley actually had eight more touchdowns than big-time throws and five fewer interceptions than he had turnover-worthy plays. Still, Stanley wins more often than not and should once again keep the Hawkeyes in contention for the Big Ten once again.
[Editor's note: PFF's Preseason 2020 NFL Draft Guide is LIVE and features 150 Two-Page Player Profiles, giving you advanced stats, game grades and much, much more. All existing EDGE and ELITE subscribers have access to the guide and can download it here.]
50. Ole Miss: Matt Corral
Corral wowed in his limited time in the Rebels offense last season, coming away with an 88.5 overall grade on 67 snaps through four games. He uncorked a big-time throw on one of his 22 attempts last year and had a 72.7% completion percentage while averaging a ridiculous 10.9 yards per attempt. He showcased what made him such a highly-prized recruit and even added a solid rushing attack to an already impressive passing ability. The future is bright for Ole Miss with him behind center.
49. Oregon State: Jake Luton
Luton enters the 2019 season with the best supporting cast in his career and perhaps his best situation overall. For the first time in his career, he will have the same offensive coordinator in back-to-back seasons and has an array of receivers to move the ball to. All this just adds to the fact that he finished last season with a career-high overall grade and passing grade. If Tristan Gebbia beats out the giant quarterback (6'7, 230), it will be for good reason and also deserving of this place on the list.
48. Northwestern: Hunter Johnson
Johnson has transferred Clemson after Trevor Lawrence's emergence and now takes over for Clayton Thorson at Northwestern. Johnson has a big arm and had a solid 77.1 passing grade on 27 attempts in 2017 for the Tigers. He took care of the ball in his limited time and brings with him a 5-star pedigree that saw him as the No. 1 player in Indiana in his high school class.
47. Memphis: Brady White
A regular fixture on our Team of the Week in the AAC last year, White dominate action early a season ago with three elite game performances. The trouble with that, though, is he followed some up with poor outings as the AAC schedule wore on. He'll have to remove those from his repertoire moving forward if the Tigers want to compete this season. Good thing is, he's shown that ability to dominate action like his predecessors at Memphis.
46. Kentucky: Terry Wilson
Wilson takes care of the football when needed in the passing game and can take off with it when all breaks down in front of him. That being said, his anticipatory throws are a thing of beauty but need to come far more than they did a season ago for the Wildcats to be considered a scary aerial attack. Until then, Wilson can rely on his rushing ability that is among the nation's best. His 692 total rushing yards and 417 yards after contact all lead the conference.
45. Boston College: Anthony Brown
Brown started the season on fire and put forth a game from a BC quarterback we haven't seen in some time with his effort against Wake Forest. Still, there were some moments last year that pause all the praise as he seemingly got more inaccurate as the season went along. Still, his high-level play can buoy even some of those inaccuracies and his exciting arm can hit every level of the field.
44. USF: Blake Barnett
Barnett has found his home, finally, in Tampa. After failed stints at Alabama and Arizona State, he finally showed what made him such a highly sought after recruit in high school. He had only three game grades lower than 69.9 a season ago and routinely lit up the competition in the AAC. An underappreciated aspect of his game also came out a season ago as he toted the ball 82 times for 427 yards and 27 combined rushing conversions. Potentially an even bigger 'breakout' year is coming for this former highly-touted recruit.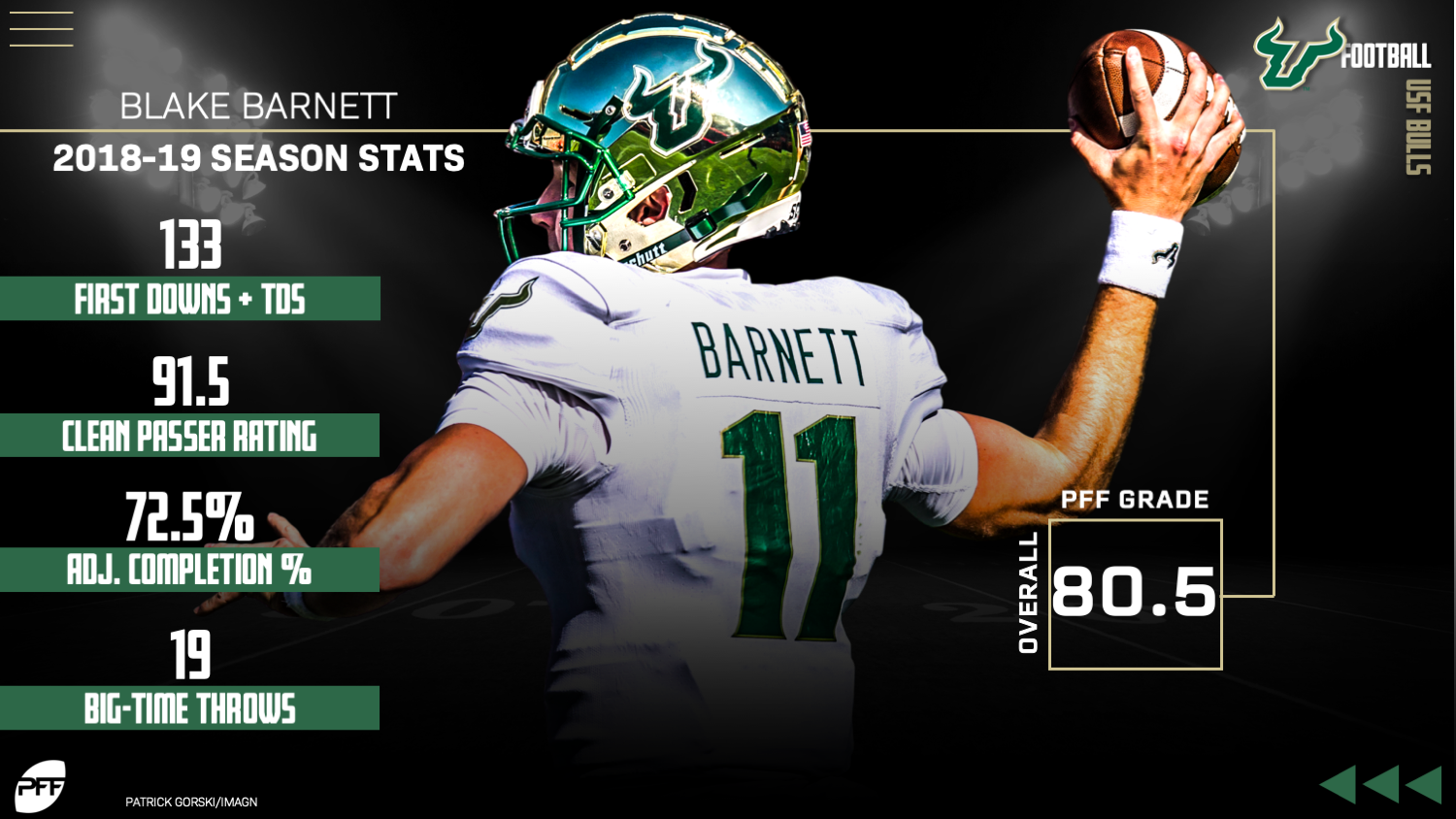 43. Florida: Feleipe Franks
Extremely inconsistent with his performances, Franks' good play was certainly outweighed by his bad play a year ago. Still, with an improved situation going forward, he's in the best position of his career to succeed. More games like that against Florida State and fewer games like that against Kentucky a year ago and the Gators will be sitting pretty. They do have the advantage in the season opener against Miami *see above.
42. SMU: Shane Buechele
Buechele is now the clear-cut starter for the Mustangs after battling, and ultimately losing, the job to Sam Ehlinger at Texas. Buechele has a lot of arm talent and with the QB controversy conversation behind him, will look to build on some impressive tape that follows him. He has strong accuracy and if he can increase his yards per attempt average that may have plagued his time at Texas, he could be as good as some of the other electric quarterbacks in his new conference.
41. Georgia Southern: Shai Werts
With a mistaken arrest now behind him, Werts can approach the season without any hindrance. In the passing game alone, he increased his accuracy, grade, yards per attempt and took care of the ball like a seasoned veteran last year while in the rushing attack the Eagles offer, he was as dynamic as any other option quarterback. On 153 designed carries, he tallied 755 yards while his 58 total rushing conversions moved the chains or scored six points on nearly a third of his carries. He's a tough guy to bring down and only had eight fumbles to his name last year, cutting down from 12 a season ago.
40. Appalachian State: Zac Thomas
Thomas is as accurate as they come and an equally impressive runner with the ball, finishing with a 72.2% adjusted completion percentage and 581 yards on the ground. He knows when to scramble and when to force the ball into tight windows as he's as good a quarterback the Sun Belt has to offer.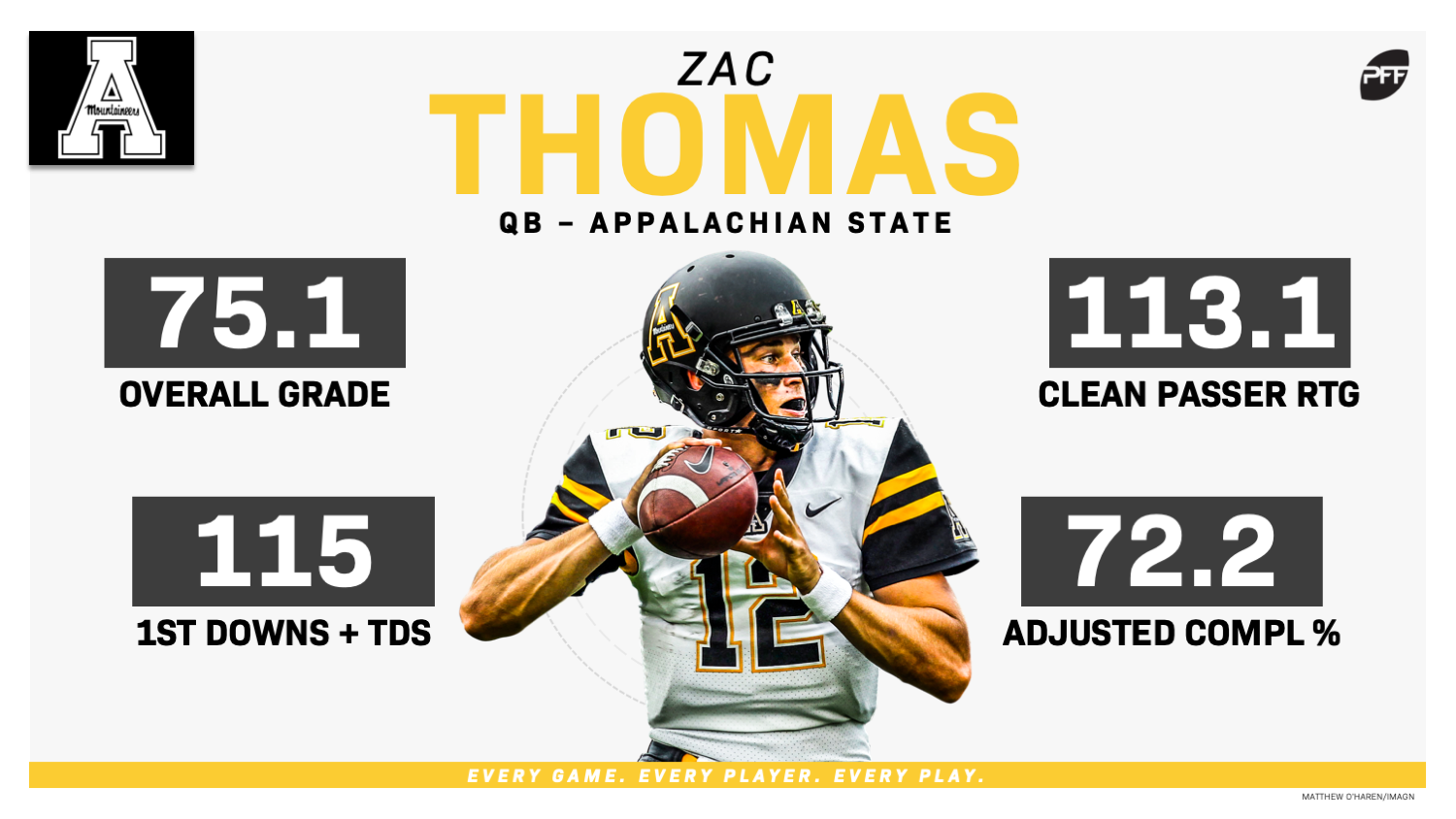 39. Maryland: Josh Jackson
Jackson exits Virginia Tech after a solid season in 2017 and an improved, albeit shorter 2018 set of performances with the Hokies before a fractured foot ended his season. He enters the Terrapins lineup where he instantly upgrades the unit and will lean heavily on his dual-threat ability that saw him break 16 tackles on 128 carries while gaining 353 yards after contact and averaging 7.8 yards per attempt in the passing game with Virginia Tech.
38. FIU: James Morgan
Morgan improved in each of his two seasons at the helm of the Bowling Green Falcons only to completely demolish his previous career-best grades in his first season with the Golden Panthers. He's set up for his final year to be his best yet as he averaged 8.2 yards per attempt while completing nearly 65.0% of his passes last year at FIU. If he can limit turnover-worthy passes better than he did a season ago (14 TWP compared to just 7 INT), he'll find himself in the conversation for top QB honors in the C-USA not named Mason Fine.
37. Wake Forest: Sam Hartman/Jamie Newman
This duo battling once again to open camp breeds life for the Demon Deacons as they did a season ago. The duo pushed each other a year ago and when Hartman started slowing down, Newman picked up the pace and finished the year as the starter. Newman holds the advantage with a 77.9 overall grade a year ago while Hartman finished at 75.6. Still, whoever starts out of this duo is good enough to warrant a top-40 spot, no doubt.
36. Washington: Jacob Eason
Eason hasn't played a meaningful set of downs since the 2016 season with Georgia but he has all the tools to be a top-quality starter at the Power-5 level. After a full season in the Huskies offense, Eason is just a season away from living up to his 5-star pedigree. He certainly looks the part at 6-foot-6, 227 pounds.
[Editor's note: PFF's Preseason 2020 NFL Draft Guide is LIVE and features 150 Two-Page Player Profiles, giving you advanced stats, game grades and much, much more. All existing EDGE and ELITE subscribers have access to the guide and can download it here.]
35. Florida State: James Blackman
A bit surprising, considering he redshirted and dropped back to pass just 61 times a year ago, Blackman was every bit of a top-notch quarterback when he did see the field in Willie Taggert's offense in 2018, especially in his 421-yard, 4-touchdown performance against NC State. Blackman is no stranger to big-time performances as he had three game grades of 81.0 or higher in 2017 and if he can remove some of the negative plays, those highly-graded performances will start to come in at a flurry.
34. Louisiana Tech: J'Mar Smith
Smith is an electric player with the ball in his hands and has forced 29 missed tackles on the ground over his 177 career rushing attempts while also averaging 7.1 yards per attempt through the air. His 70.6% adjusted completion percentage for his career also showcases how he takes care of the football and his 79 dropped passes only further show just how accurate he can be as well. Combine the fact that he's improved his overall and passing grade in each of his three seasons with the Bulldogs and 2019 is shaping up to be a big year for the veteran signal-caller.
33. South Carolina: Jake Bentley
Speaking of veteran signal-callers, Bentley has manned the ship at South Carolina for the past three seasons, averaging a career 7.5 yards per attempt. Gone are some of his playmakers from year's past but Bentley is every bit as good a quarterback no matter who he's throwing to. When targeting wide receivers, he's seen a 100.9 and when targeting running backs, he's seen a passer rating of 103.0.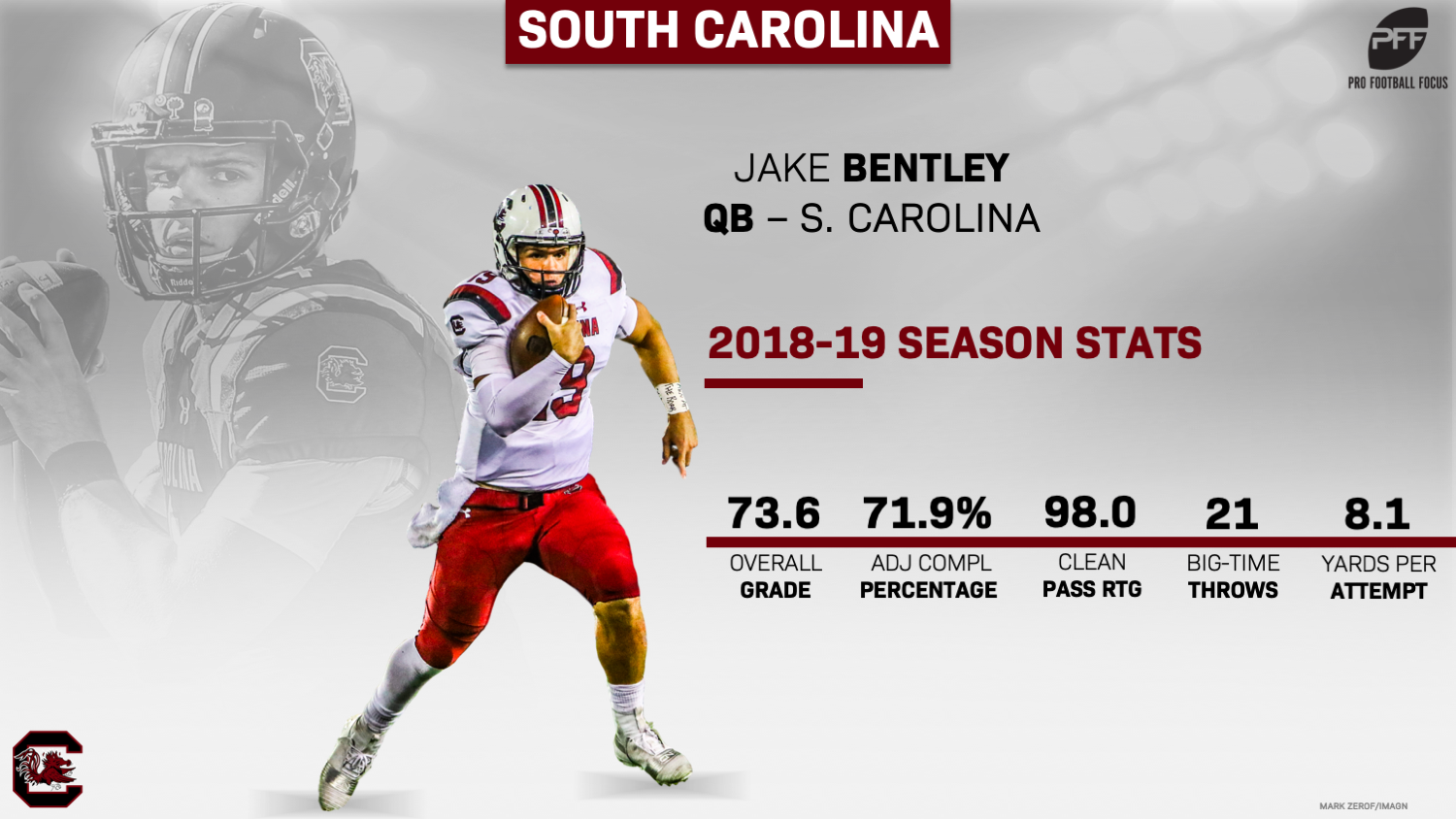 32. Hawaii: Cole McDonald
McDonald quietly finds himself near the top of several lists of PFF signature statistics as he admirably ran the Run 'N Shoot offense last season with great success. He topped 3,800 yards, 35 touchdowns and his 25 big-time throws tied for ninth-most among FBS quarterbacks a season ago. He returns with the third-most deep passing yards among active quarterbacks and can make all the throws the Hawaii offense presents for him. He'll have a showcase game against Arizona to start the season on August 24 while becomes must-watch TV with McDonald & Tate battling it out.
31. Penn State: Sean Clifford
The most unknown among the top 50 quarterbacks, Clifford forced Tommy Stevens to transfer after impressing on his very limited time in the Penn State offense a year ago. The post-Trace McSorley era is in good hands with Clifford as he completed 5-of-7 passes and four of them went as our big-time throws. He can float the ball with perfect touch just as he can punch the ball into tight windows and with a much larger sample size incoming this season, expect big things from Clifford and his pass-catchers.
30. BYU: Zach Wilson
Wilson plays a solid brand of football as an incredibly accurate passer with quite a big arm. He knows when to take something off his passes just as he knows how to throw with anticipation. He set the BYU record for consecutive completions with his 18 straight against Western Michigan in their bowl game last season as that's just a microcosm of how accurate he can be with the football. He returns with the 15th-best adjusted completion percentage among full-time starters, a mark that nearly equals that of Trevor Lawrence.
29. Missouri: Kelly Bryant
The lost man at Clemson, Bryant quietly performed well above-average in 2017 as the starter before making way for Lawrence a year ago and transferring to the Tigers. In that 2017 season, he led the ACC in adjusted completion percentage and set career-highs in overall and passing grade as he'll look to add a new dynamic to the Missouri offense that they haven't seen in a few years with Drew Lock at the helm. Bryant averaged 4.8 yards per carry, forced 36 missed tackles and gained 464 yards after contact on the ground in 2017 as he's a true dual-threat behind center.
28. Colorado: Steven Montez
Consistency is the name of the game for Montez and if he can maintain that level of consistency, we'll see his grade rise even higher than the levels we've seen from him in the past. Still, his lowest-graded season came in 2016 when he finished with a 73.7 and he's been capable of high-level play in the Pac-12 that rivals the best in the conference. He's got a big arm and can make all the throws when given time to do so. His 2,485 passing yards from a clean pocket are the 13th-most among returning quarterbacks.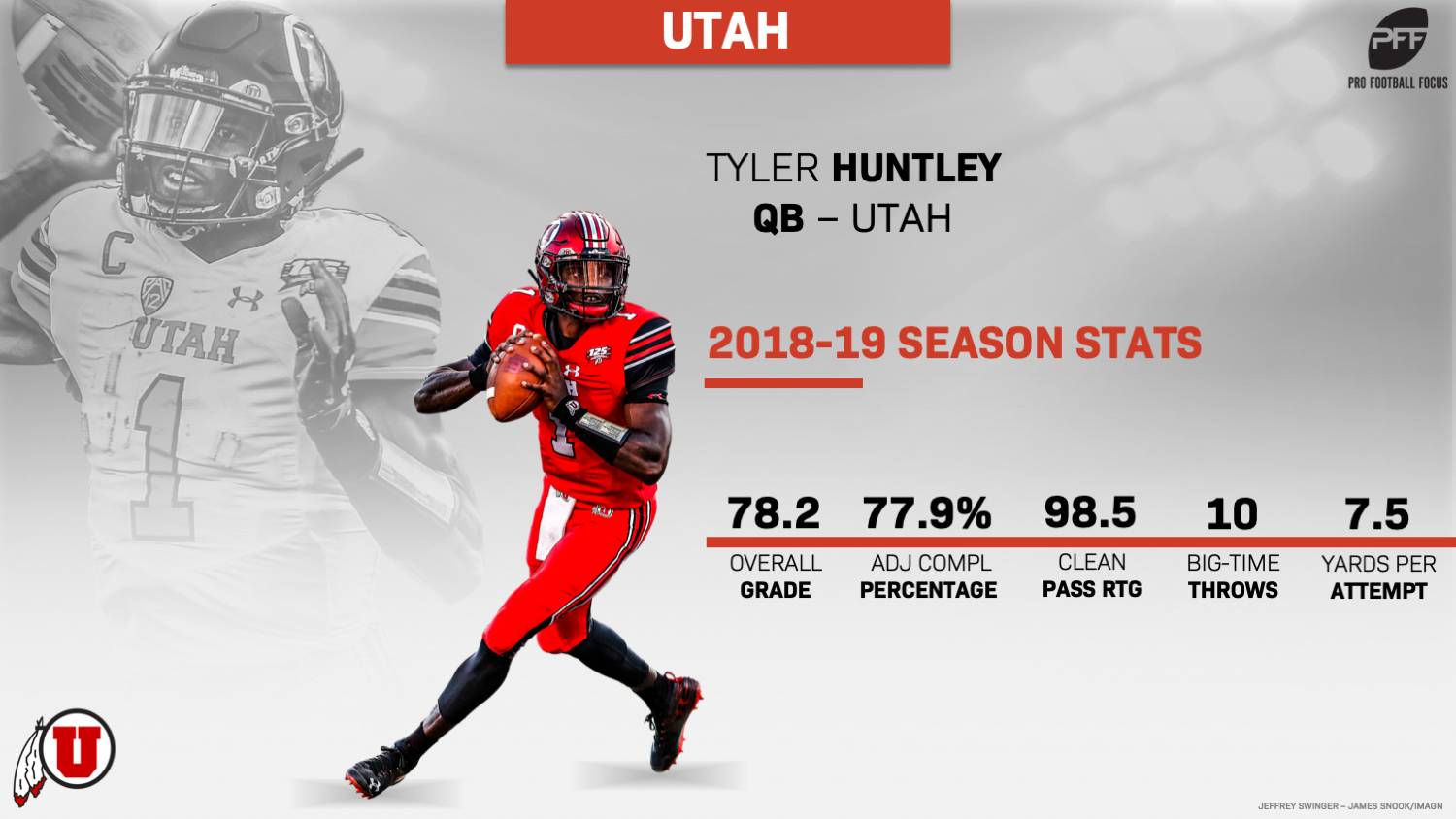 27. Utah: Tyler Huntley
Huntley is deservedly in the discussion for a top-five quarterback in the conference and after his pre-injury form last season, warrants that spot entering 2019. He took plenty care of the ball, finishing with the nation's fifth-highest adjusted completion percentage at 77.9% while also holding the nation's third-highest drop rate (10.5%). Among quarterbacks with at least 150 attempts last year, Huntley threw only six turnover-worthy passes to rank eighth among active quarterbacks.
26. Texas Tech: Alan Bowman
The Texas Tech offense will continue to put up big numbers and Bowman is next in line to put forth prolific statlines for the Red Raiders. Even with the gaudy numbers of passes a season ago, he finished the year with the third-highest adjusted completion percentage (78.9%) among returning quarterbacks while also averaging 8.0 yards per attempt with 15 big-time throws. Bowman's career baseline is promising for his growth over the years in Lubbock.
25. Texas A&M: Kellen Mond
Mond is set to be the next Jimbo Fisher quarterback to hear his name called early in the NFL draft as he took control of the Aggies offense a year ago. His career-high overall and passing grade are great signs for the future as he strung together some big-time performances and totaled 3,110 passing yards with another 657 on the ground. A threat with the ball in his hands either from the pocket or outside, Mond can move defenses and is sharp with his reads, something he'll have to rely on with Texas A&M's gauntlet of a schedule this year (@ Clemson, vs Alabama, vs Auburn, @ Ole Miss, @ Georgia, @ LSU).
[Editor's note: PFF's Mike Renner's first 2020 Mock Draft is out now!]
24. Nebraska: Adrian Martinez
As the season wore on, Martinez looked more and more like the next big thing for the Cornhuskers. He improved his game grades down the stretch and put forth some big numbers both on the ground and through the air as the Nebraska offense turned the corner in Scott Frost's debut season. On the ground, Martinez forced 29 missed tackles and gained 3.71 yards after contact per carry (6.5 total YPA) while through the air, he passed for 2,616 yards and a combined 132 first down and touchdowns. His 20 big-time throws are the 25th-most among returning quarterbacks, compared to just 11 turnover-worthy passes.
23. Cincinnati: Desmond Ridder
Ridder compares to Trevor Lawrence and D'Eriq King in one particular statistic at PFF, and that's the measure of big-time throws against turnover-worthy passes. His 25 BTTs are ninth-most, just two shy of Lawrence while his six TWPs are tied with King for eight-fewest among qualified signal-callers. All this means Ridder knows when to take his shots and how to protect the football and big things are on the horizon for him and the rest of the Luke Fickell-led Bearcats.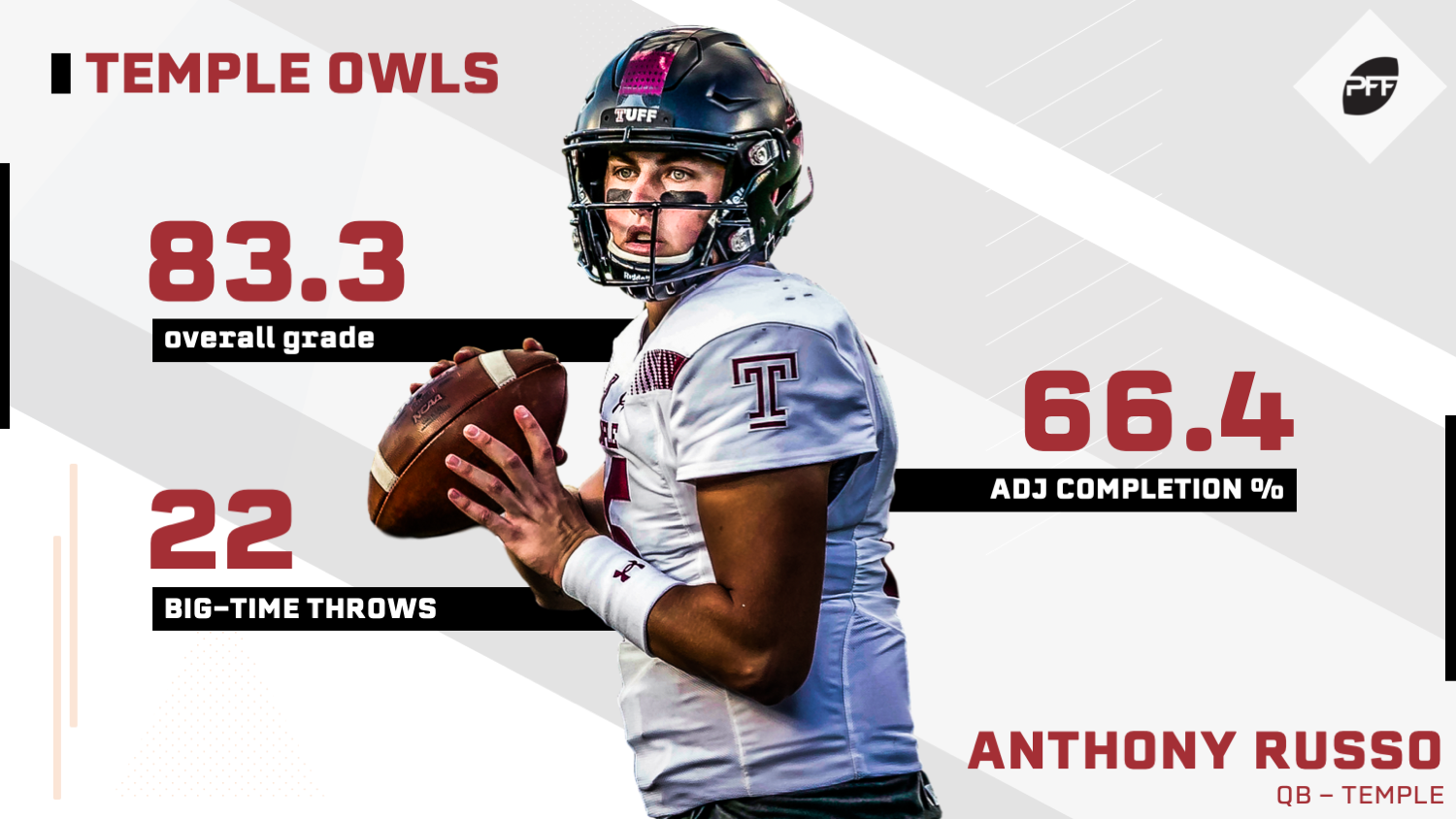 22. Temple: Anthony Russo
Russo littered the field with big plays a year ago, averaging 7.5 yards per attempt and an average of 11.0 depth of target. He had five game grades of 80.0 or higher and combined for 127 first downs and touchdowns in the passing game. He put his big arm on display and led the Owls to a 7-3 record as the starter. Russo has an NFL build and with another year like 2018, don't be surprised if you hear his name in connection with the 2020 NFL Draft.
21. Tennessee: Jarrett Guarantano
During the 2018 season, Guarantano's performance against Kentucky was the highest-graded single-game outing among returning quarterbacks. He showcased what made him such a highly-touted recruit as the No. 1 dual-threat QB from New Jersey and the No. 2 player overall from his state. His marked improvement from 2017 to 2018 gives reason for hope of a big season in Knoxville this year.
20. Utah State: Jordan Love
Love can sling the ball around the field and returns with 15 touchdown passes on deep targets – the third-most among active quarterbacks. He likely would have had more than that had he not seen five of his deep targets go down as drops. Nevertheless, Love is a dynamic guy with the ball in his hands and can hit all levels of the field with relative ease. He's another guy from the Group of 5 that if he puts forth as successful of a season like he did last year, that could hear his name in connection with the draft.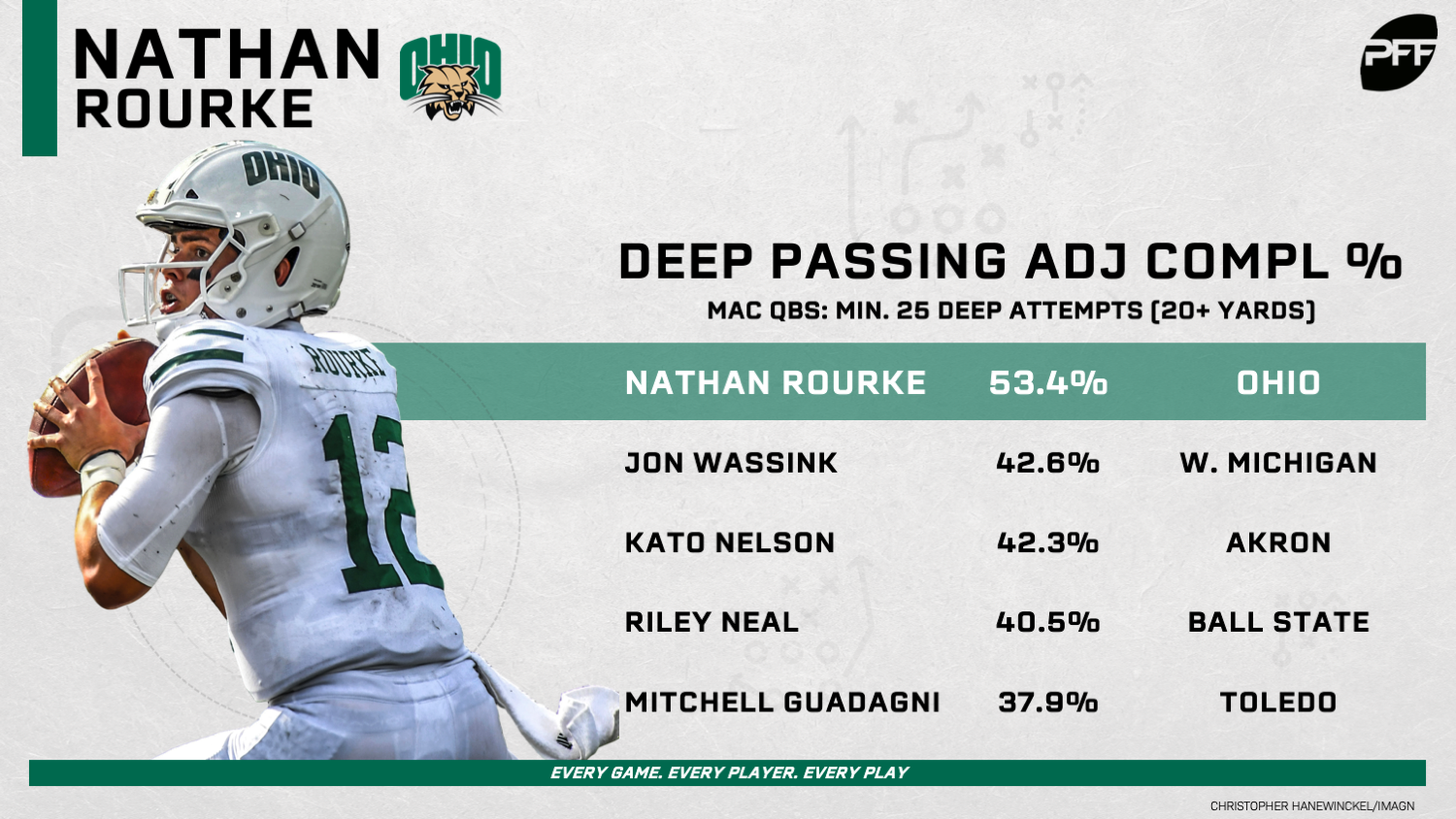 19. Ohio: Nathan Rourke
If this were ranking the best dual-threat quarterbacks in the country, Rourke would be up there in the top five or so but he firmly sits as the MAC's best quarterback entering 2019 and could go down in the MAC history books as one of the best to ever do it at that level. With consecutive years of elite PFF grades (86.3 in 2017, 90.6 in 2018), Rourke is every bit of the quarterback you'd expect him to be. He's averaged 8.2 yards per attempt over the past two seasons while increasing his passing grade and completion percentage in the process and been a monster with the ball in his hands on the ground. For his career, he's forced 72 missed tackles, gained 1,153 yards after contact and averages 8.3 yards per carry on 187 designed runs and 54 scrambles. Rourke is truly as exciting as they come this season.
18. Notre Dame: Ian Book
Coming on strong during the Wake Forest game a year ago, Book firmly grasped the starting role at Notre Dame and didn't look back. He finished with an inspiring 67.9% completion percentage and the 11th-best adjusted completion percentage at 75.7% among active quarterbacks. While he may not attempt those big-time throws down the field as much as many others on this list, he keeps the Fighting Irish offense on schedule, on pace and in the right place to win the game every time he's on the field. The sky is the limit for Book who's only defeat as a starter has come against defending National Champion Clemson.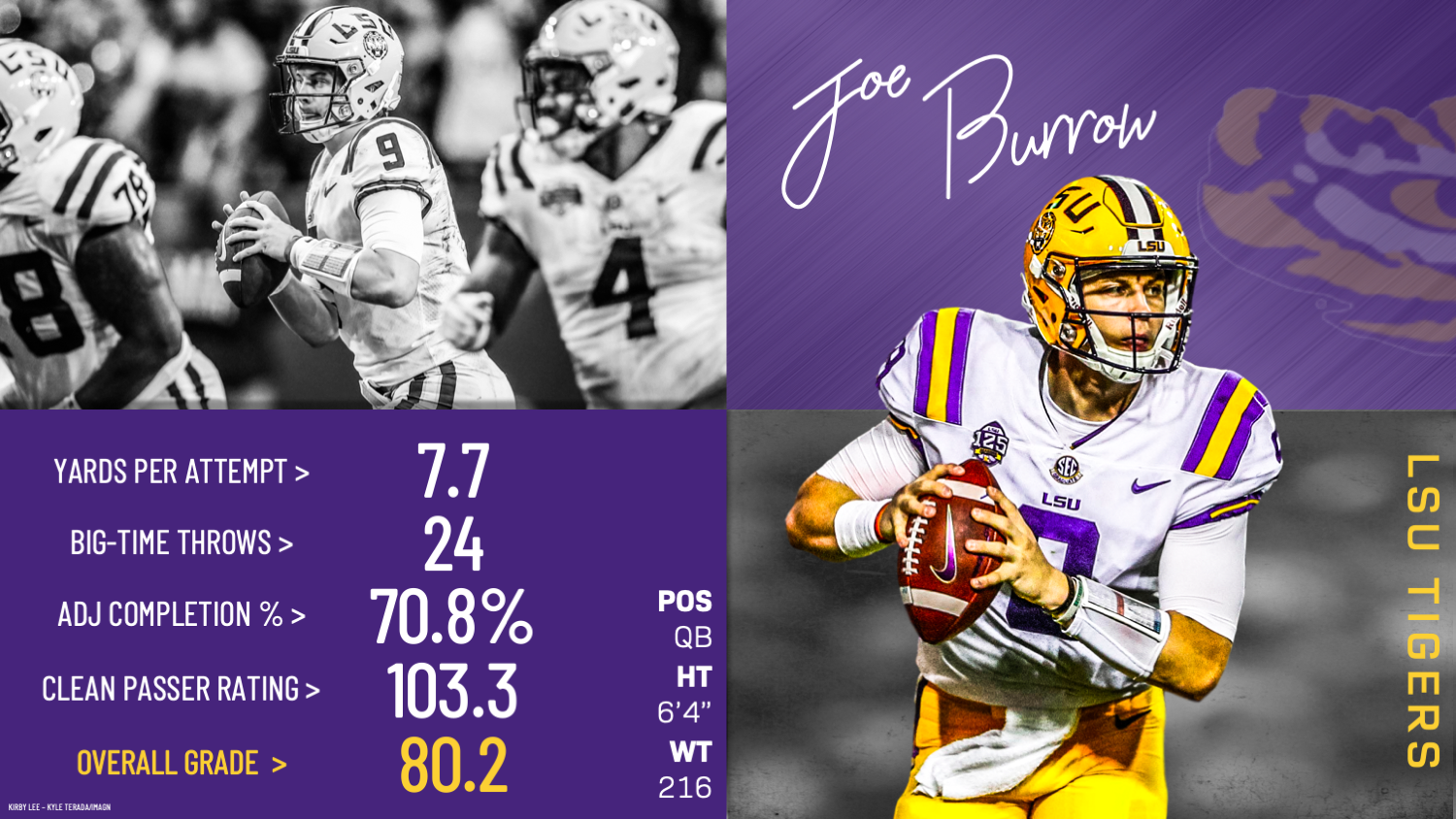 17. LSU: Joe Burrow
Burrow found himself a home with the Tigers in 2018, leading way to a career-high overall grade and a 78.8 passing grade after two seasons of limited snaps at Ohio State. Burrow averaged 7.7 yards per attempt while dominating when kept clean from pressure. His 90.5 passing grade from a clean pocket is a clear sign of potentially even bigger things to come for he and the LSU offense as he'll have a slew of talented pass-catchers to get the ball to in 2019.
16. Ohio State: Justin Fields
Fields logged 173 snaps as a true freshman last season at UGA but transferred for greener pastures in Columbus after the departure of Dwayne Haskins to the NFL. Fields finished with an elite grade of 90.1, albeit on a small sample size, in the SEC, showcasing his ability mainly against lesser competition behind Jake Fromm. Still, he completed 70.0% of his passes and didn't make any costly mistakes by way of interceptions in the passing game, showing he's not just a runner, he's a more-than-capable thrower.
15. Virginia: Bryce Perkins
Perkins gets it done mainly with his legs but that doesn't mean he isn't a more-than-capable passer. Still, he had more rushing attempts than any non-option quarterback and his 46 missed tackles forced on the ground lead all returning FBS quarterbacks, even those who run their option attacks. His rushing ability is not in question and nor should his passing ability as he returns with a top-10 mark in adjusted completion percentage.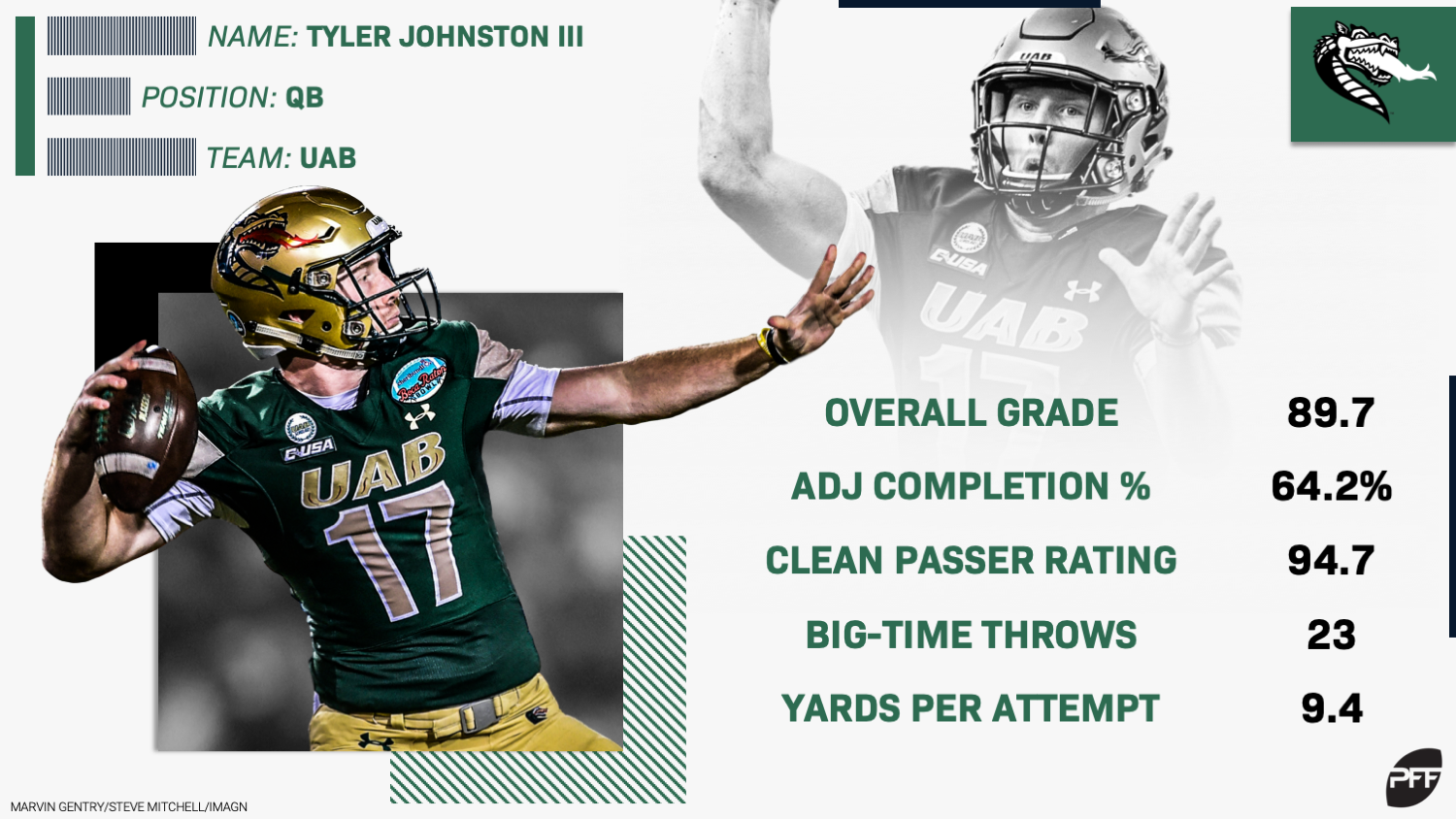 14. UAB: Tyler Johnston III
Perhaps the first quarterback you've never heard of, Johnston has it all from a next-level standpoint and Lead Draft Analyst Mike Renner has pegged him as a top-10 QB for the 2020 NFL Draft. He puts the ball in the right place where his receivers can get it while limiting mistakes, doesn't take unnecessary sacks and averaged a ridiculous 15.6 depth of target last year, a full 2.0 yards higher than the next closest returning FBS quarterback with at least 100 dropbacks.
13. Michigan: Shea Patterson
The first of the Big Ten quarterbacks to land on the rankings, Patterson uncorked 22 big-time throws last season with the Wolverines. He returns a talented cast of characters to get the ball to this season and that number of 22 BTTs should only go up. Perhaps most importantly, he limited himself to just nine turnover-worthy passes a year ago as well, demonstrating that he can take care of the ball among the best in the nation.
12. Baylor: Charlie Brewer
Brewer just gets the job done at Baylor but remains somewhat of an anomaly to the casual viewer. PFF grades point to Brewer as the highest-graded returning quarterback but he averages just 7.7 yards per attempt, playing mainly against Big 12 defenses who are prone to the chunk plays. Brewer's avoidance of negative plays is something to behold and if he can improve on those positive plays – those highlight-reel moments – he has all the tools to blast into fame this year with the Bears.
11. Oklahoma: Jalen Hurts
Seemingly forgotten after Tua Tagovailoa rocketed Alabama back into a pass-first offense, Hurts has headed to Norman where he can only hope to see some of the success that the last two transfer quarterbacks coached by Lincoln Riley at Oklahoma have. Hurts has never been the passing talent that the likes of Baker Mayfield or Kyler Murray were in college but all he does is win at the helm. He may not get it done in the flashiest of ways with big shots down the field, seeing just a 9.7 average depth of target, that's something that Riley has been able to harness out of his previous two signal-callers. If Hurts can improve on downfield passes, he'll firmly plant himself in the Heisman race all season long.
10. Arizona: Khalil Tate
Tate's 2018 season suffered from a change in scheme and a new head coach in Kevin Sumlin. As fun a prospect that we've seen over the past two years, if he can return to the form that saw him as a Heisman candidate in 2017 when he utilized his legs more, the 2019 season could be much different for Wildcat faithful. His two-year rushing grade is third only behind Ohio's Nathan Rourke and Virginia's Bryce Perkins.
9. Georgia: Jake Fromm
Fromm hasn't quite taken the Bulldogs all the way to a National Title but he has single-handedly given the Crimson Tide the most scares on their way to the season finale. Fromm is as good as they come from a clean pocket and his two-year grade of second in the SEC to only Tagovailoa. With a talented running back and one of the nation's best bookend tackle situations, Fromm has Georgia ready to once again contend for a National Championship.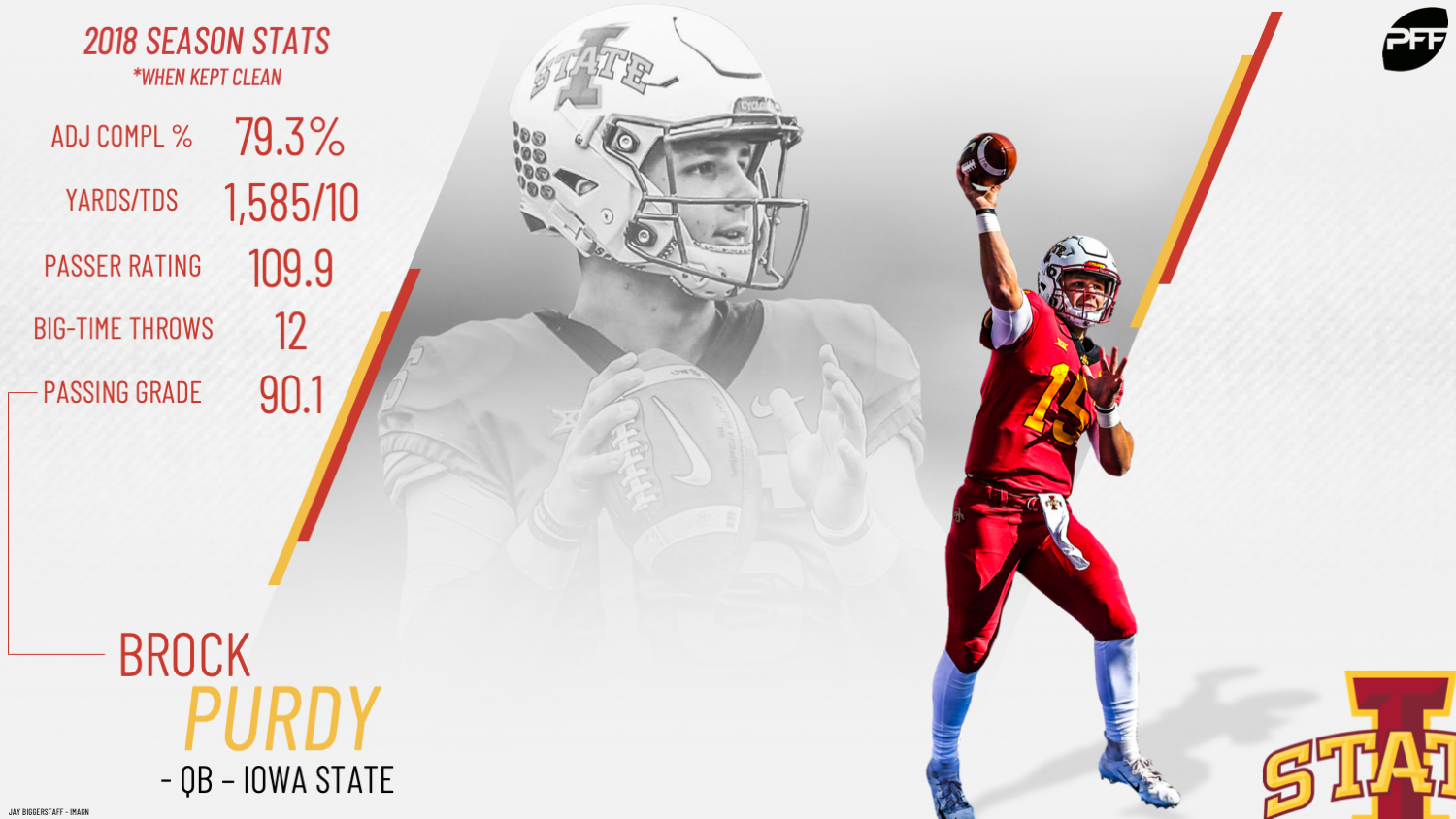 8. Iowa State: Brock Purdy
Had it not been for Trevor Lawrence, Purdy may be the most polarizing true sophomore quarterback in the country, Still, his effort in the backfield for the Cyclones and his 89.3 overall grade is the second-highest we've ever given to a true freshman quarterback (behind Lawrence). He was solid in every outing, save for a tuneup game against Drake in Week 14 last year, and performed well from a clean pocket and with pressure applied. Year 2's expectations are sky-high in Ames for this bright young signal-caller.
7. Stanford: K.J. Costello
Costello is making a push to be the best quarterback in the Pac-12 and if it weren't for Herbert's dominant 2017, has a rightful claim to that throne after last year. Still, Costello returns as the nation's leader in deep passing yards and is well up the list of many other PFF signature stats for the position. He pushes the ball down the field, turning Stanford back into a pass-heavy offense and for the first time in several years, the Cardinal ran more passes than runs in 2018.
6. Texas: Sam Ehlinger
Ehlinger leads all returning Big 12 quarterbacks with his 113.5 passer rating from a clean pocket, one of the more stable metrics when looking at quarterback progression from year to year. It's likely that his third season in Austin should be his best yet and once again set the PFF College record for single-season grade from a Texas quarterback even higher. His 19:2 touchdown-to-interception ratio from a clean pocket is one of the country's best and he's been no slouch when the opposition has sent extra rushers on a blitz, seeing a 100.5 passer rating on such passes. He can handle what the defense shows him and is ready to take the next step in an already remarkable career to date.
[Editor's note: PFF's Preseason 2020 NFL Draft Guide is LIVE and features 150 Two-Page Player Profiles, giving you advanced stats, game grades and much, much more. All existing EDGE and ELITE subscribers have access to the guide and can download it here.]
5. North Texas: Mason Fine
If you haven't heard of Mason Fine by now, you've missed out. The North Texas record holder for seemingly every passing category, Fine is a wizard with the ball, routinely hitting highlight-reel passes just as quick as he takes what the defense gives him and hits tight-window opportunities when warranted. His stretch of nine games to open the season last year with a game grade of at least 75.4 or higher is unrivaled and he is as fun a quarterback to watch that college football offers in 2019, regardless of competition level.
4. Houston: D'Eriq King
Perhaps the nation's most electric player with both his arm and legs, King leads the Cougars in 2019 behind the second-highest overall grade from a quarterback a season ago. He had four games with elite grades and another three with 'very good' grades while he torched defenses on the ground to the tune of 7.6 yards per attempt. For his career, he's gained 1,227 yards on the ground and thrown for another 4,255 and he'll certainly the Houston leaderboards in each of those statistics this season.
3. Oregon: Justin Herbert
Herbert may have regressed a bit in 2018 but that's just because his 2017 season reached a level so high, he was bound to revert back to the mean. His two-year grade at quarterback is among the nation's best and he still is one of the nation's best deep-ball throwers. In fact, even with eight dropped deep passes (no returning quarterback had more than 6 dropped), he still finished with 942 yards and 13 touchdowns on throws targeted at least 20 yards downfield. He was surgical from a clean pocket last year and threw 24 touchdowns compared to just three interceptions, both of which are top figures among returners.
2. Alabama: Tua Tagovailoa
Tagovailoa's emergence is well documented and he's set up with the nation's best receiving corps this season with Jerry Jeudy, Jaylen Waddle, DeVonta Smith and Henry Ruggs. He makes all the throws and makes them all look easy. Tagovailoa routinely squeezes balls into tight windows just as he throws with anticipation as he leads the nation in several passer rating categories. His marks of 141.6 from a clean pocket (first), 110.0 under pressure (fifth), 144.7 with play action (first) and 130.7 without play action (first) showcase just how dominant he was a year ago. He and Lawrence will battle it out for top QB honors this year in as spirted of a race we'll get to witness in some time.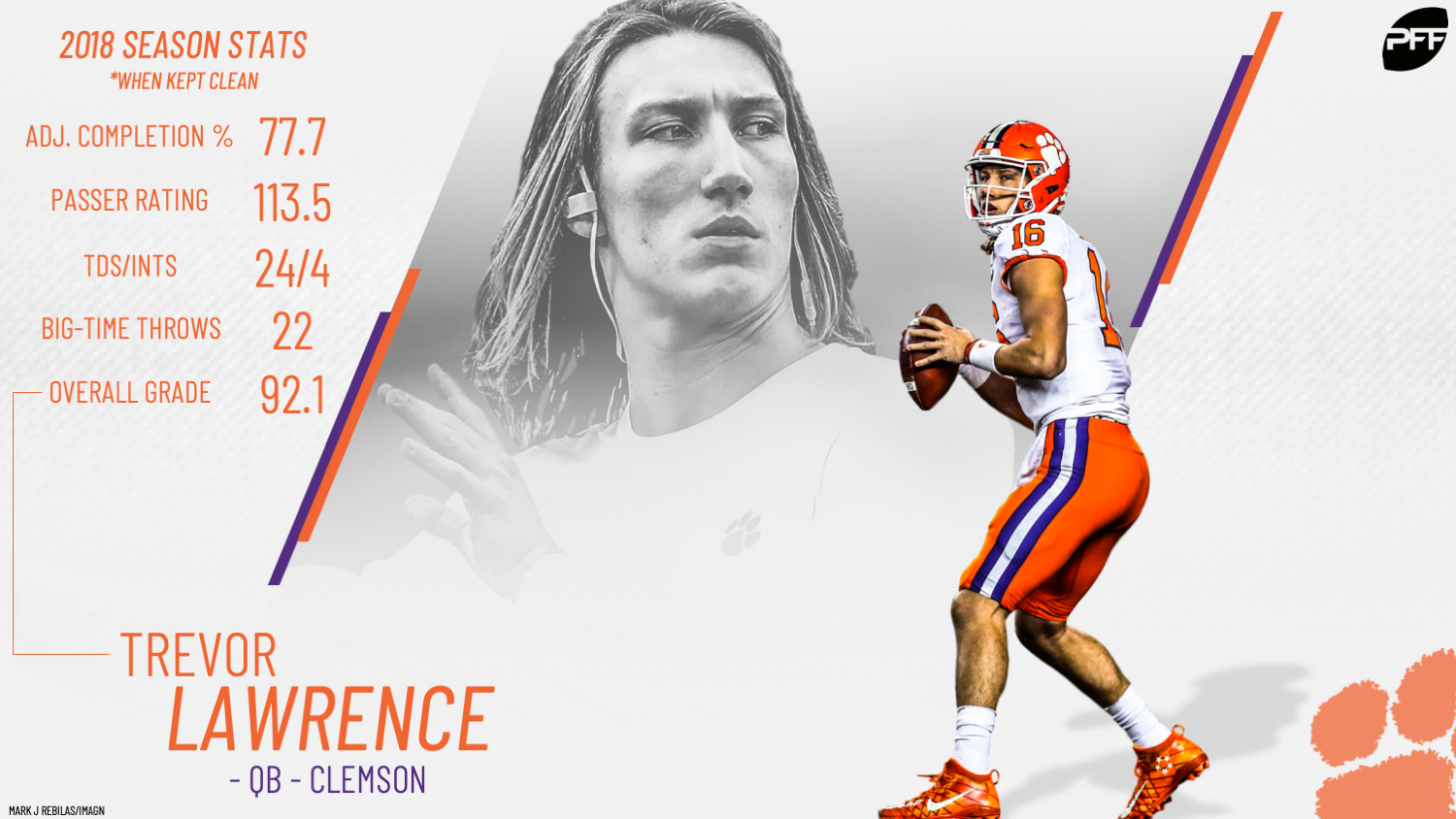 1. Clemson: Trevor Lawrence
No true freshman has put forth the kind of grades we saw from Lawrence last year as he dominated game in and game out. He took remarkable care of the football with just five turnover-worthy plays to his credit, the fewest among quarterbacks with at least 250 dropbacks. He also was a maestro with the ball, unleashing 27 big-time throws, a true freshman record and the fifth-most among active quarterbacks. His 27 BTT to 5 TWP is one of the best ratios we've ever seen from any quarterback, let alone a true freshman and he did it all with a media circus following him around since high school. He's the face of college football for a reason and he'll remain there for at least two more seasons.