It's officially reset time in college football.
We are on to the 2022 season, where teams across the country will compete for a chance to play for the College Football Playoff National Championship at SoFi Stadium in Inglewood, California. There's still a lot to be figured out between now and then with team rosters and depth charts — the transfer portal deadline is months away. But the 2022 NFL Draft deadline is approaching for those who are eligible, so we now know which of college football's top talents will be leaving and returning for this season.
As such, there's no better time to dive into early position rankings of the top returning players in college football.
---
Click here for more PFF tools:
Rankings & Projections | WR/CB Matchup Chart | NFL & NCAA Betting Dashboards | NFL Player Props Tool | NFL & NCAA Power Rankings
Best Bets Tool
---
Below are the top 10 offensive tackles returning to college football this fall. Please note that this has nothing to do with pro potential. 
(Edit: A past version of this list contained Tulsa's Tyler Smith, but he was a late declare for the 2021 NFL Draft after publish.)
Skoronski was thrust into Northwestern's starting left tackle spot right away as a four-star true freshman in 2019 following Rashawn Slater's sudden opt-out. Since then, he's easily been one of the best players at the position and looks to claim that top spot in 2022. Skoronski has posted a top 15 grades among Power Five offensive tackles in each of the last two years (81.4 and 83.8). He has elite bloodlines, as his late grandfather — Bob Skoronski — is a member of the Green Bay Packers' Hall of Fame for the work he did serving as a tackle in the 1960s. Skoronski's size and top-tier athleticism are reminiscent of Slater, and Northwestern's current left tackle is following in Slater's footsteps from a collegiate production standpoint, too.
Not only is Vorhees the most underrated player on this list, but he's also one of the most underrated players in all of college football. He is fresh off a season in which he earned a grade above 90.0 as both a pass- and run-blocker. And Vorhees did that while moving from left guard to left tackle — a position he has never played at the collegiate level — midway through the year. When at tackle, in particular, the 6-foot-6, 320-pound offensive lineman earned a 92.4 PFF grade in 2021. The incoming sixth-year senior is a well-oiled machine at this point with 2,771 career snaps to his name. He displayed technical refinement this past season and consistently hit beautiful backside cutoff blocks. We don't know which position Vorhees will play in 2022, but whether he is on the interior or at tackle, he's one of the best offensive linemen in the country.
Jones is a monstrous right tackle at 6-foot-8 and 360 pounds with a 7-foot-5 wingspan. The 2019 three-star recruit — who also received several Division I basketball offers — earned a 90.6 run-blocking grade in 2021 — the fourth-highest mark among Power Five tackles. His size and strength helped him tie for fifth in big-time run blocks among Power Five tackles, too. Jones' pass-protection wasn't quite as good, but it was still solid, as he held his competition to less than one pressure per game on average.
This seems like the perfect time to pull out this video of Dawand Jones playing basketball at Ben Davis High School pic.twitter.com/GYssEtrQl8

— Jay Stephens™ ???? (@JayStephens07) October 2, 2021
McFadden has produced at a high level in the collegiate ranks. The 2018 three-star recruit owns single-season PFF grades of 88.3, 83.5 and 87.4 over the last three years serving as a reserve, starting right tackle then starting left tackle. He's played 1,963 snaps over the course of his career and has only been flagged for two penalties. McFadden took his pass protection to new heights this past season, as he allowed zero pressures in over half of his games played en route to a career-best 84.7 pass-blocking grade.
Beebe was one of the most improved offensive linemen in 2021. After posting a middling 64.2 PFF grade in his debut season — 2020's mini-season — Beebe earned an 85.4 PFF grade in 2021. The 6-foot-3, 320-pound offensive linemen hardly made any mistakes, as he ranked fourth among Power Five tackles in negatively graded run-block rate and allowed less than a pressure per game.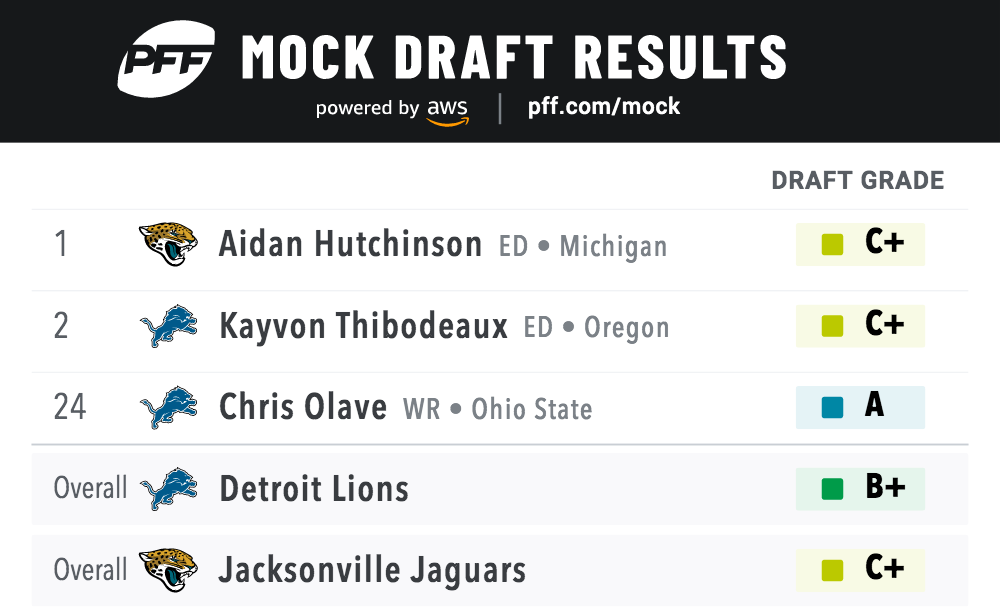 Johnson will be moving back to tackle in 2022 after spending his debut starting season at right guard as a sophomore in 2021. Despite not playing his natural position at tackle, the 6-foot-6, 315-pound five-star recruit earned a 79.1 PFF grade that ranked 16th among Power Five guards. From Week 4 on, Johnson posted an 83.5 PFF grade that ranked seventh. He was third in run-blocking grade and allowed just five pressures — none of which were a sack or a hit — over that nine-game span.
Freeland was one of the 2021 season's best pass protectors, as he never allowed multiple pressures in a single game. The 6-foot-8, 305-pound tackle allowed a 1.2% pressure rate for the season en route to a 91.6 pass-blocking grade — both of which were the second-best among FBS tackles. That's not too shabby from a three-star recruit who was 50 points lighter and didn't even play offensive line in high school. He was an all-state selection in basketball and track-and-field in high school, too, and that athleticism shows up on the field. It will be interesting to see where Freeland stands on the depth chart with 2021's No. 36-ranked recruit Kingsley Suamataia transferring in from Oregon, but either way, BYU is in good hands.
Bass pivoted from guard to tackle midway through his 2021 campaign. While the 2020 top-25 ranked JUCO recruit experienced some volatility in pass protection, his standout run-blocking remained. Bass finished with a 90.5 run-block grade for the 2021 season and ranked top 30 among all Power Five offensive linemen regardless of position in negatively and positively graded run play rate — the latter is something only four others accomplished for the year. And it's not like Bass was a liability in pass protection, either, as he allowed only 14 pressures en route a 74.0 pass-blocking grade for the season.
---
2022 NFL Draft position rankings:
Top 10 players at every position
QB | RB | WR | TE | iOL | OT | DI | EDGE | LB | CB | S
---
Baylor offensive coordinator Jeff Grimes' scheme eases stress on the offensive line a significant amount, but Galvin's production was still quite impressive. The 2018 four-star recruit earned a 91.2 pass-blocking grade in 2021 and allowed only three pressures in total. On true pass sets, Galvin lost only five reps and earned the fourth-best pass-block grade in the Power Five. Again, he's utilizing true pass sets at one of the lowest rates in the country, but his play is impressive nonetheless. Galvin also committed just one penalty on 936 snaps in 2021.
Nelson's return to The U is fantastic news for quarterback Tyler Van Dyke because the 6-foot-5, 316-pound tackle has developed into one of the best pass-protectors in the country. From Week 4 on in 2021, Nelson allowed just six pressures in nine games en route to a 91.6 pass-block grade that led all Power Five tackles.
Fisher was the No. 1-ranked recruit out of Indiana in the 2021 class and earned a starting job right away as a true freshman. Unfortunately for him and the Irish, Fisher suffered a meniscus injury in his first game wearing the Golden Dome, causing him to miss all of the regular season. He was able to make a return for the Fiesta Bowl, where he earned a respectable 70.5 PFF grade across 91 snaps. The 6-foot-6, 335-pound tackle is a gifted athlete and moves better than most at that size.
I played a round of golf with a guy who coached in same conference and he said their game plan was to not even have a defender across from Fisher for him to block https://t.co/5eG7FV6hGw

— Mike Renner (@PFF_Mike) June 9, 2021