Post-snap safety rotations are a defense's first threat of deception to an offense. The initial holes in coverage a defense presents are completely different depending on whether there is one high safety or two.
In order for the quarterback to play fast, it's imperative that he identify these holes at the line. What better way to mess with a quarterback than by showing him one thing and then rotating to something else after he drops his head to catch the snap?
[Editor's note: Subscribe to PFF ELITE today to gain access to PFF's Premium Stats and new Player Grades experience in addition to the 2020 NFL Draft Guide, 2020 Fantasy Rookie Scouting Report, PFF Greenline, all of PFF's premium article content and more.]
It makes so much sense. Too much sense. Except, at least in 2019, it didn't make a difference.
NFL EXPECTED POINTS ADDED PER PLAY ALLOWED IN 2019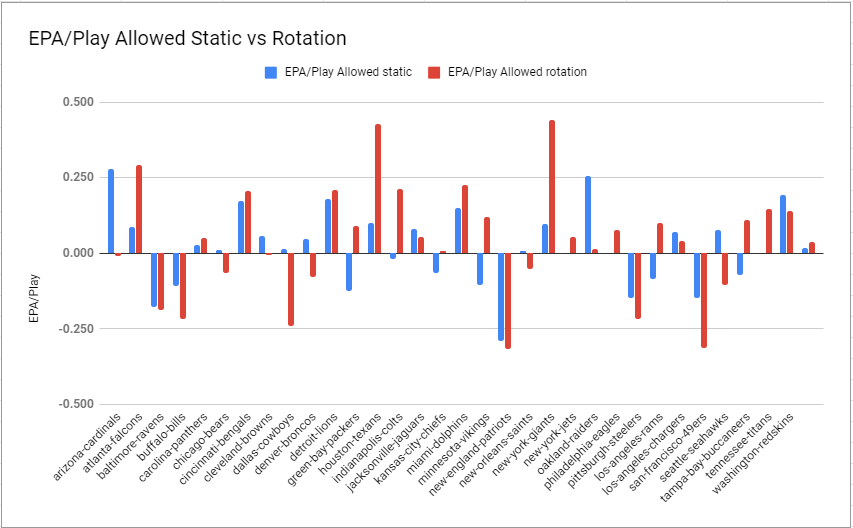 Well, back to the drawing board. It looks like there is no real difference, based on what a defense showed pre-snap and what it ended up playing post-snap.
The NFL's safety problem presents itself very traditionally. Either you have one safety deep or two safeties deep. In fact, this is how defense is presented across almost all levels of football.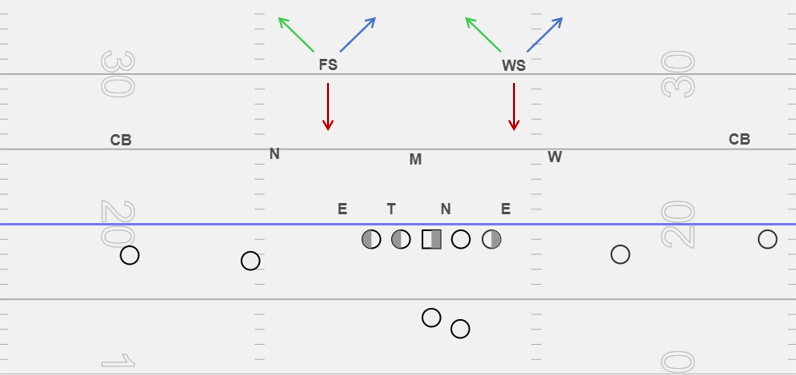 If having just two safeties isn't working, why not try three?
In 2017, Iowa State burst into the spotlight with an 8-win season — two more wins than its previous two seasons combined — playing with three deep safeties. Could this be the next evolution in football? We've already seen a change in the type of defensive player on the field. Nickel defense is the new base defense, and dime packages are on the rise as well. These have all been personnel changes. What Iowa State did was change the defense structurally.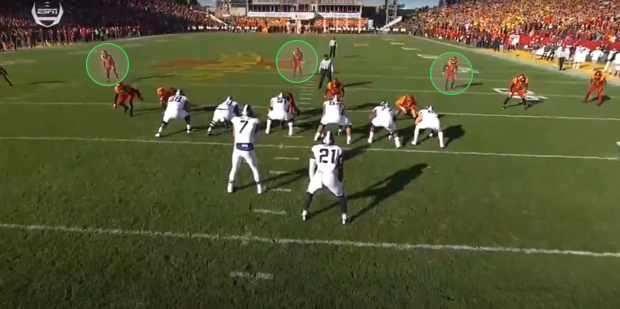 A perennial Big 12 doormat, Iowa State saw its defensive EPA/play drop from 0.097 in 2016 to -.119 on first and second down when it played a base three-safety look. This was a huge turnaround. While the team hasn't quite reached that peak in the two years since, it still produced a negative EPA/play in both campaigns.
Programs like Baylor and Clemson turned to this structure in 2019 for big results on early downs as well. Baylor went from .107 EPA/play in 2018 to -.155 in 2019. Playing with a three-safety shell allows for a greater number of possible coverages a team can get into from the same look. Clemson, Iowa State and Baylor each played four different coverages on early downs for at least 60 snaps last season. For reference, LSU played two. There's such a wide variety of things you can get into from that three-safety set. 
DOMINATE FANTASY FOOTBALL & BETTING WITH AI-POWERED DATA & TOOLS TRUSTED BY ALL 32
Unlimited Fantasy League Sync
Fantasy Start/Sit Line-Up Optimizer & Waiver Wire
WR-CB & OL-DL Matchups, PFF Player Grades, & Premium Stats 2.0 Tools
Nathan Jahnkes Rankings - #1 Most Accurate Last 70 Weeks
PFF Best Bets, Player Props, & Power Ranking Tools
NFL Mock Draft Sim with Trades & Draft Grades
Already have a subscription? Log In