Last week, I listed my top five players at each position on this offensive side of the ball, so this week we turn our attention to the defense. Below, I've listed my top five 2020 NFL Draft prospects at every defensive position. Enjoy!
[Editor's note: PFF's Preseason 2020 NFL Draft Guide is LIVE and features 150 Two-Page Player Profiles, giving you advanced stats, game grades and much, much more. All existing EDGE and ELITE subscribers have access to the guide and can download it here.]
Interior Defensive linemen
1. Marvin Wilson, Florida State
Few players have risen up our draft board higher than Wilson this season. He's made the leap to elite-level play as a pass-rusher at a position we rarely see have that large of an impact against the pass in the college game. Wilson has racked up 20 pressures through five games already to go along with 10 run stops. 
2. Javon Kinlaw, South Carolina
Kinlaw has freakish pass-rushing tools that you simply can't teach. Listed at 6-6, 310 pounds, Kinlaw moves like an undersized 3-tech. He's got 19 pressures through the first five weeks to go with a 90.5 pass-rushing grade. With his size, length, athleticism and production, Kinlaw is an easy projection to the next level.
3. Derrick Brown, Auburn
Brown has slipped a bit from the number one spot preseason. We simply haven't seen the dominance as a pass-rusher compared to the two guys above Brown on this list. He's only notched 10 pressures and an 80.5 pass-rushing grade so far. At 6-5, 320 pounds, with the power Brown possesses, we have no question about his ability to consistently stop the run. But we're not going to pump up any defensive lineman unless they can consistently affect the pass.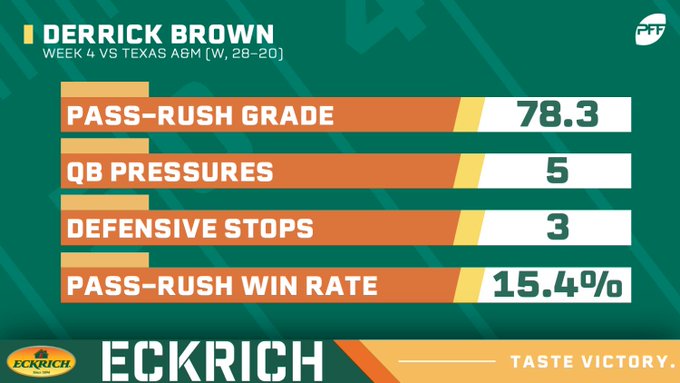 4. Jordan Elliott, Missouri
Elliott was one of our favorite breakout candidates heading into the season after his hot finish to 2018. He's made us look smart so far, with 10 pressures and a 90.3 pass-rushing grade. Elliott possesses some of the heaviest hands in the country, as he tosses linemen to the side routinely. Right now he's more disruptor than playmaker with only one sack and four run stops, but the former has a ton of value itself. 
5. Neville Gallimore, Oklahoma
Through four games, Gallimore is the only defensive interior player in the country with 90.0-plus grades in run defense and pass-rushing. Gallimore's raw numbers don't do him justice because he's often rushing off the nose in 3-man rushes, but he's still managed multiple pressures in every single game this season. Of all the defensive tackles on this list, Gallimore possesses the best first step. 
EDGE Defender
1. Chase Young, Ohio State
Young is currently doing things we've never seen done before in our now six years of college grading. Both his 96.5 pass-rushing grade and 34.8% win rate would be PFF College records. He's the most unblockable prospect we've ever graded, and he has all the physical tools to feel assured it will continue at the next level.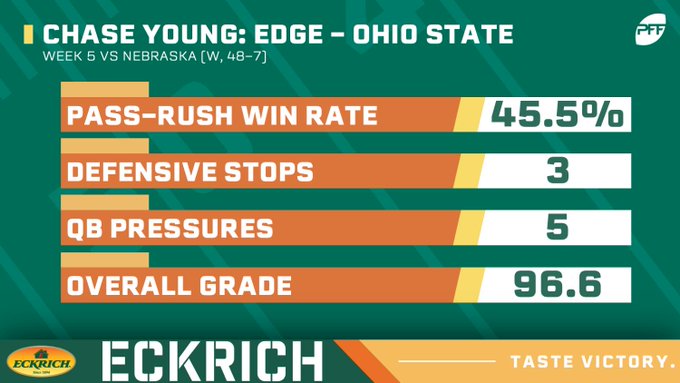 2. A.J. Epenesa, Iowa
What was thought by many to be a two-horse race for the top of the edge class has seen Epenesa lag behind so far this season. He's been solid yet unspectacular with 18 pressures through four games so far, earning a 77.5 pass-rushing grade. The similar dominance we saw on a limited sample size last season may not be translating to a full-time role quite yet, but we'll bet on Epenesa's prodigious combination of size, length and power.
3. Julian Okwara, Notre Dame
Against Virginia, Okwara showed why he's going to be a problem for slow-footed tackles at the next level. Okwara has an absurd get-off that he pairs with terrific flexibility to either bend the edge or bull-rush tackles into the quarterback's lap. We usually worry about undersized edge rushers being able to challenge with the bull-rush in the NFL, but that's not the case with the 245-pound Okwara.
4. Curtis Weaver, Boise State
Weaver does more with less than anyone on this list. He's not the athletic freak of nature that the three guys above him are, but he has arguably the best hands in the class. They will not quit, and they carry some legit pop behind them. His 27.9% win rate as a pass-rusher trails only Chase Young on this list.
5. Carlos Basham Jr., Wake Forest
6-5, 275-pound edge defenders with Basham's explosiveness are always going to have a place in the NFL. Through five games, the Wake Forest edge has already notched 23 pressures, including four sacks and six hits. He's still unrefined as a pass-rusher, but his physical tools are reminiscent of someone like Marcus Davenport coming out, where it's only a matter of time before the light switch flips.
Linebacker
1. Isaiah Simmons, Clemson
With Simmons' freakish blend of athleticism and coverage skills, it's difficult to see him ever being unseated in these rankings. This season he's not only been playing slot corner in the Tigers' defense, but also deep safety where he's aligned on 76 snaps so far. Maybe my favorite thing about Simmons, though, is that even though he plays primarily in space, he almost never misses tackles. He's missed only nine on 125 attempts the past two seasons, and only one this year.
2. Willie Gay Jr., Mississippi State
Gay has as much speed as any linebacker in the country. On the very first series against Kentucky — the only game he's played so far this season — Gay took a pick back for six. He may never be a plus run defender, but he's not undersized by any means at 6-2, 240 pounds. As a freshman and sophomore, he earned coverage grades of 87.1 and 90.6, respectively, as he's got terrific zone instincts.
3. Troy Dye, Oregon
Dye has very smooth hips and long arms that make him an ideal coverage backer. With that length at 6-4, Dye shuts down passing lanes in a hurry. This year, he's added another tool to his toolbox: pass-rushing. Dye already has 11 pressures on 26 pass-rushing snaps through four games.
4. Erroll Thompson, Mississippi State
Thompson already looks like an NFL linebacker at 6-1, 250 pounds. But on the field this season, he's developed a maddening missed-tackle habit. His nine whiffs on 40 attempts are already two more than he had all of last season. Still, he's very explosive for his size and profiles to a complete linebacker in the league.
5. David Woodward, Utah State
Woodward may not look the part the way Thompson does, but he damn sure plays the part. Slightly built without much pop to him, Woodward gets the job done with finesse and quicks instead. After earning grades of 90.0-plus in coverage and run defense last season, Woodward has only allowed one first down on 13 targets this season.
Cornerback
1. Jeffrey Okudah, Ohio State
We liked Okudah's skill set as a sophomore despite earning only a 71.1 coverage grade for the Buckeyes. He was our third-ranked corner heading into the season, but we wanted to see more ball production. With three picks and three pass breakups through five games, Okudah answered the bell. He's got ideal size at 6-1, 200 pounds for a modern corner and freakishly quicky feet. There's not a single thing he can't do at the cornerback position.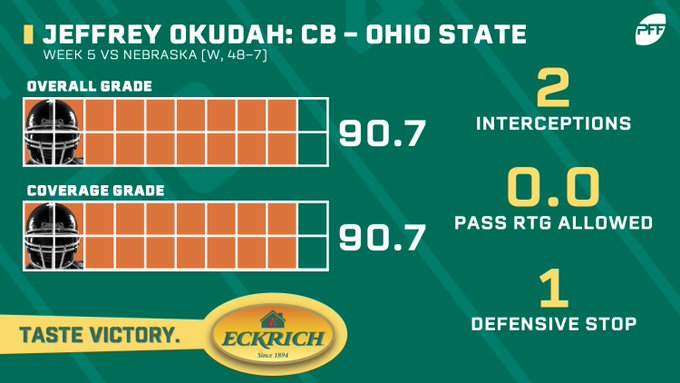 2. Kristian Fulton, LSU
Outside of the Texas game where Fulton was nursing an ankle injury, the LSU cornerback has been lights out in 2019. In those three other games, Fulton's allowed 3-9 targets for 24 yards. He's about as sticky in man coverage as it gets in this cornerback class, rarely allowing receivers to get more than an arm's length away. 
3. Bryce Hall, Virginia
After amassing the most forced incompletions in all of college football a season ago (23), it was a bit surprising Hall didn't declare for the draft. Now five games into his senior season, Hall's ball production has all but dried up. While he's only forced one incompletion so far, he's still locking down his side of the field. On 19 targets, he's allowed only 96 yards. With a wingspan and ball skills like Hall's, it's difficult to see him sliding out of the first round.
4. C.J. Henderson, Florida
Henderson has been out the majority of the season after suffering a knee injury against UT-Martin in Week 2, so there's been no real movement from him on the rankings front. We'd feel comfortable enough to take him in Round 1 based solely on his sophomore year when he allowed 18 catches and a passer rating of only 49.4.
5. Trevon Diggs, Alabama
Diggs was a player we simply needed to see more of, as he headed into 2019 with 464 career snaps to his name in three seasons. Through five games it's been apparent that Diggs was worth the wait. He's already had two extremely impressive picks and given up only 6-16 targets for 76 yards. At 6-2, 207 pounds, Diggs is one of the most physically imposing corners in this class and will continue to push his way up our boards with more play like we've seen early on this year.
Safety
1. Grant Delpit, LSU
Delpit is an ideal modern safety who is comfortable making plays from any alignment on the football field. He's allowed only 4-6 targets for 40 yards in his coverage through four games this season. The biggest thing we need to still see is better tackling. Delpit has missed six of his 22 attempts this season after missing 16 of 81 last year. Earl Thomas had a serious missed tackle problem early in his career though, so this is far from a deal-breaker.
2. Ashtyn Davis, California
Davis is the quintessential single-high safety. We've seen him come from center field and break up or intercept balls on either sideline. A former track standout, Davis has as much range as any safety in the country. 
3. Shyheim Carter, Alabama
Carter is almost exclusively a slot corner than anything else, but he likely profiles as a safety in most NFL defenses. Through five games this season, he's allowed only four first downs or scores in his coverage. However, we'd love to see more ball production and high-level plays from him to push him up our board. He's yet to break up or pick off a pass this season.
4. J.R. Reed, Georgia
Reed is a player who we liked but didn't love heading into 2019. He was often reacting instead of reading , and he didn't have the high-end athleticism to make up for being a split-second late. His processing looks to have speed up big time, as he made multiple big-time plays in Georgia's last outing against Notre Dame. He's been targeted 10 times on the season and only allowed 34 yards. Reed likely profiles best around the line of scrimmage in the NFL.
5. Alohi Gilman, Notre Dame
Gilman is yet another safety who profiles best in the box. He's been exposed at times on the backend, but around the line of scrimmage, he plays far bigger than his 202-pound profile and could be a mainstay at nickel/dime backer in the NFL. Through four games, he already has nine defensive stops.