Days away from the start of the fifth week of the 2019 college football season, I've listed my top-five 2020 NFL Draft prospects at every offensive position. Enjoy!
[Editor's note: PFF's Preseason 2020 NFL Draft Guide is LIVE and features 150 Two-Page Player Profiles, giving you advanced stats, game grades and much, much more. All existing EDGE and ELITE subscribers have access to the guide and can download it here.]
Quarterback
1. Tua Tagovailoa
No change here and I'm not sure I expect one anytime soon. Tua's combination of mobility, anticipation and accuracy is tailor-made for the modern passing attacks in the NFL. His lack of top-tier arm strength is far from a major concern in our world. He only has an 84.3 passing grade this season in large part because he hasn't needed to attack downfield.
2. Justin Herbert
Our biggest worry for Herbert was his inability to show up big in big games. That's come to fruition once again, as the Oregon quarterback earned grades of 55.6 and 70.1 against Auburn and Stanford, respectively, while he earned grades of 85.7 and 80.7 against Nevada and Montana, respectively. That has to change going forward, but his arm talent is still too impressive to drop too far down our list. He's not just a big arm too, Herbert has shown accuracy at all levels of the football field, and we couldn't help but wonder what he'd look like in a more vertical passing scheme as opposed to Oregon's screen-heavy offense (over one-fifth of his attempts this year have been screens).
3. Joe Burrow
No one has shot up our board faster, and really the only thing holding him back from pushing higher is sample size. Through four games, he's the highest-graded quarterback in the country and torched both Texas and Vanderbilt. His pocket presence is top-notch and has stepped into a ton of downfield strikes from tight pockets. He'll get a chance to prove himself against vaunted Florida and Alabama defenses later in the year to prove he's no fluke.
4. Jake Fromm
Fromm has been the definition of a game manager for Georgia this season, but he can only execute the role asked of him. He's only made one turnover-worthy play on 85 dropbacks so far this season and also taken only one sack. A combination like that still has value in the NFL.
5. Jordan Love
Love is still more tools than substance at this point, with a 79.3 overall grade through three games. That being said, there's a lot to like about his pocket presence and touch. On 569 dropbacks the past two seasons, Love has only taken 10 sacks. His footwork and accuracy are simply too inconsistent for him to be higher at this time.
Running back
1. Travis Etienne
The biggest home run threat in college football from last year is still the biggest home run threat in college football. And maybe the biggest thing is that he's cut back on his drops. After dropping four passes on 16 catchable last season, Etienne caught eight straight to start the year before letting one slip through his hands this past week against Charlotte. On the ground, he's already broken 22 tackles on only 53 attempts and averaging 4.4 yards after contact.
2. D'Andre Swift
Swift has none of the receiving concerns that some of the other top backs in this class have. He's racked up 55 catches for 525 yards and five touchdowns in his career while dropping only three passes and breaking 18 tackles. Earlier in his career, he would even split wide as a receiver a good deal though he's only done so on five snaps this season. His blend of power running and receiving skills is a favorite among NFL coaches today as his game is reminiscent of first-rounder Josh Jacobs from a year ago. 
3. Zack Moss
Other players may be bigger, faster, and stronger, but no running back in college football has been more difficult to tackle through the first four weeks. On 79 carries he's already broken 34 tackles to lead the country. He's an ideal zone runner and has shown receiving ability in the past when he hauled in 29 catches for 243 yards back in 2017.
4. Jonathan Taylor
While he hasn't jumped up the running back rankings, Taylor's play has been pushing him up PFF's draft board. Chiefly, his performance in the passing game. After dropping four of his 20 catchable targets his first two years at Wisconsin, Taylor has already hauled in all six of his catchable passes this season and scored three times. And it's not simply checkdowns either, as he's hauled in passes down the football field. Add receiving ability to game-breaking speed and vision at 221 pounds, and you've got yourself a long-term NFL starter.
5. Ke'Shawn Vaughn
Vaughn isn't flashy, but he's one of the most reliable runners in the country. He's broken 13 tackles on 52 attempts this season after breaking 40 on 157 a year ago. Vaughn has great vision and pacing to fit in a zone scheme with enough juice to sneak through tight holes. After dropping five balls as a freshman back at Illinois in 2015, he's yet to drop any of his 21 catchable passes at Vanderbilt.
Wide receiver
1. Jerry Jeudy
Jeudy is rare by every measure of wide receiver ability…except height/weight. Hands, route running, run after the catch, speed, body control — he has it all. So far this season, he's already hauled in 30 catches for 404 yards and six touchdowns while breaking seven tackles. For his career now, he's dropped only eight passes on 120 catchable. After winning the Biletnikoff Award last season, Jeudy is on pace to be even more productive here in 2019.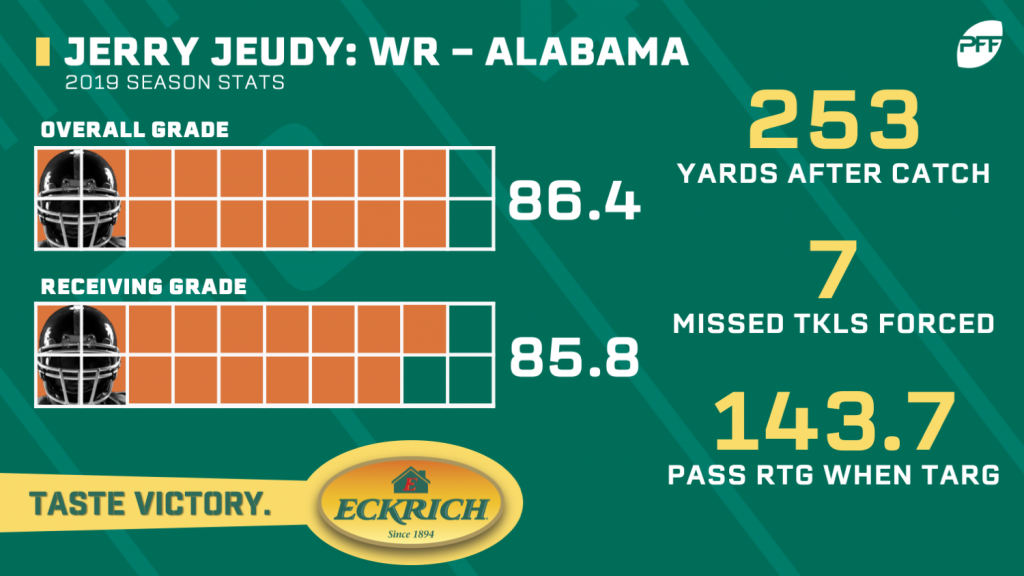 2. Ceedee Lamb
Lamb jumps up to the number two spot in these rankings after seeing three more weeks of nearly flawless play. Lamb's route-running ability is so incredibly advanced for a college prospect that every time I flip on the tape, I want to push him higher up the rankings. He combines that with freaky body control and ball skills. With three touchdowns in three games already this season, Lamb now has 21 for his career. With his skill set, he'll be one of the top red-zone threats in the NFL sooner rather than later.
3. Jalen Reagor
Reagor's numbers may not have measured up to some of the other wideouts in this class so far, but it's not necessarily been his fault. He's been missed three times wide open down the football field already this season. There's no doubt he hasn't helped himself either with two drops and going 0-4 on contested catches, but he's still separating at an elite level.
4. Laviska Shenault
Shenault is an uber-athlete currently being given the wide receiver designation. At 6-2, 220 pounds though, I wouldn't be surprised if Shenault could easily switch to running back, linebacker, or safety and be one of the best at that position in college football within a few months. He's that explosive of an athlete and gifted in terms of coordination. While we'd still love to see him run some real routes down the field more, when he does turn on the jets on the vertical route tree, he punishes defensive backs. For his career, Shenault has hauled in 10 of his 14 contested catch opportunities. 
5. Henry Ruggs III
Speed has never been more valuable than it is in today's NFL, and no one has more of it in college football than Henry Ruggs. On 74 career catches, the Alabama receiver has averaged 17.7 yards per catch and a ridiculous 9.7 yards after the catch while scoring 21 times. I don't care how fast you are, angles change when Ruggs has the football in his hands. He still doesn't have the nuanced route-running ability of some others above him on this list, but with his speed and hands, I'm not sure it matters. Ruggs has dropped all of four passes so far in his career.  
Tight end
1. Jared Pinkney
Pinkney's 2019 hasn't gone to plan, but the man can't get open and throw himself the football. He's only managed nine catches for 119 yards through three games although Vanderbilt has played all power-5 schools to date. He's still showing the same wiggle in his routes and hands that made him the top tight end on our draft board heading into the season. NFL evaluators will be happy to see his run-blocking much improved this year as well, with a 73.2 so far in that regard after earning a 60.0 last year.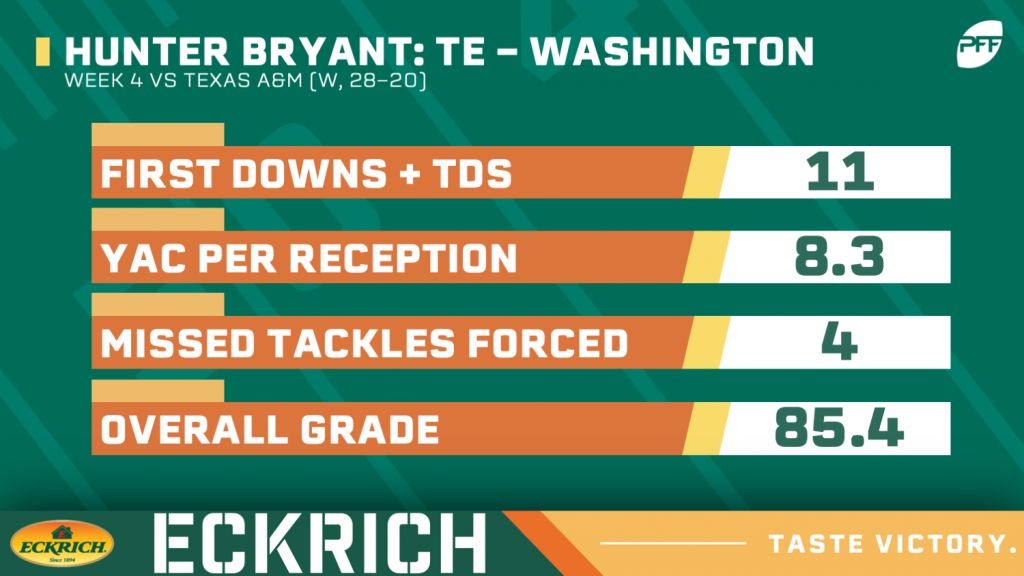 2. Hunter Bryant
He may be more H-back than tight end, but the days of asking tight ends to set the edge in the run game snap after snap are long gone. It is a receiving position, and the ability to win in multiple different alignments is now more valuable than any work in the run game. No one has won more consistently as a receiver at the tight end position in recent years in college football than Bryant. He moves like a wide receiver in a 6-2, 240-pound package. He also produces like a wide receiver, averaging 3.85 yards per route this season which ranks 10th among all players in the country. 
3. Cheyenne O'Grady
O'Grady is already in contention for the highlight of the year with his absurd defender-dragging touchdown against Colorado State. While fluky, it's still indicative of how hard he runs after the catch. He's broken 13 tackles on 64 catches over the past three seasons. O'Grady has racked up 152 yards through three games but has also been missed a handful of times for big plays down the field. After off-field issues in years past, we're finally starting to see O'Grady's talent on a weekly basis.
No one was stopping Cheyenne O'Grady ???? ????

NO. ONE. pic.twitter.com/o1bfJQXdER

— SEC Network (@SECNetwork) September 14, 2019
4. Brycen Hopkins
Hopkins is a tad undersized, but with his speed, you can live with it. He's going to be a nightmare for linebackers to try to keep up with as he's one of the best downfield threats at the position in college football. Already this season, 11 of Hopkins' 13 catches have gone for either first downs or touchdowns as he's on pace for over 800 yards during the regular season. The biggest concern is his hands, as he's dropped 16 passes on 98 catchable over the course of his career, including two already this year.
5. Albert Okwuegbunam
Okwuegbunam isn't quite the dynamic route runner like some of the others on this list, but he still possesses enough speed to threaten the seams of the defense. Over the past three seasons, Okwuegbunam has far and away the most touchdowns targeted 10 or more yards downfield of any tight end in college football with 16 (second place is 10). 
Tackle
1. Tristan Wirfs
Wirfs made headlines as the only true freshman to start at tackle in the Kirk Ferentz era at Iowa. He made headlines again by breaking Brandon Scherff's hang clean record when he was only a sophomore. Now he's making headlines by utterly dominating opposing defensive ends on a weekly basis. On 109 pass-blocking snaps, he's allowed all of one pressure so far. He's so smooth in his pass sets and glides in a way that's rare for a man with his raw power. Wirfs is a freak in every sense of the word and sits atop a loaded tackle class.
2. Andrew Thomas
He is the highest-graded tackle in college football, and he's fresh off a beatdown of Notre Dame that saw him shut out one of the best edge duos in college football. On 92 pass-blocking snaps this season, he's allowed only one pressure. The scary thing is, there's a number of technical things he could still improve on tape, which means the best could get even better. True junior offensive tackles aren't supposed to be as big, fast, and strong as Thomas is and he's more 1b to Wirfs' 1a in these rankings.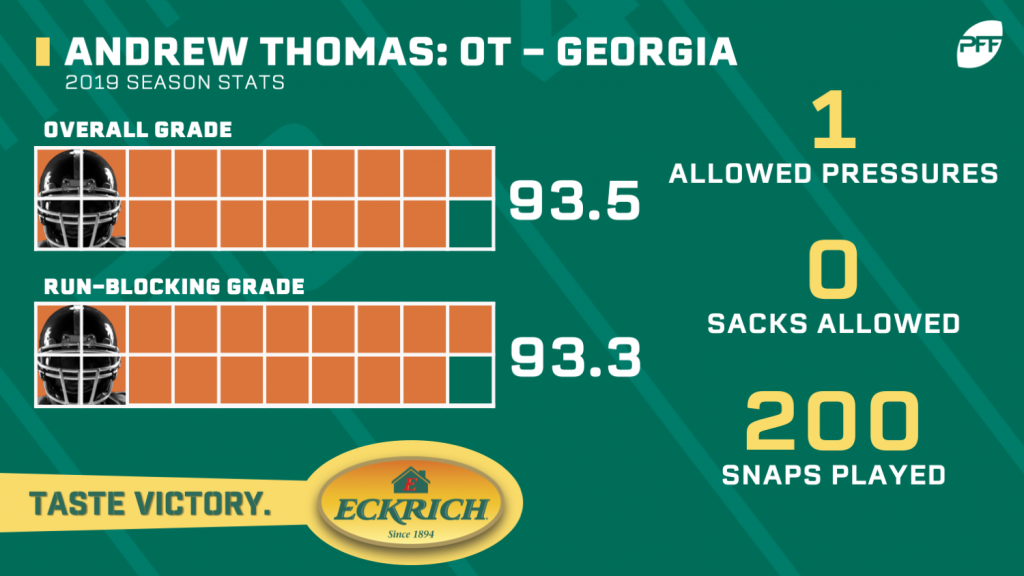 3. Alex Leatherwood
Going from Jonah Williams to Alex Leatherwood is almost unfair, as Alabama proves once again they're the reload kings. The 6-6, 310-pounder looks far more comfortable at tackle than he did at right guard where he earned a 65.0 overall grade in 2018. His athleticism does a lot more work for him on the edge as he's only allowed two hurries on 131 pass-blocking snaps in four games. In terms of pure agility, he may even be better than the two men ranked ahead of him on this list which bodes well for pass pro at the next level.
4. Samuel Cosmi
Cosmi made the switch from right to left tackle this offseason and has only seen his grade soar higher. It's been trial by fire in a Texas offense that's dropped back to pass 186 times already this season and Cosmi has excused himself nicely with zero sacks, zero hits and five hurries allowed. Cosmi is a naturally gifted athlete who can get out and play on the move. His body is still not quite at an NFL-level though, and with two years of eligibility remaining could opt to stay in school.
5. Josh Jones
Jones isn't the brute that some others are on this list, but what he lacks in strength, he makes up for with technique, length and athleticism. A four-year starter, Jones has earned pass-blocking grades over 80.0 each of the past three seasons. So far in 2019, he's allowed only two hurries on 141 pass-blocking snaps with hand usage in pass pro that's as good as it gets in this tackle class. His feet in his sets will have to be reworked once he gets to the NFL, but I'll bank on a guy who's gotten the job done the way Jones has without it.
Interior offensive line
1. Netane Muti
The human block of granite. I don't think I've ever seen Muti go backward on a play his entire college career. The dude lowers the boom play in and play out in incredibly impressive fashion. What's even more impressive though, and the reason he's tops on this list, is his work in pass protection. On 697 pass-blocking snaps over his career, Muti has allowed only 13 total pressures. He's allowed all of two through three games this season against USC, Minnesota and Sacramento. There's not a single trait needed to become an elite NFL guard that Muti doesn't possess. 
2. Tyler Biadasz
2019 hasn't quite gone to plan so far for Biadasz, who's only earned a 61.7 overall grade so far. While we'd have loved to see increased dominance, we'll still side with his body of work though that's been as impressive as any draft-eligible center in recent memory. Biadasz was a top-five graded center nationally in both 2017 and 2018 for the Badgers. His get off at the snap is as good as it gets in the country, and he possesses the combination of strength and athleticism to fit any scheme in the league.
3. Creed Humphrey
Humphrey has your prototypical interior offensive lineman body at 6-5, 315 pounds that make you think he could line up anywhere on the interior and get the job done. The redshirt sophomore was the sixth-highest grade center in college football last season and has allowed one lone hurry on 76 pass-blocking snaps so far this year. He may not 'wow' athletically, but his hands are as powerful as anyone's in the country. Humphrey simply will not let defenders shake free when he gets engaged.
4. Calvin Throckmorton
Throckmorton is a brute of an offensive lineman, who currently plays tackle at the moment but has lined up everywhere in his Oregon career. Quite literally. While he only took one lone snap at left guard as a freshman back in 2016, Throckmorton has seen 374 snaps at left tackle, 126 at center, 377 at right guard and 2,070 at right tackle. He'll retire from his college career as one of the most prolific offensive linemen in PFF's grading history. He's earned an 88.1 pass-blocking grade for his career and only allowed 41 pressures total with one coming this season. 
5. Logan Stenberg
Stenberg has seen the type of upward trajectory over the course of his career that we love to see from prospects projecting to the NFL. He went from a 63.0 pass-blocking grade and 60.0 run-blocking grade in 2017, to a 76.2 pass-blocking grade and 74.5 run-blocking grade in 2018, before an 84.8 pass-blocking grade and 87.0 run-blocking grade this season. He has the type of nastiness to his game that offensive line coaches around the country will surely fall in love with. On 147 pass-blocking snaps this season, he's yet to allow a single pressure and that includes matchups with Florida and Mississippi State. Now if he could only clean up the penalty problem that's seen him flagged seven times already this season and 10 times last year.