• PFF Greenline still finds value on Tampa Bay -3 vs. Rams, despite this not being the best of the number. 
• Try PFF's betting dashboards for free by signing up to PFF+ today.
• We'll likely hear all week, "the sharp side" is on the Colts, and given it's the direction Greenline leans, this looks like a perfect early opportunity to pick up some CLV by kickoff.

Last updated: Nov. 1, 1:00 p.m.
Estimated reading time: 5 mins
---
The goal every week in this space is highlighting spreads that have already moved, ones that still have value and other big line changes that could occur based on injuries or various market manipulation-type techniques.
Let's start by checking where the spreads in Week 9 have been at critical points in the past.
Away Team

Home Team

Preseason

Spread

Lookahead

Spread

Week-of-Open

Spread

Current

Spread

PHI

HST

5.5

9.5

13

13

MIA

CHI

3

3.5

4

4.5

MIN

WAS

0

3

3.5

3.5

LAC

ATL

7.5

3

3.5

3

IND

NE

0

-6.5

-6

-5.5

CAR

CIN

-7

-9.5

-8.5

GB

DET

6

3.5

3.5

3

LV

JAX

3

1.5

1.5

1.5

BUF

NYJ

7

10.5

12.5

12.5

SEA

ARZ

-6.5

-3.5

-2.5

-1.5

LA

TB

-1.5

-1.5

-3

-3

TEN

KC

-6

-10.5

-10.5

-12.5

BLT

NO

1

3.5

3

2.5
Another valuable datapoint is often the injury situation for all teams. One of the best ways to find value early in the week is digesting injury information quicker and more accurately than the rest of the market. This can be done by understanding who is returning and helpful to the team and also who is now hurt from the previous game but hasn't been added to the official game status for a team until later in the week.
To start, let's take a look at the prior week injury information for every team and what that means for their outlook in Week 9.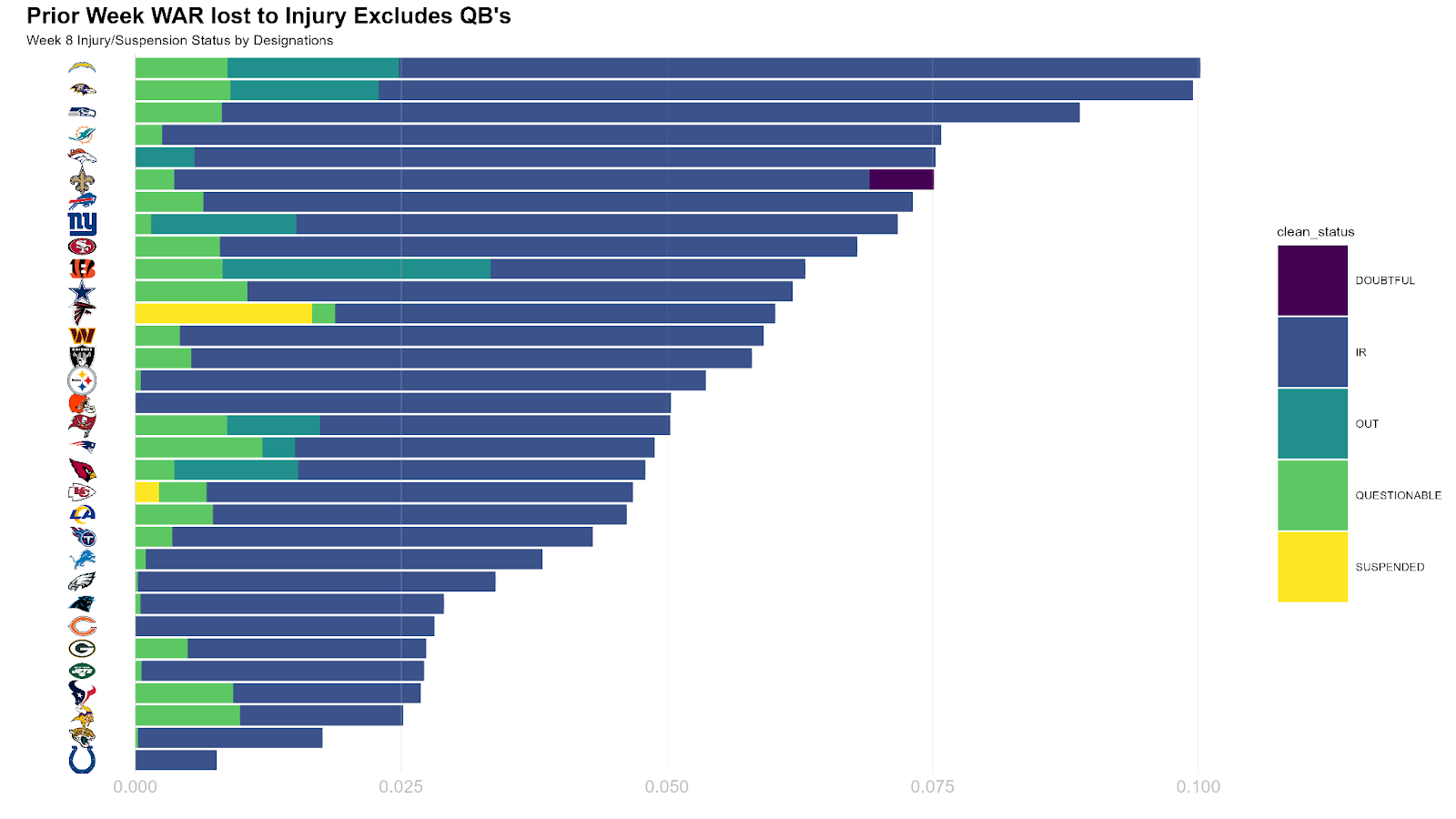 There are also a few situations from Sunday and Monday that are relevant from an injury perspective and could impact the spread of games for the upcoming week. Here's a roundup of all the key news with highlights and thoughts on how long the potential issue is for the player in question.
Let's dive into the games whose lines have already moved and others that could have the most spread movement as we head closer to kickoff.
Click here for more PFF tools:
Fantasy Draft Kit | PFF Betting Dashboard | PFF Fantasy Rankings
PFF Fantasy Projections | NFL Premium Stats | Win Totals Tracker

There are a few reasons for potential spread movement in this AFC matchup. For one, the current line sits comfortably between 3 and 7 with no key numbers offering much initial resistance in either direction. 
• The Indianapolis Colts fired offensive coordinator Marcus Brady Tuesday morning: They rank 29th in EPA per offensive play, mainly because they're the second-worst team in EPA per rush play, despite still having 2021 rushing champion Jonathan Taylor. Rumors circulating about Nyheim Hines' potential departure via trade make this a situation where addition by subtraction somehow needs to work out. 
• The perplexing early-week spread movement buys into Indianapolis:  with Cris opening at -6.5, and current consensus already down a full point to 5.5. Part of it could be concerning injury situations with the market digesting news coming out of Week 8. The other part might just be the realization that Sam Ehlinger is exactly what this Colts offense needs with his ability to scramble offsetting struggles in pass protection. 
• Bet Colts +5.5 now: Ehlinger's rushing ability opens up more lanes for Taylor: and the second-year passer seems capable of making just as many throws as the current version of Matt Ryan. We will probably hear all week "the sharp side" is on the Colts, and with that the direction Greenline is leaning seems like the perfect early-week opportunity to play and pick up some CLV by kickoff.  
• Cooper Kupp's ankle: The biggest pending injury situation for Week 9 currently is the status of Cooper Kupp's ankle, especially with the pitiful performance of the Cincinnati Bengals offense sans Ja'Marr Chase Monday still fresh in every bettors' mind. Kupp has been the only functional part of a disastrous Rams offense that would be completely lost without him. Early reports point toward him playing, but this is a situation where practice status will be critical in determining how things play out Sunday. 
• Rejuvenation in Tampa?: The Tampa Bay Buccaneers are coming off a much-needed "mini bye" and should finally have their secondary fully back and healthy for this matchup. It's also possible Tom Brady could bring  a rejuvenated presence to this Week 9 matchup, with his high-profile divorce from Gisele Bündchen now official.
• PFF Greenline points toward the Bucs as the correct side: Showing 0.8% value at a -110 price. It's difficult to see this one moving off the key number 3 unless things really go sideways midweek for one of these teams, but there's still plenty of value on Tampa despite this not being the best of the number. 
A $20 BET ON A TWO-LEG PARLAY WITH COLTS +5.5, BUCS -3 WOULD NET $72.89 AT BETMGM