• Broncos defense should be able to keep it close against Jaguars: Playing Denver at a plus moneyline price or on the key number 3 looks like one of the best early bets in Week 8. 
• Ehlinger announcement dropped the hook: Colts now sit at the key -3. PFF Greenline thinks this is too drastic, finding value on Indy moneyline, but wait until kickoff for the best price.
• Now is the time to buy into the Vikings, who are  looking for a statement victory as we move toward the latter half of the NFL season. 

Last updated: Tuesday Oct. 25, 11:45 a.m.
Estimated reading time: 6 mins
---
The goal of our new weekly betting feature is highlighting spreads that have already moved, ones that still have value and other big line changes that could occur based on injuries or various market manipulation-type techniques.
Let's start by checking where the spreads in Week 8 have been at critical points in the past.
| | | | | | |
| --- | --- | --- | --- | --- | --- |
| Away Team | Home Team | Preseason Spread | Lookahead Spread | Week-of-Open Spread | Current Spread |
| BLT | TB | -3.5 | -2.5 | -1.5 | 1.5 |
| DEN | JAX | 6.5 | -2.5 | -3.5 | 3 |
| ARZ | MIN | -1 | -5.5 | -4.5 | -3.5 |
| CHI | DAL | -7 | -10 | -10.5 | -10.5 |
| LV | NO | 0 | -1.5 | 1.5 | 2 |
| MIA | DET | 3 | 3 | 3.5 | 3 |
| PIT | PHI | -3.5 | -9.5 | -10.5 | -10 |
| NE | NYJ | 2.5 | 1.5 | 1.5 | 1 |
| CAR | ATL | 1.5 | -6.5 | -6.5 | -4.5 |
| TEN | HST | 5.5 | 3.5 | 2.5 | 1.5 |
| WAS | IND | -5 | -5.5 | -3.5 | -3 |
| SF | LA | -4.5 | -2.5 | 1.5 | 1 |
| NYG | SEA | -2.5 | -2.5 | -3 | -3 |
| GB | BUF | -4 | -8.5 | -10.5 | -11 |
| CIN | CLV | 3 | 2.5 | 3 | 3 |
Another valuable datapoint is often the injury situation for all teams. One of the best ways to find value early in the week is digesting injury information quicker and more accurately than the rest of the market. This can be done by understanding who is returning and helpful to the team and also who is now hurt from the previous game but hasn't been added to the official game status for a team until later in the week.
To start, let's take a look at the prior week injury information for every team and what that means for their outlook in Week 8.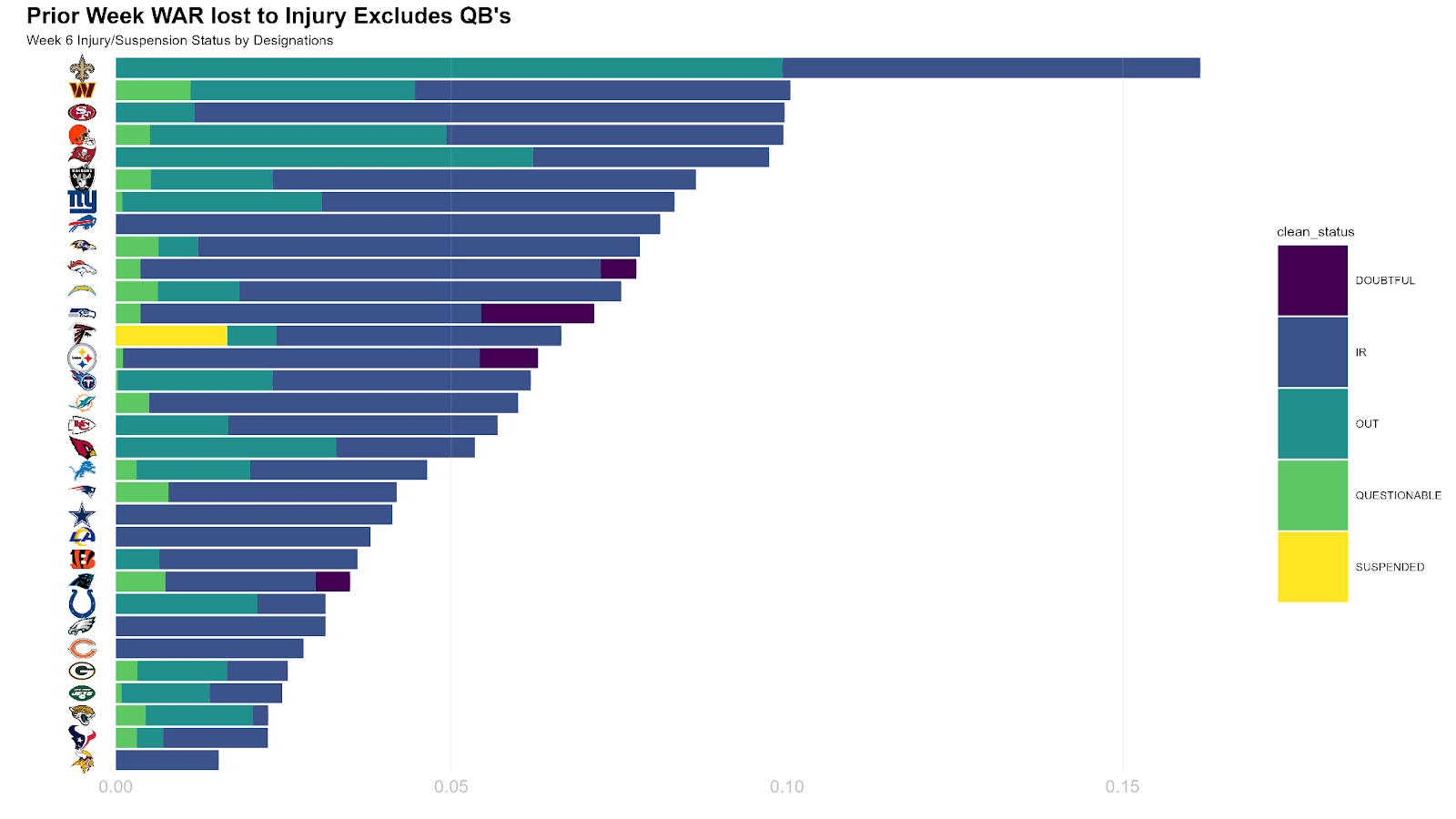 There are also a few situations from Sunday and Monday that are relevant from an injury perspective and could impact the spread of games for the upcoming week. Here's a roundup of all the key news with highlights and thoughts on how long the potential issue is for the player in question. 
Let's dive into the games whose lines have already moved and others that could have the most spread movement as we head closer to kickoff.
Click here for more PFF tools:
Fantasy Draft Kit | PFF Betting Dashboard | PFF Fantasy Rankings
PFF Fantasy Projections | NFL Premium Stats | Win Totals Tracker
Last week's article touched on the Broncos' situation, with Russell Wilson looking very much questionable to start the week, but the line still at -3 for Denver. After flipping and having the Jets favored, they ended up winning by a touchdown in another down performance for the Broncos offense. 

• Jags as 3-point favorite on a neutral field is simply too much: The matchup between the • • Broncos and the Jaguars in London is setting up opposite to our approach last week, with Wilson potentially playing for an increasingly desperate Broncos team. For as bad as the Broncos have been, they are still a league-average team, which puts them on par with a Jaguars team that still looks overrated despite coming back down to earth from an early-season high. even if Wilson doesn't end up playing. Their defense should be able to keep the Broncos in this one, so playing them at a plus price on the moneyline or on the key number three looks like one of the best early-week bets to make. 
• One of biggest market changes is between two teams with at least 10-day layoffs: The market appears set on the Cardinals, who swung wildly in the lead up to the opening number this weekend after putting on a defensive showcase vs the New Orleans Saints on "Thursday Night Football."  The way in which they won Thursday is unsustainable, but the market is also suggesting this has basically been the narrative for the Vikings the entire 2022 season. 
• Time to buy Vikings: Both teams have wins in unimpressive ways, but the market seems underwhelmed by a Vikings team that very much sits in the NFC North driver's seat and could be heading toward a No. 2 or 3 seed in the conference. They are currently the league's healthiest team, and with a quality performance in Week 8 out of their bye, the Vikings would quickly persuade bettors after being discussed as a trendy team set to emerge as a legitimate contender in the NFC. WIth the market still cautious about that outlook, now is the time to buy into the Vikings looking for a statement victory as we move toward the latter half of the NFL season. 
• Things are already setting up to be weird in Indy: Sam Ehlinger was announced as the starter over Matt Ryan after an offensive performance that left plenty to be desired in Week 7, as the Colts are now the NFL's third-worst offense in EPA per play. 
• Market steadily moving in the Commanders' direction after an upset over the Green Bay Packers in Week 7: These two teams seem to be heading in opposite directions, with the market adjusting accordingly. The lookahead at -5.5 added half a point from the preseason spread, but it dropped from -4.5 to -3.5 quickly after the prior week performance.
• The Ehlinger announcement dropped the hook, as we now sit at the key -3 on consensus. 
• PFF Greenline thinks this is too drastic a move: And finds some value on the Colts moneyline. But this looks like a situation to likely wait until gametime, because even if we don't get off -3, plenty of movement could still happen on the moneyline. 
A $20 bet on a three-leg parlay with DEN +3, MIN -3.5 and IND ml would net
$125.96 at BetMGM
New users who sign up and bet $10 or more will get their money back in free bets if their wager doesn't go their way, plus you'll get a free PFF subscription!