• Bet Eagles TE Dallas Goedert o44.5 receiving yards at Cardinals (-110): His only game this season with fewer than 60-plus receiving yards was a blowout win vs. Washington.
• Cardinals have allowed star and journeyman tight ends alike to dominate over the middle. PFF shows 22% TE matchup advantage for Goedert vs. Zaven Collins.
• New users who bet $10 or more at BetMGM will receive a free year's subscription to PFF+ — a $79.99 value.
Last updated: Sun. Oct. 9, 1:25 p.m.
Estimated reading time: 3 mins
---
Here are PFF staff best bets in the late-afternoon Sunday window in Week 5: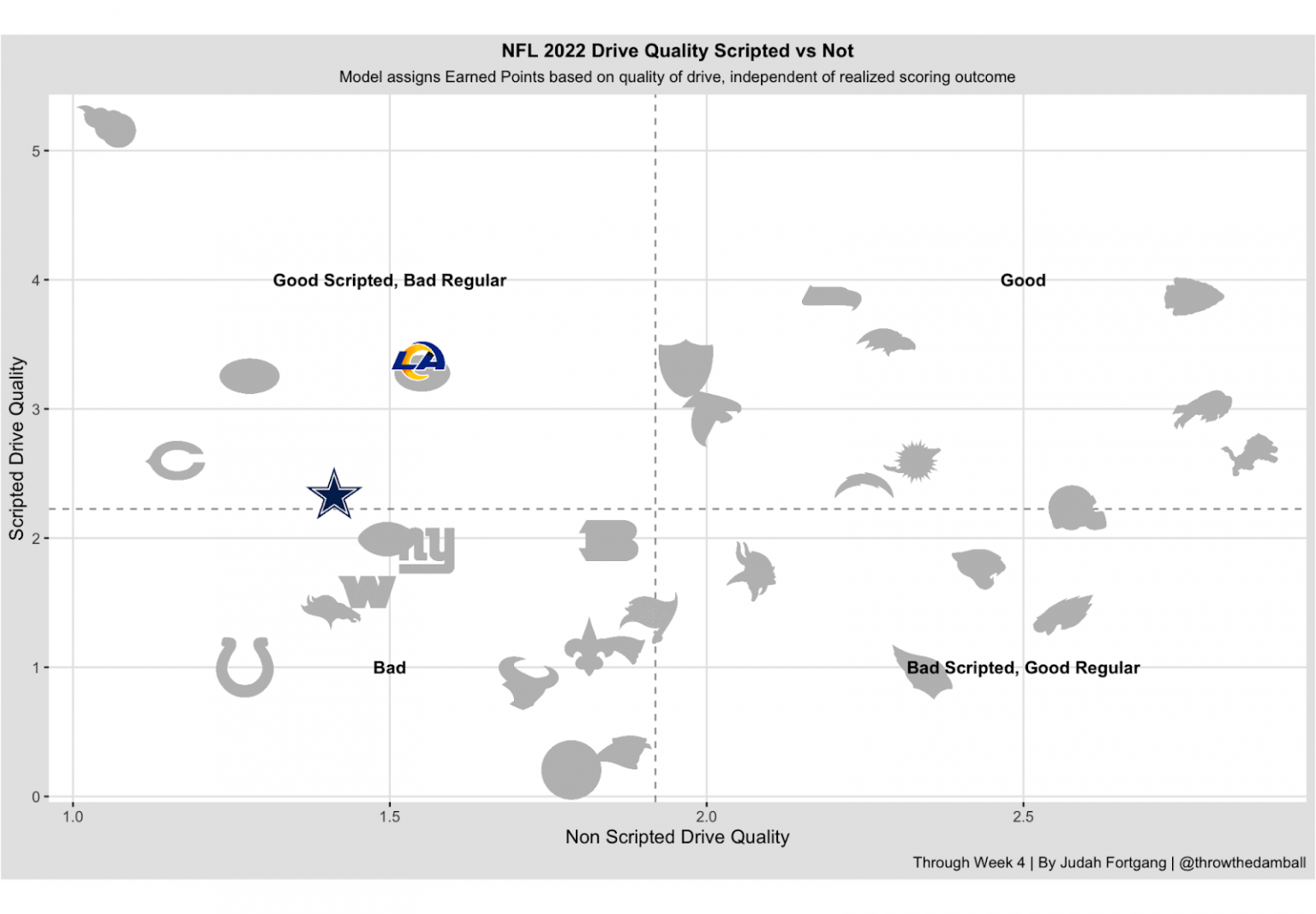 • This chart is becoming one of our favorites for live betting — and for good reason.
BOTH THE RAMS AND COWBOYS ARE ABOVE AVERAGE ON SCRIPTED PAYS, BUT THEY ARE STRUGGLING TO SCORE ONCE THE SCRIPTED PLAYS FINISH. 
• If the live line rises well above 43 with the live odds failing to account for what should be built in—these teams are much better scripted than not—bet the live under.
• The 49ers have fielded the top defense in the NFL by pretty much any statistical measure you could think of through four games. They are tops in scoring (11.5 points per game), points per drive (.91), PFF defense grade (88.0) and EPA per play (-.220 ) — all by a healthy margin. They've allowed two passing touchdowns this season. The Panthers are dead last in passing game EPA per play this season, at -.23. That's a good combination for this under.