• Buy low on a struggling Chicago Bears team against the Kansas City Chiefs: The Bears have seemed far worse than they might actually be because of some extreme early- and late-down splits.
• Back the New England Patriots to cover a short spread against the New York Jets: Bill Belichick and the Patriots' defense are in a great spot to repeat their historic domination of Zach Wilson
• Take K.J. Osborn to go over 35.5 receiving yards: The Vikings receiver has been unfortunate to produce low receiving totals and has the perfect matchup to correct that against a poor Chargers secondary.
Estimated Reading Time: 6 minutes
---
With Week 3 upon us, our handicapping approach will start to shift more toward analyzing 2023 data as we gather more information and start to get a sense of how NFL teams should be rated. We'll focus this week on looking at late-down variance and identifying teams whose efficiency numbers are heavily skewed by performance on third and fourth downs.
Late-down results are a small sample size, but they are highly impactful outcomes that can erase a team's successes or failures on early downs — which are of a much higher sample size and are a more predictive measure of future performance. We'll be buying low on a couple of teams whose struggles on late downs have distorted their expected points added numbers and caused the market to undervalue them, ignoring the relative success they've had on early downs.

---
The preseason hype surrounding the Bears and Justin Fields has quickly faded. Chicago is off to a nightmare start this season and currently sits dead last in my NET EPA+ rankings, an aggregation of offensive and defensive EPA data. The consensus on the Bears seems to be that they're one of the worst teams in the league, and they are being lined as such in Week 3.
But what if I told you that on early downs the Bears have actually been a slightly above-average team? On 190 early-down plays, Chicago has produced a positive NET EPA+. Unfortunately, that has been wiped out by 63 late-down plays where the Bears have generated the worst NET EPA+ in the league by a massive margin.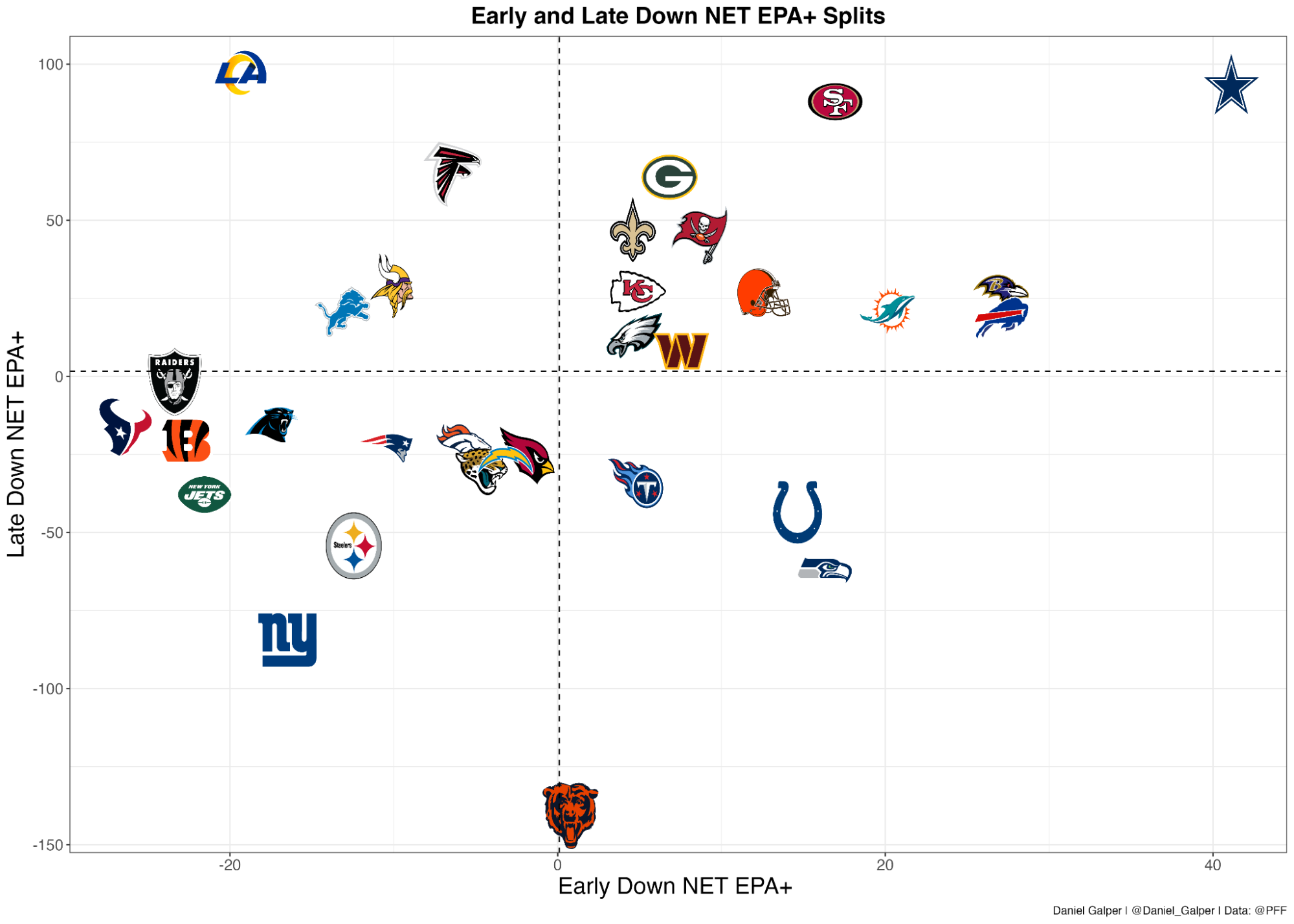 The real reason for Chicago's early-season struggles is the offense's performance on third and fourth downs. Now, some of this can be chalked up to subpar coaching, but the massive gap between early- and late-down performance has to be attributed to variance, especially when considering how small the sample size of late-down plays is.
The impact of these bad late-down plays can also be seen when comparing the Bears' poor NET EPA+ to their surprisingly impressive NET success rate, which ranks 14th in the league. As we discussed last week, this is because success rate looks only at the percentage of plays that result in a positive EPA and ignores the magnitude of success, which provides a more stable view of teams early in the season when EPA per play numbers can be skewed by a couple of huge plays.
Chicago comes into this game undervalued against a Chiefs team that has struggled to find its Super Bowl form in the first two weeks of the season. It's likely that Kansas City will figure it all out and be playing deep into January, but it may take some time for Patrick Mahomes to adjust to the worst supporting cast of his NFL career. The Chiefs' offense currently ranks 18th in EPA+ and looks out of sync as Mahomes develops chemistry with a pass-catching unit he hasn't targeted all that much outside of Travis Kelce.
This Bears secondary has been better than its lackluster EPA numbers suggest, holding teams to the eighth-lowest success rate on dropbacks. Chicago also has some key pieces that match up well against Kelce. Tremaine Edmunds was the highest-graded linebacker in coverage last season, and Eddie Jackson graded out as a top-25 safety.
Best Bet: Bears +12.5 (to +11)
The Bears' true rating probably lies somewhere between their 32nd-ranked NET EPA+ and their 14th-ranked NET success rate. Take advantage of the market treating them more like the former, hold your nose and back Chicago to cover a huge spread against a Chiefs team that may need a couple more weeks to get back to top form.
---
The Patriots suffered another heartbreaking loss in Week 2 against the Dolphins, dropping to 0-2 after falling to the Eagles in Week 1. In both games, New England had a potential game-winning drive in their opponent's territory with under one minute left but couldn't convert on either opportunity. Mac Jones has actually been very solid, grading out as a top-12 quarterback through two weeks. However, the Patriots' offense has managed to score only 37 points this season, largely due to underperformance on late downs.
On first and second downs, New England has been above league average with a positive EPA+ figure. The exact opposite has been true on third and fourth downs, where they have the fifth-worst EPA+ in the NFL. Even though late-down struggles have caused drives such as their potential game-winning ones to stall out, there is predictive power to the fact that the Patriots have been able to move the ball, and some positive regression on late downs will lead to increased offensive production going forward.
The banged-up New England offensive line will also get a boost here with the return of left tackle Trent Brown. Starting guards Mike Onwenu and Cole Strange are questionable heading into Sunday, so be sure to monitor their statuses with a key matchup against Jets star interior defender Quinnen Williams looming.
On the other side of the ball, the Patriots' defense gets an ideal matchup against Zach Wilson, who has been absolutely dominated by this Bill Belichick-led unit in the past couple of years. In fact, Wilson facing the Patriots has produced some of the worst quarterback play of any quarterback-defense matchup since 2021.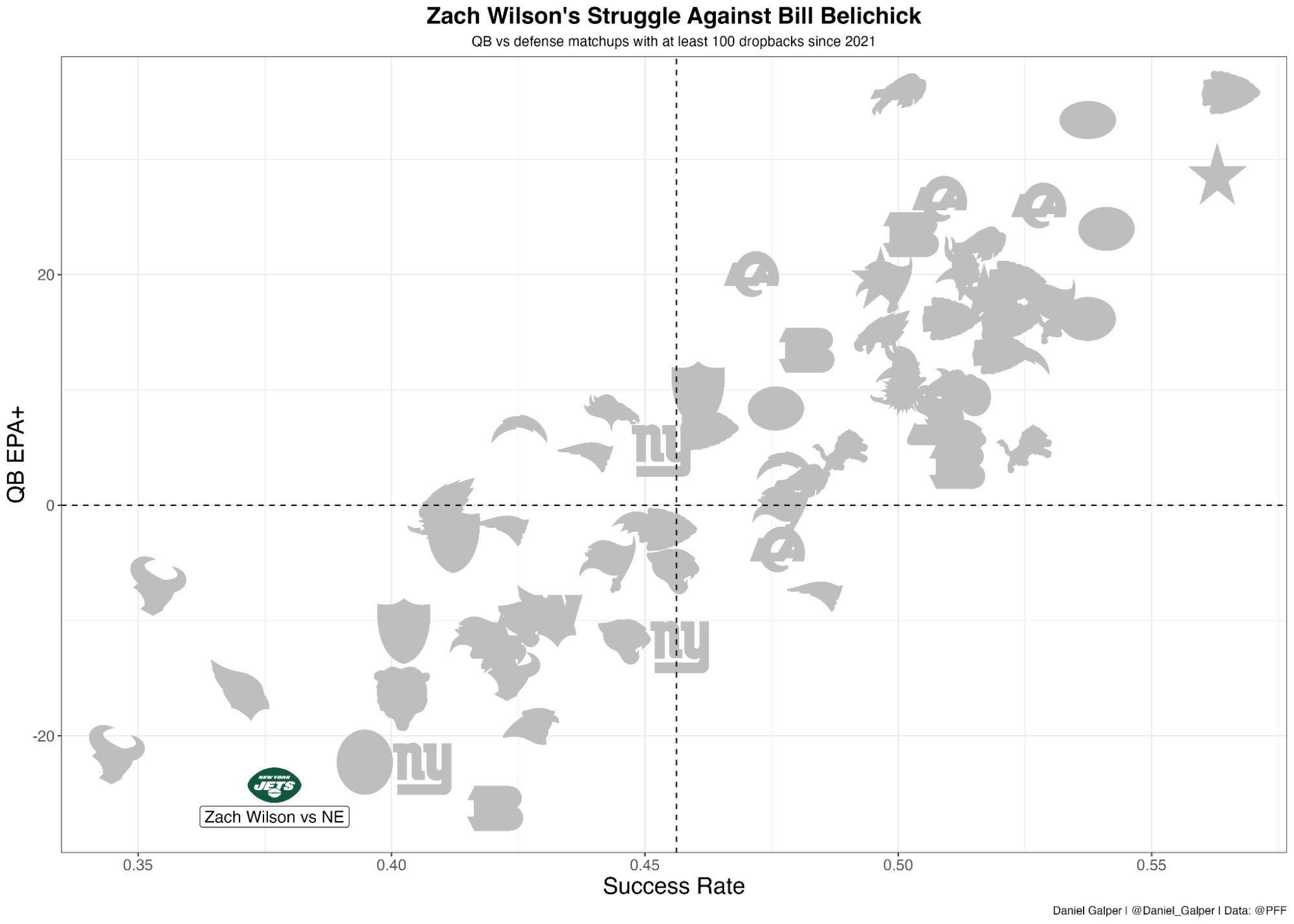 Personnel-wise, the Patriots have a perfect counter for Jets star receiver Garrett Wilson with rookie cornerback Christian Gonzalez, who locked up Tyreek Hill last week and recorded an incredible 91.6 coverage grade, the best of any cornerback. Look for Gonzalez to shadow the Jets' star wideout and force Zach Wilson to target his secondary playmakers.
Best Bet: Patriots -2.5 (to -3 at -105 or better)
The Patriots are in a great spot to register their first victory of the season here with an offense due for positive regression, facing a quarterback they have terrorized historically. Lay the points with New England under a field goal.
---
Player Prop Bonus Bet: K.J. Osborn over 35.5 Receiving Yards
Using PFF's expected yards data, Osborn has been unlucky to produce only 32.5 receiving yards per game through two weeks. Based on his usage and targets, we'd expect him to have averaged about 49 yards per game.
This week, Osborn and the Vikings' offense are at home in a domed stadium against a Chargers secondary that has allowed the highest EPA per dropback in the NFL so far. In a game with the highest total on the board by far, expect lots of yards and lots of points.
Whether he's matched up against Asante Samuel Jr. (55.4 coverage grade) in the slot or Michael Davis (41.0 coverage grade) out wide, Osborn will have every opportunity to get open for quarterback Kirk Cousins and is in a great spot to perform to his expected numbers and exceed 36 receiving yards.
---
Record Tracker: This article went 2-1 last week for 1.2 units, bringing our yearly record to 3-3 with a NET of 0 units