• Bet 49ers QB Jimmy Garoppolo o1.5 pass TDs vs Dolphins: Jimmy G trails only Mahomes, Tannehill in EPA/pass vs single-high coverage; Miami plays single high on 26.8% of total snaps (5th).
• Garoppolo over in 5 of his past 7 games; matchup and recent form make the juice (-125) worth squeezing.
• Bet Jaguars QB Trevor Lawrence 300+ pass yards at Lions: No. 6 passing offense in EPA against 32nd-ranked pass 'D' is Week 13's biggest mismatch.
Last updated: Dec. 1, 7:00 p.m.
Estimated reading time: 3 min
---
In Week 12, we went 2-1 using various data points to bet on QB props. Aaron Rodgers under 223.5 passing yards already was on pace to hit before he left the game in the 4th quarter with an injury, and Andy Dalton completed only 18 of his passes, going below the 21.5-attempt prop line. The bet that didn't hit was the longshot of Patrick Mahomes over 2.5 passing touchdowns at +145, so that aspect of the process will be evaluated in Week 13 and beyond.
---
Bet Gameplan: Playable to TBD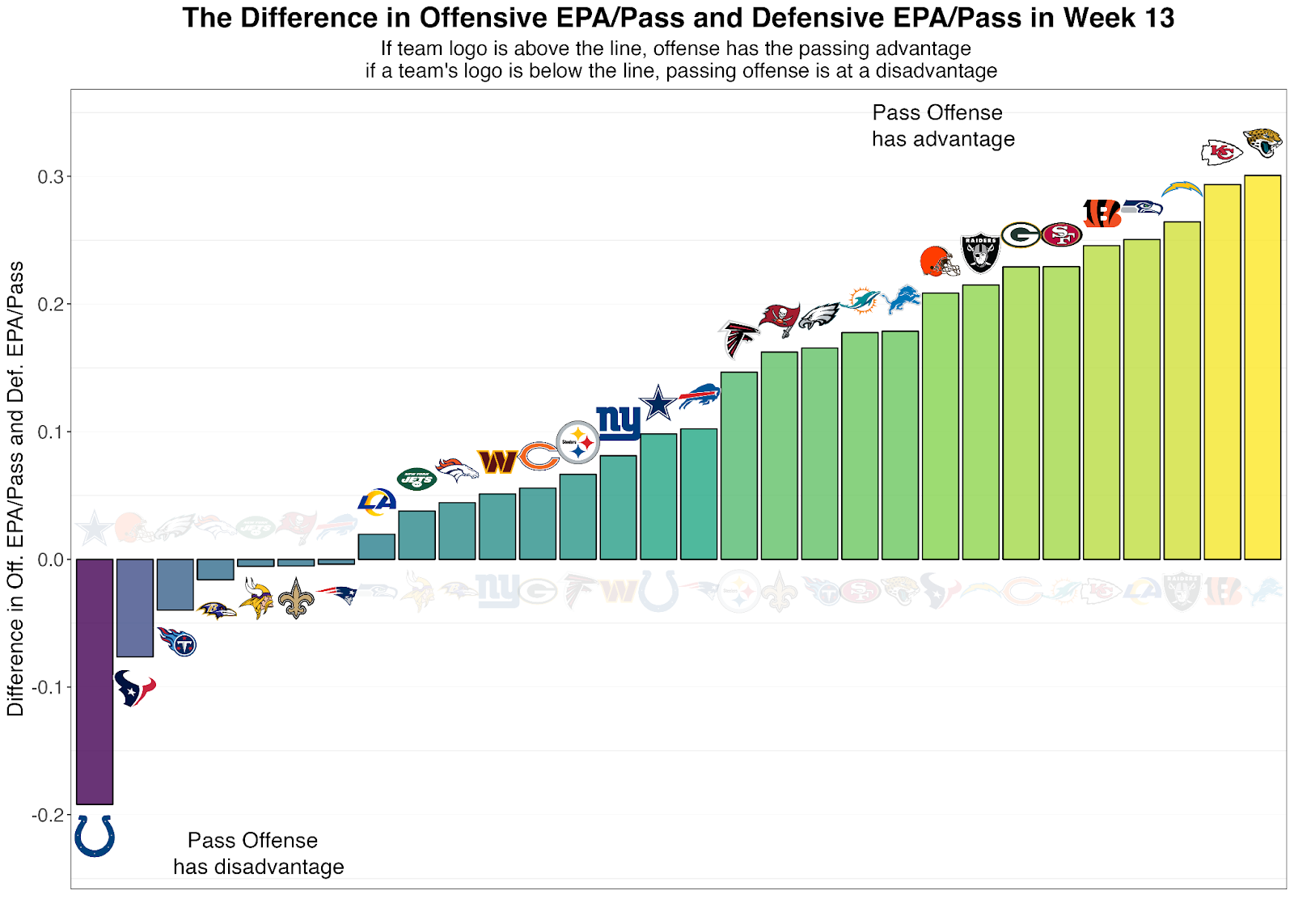 • Jaguars have biggest pass-game advantage in Week 13: Jacksonville entered Week 13 with the 6th-best passing offense using Expected Points Added (EPA) per pass. The Detroit Lions have the league's worst pass defense, giving Jacksonville the biggest passing-game advantage this week. 
• The Lions Defense Has Given up Big Performances: In 5 of their 11 games this season, the Lions have allowed at least 300 passing yards, with Daniel Jones crossing this mark most recently in Week 11. Trevor Lawrence should take advantage of Detroit Sunday.
Bet: Detroit Lions QB Jared Goff — Under 241.5 Passing Yards (-115) 
Bet Gameplan: Playable to 237.5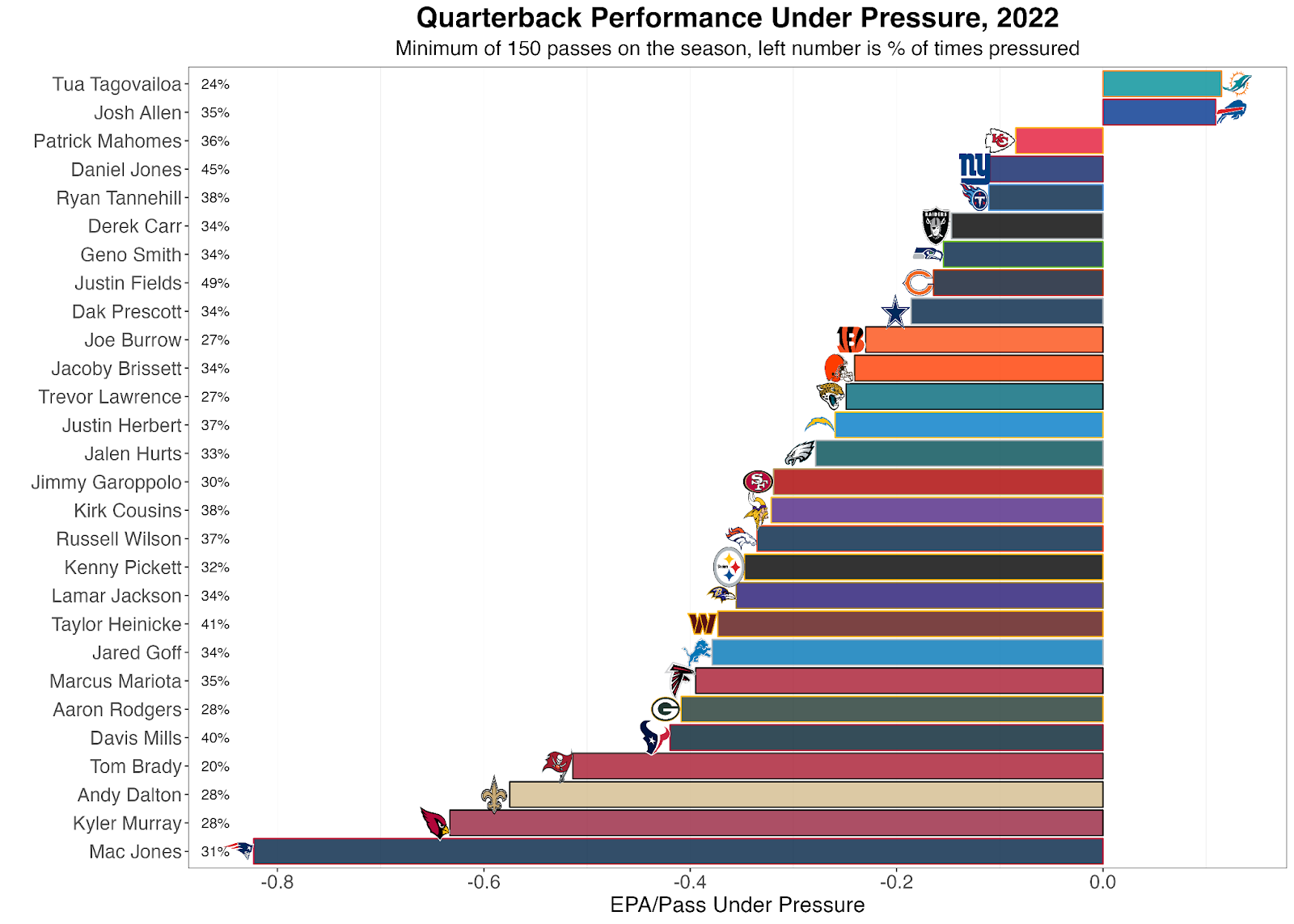 • Goff has struggled under pressure: Goff has the 8th-worst EPA per pass under pressure, completing only 41.2% of his attempts (7th-worst), with a 52.9 passer rating (10th-worst).
• Jaguars pressure plenty: Jacksonville's pass rush gets pressure on the opposing quarterback on 36.7% of pass plays, 5th-most in the league. The Lions have PFF's 27th-best pass-blocking unit, so Goff could see pressure often in a difficult matchup.

Bet Gameplan: Playable to -130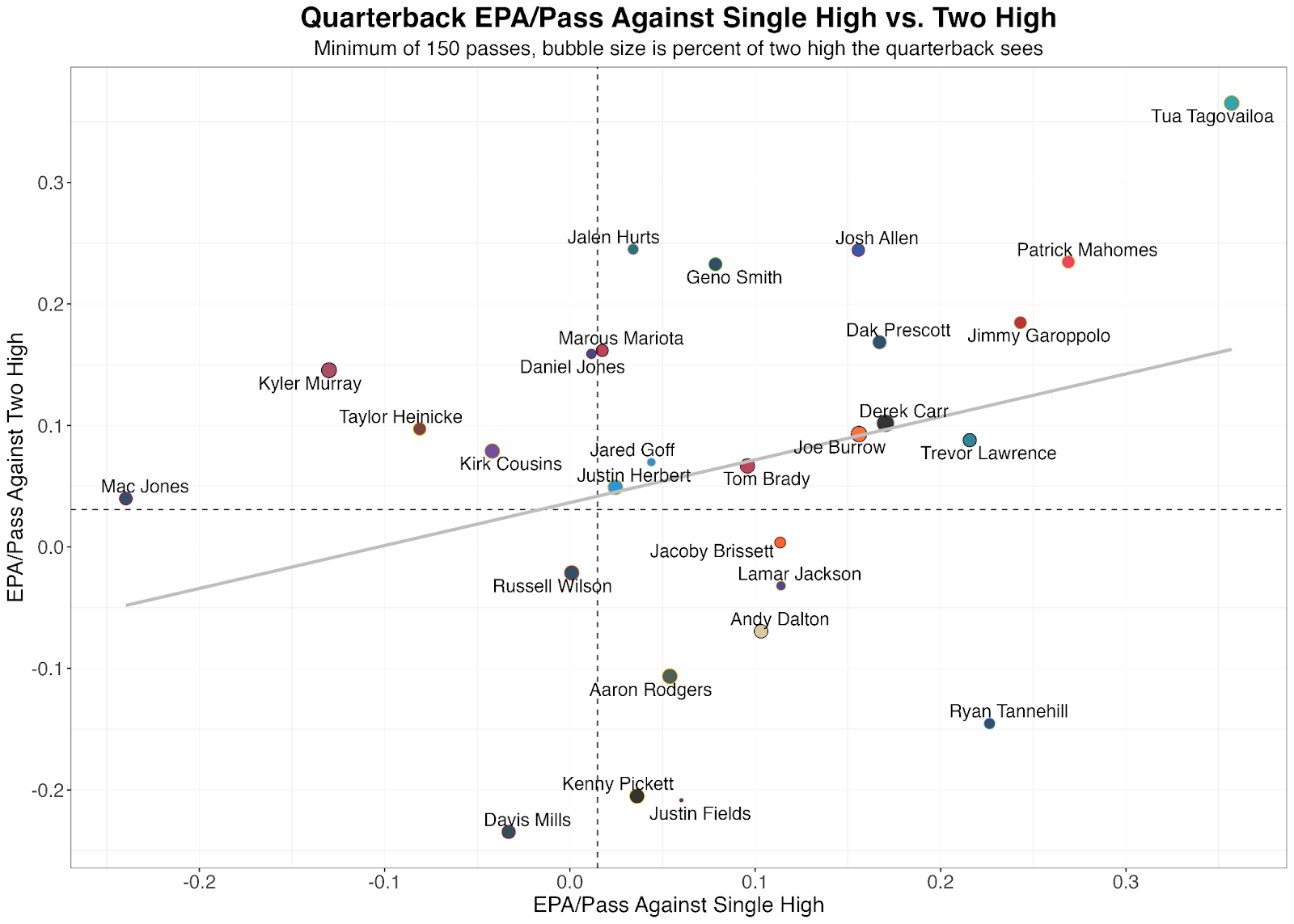 • Jimmy G feasts on single high: Jimmy Garoppolo has feasted against single high coverage this season with the 3rd-best EPA per pass, behind only Patrick Mahomes and Ryan Tannehill. 
• Over 1.5 Touchdowns Has Happened Lately: In Garoppolo's past seven games, he has gone over 1.5 passing touchdowns five times. At -125, that implies a 55.6% probability he goes over — and we find a bigger edge given the matchup and how well he's been playing recently. 
---
Tej's prop bets are 41-27 this season (+12.45 units).