• Bet Saints RB Alvin Kamara u49.5 rush yards at 49ers: San Francisco allowing league-low 3.4 ypc; Kamara is NFL's fifth-least explosive in RYOE and likely won't have a favorable game script.
• Only 5.7% of Kamara's 124 carries have gone for at least 5 rushing yards over expected.
• Bet Dolphins RB Jeff Wilson 80.5 rush yards vs Texans: Wilson is averaging 0.87 RYOE/attempt as a Dolphin, trailing only Nick Chubb, Tony Pollard, Aaron Jones and Travis Etienne.
Last updated: Nov. 26, 10:35 a.m.
Estimated reading time: 3 mins
---
In the past eight weeks, we've gone 19-8 (+8.8 units) on our RB prop bets using rushing yards over expected (RYOE). This is because 18 of the 27 bets were rushing-yard unders, which cash more regularly than overs, as PFF's Ben Brown details in his midseason player prop review.
In this article, 2 unders and 1 over will be given out to maximize profits, but the over should be placed with more caution than the unders. 
Bet Gameplan: Playable to 46.5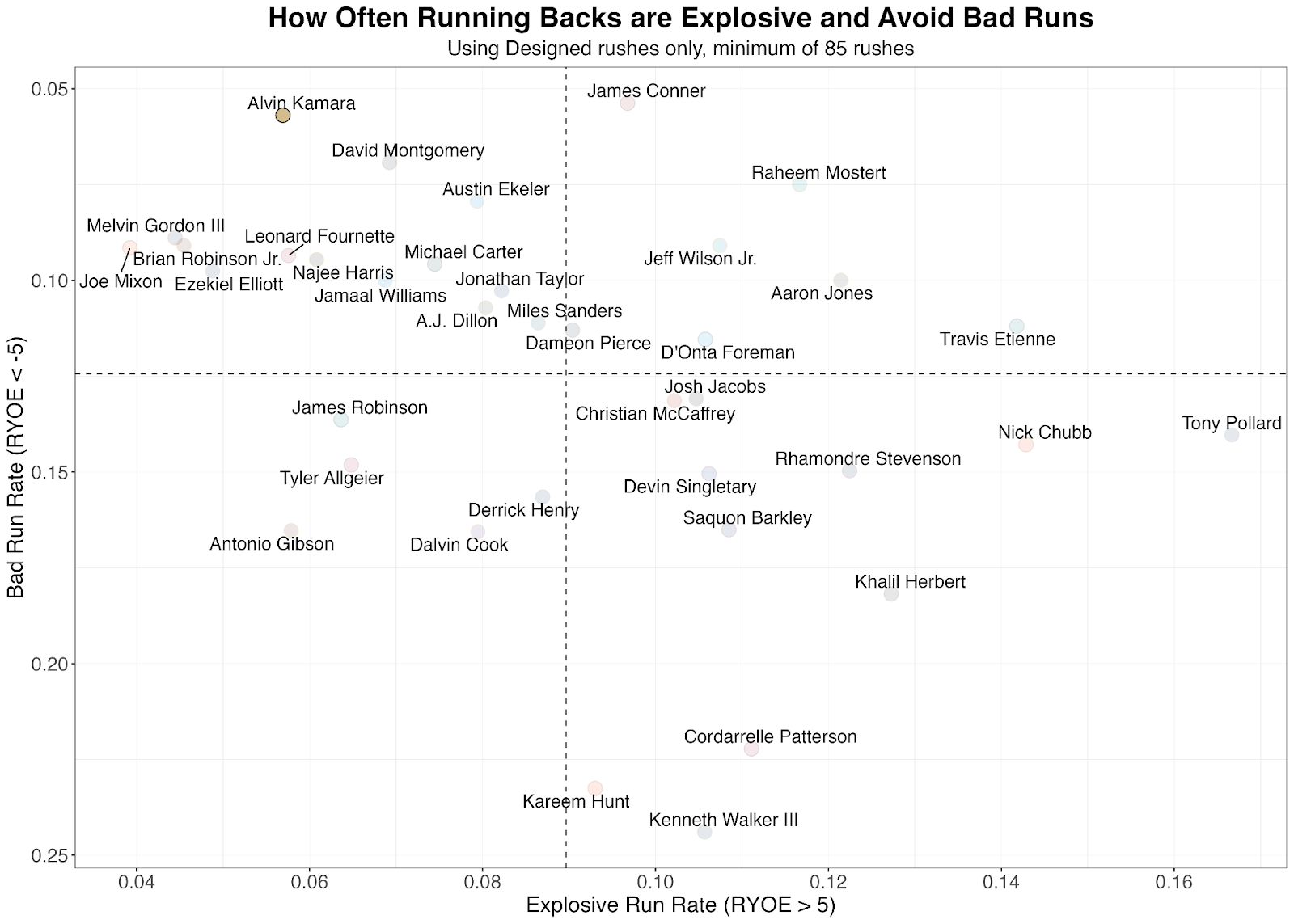 Kamara Hasn't Been Explosive: The NFL's fifth-least-explosive rusher this season, Kamara rushes for 5+ yards over expectation on 5.7% of his rushes. The quickest way for a rushing prop to go over is an explosive run, but that doesn't happen often for Kamara. 
49ers Run Defense is Strong: San Francisco is currently allowing 3.4 rushing yards per carry, the best mark in the league. On top of that, the 49ers are more than a touchdown favorite, so the Saints will be in a negative game script for most of the game. This will prove to be a tough matchup for the Saints' Kamara-led rushing attack. 
Bet: San Francisco 49ers RB Jeff Wilson Jr. — Over 80.5 Rushing Yards (-115) vs New Orleans Saints
Bet Gameplan: Playable to 82.5
Wilson is an Effective Rusher: Despite playing on both the San Francisco 49ers and Miami Dolphins this season, Jeff Wilson is 5th in total rushing yards over expected. Since joining the Dolphins, Wilson has averaged 0.87 RYOE per carry.
Texans terrible against run: The Texans are currently allowing 5.1 yards per carry, which is 4th-worst in the NFL. They have PFF's 3rd-worst run defense and 8th-worst tackling grades. 
Bet Gameplan: Playable to 42.5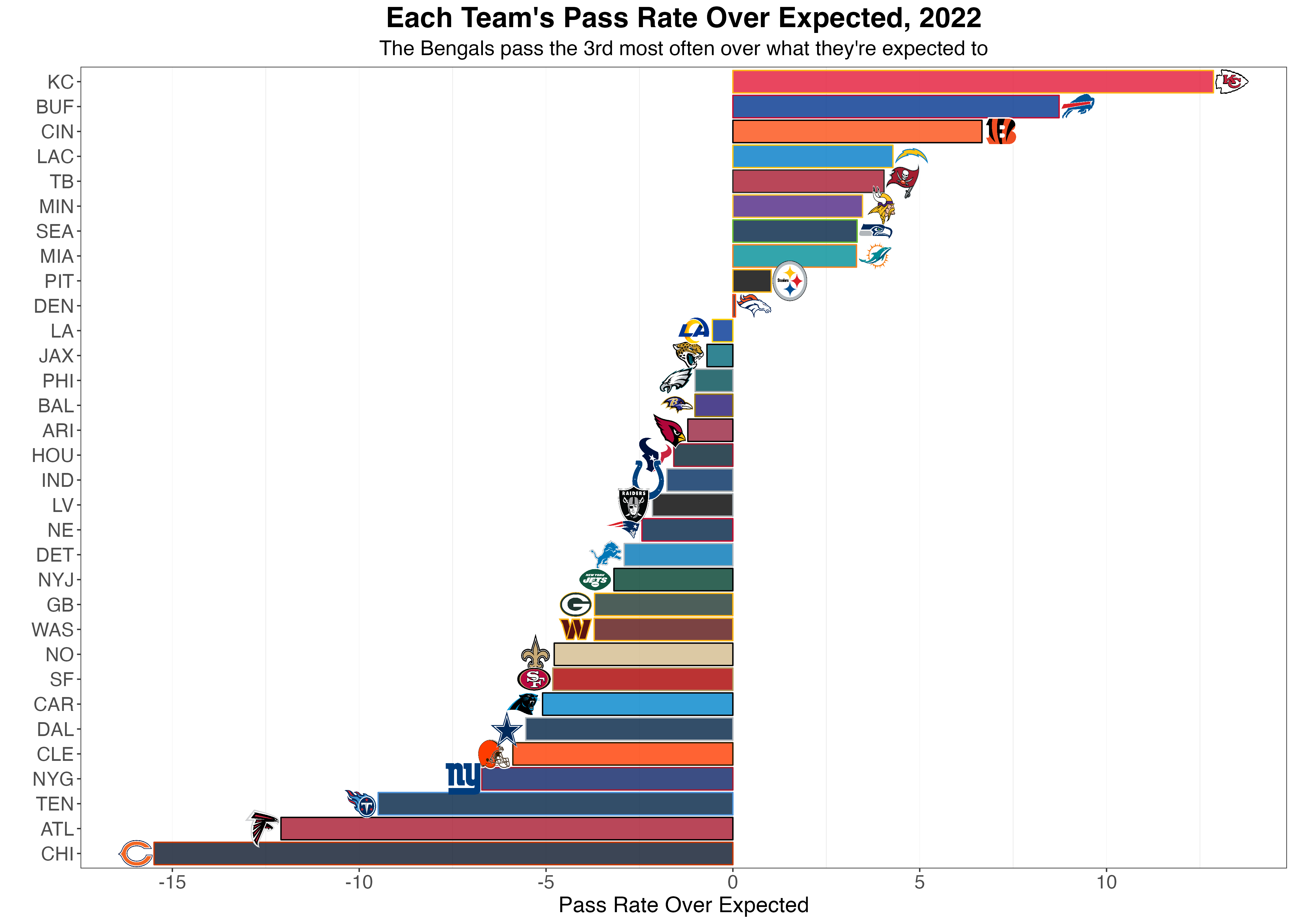 • Titans Run Defense is Stout: The Titans allow only 3.9 yards per carry this season, 3rd-best in the NFL. They are also PFF's 3rd-highest-graded run defense unit and should prove to be a tough matchup for the Bengals. 
---
Rushing yards over expected was created using an extreme gradient boosting model (XGBoost). The most important factor in determining expected rushing yards is the number of graded and negatively graded blocks on a play. The importance is followed by yards from the end zone, number of box defenders, defensive strength, seconds left in the half and score differential.
This model can predict 22% of the variance in actual rushing yards and has a year-to-year correlation of 0.21. A shiny app to explore RYOE for each player can be found here.