• Bet Chicago -2.5 + o20.5 points at Falcons (+195): After completely rebuilding their offense around Justin Fields during the "mini bye," the Bears are moving the ball at the NFL's second-highest rate over past four weeks.
• Yet the market is clinging to 2021 information on Chicago: Which has a major edge against against Falcons club that refuses to pass (22nd in drive quality since Week 7) and can't generate pressure (31st in pressure rate).
• Try PFF's Betting dashboards free by signing up to PFF+ today.
Last updated: Nov. 16, 12:15 p.m.
Estimated reading time: 4 mins
---
Most bettors place wagers in multiple markets — spreads, totals, teasers, props, etc. — where they generally get oriented by following a bottom-up approach: "Which spreads do I like?" "Which totals stand out this week?"
But the goal in this space is to articulate my process for bets by following a top-down approach. We will consider how a specific thesis on a team, player, or trend is best applied and capitalized on the proper market. Some bets will track more traditional markets, but more often we will look to maximize our upside in the multitude of different markets offered by sportsbooks — dependent on finding the right market for the thesis! Let's dive in!
---
Parlay Bet: Chicago Bears -2.5 @ Atlanta Falcons 
+ Bears team total Over 20.5 Points (+195) 
Bet Gameplan: Playable to +150
Bottom line
While the market is slow to buy Justin Fields because it is a small sample size, that is precisely our source of value, understanding the change is not variance — as spikes in production can often be — but refers to a fundamental shift in the way the Bears' offense is designed and run.
As a similar backdrop to previous weeks, this handicap relies on understanding and evaluating change within a season. And it requires a bit of context to fully understand. 
I like to categorize change as either "built in" or qualitative. Built-in changes happens without any new information. It's prone to week-to-week variance and should not result in a change in priors. Consider the Vikings, who are tied for the best record in the league. But there's little new information to suggest they should be power ranked as the best in the league.
Qualitative change happens when there is new information that fundamentally changes the outlook of a team. Following their "mini bye" in Weeks 6-7, the Bears are running a completely different offense with Fields — and the result is a top unit that we expect to remain sticky. 
The Change
• Following the "mini bye" after Week 6, the Bears are utilizing Fields' rushing ability as central to their offense: After only 4 designed runs in Weeks 4-6, Fields has 34 combined in his past four games. The team has increased its play-action rate from 29% to 41% following the "mini bye."  And the results are revealing.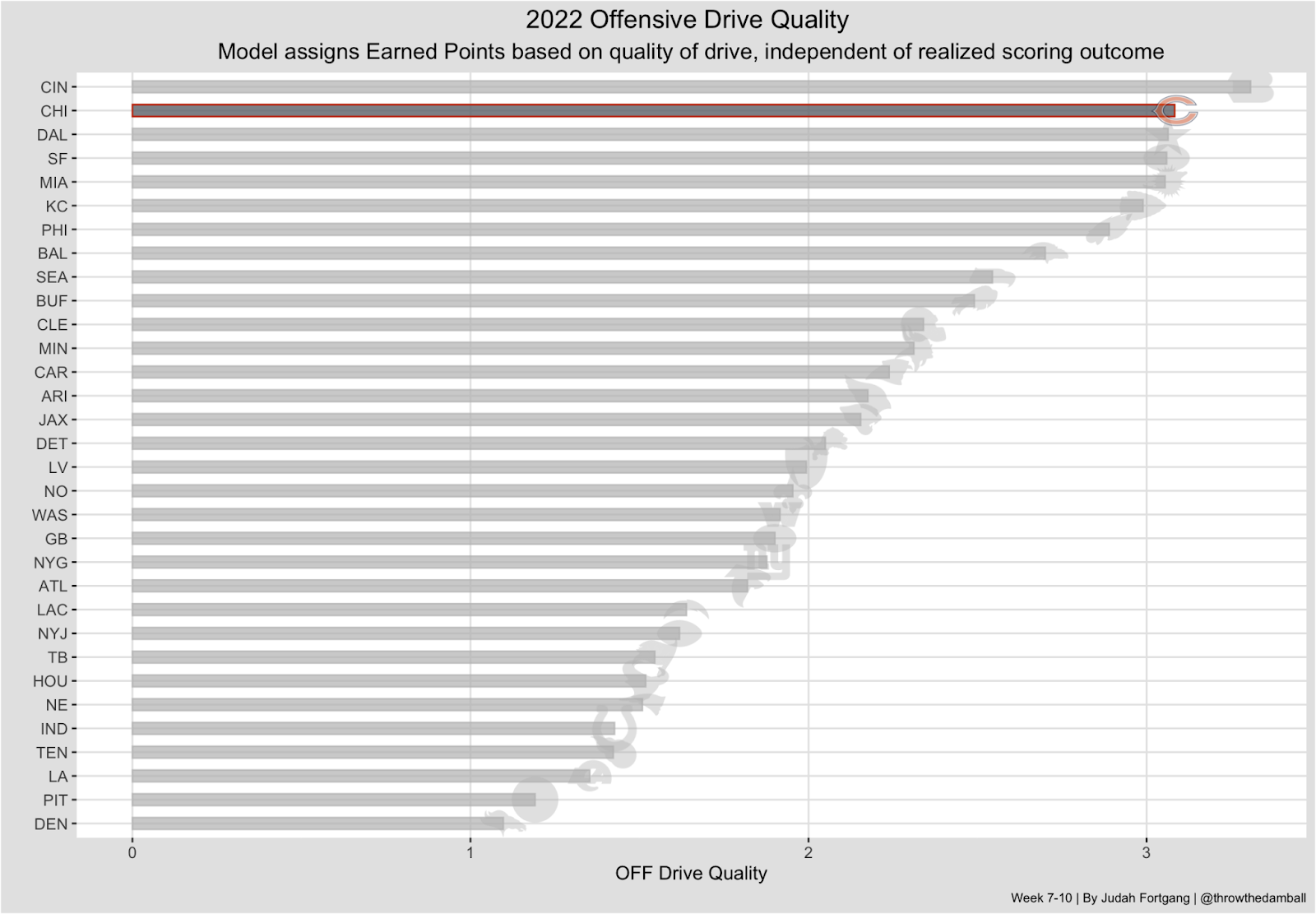 The Bears have been the second-best team at moving the ball in this span, when their EPA is 7th-best.
• The "mini bye" is important to emphasize: As the turn in efficiency that followed is less likely to be a matter of endpointing a small sample size but can at least partially be attributed to a conscious change at a time when teams make schematic changes. 
But what's being priced in — a full season's worth of data, or is there more of a lean toward recent weeks?
• Based on the Inpredict spreads, the Bears currently are valued by the spread line as the 21st-best offense: The market is still clinging to 2021 information in pricing Chicago, ranked well below its season-long Drive Quality (10) and EPA (15). While they might not continue their torrid pace from the past 4 weeks, the Bears' future output should likely improve on the 21st-best offense that is priced in.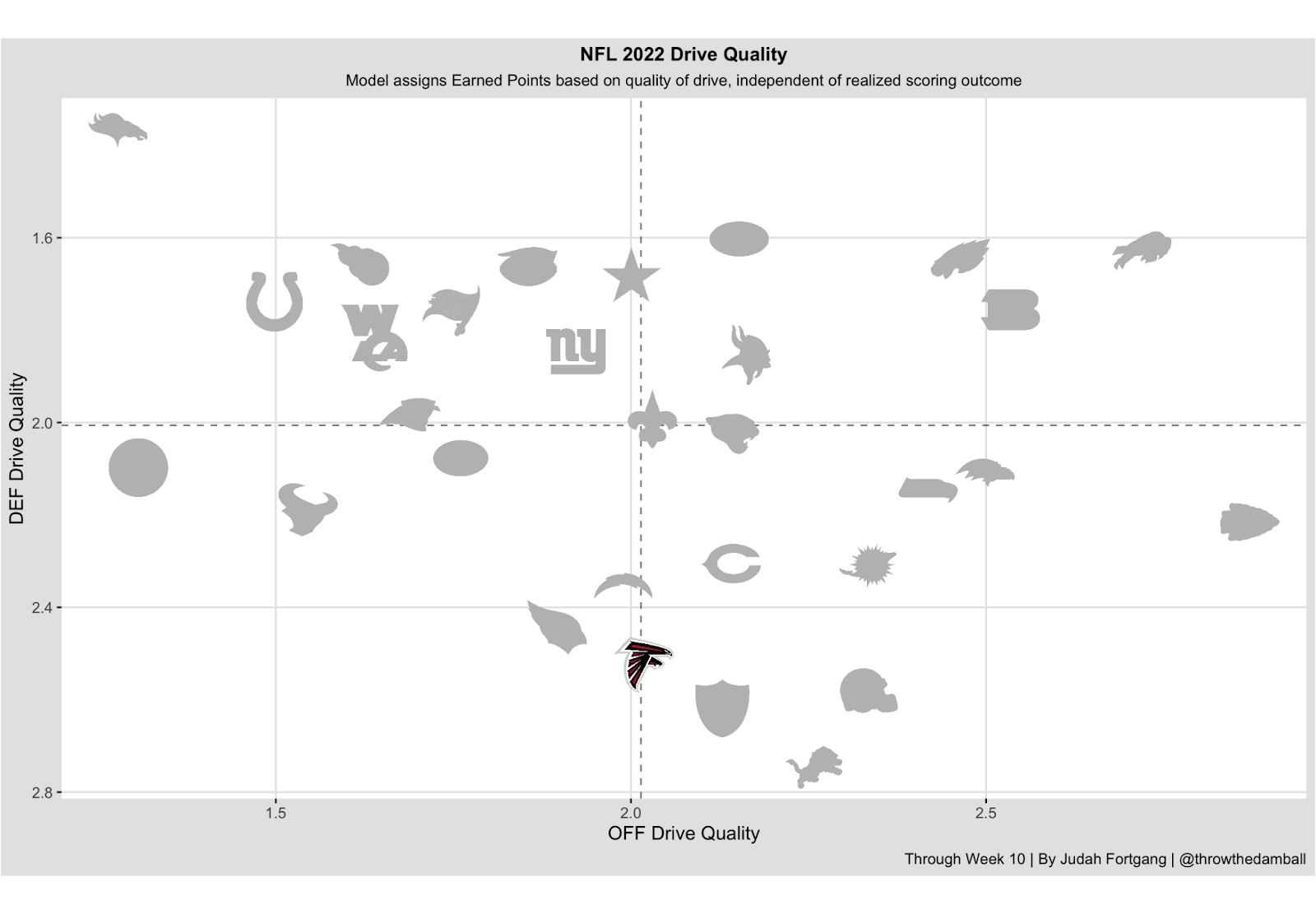 Meantime, the Falcons have been a trainwreck on defense all season, while their offense has been almost exactly league average.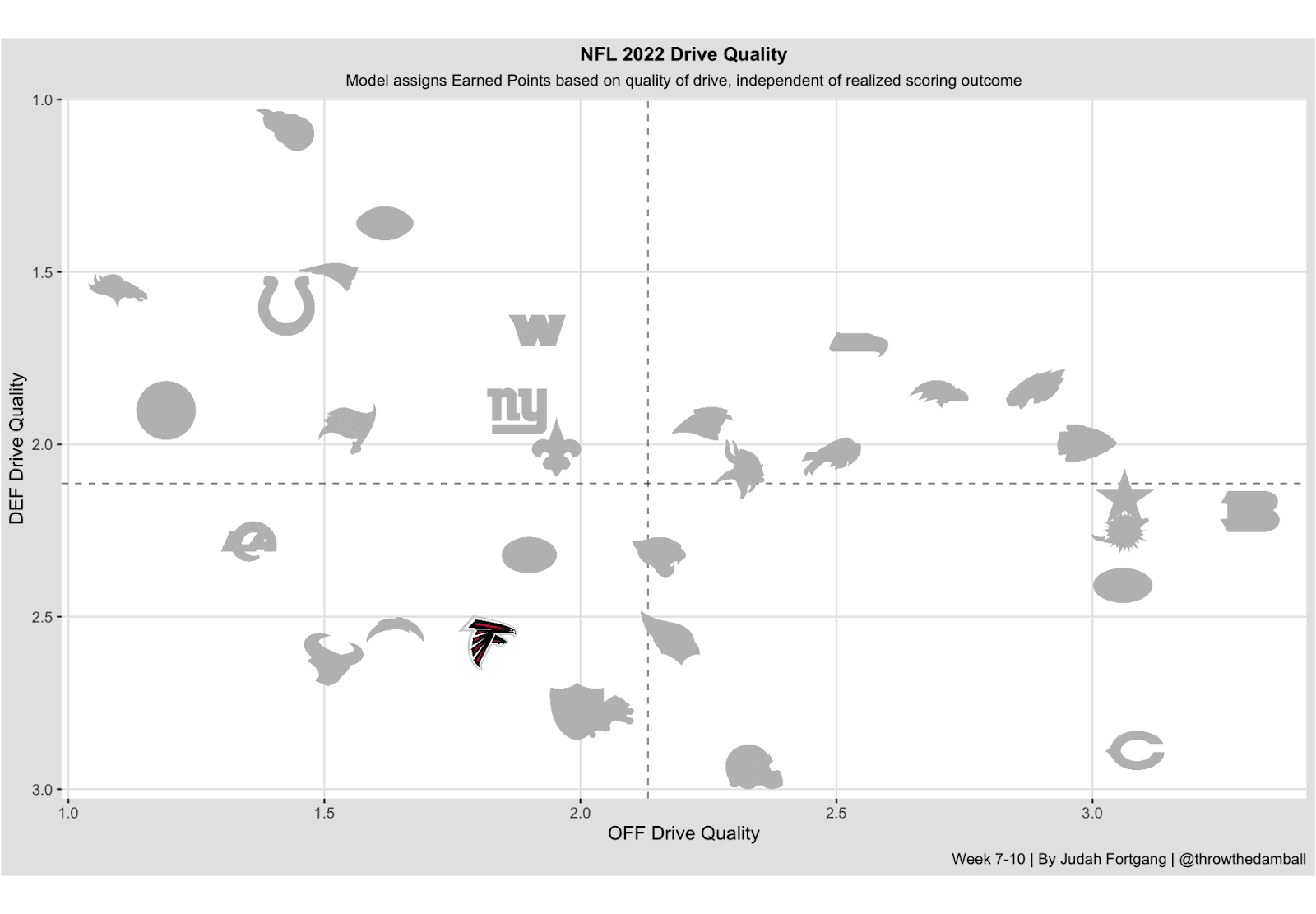 Add in more color for recent weeks, and the defense is still the same trainwreck, but the offense has gotten much worse. Insistent on running the ball no matter the game script or scenario, Atlanta has become predictable.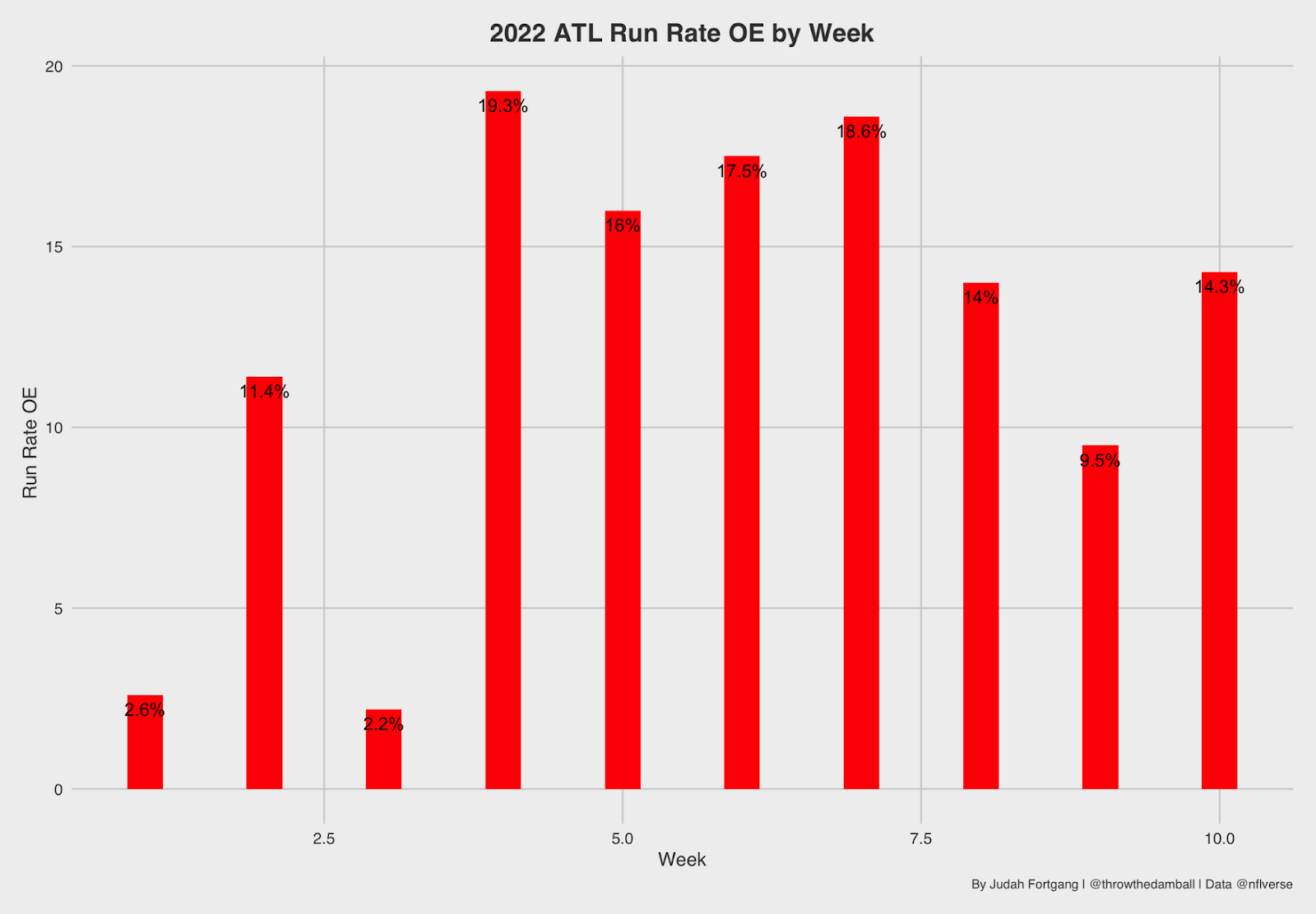 • No matter the opponent, the Falcons refuse to throw the ball: Instead insisting on running way over expected (12% on the year). And given this consistency running week in and week out, there's little reason to think the Falcons will move away from this game plan against the Bears. 
• But such a move would be failing to press their biggest advantage Sunday: The Bears are 27th in Defensive EPA and 30th in Drive Quality on the backs of their horrendous pass defense (0.151 EPA allowed, 30th). The Bears' run defense is 21st in EPA allowed, as teams are averaging -0.069 EPA.
• The Falcons likely will not throw enough to exploit this potential matchup advantage: Their offensive output is likely to remain the same, which is league average: 12th in EPA and 16th in Drive Quality and trending in the wrong direction — 19th in EPA and 22nd in Drive Quality over the past 4 weeks. 
Further bolstering our case is Fields' efficiency when he has the time to throw (dropbacks not resulting in quick pressure, which is less than 2.5 seconds).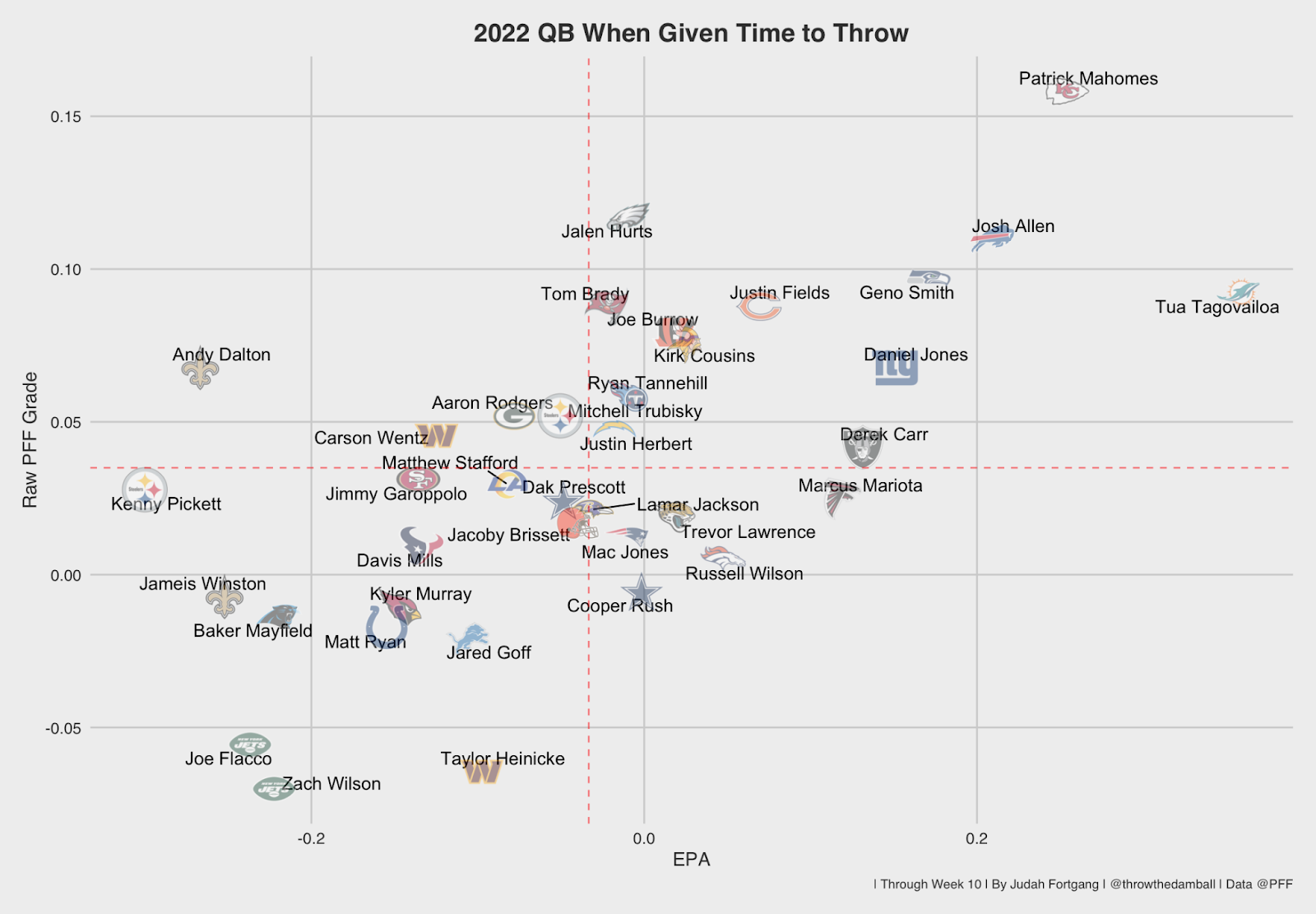 • Fields is firmly in the good tier when he has time to throw: And good news in a matchup against the Falcons — who generate pressure on 24% of plays, behind only the Rams for the worst mark in the league. Fields should have all day to look downfield.