We're almost there! In two weeks, we'll know who the Cincinnati Bengals selected (or didn't select) with their first overall pick, and we'll find out exactly where Tua Tagovailoa will take his talents at the next level. Will Bill O'Brien trade away his entire draft by that time?
Without much in the way of live sports to bet on, and most NFL bets unresolved until at least Week 1, draft props are the best we can do. Earlier this week, I talked about Henry Ruggs' market and how it has evolved over the past few weeks. Today we talk about another probable top-15 pick in Isaiah Simmons. 
As we've written about extensively in this draft cycle, Simmons is one of the most unique linebacker prospects in some time. His projections are as good as anyone as a coverage player and a pass-rusher in this class, and his comparisons are pretty impressive. So, what does the market think of his prospects?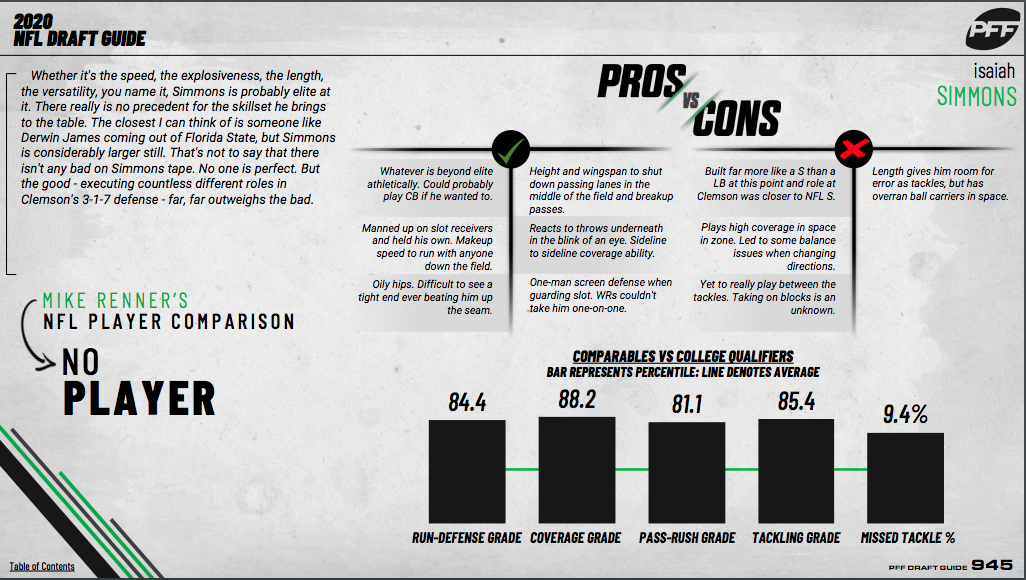 [Editor's note: Check out PFF's 2020 Mock Draft Hub, NFL Draft Big Board and NFL Mock Draft Simulator. PFF Elite subscribers can also download the 1,100-page 2020 NFL Draft Guide.]
Simmons is the clear favorite to be the first linebacker chosen
There's almost no value in terms of betting on Simmons to be the first linebacker chosen, since he is, depending on where you look, roughly -5000 in this area. Thus, when handicapping Simmons in other areas like draft position, it's safe to assume that no linebacker will be chosen ahead of him, which is not necessarily a safe bet for other frontrunners at their position.
Subscribe to PFF Edge to continue reading
Already have a subscription? Sign In