We are close to the finish line of an unprecedented college football season.
Conference championship week may have been pushed back, but we finally hit it two days before bowl games are scheduled to start. Thankfully, it is one of the best conference championship slates in recent memory, with all four playoff front-runners in action. We have 22 games scheduled to play in total, with 12 of our top 25 teams in action.
The Clemson vs. Notre Dame rematch is the main event, but most project both teams to remain in the four-team playoff bracket if the game stays close on Saturday. Meanwhile, Ohio State and Alabama are over-two-touchdown favorites and simply need an ugly win to stay in.
Texas A&M, Iowa State, Cincinnati and Coastal Carolina are hoping for a slip-up from a team in the top four, but with all in action, they each need to finish as strongly as they started and not let their focus wander over to the headline matchups.
Last week's writeup tailed off quickly. My written plays went 1-3, and my derivative bets went 2-3, moving us to 26-15-1 on the season. These plays are discussed on the Saturday morning edition of the PFF Daily Betting Podcast.
We now sit at 63-69-1 on written full-game plays over the past two college football seasons. This does not include my derivative bets. For all college football plays, we currently sit at 89-84-1.
Let's take a close look at PFF's predictive model (PFF Greenline) and highlight some of the best bets to make ahead of conference championship weekend.

Running it twice is always an intriguing approach, especially after the first iteration of this matchup gave us one of the best games of the 2020 college football season.
Everyone remembers the Week 10 overtime thriller that saw the Fighting Irish outlast the Tigers and their backup quarterback. The initial line movement in that matchup opened up with Clemson as 2.5-point favorites before pushing out to 5.5 by kickoff.
It is accurate to say that Trevor Lawrence is worth at least five spread points more than backup D.J. Uiagalelei, even though the former is one of the most talented quarterbacks in the country.
The pertinent question is if we learned anything from the previous game, with the opening spread appearing to be more efficient than where we closed. We are again seeing similar line movement this week, with the +7 spread pushing quickly across two key numbers to 10.5. This movement looks to be driven by the market expectation that Clemson absolutely has to win to get into the College Football Playoff.
The latest cash percentages actually side with the Fighting Irish, making them look like the sharp play once again in this matchup and the win-to-survive storyline surrounding Clemson seem overrated. A margin of a touchdown or less should allow both teams to still get into the four-team bracket, with Notre Dame losing out on their most noteworthy performance if they fail to cover this spread.
These teams are much closer based on our Elo rankings, which would make this closer to a field-goal spread on a neutral field. Lawrence is the far superior quarterback, but him alone accounting for this move through 10 is underrating the ability of the Fighting Irish.
In a game that everyone projects to stay close, the easiest path is to take the points with a team that has already shown what it is capable of.
PICK: NOTRE DAME +10.5
I am stepping a little bit out of my lane on this one, but it's 2020, and we should be allowed to have a little fun before it ends.
If it weren't for the now-infamous shoe-throwing incident, this game would be as anticipated as the 2020 ACC Championship Game. Both quarterbacks sit in the top five in terms of PFF passing grade in 2020, despite facing off against some of the best defenses in the FBS over the course of their respective seasons.
It is easy to see why Alabama is the best team in the country, but Florida's offense is one of a few that actually has the playmaking ability needed to keep pace with the Tide.
Alabama is the No. 1 team in the country in opponent-adjusted receiving grade, but Florida sits only two spots behind. There is first-round NFL talent littered at the skill positions in this matchup, which has led to the eighth-highest total in college football this season.
The question becomes, can either defense slow down the opposing offense enough times for this game to go under? Alabama not only has the best offense in the SEC, but the team also fields the best defense. This is highlighted by the 11th-best opponent-adjusted coverage grade in the country.
They are unmatched in the SEC in EPA allowed per defensive snap.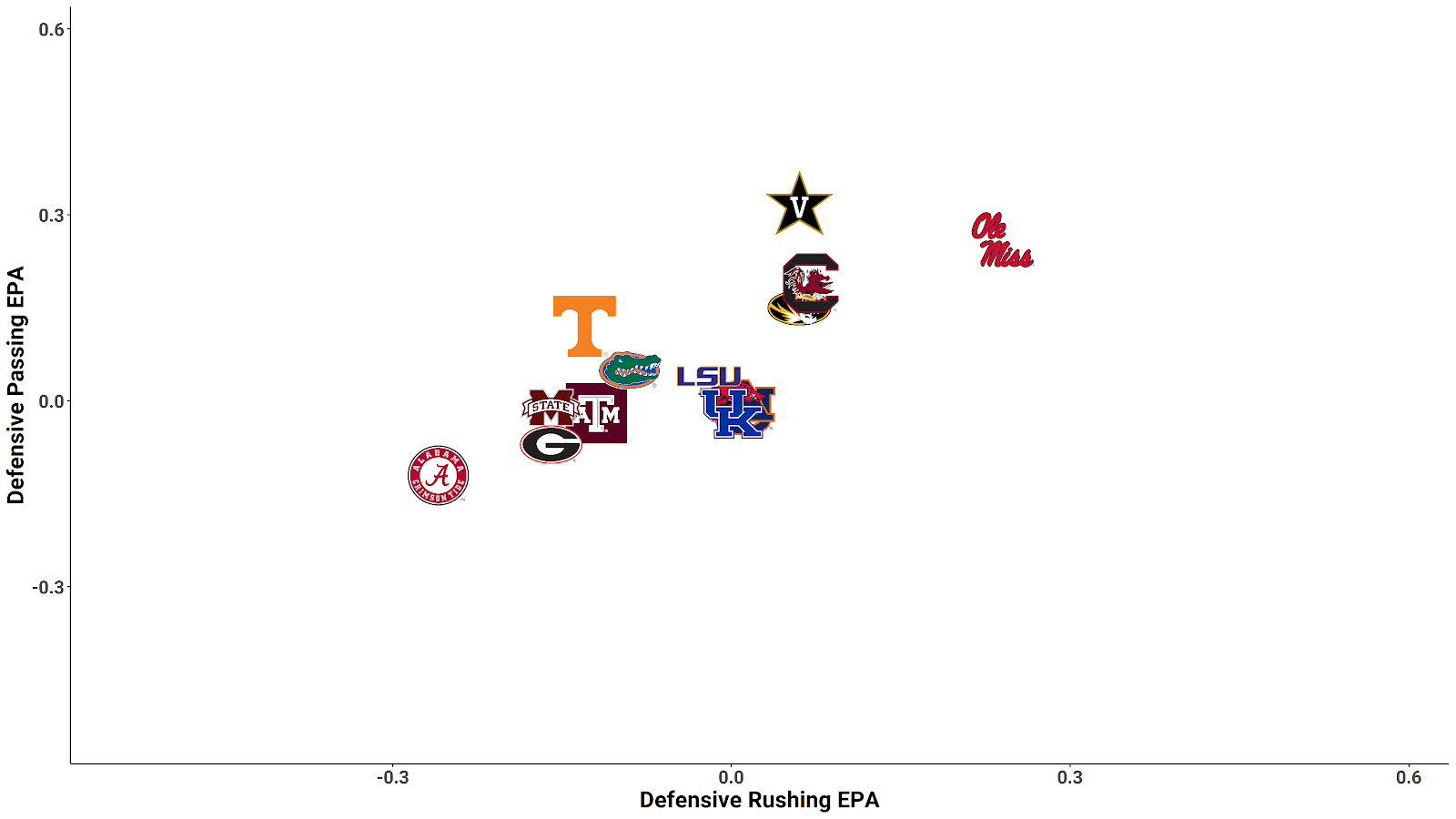 Florida absolutely has to outperform Alabama on the offensive side of the ball if they want any chance at an upset, so they will likely be playing from a desperate place with an increased risk profile. This sets up well for quick-scoring opportunities, whether they are successful or not.
PFF Greenline initially found value on the opening 71.5 number, but 88% of the cash and 73% of tickets caused it to push out three points quite quickly. Our model no longer finds the same value opportunity, but it could still be a worthwhile bet. After all, we all deserve a classic scoring outburst in the SEC Championship Game on Saturday night.
PICK: OVER 74.5
There is a new measure that we can use to evaluate teams in this crazy 2020 season: pre- and post-Covid performance.
Stanford was a disaster to start the season after losing Davis Mills until right before their matchup against Colorado. But after getting additional practice time with Mills at quarterback, the Stanford offense has been unstoppable. They have the top opponent-adjusted offensive grade in the Pac 12 and are second in expected points added (EPA) generated per pass attempt.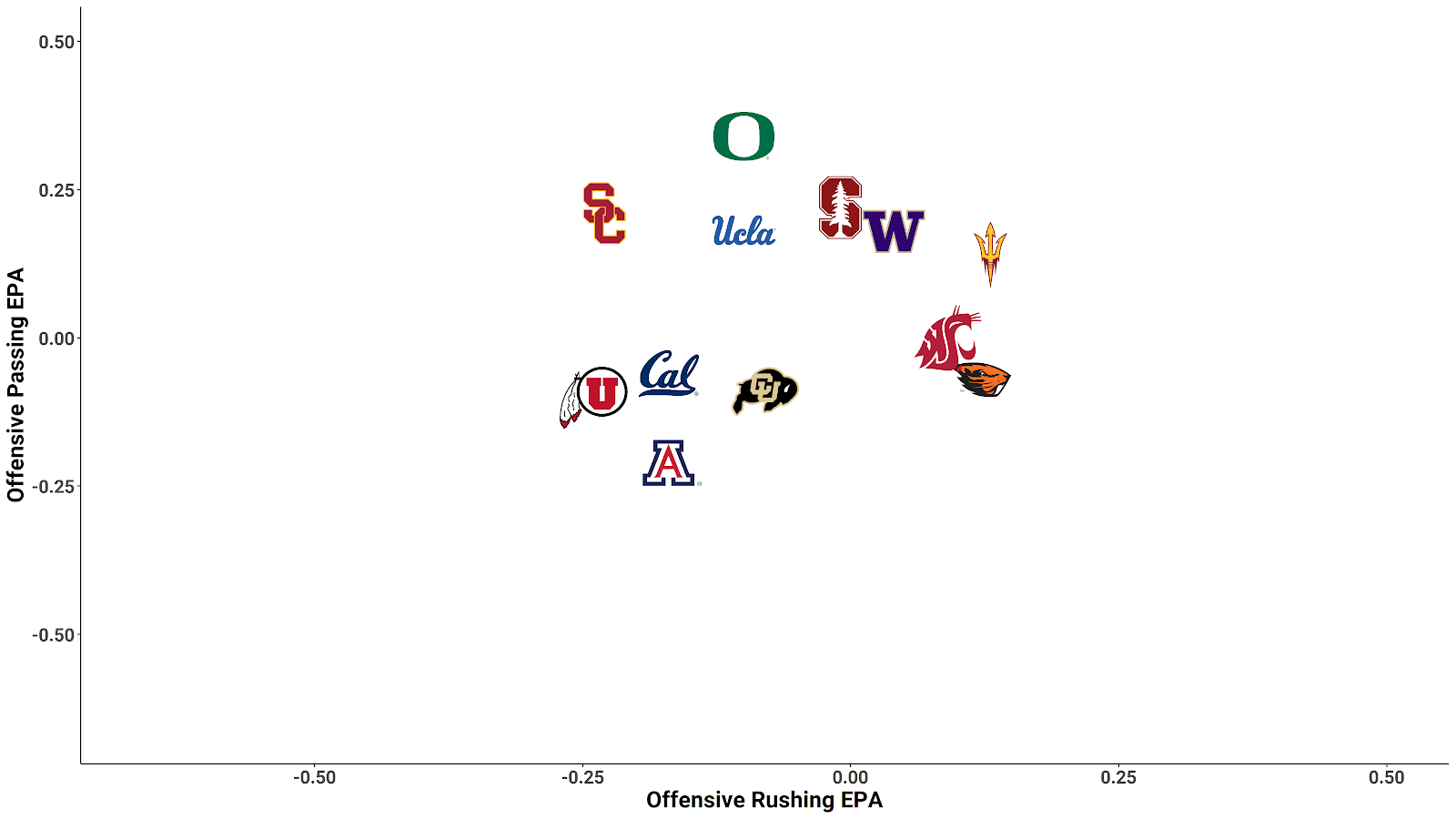 Stanford has not only the better offense but also the better quarterback, defense and overall team. They are 11 places ahead of UCLA in our latest Elo rankings and should be a slight favorite on a neutral field.
There could be some lingering Covid concerns that we are missing, but Stanford seems like the best bet available at their current spread.
PICK: STANFORD +7