Late-week betting action isn't the best approach if long-term profitability is the goal. Game spreads and totals become increasingly sharp closer to kickoff, which is why betting game lines early in the week is the best approach. 
If betting early in the week isn't an option, then targeting other markets where lines aren't stale is key. Beating these markets takes a different approach than those focused solely on the game lines. We can take cues from bookmakers pricing the entire portfolio of offerings on a particular matchup. They arrive at a most likely path the game will travel and then use market dynamics to sharpen the number. In some way, game lines feed derivatives, player props and most other offerings under that matchup umbrella.
We can start by seeing if there are any game lines we disagree with and utilize a couple of different approaches if so.
Mispriced scenarios should be mispriced even worse further downstream as errors compound. Or, if the game line is only subtly off, it's smart to find where its errors are the most drastic.
---
Click here for more PFF tools:
Rankings & Projections | WR/CB Matchup Chart | NFL & NCAA Betting Dashboards | NFL Player Props tool | NFL & NCAA Power Rankings
---
We missed the Panthers first-half parlayed with the under by half a point, pushing our Week 4 plays to 0-2. We were on the correct spread but failed to find the right side of the total on either bet. Such is life when betting parlays.
Despite my 3-7 written plays record, the plus price targets have paid off slightly from a units won perspective, as we are up +.29 units to start the season. Using these approaches, let's find the best last-minute NFL bets ahead of Week 5.
Related content for you: NFL Week 5 Odds and Best Bets via Eric Eager and George Chahrouri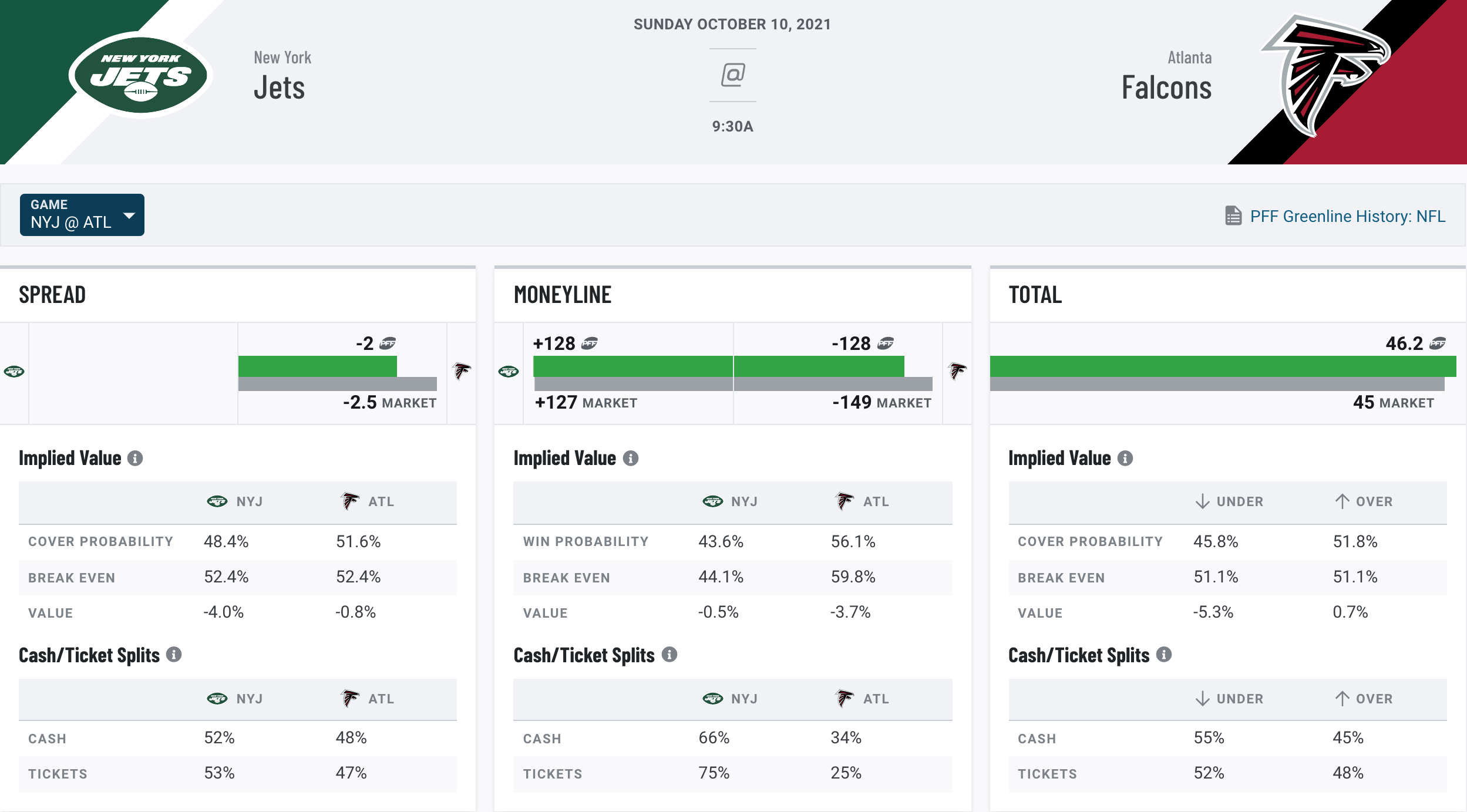 The first London game of 2021 means we get football for breakfast. The Sunday morning sweat is simply unmatched. No one is buying into the Falcons, who moved from a -4 spread on the lookahead to -2.5. The initial move was based on the Jets finally showing some life in Week 4, but Calvin Ridley's injury news pushed this number further in the Jets' direction.
Matt Ryan has graded like a league-average quarterback through four weeks, which is more than can be said about Zach Wilson. The rookie QB has the seventh-lowest PFF passing grade among starting quarterbacks this season, but he did post his first above-average game grade in Week 4. His rookie season should play out at the extremes where he will have some awful turnover-worthy plays but also brilliant big-time throws.
While the Jets could finally be moving in the right direction, the Falcons appear to be going in the opposite direction in 2021. Their loss to the Washington Football Team last week occurred in typical Falcons' fashion and should once again assure bettors that, for whatever reason, they struggle to close out games. Even if the Falcons jump out to an early lead, Wilson and the Jets' receiving unit have the ability to close the gap quickly. There are a few different betting opportunities on the Jets if you missed out on the much better early-week number. The best approach could be making them the first leg of a two-team teaser.
Editor's note: The bet for this game is tied to the Browns-Chargers game below.