• Dolphins-Browns +1593 SGP build: Jeff Wilson 70+ rush yards + Raheem Mostert 50+ rush yards + u49.5 total points: With NFL-worst EPA vs run, Cleveland's opponents run 4% over expectation.
• Wilson and Mostert saw nearly 50% timeshare in first Dolphins game together, and run-heavy approach by Miami goes against explosive game script priced in by the market.
• Cowboys-Packers +4115 SGP build: Dak Prescott 300+ pass yards + Michael Gallup 70+ receiving yards + CeeDee Lamb 100+ receiving yards: Packers 'D'  bottom-10 in explosive pass plays; Dallas fast and aggressive when leading.

Last updated: Nov. 13, 8:30 a.m.
Estimated reading time: 4 mins
---
While same game parlays (SGPs) are big money makers for the sportsbooks, that does not mean betting edges don't exist. SGPs offer two unique opportunities unavailable in other markets: they uniquely tell a story that we can create through props, spreads, and totals; and (2) SGPs allow us to combine outcomes that are correlated through a particular game angle, but will not be priced into the odds set by books.
The goal in this space, then, will be to hit on SGPs that either tell unique stories about games and/or uncover correlated outcomes available only in the SGP market.
---
Story: DALLAS COWBOYS QB Dak Prescott remains aggressive late and has a big passing day against Packers 
• The Green Bay Packers defense has been an average unit against the pass (11th best Pass EPA).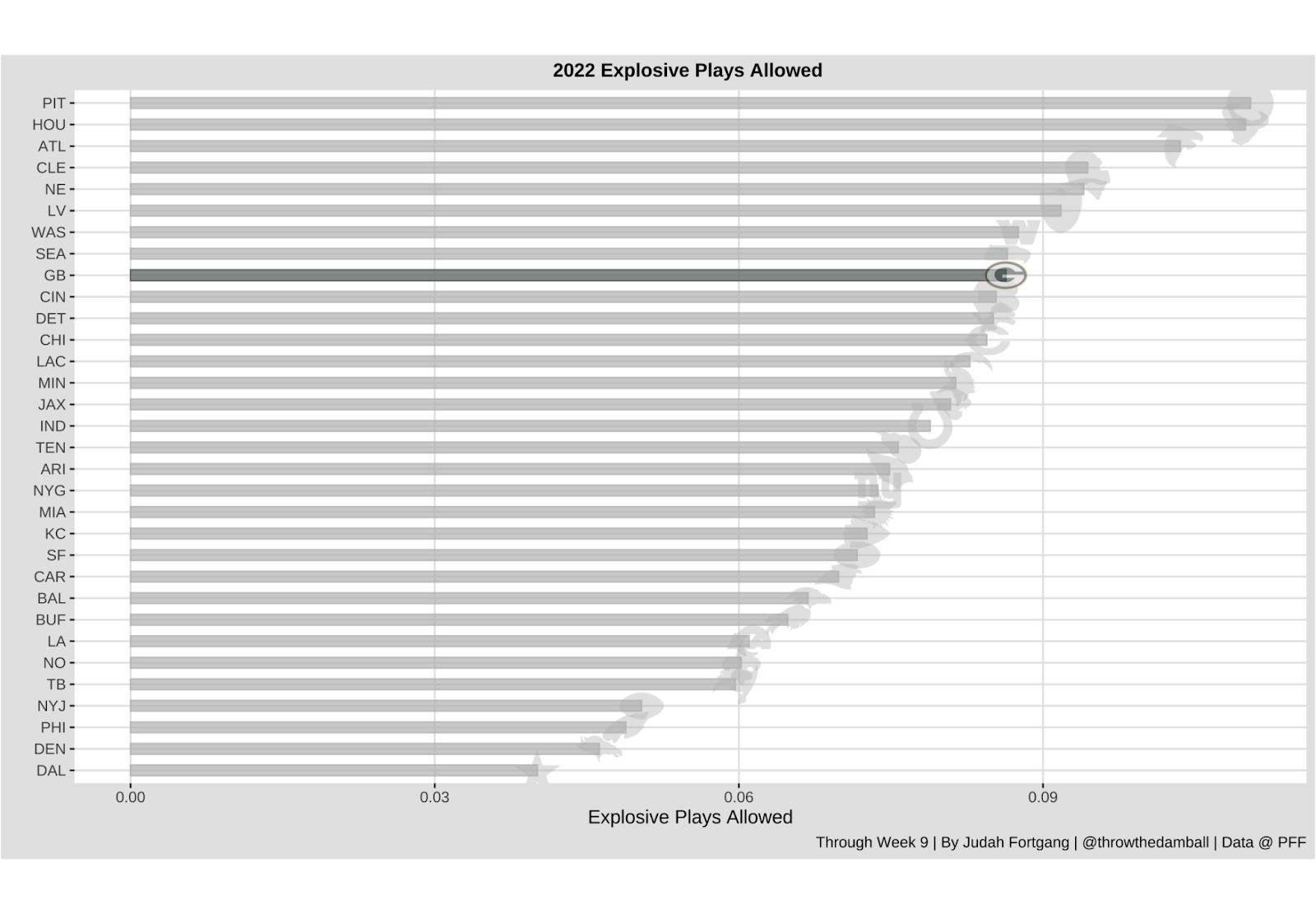 • But an area in which Green Bay has struggled is defending explosive pass plays, ranking in the bottom of the league. Of course, a few explosive plays is the perfect recipe to stack up yards. And the Packers defense is sure to be less efficient without a pair of injured former first-rounders in stud pass rusher Rashan Gary and starting corner Eric Stokes.
• Yet the prices on the Dallas Cowboys are all depressed, reflecting that the Packers have allowed the fewest attempts and second-fewest passing yards per game. This should be offset by the Cowboys' aggression and propensity to pass —especially with leads. 
• With Prescott at the helm last year, the Cowboys passed over expected 4% of the time with a big lead, and played at a top 4 pace this year whenever leading. 
• Look for the Cowboys to push the pace and for the volume to pile up against a defense that is middle of the pack in terms of efficiency despite being priced as an elite one. 
FanDuel SGP Build (+4115)
• Dak Prescott 300+ Yards
• Michael Gallup 70+ Yards
• CeeDee Lamb 100+ Yards
Story: Russell Wilson and Denver Broncos passing game finally pops off en route to win over Titans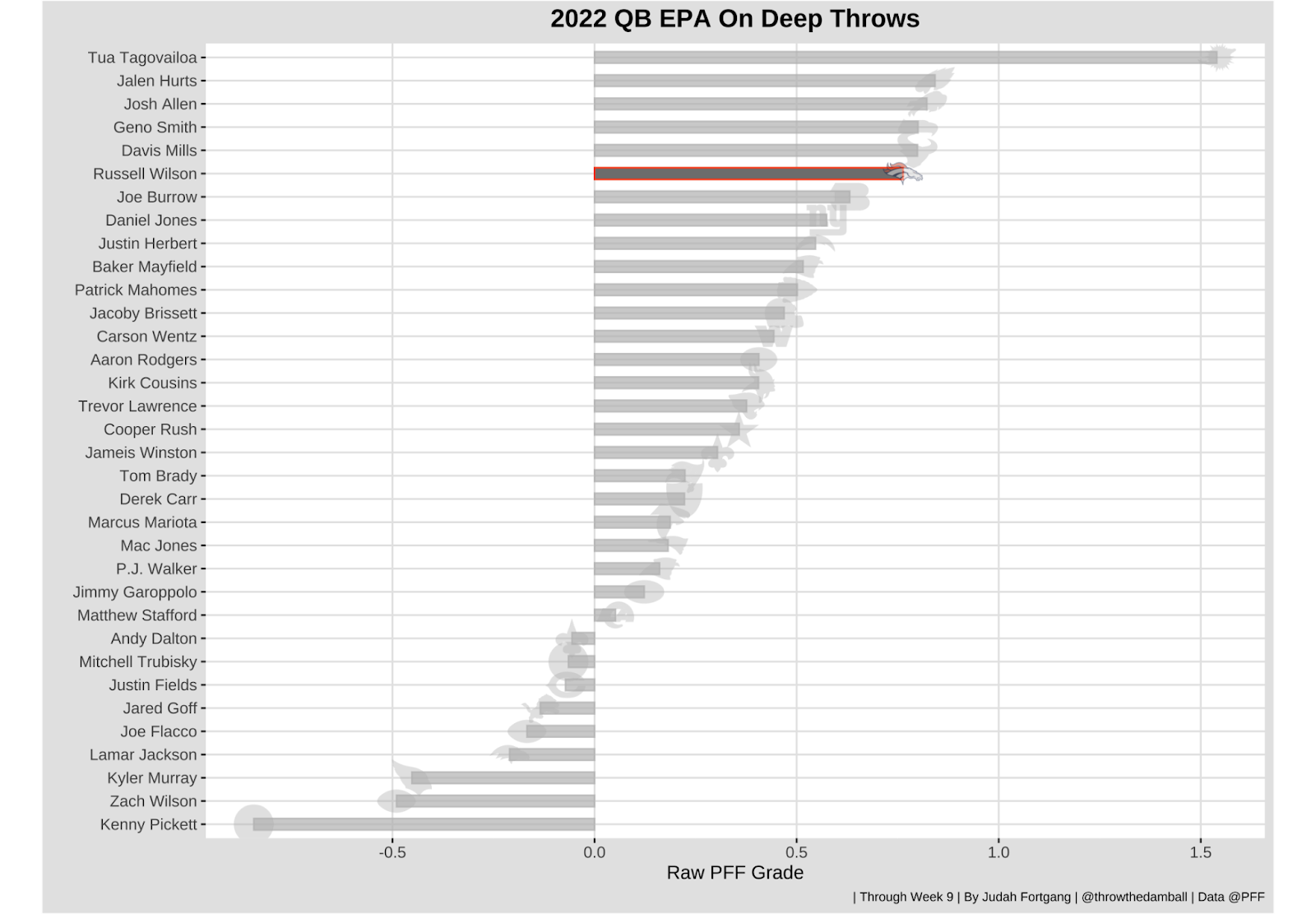 • In a similar theme to our above bet, Russell Wilson has excelled throwing the ball deep, with the 6th-best EPA on downfield passes. Although he has yet to hit on multiple big plays, that does not mean this isn't the spot for everything to come together, especially with Tennessee Titans star defensive tackle Jeffery Simmons on the shelf.  
The Titans have faced the third-most pass attempts in the league and have allowed 275 passing yards a game. But unlike our Cowboys play above, there's little reason to suggest this trend won't continue, as the Denver Broncos pass 2.5% above expectation. 
The Titans secondary has allowed the 6th-most targets and 6th-most yards to wide receivers. Jerry Jeudy and Courtland Sutton have combined for nearly 45% of team targets, suggesting we know where the pass production will flow through. 
FanDuel SGP Build (+8878)
• Russell Wilson 325+ Yards Passing 
• Courtland Sutton 80+ Yards Receiving 
• Jerry Jeudy 80+ Yards Receiving
• Denver Broncos ML 
Story: Miami Dolphins lean on ground game in lower-scoring affair with Browns. 
• Although the Miami Dolphins have attacked teams recently through the air, perhaps Sunday they continue the trend of Cleveland Browns' opponents 4% more than expected. 
• And the Browns have been inefficient defending those runs — with the league-worst EPA against the run, also allowing 5 yards per carry, 8th-worst in the NFL. 
• In their first game together with the 'Phins, Raheem Mostert and Jeff Wilson shared snaps at almost exactly a 50-50 split, and it would be unsurprising to see them both get plenty of work in this game. 
• While the Over/Under for this game is priced for an explosive Dolphins passing attack, should they instead turn to the ground, the under presents natural value with fewer plays and a less explosive offense. 
FanDuel SGP Build (+1593)
• Raheem Mostert 50+ Yards Rushing
• Jeff Wilson Jr. 70+ Yards Rushing
• Under 49.5 Points