Senior Analysts Steve Palazzolo and Sam Monson outline all 32 NFL team needs as we head towards the 2018 NFL Draft.
NFC East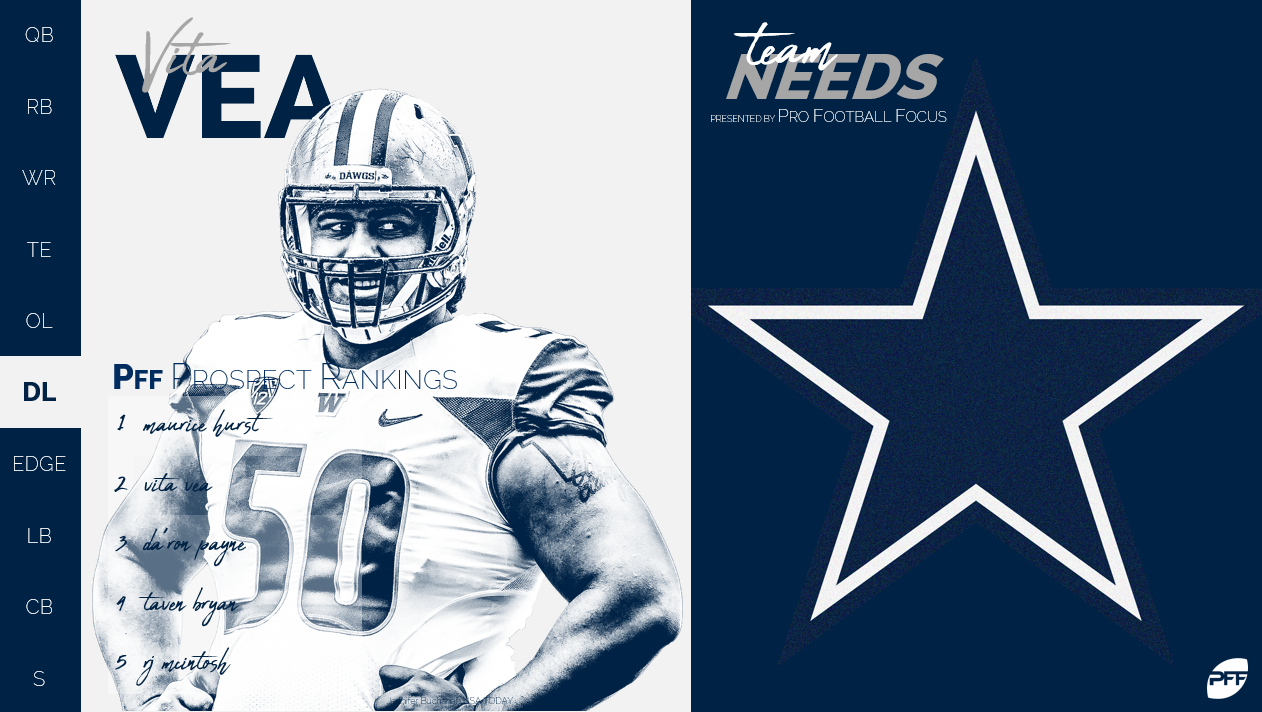 Quarterback: No
Top needs: DI, WR, TE
For years, the Cowboys have been searching for an impact player up the middle, even when they have been able to find solid edge rushers in that defense. Maliek Collins was supposed to be that guy, but he generated just 30 total pressures from 428 pass-rushing snaps in 2017. With Dez Bryant's release, the team needs a receiver even with Allen Hurns signed to replace that production, and for the first time in years, this team needs to think about the tight end position as Jason Witten begins to slow down. That final need may be addressed internally if the team chooses to give an opportunity to Rico Gathers, a phenomenal athlete who flashed big-time potential in the past two preseasons.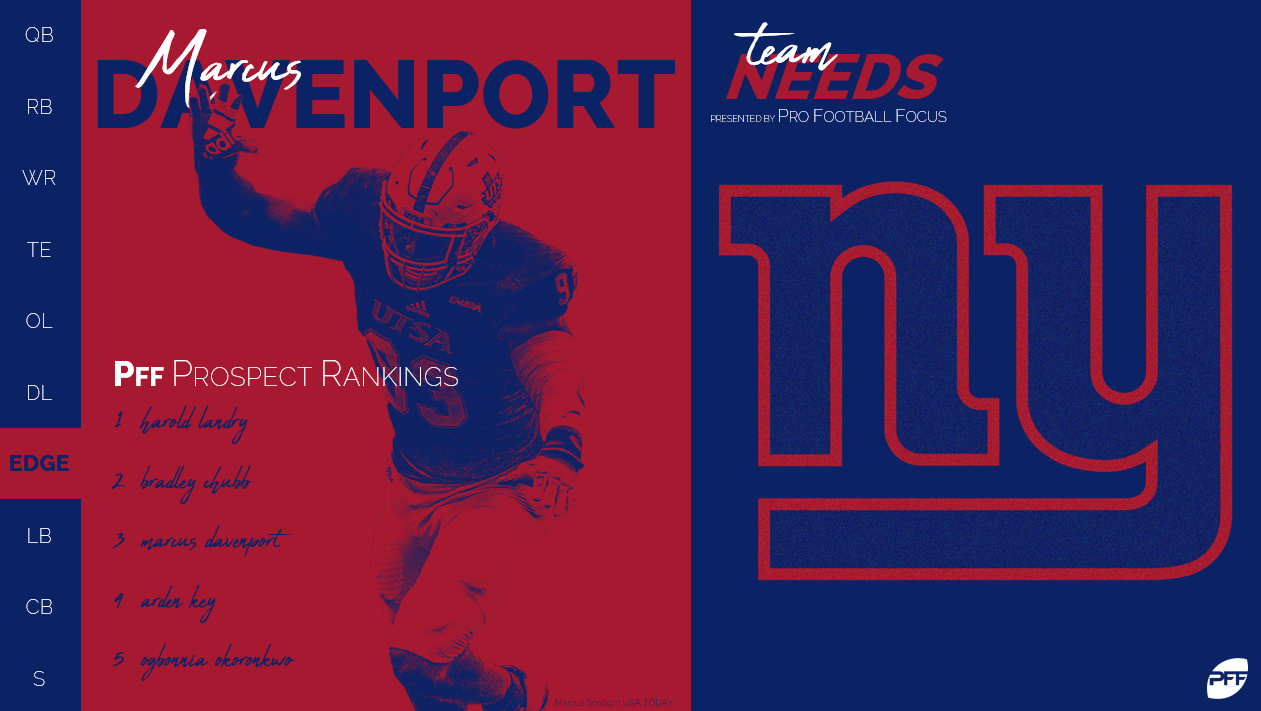 Quarterback: Yes
Top needs: Edge, RB, Interior O-Line
The last time the Giants picked as high as No. 2 overall was 1981. This team won't get a better opportunity to draft Eli Manning's successor, and Manning hasn't been playing well enough to convince them it's not necessary for several years. Now that Jason Pierre Paul has been dealt, the Giants pass-rush is almost entirely dependent on Olivier Vernon, who missed time in 2017 after having played a monstrous total of 1,112 defensive snaps in his first year with the team. Vernon accounted for 38 total pressures in 698 snaps last year, but needs help elsewhere on the line. Jonathan Stewart was signed to add to the backfield, but he is coming off the lowest PFF grade of his career (51.5), and is clearly reaching the end of his time in the league. Even if they secure the running back talent, they still need to complete the overhaul on the offensive line for them to be successful.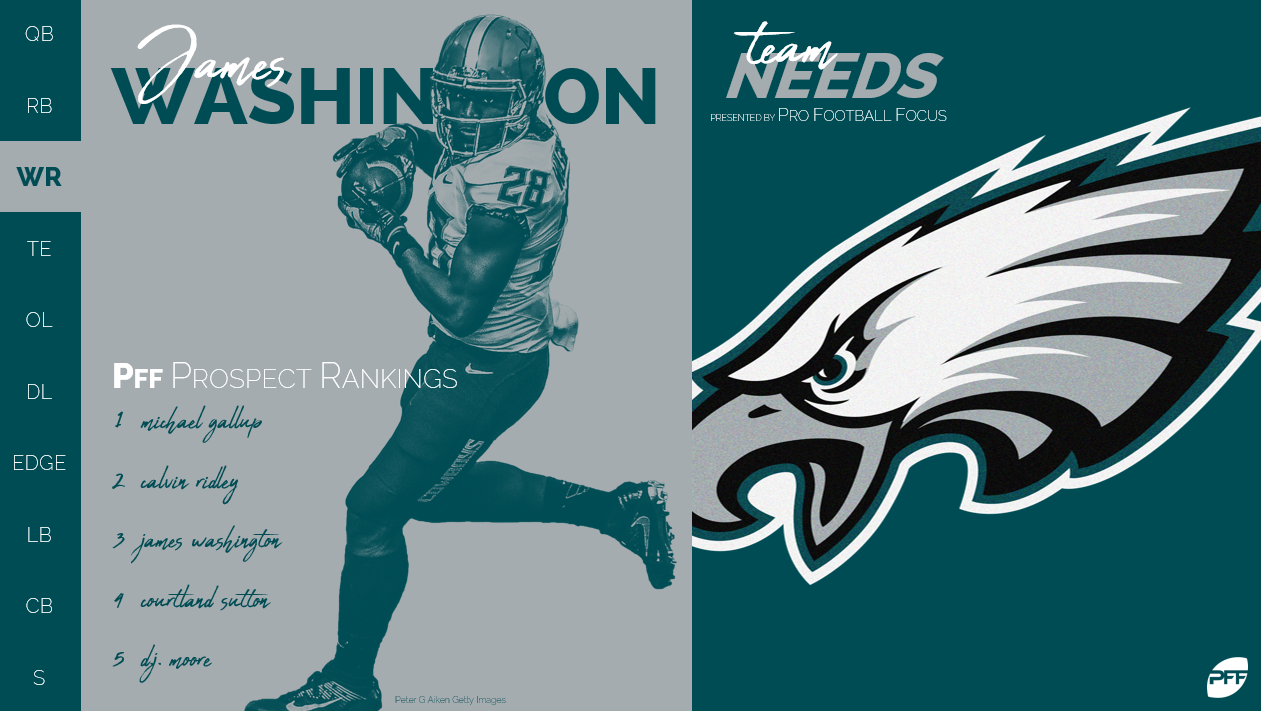 Quarterback: No
Top needs: WR, G, OT
Despite losing some key pieces of the Super Bowl team from 2017, this Philadelphia roster is actually still in remarkably good shape, especially if some of their young players take a step forward in development. They could stand to upgrade at receiver, but that upgrade could easily come from Mack Hollins in year two. Hollins flashed talent as a rookie, but never quite stepped up consistently. At guard, they could upgrade on Stefan Wisniewski, who himself solidified the position in 2017 by saving the team from Isaac Seumalo and Chance Warmack. Wisniewski allowed just one sack and was a solid run-blocker, but he is an average player and wouldn't keep a star out of the line up. Another position they might look at finding a successor for Jason Peters at left tackle.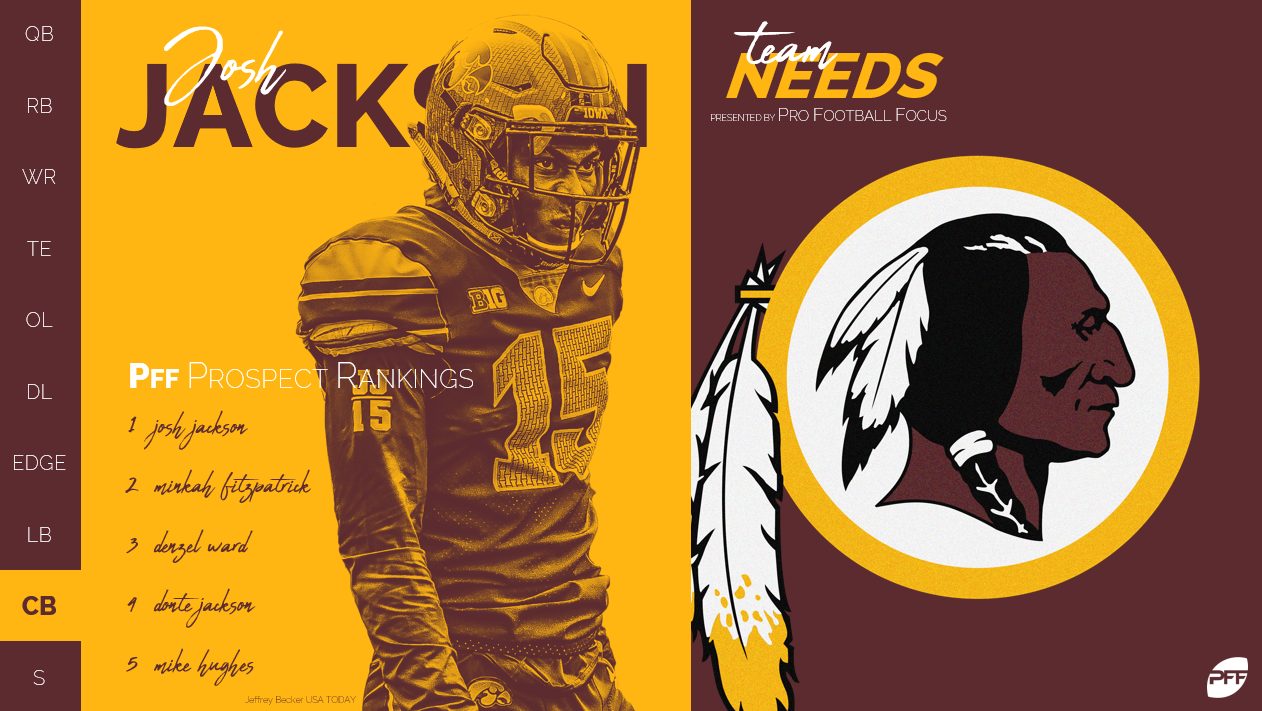 Quarterback: No
Top needs: CB, RB, NT
Josh Norman remains a good player, though he allowed 61.2 percent of passes thrown his way last season to be caught and gave up a passer rating of 114.1. He didn't have an interception and surrendered three touchdowns, but the bigger problem is that the team needed to lose Kendall Fuller, who ended the season with an overall PFF grade of 90.0, to secure QB Alex Smith in a trade with the Chiefs. Replacing his production is the team's biggest need right now, as slot coverage is key in the NFL. Outside of that, the worst position on the roster is nose tackle, but it may also be the least important given how infrequently teams use base defense anymore.
NFC North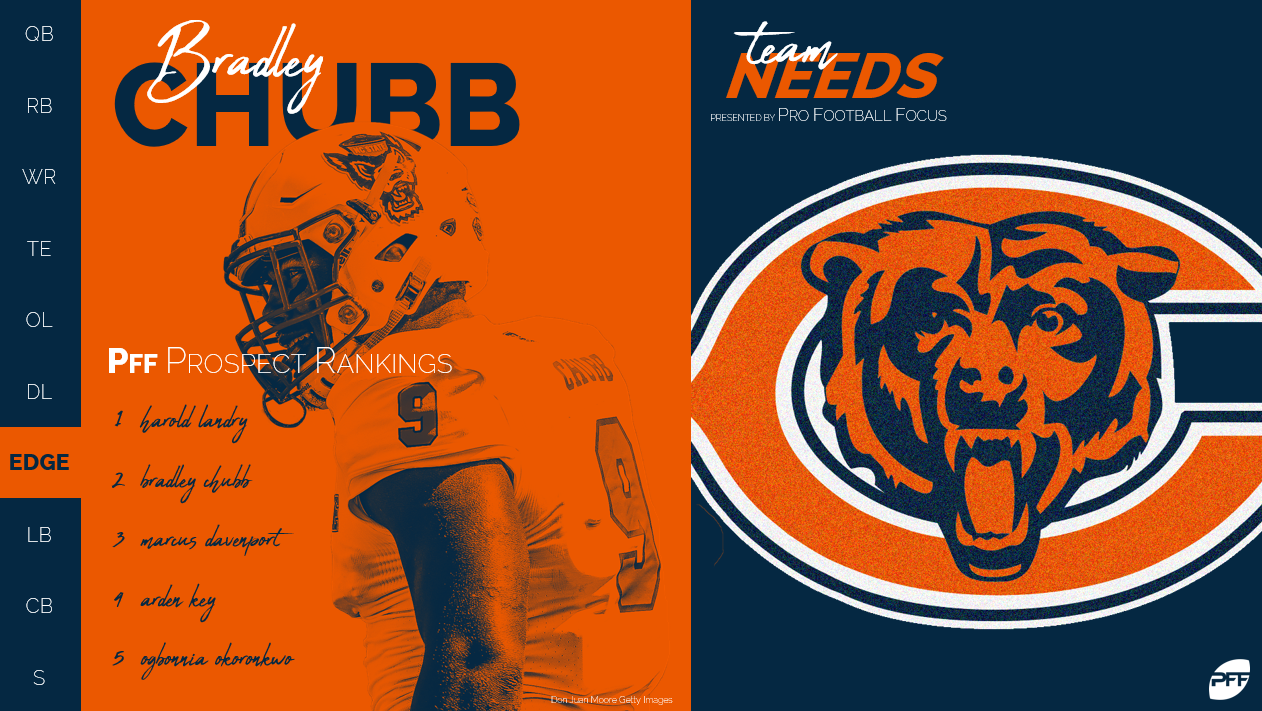 Quarterback: No
Top needs: Edge, G, WR
All of a sudden, Chicago's roster is in pretty good shape heading into a draft that could round out an impressive rebuilding project. They hit most of their biggest problem areas in a very active free agency period, including retaining their own players, and now look to address edge rusher as their main priority. The biggest issue with that is that this is not a strong edge defender draft, so Chicago will likely be hoping there is still the chance that the light goes on for Leonard Floyd, who notched 36 total pressures in 2017, the most among Chicago edge rushers. With Josh Sitton leaving, the Bears now need to plug a hole on the offensive line again, and replacing the best pass-blocking guard in the game will not be easy. Sitton surrendered just 12 total pressures in 13 games in what was, for him, a relative down year as a pass-blocker.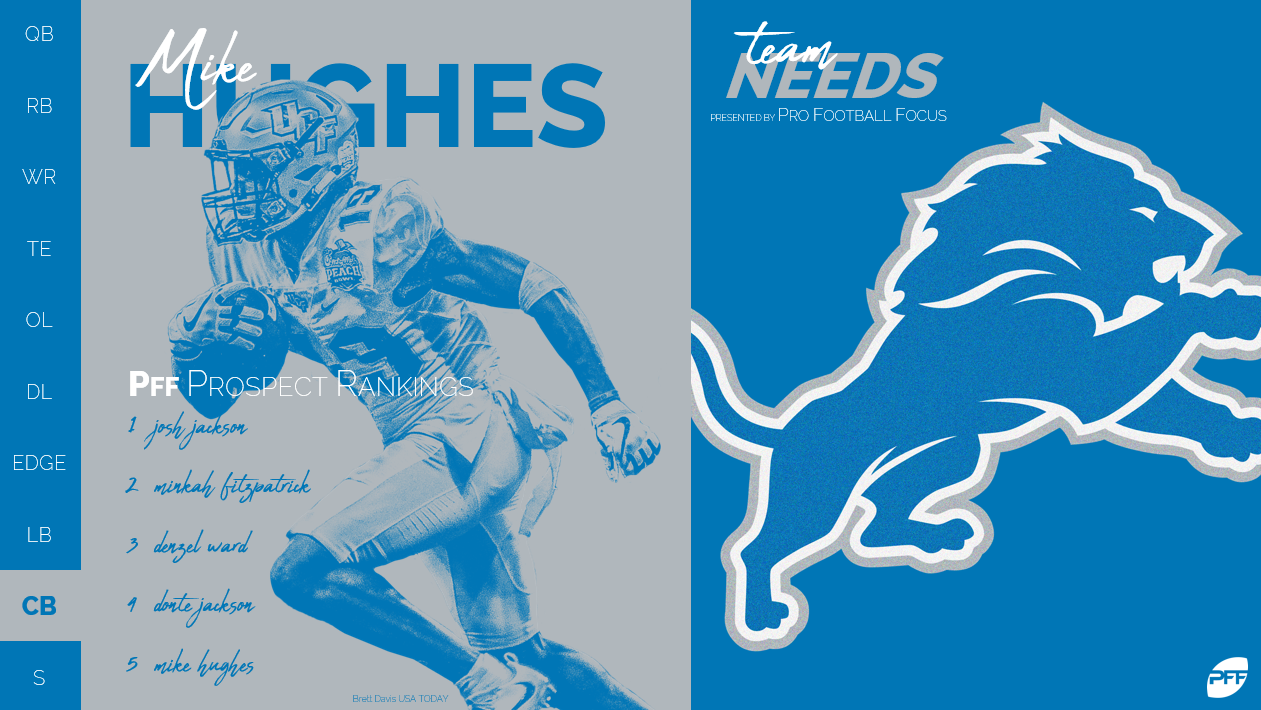 Quarterback: No
Top needs: CB, Interior O-Line, Edge
Darius Slay is a quality player and the team's No. 1 corner, as he allowed a passer rating of just 55.6 when targeted in 2017 and shared the league lead in interceptions with eight while also adding 13 pass breakups into the bargain. They brought back Nevin Lawson though and definitely need an upgrade opposite Slay. Lawson didn't have a pick in 2017 and allowed 69.8 percent of the passes thrown his way to be caught. T.J. Lang is solid at one guard spot, but the other two interior positions could be strengthened, which in turn would aid both Matthew Stafford and the running game which is consistently so anaemic. While the team's defensive line has been solid, it has been unspectacular, and they could stand to find an upgrade at any spot along that front if the right player fell into their lap. Ziggy Ansah led the team in 2017 with 37 total pressures.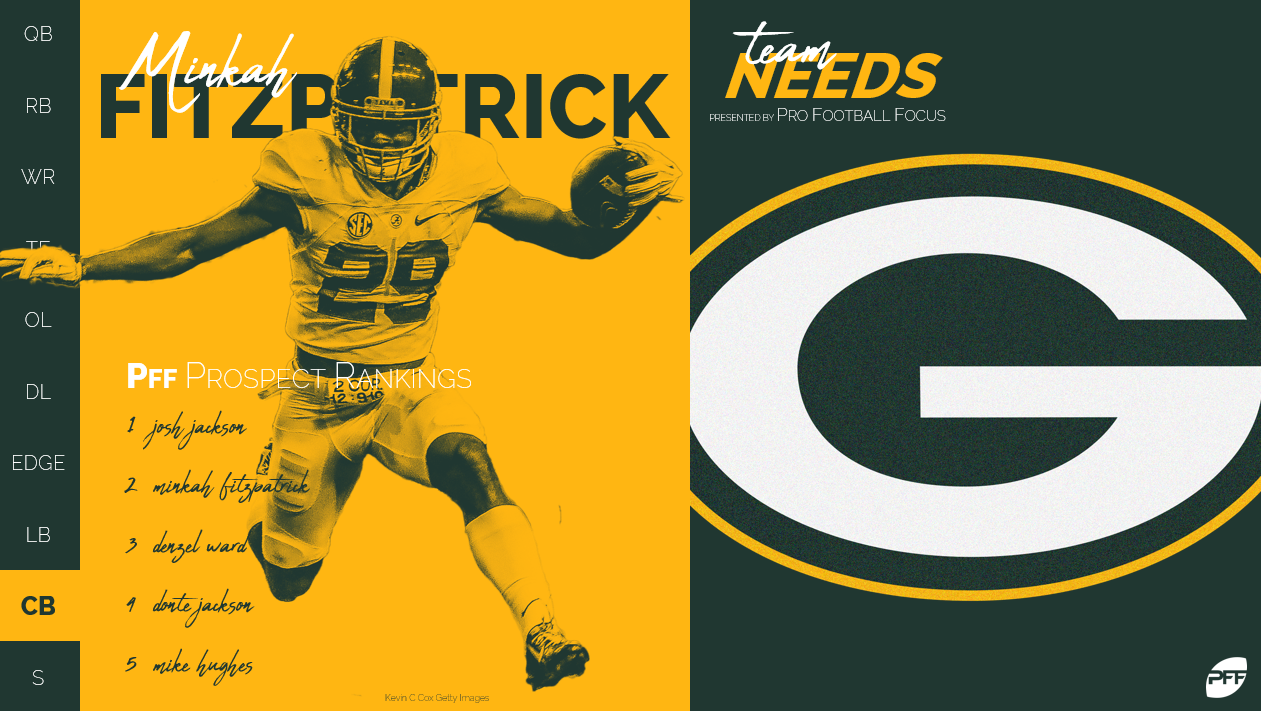 Quarterback: No
Top needs: CB, G, LB
It seems like a distant memory that the Packers secondary once looked to be in excellent shape for the future, with then-rookies Damarious Randall and Quentin Rollins playing well. Both players regressed badly and Randall was traded out of town this offseason. They added Kevin King in last year's draft, but he saw just 380 snaps of action and was very much boom or bust. Three of their top four corners surrendered a passer rating over 100.0 when targeted and three of the four allowed a completion percentage of over 60 percent. Randall also accounted for four of the five interceptions the group had on the season, so the need is clear to see. Beyond that, they could use competition at guard and linebacker, where their starters have been solid if unspectacular.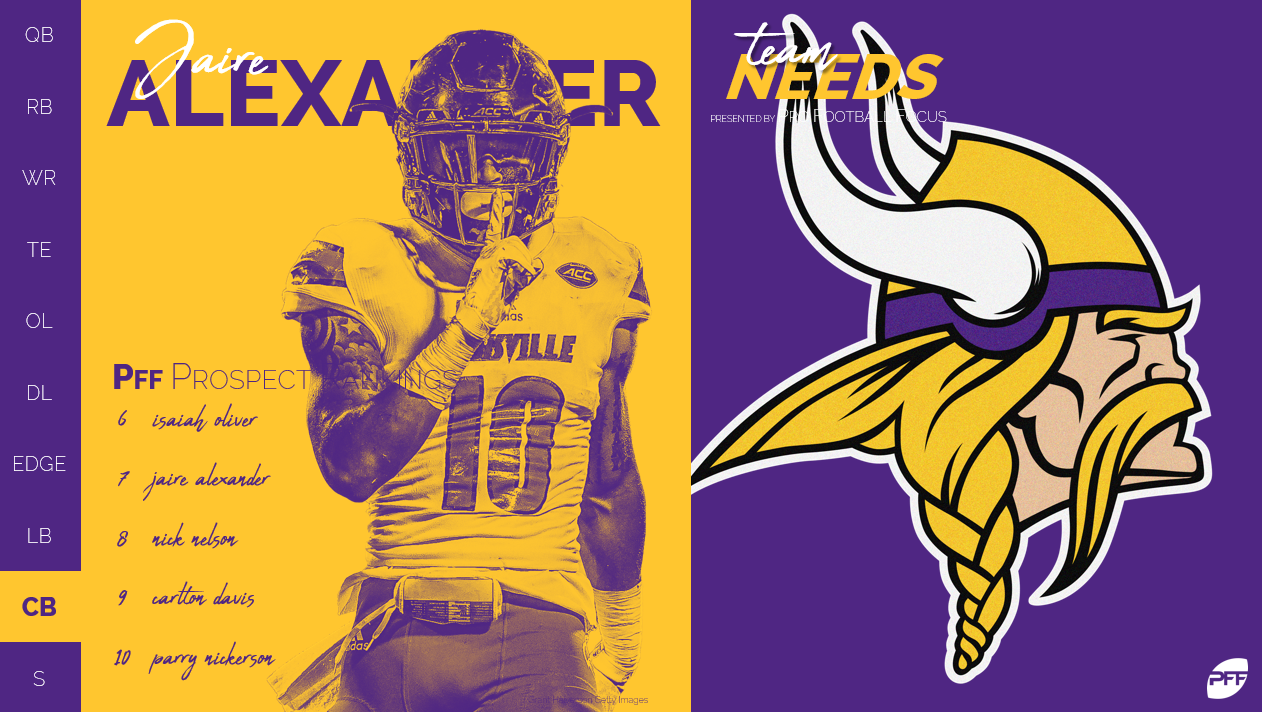 Quarterback: No
Top needs: CB, Interior O-Line, OT
Offensive line is the one area that threatens to prevent the Vikings from contending again in 2018. They have added bodies to the unit in recent seasons, but have not gotten a huge amount of quality production. No currently-slated starter earned an overall PFF grade higher than 70.0 last season, and this is a draft they need to nail to avoid struggling. The other spot in clear need of addressing is cornerback, where Terence Newman has yet to be brought back after having turned 39 during the last season and finally started to show signs of slowing down. Xavier Rhodes is a top-quality player, but there is no proven production on the roster outside of him.
NFC South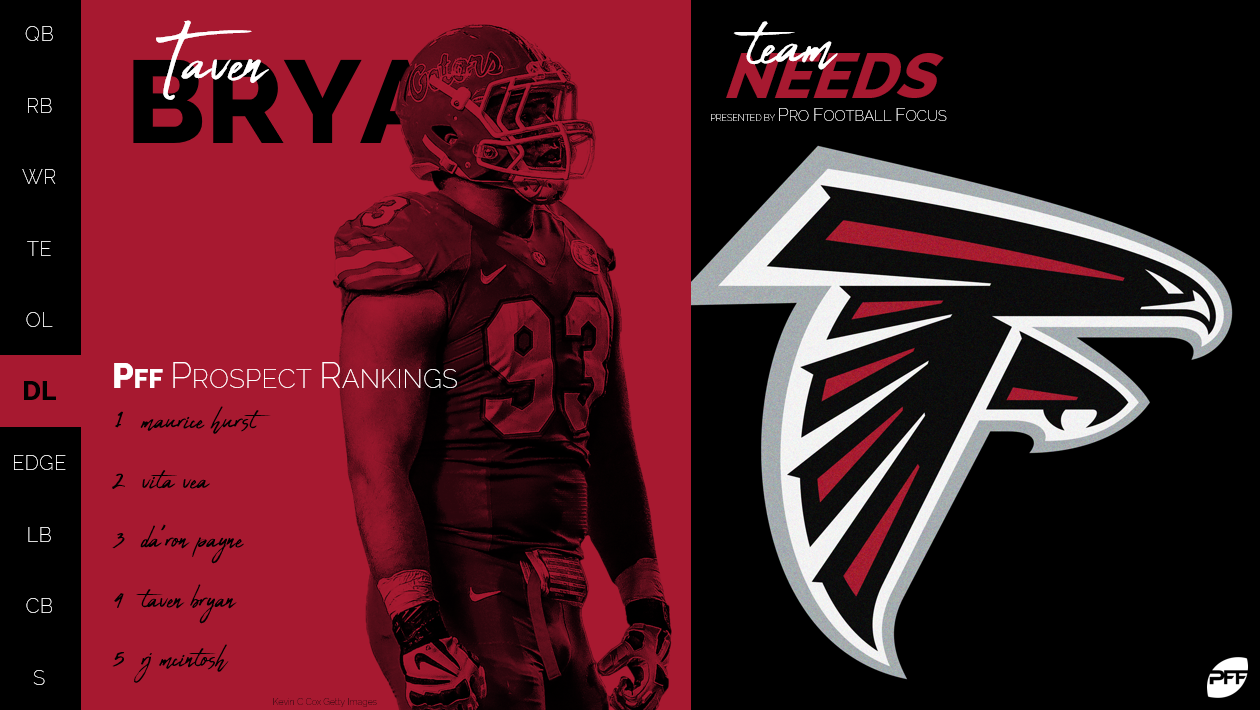 Quarterback: No
Top needs: DI, WR, G
With Dontari Poe moving across the division to the Carolina Panthers, the Falcons are once again in a position of needing to find another interior defender to pair with Grady Jarrett. Poe had 37 total pressures in 2017 as a nose tackle in that defense, and played 784 snaps, just 10 fewer than Jarrett did alongside him, so it is a significant loss to replace. Despite the signing of Brandon Fusco – who has the potential to address the problem – right guard would be an obvious position to address, as the team has struggled to get capable play at that spot for multiple seasons now. In 2017, the combination of Ben Garland and Wes Schweitzer allowed 46 total pressures over the year.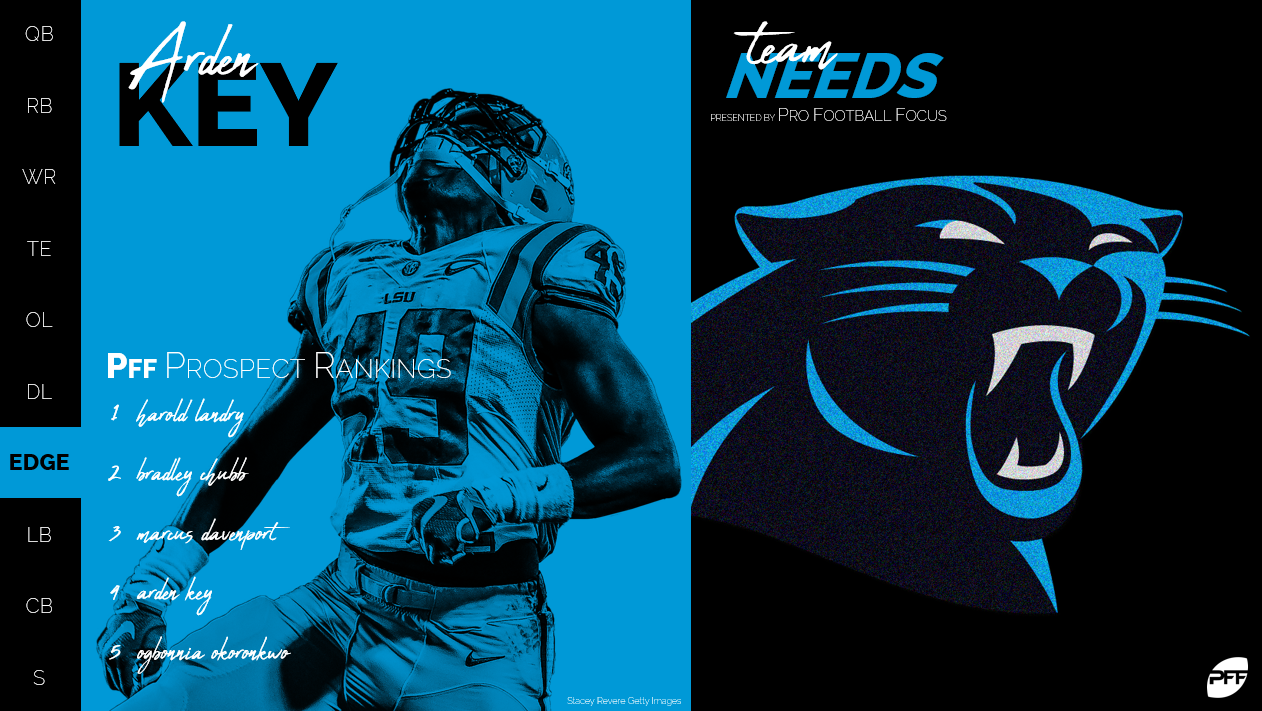 Quarterback: No
Top needs: Edge, CB, G
Julius Peppers may have had 13 sacks in 2017, but he had just 31 total pressures, giving him the highest finish rate of pressure in the league at 41.9 percent. That rate is almost three times the average edge defender and more than twice his career baseline, making it a figure destined for a massive regression. His overall PFF grade declined sharply and suggests in spite of that sack figure the team would be well advised to find a competent replacement sooner rather than later, which is no easy task facing into a draft that is not stocked with quality pass-rushers. The Panthers also need corner help, having traded away a starter last season (Daryl Worley) as a makeweight for a below-average receiver, giving you all the indication needed of how much the team knew they need an injection of talent at the position.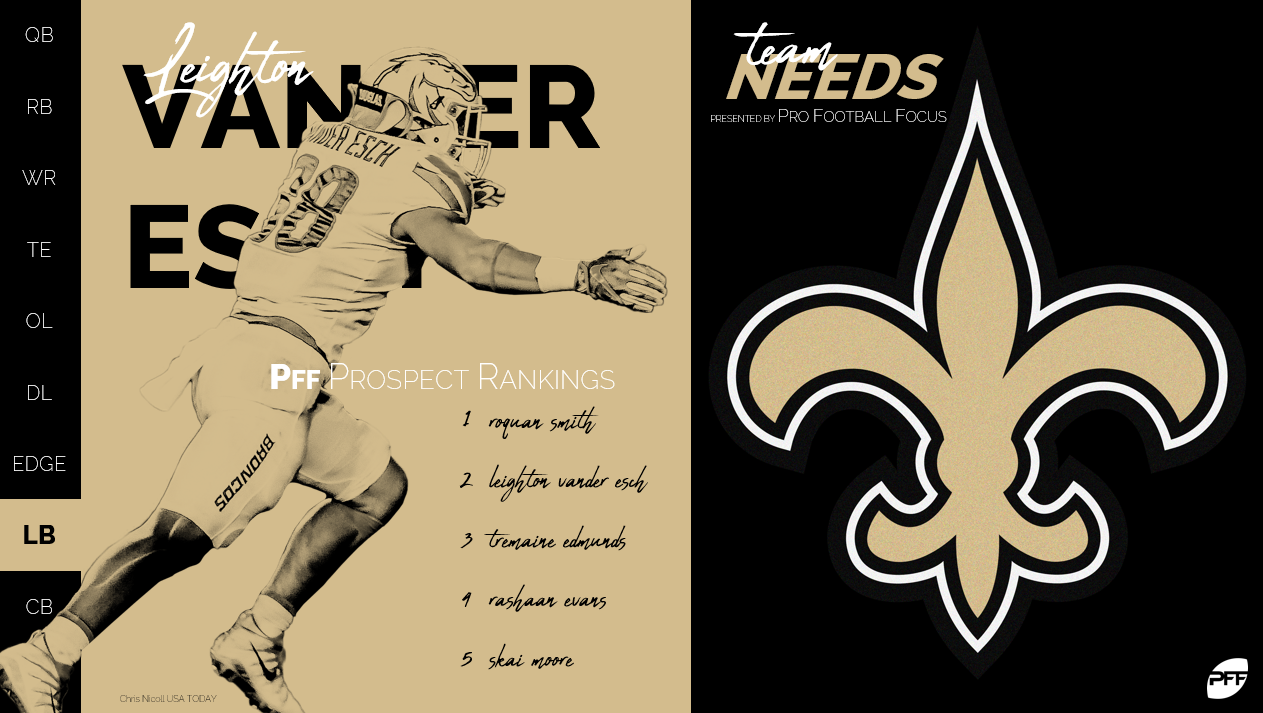 Quarterback: Yes
Top needs: LB, TE, C
As seems to be the case perennially, the Saints need linebackers. It's not that they haven't tried to add them over recent seasons, it's that they continually swing and miss on the ones they bring in. A.J. Klein came over from the Panthers, where he had been Luke Kuechly's backup, and earned an overall PFF grade of just 36.8 in starting last season, good enough to rank 80th in the league. Rookie Alex Anzalone looked to have talent, but quickly repeated his college propensity for injuries and was lost for the year. Demario Davis – newly-signed this free agency period – is coming off a career year that ranked more than 10.0 PFF grading points higher than his previous best, having posted three seasons with a grade under 50.0 in his career to that point. The Saints could really use a sure thing at the position to solidify the middle of what is a very good defense either side of linebacker.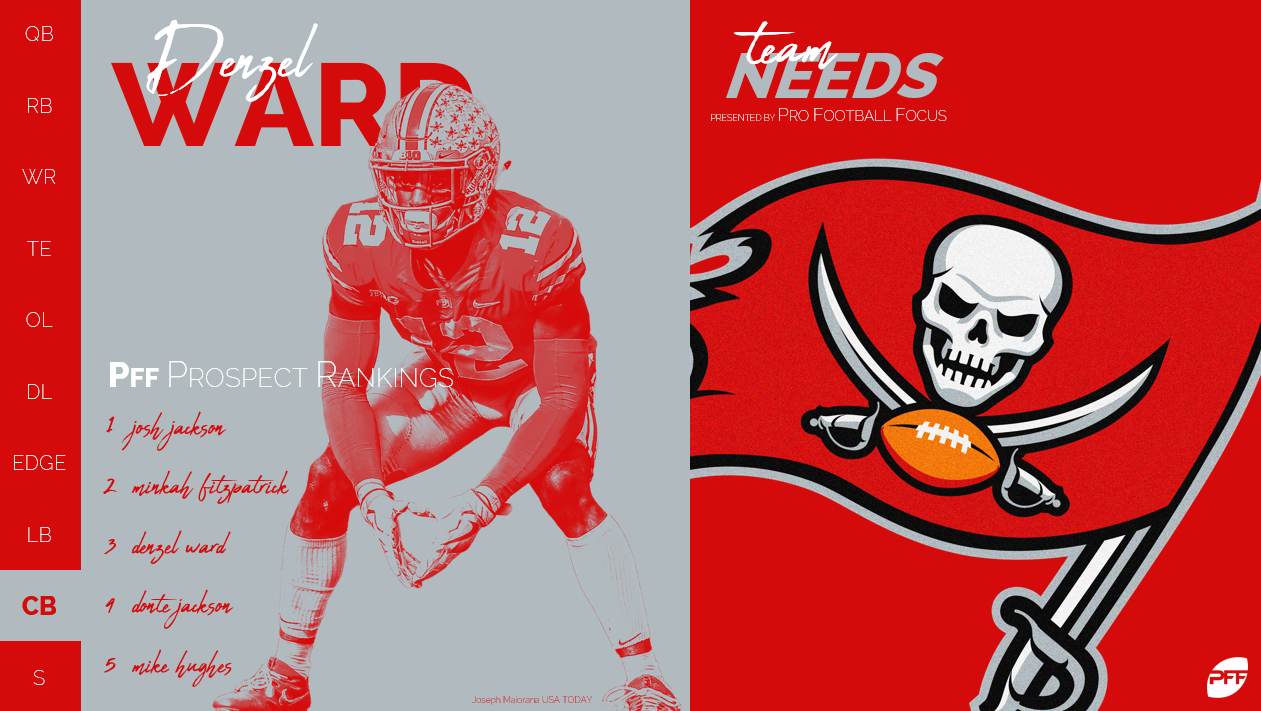 Quarterback: No
Top needs: CB, S, LT
The failure of Vernon Hargreaves to develop into the quality of player the Bucs  thought he could be has put this team in need of cornerback help. Hargreaves allowed a passer rating of 104.6 when targeted in 2017, and he wasn't the only corner getting game time to surrender a rating over 100, with Javien Elliott and Ryan Smith joining him there. Brent Grimes was the best corner on the roster, but he will be 35 years old when the season starts, so this team needs a new star in the secondary. The problems on the back end don't end at corner, and the team could very much use an upgrade at safety as well. The other spot that is crying out for improvement is at left tackle, where Donovan Smith again ranked among the worst players in the league at that position. He earned an overall PFF grade of 51.9, 53rd among tackles. Smith allowed seven sacks and 42 total pressures over the season.
NFC West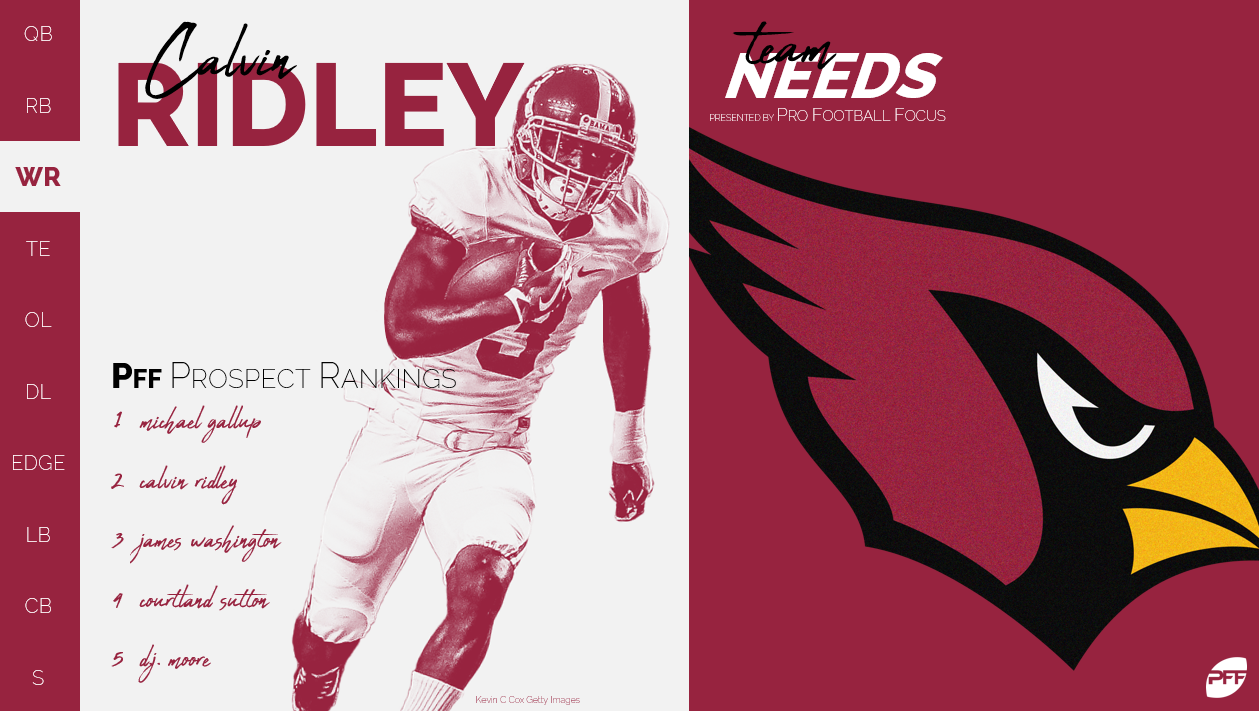 Quarterback: Yes
Top needs: WR, CB, OT
Sam Bradford and Mike Glennon were both signed as free agents, but this was a team whose only quarterback was the one sitting in the quarterback room waiting for somebody to coach (Byron Leftwich – QB coach). Bradford and Glennon are at best bridge quarterbacks to the new future of the franchise, and that needs to be the team's main priority, despite less than ideal draft positioning to secure one of the best rookies. Beyond the most important position in the game, the team needs to find a wide receiver whose name isn't Larry Fitzgerald for any of their quarterbacks to throw to. Fitzgerald had 153 targets in 2017, 89 more than any other wide out. Tramon Williams was fantastic in 2017, but like Tyrann Mathieu, departed in the offseason, and the team is back to needing a starter opposite Patrick Peterson that can hold up to the weight of targets they will receive as teams avoid one of the best in the game.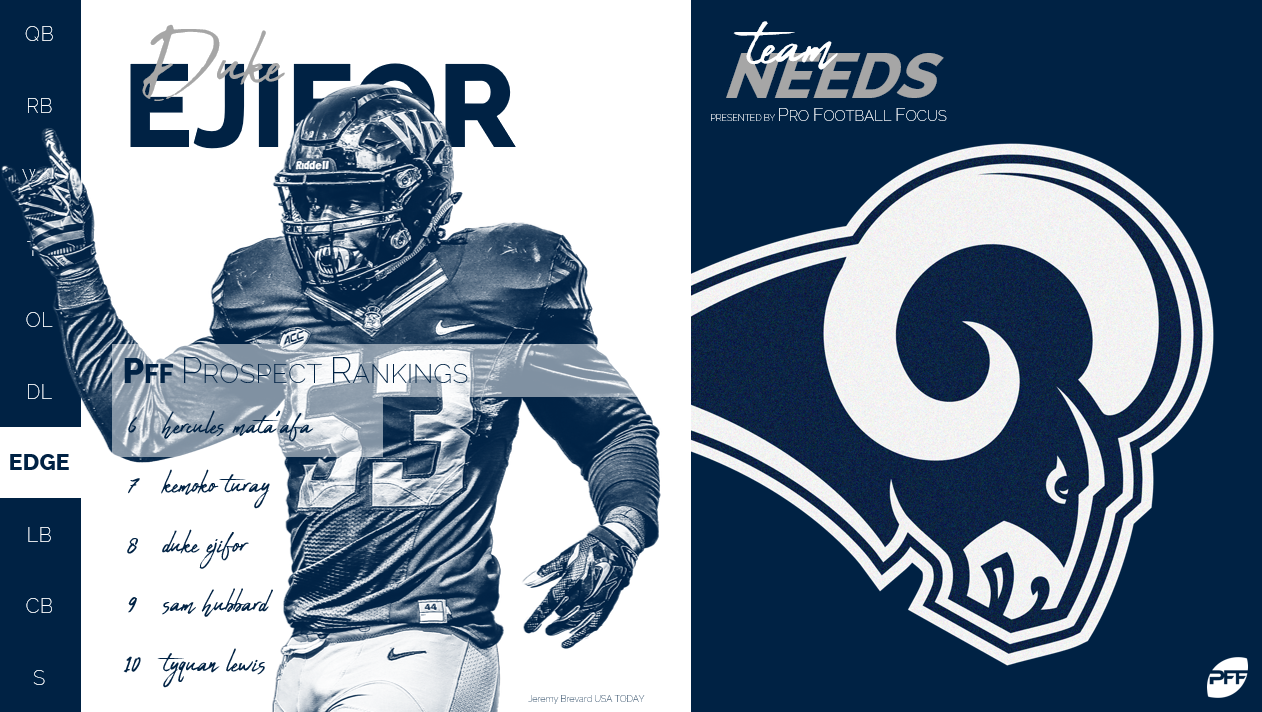 Quarterback: No
Top needs: Edge, LB, O-Line
While the Rams have been making moves upon moves this offseason, their need at edge rusher is one of the most acute in the game. They are able to hide it to some degree given just how staggeringly dominant Aaron Donald is inside, but they need a complement to his rush on the outside. Last season, Robert Quinn led the team's edge rushers with just 38 total pressures, and the leading holdover was Matt Longacre, who had 26 across 377 snaps. Even before Alec Ogletree was moved, the team needed an upgrade at linebacker, but that move just reinforced that they were aware of the issue themselves. The last area they could use an injection of youth is the offensive line, where players like Andrew Whitworth (36) and John Sullivan (32) are eventually going to start to decline.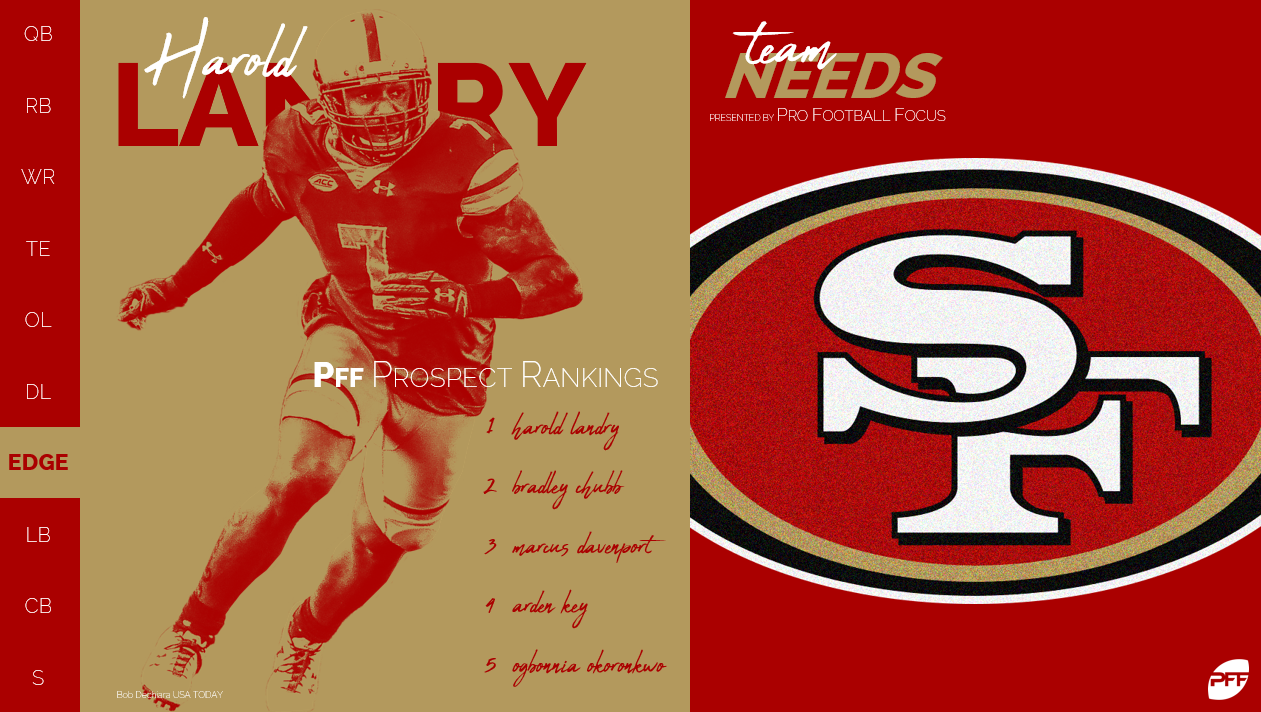 Quarterback: No
Top needs: Edge, CB, LB
With interior defenders drafted in the first round for three consecutive years, the 49ers now desperately need to find the edge rusher to complement that interior presence. Of the team's three primary edge rushers last season, two were those aforementioned interior rushers playing out of position, and the other was Elvis Dumervil, who is currently a free agent. Dumervil led that group in total pressures, with 52 on just 341 snaps. The off-field issues surrounding Reuben Foster make linebacker an acute need once again, months after the team thought they had found one of the future stars of the franchise. Foster finished an injury-marred rookie year with an overall PFF grade of 90.7, but his involvement in domestic violence charges could result in his NFL career being curtailed.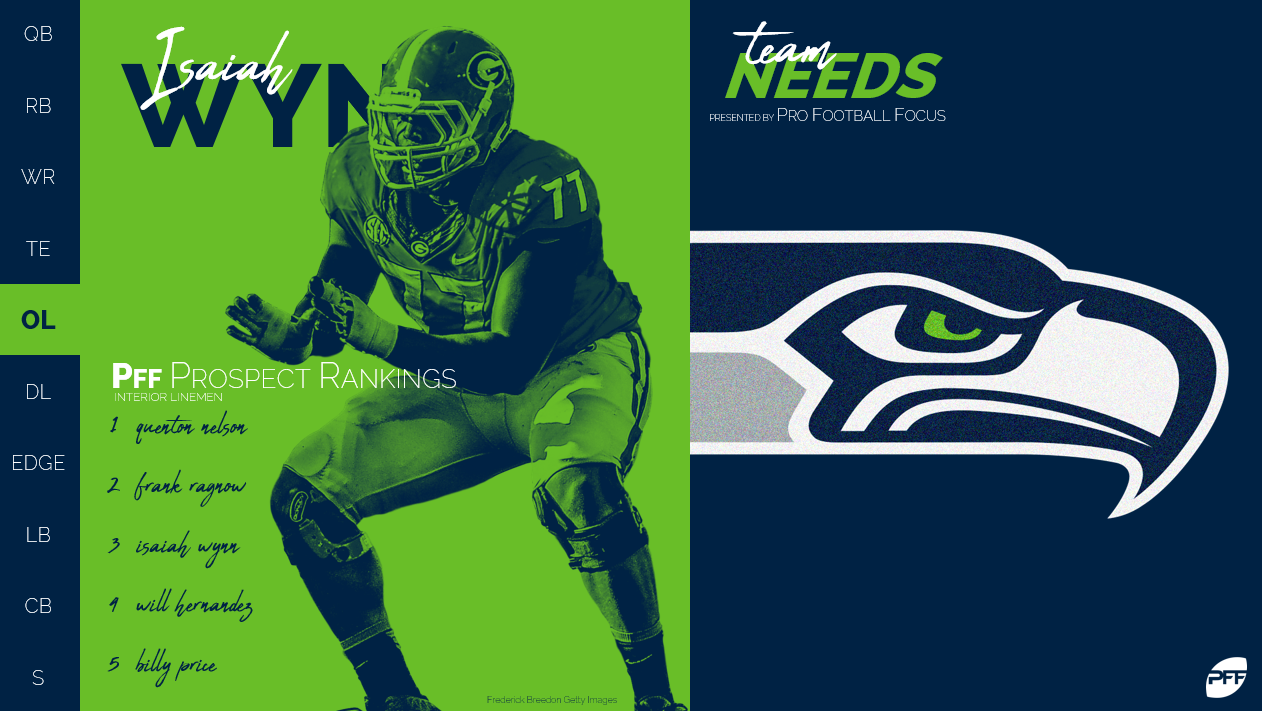 Quarterback: No
Top needs: O-Line, CB, TE
Seattle's offensive line needs more work, but they have at least found one quality starter in Duane Brown, who came over mid-way through the 2017 season via trade. Brown allowed just one sack over nine games for Seattle and 17 total pressures, but what is maybe even more critical, the entire line's performance improved with his arrival. That being said, there are still four players that could be upgraded upon with even capable, average play, so it should remain one of their primary areas of focus. With Richard Sherman no longer in town, the team needs to find his replacement, as corner looks ugly on paper outside of second-year player Shaquill Griffin. Playing opposite Sherman, Griffin allowed just 52.9 percent of passes thrown his way to be caught as a rookie, and could become a very good player, but he needs help.

AFC East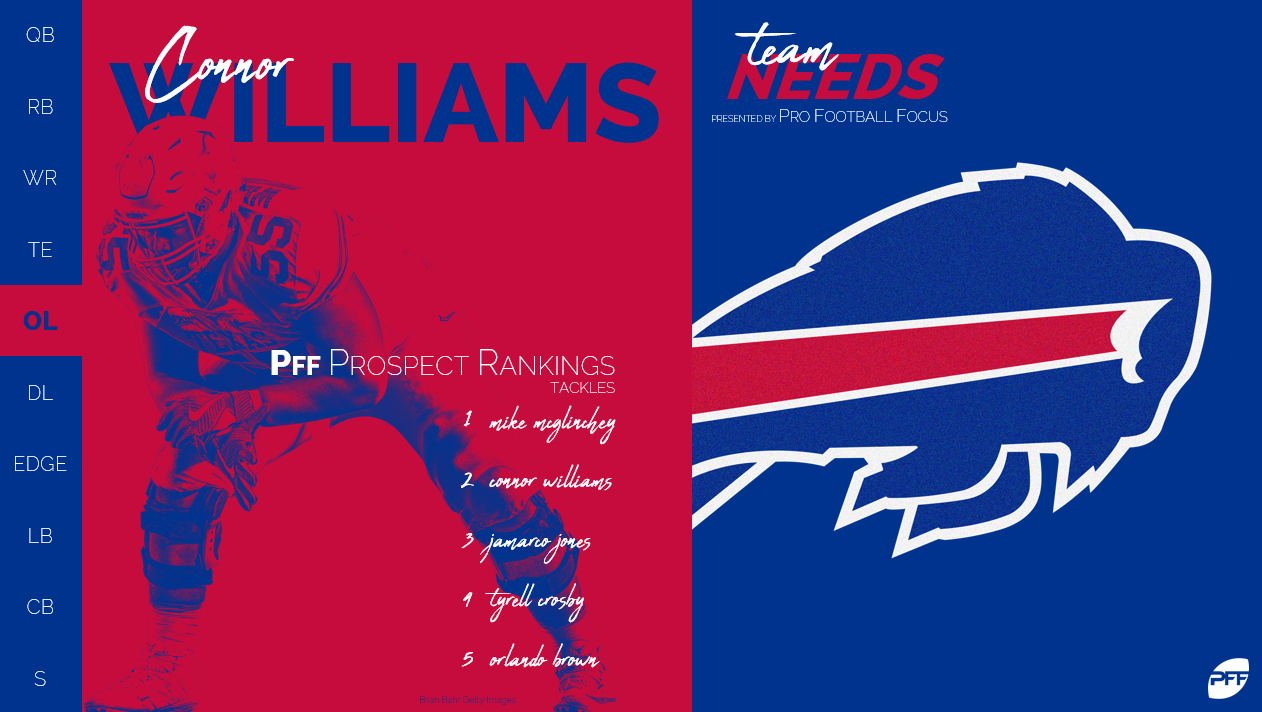 Quarterback: Yes
Top needs: O-Line, WR, LB
The Bills will be targeting a quarterback early in the draft, and they're armed with two first-round picks for a potential move into the top five. The offensive line needs help everywhere after they sent solid left tackle Cordy Glenn to the Cincinnati Bengals, though there's hope that 2017 second-rounder Dion Dawkins and RT Jordan Mills can form at least an average pair of tackles. Starting LG Richie Incognito's questionable status doesn't help matters, leaving them weak on the interior as well. Buffalo also has one of the worst group of playmakers at wide receiver, though 2017 second-rounder Zay Jones can bounce back from a rough rookie campaign and WR Kelvin Benjamin can be a contested-catch option. They still need a better all-around receiver capable of getting open at all levels of the field. The Bills' defensive scheme requires a rangy linebacker in the middle and they lack the ideal candidate on the current roster.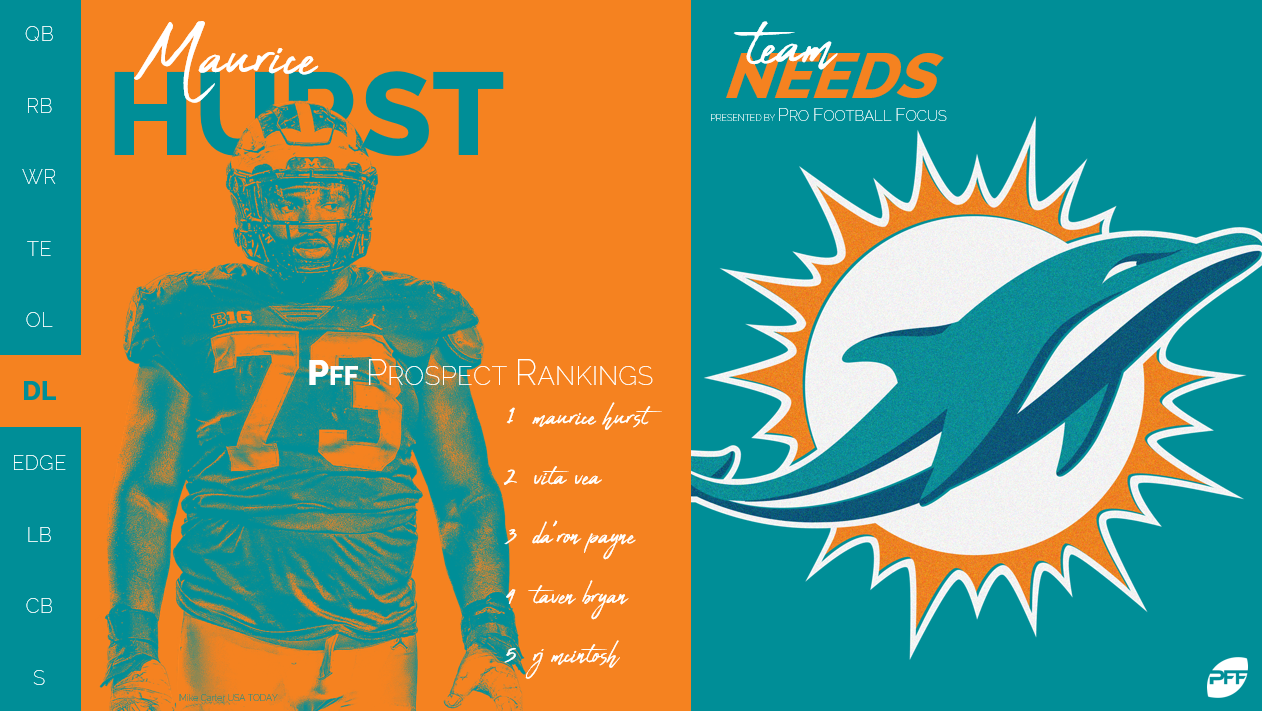 Quarterback: Yes
Top needs: DI, LB, TE
We could see the Dolphins dabble in the first-round quarterback market if the right player falls, but it's not a pressing need. They will certainly be looking to upgrade on the interior of the defensive line, especially after stepping away from Ndamukong Suh's monster contract. Linebacker has been a need for a while in Miami, especially a three-down presence with strong coverage ability. The third need could have been guard where the right side is still a major question mark, though the signing of the best pass-blocking guard in the game, Josh Sitton, has eased that burden on the interior. The tight end position can use an upgrade where MarQueis Gray and A.J. Derby likely best fit as complementary pieces and the Miami passing attack needs to put weapons all over the field in order to get the best out of QB Ryan Tannehill.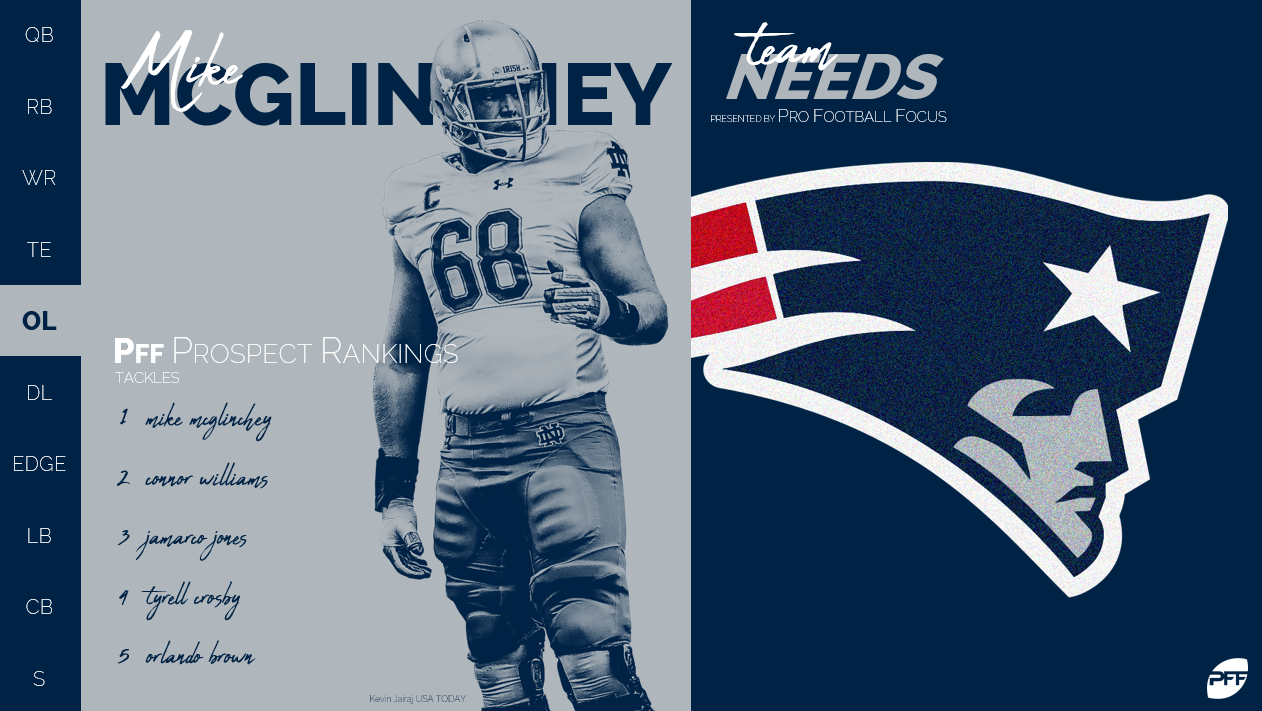 Quarterback: Yes
Top needs: OT, LB, CB
New England is firmly in the quarterback market given Tom Brady's age and Jimmy Garoppolo being shipped to San Francisco, the question is if they're in the first-round future franchise quarterback market or the Day 2 potential starter market. With LT Nate Solder moving on in free agency, left tackle is a huge question mark and likely one that will be addressed if the right first-rounder falls in the draft. The Patriots' linebackers will be better with Dont'a Hightower returning, but adding athleticism in the middle of the defense should be a top priority. At cornerback, Malcolm Butler departs and Jason McCourty steps in opposite Stephon Gilmore, but that shouldn't keep New England from grabbing a top-flight cover guy in the first three rounds.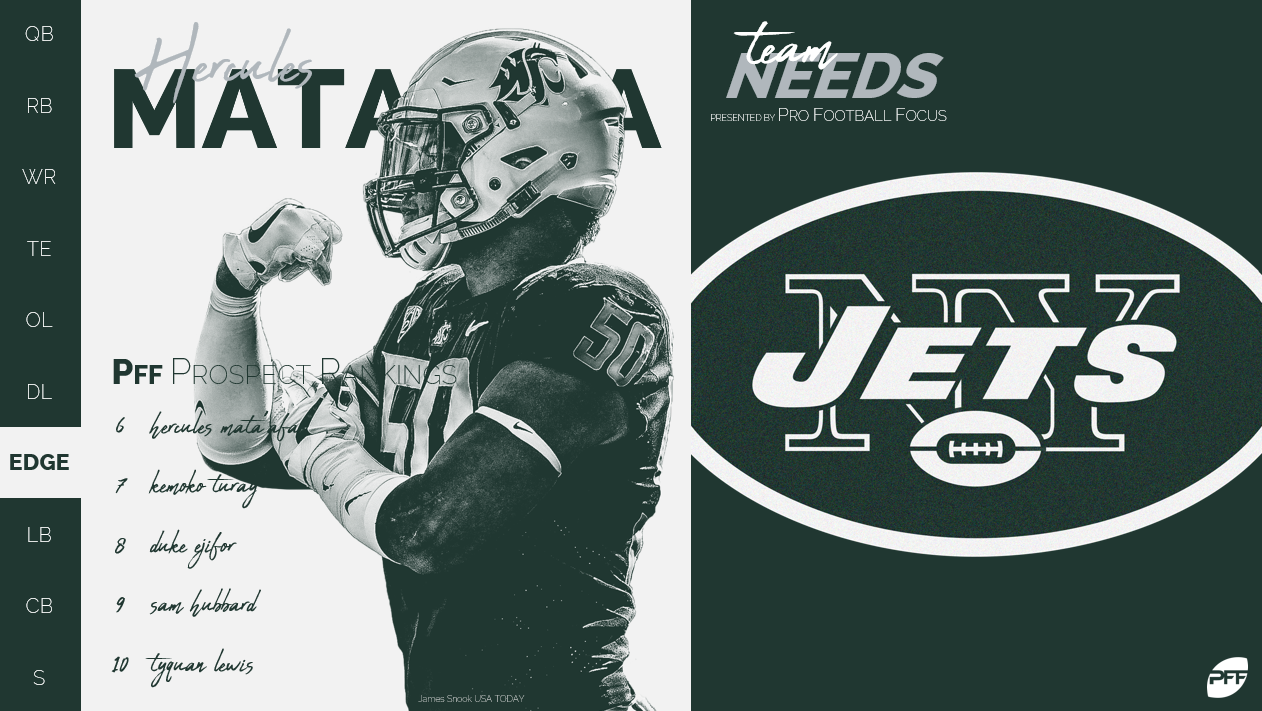 Quarterback: Yes
Top needs: Edge, O-Line, CB
Quarterback is an obvious major need at the top as the Jets have two solid one-to-two year options in Josh McCown and Teddy Bridgewater, but they moved up to No. 3 in the draft in order to find the signal-caller of the future. They've had an annual need of edge rushers dating back to the Rex Ryan days and this offseason is no different. The offensive line needs talent and an influx of youth, so they can use help across the board. At cornerback, Morris Claiborne has one PFF grade above 49.0 since 2012, a solid 84.0 season in 2016, but he's not going to keep the Jets out of the cornerback market in the draft, even with the signing of Trumaine Johnson on the other side. Talent upgrades and depth are needed for the Jets' man-heavy scheme.
AFC North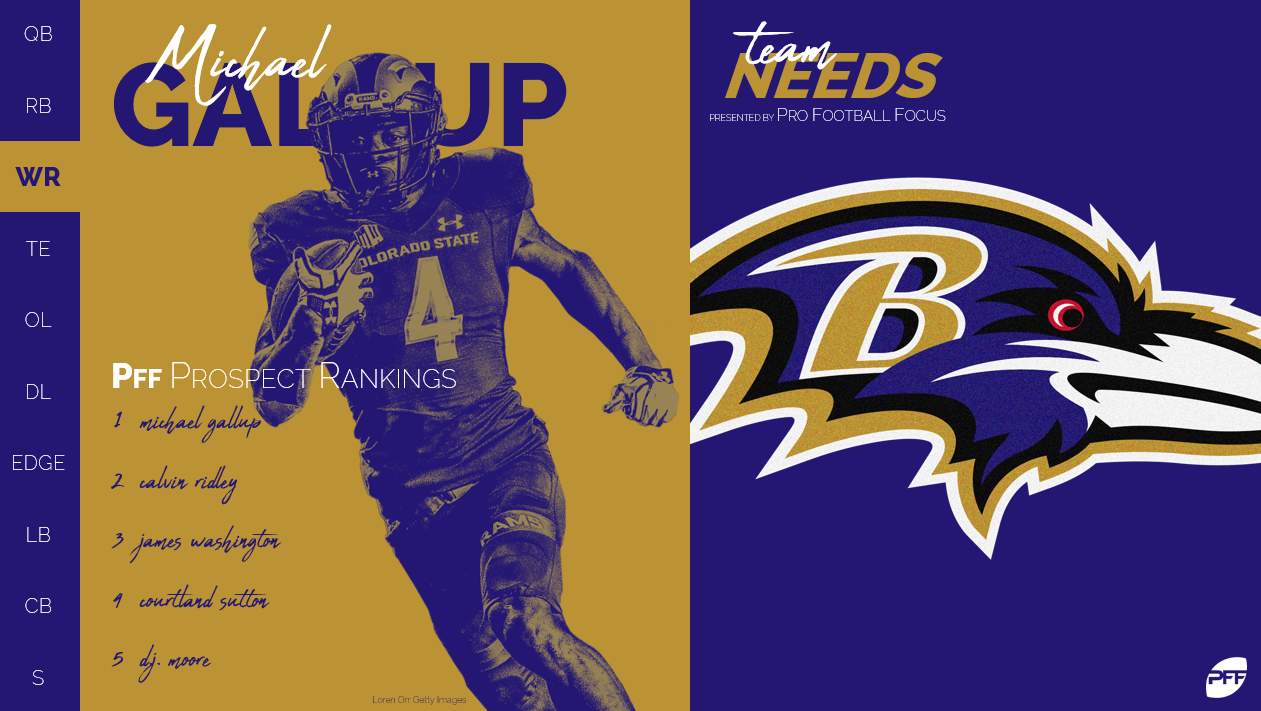 Quarterback: Yes
Top needs: WR, LB, Edge
Even with QB Joe Flacco locked up, it's time for the Ravens to look to the future over the next two years in the draft. Regardless of the quarterback situation, receiver is still a huge need even with the addition of Michael Crabtree and John Brown. There are plenty of questions at linebacker beyond C.J. Mosley and another athletic coverage presence could really solidify that back-seven. On the edge, the Ravens can't count on Terrell Suggs forever, and while they did invest in Tim Williams and Tyus Bowser last year, they combined for only 286 snaps and there is still room for another pass-rushing presence. Playmakers on the outside on offense and playmakers on the outside on defense, both are top priorities for the Ravens.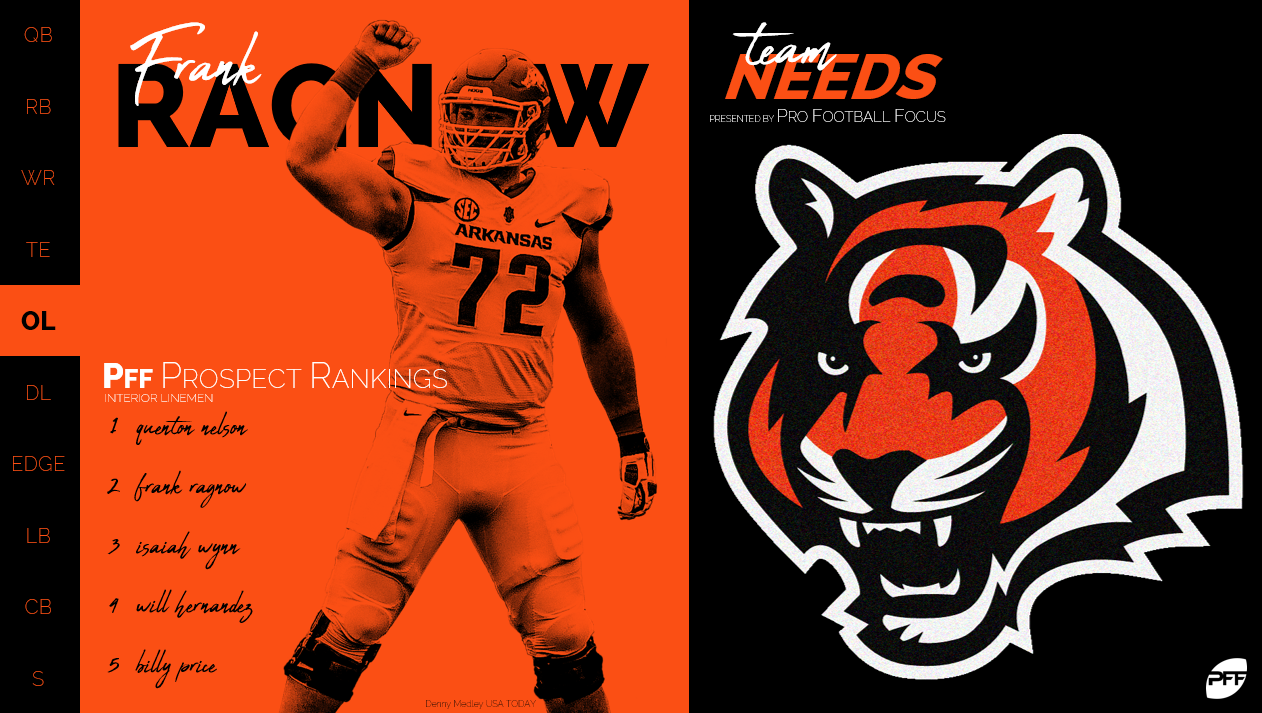 Quarterback: No
Top needs: Interior O-Line, WR, LB
Let's throw the Bengals in the mix of teams that can take a quarterback if the right guy falls, but it's unlikely that they would be aggressive in that market otherwise. On the offensive line, adding LT Cordy Glenn is a huge step in the right direction, but they still have big holes at center and right guard. The Bengals have tried to attack the linebacker position with the addition of Preston Brown, but there are still enough question marks in that group that a coverage-first linebacker should be a priority. Then it's back to the offensive line where the tackle position could be upgraded on the right side.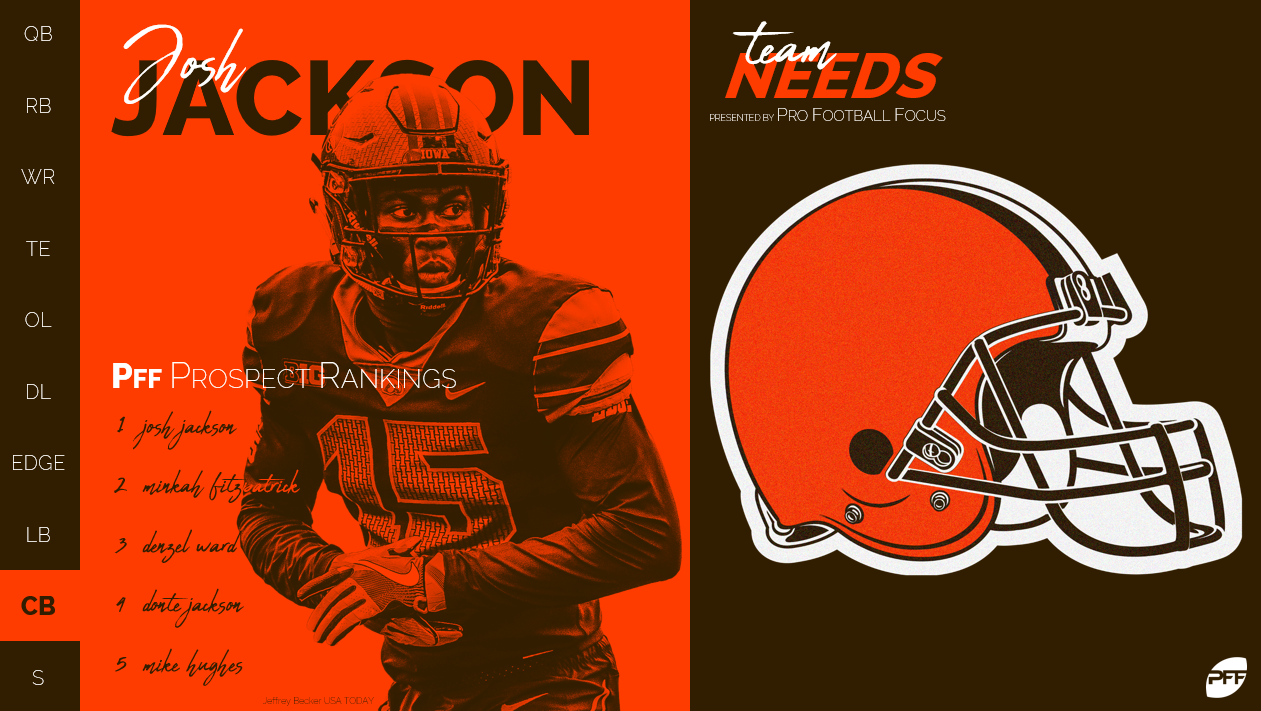 Quarterback: Yes
Top needs: CB, OT, Edge
Quarterback is a need, rinse, repeat. Beyond the obvious, Cleveland is in desperate need of playmakers on the back end, and this could be a multi-cornerback draft for them. The other big story in Cleveland is left tackle Joe Thomas' retirement which leaves a big hole on the left side. OT Shon Coleman is not good enough to prevent Cleveland from kicking the tires on the top tackle options in the draft. Pass-rusher is also a top priority as the Browns as they look for a complement to last year's No. 1 overall pick, Myles Garrett. Quarterback, then playmakers at premium defensive positions. That should be the priority for the Browns in this draft.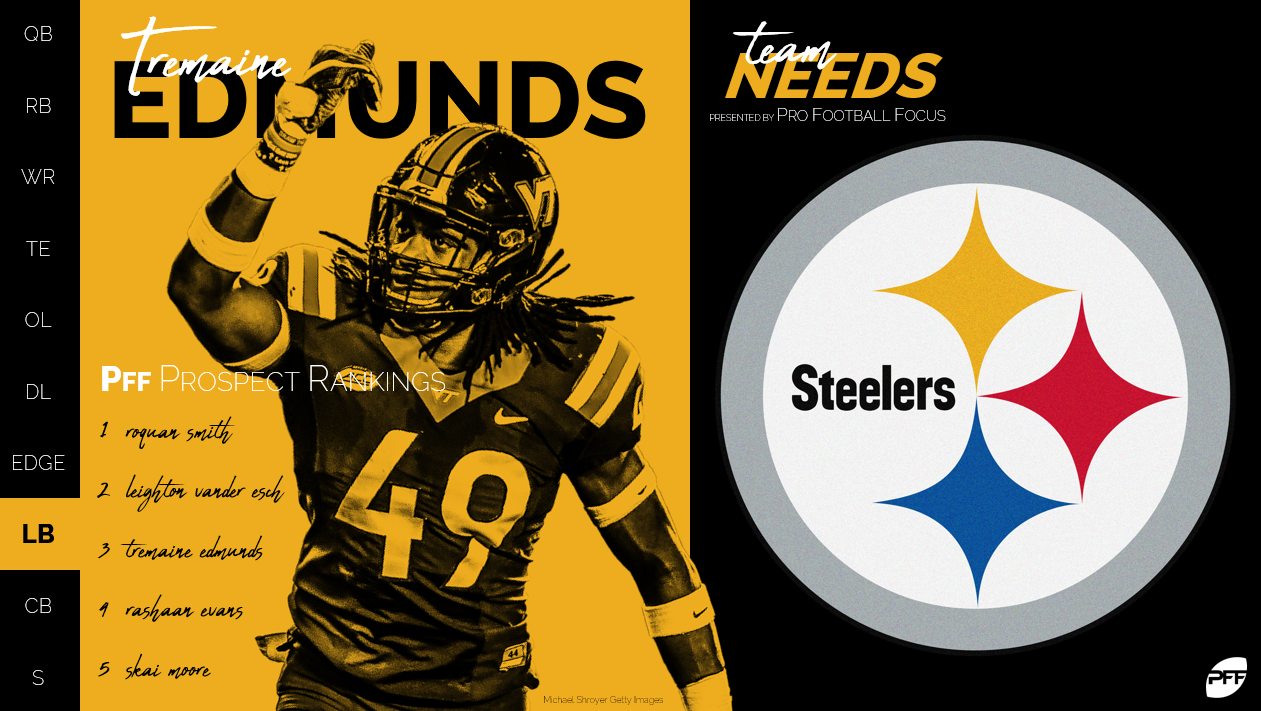 Quarterback: Yes
Top needs: LB, Edge, S
All teams with Class of 2004 quarterbacks should be dabbling in the quarterback market, and the Steelers are no different. Beyond that, the top needs all reside on the defensive side of the ball, starting with linebacker where Ryan Shazier's unfortunate injury created a massive hole in the middle. A chase-and-run linebacker should be an early target. Plenty of resources have been used on the edge, but the Steelers still have a need for pass-rushers as Bud Dupree has disappointed while last year's first-rounder T.J. Watt got off to a solid start. At safety, free agent Morgan Burnett is a solid strong safety type, but they still need a true free safety on the back end. Sean Davis has failed to make the desired impact after being drafted in the second round in 2016.
AFC South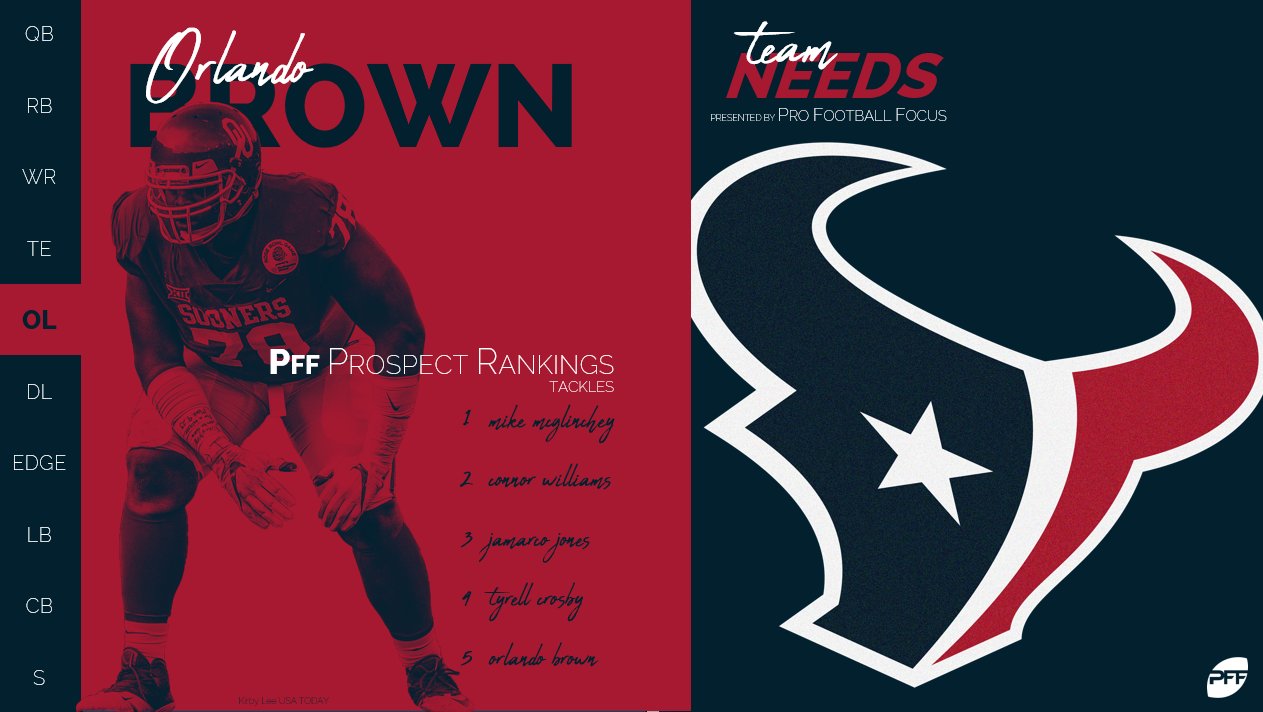 Quarterback: No
Top needs: O-Line, Edge, Interior OT
After allowing 36 more pressures than any other offensive line last season, the Texans need an influx of youth and talent up front, especially at offensive tackle. Their moves in free agency added depth, but they still have a major need on the line. At receiver, DeAndre Hopkins is a star and Will Fuller is a fine deep threat, but Houston needs another player capable of producing on the outside or in the slot. The cornerback position took a big step back last season and they may be able to find a potential starter despite not having first or second-round picks in the draft.
Quarterback: No
Top needs: CB, LB, Edge
It's all about defense for the Colts who simply need talented playmakers on that side of the ball. Cornerback is a major question mark and Indianapolis could use multiple players with versatile skill sets in the secondary. The linebacking corps has limited experience while Antonio Morrison is coming off a 35.8 overall season, so look for linebacker to be targeted early in the draft. Then it's all about creating havoc off the edge where the Colts got a fine season from veteran Jabaal Sheard, but they need to get better and younger with their pass-rushers.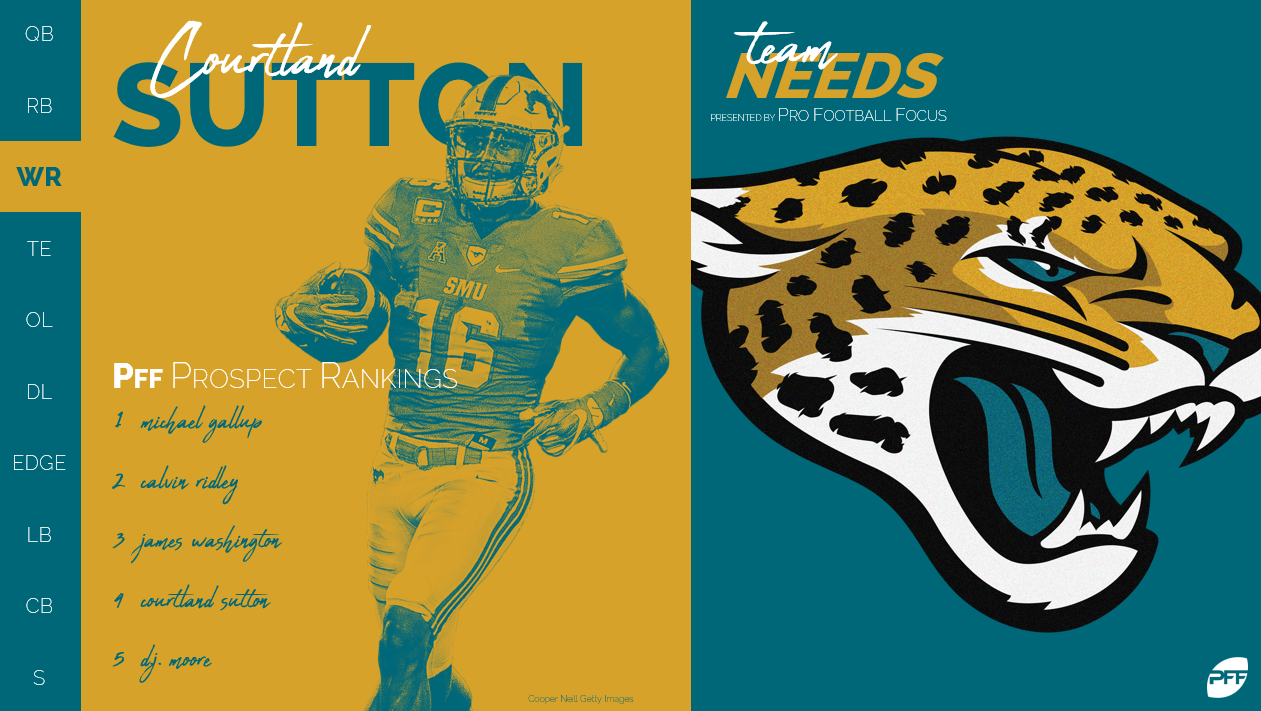 Quarterback: Yes
Top needs: WR, TE, G
Yes, the Jaguars locked up Blake Bortles to a multi-year deal, but they'd be wise to make a good meme and at least peek at their other options. Receiver is a need with Allen Robinson moving on and the inconsistent Donte Montcrief joining a number of mid-tier options on the outside. Tight end still has questions despite Niles Paul and Austin Seferian-Jenkins topping the depth chart. A true mismatch tight end should not be denied if available. Up front, the Jaguars did a fine job with the addition of Andrew Norwell at left guard, though right guard hasn't been great with A.J. Cann as the starter as the best grade of his career is a 65.8 from 2016. Jacksonville can look for an upgrade at that spot in his solid interior offensive line class.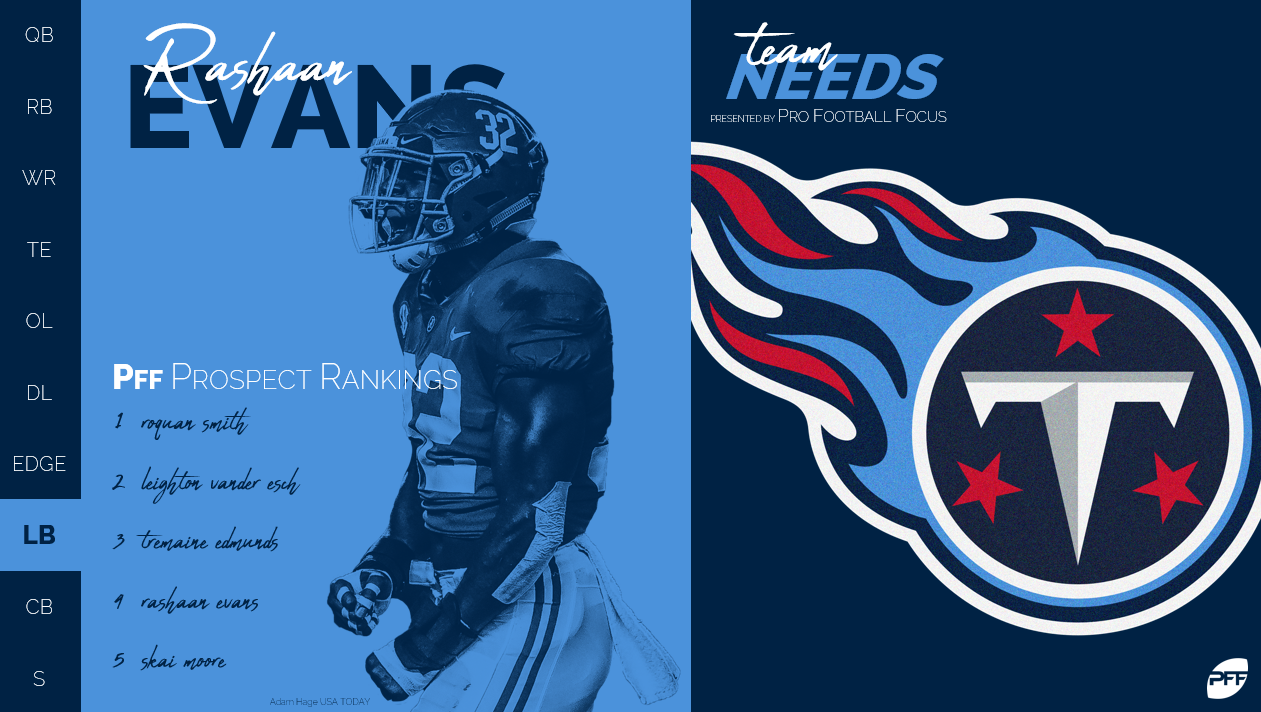 Quarterback: No
Top needs: LB, Edge, Interior O-Line
While the Titans have done a nice job to shore up their coverage unit on the back end, a rangy linebacker is still on the to-do list. They struggled covering in the middle of the field last season, allowing the fifth-highest passer rating in the middle at 107.6. The edge position has been solid for years, but Tennessee needs a young player or two in order to spell and eventually take over for Brian Orakpo and Derrick Morgan. Up front, the Titans' line took a step back last season and the overachievers on the interior came back down to Earth. They should pounce if the value matches up for a good guard or center.
AFC West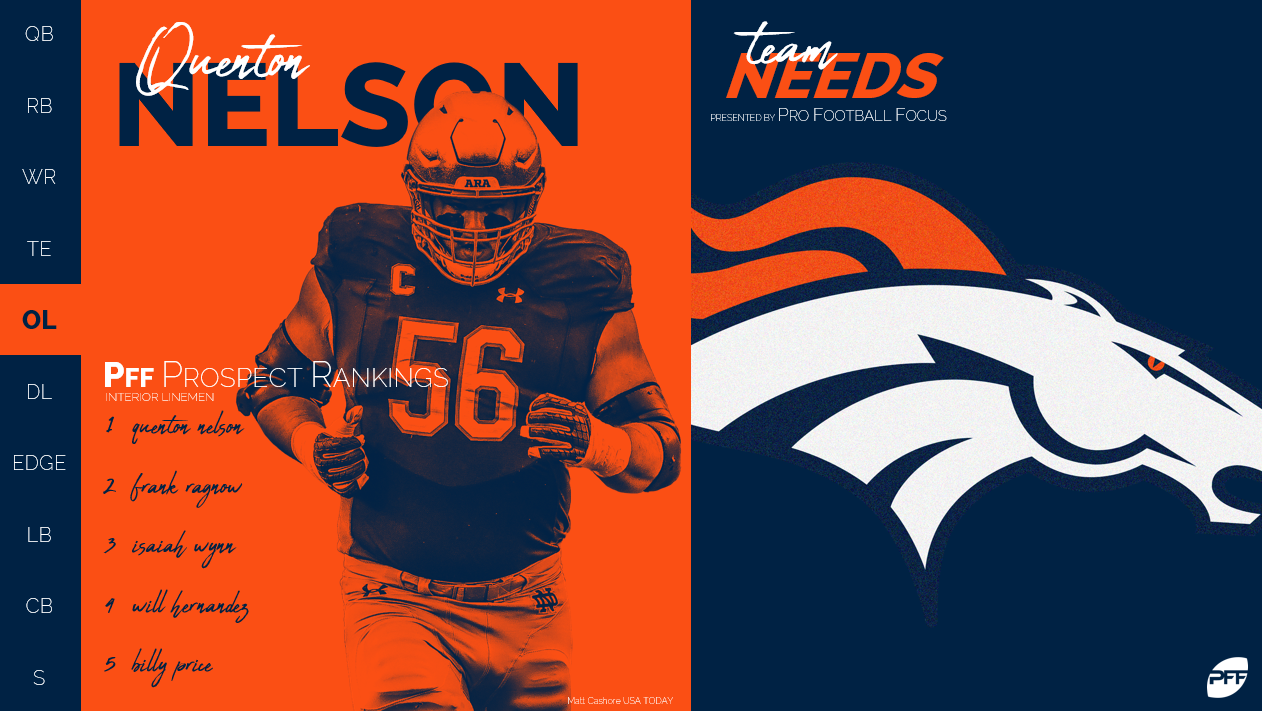 Quarterback: Yes
Top needs: G, RB, TE
The Broncos must take another shot at quarterback after the Trevor Siemian experiment failed and 2016 first-rounder Paxton Lynch has yet to take the starting job. The offensive line was poor last season, but they look better on paper at tackle and it's the right guard spot that needs immediate attention. After releasing RB C.J. Anderson, the Broncos are left with Devontae Booker as the projected starter, so adding a complement or a three-down option should be a priority. The tight end position is not a major need with Jeff Heuerman at starter, but he's more of a run-blocker and he will not keep the Broncos from targeting a mismatch pass-game weapon if given the opportunity.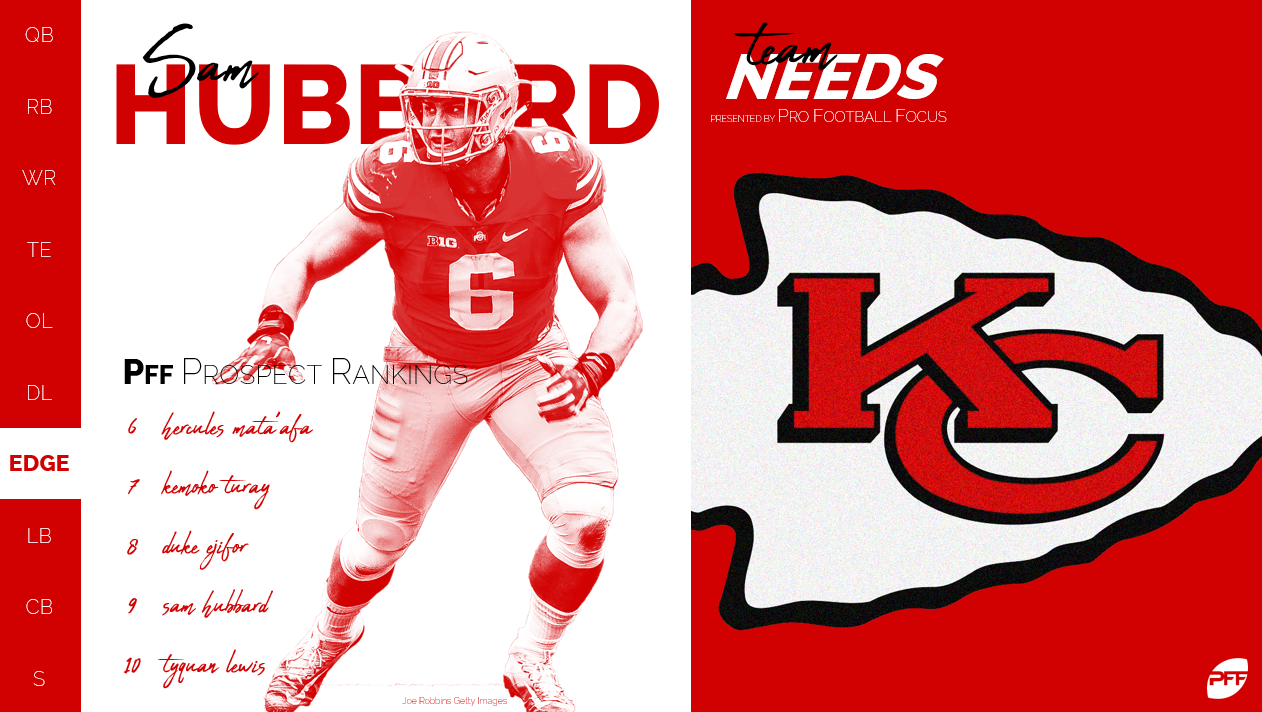 Quarterback: No
Top needs: Edge, CB, DI
With Justin Houston's game taking a step back, Tamba Hali being released and Dee Ford being inconsistent, the priority in Kansas City should be adding a havoc-creator on the edge. It could be difficult given their draft slot, but edge defender is an immediate and long-term need. The Chiefs needed a cornerback even before the Marcus Peters trade, and they're still in the market for a top option to play on the outside. A little further down the list is the defensive interior where Chris Jones needs a complement who can get after the quarterback.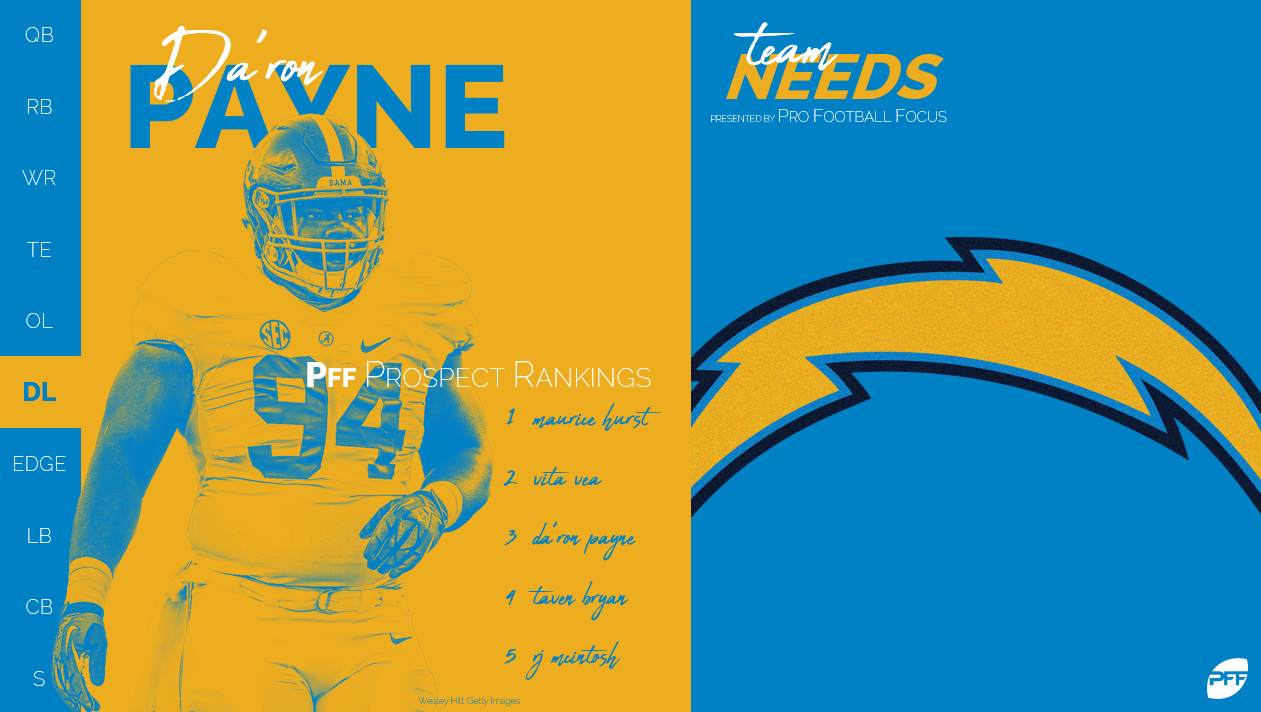 Quarterback: Yes
Top needs: DI, LB, OT
Like the Steelers, the Chargers should at least keep their eyes open for the right quarterback given Philip Rivers' age. The middle of the Chargers defense needs help, starting on the defensive line where a premium interior disruptor is a must for their scheme. The linebacker position isn't a disaster if Denzel Perryman and Jatavis Brown are healthy and living up to their potential, but another true coverage option is preferred in order to take that back-seven to the next level. Los Angeles has invested heavily in the interior of the offensive line in recent drafts, but it's time to add youth outside at tackle where Russell Okung and Joe Barksdale are a mid-tier pair of bookends.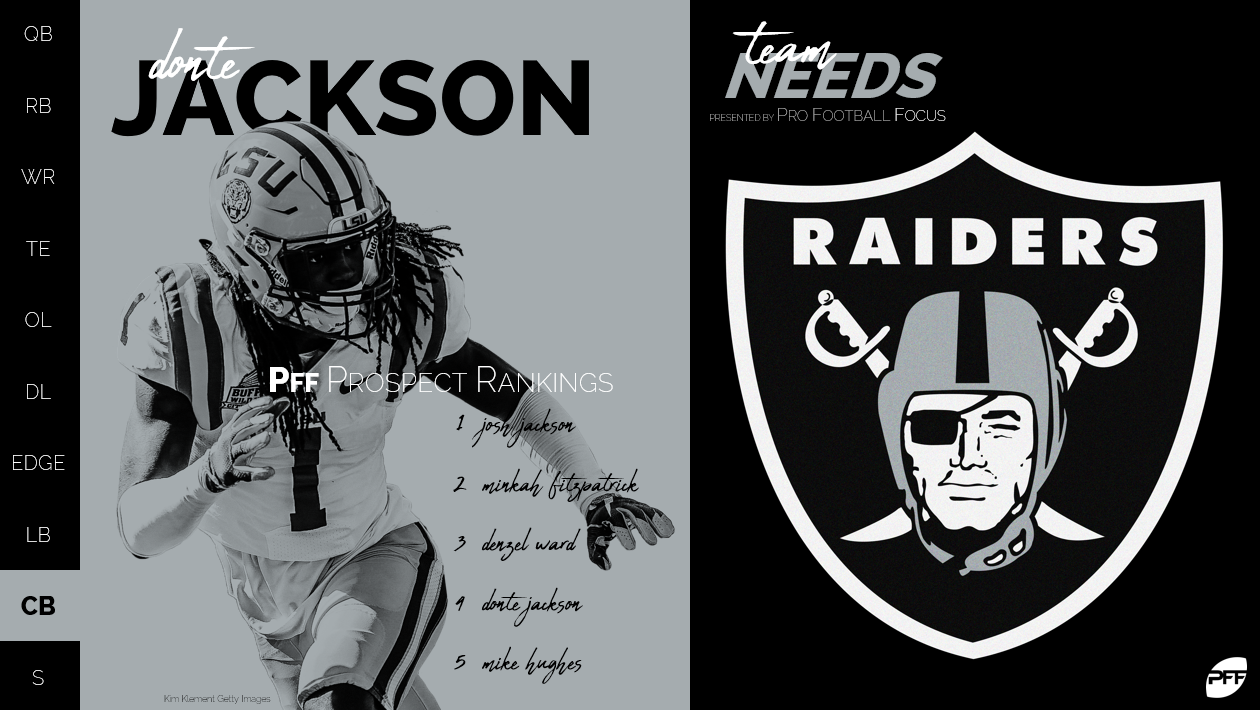 Quarterback: No
Top needs: CB, LB, OT
The Raiders have had plenty of moving parts in their secondary, but cornerback remains a top priority as 2017 first-rounder Gareon Conley has only 92 snaps to his name and he's surrounded by underwhelming talent. Oakland's defense has needed an influx of playmakers right through the middle for a while now and linebacker should be a top priority, especially if they can get their hands on a true three-down option with coverage ability. Offensive tackle is another need despite their solid options along the line in other spots. Right tackle is slated to be manned by Vadal Alexander, who has struggled on his 561 career snaps, or Breno Giacomini who ranked 80th among 81 offensive tackles last season with a 32.7 overall grade.