The Arizona Hotshots continued their hot play a week removed from knocking off the Orlando Apollos, by utilizing strong play in the waning moments of each half to cruise past the San Diego Fleet in Week 7, 32-15. The Hotshots saw their defense stand tall in the second half and hold San Diego scoreless in the final two frames and QB John Wolford put forth another strong effort with his arm and his legs in this one.

PFF's ReFocused series this season features immediate takeaways and a key to the victory from PFF's lead AAF analysts and grabbing quick first-run statistics from our team of analysts who watched every player on every play of the game. For more data and analysis from the game, utilize our Premium Stats 2.0 dashboard to expand your knowledge on the key players, signature stats and much more.
Wolford finished the game completing 15-of-19 passes for 212 yards and a score while he also ran in a 35-yard touchdown run of his own in the final quarter to open up their lead. Wolford averaged a very healthy 11.2 yards per attempt and targeted his passes at an average depth of 9.4 yards past the line of scrimmage.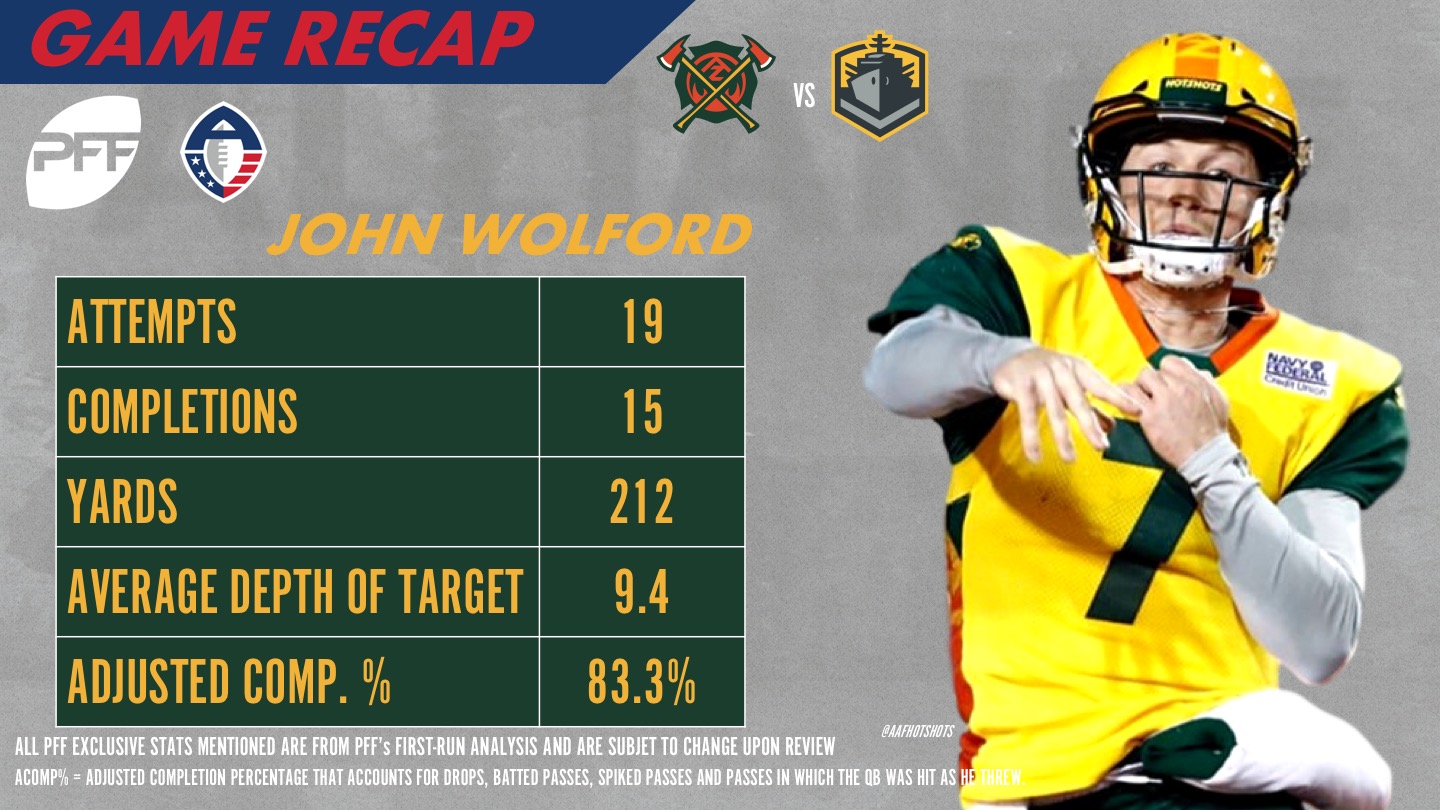 On defense for the Hotshots, Shaquille Richardson had a strong day in coverage, forcing an incompletion and intercepting another of the nine targets thrown his way. He saw just a 54.6 passer rating on throws into his coverage while LB Steven Johnson joined Richardson with an interception in coverage.
After matching touchdowns and field goals in the first quarter, Wolford got his offense moving in the right direction in the second quarter, scoring 14 unanswered points on two passing touchdowns to Thomas Duarte and Deion Holliman but it was Wolford's touchdown scramble in the fourth quarter that put the game out of reach.
Nick Folk added the insurance points in the final moments as he knocked home his 10th and 11th field goals of the season in this one.
Arizona heads to San Antonio next week for what looks like, at the moment, the de facto Western Conference regular season championship game if the Commanders can pull off a victory. San Diego falls to 3-4 and needs some help to make the playoffs at this rate after dropping two in a row.
[Editor's note: All exclusive data mentioned in PFF's ReFocused series for the AAF is from our first run and before final review. Statistics will be checked against the official game books for any inaccuracies while our team of analysts undergoes the final review process for several hours after the game's ending. All first-run data should be considered as subject to change upon review.]
For more access to AAF data – sign up for PFF Elite to check out grades and stats from every player on every play of every game from the 2019 season!