• Bet Cardinals WR DeAndre Hopkins o5.5 receptions (+120 BetMGM): Marquise Brown is the ninth-most-valuable non-QB, according to PFF WAR, and Hopkins slides into that vacated high-volume role.
• Bet Andy Dalton u0.5 interceptions (-120 BetMGM): Living his best NFL life with the Saints, Dalton is averaging only one turnover-worthy play per game.
• Arizona isn't opportunistic: Cards ranked 30th in PFF opponent-adjusted coverage and 24th in pressure rate, despite blitzing at the NFL's second-highest rate.
Last updated: Thursday, Oct. 20, 3:00 p.m.
Estimated reading time: 3 mins
---
• Our prime-time previews pull all the key modeling numbers and simulated outcomes from PFF's betting tools, including PFF NFL Greenline and the player props tool, which use top-down machine learning models backed by PFF's exclusive data to derive value when compared to the betting market.
• Bezo's Bucks continue to deliver Amazon-quality matchups on Thursday night. Let's dive into one of the best versions we've gotten all season with the banged-up New Orleans Saints taking on the Arizona Cardinals. 
---
GAME LINES
The spread movement we predicted in this week's Market Movers piece didn't come to fruition, as the injury situation for the Saints actually worsened, causing the spread to move close to where we were at in the preseason, with the Cardinals favored right below the key number 3. 
• PFF Greenline agrees with the line movement and makes Arizona one of the best spread bets to make in Week 7: If we move up to -3 before game time, the value on this spread will dry up, so although we aren't getting the best of the number, this is still very much a spot in which to take advantage.
• PFF Greenline also shows some value on the over 43.5 total, displaying 1.2% value at the current number: This is a strong signal from Greenline, but an even better number will most likely be available in-game. Both Arizona and New Orleans rank in the bottom fourth of the league on EPA per scripted pass plays, with Arizona the fourth-worst team in the NFL. 
• A direct indictment on Kliff Kingsbury, this is a trend we should expect to continue Thursday: Given the Saints' injury situation offense, where QB1 Jameis Winston and WR1 Michael Thomas and OG1 Andrew Peat are all sidelined, it also feels like a safe assumption that they could start slow. Some quick no-scoring possessions early will drop this total dramatically and give us by far the best shot at some late-game chunk plays to then go over the total. 
• At 43.5, the total is enticing, but an even better number will be available: After these two teams stall out on their first two drives, making for the perfect setup in-game to take advantage once the scripted plays run out. 
Bet Cardinals -2.5 -(115 FanDuel), pending live bet on total
PLAYER PROPS
Player props continue to grab a bigger share of bettors attention and are one of the easiest transitions into sports betting through player props, as fantasy applications are helpful for evaluating betting opportunities. 
Props are priced for a player's median stat projection in a simple, over-or-under, two-sided market. For historical context, unders are by far the most profitable angle to bet and could have been blindly bet toward the under on passing, rushing and receiving yardage props and been profitable. 
This season started off somewhat as expected, with rushing yards and receptions finishing heavily toward the under. Somewhat surprisingly, pass attempts continue to see a positive ROI for overs. Team's seem to be shifting their run/pass splits, resulting in higher attempts but also more negative outcomes because of the higher volume. There is also a macro trend related to average depth of target, with quarterback's not pushing the ball downfield like we have seen in years past. This has led to fewer big-time throws and also fewer touchdowns, which has caused Unders to be the correct spot to target in the game market.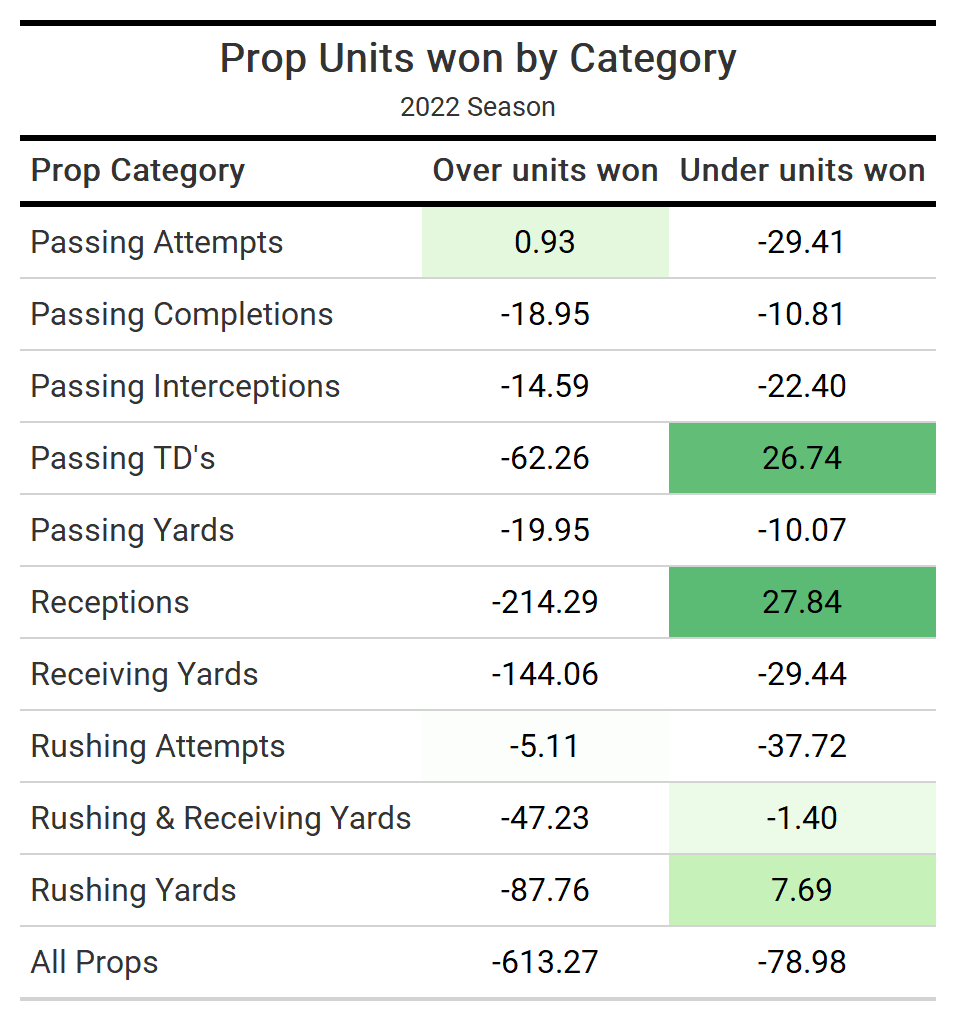 One way to consistently find defined edges without blindly betting unders is by utilizing PFF's player props tool. The ability to adjust both number and price means you are always certain of the expected value for each prop bet. Let's dive into the best player props to bet for the NFL Thursday night kickoff game. 
Bet DeAndre Hopkins Over 5.5 Receptions (+120)
• The volume is apparent for the Cardinals' No. 1 wide receiver this year, with Marquise Brown checking in as the ninth-most valuable non-quarterback based on PFF War: This is heavily driven by his volume, as he is 12th in routes run per dropback, commanding a a 24% target-per-route-run rate.
• With Brown now out, Hopkins should slot into a high volume of opportunities in his immediate return: With Nuk living at this number, but at a heavy minus price last year, it's easy to foresee him having an immediate impact, making this one of the best bets to make Thursday night. Given the direction of our game models, a Cardinals cover should easily come through Hopkins being very active and effective in the Cardinals' passing game. 

Bet Andy Dalton Under 0.5 Interceptions (-110)
• Dalton's been at his best through three starts with the Saints: And there's no reason to expect anything different Thursday night.  He's had one interception through three games, and Dalton is averaging only one turnover-worthy play per game. He would have to hit 30 pass attempts to expect a turnover-worthy play, which is a high volume given the lack of offensive weapons the Saints have in this matchup. If we see the aDot drop off because his best pass-catching weapons are at the running back position, we should see less pass attempts being put in harm's way. 
• Arizona ranks 30th in PFF's opponent adjusted coverage grade: The Cardinals haven't been able to take advantage of turnover-worthy plays, which are typically the result of pressure, but Arizona's struggled in that area as well, ranking 24th in pressure rate, despite blitzing at the second-highest rate in the NFL. With fewer defenders dropping into coverage, we should see few, if any, errant pass attempts landing in a defenders' hands. 
• Additionally, with Winston now close to healthy: There's always the chance that the Saints make a mid-game QB switch — especially if they fall behind early.
---
Ben's TNF preview went 3-0, improving his season record to 31-42 (-3.47).