This past month at PFF, we've gone through the NFL prototypes at specific positions in today's NFL and up today is wide receiver. After talking most recently about the prototypical defensive backs and those along the defensive line, today switches focus to those tasked with beating our prototype defensive backs on offense.
We've chosen five broad strokes categories within the position to assign prototypes including: shifty slot, big slot, deep threat, possession receiver and route runner.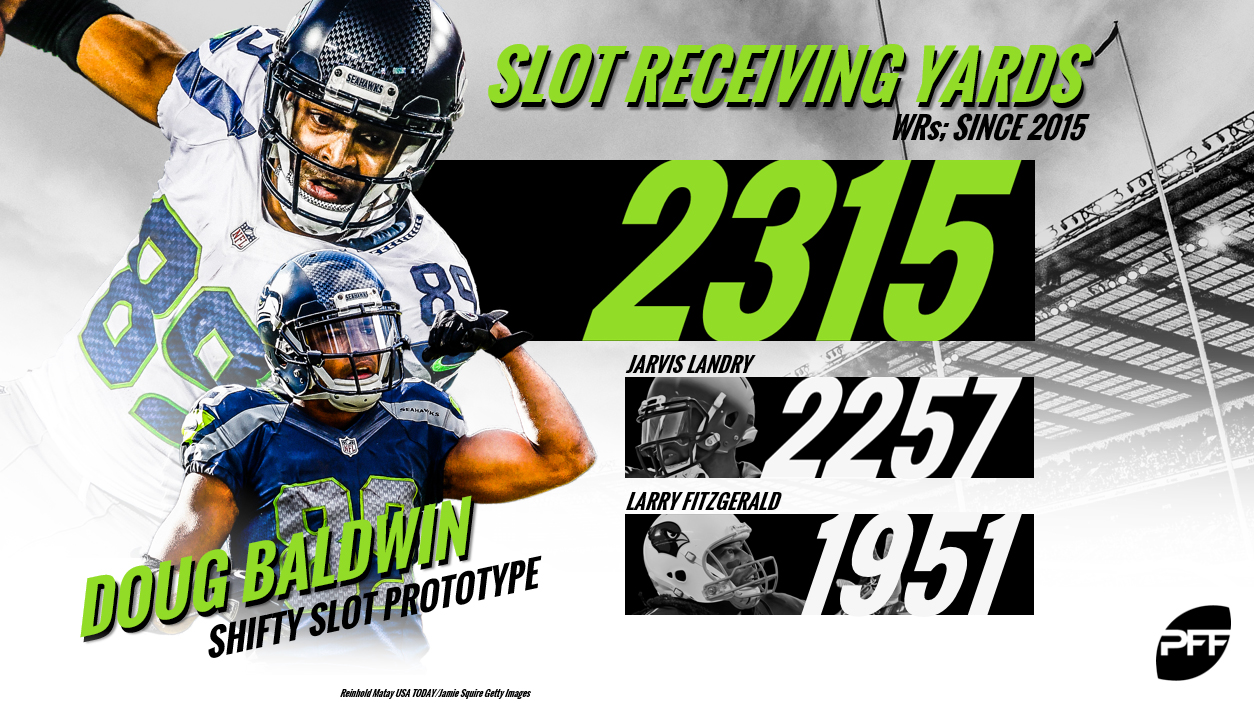 Baldwin was the most recent receiver in the NFL to gain more than 1,000 yards in a single season from the slot – a feat he accomplished back in 2015. Since then he's been in the top five each season in terms of receiving yards from the slot position. He runs a full route tree from inside, but he's particularly deadly on underneath routes. This is why, despite not fitting the red-zone prototype, he's accumulated 29 touchdowns over the past three seasons.
Two names to keep an eye on at the position going forward are second-year players Cooper Kupp and JuJu Smith-Schuster. The latter led the entire league averaging 2.15 yards per route from the slot while Kupp wasn't too far behind at 2.04. Kupp actually would have led the league if not for his five drops from the position.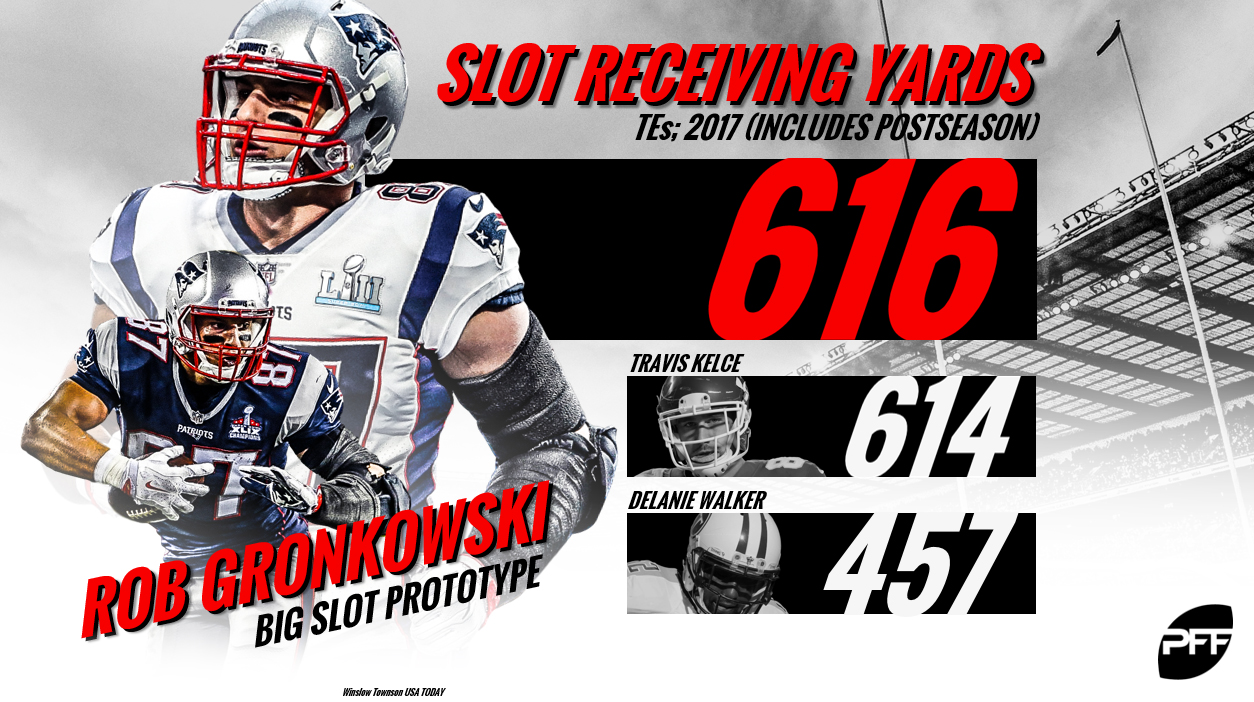 Wherever you line him up, Gronk dominates. The slot is no exception.
53.5 percent of his routes a season ago came lined up in the slot and he averaged 2.32 yards per route on those. Only one other tight end – Travis Kelce – averaged over 2.00 yards per route from the slot all season. You'd have to go back to 2012 to find a season in which Gronk didn't accomplish that feat. That sort of consistency is why he's the prototype for the position.
Kelce deserves some love here too because he actually edged out Gronk in yards per route run from the slot a season ago (2.33). The only deciding factor between him and Gronk at this point is body of work – Gronk has simply been doing it longer.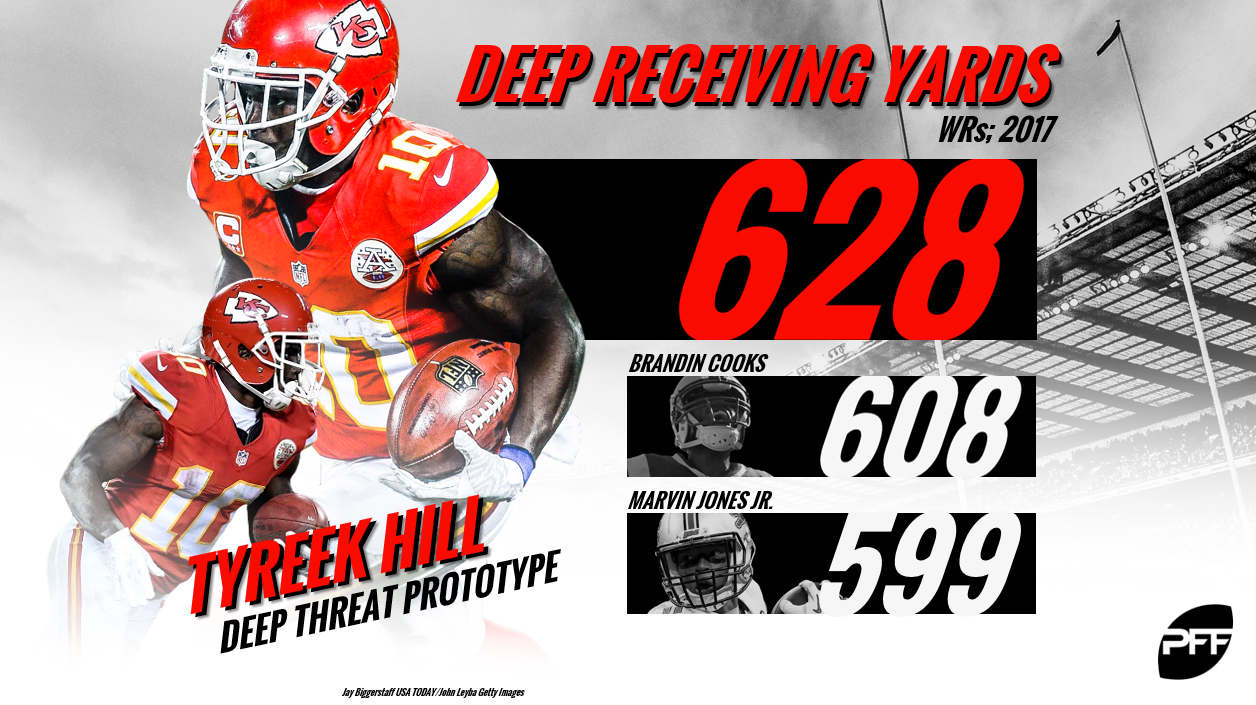 Deep threats have the ability to alter coverages in a way others can't. You cannot have a slow cornerback playing man coverage against Hill without safety help over the top. Period.
Targeting Hill deep last season was about the smartest decision you could make as a quarterback in the NFL. His 24 targets turned into 13 catches for a league leading 628 yards and six touchdowns. That's a ludicrous 26.2 yards per attempt and perfect 158.3 passer rating.
While Hill might be the scariest deep threat, Julio Jones has been the most consistent. The Falcons receiver has finished in the top seven for deep receiving yards every year since his injury-plagued 2013 campaign.
Possession Receiver – DeAndre Hopkins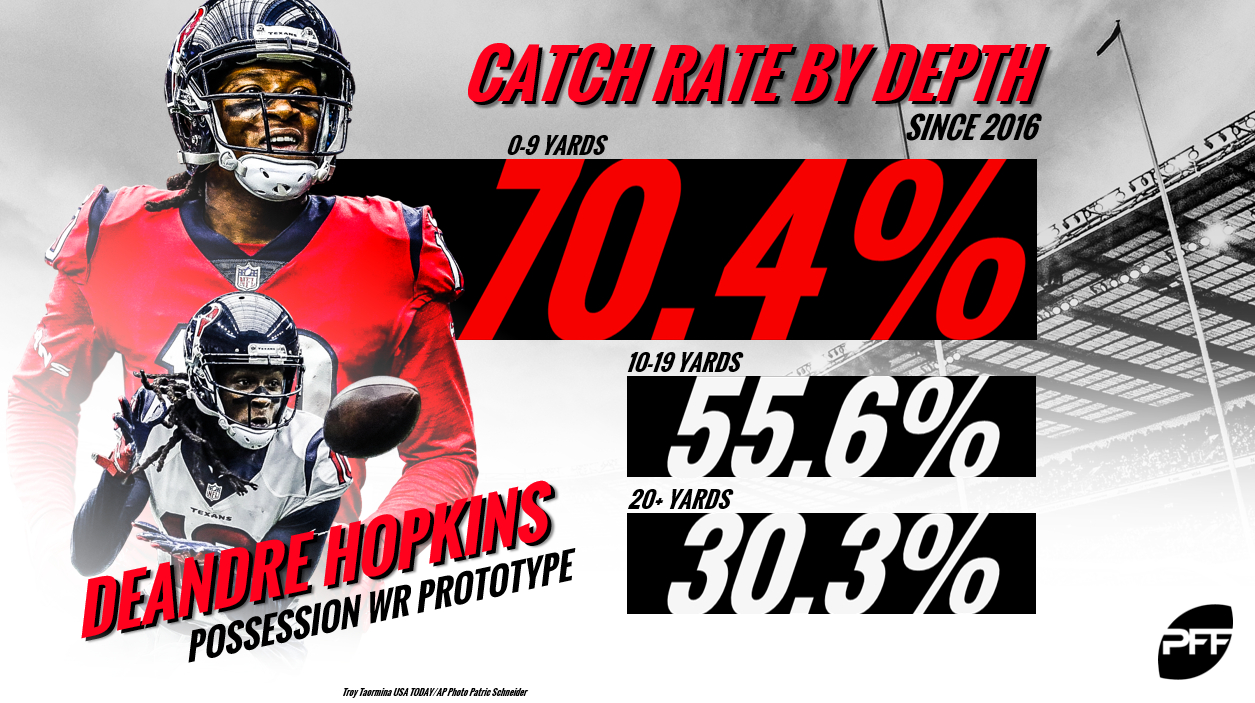 Possession receivers are known for their ability to turn a heavy target share into consistently moving the chains. No one exemplifies that target volume better than Hopkins. The Texans wide out has had a revolving door of dreadful quarterback play each of the past three seasons yet has still hauled in 302 catches over that span. Back in 2016, he exemplified the possession mold when only three of his 89 catches came on throws targeted at least 20 yards downfield. While that's an outlier for his career and he's a more than capable deep threat, it's indicative of his ability in the intermediate range that he was still able to go over 1,000 yards that year.
Alshon Jeffery saw very similar production this past season for the Eagles. He was a revelation for their offense, averaging 1.44 yards per route and collecting nine touchdowns. Of his 23 deep targets in the regular season though, Jeffery would only haul in three.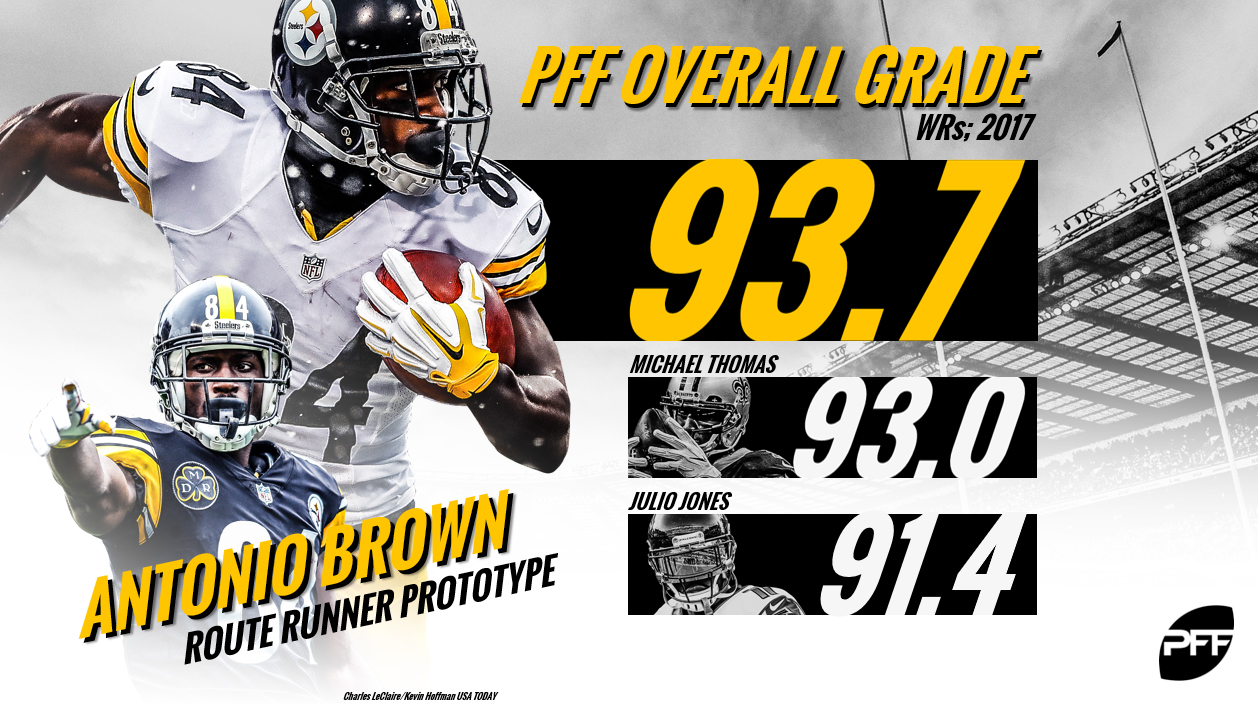 No surprise here, Brown does more with less than any wide receiver in the game. Listed at 5-foot-10, 181 pounds, Brown has averaged 116 catches, 1,570 yards and 10 touchdowns per year over the past five seasons. Brown's average year is a career year for even the elite receivers around the NFL.
Minnesota's pair of route runners might be the most impressive duo in the league today. They both made the top 12 this past season in yards per route run despite playing with a backup quarterback for the majority of the season. What's even scarier is that Adam Thielen and Stefon Diggs were both in the top 10 for contested catch rates last season. The ability to get open as well as finish plays when they aren't is a good combo to have.