One of PFF's newest data points for the 2017 NFL season was tracking contested catch situations, such instances in which the defender contests the catch point with the receiver. With 2,818 such cases recorded during the regular season, we found that the mythical 50-50 ball had an actual completion percentage of 45 percent.
Below are the top receivers in contested situations via their completion percentage on such throws, all who had at least 20 contested catch opportunities last season.
Not the guy you expected? Listed at 6-foot, 191 pounds, Diggs has the reputation as one of the best route runners in the league. Maybe that should be changing to one of the most complete receivers in the league. He hauled in 16 of his 25 contested targets last season and didn't drop a single one. An amazing five of those resulted in touchdowns – tied for the most in the NFL. The Vikings receiver is proof that size doesn't always equate directly to physicality in the NFL.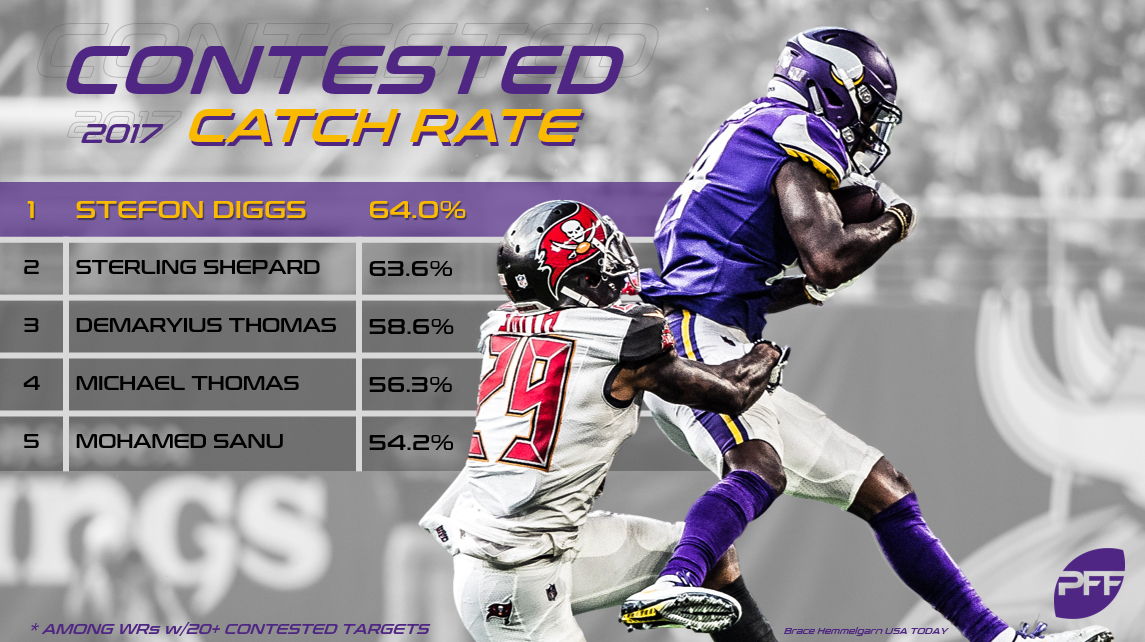 Another receiver who wouldn't be one of the first to come to mind, Shepard didn't have a ton of contested opportunities, but he hauled them in well when he did. Oddly, the Giants receiver's 14 contested catches netted him only 117 yards and zero touchdowns. That's a lot of contested slants in Ben McAdoo's offense.
The first name that fits the stereotypical 'mold' of contested catch receiver. Thomas has made a career off his physical dominance at the catch point. Last season he had 29 such situations and hauled in 17 of them. Plagued by the quarterback situation in Denver, Thomas was held to his lowest graded season since his rookie year.
In only his second season in the league, Thomas has established himself as elite in more ways than one. Hauling in 18 of his 32 contested targets last year certainly makes him elite in that regard. His 93.0 overall grade a season ago – the second-highest among wide receivers – makes him just plain elite as well.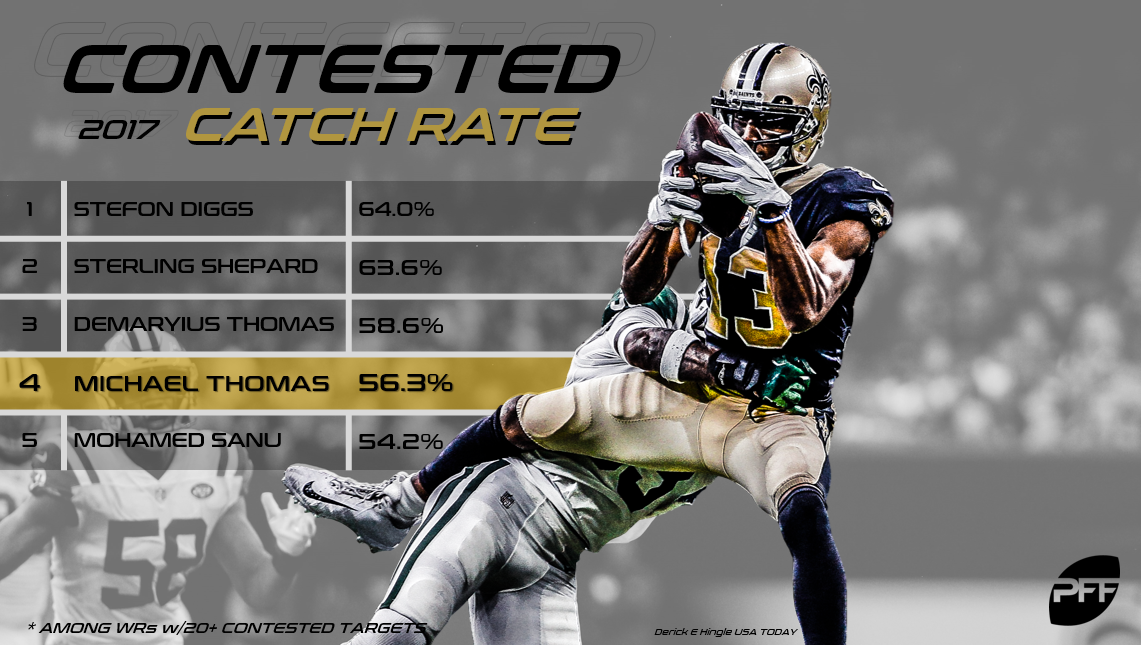 Sanu has a reputation as one of the most physical receivers in the game so no surprise here. He was targeted 32 times in contested situations and hauled in 13 of them. That means over a third of his targets were contested last season – a ridiculously high rate.
Thielen marks the second Vikings wide receiver in the top 10 – the only pair of teammates to do so. He hauled in 15 of his 29 opportunities for 153 yards. Case Keenum was a lucky man in 2017 as Thielen and Diggs combined for 31 contested catches on 54 opportunities between the two. It's a big part of the reason why Thielen and Diggs graded so high this past season.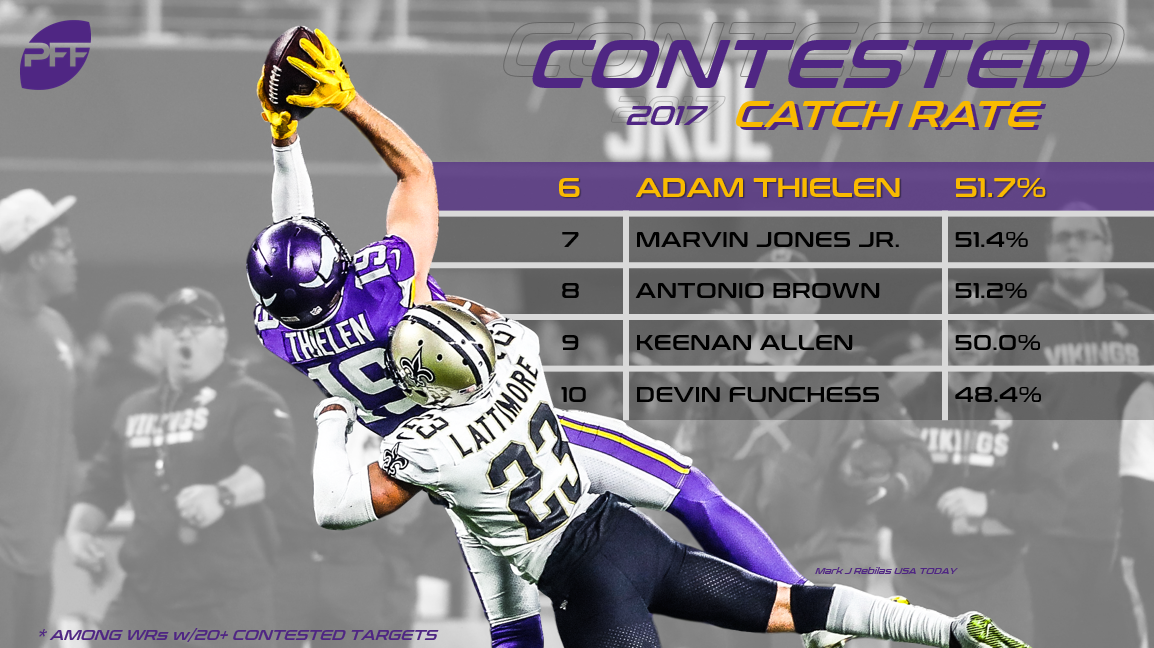 Jones can be a bit of a roller coaster in contested situations. No one had more drops than Jones (three), but at the same time, no other receiver had more yards (467). He's had a penchant for spectacular catches over the course of his career and that was no different last season. Nine of his contested catches came 20-plus yards downfield – the most in the league.
If we went back and tracked this for prior seasons, I'd expect Brown to be a stalwart in the top 10. Brown's 22 contested catches were the most in the NFL behind only Tampa Bay's Mike Evans (who had a ridiculous 54 contested catch opportunities and 23 catches). That's almost a quarter of his catches on the season coming when contested. His 424 yards on those receptions were also second-most in the league.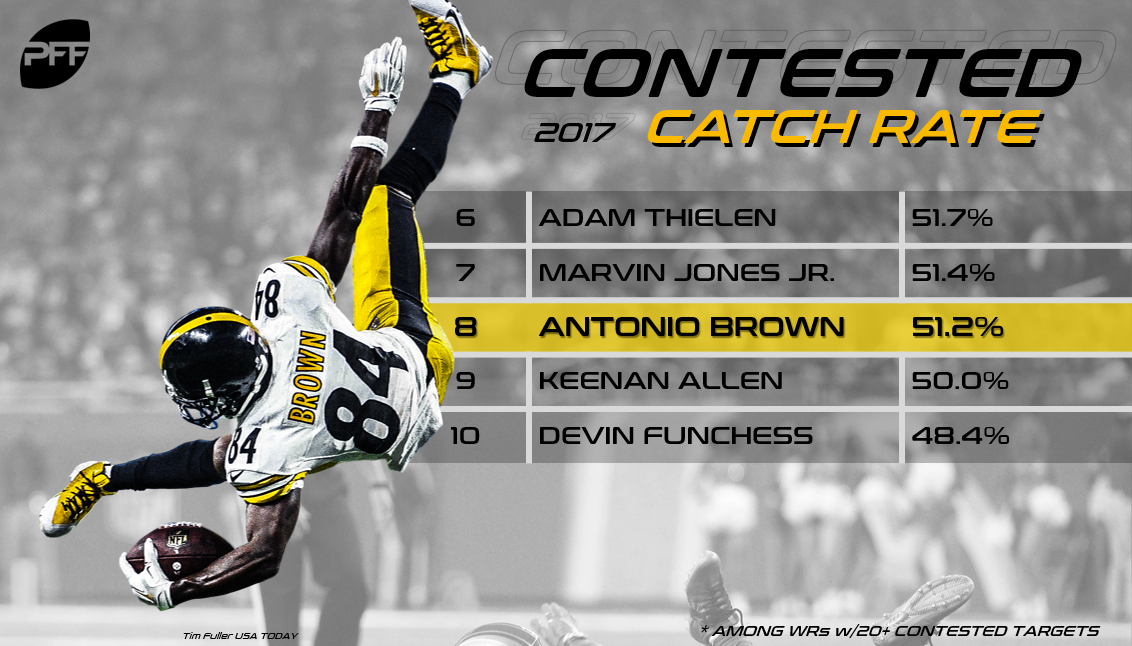 Allen finally getting through another full season healthy was a joy to behold. Much was made about Allen's incredibly slow 4.71 pro day 40 before the draft and it was a big reason he fell to the third round in his draft. He makes up for that lack of speed though in a number of ways and one of those is the way he plucks footballs out of the air through contact. He caught 14 of his 28 contested targets last season.
The Panthers had trended toward 'contested catch' type receivers under former GM David Gettleman and Funchess certainly qualifies as such. He hauled in 14 of his 31 such targets in the most productive season of his career. Maybe more importantly, Funchess didn't drop a single contested pass last year. Funchess' first two years in the league were plagued with drops as he whiffed on 14 of his 73 catchable targets over that span (19.2 percent).