It is time again for the PFF NFL Team of the Week – highlighting the best individual performances from the weekend's worth of action.

The team format will match the improved All-Pro system when it comes to offensive and defensive formation, with a flex player for both sides of the ball that can be either a receiver, slot weapon, tight end or running back on offense, and anybody in the defensive secondary on defense. This gives us the flexibility to reward the player that best deserves it across multiple positions, rather than shoehorning in somebody just to fit a slot receiver or cornerback role.
We lend some weight to playing time, and a variety of factors are considered, but these will largely be the best-graded players at their respective positions throughout the league. This year, our Team of the Week will be coming out before Monday Night Football has been played, featuring the best performances from the Thursday Night and Sunday games. In the occurrence that a performer on Monday night is worthy of a spot on the team, this list will be updated and those with standout performances from the weekend will still be appreciated.
Check out all of our regular season advanced statistics and information including every player's grade with PFF Elite and Premium Stats 2.0.
Offense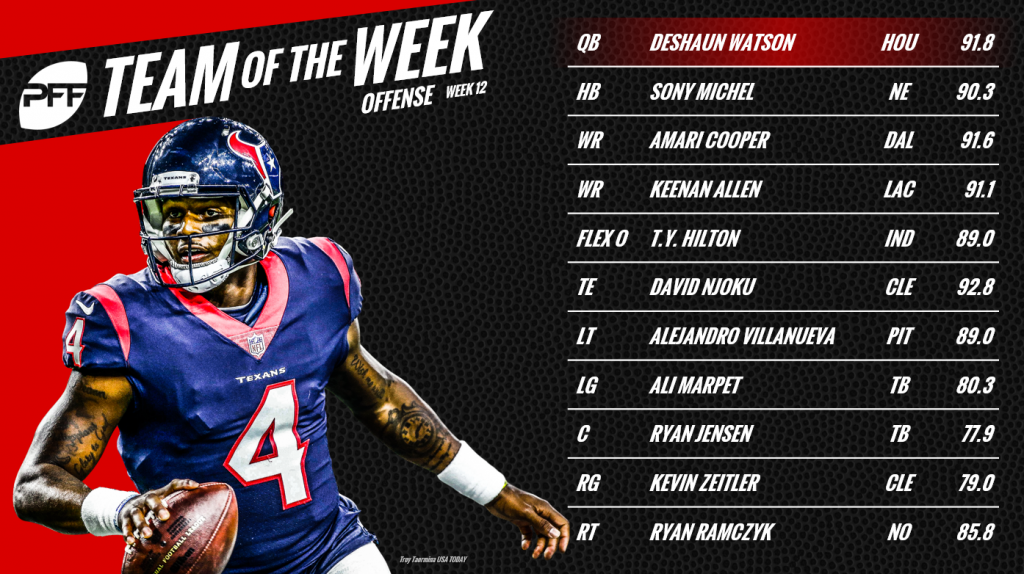 Quarterback
Delivering his best game of the season so far, Watson made some outstanding throws for the Texans in their Monday Night Football win over the Titans. Going 19-for-24 with two touchdowns and no interceptions, he saw another three completions taken away by dropped passes.
Running Back
Michel carried the ball 21 times in the win over the Jets, averaging 6.3 yards per carry, and 3.19 yards after contact per carry in the process. He forced six missed tackles, with seven of his carries resulting in a first down or touchdown. His work in the passing game was limited to two catches for 12 yards, but he did pick up a first down there too.
Wide Receiver
When the Cowboys traded a first-round draft pick for Amari Cooper, this was the player they were hoping to get in return. His route running was as devastating as his work after the catch, with the former Oakland Raider averaging a whopping 5.45 yards per route run in the Thanksgiving Day win over the Redskins.
Wide Receiver
This wasn't a volume game for Allen, with his seven receptions going for just 72 yards, but it was a game for showcasing why he's one of the best in the game. From a toe-tapping grab on the left sideline to an impressive touchdown in the right side of the end zone, Allen finished the game with several highlight-reel-worthy grabs.
Tight End
Delivering one of his top performances since being drafted by the Browns out of the University of Miami, Njoku averaged 4.85 yards per route run, pulling in five receptions for 63 yards and a touchdown. Coming into the game, Njoku had posted PFF grades of over 80.0 just twice, but this would be his first game above 90.0.
Flex Offense
Hilton enjoyed another big game, averaging 3.68 yards per route run in the Colts win over the Dolphins. He finished the game with seven receptions and had one of the key plays in the game, with a long reception late in the fourth quarter to help set up the game-winning field goal.
Left Tackle
His touchdown reception on the fake field goal will be how his day was remembered, but Villanueva earns his spot on the Team of the Week thanks to his work in pass protection, where he allowed just one pressure from 64 pass-blocking snaps.
Left Guard
One of two Tampa Bay offensive linemen earning a spot in the pre-Monday Night Football Team of the Week, Marpet wasn't perfect in pass protection, allowing a sack and two hurries from 45 pass-blocking snaps. He made up for it with some excellent work in the running game though, particularly standing out with some nice work as part of double-team blocks on 49ers' defensive tackle Earl Mitchell.
Center
Jensen didn't allow a single sack, hit, or hurry from 45 pass blocking snaps, giving him a perfect 100.0 pass-blocking efficiency rating on the day. At 80.9, he also delivered his highest PFF run blocking grade of the season.
Right Guard
Zeitler produced a perfect 100.0 pass-blocking efficiency rating, with zero sacks, hits and hurries allowed from 30 pass-blocking snaps in the win over the Bengals. He also produced some nice work as a run blocker, capping his best performance of the season so far.
Right Tackle
As has been the case so often this season, the Saints right tackle was a standout in their win over the Atlanta Falcons. From 26 pass-blocking snaps, he allowed just one hurry, and he also produced his highest run-blocking grade of the season at 87.0.
Defense

Edge Defender
Judon had just 23 pass-rushing opportunities, but he more than made the most of them, racking up three sacks and a hurry. He also forced a fumble, which was then returned for a touchdown by fellow edge defender Terrell Suggs.
Interior Defensive Lineman
Harris had one of the plays of the week, sealing the win over the Steelers with an interception in the end zone. He also had a sack, two hits and a hurry from 31 pass-rushing snaps, but his day will be remembered for that final play.
Interior Defensive Lineman
Harris wasn't the only player to dominate on the defensive interior in the Steelers-Broncos game, with Heyward having a significant impact on the opposite side. From 23 pass-rushing snaps, he racked up a sack and five hits and had a defensive stop against the run too.
Edge Defender
The best game of the season so far for our highest graded edge defender. Watt racked up a sack, a hit and three hurries from 28 pass-rushing snaps, and added another three tackles resulting in a defensive stop.
Linebacker
The former first-round draft pick was all over the field for the Panthers, producing a PFF run defense grade of 94.3, and adding a sack and a hurry from four blitz opportunities. On the day, three of his four tackles resulted in a defensive stop.
Linebacker
Williams made an impact as a blitzer, with a sack and a hit from seven pass-rushing snaps. On top of that, he also made an impact against the run and in coverage, with all three of his tackles on the day resulting in a defensive stop.
Cornerback
Howard was targeted four times in the Dolphins loss to the Colts, giving up just two receptions for 15 yards. Three of his five tackles on the day resulted in a defensive stop, and he also had a pass breakup and two interceptions in coverage, allowing an NFL passer rating of just 19.8 on throws into his coverage.
Cornerback
The Jets went after Gilmore on five occasions in Sunday's win for the Patriots, and they didn't find much success when they did. Gilmore surrendered just one reception, had an interception and pass breakup, and allowed an NFL passer rating of just 1.7 on throws into his coverage.
Safety
Adams was a force all over the field for the Jets in their loss to the Patriots on Sunday, registering nine tackles with four of those resulting in a defensive stop. He was the primary defender on four pass attempts and didn't allow a reception while producing two pass breakups.
Safety
Throwing the ball anywhere near Eddie Jackson is now a huge risk for opposing quarterbacks. Not only is he a danger to force a turnover, but as we've seen in his two years in the league, he's a threat to take said turnover back the other way for a score. His pick-six against the Lions was fantastic, jumping the route with perfect timing before taking it to the house.
Flex Defense
Jenkins' versatility means that you will find him lined up as a deep safety, close to the line of scrimmage, and in the slot. Targeted four times in the Eagles win over the Giants, Jenkins allowed an NFL passer rating of just 16.7, coming away with a key interception late in the first half, and adding a forced fumble too.
Kicker
Rosas was a perfect three-for-three on the day, including one from 51-yards out. On the season he has missed just one field goal and had been perfect from inside 50-yards.
Punter
Pinion was fantastic for the 49ers, with three of his six punts landing inside the opposing 20-yard line. With an average of 4.52 seconds of hang time, he saw just six return yards against his punts.
K/PR
The Ravens were enduring a sluggish start to the game when Jones helped them on their way with a fantastic punt return that saw him tightrope down the sideline before bursting towards the end zone.
Special Teamer
Simmons saw just six snaps on special teams, but once again he blocked a kick, which ultimately proved key in the Broncos' win over the Steelers.