It's late July which means football is nearly here. Training camps have now popped up all over the country and fans are getting their first glimpses of the 2018 iteration of their respective teams. As football draws closer, we continue our look at the top NFL wide receivers on each branch of the route tree from 2017, with an eye towards their possible success in the season to come.
[Editor's note: Routes in this study are bucketed onto the common PFF route tree featured below, for comparison, attached with their NFL average passer rating when targeting each specific route. For more information on our route trees and signature statistics like WR Rating – passer rating when targeted – check out our Signature Stats Glossary.]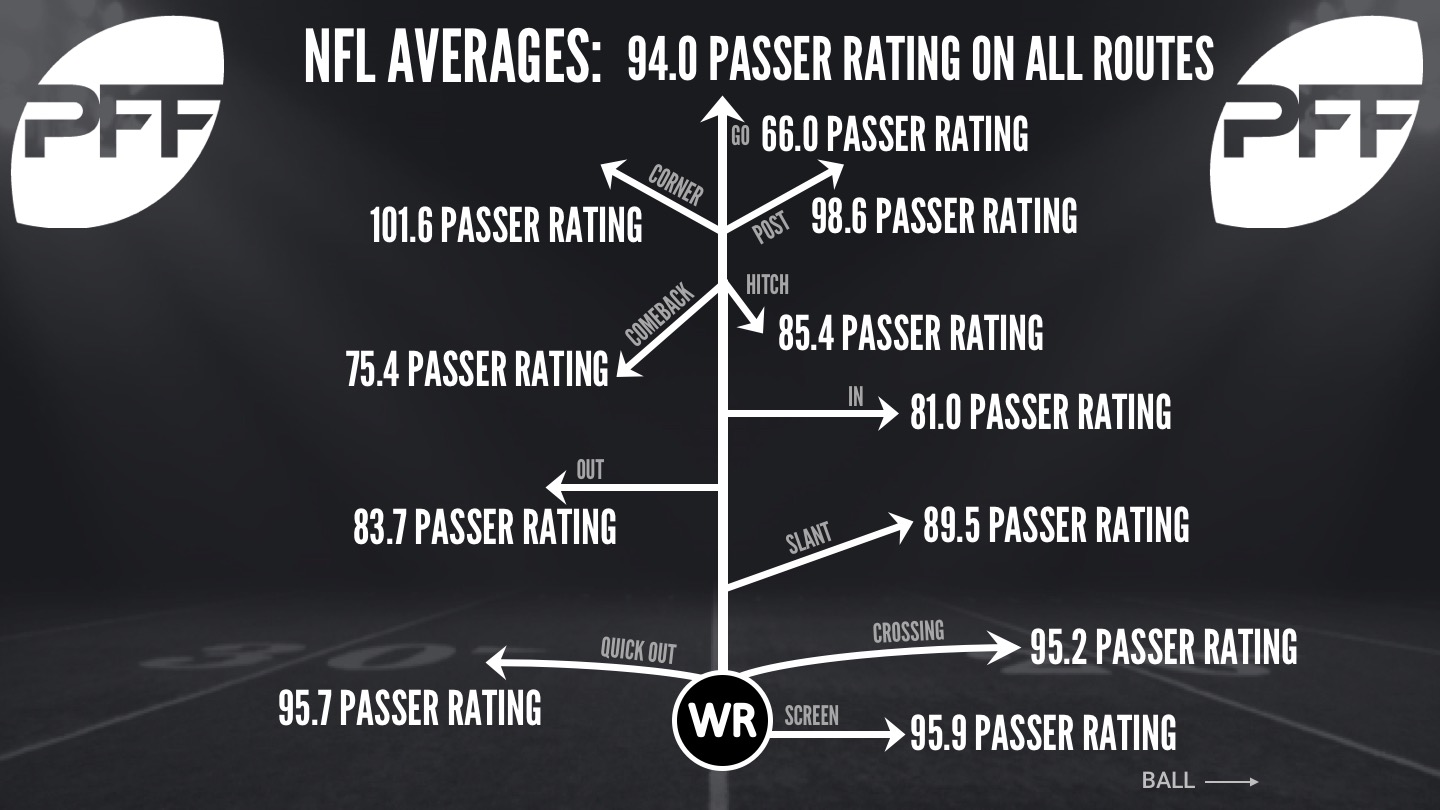 Over the course of July, we'll take a look at the top five receivers from the 2017 season on each individual route, by their passer rating when targeted – their WR Rating – on each specific branch of the route tree. We've already looked at routes targeted at or behind the line of scrimmage, on slants, crossing routes, out routes, in routes, hitch routes, comebacks, post routes and today continues our study.
With that, here are the top five receivers on corner route concepts from 2017: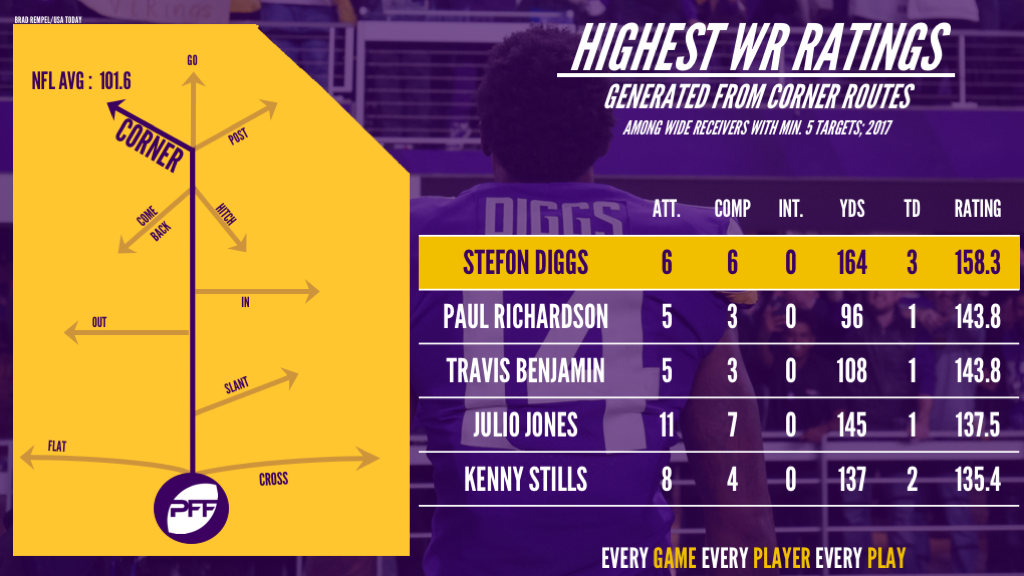 The star receiver performed exceptionally well on corner routes in 2017 and he ended the season with six catches from six targets for 164 yards and three touchdowns, which resulted in a perfect passer rating of 158.3 when targeted. Since we started tracking the route data for every player on every play of every game, he is one of just seven receivers to field a perfect WR Rating, one of just three receivers tally a perfect catch rate and he's one of only four receivers to convert over 80.0 percent of his targets to either a first down or a touchdown on a single route.
Washington's new pass-catcher saw just five targets from corner routes in 2017, but he performed extremely well when he was given the chance. All told, he hauled in three of those targets for 96 receiving yards and one touchdown. Two of his three receptions resulted in a first down, all three of his receptions earned a positive grade and he ended the season averaging 32.0 yards per reception – the third-best mark among players at the position.
Last year, Benjamin's average depth of target on corner routes sat at an impressive 34.4 yards downfield, which not only ranked first among receivers, it was the third-deepest mark that we've ever seen. This gave him the opportunity to rack up the receiving yards on his receptions, and he did so, as he hauled in 3-of-5 passes for 108 receiving yards and one touchdown.  Over the course of the year, 80.0 percent of his targets were positively graded, which was good for the third among the league's receivers and his average of 36.0 yards per reception was good for first.
The Falcons star didn't just end last season as the highest-graded receiver on corner routes, he ended it with the highest grade that we've ever seen on corner routes. Throughout the year, Jones saw more targets on corner routes than any other player in the league and he ended the campaign with seven catches from 11 targets for 145 receiving yards and one touchdown.  His six first down receptions tied with Adam Thielen for the most among wide receivers and his catch rate of 63.6 percent was the league's third-highest.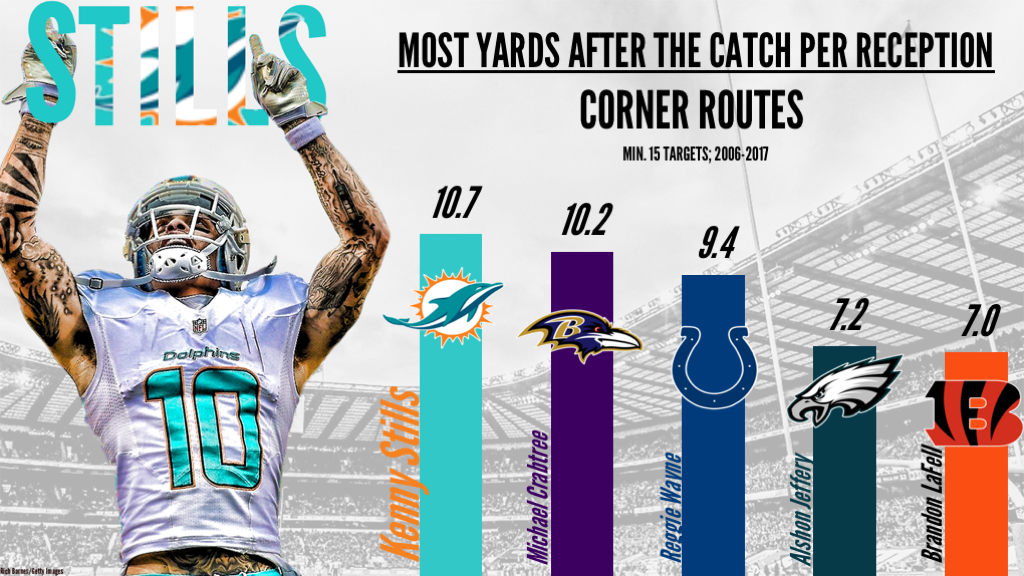 Over the last two seasons, 29.0 percent of Kenny Stills' targets have come from passes of 20 or more yards downfield, so it's of no great surprise to see him featured on this list. Throughout the year, Stills tallied four catches from eight targets on corner routes for 137 yards and two touchdowns. Since he entered the league, Stills has racked up 287 receiving yards from corner routes, which puts him ninth among all receivers in the PFF era, while his career average of 41 yards per reception on corner routes ranks second behind Alshon Jeffery. As if that wasn't impressive enough, Stills has averaged 10.7 yards after the catch per reception on his career corner routes, which is the best mark among the league's pass-catchers.