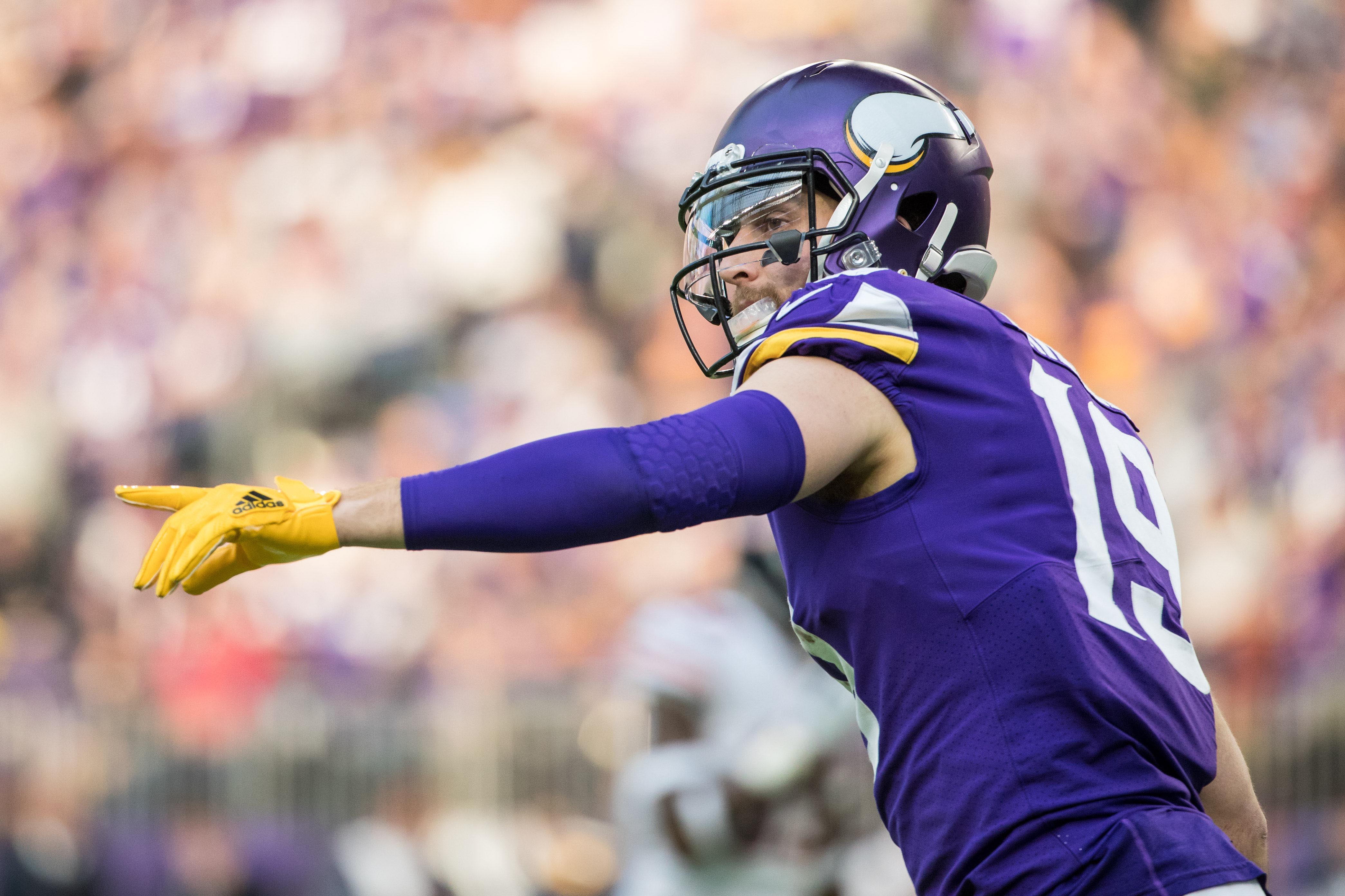 Dec 31, 2017; Minneapolis, MN, USA; Minnesota Vikings wide receiver Adam Thielen (19) looks on during the second quarter against the Chicago Bears at U.S. Bank Stadium. Mandatory Credit: Brace Hemmelgarn-USA TODAY Sports
It's the middle of July which means football is closer than you think. Training camps are popping up all over the country and fans will get their first glimpses of the 2018 iteration of their respective teams. The middle of July means we also continue our look at the top wide receivers on each branch of the route tree from 2017, with an eye towards their possible success in the season to come.
[Editor's note: Routes in this study are bucketed onto the common PFF route tree featured below, for comparison, attached with their NFL average passer rating when targeting each specific route. For more information on our route trees and signature statistics like WR Rating – passer rating when targeted – check out our Signature Stats Glossary.]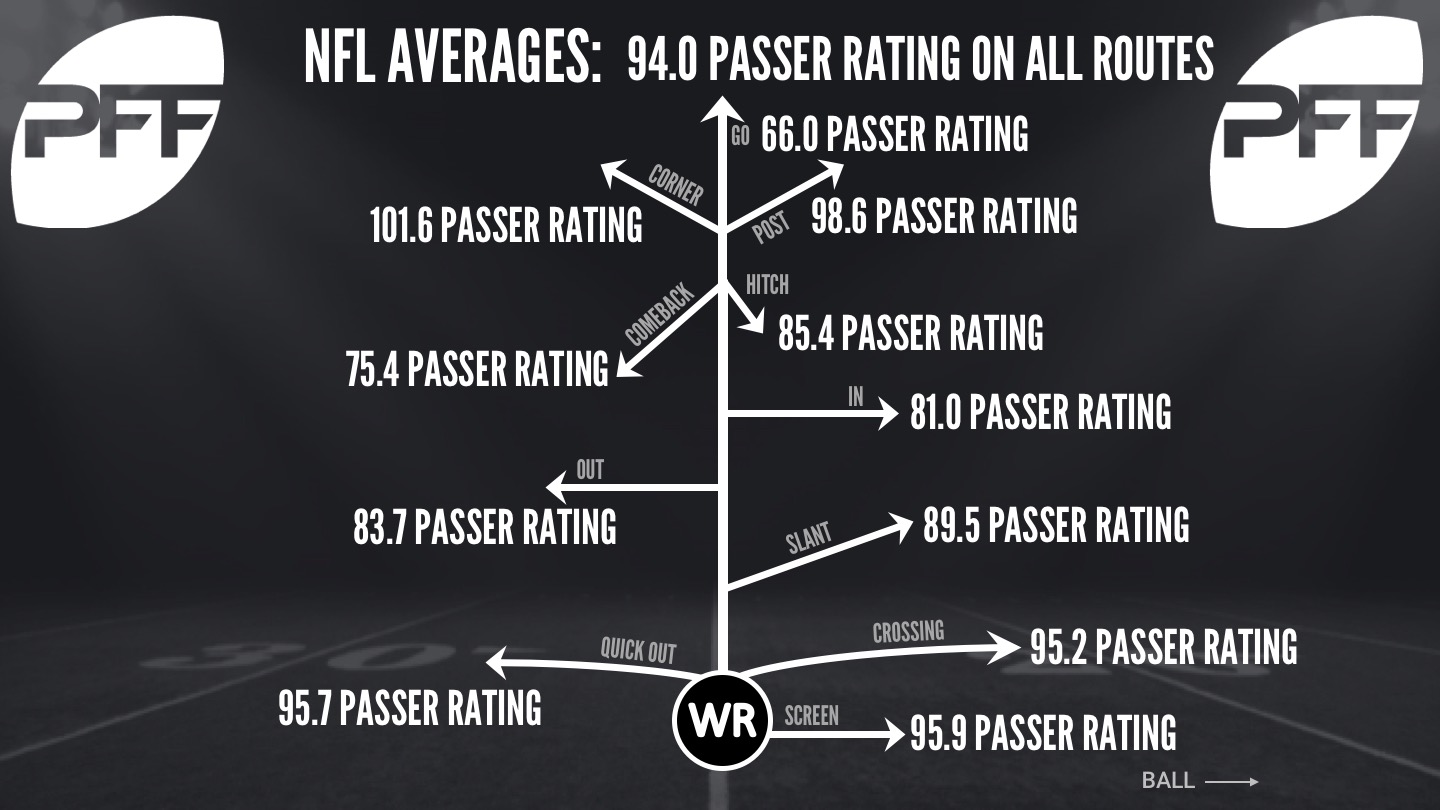 Over the course of July, we'll take a look at the top five receivers from the 2017 season on each individual route, by their passer rating when targeted – their WR Rating – on each specific branch of the route tree. We've already looked at routes targeted at or behind the line of scrimmage, on slants, crossing routes, out routes, in routes and today continues our study.
With that, here are the top five receivers on hitch route concepts from 2017: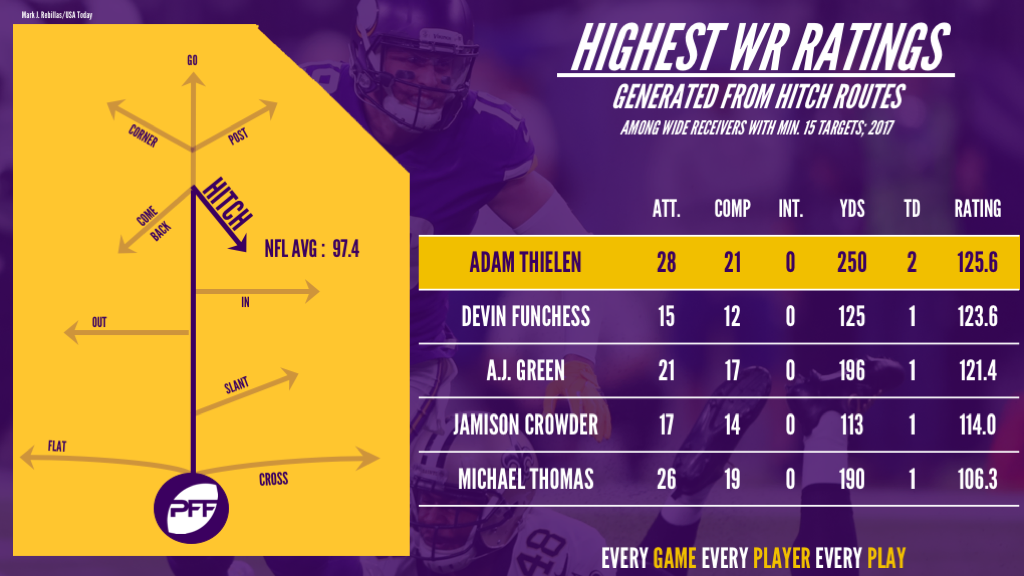 It was only a matter of time before we saw the Vikings wideout on one of these lists. Over the course of the year, Thielen sprang to life as one of the best route runners in the game and the hitch route was the most lethal weapon in his arsenal. All told, Thielen brought in 21-of-28 hitch targets for 250 receiving yards and two touchdowns, both of which led the league's receivers. He also accumulated 80 yards after the catch on his receptions from hitch routes – which paced the league as well.
Just behind Thielen came the Panthers fourth-year wide receiver, who made a habit of performing on in-breaking routes last season. On hitch routes alone, he tallied 12 receptions from 15 targets for 125 yards and one touchdown. His 10.4 yards per reception on hitch routes ranked 16th among the league's pass-catchers, while his catch rate of 80.0 percent was good for 10th.
The Bengals No. 1 receiver saw 134 targets in 2017, his most since 2013 and the 10th most among players at the position last year. The hitch route accounted for 21 of those targets, where he racked up 17 catches for 196 yards and a touchdown. Over the course of the year, Green produced the second-most first down conversions (12) from hitch routes and 57.1 percent of his hitch targets were positively graded, which also ranked second.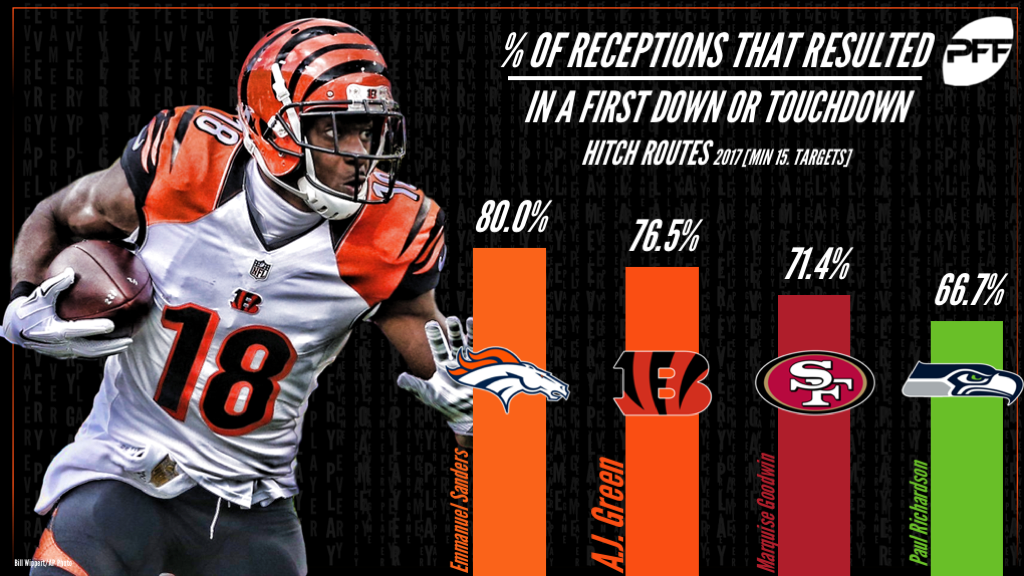 The hitch route was Crowder's most-targeted route last year as it accounted for 17 of his 96 targets. The reliable slot receiver caught 14 of those passes for 113 yards and one touchdown, notching a catch rate of 82.4 percent – the sixth-best mark among the receivers with at least 15 targets. When we look just at his body of work on hitch routes run from the slot over the last two years, we can see that Crowder has generated a passer rating of 120.0, which is the second-best mark among qualifying slot receivers in that span.
Surprise, surprise, it's Michael Thomas of the New Orleans Saints, who also ranks in the top five among receivers on slant routes, crossing routes and out routes – so why not just add hitch route to that ever-growing list. 2017 marked the second straight year that Thomas dominated on the hitch route and he ended the year with 19 catches from 26 targets for 190 yards and one touchdown. Over the last two seasons, Thomas has seen the second-most hitch route targets (57) and tallied the most receptions (46), the most receiving yards (453) and generated the third-highest passer rating (111.5) among wide receivers in that span.