Every NFL quarterback wants a receiver they can count on in crunch time. Someone who will make contested catches in traffic, someone who will tiptoe their feet in bounds with the game on the line, someone who performs when his team needs it, which is often in the fourth quarter and overtime.
A few players on this list of clutch wide receivers were beneficiaries of "garbage time" numbers when the game is put away, however, each has shown they can make plays in all moments of the game regardless of how big or small the situation is. It's difficult to quantify "clutchness," for a wide receiver, but their production in the waning moments of a game is a good place to start. To quantify that, we've classified the waning moments as the fourth quarter and overtime.
Here were the leaders in WR rating (passer rating when targeted) in the fourth quarter during the 2017 regular season: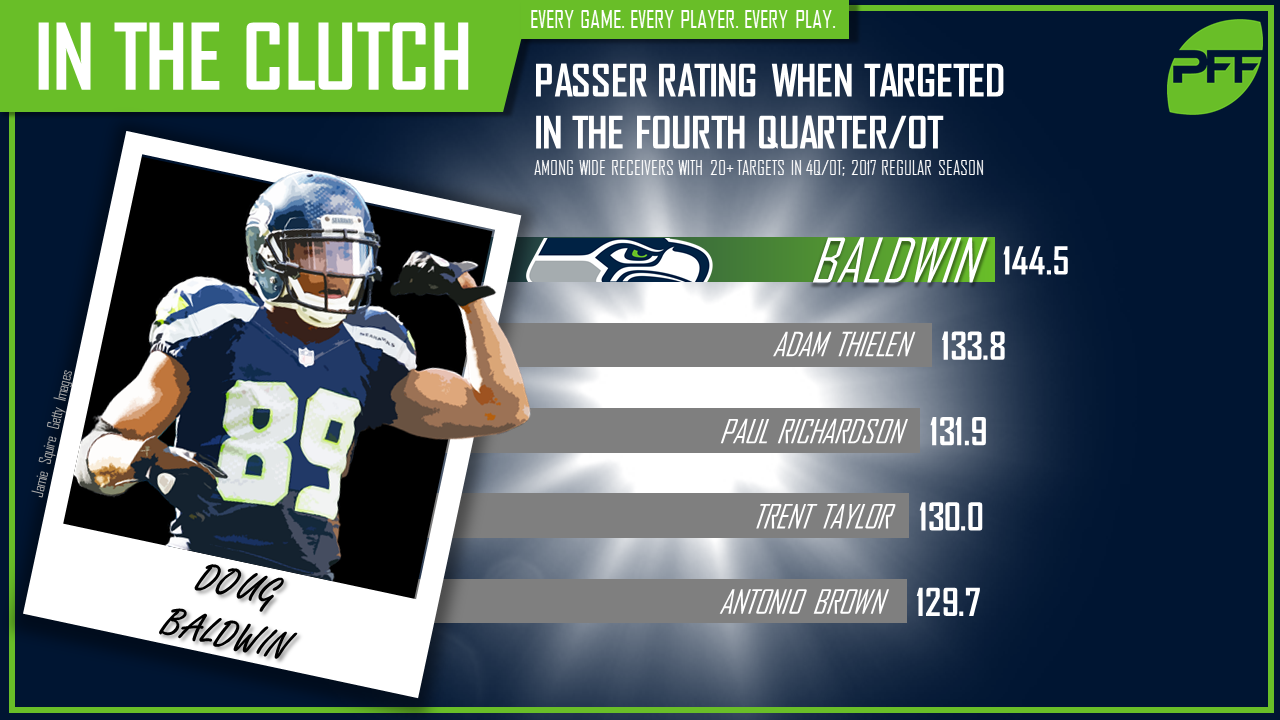 The Seahawks' No. 1 wide receiver tops the list of highest passer rating when targeted in the fourth quarter and OT – and for good reason. The Seahawks entered the fourth quarter in Week 10 against the Arizona Cardinals, leading 15-10. On a 2nd & 21 early in the quarter, Russell Wilson scrambled left, worked his magic and found Baldwin on the sideline. Baldwin stretched to make the catch before darting toward the endzone for a 54-yard completion inside the five-yard line. The Seahawks would eventually punch it in and with a final score of 22-16, the play proved vital to their victory. Baldwin finished the year with 18 catches on 25 targets for 257 yards, four touchdowns and not one interception thrown his way in the fourth quarter or OT.  There was no better wideout in crunch time last season than Baldwin.
A reliable member of the Vikings' dynamic receiving duo, Thielen is sometimes overshadowed by Stefon Diggs' speed and flashy plays. Two of Thielen's four touchdowns on the year came in the final quarter as one of his most memorable catches of the year came late in the fourth of the Vikings' divisional round playoff game against the Saints. Ultimately that was overshadowed by Diggs' miracle play to send the New Orleans Saints packing, but Thielen's influence was there. All season long in crunch time, it was Thielen who made people miss when his team needed it, finishing with the second-most yards after the catch per reception in the fourth quarter and OT (8.2).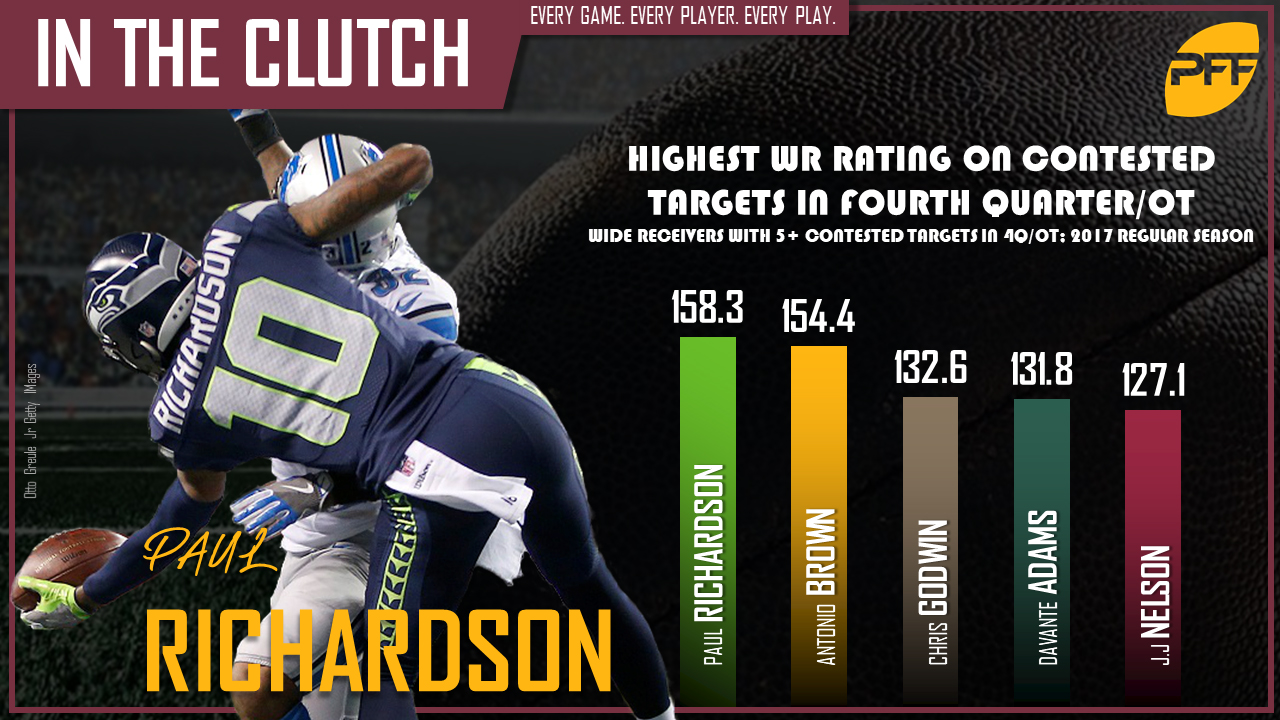 Richardson is one of the sleepers on this list, but after digging deep into his crunch-time production, he's certainly earned his spot. He led the league in contested catches in 4Q/OT with nine. Even more impressive, Richardson had only 11 contested targets in this time period – so he made big plays at a high rate. But even that doesn't tell the full story of his clutch ability. Richardson only had 12 contested catches on the entire season, meaning 75 percent of them came in the fourth quarter. He finished the year with a perfect passer rating on contested targets in the fourth quarter alone. Let me repeat that. A perfect passer rating generated on contested catches in the final quarter of a football game. The Redskins are getting an underrated powerhouse in Richardson, who will almost undoubtedly help them in critical moments.
Taylor wasn't the flashiest rookie of 2017, but he made his mark through consistent play that gave his team a chance to win games. Both of his touchdowns in 2017 came in the fourth quarter and both were because of his shiftiness. On both plays, Taylor found pockets of space and gave his quarterback a reliable option to punch it in late in a game. That reliability was evident in his 4Q/OT catch rate, which was fourth among receivers (80 percent). With Jimmy Garoppolo at quarterback, Taylor was a perfect 6-for-6 in 4Q/OT catches, with one touchdown. Look for Taylor to become a favorite of Garoppolo's as they develop even more chemistry in 2018.
If you asked each quarterback in the league which receiver they would want running a 'go' route with the game on the line, there's a good chance Antonio Brown would be a popular answer, if not the consensus answer. Brown gets a ton of targets and deservedly so. Stats don't show all the magic Brown works, but they do give a glimpse into just how productive he has been in crunch time. He was second in fourth quarter passer rating when targeted on contested targets, fifth in fourth quarter yards after catch per reception, third in fourth quarter targets – the list goes on, showing why Brown has been Ben Roethlisberger's favorite target for years.
Agholor is a Super Bowl champion after two years of poor play that left spectators wondering if he was worthy of the all-too-commonly used title of a 'bust.' Those doubters are now silenced, as Agholor broke out in 2017 in multiple facets, with one of them being late-game heroics. On the first play of the fourth quarter in Week 6 against the Carolina Panthers, Carson Wentz threw a simple slant route to Agholor. With the Eagles up five points, Agholor took the throw and sped past defenders en route to a 24-yard touchdown that would end up being the game-winner. Four of his eight touchdowns came in the fourth quarter, and it wasn't because Wentz and Nick Foles threw only to him in those moments. Alshon Jeffery finished with more fourth quarter targets, but he caught only 50 percent of them while Agholor had a 79.2-percent catch rate. Agholor has now cemented himself as a primary target for Wentz in 2018, especially when the game is on the line.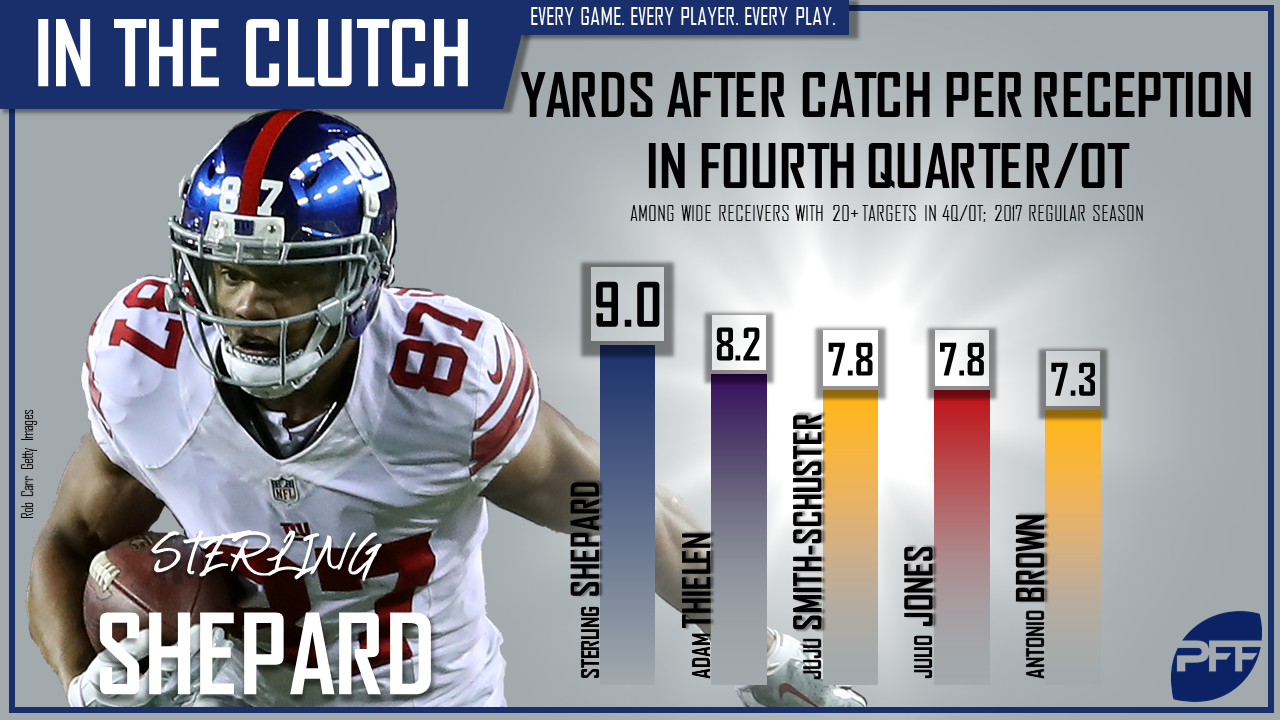 The Giants' season was objectively disappointing, but Shepard's was seemingly promising. The second-year receiver certainly benefited from 'garbage time' during an abysmal 3-13 season for the Giants but he still produced at a high rate, accumulating nearly 300 yards and catching 18 of the 24 passes thrown his way in 4Q/OT. However, it was Shepard's ability to make plays after the catch that made him so reliable late in the game. He averaged nine yards after the catch in the fourth quarter alone, and more than half his total yards in the quarter came after the catch.
It probably goes without saying, but there's a good reason the Packers signed Adams to a lucrative contract extension. The young stud didn't have as high of a catch rate as other receivers on this list and he didn't produce as well as them after the catch, either. However, Adams finished eighth in passer rating when targeted throughout the year and is one of only two receivers to accomplish that feat as well make the crunch time list (Agholor being the other). The Packers are in good hands (literally) with Adams and Cobb (see below) as late-game options for Aaron Rodgers.
20 receptions on 23 targets – Cobb was simply unstoppable when targeted in crunch time. Despite having only one touchdown to show for it, Cobb and his sticky fingers were a quarterback's best friend in 2017. In Week 15 (an eventual 31-24 loss to the Panthers), the Packers entered the fourth quarter trailing by a touchdown with Rodgers back at the helm for the first time since Week 6. Cobb was subsequently targeted five times, hauling in four of those targets in an effort to lead his team back into the game. Rodgers clearly knows his who his go-to receiver is when the going gets tough.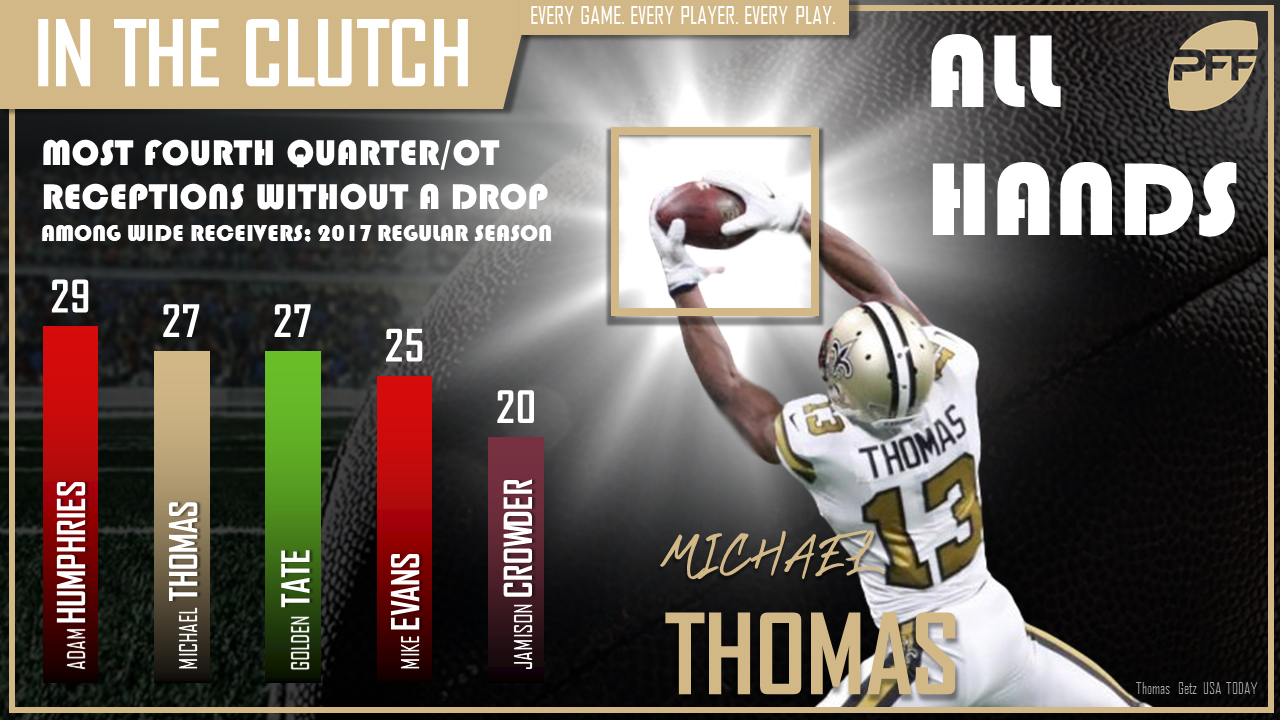 There are few PFF stats for wide receivers where you won't find Thomas in the top 10 from a season ago. His production in 2017 was astounding – and that's an understatement. In the fourth quarter alone, he caught 27 of his 35 targets and didn't drop a single pass. He finished the year with a PFF grade of 93.0 and had two times the number of targets as the next-highest Saints receiver. Those targets paid off as Thomas also finished with the sixth-most first down conversions in the fourth quarter. NFC South defensive backs should be afraid (if they already aren't) of how quickly Thomas is progressing into one of the NFL's best receiving threats.