[Editor's note: This story was originally posted on February 20, before any teams had placed a franchise tag on players. These rankings reflect the top players who would have become unrestricted free agents, had their team not placed a franchise tag on them.]
The window to franchise tag players has officially opened and with it signifies another day closer to the start of the 2018 free agency period in the NFL. This year's iteration features several marquee names that should, in all likelihood, find new homes this offseason. While we've brought you some top positional players to watch on the offensive line and several team-specific previews up to this point, the names mentioned below should be 10 of the most-coveted names come the early stages of March.
These players can be found broken down in much more detail in the first ever PFF Free Agent Guide, released earlier this offseason for our PFF Edge & Elite subscribers. Stay tuned to our exclusive PFF Free Agent Tracker all offseason long, as we'll have all the signings, big and small, updated as they happen.
Found in the aforementioned PFF Free Agent Guide, the list of top 10 unrestricted free agents on offense are: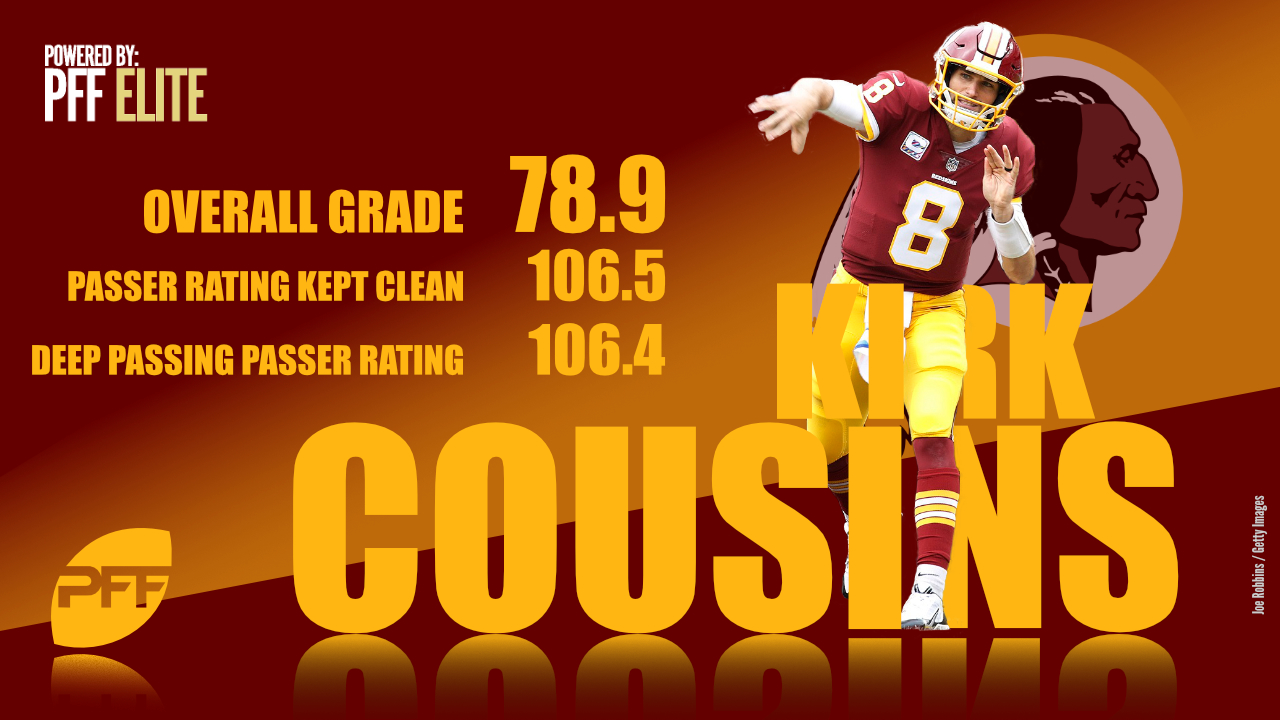 The trade for Alex Smith signified the end of the Cousins era in Washington after he played this last season under the team's franchise tag. Cousins put forth a mediocre effort, at best, this past season for the Redskins, finishing with an overall grade of 78.9, or 19th in the league. Cousins struggled under pressure in 2017, fielding the league's 20th-ranked passer rating under pressure at 66.3 and clearly, he was not the same quarterback after losing his two most valuable weapons in DeSean Jackson and Pierre Garcon from the 2016 season. Where he should thrive is on a team with a supporting cast already built, preferably one with a strong offensive line that can keep him upright and give him a chance to throw from a clean pocket.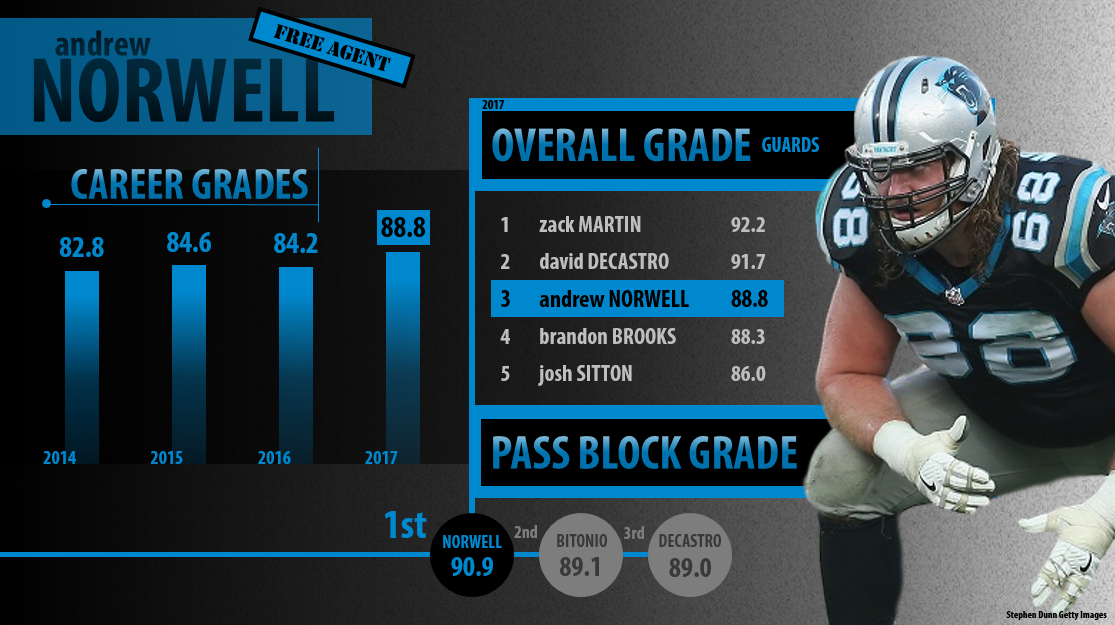 Arguably the most sought-after offensive line prospect in recent free agent memory, if Norwell were to leave Carolina, he'd bring with him an All-Pro caliber skillset and the league's best grade among left guards at 88.8 overall. Not a one-trick pony, Norwell finished the 2017 season with the league's top pass-blocking grade and the eighth-ranked run-blocking grade among all qualified guards. His career-high in overall grade, combined with his skillset across the board, would instantly improve any offensive line in the league, thus making him nearly every team's dream splash signing this offseason.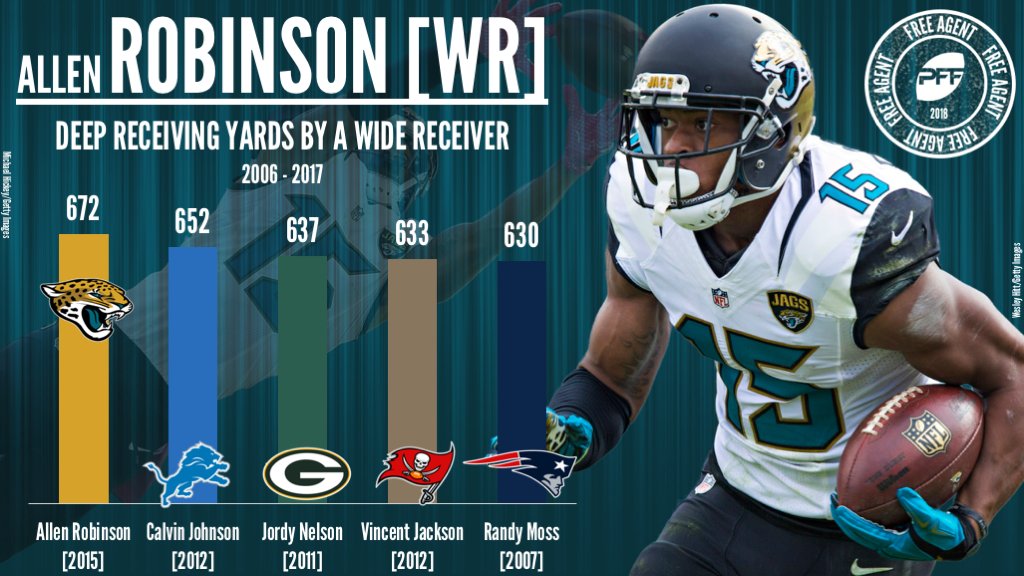 Over the course of a year and a half, fans (and potential NFL suitors) have seen just three snaps of legitimate football from Jaguars WR Robinson after he tore his ACL on his third play in 2017. Be that as it may, when Robinson is healthy, there may not be a better vertical threat at receiver. His big-bodied frame and combination of speed and separation skills make him one of the league's most dangerous weapons downfield. Look no further to the PFF record he set in 2015, as he and Blake Bortles connected for 672 deep receiving yards, a record that still stands. If he can get back to 2015, even 2016 form and stay healthy, his new team will have a viable deep threat and an every-down receiver to utilize as they please.
Landry hauled in a league-leading 68 receptions when lined up in the slot for the Dolphins in 2017, while also recording five touchdowns from the alignment, good enough for third among the league's receivers. What makes Landry so intriguing as a free agent prospect for a potential new team is his prowess in the slot, despite being Miami's No. 1 wide receiver and drawing the opposing defense's top cover option more often than not. He ran a whopping 600 snaps in route this season, saw a career-high 156 targets and 112 receptions, and did so with Jay Cutler and Matt Moore throwing him the ball. Landry's durability and sustainability at the position will undoubtedly get him serious looks this free agency.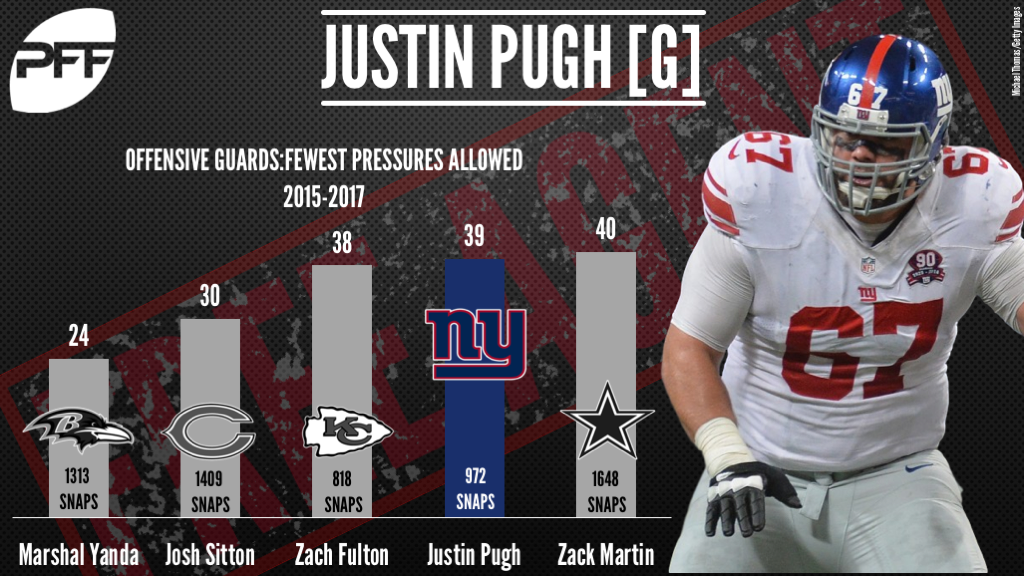 The 2017 season was one to forget for the Giants, and offensive guard/tackle Justin Pugh's season was no different. He limped to a career-low 52.4 overall grade, allowing 18 total pressures from 184 pass-blocking snaps at tackle and another six pressures from 82 pass-blocking snaps at guard. Pugh has shown his versatility across the offensive line, playing almost exclusively at right tackle during his first two seasons, and playing the position well. He graded out with a 78.4 overall grade during the 2013 season and a 78.8 during the 2014 season. While a shift to left guard in 2015 and 2016 saw a spike in his grades to 84.5 and 82.5, respectively, teams will certainly hope this past season was an anomaly as a player, as Pugh's versatility across the line almost exponentially increases his value. The former first-round pick from Syracuse will no doubt be fielding phone calls from many offensive line-needy teams in early March.
Long the blindside protector for Tom Brady, Solder struggled in pass protection this past season but was excellent blocking for the run. His 83.2 run-blocking grade was the 12th-highest among the league's tackles, as he was once again a dependable force on the Patriots offensive line. Solder has logged at least 1,200 snaps in five of his seven seasons now and if his run-blocking prowess of this past season is any indication, he has plenty left in the tank for another franchise.
Well documented, widely spoken about, the Minnesota Vikings quarterback situation is one of the most polarizing storylines as we head into the free agency period. While our very own Steve Palazzolo outlined that Bradford may be the odd man out in Minneapolis, that would bode well for any of the quarterback-needy teams who are willing to put faith in Bradford's play over his injury concerns of late. When healthy, Bradford is one of a very few number of quarterbacks to be able to put the ball in tight windows with enough zip to get it past defenders and enough touch to throw his receivers open. If his injury concerns don't scare potential NFL suitors, and his play in 2016 indicative of what a team could get, the former Heisman Trophy winner and first overall pick may just be the perfect fit for any number of NFL teams needing a veteran signal-caller.
Sent to Los Angeles prior to the start of the season, Watkins by no means had a breakout year in terms of total statistical production, but he still put forth a solid effort with the Rams to the tune of a 76.2 overall grade. Heading into his fifth year as a pro, Watkins is still only 24 years old and has shown flashes of what he can produce at the position. His speed and sure hands translated to 195 yards after the catch and just one drop on the season, with his drop not occurring until LA's final game, in their wild-card matchup against Atlanta.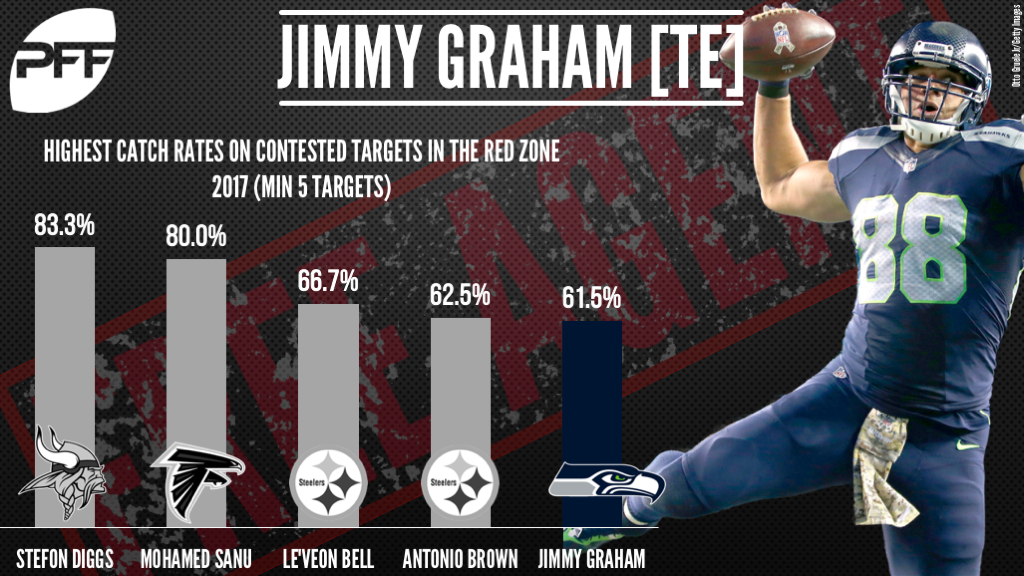 Far removed from his breakout 2011 season with the Saints, Graham has still finished every season, save for 2017, with a grade north of 76.5 in his career. While this past season in Seattle was a down year for him, Graham still notched the league's fifth-highest catch rate on contested targets in the red zone, proving he is still one of the league's biggest mismatches inside the opponent's 20-yard line.
Richburg logged only 241 snaps before an injury during New York's game against Tampa Bay in Week 4 sidelined him for the season. He was on his way to another solid season for the Giants, having given up just three pressures on a total of 162 pass-blocking snaps. Before 2017, Richburg had seen 3,200 snaps during his first three seasons, including 2,112 in pass protection, of which he allowed only 48 total QB pressures. If he can return to form and good health, he becomes an extremely viable target for many teams, as he would instantly upgrade the interior of many of the league's offensive line units.
Worth noting:
Drew Brees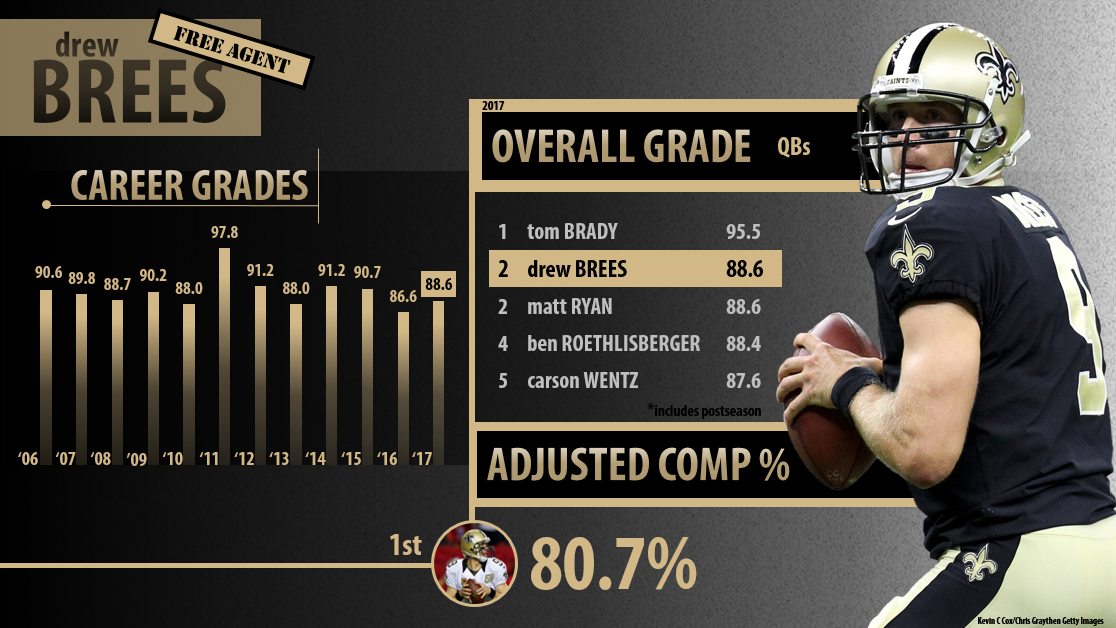 It is an extremely unlikely scenario to see Brees in any jersey colors other than the Black and Gold of New Orleans in 2018, but if it was widely thought he'd be on the move, he would be our No. 1 free agent available, on either side of the ball. The gameplan was largely shifted out of Brees' hands a season ago with the two-headed rushing attack of Mark Ingram and Alvin Kamara, but when he was called upon to throw the ball, Brees still had his shining moments. He fielded an adjusted completion percentage of 80.7, tops in the entire league a season ago.
Le'Veon Bell
The seemingly unhappy marriage that is Le'Veon Bell and the Pittsburgh Steelers has been well-documented this offseason and there is an offset chance that by the time of publishing this article, or shortly after, the Steelers will slap a franchise tag on Bell. In which case, we will document it thoroughly. Either way, Bell's ridiculous success over the past few seasons with the Steelers has vaulted him to the top of the food chain in terms of the league's running backs, and the Steelers should do absolutely everything they can to keep Bell apart of the "Killer B's" in Pittsburgh.
2018 Free Agency
---
Free Agent Tracker / 2017 free agent hits
2018 Free Agency Rankings
---
2018 Free Agent Previews
---
Arizona Cardinals / Atlanta Falcons / Baltimore Ravens / Buffalo Bills /
Carolina Panthers / Chicago Bears / Cincinnati Bengals / Cleveland Browns /
Dallas Cowboys / Denver Broncos / Detroit Lions / Green Bay Packers /
Houston Texans / Indianapolis Colts / Jacksonville Jaguars / Kansas City
Chiefs / Los Angeles Chargers / Los Angeles Rams / Miami Dolphins /