It's been almost three months since star left tackle Trent Williams vowed to never play for the Washington Redskins again, and there is still no light at the end of the tunnel for the two sides.
On Monday, head coach Jay Gruden was asked if there was any update on the holdout that has kept the perennially excellent Williams away from training camp and the team's first two preseason games. The answer that followed was the one that most expected: It was a resounding no.

Over the last three regular seasons (2016-18), Williams has graded out as the NFL's third-best left tackle (89.1). He trails only David Bakhtiari and Joe Staley over that span, beating out notable players like Andrew Whitworth and divisional rival Tyron Smith.
Even playing through injury, Williams has allowed just one sack over the last two seasons. He's earned 80.0-plus pass-blocking grades for six consecutive years, and he ranked tied for 14th in pass-blocking grade (80.7) among the 81 offensive tackles who played at least 300 snaps in 2018.
While the Redskins have insisted they're not open for business regarding the Pro-Bowler, Williams himself has reportedly asked for a trade due to his mistrust of the team's medical staff. And with no end to this holdout in sight, the Redskins may be forced to pull the trigger on a trade if the right offer if slid across the table.
Here are three teams that should seriously consider making an offer for the seven-time Pro-Bowl left tackle.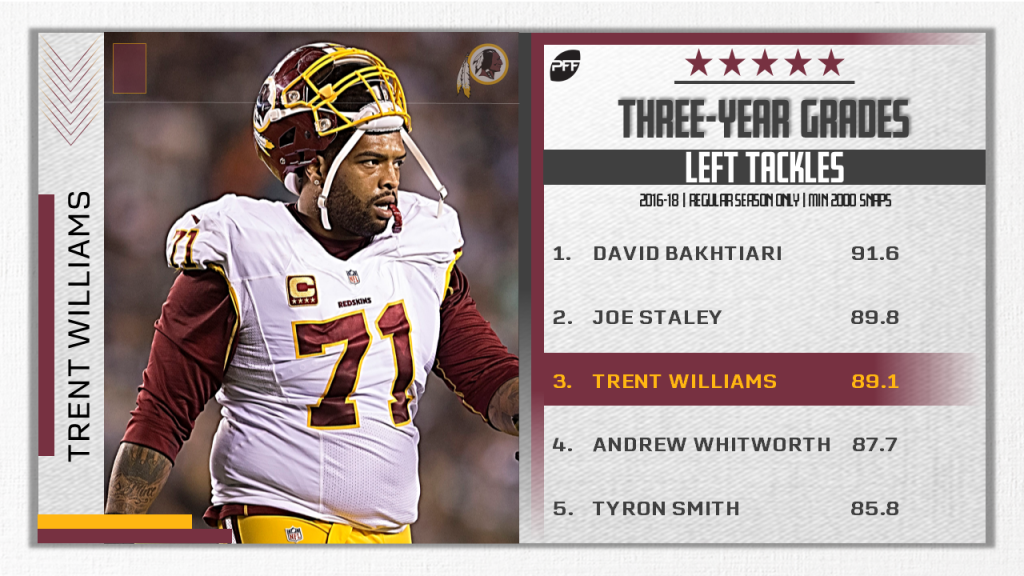 Last season, the Texans welcomed quarterback Deshaun Watson back from his rookie-season-ending  ACL tear with an offensive line that proceeded to allow 31 sacks, 32 hits and 150 hurries from their 623 passing plays — making them one of only two teams that have allowed 200 or more pressures in each of the last three seasons. Left tackle Julie'n Davenport was a prime culprit in that abomination, allowing pressure on a league-high 11.5% of his pass-blocking snaps and earning the second-worst pass-blocking grade among all left tackles. While head coach Bill O'Brien has announced an upgrade at the position by naming Matt Kalil as the starting left tackle for 2019, Kalil has still allowed 46 or more pressures in four of his five full seasons — something that Williams has yet to do in any of his nine seasons in the league.
With just under three weeks to go before the Texans travel to New Orleans to kick off their 2019 NFL season, Texans interim GM Chris Olsen should be doing everything in his power to secure Williams' services.
If you build it, they will come.
The Browns have seemingly created a roster with limitless potential, starting with a top-10 quarterback in Baker Mayfield and trickling down with superstars at wide receiver, edge defender, cornerback and running back. The final piece that that extravagant puzzle would be the acquisition of a superstar left tackle, something the team sorely missed in 2018. Last year, the Browns deployed a combination of Desmond Harrison and Greg Robinson at the left side of the line, and they allowed pressure on 8.9% and 7.1% of their pass-blocking snaps, respectively, ranking 38th and 30th among 44 qualifying left tackles. With Robinson — who has never graded above 70.0 as a pass-blocker and has committed 55 penalties over the last five years — slated to start Week 1, the Browns would be smart to dial Bruce Allen's number.
Browns great Joe Thomas is a year (and 70 pounds) removed from manning Cleveland's blindside, but if anyone can get close to ever filling those massive shoes, it's Trent Williams, a move that would make the rich even richer.
The Los Angeles Chargers' Super Bowl window is about as open as it's ever been, with a top-10 quarterback and playmakers at almost every skill position on offense, but the one thorn that has consistently pierced the side is the offensive line. Last year, right tackle Sam Tevi had one of the worst seasons that we've ever seen from the position, but left-sided counterpart Russell Okung was the lone player who held his weight. A season ago, Okung was the only Chargers offensive lineman to earn a pass-blocking grade over 75.0, and he allowed 35 fewer pressures than Tevi did despite playing 18 more snaps.
Okung was — as he always has been — the glue that has kept a dismal offensive line in some form of a relative check, but his absence due to ongoing vascular issues could easily signal the start of the Chargers' unraveling. The side won't have Philip Rivers around for much longer, certainly not long enough to waste a year waiting and hoping for Okung to return, so a move for Williams would both add invaluable stability on the blindside and offer the potential option of moving Okung over the right side to solve the team's Tevi problem. Two birds with one stone, as they say.
[Editor's Note: All ELITE subscribers have access to all of PFF's advanced stats and grades for the NFL preseason, regular season and postseason dating back to 2006. Subscribe today!]