Imagine the world of football was starting over again, from scratch. If you were starting a franchise from square one, who would you use? What old players are still worthwhile as building blocks? How young is too young?
That was the challenge posed to our PFF analysts over the last week. It's PFF's first-ever Foundation Draft, imagining that our analysts were each put in charge of one of 32 NFL teams and picking their teams from scratch.
The rules: The player pool is made up of the entire world — NFL players, college players, high-schoolers, some talented player's toddler. Age matters, position matters, but contracts do not. The game will be played just like it always has been.
Who went first? How many quarterbacks went off the board? How do you balance immediate production against long-term investment? Those are just some of the questions. Below, you'll find the whole first round, along with arguments from the analysts making the selections and some overall strategy analysis. The draft has continued, though, and we'll be back later in the offseason to see how the teams start to form.
For now, though, here's Round 1:
Age: 33 Position: QB Team: Green Bay Packers Drafted by: Steve Palazzolo
Rodgers might be on the older side of what you'd expect from this draft, but he's still an elite quarterback, with a top-three PFF grade every year he's been a starter (2008-present) except for 2015. Considering quarterbacks tend to age as well as any position, going a bit older for a relatively sure thing here makes sense.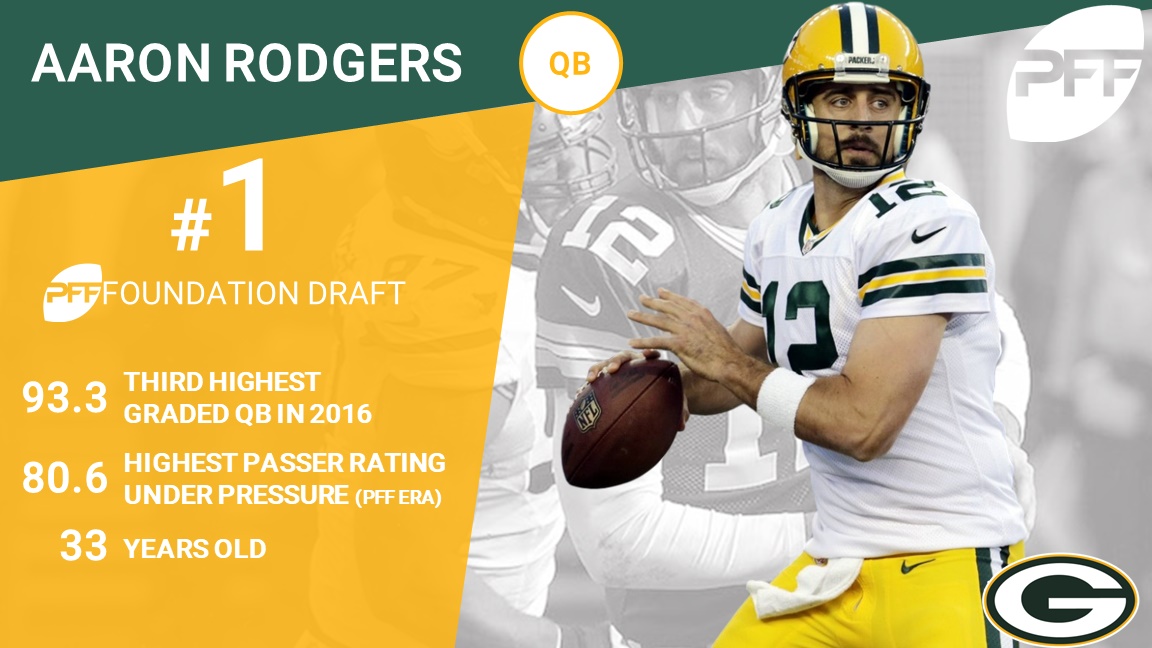 Why him? Given the criteria of this exercise, picking Rodgers is a no-brainer. He still has a lot of football left to play and no quarterback in the NFL has his combination of arm strength, accuracy, decision-making, and overall playmaking ability. Rodgers combines his outstanding physical gifts with the mental capacity to make quick decisions and take care of the football, and that combination has made him one of the all-time greats. When he's on his game, Rodgers can elevate an offense with subpar talent and he's lethal at creating plays where there appears to be nothing to be created. Rodgers is consistently one of the league's best quarterbacks year over year and there is still plenty left in the tank to build around for the future. – Steve Palazzolo, @PFF_Steve
Age: 27 Position: QB Team: Indianapolis Colts Drafted by: Harley Sherman
Through five years of his career, Luck has gone from good, to very good, to alarmingly poor, to among the league's elite. His grades have gone from 77.4 (2012), to 86.4 (2013), to 88.4 (2014), to 45.1 (2015), to 92.4 (2016). Luck's career has been marred by a porous Indianapolis offensive line that has led to multiple injuries, but give him a better line (which hopefully this draft would do), and he's got all-timer potential.
Why him? Closing in on his 28th birthday and coming off a season ranked as the fourth-best QB in the league with a 92.4 overall grade, Luck is the perfect blend of age, proven production, and future potential. A no-brainer pick at this stage of the draft. – Harley Sherman, @PFF_Harley

Age: 28 Position: QB Team: Seattle Seahawks Drafted by: Ben Stockwell
Talk about consistency. In his five seasons, Wilson's average PFF grade has been 90.6, never falling below 86.8. He's got a Super Bowl title and another championship appearance under his belt despite being a surprise rookie-year starter as a third-round draft pick and standing at only 5-foot-11.
Why him? Any time you build a team from scratch there's always the chance the offensive line won't quite be where you want it, and no quarterback has shown greater ability to succeed despite his offensive line than Wilson. In spite of missing all of the supposed thresholds that should stop him from being a top-quality NFL quarterback, Wilson has delivered consistently since he entered the NFL. A mobile quarterback he may be, but Wilson can dissect NFL defenses with his arm and has earned a PPF overall grade above 85.0 in each of his five seasons and finished above 90 three times. Under 30 years of age, Wilson's versatility, age and ability to succeed regardless of the platform and support around him makes him the ideal foundation quarterback. – Ben Stockwell, @PFF_Ben
Age: 26 Position: QB Team: Oakland Raiders Drafted by: Bryson Vesnaver
This pick might have looked silly after Carr's 2014 rookie year. He was thrust into a starting role for a middling Raiders team after being picked in the second round and it showed, as Carr managed only 21 touchdowns against 12 interceptions, a passer rating of only 76.6 (25th of 27 qualifiers) and a PFF grade of 47.7. Since then, though, Carr has 60 touchdowns against 19 interceptions over two years, and was an MVP candidate until a late-season injury in 2016.
Why him? At 26 years old, Carr is a perfect QB to build a team around. After a below-average rookie season, Carr has improved in each year since. He finished last season as the sixth-highest-graded quarterback in the league. With his best years likely still to come, Carr should be one of the best QBs in the NFL for the foreseeable future. — Bryson Vesnaver, @PFF_Bryson
Age: 23 Position: QB Team Dallas Cowboys Drafted by: Nate Jahnke
Anyone who says they saw this coming for Prescott even one year ago is outright lying. He was a fourth-round pick for the Cowboys, a project quarterback who could maybe be the eventual replacement for starter Tony Romo if things broke right. Instead, Romo is the thing that broke, as the veteran quarterback missed essentially the entire season to injury, and Prescott took over. The Cowboys had even tried to deal for Josh McCown in the preseason, and did end up adding Mark Sanchez. But Prescott took the starting role and ran with it, finishing the season with an 84.9 grade that was good for 10th in the league and winning offensive rookie of the year.
Why him? Prescott has been the most accomplished NFL quarterback under the age of 26. He was in the top five in terms of PFF grades for a rookie quarterback that we've seen, and this early in the draft a franchise quarterback is more valuable than any other position. – Nate Jahnke, @PFF_NateJahnke
Age: 23 Position: QB Team: Tampa Bay Buccaneers Drafted by: Josh Liskiewitz
Winston has yet to finish among the uber-elite quarterbacks in PFF grading, finishing with grades of 78.2 and 77.5 over his first two seasons, but it's hard to find quarterbacks with much more potential. He's the first quarterback ever to finish with 4,000 passing yards in each of his first two seasons, and he did it with little other than Mike Evans in the way of receiving weapons. Give him more to work with, and his ceiling is crazy high.
Why him? We're at the stage of the draft where the value of the quarterback position (and youth) becomes extremely obvious, as I suspect I won't be the only one to pass on the likes of J.J. Watt and Aaron Donald for a signal-caller who has yet to reach elite status. Winston gets the nod over Cam Newton for my team, in part because he is just 23 (Newton turned 28 in May). Winston may not be a consistent performer every year, but his "good" is plenty good enough to have my team competing for a Super Bowl. – Josh Liskiewitz, @PFF_Josh
Age: 23 Position: QB Team: Tennessee Titans Drafted by: Jordan Plocher
It seems we're doomed to religitate the first to picks of the 2015 draft forever, as Winston and Mariota will forever be linked. Mariota had a crazy stretch in the middle of the 2016 season when he looked like a world-beater, with 21 touchdowns against 3 interceptions in Weeks 5-12. Outside of that window, though, Mariota had only 5 touchdown passes against 6 interceptions. He has plenty of potential, but he could stand to improve his consistency.
Why him? In taking Mariota, I, like many of my colleagues, am selecting a talented quarterback with many years of solid play remaining in front of him. Mariota has improved as a passer since he has been in the NFL, he's throwing fewer interceptions on more passing attempts and is poised to take a big step forward in his third year. – Jordan Plocher, @PFF_Jordan
Age: 32 Position: QB Team: Atlanta Falcons Drafted by: Zoltan Buday
You might expect a quarterback coming off an MVP season and a near-miss of a Super Bowl title to go a little higher than this, but Ryan is 32, and while he's been an above-average quarterback for most of his career (2009 was his only year with an overall grade under 83.0), he's also not finished among the position's elite as often as someone like Rodgers (three years with a grade above 90 — 2012, 2014, 2016). Still, assuming he ages well, taking him here locks down the position for several years.
Why him? The value of the quarterback position makes it tough to select any non-quarterback at this point. This choice came down to Cam Newton and Matt Ryan, and while the reigning MVP is older than his division foe, their playing styles suggest they have about the same number of seasons left in them. – Zoltan Buday, @PFF_Zoltan
Age: 28 Position: QB Team: Carolina Panthers Drafted by: Louie Benjamin
Had we done this draft a year ago, Newton might have been first off the board, and definitely would have been higher than ninth. He was coming off a year as the league MVP, with the second-highest PFF grade and a Super Bowl appearance. But in 2016, Newton put up the lowest grade of his career (79.5, 18th among QBs) and saw his running performance drop off. If he can rebound, this pick is a steal; if that was the beginning of a downturn, this pick might prove to be a mistake pretty fast.
Why him? I couldn't pass up Cam Newton at this point in the draft, a franchise quarterback in his prime who has led a team to a Super Bowl appearance. The key for Newton will be to stay healthy, but he has shown he can play at an elite level after finishing 2015 with a 94.0 PFF overall grade for the year. – Louie Benjamin, @PFF_Louie
Age: 28 Position: QB Team: Washington Drafted by: Steve Slowik
This is one that kind of came out of nowhere over several years' time. His selection in the fourth round was widely mocked, coming three rounds after the team traded a huge haul of resources to select Robert Griffin III in the first. He grew into the starting job in fits and spurts, replacing and being replaced by Griffin and Colt McCoy multiple times. The last two years, though, he's seized the job, putting up 54 touchdown passes against 23 interceptions over the two years and adding 9 rushing scores. His PFF grade has risen steadily, peaking at 85.9 (eighth at the position) in 2016.
Why him? Coming off a season in which he graded as a top-10 quarterback in the NFL (85.9), Cousins will turn 29 by the start of the 2017 season, and he's shown enough ability over the past two seasons with overall grades above 80 where I would be happy to take him in this slot. – Steve Slowik
Age: 39 Position: QB Team: New England Patriots Drafted by: Gordon McGuinness
Here's where game theory comes into play. If you said you could have a player at his current level of play forever, Brady likely would have gone first off the board in this draft. If instead you said you could have a blind-resume quarterback who turns 40 in less than a month, he wouldn't be drafted in a 50-team league. Brady, though, puts wrinkles in all that. His remaining career almost has to be shorter than all those above him on this list, but it could have the highest ceiling in that time.
Why him? I get it, in a foundation draft Tom Brady's longevity makes him a harder sell, but while a bunch of my colleagues plan for future, I'll take the best guy who could help me win a ring in year one. Using PFF Edge, you can see that Brady was our highest-graded QB in the NFL last year. It goes beyond that, though — we've been graded since 2006 and in that span no QB has ever had a better season that Brady did in 2016. – Gordon McGuinness, @PFF_Gordon
Age: 38 Position: QB Team: New Orleans Saints Drafted by: Khaled Elsayed
Brees' dominance at an advanced age for quarterbacks would draw more comment if it weren't being done in the time of Brady (and Peyton Manning before that). He's still one of the league's best signal-callers — his 86.7 PFF grade in 2016 was his lowest of the PFF era (since 2006), which says more about his strong performances prior to 2016 than it does anything negative about his most recent season.
Why him? We're in it to win it now. Compared to Tom Terrific, Baby Brees is a young pup and is still playing high-level football and can beat you all over the field. – Khaled Elsayed, @PFF_Khaled
Age: 21 Position: QB Team: Kansas City Chiefs Drafted by: Bill Douglas
Coming on the heels of consecutive quarterbacks who are a combined 77 years old and have a combined 33 years in the league, this is a hard left turn, to a 21-year-old who was only drafted a couple of months ago and is unlikely to see the field in more than a handful of garbage-time situations in 2017. Still, the Chiefs traded up to pair Mahomes with head coach Andy Reid, and if his development goes well, Mahomes has a sky-high ceiling down the road. Considering this is starting a whole new league, odds are Mahomes, taken here, would start in this league, but even with that, this is a pick made by a team building for the future, not necessarily right now.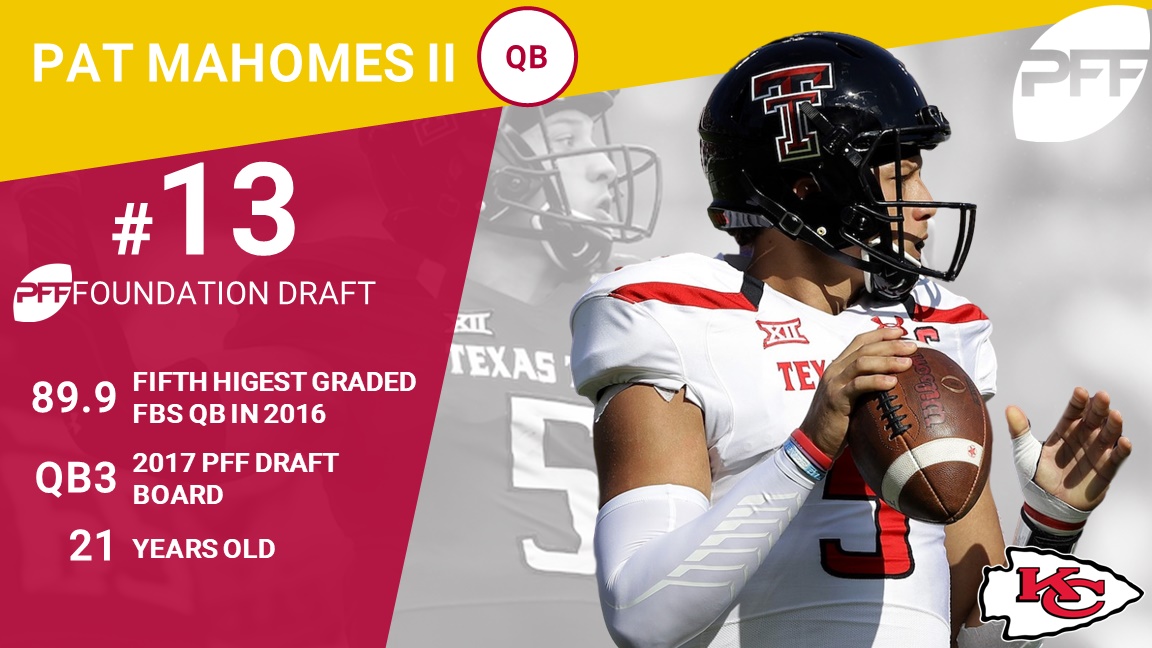 Why him? Big plays win games and no "young" QB on the board has more big-play potential than Mahomes. He'll need to improve his pocket presence, footwork, and decision-making as most young QBs do. However, he fits the trends of the league well — big passing games and spread-out mismatches. – Bill Douglas, @PFF_Bill
Age: 29 Position: QB Team: Detroit Lions Drafted by: Aaron Resnick
Early in his career, Stafford was mocked for being oft-injured and untrustworthy. That has flipped, to the point that he's a solid 96-for-96 in games played since the start of the 2011 season. Stafford's passing performance peaked at 5,038 yards and 41 touchdowns in 2011, and he's averaged only 4,282 and 26 touchdowns the last three years. Still, he's fresh off a career-best 85.4 PFF grade and is only 29; he doesn't really have best-in-the-league potential, but he can be a solid starter for a franchise for a long time.
Why him? I was actually surprised Stafford was still available at this point. Despite entering his ninth year, Stafford just turned 29 and was born the same year as both Russell Wilson and Kirk Cousins, who are already off the board. His PFF grade of 85.4 in 2016 is his best to date as he figures to enter his prime soon. – Aaron Resnick, @aaronmresnick
15. Sam Darnold
Age: 20 Position: QB Team: USC Trojans Drafted by: Zac Robinson
Here we are reaching down into the college ranks, with the pick going to a college quarterback who wasn't even a starter at the beginning of the 2016 season. But that's how strong Darnold's season was, as he didn't start until the Trojans' fourth game and finished the year with 3,086 yards and 31 touchdowns against 9 interceptions. He's the early favorite to be the first pick in the 2018 NFL Draft, and being able to grab him a year early in our fictional exercise is a sneaky pick.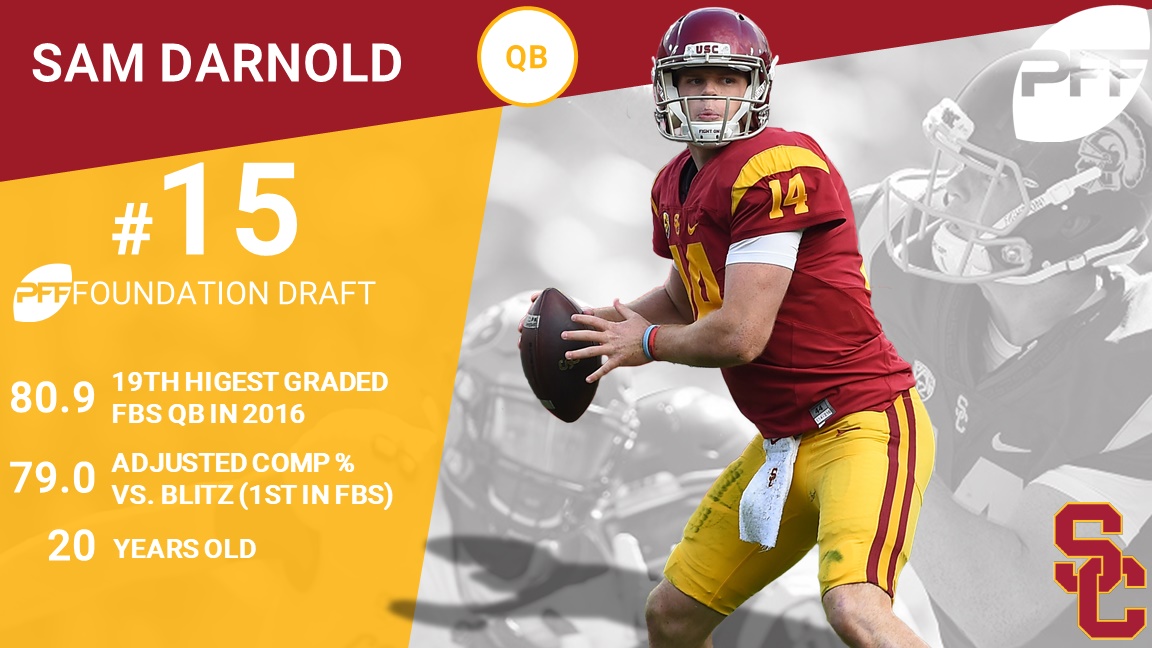 Why him? Although he's only going in to his redshirt sophomore season, Darnold has all the tools and intangibles to be a true franchise QB when his time for the NFL comes. – Zac Robinson, @Zac_Robinson5
Age: 22 Position: Edge Team: Los Angeles Chargers Drafted by: Mark Harrington
A non-quarterback! With most of the top-tier and high-ceiling quarterbacks off the board, the draft makes a shift to defense here, and the 2016 Defensive Rookie of the Year leads it off. Bosa was something of a revelation in 2016 after missing the first few games of the season. He tallied 59 quarterback pressures in only 12 games as a rookie, tying Von Miller with the most through a player's first 12 games in the PFF era.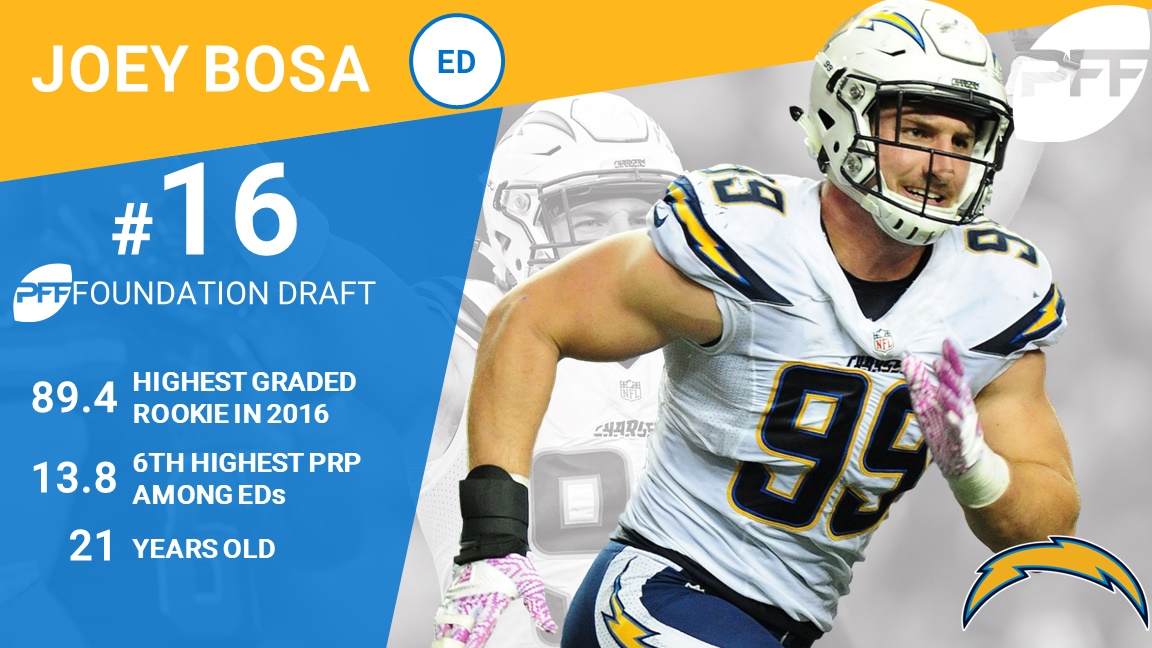 Why him? The first non-QB off the board, and the pick was based on age (July 11 is his 22nd birthday) being on a rookie contract, as well as his impressive 59 total pressures last season in only 12 games. Bosa will enter his first training camp after a contract holdout last season, and it's scary to think what he can do at such a young age in a full 16-game season. – Mark Harrington, @PFF_Mark
Age: 26 Position: DI Team: Los Angeles Rams Drafted by: Matt Claassen
We stay on defense and in Los Angeles for the 17th pick, going to Donald, who has been PFF's highest-graded defensive lineman two straight years, putting up graded of 96.6 in 2015 and 95.6 in 2016. With the top quarterbacks gone, Donald can form the start of what could end up being a dominant defense to battle all those top passers that have already been drafted.
Why him? With the remaining quarterbacks aging, young, and unproven, or just mediocre, a player like Donald is worth the value. He's been the best defensive player in the league the past two seasons, and unlike J.J. Watt, Donald has been healthy. He's also just 26 years old, with plenty of prime years still ahead of him. – Matt Claassen, @PFF_Matt
Age: 26 Position: Edge Team: Oakland Raiders Drafted by: Jeff Ratcliffe
There's a definite trend here, with a string of defensive players coming after the string of quarterbacks. Mack's 2016 grade of 93.9 was somehow the lowest of his career. He is the reigning Defensive Player of the Year. His 96 defensive pressures in 2016 were the most in the league by a full 10 over second place.
Why him? An extremely productive edge who is still on the upslope of his career at just 26 years old. Coming off a massive 98 QB pressures last season, Mack is an excellent counterpunch to the quarterback-heavy trend so far in this draft. – Jeff Ratcliffe, @JeffRatcliffe
Age: 28 Position: Edge Team: Houston Texans Drafted by: Mike Renner
The run on defense continues, but a year ago, Watt would likely have led off the group and pushed his way into the group of quarterbacks earlier than Bosa did this year. After a 2016 season in which he only played three games, though, after never missing a game before that, there are some previously unexpected questions surrounding Watt. Still, when healthy there aren't many more dominant forces in the league, and reports are that he's feeling good heading into 2017.
Why him? When Watt is healthy, he impacts games more than any player in the NFL that doesn't play the quarterback position. He played all of three games last year and still has 8.5 more sacks than any other player over the past five seasons. At 28 years of age, it's likely he has at least 4-6 more years in the tank – Mike Renner, @PFF_Mike
Age: 28 Position: Edge Team: Denver Broncos Drafted by: Brett Whitefield
In six years in the league, Miller has yet to put up a grade under 91.1, which seems pretty hard to fathom. He was the MVP of Super Bowl 50 and has been a five-time Pro Bowler. At this point, the strategy for this draft was pretty clear: Get yourself a strong, long-term quarterback, and if there wasn't one available, grab a defensive stalwart.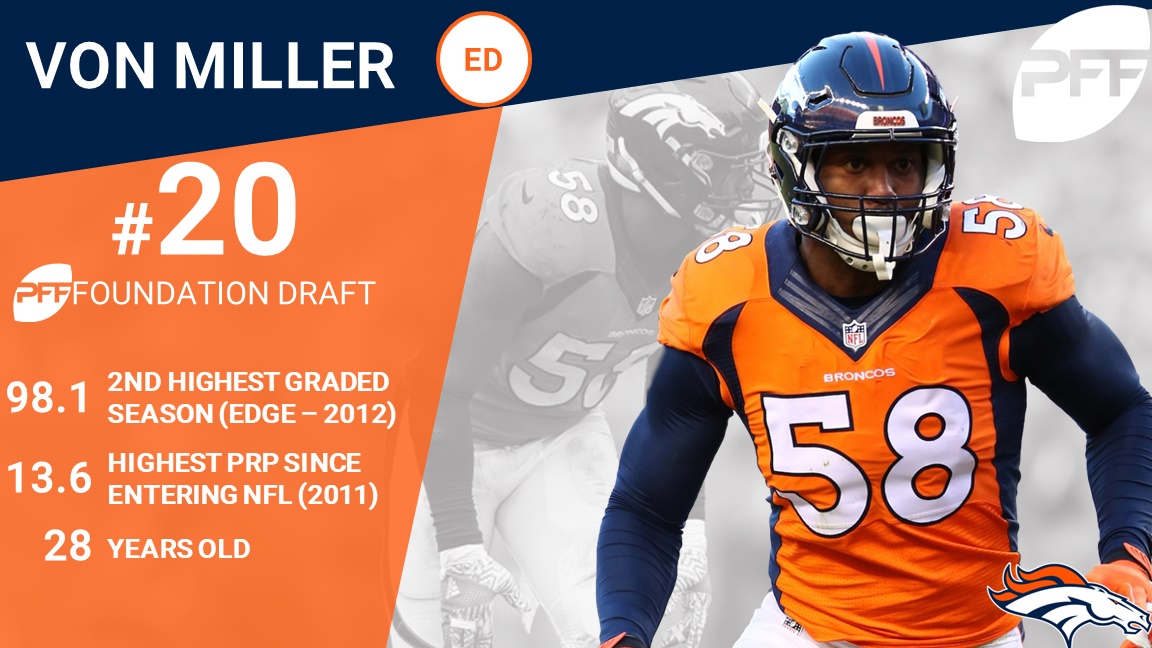 Why him? With 15 quarterbacks coming off the board to start the draft the counter-run on pass-rushers continues and getting Miller at 20 is a steal. Miller has been the most productive pure edge rusher since entering the league in 2011 and is still in the prime of his career at just 28 years old. Since 2011 no edge defender has more total pressures than Miller and among active edge players with at least 1,500 pass-rush snaps no one has a higher pass-rush productivity (13.6). Recent history has also dictated that edge defenders age very well — especially those with a general clean bill of health. – Brett Whitefield, @BrettWhitefield
Age: 24 Position: Edge Team: Houston Texans Drafted by: Vinnie Ronca
With J.J. Watt missing most of 2016, Clowney came into his own, showing the production the Texans had been expecting when they selected him first overall in the 2014 draft. His grade climbed to a career-best 87.2, and he was named one of PFF's best defensive players under 25. If he can continue that in 2017 with Watt back and healthy, the Texans could have a ridiculous defense, but for these purposes, he'll be anchoring a defense on his own.
Why him? Coming off an impressive 2016 season where he ranked ninth among edge defenders with an 87.2 overall grade, the questions surrounding Clowney's health and production finally seem to be fading away. Clowney has shown steady improvement as a pass-rusher over his three years in the league, was the third-best run defender at his position last season, and has developed into an impact defender with the versatility to line up at multiple positions across the defensive front. At just 24 years old and seemingly entering the prime of his career, the sky is the limit for this former No. 1 overall pick. – Vinnie Ronca, @PFF_Vinnie
Age: 26 Position: LB Team: Carolina Panthers Drafted by: John Gatta
Concussions marred the end of Kuechly's 2016 season — he's missed nine games since the start of 2015 to head injuries — and raised questions about the remainder of his career, but he's spent the offseason reassuring people he's fine for the future. This pick has some obvious risk, because future head injuries could decidedly shorten Kuechly's career, but he's a two-time Defensive Player of the Year and a four-time Pro Bowler, so the potential rewards are obvious.
Why him? When healthy, Kuechly affects the game as much as we've seen from the MLB position since Ray Lewis. His football IQ is unparalleled, as he regularly breaks down an offense pre-snap. On top of this, Kuechly is a freak athlete with an incredible motor, which allows him to rack up stops in the run game in addition to making near-impossible plays in coverage. A 26-year-old that has an immense passion for the game — this is the type of player I'd like to build my franchise around despite the injury risk. – John Gatta, @PFF_JohnGatta
Age: 24 Position: WR Team: New York Giants Drafted by: Sam Monson
After seven straight defensive picks, we're back to the offensive side with Beckham. The star Giants receiver has actually seen his grade go down each season of his career, from 92.3 to 88.6 to 84.3, but he's still topped 1,300 yards and 10 touchdowns each year. And he's still only 24, meaning Beckham could keep his production up for a whole new generation of receivers. Starting a roster with Beckham is risky — you'll need a quarterback later on who can get him the ball reliably — but then Eli Manning just finished a season as PFF's 27th-graded quarterback and he managed to do the job.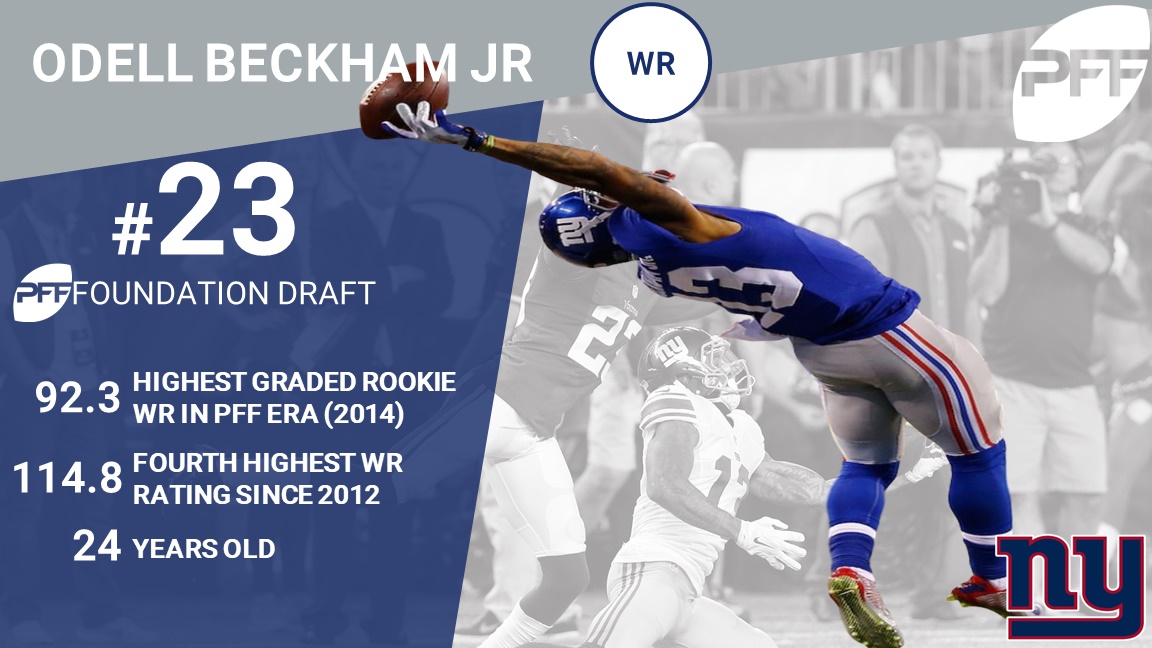 Why him? Beckham has as much talent as any receiver in the league, and he's one of the youngest superstar receiving options around. With no star quarterback available this low, the plan it to build weaponry first. – Sam Monson, @PFF_Sam
Age: 21 Position: Edge Team: Cleveland Browns Drafted by: John Kosko
Garrett was the consensus No. 1 overall player in this year's draft, and has the potential to slide up to the earlier group of edge defenders in the first defensive run. Still, he's already had to deal with a foot injury before even starting his career, and he's unproven, so relying on him to anchor an entire roster is counting on a lot from an inexperienced player.
Why him? Garrett has been touted as the best edge-rushing prospect in a decade by some and was PFF's consensus No. 1 player in this year's draft. An athletic phenom with the production to back it up in every season of his college career, Garrett has the tools and raw talent to become a disruptive pressure enforcer for the next decade. — John Kosko, @PFF_JohnKosko
25. Mason Rudolph
Age: 21 Position: QB Team: Oklahoma State Cowboys Drafted by: Wes Huber
With the obvious elite NFL quarterbacks off the board, Rudolph joins Sam Darnold as college options taken as foundation players. Rudolph had an 86.7 grade in college in 2015, then followed that up with a 92.7 in 2016. He's struggled with consistency in college, but when he's been on, not many have been better.
Why him? Rudolph will continue to require slight mechanical adjustments — very common among college-age QBs — but the results speak for themselves. At no point since 2009 has a Cowboys' offense averaged less than 1.5 turnovers per game or more than 8.6 yards per passing attempt. Yet Rudolph has reduced Okie State's offensive turnovers in every season (down to 1.1 per game in 2016), and his live arm has never averaged less than nine yards per targeted pass. Rudolph combines the athletic testing metrics mirroring those of Andrew Luck with the unquantifiable skill of protecting the football. With a massive ceiling and high floor, Mason will instantly become one of the better signal-callers in the NFL when passing on the move. Keeping his nose high with eyes always focused downfield, Rudolph will provide the total package at the most important position during the franchise reboot. – Wes Huber, @PFF_Wes
Age: 23 Position: WR Team: Tampa Bay Buccaneers Drafted by: Trevor Lynch
Evans finished 2016 as PFF's second-highest-graded receiver, at 93.3. In his three years in the league, he's averaged almost 1,200 receiving yards a year and had two different 12-touchdown seasons. He could use a complement in the receiving game — both in real life and in this draft — but even by himself Evans is a strong weapon, and he's even younger than Beckham.
Why him? A counterbalancing corner was tough to pass up after the gluttony of quarterbacks taken prior to this pick, but Evans still just at age 23 is already an elite talent, no leap of faith or projection needed. Evans finished 2016 with the second-highest WR grade (93.3) in the NFL, built in part by cutting his drops (7) from the previous season (15) in half and leading the league in receptions that went for a first down or touchdown, with 80. – Trevor Lynch, @PFF_Lynch
27. Josh Allen
Age: 21 Position: QB Team: Wyoming Cowboys Drafted by: George Chahrouri
Drafters who wanted to build around a quarterback this late in the first round had a quandary: Take a veteran near the end of his run (Philip Rivers, Ben Roethlisberger, etc.); take a younger pro who might lack extreme upside (Andy Dalton, Ryan Tannehill), or go into the college ranks for a non-sure thing like Allen, who put up big plays in 2016 but also had plenty of negative plays. Still, he slots in after Sam Darnold and Mason Rudolph among college QBs, and if development goes well, he could be a long-term solution for a franchise who isn't necessarily aiming for a 2017 title.
Why him? Allen led the nation in big-time throw percentage (PFF's highest-graded throws) last year, and his arm talent is unmatched. He could easily be QB1 next spring. With the dramatic importance of a strong passing game there was no way I could pass up a potential franchise QB. – George Chahrouri, @PFF_George
Age: 28 Position: CB Team: Denver Broncos Drafted by: Scott Barrett
Harris has graded at least 80.1 every year of his career, at least 85.3 the last five years, and at least 92.9 two of the last three seasons. He's graded in the top 10 for five straight years. In a league where cornerbacks allow an average of 1.26 yards per coverage snap, Harris has been below 1.00 five straight years.
Why him? Harris has been one of our two highest-graded cornerbacks in each of the past three seasons. He leads all cornerbacks in yards allowed per snap in coverage over this stretch (0.70.) Only two cornerbacks have played on more snaps than Harris over the past five seasons. Still, only seven wide receivers have ever caught a touchdown pass against him, and only four totaled more than 50 yards against him in any game. With everyone else loading up on quarterbacks, give me the best cornerback in the game. – Scott Barrett, @ScottBarrettDFB
Age: 27 Position: CB Team: Arizona Cardinals Drafted by: Kiernan Hogan
We're barely a month removed from calling Peterson the "standard-bearer" for shadow corners. Despite leading the league in coverage snaps against No. 1 receivers in 2016, he was targeted less often than any other corner and allowed receptions at the third-lowest rate. He's 27 and, if there's a knock on Peterson, it's that he's so strong in coverage that teams just look elsewhere. Still, he's there to shut down at least one part of the opponent's passing game.
Why him? As the NFL becomes increasingly built around the passing game, a strong secondary becomes even more valuable. Peterson finished sixth in our overall cornerback grading in 2015, and 11th last season. Peterson is still in his prime at age 27, and is an elite athlete that is capable of shutting down top receivers every week. – Kiernan Hogan, @PFF_Kiernan
30. Ed Oliver
Age: 19 Position: DI Team: Houston Cougars Drafted by: Cam Mellor
A 19-year-old with one year of college experience from a non-Power-5 conference as one of the top 30 foundation players in all of football? That's how strong Oliver was as a freshman in 2016, when he became the first freshman ever to win the Bill Willis Trophy, given every year to the top defensive lineman in college. For the NFL, he won't even be draft-eligible until the 2019 draft, but being able to grab him early for these purposes means a team has a potential defense anchor for a long, long time.
Why him? With the top signal-callers gone and no clear-cut current NFLer jumping off the boards, why not go for someone who, as a true freshman at Houston, showed that he can change the game from the interior of the defensive line. Oliver finished tied for fourth in run stops among defensive interior players — behind first round picks Solomon Thomas and Jonathan Allen. He was a tackling machine (third among DIs), but also finished with the most pass breakups (9) of any interior defender, three more than anyone else. If the NFL had the same draft-eligibility rules as the NBA, Oliver would have almost certainly been a first-round pick this past season. If he increases his pass-rush productivity and beefs up just a bit — there is no doubt you will see him eventually as a top-five pick, maybe even the top pick, once he is finally eligible in 2019. How could you pass up on raw talent that can stop the run, defend the pass and disrupt opposing offenses from Day 1 as a defensive tackle, the likes of which may come to rival Aaron Donald (our No. 1 player heading into 2017)? – Cam Mellor, @PFF_Cam
Age: 29 Position: Edge Team: Philadelphia Eagles Drafted by: Ryan Smith
Graham flies under the radar among the NFL's top defenders, because he has only totaled 33 sacks across his seven seasons, with no more than seven in a given year. But Graham is a more complete package than a sack machine — he pressured quarterbacks 83 times in the regular season, the second-highest total in the league. If he can up his sack numbers even a little, he'll start to be discussed among the league's elite.
Why him? After a QB, arguably the next most impactful position on the field is a pass-rusher. Graham may never rack up a high sack total, but his consistent pressure is nearly unmatched. Graham is in the prime of his career coming off his best season yet, accumulating 75 total pressures from the defense's left side in 400 pass-rush snaps for a 14.4 pass-rushing productivity — the most pressures from the left among all edge rushers. There is incredible value to beating up on the subpar right tackles in the NFL today and effecting the QB even if it isn't necessarily a sack. – Ryan Smith, @RSmithNFL
Age: 26 Position: T Team: Dallas Cowboys Drafted by: Eliot Crist
The only offensive lineman to go in the first round of the draft, Smith has anchored one of the best offensive lines in the league for six years now, including an 85.9 overall grade in 2016 and a 95.0 in 2015. Considering the best this roster will be able to do is the 18th quarterback off the board, it might be smarter to just build a line and give that quarterback the best possible chance at maximizing his success.
Why him? Smith is a 26-year-old left tackle coming a year removed from being PFF's top-graded offensive tackle. He had four straight seasons grading 85.9 or higher and has finished top-10 in pass-blocking efficiency in every single year of his career. – Eliot Crist, @EliotCrist
So that's the first round. 32 players, 17 quarterbacks, 7 edge defenders, 2 each at defensive interior, wide receiver, and cornerback, 1 linebacker, 1 offensive tackle. Ed Oliver is 19, while Tom Brady, Drew Brees, Aaron Rodgers, and Matt Ryan are the only ones over 30. And interestingly, Tom Brady and Myles Garrett are the only players from their respective divisions (AFC East and AFC North) to be selected.
The draft continues (Round 2 is about halfway finished), and we'll be back to check on the progress later this offseason. But for now, who got their franchises off to a good start? And who made a mistake? Chime in on Twitter and let us know.