After taking a look at the best offensive players under 25 years old last week, we now turn to the defensive side of the ball. Every player selected for the list below will be under the age of 25 at the start of training camp. While selecting the list, there were some clear-cut victors — guys that are easily the best at their position under 25 — and also some major battles. For the more competitive spots, I tried to focus in on one skill as a determining factor. All players were selected using a combination of PFF's player grades and signature stats. The list features a nice blend of promising rookies, as well as some three-year contributors.
Cornerback
Marcus Peters, Kansas City Chiefs (2016 PFF overall grade: 85.1)
Since Peters entered the league in 2015, he has lit up the stat sheet with interceptions and pass breakups. The grades haven't always backed up the big plays, because there were plenty of equally big plays on the negative end of the scale, as well; as a rookie he allowed eight touchdowns along with his his league-leading eight interceptions. In 2016, Peters built on his up-and-down rookie campaign, and in just his second year as a pro, he earned a top-10 PFF overall grade among CBs. He notched an interception or pass breakup on 20 percent of balls thrown his way, the third-highest mark at the position. He allowed a passer rating of just 66.0 when targeted, ranking sixth among 81 eligible CBs.
Jalen Ramsey, Jacksonville Jaguars (82.3)
Ramsey lived up to his draft stock in 2016 and was one of the few rookies to make a serious impact on their respective teams. He finished the year with a PFF overall grade of 82.3, which landed him just outside of the top 20 (21st) among CBs, but the final five weeks of the season showed his true potential. In coverage, he allowed a passer rating against of just 76.6 all season, and in that final five-game stretch, allowed only 40.5 percent of targets to be caught. None of them went for scores, and he broke up nine passes. Ramsey has also already established himself as one of the best cornerbacks in run support, and during his rookie campaign, he finished sixth among CBs in run-stop percentage, at 2.2 percent, and had the third-most defensive stops.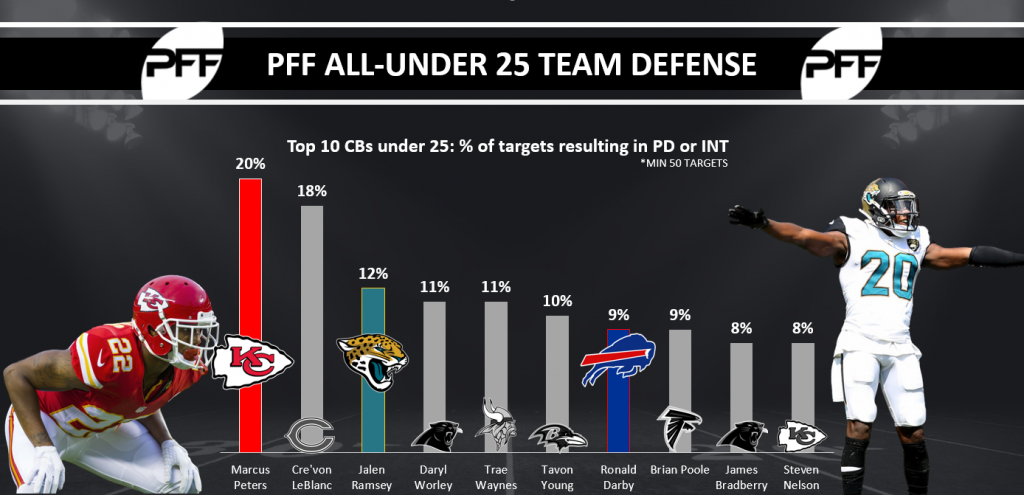 Ronald Darby, Buffalo Bills (70.6)
In 2015, Darby came in and immediately started for the Bills and as a rookie, earned an incredible 86.1 overall grade — the third-highest PFF overall grade ever for a rookie cornerback. While 2016 was certainly a step back, he at least maintained a strong performance defending the run, and was far from alone in regressing in a Bills' defense that capitulated over the season. Darby's ability showed that he can play at elite levels from day one, earned him the selection here over his competition.
Honorable Mention: James Bradberry, Carolina Panthers (82.6), and Tavon Young, Baltimore Ravens (80.3)
Safety
Landon Collins, New York Giants (91.7)
The Giants moved Collins from a free-safety role in 2015 to more of an in-the-box type safety in 2016; it was a transformative move that turned him from a rookie letdown into a Defensive Player of the Year candidate. His 2016 grade was the third-highest mark for a safety in the PFF era. Collins was dominant against the run, notching 46 total stops, the most among all NFL safeties by eight. His coverage was also dramatically improved closer to the line of scrimmage, where he was employed in man coverage against matchup weapons and in underneath zones; he notched five interceptions to go along with his stops.
Ha Ha Clinton-Dix, Green Bay Packers (83.2)
Since entering the league in 2014, Ha Ha Clinton-Dix has been an instant starter, barely leaving the field and racking up 3,525 total snaps through his first three seasons. Clinton-Dix has earned two consecutive top-20 finishes in overall grade at his position, and in 2015, his 84.8 grade ranked fifth among safeties. Over the past two seasons, his best area has been in defending the run, but his coverage has always been solid, and he now has 11 career interceptions to his name along with seven pass breakups.
Honorable Mention: Byron Jones, Dallas Cowboys (83.4)
Linebacker (off the ball)
Deion Jones, Atlanta Falcons (83.0)
As a rookie, Jones was part of transforming a Falcons defense that eventually played in the Super Bowl, adding raw athleticism and pure speed — and dramatically outperforming expectations. He ended the season ranked 20th out of 87 eligible off-the-ball linebackers, but had the best game of his season in the Super Bowl, despite being forced to play 99 snaps over the course of the marathon game for the Atlanta defense. Jones allowed a passer rating against of just 89.0 over the season, good for eighth best in the NFL, and had seven pass breakups to go along with his three picks.
Shaq Thompson, Carolina Panthers (85.6)
With C.J. Mosley and Jordan Hicks both turning 25 just before training camps open this summer, the pool for quality young linebackers to make this team takes something of a hit. Despite playing limited snaps through his first two seasons, no linebacker under the age of 25 has graded better on a per-snap basis than Shaq Thompson in Carolina. Thompson notched 30 defensive stops in 2016 on just 533 total snaps, and wasn't beat for a pass longer than 22 yards all season. With an aging Thomas Davis and mild-injury concerns around Luke Kuechly, Thompson's role should be expanding quickly.
Honorable Mention: Benardrick McKinney, Houston Texans (81.0), and Chris Kirksey, Cleveland Browns (81.5)
Edge defender
Joey Bosa, Los Angeles Chargers (89.7)
It's hard to imagine a rookie having more of an impact from the edge than Bosa did in 2016, and in fact, his season grade was the highest mark for a rookie edge defender in the PFF era. Despite getting a late start, Bosa racked up 59 total QB pressures (37 hurries, 11 hits, and 11 sacks) on just 341 pass-rushing snaps. That is more total pressures than any player has racked up over his first 12 starts since PFF began grading games (2006). Bosa was also very strong against the run, ranking in the top 10 among 3-4 OLBs in run-stop percentage, at 8.2 percent — despite being asked to play multiple positions and on both sides of the line for the Chargers' defense.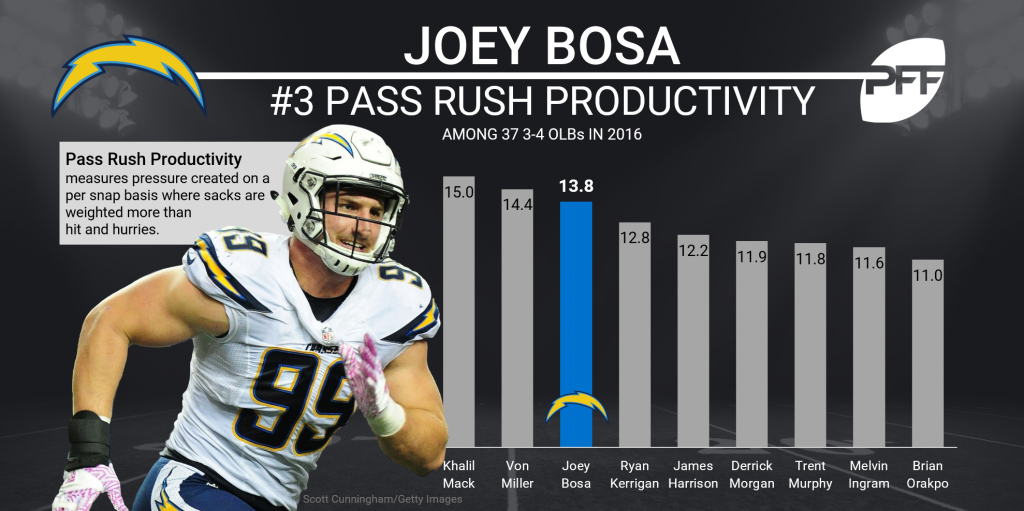 Jadeveon Clowney, Houston Texans (87.2)
Injuries had Jadeveon Clowney flirting with the dreaded "draft bust" label, but when he has been healthy, he has been a force on the field for the Texans. Last year he finished ninth out of 109 edge defenders in terms of overall grade, and had his best game in the playoff victory against Oakland, where he took over the game with multiple big-time plays.. Those that solely focus on sack production will miss the best aspects of Clowney's play; though he had just six sacks this season, he notched 58 total QB pressures and 38 defensive stops (including the playoffs). His 12.3 run-stop-percentage was good for third-best among all edge defenders.
Honorable Mention: Frank Clark, Seattle Seahawks (81.8), and Danielle Hunter, Minnesota Vikings (80.6)
3-technique
Chris Jones, Kansas City Chiefs (85.1)
A favorite of the PFF grading in college, Chris Jones was an immediate impact player for the Chiefs as a rookie. Another player whose production far surpassed his sack totals, Jones tallied 43 total QB pressures despite only picking up a pair of sacks, and in more than one game he was a very disruptive factor, including against some of the league's better offensive lines (Oakland, Tennessee).
Honorable Mention: Malcom Brown, New England Patriots (77.2)
0-1 technique (NT)
Danny Shelton, Cleveland Browns (82.4)
Shelton is perhaps the prototypical nose tackle in today's NFL. His blend of size and strength with just enough burst can cause problems in the middle of the line, making him an ideal fit at the position. As a rookie in 2015, Shelton was underwhelming, but he took a huge step forward in his second year, becoming the run-stuffing force the Browns had hoped. He dominated as a disruptive run defender, notching 39 stops in the run game, a figure only Giants interior defender Damon Harrison could better, and one that was six clear of any other defensive tackle.
Honorable Mention: Grady Jarrett, Atlanta Falcons (78.1)
Flex DI
Leonard Williams, New York Jets (85.1)
Today's NFL of multiple fronts and adaptive personnel packages means some players no longer play in one traditional position on defense, and so we have mirrored the flex offensive positions to recognize these defensive line Swiss army knives. Leonard Williams is the embodiment of that. Williams recorded seven or more pressures from five different alignment techniques along the defensive front for the Jets, which made up 44 of his 55 total QB pressures. Williams has been especially good defending the run, and was the only player to come within five total defensive stops of the Giants' Damon Harrison among all interior defenders in 2016.
Honorable Mention: Stephon Tuitt, Pittsburgh Steelers (82.0)
Want more Pro Football Focus grades for every NFL player? Be sure to check out PFF Edge for grades, fantasy essentials, and premium content.